Diversify fine-tunes offshoring for ASX-listed firms
Written on the 5 July 2019 by Business News Australia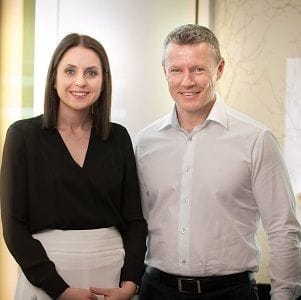 What started as a foray to find support staff for a Brisbane-based law firm has transformed into a large-scale offshoring solution for a dozen ASX-listed companies and counting.
In 2011 Robert Hynes (pictured right) of Hynes Legal visited the Philippine capital of Manila to find a few typists as support staff, which over time expanded to include marketing and finance professionals as well.
"Initially we just had people that were working for the law firm. A couple of our clients came on board and asked us to have some staff over there," Hynes tells Business News Australia.
"As it got traction we started to work on what it was that we offered and the value-add that we brought to the clients - it has developed some ground to the point that these days we've got nearly 700 people over there," he says.
The business is called Diversify. Hynes is the founder and chairman while Angela Vidler (pictured left) has been managing director since 2015. They expect the group will surpass 1,000 staff within 12 months and are planning a big push into the United States.
Diversify now has four offices in metro Manila servicing ASX-listed companies in the retail, telecommunications, construction and professional services sectors. The company also has clients in Europe, as well as offices in Sydney and New York.
"It was in a very intentional decision that we wanted to work with medium, large and listed companies who we could truly partner with, as opposed to people who just wanted a staff member sitting in another country," says Vidler, who notes client names can't be revealed due to confidentiality agreements.
"Clients will have anywhere from 30 staff with us all the way up to our largest which has 120 staff with us in one of our facilities.
"We work with them in partnership whereby we look at their business and strategically sit down together and determine how an offshoring model work to better underpin their business."
Vidler says all Filipino staff are very well educated and must achieve 99 per cent or higher in an English test in order to work at Diversify.
A sophisticated offering
"The perception always has been that if you want to put something in Manila you put in a call centre, but we started the business off the back of professional, highly educated, highly skilled back office roles," says Vidler.
"We're talking about finance roles, so everyone from senior business analyst to general accountants and payroll specialists," she says.
Paralegals, data entry specialists, administration assistants and transcriptionists also fall under this umbrella.
"The second back office support area is IT development, so that's everything from software development, website development, app development, level 1 and level 2 IT support, network support, all heavily done out of the Philippines and all very highly skilled roles that are incredibly expensive in Australia."
Vidler highlights marketing as another key area as well, including services in SEO, SEM, content generation, graphic design and digital marketing.
Around 70 per cent of Diversify staff provide these back-office roles, with 30 per cent in customer service.
"We have really got a strong client base in the retail space and a lot of our listed companies are retailers, so for them customer support and customer service is really important," she says.
"We're talking about that high-quality customer support and service as opposed to your normal cold calling, contact centre-type work."
Vidler says all the company's offices in Manila are A-grade, fitted out with IP cameras and all the Western fittings.
"To be honest we often have a laugh with our clients that they believe their Filipino workforce has better offices than their Australian workforce," she says.
"We have very consciously taken these buildings and fitted them out to a very high Western standard.
"One of the big reasons we've done that is that our clients and the clients that we target need to be partnering with someone whereby if it does get into the media that a client has this offshore team, they can proudly say 'yeah, we have a great team in Manila and look at the facilities and the environment in which they are placed'."
She says the positive working environment, which also includes festive events and eSports competitions, is reflected in Diversify's very low staff turnover rate.
"We won't partner with clients that we get any whiff of who are going to treat staff badly - we will pretty quickly and have done in the past say 'thanks, but no thanks' and pass them on.
"We hold a client induction session that's very upfront with any new client that goes for three hours. Any new onshore manager that comes into that business that is going to manage the team throughout the course of our relationship must also go through that.
"Through that process we train our clients on how to manage an offshore team, how to culturally manage a Filipino offshore team and how to engage them in such a way that they build that loyalty and that retention. So we've almost got a two-pronged approach."
International growth
Diversify made a push into the US market in early 2019 in a bid to take the business to the next level, while also making the most of the "second timezone".
"At the moment most of our Australian clients operate during what we call the Australian day shift, and then of course we have our facilities at night time which, effectively in 90 per cent of the cases, sit dormant," says Vidler.
"We really saw a whole separate market there that we could dive into, especially given the traction we've now got in Australia in our list of clients.
"I think we have over the course of the last seven years really finetuned our model. We know now who we are, who we want to work with, and the service we want to deliver."
In terms of growth, she expects some "pretty aggressive numbers" over the next three years.
"Where I see us within the next three years is at a minimum of 3,000 staff from where we are today," she says.
"Where do I see that coming from in terms of the mix of the US versus Australia? I think maybe 60 per cent will come out of the US and the remainder out of Australia. But that is a conscious decision by us to leverage the business in two different locations."
Never miss a news update, subscribe here. Follow us on Facebook, LinkedIn, Instagram and Twitter.
Business News Australia
Author:
Business News Australia