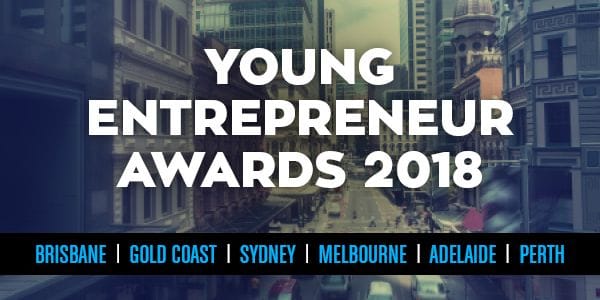 YOUNG ENTREPRENEUR AWARDS
This is your chance to be a part of one of Australia's most prestigious business awards and collaborate with other game changers.
You will have the opportunity to meet the country's most inspiring young business people from a variety of industries and celebrate their successes and learn from the challenges they've faced along the way.

Quite simply our mission is to find and recognise young business talent in Australia.

But we also aim to foster a community of emerging entrepreneurs and business leaders born in 1978 or later who have built a thriving business, delivered innovation, led social change or have an idea that will change lives.

As part of this community, you'll become one of the influential cohort of young entrepreneurs who will have access to influential stakeholders in business and government.

The Young Entrepreneur Awards is also the most direct way to put yourself and your business or brand before a national audience.
As part of each nomination, every entrant in the Young Entrepreneur Awards will be considered for inclusion in Business News Australia's exclusive Top 40 under 40 lists.
---
"I firmly believe every person should try and start a business by the time they are 30. Everyone seems to aspire to work for someone, but really, we are all potential entrepreneurs. The size or success of the venture isn't anywhere near as important as the business skills and life lessons you take away from it. There is a great period of time between leaving school to the age of 30 which is ideal for taking risks. It should be capitalised on while it can, because we progressively lose the entrepreneurial zeal with experience and wisdom."
Bevan Slattery, founder of Superloop (ASX: SLC) Megaport (ASX: MP1) NEXTDC (ASX: NXT), Asia Pacific Data Centre Trust (ASX: AJD), Pipe Networks and SubPartners.
NATIONAL AWARD
THURSDAY 13 DECEMBER 2018
---
The Young Entrepreneur Awards profile entrepreneurs across a wide range of industries.
Our Young Entrepreneurs are competing on an international scale, turning the attention to Australia as a global leader of entrepreneurship.

The Young Entrepreneur Awards culminate in a national awards ceremony at a gala event. The event provides a platform for likeminded people to network, exchange ideas, create business opportunities in a relaxed and fun setting, with the finalists recognised on the night and guests encouraged to get to know each other.
---