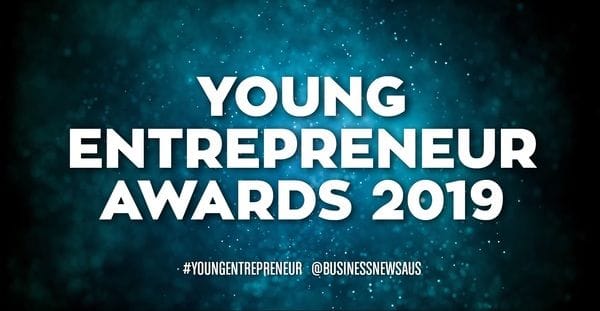 2019 AUSTRALIAN YOUNG ENTREPRENEUR AWARDS
This is your chance to be a part of one of Australia's most prestigious business awards and collaborate with other game changers.
You will have the opportunity to meet the country's most inspiring young business people from a variety of industries and celebrate their successes and learn from the challenges they've faced along the way.

We have been at the forefront of unearthing Australia's most inspiring and influential entrepreneurs. Our goal is to support these young innovators with official recognition for their efforts and to provide them with ongoing support and business connections. Quite simply our mission is to find and recognise young business talent in Australia.

But we also aim to foster a community of emerging entrepreneurs and business leaders born in 1979 or later who have built a thriving business, delivered innovation, led social change or have an idea that will change lives.

As part of this community, you'll become one of the influential cohort of young entrepreneurs who will have access to influential stakeholders in business and government.

The Young Entrepreneur Awards is also the most direct way to put yourself and your business or brand before a national audience.
Every entrant in the Young Entrepreneur Awards will be considered for inclusion in Business News Australia's exclusive Top Young Entrepreneur list.
To receive updates about the awards and our news
Please fill in your details below
2019 YOUNG ENTREPRENEUR TIMELINE
MAY
Nominations open
JUNE
Nominations open
JULY
Nominations close
AUGUST
Finalists announced
SEPTEMBER
Brisbane Young Entrepreneur Awards
Gold Coast Young Entrepreneur Awards
OCTOBER
Melbourne Young Entrepreneur Awards
Sydney Young Entrepreneur Awards
NOVEMBER
Australian Young Entrepreneur Awards
Contact us on on 07 3608 2068 or email marketing@businessnewsaus.com.au to discuss how you can be part of this amazing initiative.
---
"I firmly believe every person should try and start a business by the time they are 30.
Everyone seems to aspire to work for someone, but really, we are all potential entrepreneurs.
The size or success of the venture isn't anywhere near as important as the business skills and life lessons you take away from it.
There is a great period of time between leaving school to the age of 30 which is ideal for taking risks.
It should be capitalised on while it can, because we progressively lose the entrepreneurial zeal with experience and wisdom."

Bevan Slattery, founder of Superloop (ASX: SLC) Megaport (ASX: MP1) NEXTDC (ASX: NXT), Asia Pacific Data Centre Trust (ASX: AJD), Pipe Networks and SubPartners.
Winner of the Brisbane Young Entrepreneur of the Year 2009
---
The 2018 Australian Young Entrepreneur Award winners:
Young Entrepreneur of the Year - Tomas Steenackers (National Veterinary Care)

Trailblazer of the Year - Thuy Lam (Blackbook.ai)
Startup - Thuy Lam (Blackbook.ai)
Hospitality & Tourism - Jon & Rebecca Tarrant (LeisureCom Travel Group)
Food & Beverage - William Edwards (Archie Rose Distilling Co)
Health & Fitness - Tomas Steenackers (National Veterinary Care)
Arts & Culture - Nikias Leigh (Real Property Photography)
Retail & Services - Karl Brown (Instyle Solar and Rokkit Performance Marketing)
Fashion Design - Megan Ziems (Grace Loves Lace)
Specialist Services - Jonathan Dwayre (Orbitz Elevators)
Technology - Peter Ward (WARDY Group)
Digital Disruptor - Ben Bradshaw (Disrupt Digital)
Professional Services - Travis Erridge (TM Insight)

Finance - Daniel Wessels (Jacaranda Finance)
Legal - Shaun Rose (Rose Litigation Lawyers)
Influencer - Tammy Hembrow (Tammy Hembrow Fitness and Saski Collection)
Manufacturing, Wholesale and Distribution - Hamish Ellingham and Sam Hardy (Peak Marketing)
Marketing - Sabri Suby (King Kong)

PR & Media - Ashleigh McInnes (Papermill Media)

Property & Construction - Rouad Elayoubi (Alliance Project Group)
Social Entrepreneur - Madeleine Buchner (Little Dreamers Australia)
Read the award stories here
Tomas Steenackers crowned Australian Young Entrepreneur of the Year 2018
Australian Young Entrepreneur Awards 2018 to acclaim the risk-takers and game-changers
Founder of turnkey design construction company wins 2018 Sydney Young Entrepreneur Award
One stop shop consultancy bags 2018 Melbourne Young Entrepreneur Award
Vet visionary proves top dog at Gold Coast Young Entrepreneur of the Year Awards
Digital disruptor wins Brisbane Young Entrepreneur of the Year 2018
Photos from the night are now available on Facebook and Instagram.
Brisbane Yong Entrepreneur red carpet2018 Brisbane Young Entrepreneur Gala Night
Stay tuned for Australia's Top 100 Entrepreneur list
published on Friday 21 December