Staying informed is more important than ever as the situation unfolds with Covid-19. Stay tuned here for our live updates, and be sure to let us know what your business is doing to face this unprecedented challenge.
---
Retailers welcome commercial leasing code

The stakeholders whose impetus led to a commercial leasing code of conduct have applauded its adoption by federal, state and territory governments.
The National Cabinet has agreed to a set of principles for governing commercial tenancies for those businesses that have been put under strain due to the Covid-19 pandemic.
With good faith leasing and proportionality at its core, the code involves several relief measures including rent waivers and deferrals for those businesses earning $50 million or less that have experienced at least a 30 per cent drop in turnover.
The National Retail Association (NRA), the Australian Retailers Association (ARA), the Pharmacy Guild of Australia (PGA) and the Shopping Centre Council of Australia (SCCA) are yet to see the finalised code, but welcome its announcement today.
The parties submitted a draft code to the National Cabinet on 5 April.
Given retail leasing is regulated in each jurisdiction, a key purpose of a code was to ensure a nationally consistent approach, and efficient and timely application given the rapid commercial impacts arising from the virus.
"The model announced by the Prime Minister today is sensible and proportionate. It will ensure - to the greatest degree possible - that businesses who suffer a major downturn have the best chance of surviving," says NRA CEO Dominique Lamb.
"And that is good for both tenants and landlords. Just as we want to see businesses survive to keep employing their staff, property owners will also want to see the retail sector survive."
ARA CEO Russel Zimmerman says the Prime Minister and National Cabinet can be assured his association and retail industry colleagues will work to ensure the code is progressed and applied in good faith.
"The most important issue is that the industry is talking, and landlords and tenants are working together to ensure business continuity."
Pharmacy Guild of Australia national president George Tambassis says the code will provide clarity for commercial tenants, including community pharmacies that need to negotiate arrangements with landlords during the Covid-19 downturn.
"Fundamentally, as the Prime Minister said, it is about sitting down and working out an agreed course so that we can all get through this together, and with normal business and employment able to resume," says Tambassis.
"A lot of the principles under the Code the SCCA has already agreed to, including publicly and independently committing to not terminating leases for the non-payment of rent a few weeks ago," adds Shopping Centre Council CEO Angus Nardi.
The SCCA's focus is on small, medium and family-owned businesses.
"Every day, our members are having hundreds of conversations with their retailers. Like many other industries, centre owners are receiving high volumes of requests for assistance. These are being worked through as quickly as possible," says Nardi.
"We welcome the approach to proportionality, which we understand provides a set of guiding principles and examples, which will ultimately be negotiated on a case-by-case basis."
All groups look forward to working with States and Territories on regulation, particularly to ensure a uniform approach.
"All of our groups engaged on retail lease legislation across the country, and we look forward to the next stage of work. We call on States and Territories to work together to ensure a uniform approach and efficient application," adds Lamb of the NRA.
"We look forward to working with the NRA, Pharmacy Guild and SCCA as are all working towards the same goal to emerge from the other side of this unprecedented experience with our retail partners especially our SMEs in the best possible position to succeed," notes Zimmerman of the ARA."
Today's announcement coincided with the release of a survey from the Australian Bureau of Statistics (ABS), which found more than a third of businesses have renegotiated their lease and rental arrangements and a quarter have deferred loan repayments.
Updated at 4:43pm AEST on 7 April 2020.
---
PM unveils mandatory commercial tenancies code

A mandatory commercial tenancies code, released today by the Federal Government, will be legislated and regulated in each State and Territory to guide landlord and tenant negotiations during the Covid-19 crisis.
The code will bring together principles of good faith leasing and proportionality and will be overseen through a binding mediation process.
The announcement comes as the Australian Bureau of Statistics reveals more than a third of Australian businesses have renegotiated their lease and rental agreements while a quarter have deferred loan repayments.
To be eligible to negotiate under the code either party must:
be a business that is in a position of financial distress;
have a turnover of $50 million or less;
be eligible to receive support under the JobKeeper program (meaning the business has experienced at least a 30 per cent drop in revenue due to Covid-19 restrictions).
Under the Code landlords must not terminate the lease or draw on a tenant's security. Likewise tenants must honour the lease agreement.
With regard to rent reduction, landlords will be required to reduce rent in proportion to the trading reduction suffered by the tenant. This will be achieved by a combination of waivers and deferrals of rent.
Waivers of rent must account for 50 per cent at least of the reduction in the rental provided to the tenant during that period while deferrals must be covered over the balance of the lease term and for no less of a period than 12 months.
For example, if the lease term goes for three years the cost can be amortised over the three year period. However, if the lease only has another six months left to run then the tenant would still have a minimum of 12 months after the pandemic period to cover the deferrals of the rental payments.
Prime Minister Scott Morrison says he hopes the code will enable landlords and tenants to come to an agreement.
"The point here is simple that is they sit down and work it out," says Morrison.
"This must be shared.
"What this does is it preserves the lease, it preserves the relationship, it keeps the tenant in their property and it keeps the tenant on the lease which is also good for the landlord and it preserves the lease that is in place that underpins the value of those assets."
Morrison has also expressed his hopes that banks will also join these negotiations to provide relief to landlords impacted by Covid-19; particularly international banks of which many do business with some of Australia's larger landlords.
"Banks also must come to the table here and provide the support to landlords and I would particularly send that message to international banks operating in Australia who are in many cases providing that support to many larger landlords," says Morrison.
"We will expect those banks to be providing the same levels of support and cooperation as we are seeing from the Australian banks."
As for residential tenancies the PM says these negotiations will now been overseen by individual States and Territories with little input from the Federal Government beyond a nation-wide moratorium on evictions.
Modelling data to be released this afternoon
The Federal Government is set to release data pertaining to a possible spread of Covid-19 in the Australian community, though PM Morrison says to take the numbers with a grain of salt.
While the modelling does show Australia is flattening the curve and slowing the rate of new infections per day, Morrison says the modelling is theoretical and based on international experiences with Covid-19.
"It is not based on Australian case data and does not model Australian responses," says Morrison.
"The modelling does not predict what will happen in Australia, it does not tell you how many Australians will contract the virus or succumb to the virus or how long it will last in Australia."
With the curve flattening Morrison and the Chief Medical Officer Professor Brendan Murphy both warned Australians to not be complacent over the Easter period.
"Complacency is our biggest risk, we cannot be complacent," says Murphy.
In terms of broadening the testing regime Professor Murphy says testing asymptomatic people is not a high priority at this point in time, but the Government is looking at possibly testing those in aged care facilities without symptoms.
"Because this virus wreaks havoc in aged care that's a strategy that we will be undertaking," says Murphy.
"We think the yield is more in testing people with acute respiratory symptoms in areas of community transmission, so that's where we're broadening the testing at the moment."
The Prime Minister's announcement comes as Australia reports 96 new cases of Covid-19 for a total of 5,896.
There have been four new deaths today including South Australia's first reported deceased patient bringing the total toll to 45.
To date 308,508 tests have been conducted.
Advice for businesses with infected staff
Professor Murphy also provided some advice to businesses that do find themselves in the situation where an employee does contract Covid-19.
He says Safe Work Australia has set out simple procedures at swa.gov.au/coronavirus where the organisation has detailed a response plan.
There are seven simple steps to follow that are detailed below: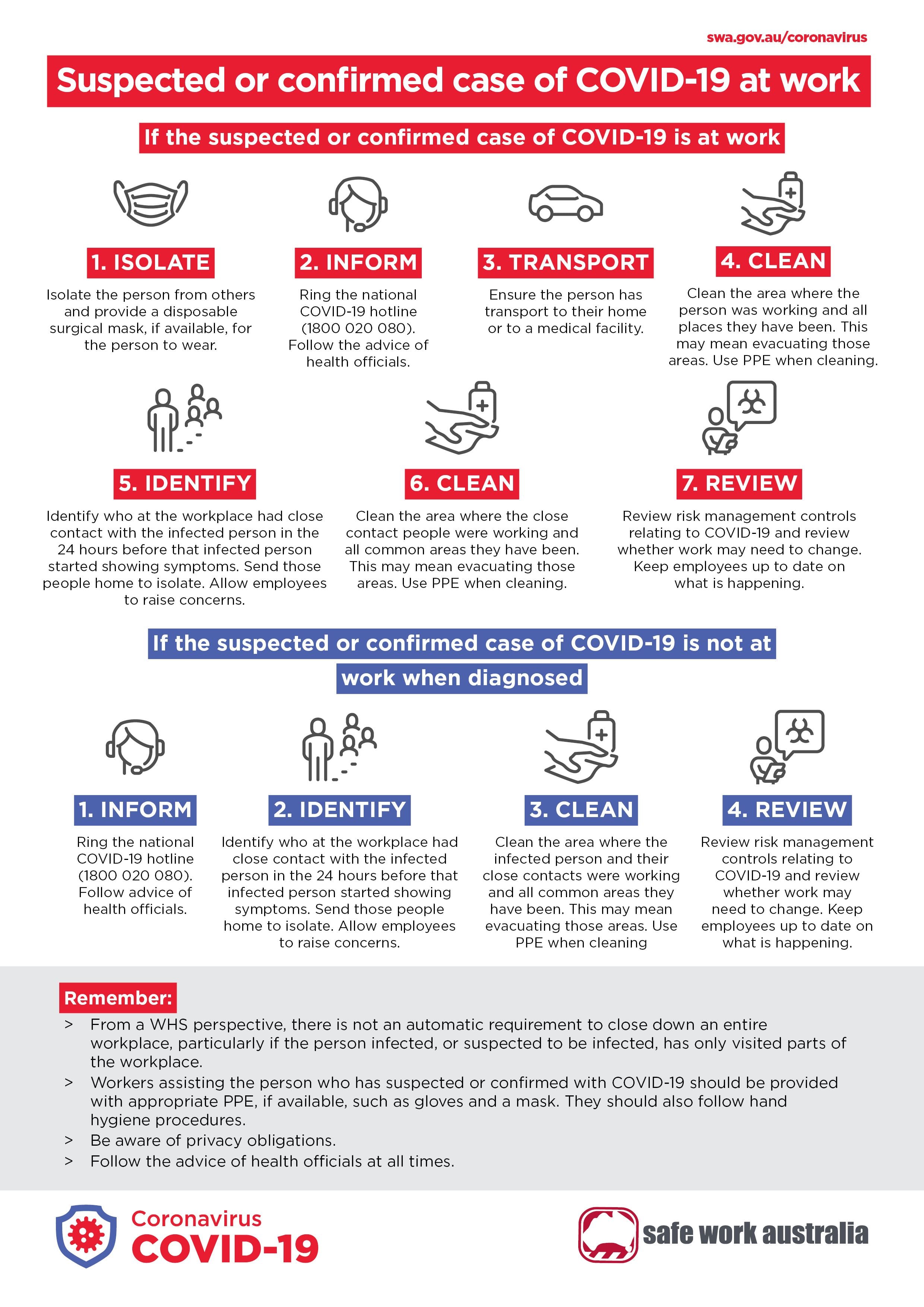 Updated 2:07PM AEST on 7 April 2020.
---
ABS survey shows big shift to deliveries and online

A survey from the Australian Bureau of Statistics (ABS) into the business impacts from Covid-19 has revealed some interesting trends, particularly around adaptation and negotiations with landlords.
In the second survey in relation to the effects of the pandemic on the business community, the ABS found close to two in five businesses (38 per cent) have changed how they deliver their products or services, including shifting to online services.
More than a third of businesses have renegotiated their lease and rental arrangements and a quarter have deferred loan repayments.
The bureau found two thirds (66 per cent) of Australian businesses reported that their turnover or cash flow had reduced as a result of the virus, and nearly half (47 per cent) had made changes to their workforce arrangements.
For some businesses this included temporarily reducing or increasing staff working hours, changing the location where staff worked (including working from home) or staff being placed on leave.
Related story: PM unveils mandatory commercial tenancies code
Updated at 12:24 AEST on 7 April 2020.
---
SCA Property to raise $300m for buying assets on the cheap

While several ASX-listed companies are raising money to stay afloat or build resilience against uncertainty, Shopping Centres Australasia Property Group (ASX: SCP) is issuing new equity so it can snap up supermarket-anchored small shopping centres.
Last month SCP CEO Anthony Anthony Mellowes told Business News Australia the company's 85 neighbourhood shopping centres were thriving due to strong activity at Woolworths, Coles and Kmart, whose increased traffic in many cases helped lift sales for other retailers as well.
In an update today the company indicates this is still the case, with the expectation numerous Government stimulus packages should benefit its small business tenants and their customers.
SCP has formed the position the Covid-19 pandemic may provide a "unique opportunity to secure quality assets at competitive prices over the next 6-12 months", and in order to capitalise on that it will raise $300 million.
The raising will include a $250 million fully-underwritten institutional placement, as well as a $50 million non-underwritten unit purchase plan (UPP).
"With over $550 million in cash and undrawn facilities following the Equity Raising, we will be in a position to act quickly as earnings accretive opportunities arise," the company said.
The company's cash and undrawn debt facilities stand at $277 million prior to the raise, and it has also lifted its bilateral debt facilities by $100 million.
"We have a proven track record of securing and successfully integrating acquisitions in this market segment, where ownership remains fragmented," the group said.
"All but one of our 85 shopping centres are anchored by either a Coles or Woolworths supermarket, and as such our centres are benefitting from the elevated foot-traffic being generated by these anchor tenants over recent weeks.
"Our specialty tenants account for the other 52% of our gross rental income and are heavily weighted toward non-discretionary categories.
"Many of these specialty tenants are trading strongly, including pharmacies, medical centres, discounters, liquor and fresh food retailers."
Some of SCP's tenants have had to close down such as gyms, cinemas, massage, beauty, tanning salons and nail bars, but these represent approximately $1 million per month of the group's gross rental income.
In addition, cafés and restaurants - which are still able to offer takeaway services - represent approximately $700,000 million per month of our gross rental income
The company earns about $300 million in gross property income annually.
Other companies to announce capital raisings recently include Flght Centre (ASX: FLT), Webjet (ASX: WEB), Reece (ASX: REH) and Southern Cross Austereo (ASX: SXL).
Data centre operator NEXTDC (ASX: NXT) is also raising capital, but similarly to SCP this is due to heightened demand.
Updated at 11:13am AEDT on 7 April 2020.
---
Victorian students to learn from home after Easter break

The Victorian Government has announced all government primary, secondary and special school students will move to remote and flexible learning and teaching when class recommences next week.
The drastic measure has been taken on the advice of the Chief Health Officer in order to slow the spread of Covid-19.
Victorian government schools will recommence on Tuesday 14 April with a pupil-free day, with students to begin classes on Wednesday 15 April. These new arrangements will remain in place for the duration of Term 2 and will then be reviewed.
"I know this year will be different to any that students, teachers and families have experienced before, but we are making sure that our kids still get the education they deserve," says Victorian Premier Daniel Andrews.
"We've done the work and planning so we're ready to make the move to remote and flexible learning, and I want to thank everyone involved for their dedication to our kids' education at this unprecedented time."
To support students the State Government has announced changes to the academic timetable for those in Year 12, as well as free Internet access and laptops for students in need.
VCE students will still receive an ATAR but there will be a number of chances to the academic timetable including:
The GAT test will move from June to October or November;
End of year exams will be postponed until at least December;
School based assessment tasks will be reduced where possible to relieve some pressure on students as they move to remote and flexible learning arrangements; and
Universities will be asked to delay the start of the 2021 academic year to account for impacts of coronavirus on senior secondary students.
VCE study scores will continue to be a combination of school-based assessment and external exams. VCAL students will have more time to complete their courses and this will be consistent with the revised dates for the VCE.
On-site learning will only be available for children whose parents can't work from home and vulnerable students without access to a suitable learning environment at home.
Further, the State Government will loan more than 6,000 laptops and tablets to students who currently do not have access to digital technologies at home. Schools will also distribute other classroom devices as required.
Free Internet access via SIM cards or dongles will be provided to thousands of students at public schools who need them the most. The State Government has partnered with Telstra to provide 4,000 SIM cards for public primary and secondary students.
The measure comes as Victoria reports 1,191 confirmed cases of Covid-19 in the state.
In total there are currently 5,895 confirmed cases of the coronavirus in Australia with 2,686 in NSW, 934 in QLD, 460 in WA, 411 in SA, 96 in the ACT, 89 in TAS, and 28 in NT.
Updated at 10:54AM AEST on 7 April 2020.
---
Queensland to send away foreign flagged cruise ships

The Queensland Government has announced all foreign-flagged cruise ships will be banned from entering its waters by midnight.
The move follows a national order from the Australian Border Force, and comes as a a criminal investigation is underway into the Ruby Princess as the largest single source of Australian Covid-19 infections, accounting for around 10 per cent of the total.
The Premier says the remaining four ships are just refuelling and "they'll be on their way as well".
Around 119 of Queensland's 934 coronavirus cases can be traced to cruise ship passengers.
There are currently 5,895 cases of Covid-19 in Australia and 45 deaths.
Although the amount of daily new cases has been declining the authorities have reiterated that is no cause for complacency. And with some states and territories yet to announce their numbers, it is looking like the decline will be less pronounced today if at all.
Updated at 10:38am AEST on 7 April.
---
Tabcorp stands down 700 staff as sport hiatus bites into betting

Australia's largest gambling company Tabcorp (ASX: TAH) has taken a battering from the cancellation of major sporting events and the shutdown of licensed venues and TAB agencies where so many of its clients like to take a punt.
New and obscure sport betting options like the Belarusian Premier League and Tajikstan men's basketball have been unable to compensate for loss of revenue that would normally come from the world's most popular competitions in Australia and worldwide.
This state of affairs has led the group to temporarily stand down more than 700 employees to 30 June 2020 in businesses where there is no work due to coronavirus-related closures.
A further 160 technology contractors have also been let go, representing a cut of 40 per cent.
Business-as-usual expenditure for the current half is expected to be down by a quarter at around $120 million, and Tabcorp has expanded its banking facilities through an additional $226 million short-term facility payable in mid-2021.
Managing director and CEO David Attenborough has also taken a 20 per cent fixed remuneration pay cut until the end of the financial year.
"This continues to be a very challenging time for our people, businesses, partners and the community," says Attenborough
"We are committed to working proactively and collaboratively with all our stakeholders so that we can collectively emerge from the Covid-19 period as strongly as possible."
Meanwhile, chairman and non-executive director fees have been reduced by 10 per cent, following on from an earlier 10 per cent cut in September last year.
Tabcorp highlights its Lotteries & Keno and Wagering & Media digital channels continue to operate, as well as the lotteries retail network of newsagents, convenience stores and other outlets.
Thoroughbred, harness and greyhound race meetings in Australia (excluding Tasmania) are currently still being conducted in accordance with strict state government biosecurity and public health restrictions.
Fees owed in April by venues under Sky Racing, TAB, Keno and MAX contracts have been suspended, and will be reviewed every month in light of Covid-19 developments.
Updated at 9:56am AEST on 7 April 2020.
---
CSL forms global alliance for Covid-19 plasma treatment

Australia's largest listed company CSL (ASX: CSL) has teamed up with Japan's Takeda Pharmaceutical Company and several international companies to develop a potential hyperimmune therapy for Covid-19.
The alliance formed by CSL Behring and Takeda to work on plasma-derived therapy for the virus now also includes Biotest, BPL, LFB and Octapharma.
Work will start immediately on the investigational development of an unbranded anti-SARS-CoV-2 polyclonal hyperimmune immunoglobulin medicine, which will be aimed at treating individuals with serious complications from Covid-19.
"Leaders lead during uncertainty. There is no question that we are all experiencing the impact of Covid-19," says CSL Behring executive vice president and head of research and development, Bill Mezzanotte.
"This effort aims to accelerate a reliable, scalable and sustainable option for caregivers to treat patients suffering from the impact of Covid-19.
"In addition to pooling industry resources, we will also collaborate with government and academic efforts as a single alliance whenever we can, including important activities like clinical trials. This will make it more efficient in these hectic times for these stakeholders as well."
The collaboration will leverage leading-edge expertise and work that the companies already have underway. Experts from the alliance will begin collaborating across key aspects such as plasma collections, clinical trial development and manufacturing. Further companies and institutions may join the alliance as well.
"Unprecedented times call for bold moves," says Takeda's plasma-derived therapies business unit president Julie Kim.
"We collectively agree that by collaborating and bringing industry resources together, we could accelerate bringing a potential therapy to market as well as increase the potential supply. We invite companies and institutions focusing on plasma to support or join our alliance," says Kim.
Developing a hyperimmune will require plasma donation from many individuals who have fully recovered from Covid-19, and whose blood contains antibodies that can fight the novel coronavirus.
Once collected, the "convalescent" plasma would then be transported to manufacturing facilities where it undergoes proprietary processing, including effective virus inactivation and removal processes, and then is purified into the product.
Updated at 9:21 AEST on 7 April 2020.
---
Foodmach and Med-Con team up for 50 million surgical mask goal

Two companies from rural Victoria have joined forces to produce tens of millions of urgently needed surgical masks in response to the Covid-19 health crisis.
Shepparton-based Med-Con used to be a major player in the production of surgical masks, but competition from China has led its Australian market share to dwindle to just five per cent over the past decade.
With 5,795 cases of the virus now in Australia and some hospitals reportedly unable to provide masks that fit the doctors who are supposed to use them, the government has requested Med-Con to quickly increase annual production from two million to 50 million surgical masks.
One challenge with this request from the Department of Industry, Science and Technology was that only two of Med-Con's three mask-making machines were operational.
The machines were designed and built nearly 40 years ago, and no original drawings were available to reproduce them.
As part of this time-critical innovation challenge, Australian Defence Force (ADF) engineers disassembled and modelled the non-operational Med-Con machine. Several engineering firms were assessed for competency to reverse engineer and manufacture three new machines.
In came Echuca-based packaging automation manufacturer Foodmach, which has been appointed to engineer and build the new machines.
"Building packaging machinery requires strong expertise in mechanical engineering, electrical systems, pneumatics and motion control," says Foodmach director Peter Marks.
"Our pool of talent across all these fields and our one-stop-shop factory set-up means we can quickly build something new and complex like machines that produce surgical masks."
Marks says reverse engineering is usually a lengthy process that involves a lot of testing and adjustments.
"We have 60 days from start to finish to find ways to build a machine that uses parts which have long been obsolete. Although 3D models have been provided by the ADF, these still need to be detailed on a part by part basis, materials identified and checks made that they'll assembly correctly," he says.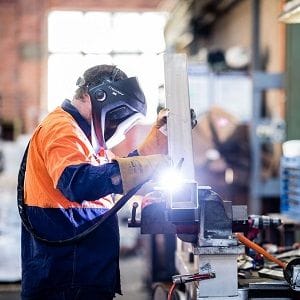 "There will be knowledge gaps around material specifications and possibly tolerances which need to be resolved. The old design will also need to be updated to current safety, controls, and interfacing standards."
Foodmach's 6,600 square metres of factory and machine shop space in Echuca will allow ts 100-strong team of skilled staff to work around the clock while maintaining enough distance from each other to manage Covid-19 risks.
"Keeping our workforce safe and productive in an epidemic that has the potential to threaten 40-70% of the Australian population is clearly a high priority for us," says Foodmach CEO Earle Roberts.
"Staff will be working in shifts 24/7 during the next eight weeks to meet the deadline.
"Normally with a good set of drawings we'd want 16 to 20 weeks to build something new like this, so to try and complete one machine in eight weeks, and three inside 12 weeks, is a stretch to say the least.
"The complexity of the Med-Con machines will provide us with an exciting challenge. We've obviously never built one before - but with all the necessary design, manufacture and assembly expertise under a single roof, we're well equipped for it.
Updated at 4:21pm AEST on 6 April 2020.
---
Queensland manufacturer Evolve pivots to mask making

Logan-based Evolve Group has been granted $1.2 million in financial assistance by the Queensland Government to begin producing disposable N95 surgical masks in high volume.
Described by Evolve as "the most important move they've made" the company will soon begin producing 60,000 surgical masks per day at the manufacturing plant.
N95 masks are the highest quality surgical masks available for frontline healthcare workers and can help to filter out fine particles.
The pivot to manufacturing masks is not a drastic leap for the company which has produced a large variety of products for a wide range of sectors since its founding in 2006.
Evolve Group owns brands like plastic manufacturing business Marco Engineering, pool and spa equipment company Poolrite, and 4x4 recovery device TRED.
According to Queensland Premier Annastacia Palaszczuk local production of goods like face mask is imperative both now and into the future.
"We can and we must make these lifesaving products in Queensland," says Palaszczuk.
"We are prepared to back our manufacturers with long term offtake agreements to ensure they keep manufacturing them here."
The Government's partnership with Evolve is not just a short term solution either; Queensland Health and the Department of Housing and Public Works have both agreed to purchase masks from Evolve Group for a three-year period to support the health system.
Logan's Evolve Group is no one-trick-pony, and prides itself on flexibility and responsiveness according to managing director Ty Hermans.
"We have always prided ourselves on our ability to design award-winning products and rapidly solve complex engineering challenges, but this is certainly our most important project - something we have been training for since we started our reshoring mission back in 2006," says Hermans.
"We are proud of our ability to apply our Queensland-based advanced plastics manufacturing facility and skills to a mission-critical project like this, supporting our frontline medical teams and others that are sacrificing so much right now.
"Securing supply of critical products like this by reshoring the manufacturing in Australia has to be a priority for all Australians now and into the future. Being Australian-made also ensures the production of high-quality products."
Never miss a news update, subscribe here. Follow us on Facebook, LinkedIn, Instagram and Twitter.
Business News Australia
---
Reece to raise $600m despite strong sales

Bathroom supplies distributor Reece (ASX: REH) is launching a pre-emptive $600 million capital raising even though trading has been strong and shares are down 27 per cent since late February.
The equity raising will include $170 million committed by major shareholder group the Wilson family, and will be offered at $7.60 per share.
This represents a 12.5 per cent discount to the trading price on Friday.
Proceeds will go towards balance sheet flexibility, increasing liquidity and reducing net debt, as well as supporting business during the current macro-economic uncertainty.
Reece's branches and distribution centres in Australia and the US remain open as plumbing is considered an essential service in both countries.
The group cites a "solid start to the calendar year with strong March quarter sales", with a shift to investment in home comforts, hot water units and repair and maintenance work.
As a result the company hasn't yet seen any material impact from the Covid-19 pandemic, but it notes it is impossible to forecast the future impacts of this health and economic crisis on trading and the supply chain.
In light of this, dividends have also been suspended, implying further erosion of shareholder value while the company offloads 14.1 per cent of its issued capital for the new share.
"Reece has a 100-year history of strengthening the business through tough times the current crisis is no exception," says chief executive officer Peter Wilson.
"We believe that Reece, and the plumbing and construction trades it supports, has an essential role to play in times of crisis.
"We want to continue to run our business with a long-term view, despite the short-term challenges. A more conservative balance sheet will give us the confidence to continue to act on long term objectives for the benefit of our shareholders."
He says the capital raising sets up Reece for the future.
"It will enable us to navigate through this period of uncertainty from a position of strength, and importantly it provides us with the flexibility to accelerate our growth strategy and pursue opportunities that may emerge," he says.
Updated at 11:36am AEST on 6 April 2020.
---
McGrath closes offices, slashes executive pay in response to Covid-19 uncertainty

McGrath (ASX: MEA) CEO Geoff Lucas will take a sizeable pay cut as his real estate group embarks on a crisis management plan to save cash.
CEO and board remuneration will be slashed significantly by 40 per cent in May, June and July 2020, while all staff earning above $70,000 per annum will have their salaries cut by 30 per cent.
The company will also be closing certain company offices and immediately ceasing all discretionary expenditure and non-essential spending.
These new measures come in addition previously announced plans to cancel all public auctions and open house inspections.
"As previously announced, McGrath is well equipped to operate in this challenging environment," says McGrath CEO Geoff Lucas.
"We have moved quickly to use the latest technology to conduct online auctions and virtual inspections within the required safety guidelines. The last two weekends has been a good litmus test in terms of illustrating how we can continue to conduct real estate and in many cases multiple bidders participated from the safety of their own homes."
Lucas says McGrath's balance sheet is in a strong position with approximately $10 million in cash and no debt.
"With the support of all our highly valued employees, contractors and agents, we are well equipped to successfully overcome these unprecedented times."
Since early December 2019 McGrath's share price has dived by 51.35 per cent to $0.18 per share.
Updated at 10:56AM AEST on 6 April 2020.
---
SEEK billings fall 60 per cent

Online job postings provider SEEK (ASX: SEK) saw its billings in Australia, New Zealand and Asia (except China) fall 60 per cent in the last week of March, as government responses to Covid-19 impact revenue across all its businesses and markets.
A $110 million sales cut to SEEK's Chinese business Zhaopin announced in February was a precursor of things to come here in Australia, where billing declines accelerated from 40 per cent in the week prior.
It appears year-on-year declines have stabilised around the 60 per cent mark, as the company takes steps to keep customers on board.
For April and May the group will relieve hirers of their minimum monthly ad spend obligations and will only charge them for ads used, while expiry dates will be extended to allow for longer use periods.
The current year-on-year reduction for SEEK ANZ and SEEK Asia is more or less in line with the drop-off seen for Zhaopin in February.
But the Chinese business - itself a rapidly-growing enterprise until Covid-19 hit - has seen an improvement since then with its billings down just 30 per cent year-on-year in March.
SEEK notes the Chinese market is returning to normal trading conditions and its teams in the country have returned to the office.
"When the pandemic subsides, as it will, job creation will be at the core of economic recovery," says SEEK CEO and co-founder Andrew Bassat.
"This aligns directly with SEEK's Purpose and we are determined to ensure we have the capabilities to help facilitate the economic recovery process in all of our markets."
He highlights staff have been working hard from home to continue rolling out new functionality across the business, while there has been a dual focus on cash preservation and adapting business model to customer needs in this challenging environment.
"The near-term economic challenges will impact SEEK's short-term profitability. They will delay, but not fundamentally change our long-term aspirations.
"Our focus remains on executing against our existing long-term growth strategies and developing new employment and education solutions to meet the needs of our customers in the months and years ahead.
"We expect our long-term focus to unlock large new revenue pools and create significant long-term shareholder value."
The company has deferred its dividend until 23 July and has also released a potential FY20 outcome based on high-level assumptions, which it emphasises is not to be interpreted as guidance.
Under this hypothetical scenario, SEEK would book $1.6 billion in revenue and an EBITDA of $410 million, which would compare to $1.54 billion in revenue in FY19 and $455 million EBITDA in that same period.
Updated at 10:47 AEST on 6 April 2020.
---
Flight Centre to travel on with $700 million capital raising

Travel agency Flight Centre (ASX: FLT) is set for a significant dilution of ownership as it looks to raise $700 million in extra capital.
With total transaction value (TTV) sitting at 20-30 per cent of normal levels in March and further declines expected for the coming weeks due to travel restrictions, the Brisbane-based company is prepared to almost double the amount of shares on offer to stay afloat.
Flight Centre plans to issue around 97.2 million new shares at at $7.20 each, representing a 27.3 per cent discount to the last traded price of $9.91 on 19 March before the shares entered a trading halt.
This compares to 101.14 million shares currently tied up in the company.
Shares have fallen from $39.84 on 25 February, and were trading as high as $65.30 in late July 2018.
The capital raising is fully underwritten by Macquarie Capital and UBS, and will include a $282m institutional placement as well as a $419 million 1 for 1.74 accelerated entitlement offer.
Flight Centre has also secured an extra $200 million in banking facilities, bringing the total up to $450 million.
As revenue streams dry up while the world hunkers down against the Covid-19 pandemic, Flight Centre expects its cost reduction measures - including standing down 6,000 staff and closing half its shops internationally - will result in annualised savings of $1.9 billion.
This translates to anticipated monthly operating cash costs of approximately $65 million, which will be implemented by the end of July. But one-off costs of $210 million will likely be spent to execute the plan.
"Flight Centre has moved to significantly reduce occupancy costs of the remaining retail network, by renegotiating rental agreements with landlords, discussions to date have been positive as FLT has pursued cost savings including rent-free periods and more flexible trading hours," the company said, adding it was also exploring the sale of its Melbourne head office site.
"FLT welcomes stimulus packages that governments throughout the world are delivering to help businesses retain as many workers as possible and overcome the extraordinary trading conditions they are facing.
"Flight Centre welcomes the Federal Government's JobKeeper initiative. The impact of the initiative is still being assessed; however, Flight Centre believes it will receive material support, both in terms of payments and an ability to retain more staff."
FLT says its package of initiatives provides approximately $2.3 billion of liquidity.
Despite travel restrictions and TTV declines, Flight Centre continues to generate some revenues through long-term travel bookings, intra-state and intra-region travel, repatriation services, essential services, government work, aircraft charters and alternative revenue streams.
The company has also continued to win and retain corporate accounts, and has secured contracts with annual spends in the order of $250 million during March 2020.
Managing director Graham Turner (pictured) says government-enforced restrictions are widespread globally and now typically include full bans on international travel, domestic border closures and the forced closures of shops that are not deemed to be providing essential services.
"Together, they mean that our people are currently processing a fraction of the normal volumes at this time of year and the vast proportion of work previously carried out by our people has stopped," he says.
"It is - without question - the most challenging period we have encountered in over 30 years in business and it is inevitable that some businesses across our industry will fail, given the significant loss of revenue that they will be experiencing now and for at least the next few months.
"With this funding in place and additional liquidity, we are in a much stronger position and are well placed to weather a prolonged downturn, which currently seems the likely scenario, and to then take advantage of the significant opportunities that will arise once conditions normalise."
Related story: Grounded Webjet to raise $275 million
Updated at 9:45am AEST on 6 April 2020.
---
Growers welcome visa extensions to prevent "fruit rotting on trees" during pandemic

The fresh produce industry has applauded the Federal Government's decision to temporarily extend visas for vital foreign workers in agriculture and food processing.
The government announced this morning that temporary changes would be made to visa arrangements to help farmers access the workforce they need to secure Australia's food supply during Covid-19.
The changes allow those within the Pacific Labour Scheme, the Seasonal Worker Program and working holiday makers to continue to work in these sectors until the coronavirus crisis has passed.
Temporary visa changes announced today include an exemption from the six-month work limitation with one employer for working holiday makers working in agriculture as well as a further extension of their visa if it is due to expire in the next six months.
"We can't afford to see fruit rotting on trees and vines and vegetables left unpicked. It is vital our farmers maximise their hard work and economic returns," said Deputy Prime Minister Michael McCormack.
"We are acting to enable seasonal workers to extend their stay and remain lawfully in Australia until they are able to return to their home countries.
"The agriculture sector relies on an ongoing workforce and we are committed to providing the means for that to continue while ensuring strict health and safety measures are adhered to, including visa holders following self-isolation requirements when they move between regions."
AUSVEG CEO James Whiteside, whose organisation represents Australia's vegetable and potato growers, says the announcement is a sensible and practical solution for fruit and vegetable growers who rely on a combination of local workers and foreign backpackers.
"The decision to temporarily extend the visas of seasonal workers and backpackers already working on farms in Australia will give growers confidence to plant their crops for the coming season, will help keep local businesses open in regional and rural areas that rely on agriculture to survive, and will ensure that locals, seasonal workers and backpackers alike are able to keep their jobs, work and live safely, and keep the economy running," says Whiteside.
"This is an important outcome for the Australian horticulture industry and demonstrates the value in the sector coming together and collectively advocating on behalf of fruit and vegetable growers towards an outcome that benefits growers, workers and the Australian public.
"Fruit and vegetables help Australians have a healthy, strong immune system and fresh produce is essential to a healthy, well-balanced diet Australians need fresh produce and growers need workers to supply this produce to consumers."
The sentiment was similar at the Australian Fresh Produce Alliance (AFPA), highlighting the sector employs around 80,000 people including significant numbers of Australians, seasonal workers from the Pacific and Timor-Leste, and backpackers from around the world.
"The reality is a number of these workers, particularly those from the Pacific and Timor-Leste are unable to return to their home countries due to travel restrictions," says AFPA CEO Michael Rogers.
"The alternative to the extension of their visa arrangements was leaving these people unemployed in regional communities with minimal access to healthcare.
"Enabling their ongoing employment is a great outcome for workers, farmers and their communities."
The National Farmers Federation (NFF) has developed best practice guidance for farmers regarding requirements for the living and working arrangements of farm workers (either domestic or migrant) during the Covid-19 outbreak.
"We have asked the Chief Medical Officer to review these guidelines and it is critical that they are then considered by the Australian Health Protection Principal Committee," says Minister for Agriculture David Littleproud.
"Sadly, there's been a significant number of Australians who've lost their jobs due to the economic impacts of Covid-19.
"I know some farmers have seen strong interest from job ads and we are keeping market testing requirements in place to ensure recruitment of Australians first."
Whiteside says growers will always have a preference to employ a local workforce.
"But the reality is that our industry relies on international workers to supplement the workers they need that cannot be sourced from the local labour pool," he says.
"he extension of Seasonal Worker Program, Pacific Labour Scheme and Working Holiday Maker visas is a much-needed short-term solution to what will become a larger problem as the ongoing COVID-19 pandemic continues to limit the number of foreign workers who can come to Australia."
Rogers says AFPA members have already put policies and procedures in place to safely manage their workforce and reduce risk of Covid-19 transmission on their farms, packing sheds and in the regional communities in which they operate.
"Food security in Australia relies on a healthy and safe workforce, so AFPA members and all growers are taking this seriously to ensure the continued supply of produce," he says.
Updated at 11:46am AEDT on 4 April 2020.
---
Government to introduce mandatory commercial tenancy code of conduct

Update (7 April): The mandatory commercial tenancies code has been formally announced by the PM. Click here for more.
Prime Minister Scott Morrison has today announced a mandatory "give and take" tenancy code will be introduced to help struggling businesses get through the Covid-19 crisis.
Following a tentative draft code that was reached by industry bodies in retail, pharmacy and shopping centres, the National Cabinet has been working on an enforceable code that is close to being finalised.
Companies wishing to apply for the code to come into force will need to meet the similar conditions as those applying for the JobKeeper package, with a prerequisite that they have experienced at least a 30 per cent drop in revenue. The tenant will also need an annual turnover of less than $50 million.
"If you're in that situation and you're a tenant, we'll be working on a mandatory code of practice to ensure the landlord and the tenant can get through this period, and on the other side be able to go back to business as usual," Morrison said.
"What is important as part of this code is that both parties negotiate in good faith," he said.
The PM says the idea is that the code be incorporated in the state and territory legislation. It should not be prescriptive but ought to follow the proportionality principle.
"The turnover reduction of the tenant needs to be reflected in the rental waiver of the landlord," he said.
"How that is done inside the lease is up to the landlord and the tenant. There are many different ways you can achieve this.
"If for example there was a three or a six-month rental waiver because a lessee or a tenant would have had to have closed their doors, and there's just no money coming in, one way to achieve that is to extend the overall lease by six months on the other side."
Another scenario could be that the parties agree to a different level of rent over the entire term of the lease.
"The banks will need to come to the party as well. The banks are not parties to those arrangements, and so that makes it legally a little more difficult.
"The banks are already moving to providing all sorts of new facilities and arrangements to their customers, and we would expect banks to be very supportive of the agreements reached by landlords and tenants who would be working under this mandatory code."
New measures for backpackers
The Prime Minister announced additional containment measures for backpackers on working holiday visas, whereby those wanting to work in a new area will need to undergo 14 days of self-isolation beforehand.
"There are particular places in the agricultural sector that rely on those workers each year as you go into the seasons either planting or for harvesting or for fruit picking and so on. And it's important that those businesses and those producers are able to continue to conduct their business," he said.
"Of course Australians who want to do that work, then please do get out there and do that work. And there'll be opportunities there for working holiday makers who are looking to engage in those occupations as they regularly do.
"They will be required to self-isolate and to go onto Australia.gov.au, and register for self isolation and do that where they are now for a period of 14 days before they transfer to another part of the country out in a rural or regional area."
He said this measure was being taken to ensure there is no lift-up of the virus moving from metropolitan to rural areas.
"This has been done to ensure that those producers can get the work done, but also to ensure that the communities are protected.
"At the same time working through the states and territories and local governments, we will be working to ensure that the workers' accommodation that will be in those places is also respecting strict health requirements.
"You can't have six backpackers in a caravan up out in rural parts of the country. That's not on. Not going to happen."
Update on results of social distancing measures
The Prime Minister started off his speech today highlighting how if it weren't for the actions taken to date and the virus were allowed to keep spreading at the rate of 12 days ago, we'd be looking at more than 10,500 cases in Australia compared to the current level of 5,315.
"In fact, some commentators who are doing the maths were suggesting that we would have had 8,000 cases just as recently as last weekend," he said.
"That is a tribute to the work that has been done by Australians in getting around and supporting the very sensible measures that have been put in place all around the country by the state and territory governments, but we must continue to do this.
"We need to continue to keep the pressure on. We need to continue to suppress the virus. We are now at single digit rates of growth, but we need to do more."
He said discussions are now focused on a six-month period, but that is no guarantee and the situation could be like this for longer.
"We pray it's shorter, but a six-month period should give people a good indication of what they have to ready themselves in terms of the changes they're making in their daily lives," he said.
"We are in what we described today as a National Cabinet as the suppression phase. We are now In a place where we're seeking to put the pressure down on constraining this virus in Australia.
"We then need to look at the recovery phase which is beyond, and I want to assure Australians that the National Cabinet is very focused on those issues as well."
Chief Medical Officer Brendan Murphy added the number of cases internationally is likely five to 10 times the one million-plus figure that is being reported.
"In Australia we're pretty confident that our testing has been the best in the world," he said.
"The growth rate has been falling, it's about five per cent per day at the moment."
In terms of community transmission, there have been 300 cases in Sydney, 60 in Melbourne and 30 in Brisbane.
Starting this afternoon the government will be publishing a daily dashboard on Health.gov.au with all the key statistics and data, including a simple summary of key features from the Chief Medical Officer.
Murphy said the government's modelling for the virus' spread will be released next week.
Updated at 2:20pm AEDT on 3 March 2020.
---
Wearing face masks in public could become new normal in the US

The use of surgical face masks has been the norm in many Asian countries over the last two months, especially in China following the outbreak of Covid-19 in Wuhan.
But for citizens in Western nations like Australia and the United States the concept of leaving the house with a face mask on is still quite an alien concept.
As new information pertaining to how Covid-19 spreads becomes available, the US is considering changing its guidelines around the use of face masks.
According to TIME, The New York Times and the Washington Post, the US Federal Government is expected to advise all Americans to wear cloth masks in public.
Until now US citizens have been told to only wear a face mask in public if they are sick or expressing symptoms of Covid-19. As new concerns arise about Covid-19 spreading by infected people who have no symptoms the Federal Government is considering ramping up its response.
At a White House briefing on Thursday evening US time President Trump told reporters to expect clarification around mask regulations soon.
While the Centres for Disease Control and Prevention is expected to encourage wearing face masks for all citizens Trump says the guidance will be entirely voluntary.
"If people want to wear them, they can," said Trump.
Whether Australia will follow in the footsteps of the US is yet to be clear.
Updated at 12:22PM AEDT on 3 April 2020.
---
Remote working trend bolsters demand for Superloop

Cloud services connector Superloop (ASX: SLC) has experienced a "significant" increase in traffic across its network in recent weeks as companies take up video conferencing and remote working to ride out the Covid-19 pandemic.
In a letter to shareholders today, chairman and founder Bevan Slattery (pictured) said this rise was particularly the case across Superloop's global IP transit backbone and international networks.
Shares in the company rose 25 per cent to $0.70 this morning by 11:40am AEDT.
Superloop subsidiary SubPartners played a key role in building the INDIGO subsea cable project connecting Australia with Singapore.
"As a result, Superloop expects to realise increased revenues from its wholesale IP transit and international capacity products during this quarter, particularly its Indigo international cable system," Slattery said.
"These new contracts are predominantly multi-year, recurring revenue agreements, structured with high cash contributions, and are able to be provisioned by Superloop within 30-60 days."
The expected increase in revenue has been factored into guidance, which Slattery said was still tracking within the $12-15 million announced on 18 February.
Business hasn't been entirely smooth sailing though, with uncertainty surrounding the company's Guest WiFi and student accomodation clients as a result of social distancing measures and travel restrictions for many international students.
"As foreshadowed in our guidance update on 18 February 2020, for conservatism, we anticipated a potential temporary reduction in Guest WiFi revenues from possible restrictions on international students returning to Australia for their studies and disruptions to international travel," Slattery said.
"With Universities recommencing in late February-early March, Superloop has now been able to quantify the level of that impact to date, which is currently in line with our initial assumptions.
"Since that time, we have seen consistent device activations during the month of March within the student accommodation facilities we service."
He says international student numbers are expected to remain relatively constant, but the number of domestic student numbers using these services may decline as some return to families over the Easter break and decide to undertake distance learning during the next term.
The announcement comes just a day after another Slattery-founded company, NEXTDC (ASX: NXT), embarked on a $672 million capital raising for expansion to support growing demand.
In the early stages of the virus' spread, Slattery's cloud technology company Megaport (ASX: MP1) pre-ordered around six months worth of critical supplies such as optics and transceivers, as well as equipment for planned rollouts for the financial year.
A new subsea cable for Australia
The serial entrepreneur has also recently achieved a milestone for his infrastructure group SUB.CO, which is building a subsea cable to connect Oman to Perth.
Early last month the project entered Contract In Force status (CIF) with its final system connection expected to be completed in December 2021.
At the time, Slattery said the cable manufacturing was expected to begin in April, with installation of the cable and repeaters expected to start in about a year from now.
What makes this project's business case so compelling for him is the fact a lot of internet traffic demand already exists from Europe and the Middle East to Australia.
"This would be the first express route between Australia and Europe," Slattery told Business News Australia, adding it would involve a start-to-finish expenditure of close to US$200 million.
"The real key here is all the cables that come out of Australia to the west, all basically go up through Singapore through the Sunda Straits in Indonesia - it's pretty shallow through there. Singapore is absolutely the right place to go, but there are no cables to avoid that route.
"And because it's quite shallow for about 1300km, the likelihood of impact is higher."
The big difference with the Oman-Perth cable is that it will run through mostly deep ocean water, making it "the fastest, most secure route", according to Slattery.
"But it also provides redundancy and diversity to the existing investments they have made. This isn't about replacing other routes; this is about complementing other routes," he said.
"SUB.CO is obviously different to Superloop. One of the things we've made sure of is we have a certain upfront commitment from certain customers, which we've been able to secure.
"It's not really about external holders, we've got significant pre-sale capacity that we've already done on this and we're prepared to take the longer term view on the remaining investment, primarily because it will be the only express route from Australia to Europe."
He says for any business that is latency sensitive, the SUB.CO route is the one they'll need to be on.
In that interview in early March, Slattery said he was really excited by Superloop despite some of its challenges recently including the collapse of takeover talks with QIC and a general decline in the share price.
"It's been a difficult couple of years, but we really focus incredibly hard for quite a while to get the business fit. It's much fitter now than it's ever been.
"The infrastructure we've got on Superloop for example is 25, 40, 50-year assets, and people are valuing it on how much you can make within a year or two of an asset going live.
"The ASX at times can be your friend in terms of getting investment for longer term projects...but when people talk about the shorter term, I think having infrastructure assets that are in the growing phase of what they do, the ASX is probably not where you want to be.
Updated at 11:40am AEDT on 3 April 2020.
---
NSW Government announces $10,000 fast relief for small businesses

Small businesses impacted by Covid-19 shutdowns will receive grants of up to $10,000 under a new assistance scheme announced by the NSW Government this morning.
The State Government will add $750 million into the Small Business Support Fund as part of a third wave of stimulus measures.
The grants will go to small businesses like restaurants, venues, gyms and bars that have been forced to shut because of social distancing measures imposed by the Federal Government.
To be eligible businesses will need to:
Have between 1-19 employees and a turnover of more than $75,000;
Have a payroll below the NSW Government 2019-20 payroll tax threshold of $900,000;
Have an Australian Business Number as at 1 March 2020, be based in NSW and
employ staff as at 1 March 2020;
Be highly impacted by the Public Health (COVID-19 Restrictions on Gathering and
Movement) Order 2020 issued on 30 March 2020;
Use the funding for unavoidable business costs such as utilities, overheads, legal
costs and financial advice;
Applications will be available within a fortnight and remain open until 1 June 2020.
The fund mirrors the approach taken by the NSW Government in the wake of the Australian bushfire crisis earlier this year which provided $42 million to 4,200 businesses within the first ten days of launching.
"This is about getting cash into small businesses when they are struggling right now in the face of an unprecedented situation," says NSW Premier Gladys Berejiklian.
"These grants will provide a big boost, and we will make the application process easy to ensure small businesses can receive some cash-flow as soon as possible to meet pressing needs."
The $750 million grant program adds to a suite of stimulus initiatives announced by the NSW Government over the past fortnight including:
More than $5 billion in payroll tax waivers, deferrals and other tax deferrals;
A $1 billion Working for NSW fund to create jobs;
$700 million in additional funding for the health system;
$250 million to bring forward capital works and maintenance on public assets;
$500 million to bring forward capital works, maintenance and shovel ready
infrastructure projects;
$80 million to waive a range of fees and charges;
$80 million to help the vulnerable through a range of measures.
The measures come as Australia records 5,315 confirmed cases of Covid-19.
At the time of writing there are 179 new confirmed cases of the virus. Yesterday there were 272 new confirmed cases, down from 303 on Wednesday.
NSW has the bulk of the total cases with 2,389 confirmed Covid-19 results, followed by VIC with 1,085, QLD with 873, WA with 400, SA with 385, the ACT with 87, TAS with 74 and the NT with 22.
Updated at 11:33AM AEDT on 3 April 2020.
---
Servcorp stands down staff, suspends market guidance

More than 100 team members at workspace provider Servcorp have been stood down as the company comes to terms with the Covid-19 economic reality.
In addition to the stand downs, the majority of remaining team members have agreed to reduce their salary by 20 per cent.
This includes non-executive directors who have also agreed to a reduction of fees by 20 per cent, while longstanding CEO Alf Moufarrige will see a 50 per cent pay cut.
Given the current uncertainty and market volatility, Servcorp has decided to suspend current guidance.
The group has also eliminated all discretionary spending to keep operational costs to a minimum.
"We are working through the exact impacts on our global footprint but we anticipate, and are planning for, a significant but temporary reduction in serviced office occupancy and coworking utilisation, with some offset from our virtual office products," says Servcorp.
"Our priority in any crisis is the health and safety of our people, and that of our clients who utilise our locations globally."
The company says it is working with landlords, teams, and clients to minimise costs across the business.
Servcorp's Landlords so far are favourably considering rent reductions to mitigate to some degree rising vacancies and small business' inability to fulfil their obligations under lease agreements.
The company has no external debt, but despite this Servcorp has suspended all capital expenditure programs at this time.
"Servcorp has proven, over more than forty years of its existence, to be a robust business, and this remains the circumstance today," says Servcorp.
"We are confident that Servcorp will emerge from the Covid-19 crisis in a financially sound position and full of determination."
Updated at 10:06AM AEDT on 3 April 2020.
---
Retail Food Group frustrated by lack of landlord compassion

Retail Food Group (ASX: RFG) has come out swinging against its commercial landlords claiming an inherent power imbalance makes the process of negotiating rent relief impossible.
According to RFG executive chairman Peter George the company is frustrated by the lack of progress when dealing with landlords and the unwillingness he has seen from lessors to provide meaningful assistance.
This is despite the Federal Government encouraging landlords and tenants to come to agreements and a national Code of Conduct crafted by The National Retail Association (NRA), Australian Retailers Association (ARA), the Pharmacy Guild of Australia (PGA) and the Shopping Centre Council of Australia (SCCA) intended to give landlords and tenants some guidance.
"The National Cabinet has encouraged landlords and tenants to engage and agree on commercial arrangements that can see both through this crisis, and has provided a list of principles which should underpin those discussions," says George.
"Whilst the key elements of this guidance are conceptually sound, they fail in terms of practical application due to the significant power imbalance which exists in favour of landlords. In reality, it is our experience that tenants have very limited bargaining power to drive meaningful and timely outcomes in these circumstances."
Further, the chairman says landlords simply deferring payments of rent for RFG's franchisees, who run food and beverage outlets like Gloria Jean's, Brumby's, Pizza Capers and more, will only serve to delay a significant financial impact.
"It is abundantly clear that the reduction in foot traffic attributable to government restrictions intended to combat the coronavirus has materially reduced the benefit otherwise derived by RFG and its franchisees from their leases within shopping centres," says George.
"Deferral of rent in these circumstances is simply unacceptable, and will achieve nothing for our franchise network other than to delay the adverse financial consequences arising from the current situation."
Ultimately, George believes the Federal Government must step in to address the considerable uncertainty faced by retail tenants nationwide.
"Where the government's objective is to hibernate business so that it is able to contribute to restarting the economy and preserve jobs, RFG considers that robust and urgent government intervention is necessary to address fixed cost bases such as occupancy costs, and limit the uncertainty that is necessarily influencing current decision making," says George.
The plea for government intervention comes as Retail Food Group announced around 90 domestic franchisees have chosen to temporarily close their stores.
The main impact on franchisees has come from a lack of foot traffic in stores as the population dutifully self-isolates.
The situation is most evident in shopping centres where RFG franchisees have experienced 50 per cent reduction in customer count.
Ultimately franchisees have seen a consistent and increasing decline in revenues compared to this time last year and have shut up shop because trading conditions have become untenable.
Internationally temporary closures because of government restrictions have increased to 481, with a further 141 outlets limited to take-out orders. Just 51 outlets continue to operate normally but are subject to increasingly difficult trading conditions.
RFG has implemented a number of measures to support franchisees and preserve the long-term sustainability of its network.
"The steps we have taken differ by brand system, are directed at those franchisees most in need, and include the waiver or reduction of certain fixed and percentage based fees, waiver of fixed royalty and or marketing levy 'floors' so that these are calculated solely by reference to a percentage of, albeit declining, sales, and the deferment of outstanding debt and RFG provided finance," says George.
The trading update comes just days after the group announced it would be standing down or reducing the working hours of the majority of its staff.
RFG employs around 500 people directly, but there are thousands of staff employed by its franchisees around the country.
The company does not actively track the total number of staff employed by the franchisees themselves. However, in a submission to the Franchising Code of Conduct Inquiry, which released its findings in March last year, the company claimed the network employed approximately 15,000 team members across the country.
Shares in RFG are down 11.36 per cent to $0.04 per share at 3:28PM AEDT.
Updated at 4:55PM AEDT on 2 April 2020.
---
Free childcare for working families

The Federal Government has today announced an extra $300 million in subsidies to allow free childcare for working parents and carers, adding to existing support schemes and $1 billion from the JobSeeker package to assist wages in the sector.
Normally the fees paid to childcare centres are split between the Commonwealth Childcare Subsidy (CCS) and parents.
But today the government has announced it will pay 50 per cent of the sector's fee revenue up to the existing hourly rate cap, which will be based on a point in time before parents started withdrawing their children in large numbers.
The sector would have received an estimated $1.3 billion if current revenues and subsidies had continued, but now that has been lifted to $1.6 billion.
Childcare eligibility will no longer be means tested and the new measures are expected to assist one million families Australia-wide, not just with traditional childcare and early learning services but also after-school care and vacation care.
The initiative is designed to ensure anyone with a job can continue to work without needing a trade-off with their family's wellbeing, while also ensuring doors remain open for the sector's 13,000 child care and early learning services
"Relief is on its way for around a million Australian families and thousands of early learning educators and carers," Prime Minister Scott Morrison said, emphasising we would likely be dealing with coronavirus-related restrictions and challenges for the next six months.
"These services are vital for so many parents so they can provide for their family, and children need as much familiarity and continuity as we can help provide at this unsettling time.
"Priority will be given to working parents, vulnerable and disadvantaged children that need early education more than ever and parents with pre-existing enrolments."
The new system will see payments start flowing at the end of next week. The system will be reviewed after one month, with an extension to be considered after three months. The payments will be paid in lieu of the Child Care (CCS) and Additional Child Care Subsidy payments.
Minister for Education Dan Tehan said the assistance package would ensure services remained open to serve families that needed to work and support vulnerable children.
"The Federal Government is working with states and territories and the sector to minimise the impact of coronavirus," Tehan said.
"This package will help support families during these difficult times, particularly those who have lost their job and are doing it tough.
He said until payments arrive the government would be allowing services to waive gap fees for families who keep their children home, and families will be able to use the 20 extra absence days the government has funded for coronavirus-related reasons without giving up their place in a child care centre.
"If you have terminated your enrolment since 17 February, then I encourage you to get back in contact with your centre and re-start your arrangements," he said.
"Re-starting your enrolment will not require you to send your child to child care and it certainly won't require you to pay a gap fee. Re-starting your enrolment will, however, hold your place for that point in time when things start to normalise, and you are ready to take your child back to their centre.
"We will also make payments of higher amounts available in exceptional circumstances, such as where greater funding is required to meet the needs of emergency workers or vulnerable children."
There is a range of government assistance available to early learning and child care operators. Most services operate as small businesses, with 79.9 per cent of providers operating a single service, while 95.9 per cent operating fewer than five. The available assistance includes:
The $130 billion JobKeeper payment;
A cash flow boost of at least $20,000 and up to $100,000 with payments equal to 100 per cent of businesses' and not-for-profits' salary and wages withheld; and
Loan guarantees so businesses can get working capital.
National Cabinet is also considering short-term intervention for commercial tenancy arrangements.
Updated at 1:59pm AEDT on 2 April 2020.
---
NSW social distancing powers will last until end of June

The battle to flatten the Covid-19 infection curve is far from over, with NSW Police Commissioner Mick Fuller (pictured) announcing the state's strict social distancing measures will be in place for 90 days.
The commissioner told a press conference he won't be seeking an extension at the end of that period and "hopefully people will have gotten the message by then".
Fuller noted there had been three tickets issued in the previous 24 hours relation to isolation.
"Four men in a park drinking alcohol [is] not exercise. Three of the men left, one refused to go, he got a $1,000 ticket. I think it's entirely appropriate," he said.
"I'm reviewing all of these tickets personally, which would never happen again for any other time, and I'll continue to do that and if I think it's unreasonable it will be withdrawn immediately and we will make personal contact.
"But police are out there, we're doing our best to protect the community in a very different way than what we normally do."
He called on the community to work with police and understand they are trying to slow the spread of the virus by minimising unnecessary contact.
"The safest place is at home in isolation, and of course there are lots of carve-outs for people who need to work and we want you to go to work," he said.
"There's been a lot of questions about exercise and I get it, we want people to be able to say fit and physically and psychologically healthy, and we're trying to make sensible decisions in relation to that.
"But of course, if I said it's OK to sit on a park bench then everyone's going to go to the park, and we're going to end up back where we started."
The commissioner explained 500 more people were expected to arrive in the state from overseas today - more than expected, and including military personnel would would go into isolation just like all other arrivals.
There were 116 new cases of Covid-19 reported in NSW in the past 24 hours, taking the state total to 2,298.
Nationwide there are now 5,103 confirmed cases of the virus (NSW 2,298; VIC 1,036; QLD 835; WA 392; SA 367; ACT 84; TAS 72; and NT 19) and there have been 23 deaths.
Yesterday the new national case count was marginally lower at 303, and it is already at 239 today before lunchtime with several parts of the country yet to issue their updated numbers.
Updated at 11:38am AEDT on 2 April 2020.
---
Radio Rentals to close all stores

All 62 Radio Rentals stores nationally will close tomorrow until further notice in light of Covid-19 restrictions.
Thorn Group (ASX: TGA), Radio Rentals' parent company, says its focus is on protecting the health, safety and welfare of customers, team members, and the greater public.
"The decision to close the stores is a result of government's moves to limit the spread of the Covid-19 virus across Australia," says Thorn Group.
Radio Rentals' online store will continue to operate through the Covid-19 disruptions with the support of the company's back office customer service staff.
Shares in Thorn Group are down 11.54 per cent to $0.05 per share at 10:40am AEDT.
Updated at 11:01am AEDT on 2 April 2020.
---
CSIRO starts pre-clinical trials for potential Covid-19 vaccines

The first stage of testing Covid-19 vaccine candidates has commenced at CSIRO's high-containment biosecurity facility in Geelong today.
The testing, which is expected to take around three months, is being conducted in partnership with the Coalition for Epidemic Preparedness Innovations (CEPI) - a group that aims to derail epidemics by speeding up the development of vaccines.
In consultation with the World Health Organisation (WHO), CEPI has identified vaccine candidates from the University of Oxford and Inovio Pharmaceuticals to undergo the first pre-clinical trials at CSIRO, with further candidates likely to follow.
"Beginning vaccine candidate testing at CSIRO is a critical milestone in the fight against COVID-19, made possible by collaboration both within Australia and across the globe," says CSIRO chief executive Dr Larry Marshall.
"CSIRO researchers are working around-the-clock to combat this disease which is affecting so many whether it's at the Australian Animal Health Laboratory (AAHL) or at our state-of-the-art biologics manufacturing facility we will keep working until this viral enemy is defeated."
While the focus of the testing program will focus on how effective the vaccines are against the coronavirus the CSIRO is also investigating the best way to administer the vaccine for better protection, whether that be an injection or via a nasal spray.
The CSIRO's work on Covid-19 goes back all the way to January when CEPI engaged the Australian organisation to start researching the virus SARS CoV-2 which causes the disease Covid-19.
Director of AAHL and the leader of the CSIRO's Covid-19 virus and vaccine program Professor Trevor Drew says the team is now in the best position to begin vaccine trials.
"We have been studying SARS CoV-2 since January and getting ready to test the first vaccine candidates as soon as they are available," says Professor Drew.
"We are carefully balancing operating at speed with the critical need for safety in response to this global public health emergency."
CSIRO's COVID-19 research so far:
CSIRO was the first research organisation outside of China to generate sufficient stock of the virus using the virus strain isolated by the Doherty Institute to enable pre-clinical studies and research on COVID-19.
CSIRO successfully established a biological model in February 2020, the first in the world to confirm ferrets react to SARS-CoV-2. Researchers have quickly progressed to studying the course of infection in the animals a crucial step in understanding if a vaccine will work.
CSIRO researchers confirmed, after studying SARS CoV-2's genomic sequence that the virus is presently changing into a number of distinct 'clusters' and are now starting to look at how this may also impact on the development of a vaccine.
Updated at 10:20AM AEDT on 2 April 2020.
---
Profiteers could face jail under new Government regulations

The Federal Government has introduced a raft of measures aimed at dissuading the export and price gouging of items considered "essential" in the fight against Covid-19.
Minister for Home Affairs Peter Dutton says these practices needs to stop, and the Government has stepped in by introducing tough penalties for those attempting to rip off Australians in need.
"We have acted decisively to address concerns about the hoarding and profiteering of essential goods, such as personal protective gear, disinfectants and other medical products and have introduced tough penalties for price gouging," says Dutton.
"These temporary measures will ensure that essential goods are distributed to those with the highest need, such as vulnerable communities, front line health workers and law enforcement, while safeguarding legitimate trade."
As reported by The Daily Telegraph, changes to the Customs (Prohibited Exports) Regulations 1958 include potential jail sentences of up to five years for those caught exporting essential goods or selling these goods for exorbitant prices.
Minister for Health Greg Hunt has also made a determination under the Biosecurity Act 2015 to allow the Border Force to add essential goods already in their custody to the National Medical Stockpile.
As the practice of price gouging becomes a worry for the Government, Minister Hunt has introduced a requirement that will crack down on those attempting to extort Australian consumers.
The Health Minister's requirement prevents a person who has purchased essential goods at retail on or after 30 January 2020, and for the duration of the human biosecurity emergency period, from selling or offering to sell these goods for more than 120 per cent of the price for which they were purchased.
This measure will not apply to manufacturers or legitimate business activities, ensuring that it does not apply to key suppliers that are vital to maintaining Australia's supply chains.
Where individuals have been found to be engaging in 'price gouging', they will also be required to surrender the essential goods to the Australian Federal Police for provision to the National Medical Stockpile, or destruction if the goods are defective.
"These measures have become necessary because we have seen a small number of individuals engaging in the bulk purchasing of essential goods from retail outlets in Australia, with the intent of profiteering from exploitative exporting and price gouging," says Dutton.
"These goods are essential to preventing the spread of COVID-19."
Updated at 4:32PM AEDT on 1 April 2020.
---
Grounded Webjet to raise $275 million

Update (2 April): The institutional component of the offer was oversubscribed raising $231 million. When the retail component of the offer is completed, Webjet is expected to have raised a total of $346 million.
Travel company Webjet (ASX: WEB) hopes a $275 million equity raise will help the group survive the next few months as Covid-19 continues to disrupt tourism globally.
Webjet says proceeds of the raise will be used to strengthen its balance sheet and are expected to be enough to cover operating costs and capital expenditure through to the end of 2020.
The raise, at an offer price of $1.70 per new share (a discount of 32.2 per cent), includes a fully underwritten placement to raise $101 million and a partially underwritten entitlement offer to raise between $174 million and $231 million.
Approximately 195.1 million new shares will be issued under the offer, more than doubling the amount of shares currently issued in the company (135.6 million shares).
New shares will rank equally with existing shares but will not be entitled to the dividend for the six months ended 31 December 2019.
"This equity raising importantly positions Webjet to weather the severe disruption caused by COVID-19 to the travel industry," says Webjet managing director John Guscic.
"Equally significantly, travel is a core part of life and as the travel landscape recovers, this equity will help the company emerge in a strong position relative to its competitors."
To manage the near-term financial impact of Covid-19 Webjet has taken a number of steps to cut costs including reducing board and executive remuneration, deferring the 1H20 dividend payment, making over 440 staff redundant, reducing the working week to four days, and freezing all non-essential spending (including travel, hiring, consultants, contractors, etc).
These initiatives are expected to result in cash flow savings of around $13 million per month, with further cost reduction plans available if the Covid-19 situation drags on longer than six months.
Post-coronavirus Webjet believes its WebBeds hotel booking platform will be in a position to consolidate a larger share of the market should smaller competitors come under financial strain.
As for its main business, the flight booking platform, Webjet says it is well placed to capture the pick-up in travel activity once Covid-19 passes.
"When travel activity begins to normalise, it is expected to occur at various points in time and in different regions due to differences in timing and severity of the impact of COVID-19 in each region," says Webjet.
"As other regions are reaching their peak rates of infection, China is slowly beginning to see early signs of normalization hotel bookings in the week to 1 March 2020 increased 40 per cent over the previous week, while peak daily bookings for domestic flights were up 230 per cent from the lowest level recorded in February."
The Covid-19 crisis has already forced Webjet to withdraw its earnings guidance of between $147 million to $165 million.
Updated at 3:16PM AEDT on 1 April 2020.
---
Twiggy Forrest's foundation commits $160m for medical supplies

Mining magnate Andrew 'Twiggy' Forrest's Minderoo Foundation will donate up to $160 million to address Australia's extreme shortage of personal protective equipment (PPE), with the first plane loaded with supplies on its way to Perth today.
The foundation has joined forces with Fortescue Metals Group (FMG) - which is 30 per cent owned by Forrest's Minderoo Group - to procure and distribute the life-saving medical supplies and equipment.
The first flight was due to depart from Shanghai today, with two more flights are due to arrive on Friday and Saturday this week. Together they are expected to bring more than 600 cubic meters of supplies with a total weight of more tha 90 tonnes.
This includes more than one million N95-equivalent face masks, 400,000 surgical masks, 2.3 million medical-grade gloves, 100,000 nasal swabs, 200,000 medical coveralls, 10,000 medical goggles, 5,000 touch-less thermometers and over 33 ICU grade ventilators.
Forrest says Fortescue's deep and enduring relationships with China are what allowed the foundation to supercharge procurement efforts, on behalf of and in collaboration with the Western Australian and Federal Governments.
"Unprecedented times cannot be met with a precedented response," says Forrest.
"The trusted relationships, procurement expertise and logistics knowledge of the FMG and Minderoo Foundation teams, have been fundamental in rapidly securing this vital equipment."
He says the country is facing a threat not seen in our lifetimes.
"China's Ambassador to Australia, His Excellency Ambassador Cheng, and the Chinese people have been great mates to Australia," says Forrest.
"They are now doing all they can to help us in our hour of need. I thank the People's Republic of China for protecting our critical medical orders in the face of intense pressure from other nations.
"Without this, there would be no plane loads of equipment that we celebrate today for our first responders and suffering Australians."
Minderoo Foundation co-chair Nicola Forrest says the equitable distribution of supplies will be coordinated with WA Health across key stakeholders in primary and aged care, private and public hospital systems, and other front-line services based on the areas of greatest need.
"We are working with the WA Government, the Australian Medical Association (AMA), WA's private hospitals, National COVID-19 Coordination Commission, National Incident Room and Aspen Medical to determine how we can best meet projected surges in demand for critical supplies," she says.
WA Health Minister Roger Cook has thanked Minderoo Foundation and Fortescue for their "extraordinary support" in finding these "incredibly difficult to obtain supplies" for WA's broader health system, other stakeholders and frontline staff.
"To allow this generous commitment to continue to scale, the WA Government will reimburse Minderoo Foundation at cost for the supplies purchased so that Minderoo Foundation can further leverage its incredible commitment of up to $160 million over the coming weeks and continue to source these critical medical supplies for Australia," says Cook.
Updated at 3:46pm AEDT on 1 April 2020.
---
Brisbane car engineering firm changes gear to develop ventilator

Brisbane-based Triple Eight Race Engineering is steering its manufacturing skills in a new direction in response to the increased strain on the health sector due to the Covid-19 pandemic.
The company's engineering team has developed a low-cost ventilator prototype with input from medical professionals, local intensive care unit experts and the Queensland Department of State Development.
"We were able to utilise in-house 3D printing services provided by our team partner HP and we believe the ventilator could be put into production within a short space of time but we are now continuing development with the help of the Department to improve our unit further," says team principal Roland Dane.
"The Department of State Development have helped us identify and build supply chains for required componentry and ventilator accessories such as alarm circuitry, tubing and masks.
"This is very early days, and we have to make sure all regulatory requirements are met, but we stand ready to help in whatever way we can."
Minister for State Development, Manufacturing, Infrastructure and Planning Cameron Dick says the local race car company has been working around the clock for the past two weeks to develop the prototype.
"This is what Queensland manufacturing is all about. Hard work, ingenuity and solving problems," says Dick.
"It's so impressive that, within just a few weeks, this company has transitioned their capability, intellect and resources to a product that could ultimately save lives."
The minister says it is also fantastic to hear Triple Eight has focused on using readily available, local materials.
"Triple Eight suspended its usual operation following the cancellation of the Australian Grand Prix, and the positive, forward-looking approach of this company has been heartening to see," he says.
"I'm so proud of the innovation and agility of my team, and what we can do when we put our minds to it," adds Dane.
Leanne Linard, Member for Nudgee says the prototype is a wonderful initiative by a great local company.
"While there is still a long way to go, I know the engineering capability at Triple Eight is second to none," she says.
"It's great to see so many local companies stepping up at this time."
Deputy Chief Medical Officer Dr Nick Coatsworth says the country currently has 2,200 ventilated beds and is aiming for 7,500. Companies like ResMed (ASX: RMD) have also risen to the challenge.
Updated at 1:32pm AEDT on 1 April 2020.
---
Agri-exporters receive $110m air freight boost

An explosion of freight costs for agricultural goods and limited capacity have prompted the Federal Government to put forward $110 million to help agricultural and fishing exporters reach export markets.
Deputy Prime Minister Michael McCormack says the International Freight Assistance Mechanism will help secure freight flights into Australia's key export markets, with an initial focus on China, Japan, Hong Kong, Singapore and the UAE.
The package will apply to freight leaving Melbourne, Sydney, Brisbane and Perth, with flights to return loaded with vital medical supplies, medicines and equipment.
In parallel, the government will inject an extra $49.8 million into the Export Market Development Grants (EMDG) program for the remainder of this financial year - a scheme that applies to exporters generally as well as the tourism sector.
Meanwhile, fisheries will have around $10 million in levies waived for the remainder of 2020.
"We are doing everything possible to help our high-value agricultural and fisheries exporters get their produce on airplanes and into overseas markets," says McCormack.
"This will help restore key freight routes for our farmers until commercial capacity can be restored again.
"Everything we are doing as a Government in response to this pandemic is focused on saving lives and saving livelihoods and we know our agriculture industry is key to this."
Federal Trade Minister Simon Birmingham says the Covid-19 pandemic has led to major air freight shortages and had disrupted supply chains around the world.
"This temporary action will help Australian producers to protect the jobs of those who rely upon Australia's export of safe, quality food into the world," says Birmingham.
"Getting our export sector back on its feet is crucial to reduce job losses through the crisis and a critical part of the ultimate economic recovery.
"By getting flights off the ground, full of Australian produce, we're supporting our farmers and fishers who have been hit hard by this crisis."
Federal Agriculture Minister David Littleproud says this initiative will focus on high-demand agricultural and fisheries exports that have been hit hard by the Covid-19 crisis.
"We're backing our farmers by making sure they can get more of their high-quality product into overseas markets," says Littleproud.
"The more agricultural exports we can secure, the more regional jobs we can protect.
"We've seen an explosion in costs of exporting agricultural goods under the belly of planes because of the sheer lack of numbers. The reality is this is a subsidisation; it will not pay for all of it."
He adds Australians should take comfort in knowing the country can not only produce enough food for ourselves here through this crisis, but we can continue to supply the rest of the world.
"This is about showcasing Australian agriculture as not just having the best produce in the world, but also being one of the most reliable suppliers in the world," he says.
"There's a calm confidence out there. The Australian agriculture sector is just getting on the job calmly and methodically producing the best food and fibre in the world - we've got to continue to make sure that supply chains are kept open.
"Farmers still need to make a living. We're a nation of 25 million people who produce enough food for 75 million, so our farmers can't stop exporting. People shouldn't panic about the fact that Australian produce is going around the world - it's a good thing."
Assistant Minister for Forestry and Fisheries Jonno Duniam explains the fishing industry was one of the first hit when access to China was cut off in January, bringing many in the industry to their knees.
"Unlocking key international markets will get thousands of fishers, divers, deckhands and processors back on the job, and the levy relief will help to keep fishers financially afloat," says Duniam.
"Our seafood industry has been built on the back of some of the toughest and most resilient Australians, and this assistance will ensure that the sector can build a bridge to recovery."
The $110 million package will come from the Federal Government's $1 billion Relief and Recovery Fund.
Market Development
It is one thing to get agricultural products to market, but cultural differences and supply chain structures mean Australian produce won't necessarily be top of mind for foreign nations grappling with their own health crises due to the pandemic.
This means marketing will be essential.
The additional $49.8 million for the market development program will allow exporters and tourism businesses to get additional reimbursements for costs incurred in marketing their products and services around the world.
"We recognise the current COVID-19 crisis is placing immense pressure on Australian exporters and tourism businesses, many of whom felt the earliest and deepest aspects of the economic downturn," says Trade and Tourism Minister Simon Birmingham.
"This funding injection will put more cash in the pockets of thousands of Australian businesses when they need it most.
"The EMDG scheme has been a popular vehicle to support the costs associated in reaching new markets, and this additional funding will give Australian exporters and tourism businesses extra help in these tough times."
The minister explains businesses who have spent their own money to market and grow Australian exports get back up to 50 per cent of their total eligible marketing expenses.
"This investment addresses the reality that businesses invested in good faith to lift Australia's exports, but are unlikely to see immediate return on those investments. These entrepreneurial and outward looking businesses will be crucial to our future economic recovery," he says.
"This extra $49.8 million to supplement the additional $60 million already committed by the Morrison Government will bring EMDG funding to its highest level in more than 20 years at $207.7 million for the 2019-20 financial year.
"This support is in addition to other measures our Government has announced to help small and medium businesses manage cash flow challenges and retain employees such as increasing the instant asset write-off, cash payments of up to $100 000 and supporting apprentices."
Any business which has incurred eligible EMDG expenses for promotional activities in 2019-20 financial year will be able to seek reimbursement for 50 per cent of these expenses without the Export Performance Test applying, when they apply from July 1.
This is in recognition that many exporters would have spent more on marketing expenses with the expectation they would see export income high enough to meet the export performance test.
More than 200 businesses that will benefit from this change are in the tourism sector, one of the hardest hit sectors of the economy.
Additionally, applications lodged in the 2020-21 financial year can claim expenses even if events have been cancelled due to circumstances beyond a company's control.
Photo: Australian Table Grape Association
Updated at 12:00pm AEDT on 1 April 2020.
---