Staying informed is more important than ever as the situation unfolds with Covid-19. Stay tuned here for our live updates, and be sure to let us know what your business is doing to face this unprecedented challenge.
---
The Rivers Restaurant in Thredbo closed after serial COVID-19 safety breaches

Repeated breaches of COVID-19 safety standards have forced New South Wales authorities to close The Rivers Restaurant in Thredbo for one week.
It is the second such venue in NSW to be shut down after authorities closed Unity Hall Hotel in Rozelle last month.
NSW Police and Liquor & Gaming NSW visited The Rivers Restaurant four times in July and September.
The authorities identified several breaches including:
Patron numbers exceeding the venue capacity per square metre,
A lack of spacing between seated patrons,
Mingling between tables and in queues, and
Alcohol being consumed while standing.
As such, the venue will be closed for seven days from 5am tomorrow.
Liquor & Gaming Director of Compliance Dimitri Argeres said messaging about COVID safety did not get through to the operators of The Rivers Restaurant.
"This venue has consistently failed to maintain COVID safety standards and has not complied with its own COVID safety plan," said Argeres.
"Police officers and Liquor & Gaming inspectors observed situations where the venue was repeatedly over capacity, groups were seated almost back to back, and queues of up to 30 people stood shoulder to shoulder. They also observed patrons drinking shots at the bar and consuming liquor while standing, including one of the business owners.
"First the venue was warned, then its manager and event promoter were fined $5,000 each. After finding yet more breaches on the fourth visit, it was clear that the ongoing operation of the premises presented a clear and significant risk to public health."
Argeres hopes other venue operators will take notice of this action.
"As we come into party season with major events such as the Spring Racing Carnival, Bathurst 1000 motor race, the footy finals, and schoolies celebrations, we're warning all hospitality providers and function operators to stick to the limits around venue capacity and group bookings," Argeres said.
"Distance and space are crucial: to avoid sharing close contacts groups must stay seated at a distance from other groups."
NSW has recorded one new case of COVID-19 today - a returning traveller in hotel quarantine.
NSW eases wedding restrictions, NYE fireworks may go ahead
Restrictions on weddings have been eased today by the NSW Government, meaning bridal parties of up to 20 people can be on the dance floor at the same time.
Premier Gladys Berejiklian said the permitted group would need to be the same 20 people for the entire event.
"This is really important because weddings, and unfortunately funerals and other gatherings, is where the virus is most contagious and spreads the most readily because people know each other," said Berejiklian.
"It is still a high risk environment and we ask both the patrons but also the function organisers to make sure that the bridal party, up to 20, is clearly identified and is not different multiples of 20."
The Premier has also expressed hope that the iconic New Year's Eve fireworks display at Sydney Harbour will go ahead, acknowledging it will be very different this year.
"Whilst the New South Wales Government is working our way through holding some type of fireworks event on New Year's Eve, can I stress it will not be like any other New Year's Eve we have had," said Berejiklian.
"I want to be clear that the New South Wales Government would never support or condone any activity which was not consistent with the health orders.
"It would be extremely limited in a COVID safe way that is within the health orders."
Updated at 11.40am AEST on 24 September 2020.
---
"Organise that house party": Brisbane, Ipswich gathering restrictions to ease on Friday

As Queensland goes 14 consecutive days without any confirmed community transmission of COVID-19, today the state government has decided to lift restrictions on gatherings.
As such, strict 10 person limits on gatherings inside a home or outdoors in Brisbane and Ipswich will be eased from 1am on Friday to allow for 30-person gatherings.
Queensland Deputy Premier Steven Miles has told Brisbane and Ipswich residents to invite some friends over this weekend.
"People can go ahead and organise that house party for Friday night," said Miles.
The easing of restrictions in the two areas will also mean that people can visit aged care facilities and hospitals again.
The measures will coincide with the state government lifting the classification of the ACT as a COVID-19 hotspot, allowing travellers from Canberra to enter Queensland by plane.
Updated at 10.44am AEST on 24 September 2020.
---
Atomo Diagnostics to launch rapid COVID-19 test in India

Within seven weeks of its fast COVID-19 tests gaining approval from Australian health authorities, Sydney-based Atomo Diagnostics (ASX: AT1) expects to take its technology to one of the countries worst-hit by the pandemic.
Atomo has entered into an agreement with PinkTech Design Private Limited, trading as DIVOC Laboratories, to launch its AtomoRapid COVID-19 antibody test in the Indian market.
AtomoRapid has been approved by Australia's Therapeutic Goods Administration (TGA) and has the European Union's CE marking, but before it enters the Indian market it will still need to be approved by the country's authorities.
The company explains DIVOC expects to obtain product registration approval for professional use in the second quarter of FY21.
DIVOC sees potential for the product's distribution to government, corporate and lab-to-lab settings, as well as through an established home visit network for testing that is supported by medical professionals.
Under the deal, Atomo will initially provide 77,000 antibody test kits with one per container, and the agreement will terminate if DIVOC fails to order one million units over the following 12 months following receipt of regulatory approval in India.
In return, Atomo will receive a fixed transfer price per unit and will also receive a percentage of revenues received by DIVOC on final product sales above this transfer price.
Globally, India is currently experiencing the highest rate of daily infections, with the seven-day average currently exceeding 90,000 daily cases.
The South Asian nation has been the second-worst-hit in terms of total recorded cases at more than 5.6 million, of which almost one million are still active.
India's testing rate per capita is a fourth of the US and its death rate per capita is similar, amounting to more than 90,000 lives taken to date.
The right to the non-exclusive sale of the AtomoRapid COVID-19 rapid test in India is a further expansion of Atomo's agreement with NG Biotech, its French partner that manufactures the device's strip while the product itself is made by the Australian company.
The device uses Atomo's locally-developed 'Galileo integrated diagnostic test platform, which has been in use for HIV self-testing and is also TGA-approved for that purpose.

"We are delighted to be able to offer our antibody rapid test in another large international market," says Atomo Diagnostics co-founder and managing director John Kelly.
"Rapid testing forms a significant pillar of India's response to managing the COVID-19 pandemic with the numbers of daily rapid tests increasing significantly in recent months.
"Our Indian partner is a high-quality provider of diagnostic services, being one of the few laboratories in India that has been able to secure NABL [Indian National Accreditation Board for Testing and Calibration Laboratories] accreditation.
"We are confident of their ability to rollout the AtomoRapid COVID-19 antibody testing across a number of high value channels in India in the coming months."
AT1 shares rose 7.14 per cent today to $0.375 each.
Updated at 4:13pm AEST on 23 September 2020.
---
Melburnians allowed to work in regional Victoria

Victorian Premier Daniel Andrews (pictured) has clarified Melburnians will be allowed to work outside the metro area now that regional Victoria has entered the next stage of its path to COVID-19 recovery.
Workers will however need permits from their employers in regional Victoria, and the Premier emphasised the rule 'if you can work from home, you must' still applies.
"I can confirm that people can travel to regional Victoria for work more broadly and are not bound by the committed industries requirements in Melbourne," he said.
"When a person from metropolitan Melbourne is in regional Victoria, the metropolitan Melbourne restrictions apply to them.
"Even though they're not in in metropolitan Melbourne the rules follow them to their work in regional Victoria. For example they can't be going out to a restaurant for dinner."
He said the announcement mostly applies to Melburnians living close to the border with regional Victoria, although it won't be exclusive.
"This was not so much an issue while their place of work was not open, but now that it is open we think this is a reasonable balance," he said, noting that people still can't go to work even if they have the mildest of symptoms.
The clarification comes ahead of the second step to recovery slated for Melbourne this Sunday, including the establishment of social bubbles, the incorporation of more workplaces into the permitted industry list, and some new openings for education.
The trigger for this next step to go ahead is that Victoria stays within a band of 30-50 daily cases, and today the numbers are well below that at 15.
"This shows without any doubt that our strategies work when these numbers are coming down," Premier Andrews said.
"We are very pleased with these numbers and very grateful for all the hard work and sacrifice and the commitment that every single Victorian has shown.
"You can't achieve these outcomes, you can't get to that COVID-normal without an amazing effort by the vast majority of Victorians, and to each of them I say thank you."
Updated at 11:30am AEST on 23 September 2020.
---
SA border with NSW to reopen from midnight tomorrow

From midnight on Thursday residents of New South Wales will be able to enter South Australia without having to complete 14 days of self-isolation.
However, the border reopening is conditional on NSW not recording any cases of community transmission before midnight tomorrow.
SA Premier Steven Marshall said the decision will be a relief to those who have been dislocated from friends, family, and business opportunities because of the border restrictions.
"We know that this has been a massive burden on the business community and also on families and individuals, but we did this to keep South Australia safe," said Marshall.
Further, Marshall said the decision was made by the state's Transition Committee this morning after assessing the COVID-19 situation in NSW.
"They were furnished with all the necessary information from New South Wales with regards to what had occurred over the weekend," said Marshall, referencing the situation where a Sydney taxi driver worked for nine days while infectious.
Residents of NSW who have entered the state prior to midnight on Thursday will still be required to complete the mandatory 14 days of self-isolation.
"For people who have already arrived or people that arrived right up until midnight tomorrow night, they will still be required [to self-isolate]," said Marshall.
"There is a different risk profile, and it's important that we observe this restriction and keep it in place."
SA Chief Public Health Officer Dr Nicola Spurrier says there is some risk in reopening to NSW, but this can be overcome by travellers abiding by basic hygiene measures and getting tested for COVID-19.
"There is always going to be some risk involved with this pandemic, but we can't just wrap ourselves in cotton wool forever," said Dr Spurrier.
"It's important that we can come out of this and that we can go about our normal lives and that we can start to enjoy things again."
NSW has recorded two new cases of COVID-19 today, but both are returned overseas travellers in hotel quarantine.
Updated at 11.44am AEST on 22 September 2020.
---
Byron Bay, Lismore and more to be added to QLD border bubble

Residents of 41 postcodes in New South Wales will be able to head north of the border when Queensland expands its border bubble from 1 October.
From 1am on 1 October, a number of NSW Shires will be added to QLD's border bubble including Byron Shire, Ballina Shire, the City of Lismore, Richmond Valley and Glen Innes.
Residents of these areas in NSW will be able to apply for a border pass in order to travel freely around the border zone, as far north as Beenleigh.
"I think this is a great effort to consider how we can make our border zones more effective," says QLD Premier Annastacia Palaszczuk.
"These areas have a lot in common with Queensland, they usually do a lot of their business in Queensland, so we believe this is the right measure to take."
The announcement from the Premier comes as QLD prepares to reopen its borders to travellers from the Australian Capital Territory this Friday.
The easing of restrictions will allow Canberrans to fly into the state, not drive, as NSW more broadly is still considered a COVID-19 hotspot.
Today's announcement comes as Queensland records no new cases of COVID-19, meaning there are just 16 active cases of the coronavirus in the state.
Updated at 10.32am AEST on 22 September 2020.
---
Victorian live music scene given $13m life support

More than 100 live music venues in Victoria will receive cash grants to stay afloat during lockdowns and beyond, in a State Government scheme that is also designed to offset the costs of patron caps when COVID-19 restrictions are eased.
In addition, the state's $1.7 billion live music sector will be uplifted by cash grant schemes for industry professionals to create music, as well as planning controls that are more supportive of the scene.
Premier Daniel Andrews and Minister for Creative Industries Martin Foley announced yesterday that 106 live music venues across the state would share in grants totalling $9 million in the first allocations under the Victorian Live Music Venues program.
Venues include the Northcote Social Club, Queenscliff's Blues Train, Westernport Hotel in San Remo, Castlemaine's Theatre Royal, Loop in Melbourne's CBD, Grace Darling in Collingwood, Richmond's Corner Hotel, the Night Heron in Footscray, the Hotel Warrnambool and the Wool Exchange in Geelong.
The grants will support venues that have closed to help stop the spread of coronavirus to cover urgent overheads and put COVID-safe measures in place, while also helping them to reopen and host events when it is safe to do so.
The Victorian Government plans to announce a second round of cash allocations to other eligible venues in due course.
A state-first planning policy will also further protect Victoria's live music venues during the pandemic and beyond, with permanent planning controls whereby councils will have strengthened power to protect significant music precincts when redevelopments are proposed.
Under these new controls, councils will be able to identify these live music areas and consider the social, economic and cultural importance of live music venues as they make decisions on local planning permits.
Another measure announced yesterday is the $3 million Victorian Music Industry Recovery program, offering grants of $4,000 to $50,000.
The funds will be for artists, managers, promoters, bookers, road crew and other workers to keep creating music, undertake professional and business training and develop COVID safe ways of working.
Recognising that summer is usually a bumper period for the music industry, the program will focus on activities taking place from December onwards.
It includes dedicated streams for First Peoples and Deaf and Disabled applicants. Applications will open at noon on Monday, 21 September and close on 22 October 2020.
A further $1.2 million has been allocated to 10 music organisations and peak bodies to deliver professional and business development programs to a diverse range of Victorian music industry professionals.
Among the initiatives is Push Records, a new youth-led record label and training program by The Push; a wellbeing training and mentorship program for roadies and live music events professionals by CrewCare.
The scheme also includes a creative development program for First Peoples musicians and industry workers by Songlines Aboriginal Music Corporation.
"In ordinary times, Victorian music venues hosts tens of thousands of gigs each year reaching millions. We don't want to lose Victoria's music scene," Premier Andrews said.
"We'll continue to support our venues, our musicians, and the many workers who bring this $1.7 billion industry to life are able to reopen stronger than ever and welcome us back for a COVID Normal summer."
"Our music scene is much loved across the state and envied the world over. This support will protect our grassroots venues, save jobs and music businesses, and keep local music playing well beyond this pandemic," added Minister Foley.
Minister for Planning Richard Wynne said live music venues were the "heart and soul of Melbourne and towns across the state".
"Going forward, councils will have to consider these new planning controls as they make decisions on local planning permits," he said.
These support mechanisms are part of $90 million in funds from the Victorian Government for the creative industries to help them get through the pandemic, and are also in tune with a hospitality initiative to promote and prepare industry for outdoor dining.
Today the government is also expected to launch the latest $200,000 round of the Pride Events and Festivals Fund.
Organisations are invited to apply for grants of up to $10,000 for events and projects for LGBTIQ communities which can be run online before 30 June 2021.
The Pride Events and Festivals Fund is now in its third year. For the first time, all events must be able to take place online and be held in line with current coronavirus restrictions at the time of the activity.
Updated at 11:14am AEST on 21 September 2020.
---
COVID-infected Sydney taxi driver worked for nine days, visited South Coast venues

Residents of seven Sydney suburbs who caught Silver Service taxis recently will need to check for COVID-19 symptoms after it was revealed yesterday that a taxi driver worked over nine days while infectious.
The individual, who is believed to have caught the virus at Liverpool Hospital, worked on September 7, 8, 9, 10, 14, 15, 16, 17 and 18 in Moorebank, Bankstown, Chipping Norton, Liverpool, Lidcombe, Warwick Farm and Milperra.
NSW Health reports the individual "pleasingly" had the COVIDSafe App, which is being used to help identify contacts.
The person also visited several venues in Western and South Western Sydney and the South Coast.
Anyone who attended the following venues for a least one hour during the following times is considered to be a close contact and must get tested and isolate for 14 days since they were there. They must stay isolated for the entire period, even if a negative test result is received, as 14 days is the maximum time it generally takes for COVID-19 to develop:
Campbelltown Golf Club, Glen Alpine - 16 September, 2pm-4.30pm
Milton Ulladulla Ex Servos Club - 12 September, 2pm-6.15pm
Carlo's Italian Restaurante Bar & Seafood, Ulladulla - 12 September, 8pm-9.30pm
Bannisters Pavilion Rooftop Bar & Grill, Mollymook - 13 September, 12.30pm-2.15pm
Mama Wok, MacArthur Square Campbelltown - 9 September 1:30pm-2:30pm
Anyone who attended these venues within the indicated timeframes for less than one hour is considered a casual contact, as are those who attended the following venues at the specified times:
Picnic Point Bowling Club 18 September, 3pm-6pm
Campbelltown Golf Club course Glen Alpine 16 September, 9.30am-2pm
Wray St Oyster Shed Batemans Bay 12 September,12 pm-1 pm
As of yesterday NSW Health was treating 78 COVID-19 cases, including two in intensive care, one of whom was being ventilated. 86 per cent of cases being treated by NSW Health are in non-acute, out-of-hospital care.

Buffet restaurant fined for lax COVID Safe practices

SafeWork NSW revealed yesterday that a Korean BBQ restaurant in Strathfield was fined $5,000 for having an open buffet where diners shared crockery, cutlery and food.

When SafeWork NSW inspectors visited Butchers Buffet on 11 September, they observed patrons accessing plates, condiments, serving utensils, bowls and trays of food as well as shared utensils on tables.

There was no safety marshal in place or stated limits on the maximum number of customers allowed on the premises. Chairs and tables were not adequately spaced, and CCTV footage showed patrons were not physically distancing when helping themselves at the buffet.

SafeWork NSW's director for work health and safety metro, Sarina Wise, said these sorts of breaches defied logic.

"Self-serve buffets and pandemics simply don't mix, creating a source of potentially contaminated items," Wise said.

"No self-serve buffet style food service areas are allowed including communal bar snacks and communal condiments.

"Sharing items on a buffet is clearly a direct line for COVID transmission."

In addition to the risks posed by buffets, hospitality businesses across the board are being warned against complacency, after inspectors from Liquor & Gaming NSW, SafeWork NSW and NSW Fair Trading last week issued 23 new fines for COVID breaches.

Inspectors from the three agencies reported a string of breaches relating to:
Gaming machine spacing
Spacing between tables and chairs
Not having a COVID-19 Safety Plan
Not being registered as COVID safe
We're calling on the public to hold businesses to account; if you visit a venue and find yourself back to back or shoulder to shoulder with other patrons, if you see poor hygiene or no sign in processes, report it via the COVID safety feedback portal on nsw.gov.au," Wise said.
The following businesses were fined last week:
Albion Hotel - Parramatta
Ashfield Bowling Club - Ashfield
Butchers Buffet - Strathfield
Cafe on Monash - Gladesville
Commercial Hotel - Kingsgrove
Collector Hotel - Parramatta
Crown Hotel - Parramatta
Erciyes Turkish Restaurant - Redfern
General Bourke - Parramatta
Glasgow Arms Hotel - Ultimo
Indian Leaf - Redfern
La Famiglia Ristorante & Pizzeria - Jindabyne
Lotus Barangaroo - Barangaroo
Maya Da Dhaba - Redfern
Mohr Fish - St Ives
Rosehill Hotel - Rosehill
Oscars Sports Hotel - Bankstown
Rosehill Hotel - Rosehill
Royal Hotel - Darlington
Ship Inn - Sydney
Southern Cross Hotel - St Peters
St Jude Café - Redfern
Thredbo Alpine Hotel
Zushi Restaurant - Barangaroo
Updated at 10:11am AEST on 21 September 2020.
---
Major gatherings on the cards as WA goes 160 days without community transmission

As we ease into warmer weather Western Australia Premier Mark McGowan wants to see major gatherings go ahead in his State, but in a COVID Safe way.
That is why, as of today, major events like festivals and community fairs will be permitted as long as they are approved by relevant health authorities and local governments.
COVID event plans and guidelines will be issued to organisers, tailored to support a base of more than 500 people.
The plans will identify public health measures to ensure the safety of patrons including physical distancing requirements of two square metres per person, hygiene and cleaning regimes, and staff management.
COVID event plans will not be required for events that form part of the usual business for places where there is an existing COVID-19 public building approval in place.
"There are so many fantastic events coming up or being proposed, and I'd like to see this go ahead in a COVID Safe way," said Premier McGowan.
"We want people to feel confident about going to their local community fair, or even a music festival, which up until now has not been able to occur.
"Under this new system, music festivals can now be assessed and could be approved pending assessment of plans by the Department of Health."
The announcement comes as WA has gone more than five months, or 160 days, without community transmission of COVID-19.
The state currently has three active cases of COVID-19, all of whom are in hotel quarantine.
Updated at 4.45pm AEST on 18 September 2020.
---
Queensland reopening to ACT travellers, still closed to NSW

Travellers from the Australian Capital Territory will be allowed to enter Queensland from next Friday 25 September, but the State will remain closed to New South Wales.
Canberrans will have to fly into the state, not drive, as NSW is still considered a COVID-19 hotspot.
According to Deputy Premier and Health Minister Steven Miles the decision was made following extensive conversations with the Chief Medical Officer in Canberra.
"That means people from the ACT will again be able to visit Queensland," said Miles, recognising the Territory has not had a new case of COVID-19 since July.
"We've been saying for some time now that for Queenslanders, Queensland is good to go. Well now, for Canberrans, Queensland is good to come.
"Now is the time we would urge them to start thinking about coming up to Queensland for a holiday. This is timed to coincide with the school holidays in the ACT, it's a great chance for people to come and visit friends and relatives or go to the reef, go to Cairns, go to one of our wonderful tourism hotspots."
The announcement comes two days after South Australia dropped its border restrictions with the ACT on the condition that travellers arrived by plane.
Queensland reported no new cases of COVID-19 today, and there are currently 25 active cases of the coronavirus in the state.
Updated at 1.07pm AEST on 18 September 2020.
---
NSW eases border restrictions for regional Victorians

Those living in communities on the New South Wales and Victorian border are now able to move more freely across state lines after restrictions were eased yesterday.
As such, border community residents are able to travel within the region for any reason with a current permit.
In addition, those residents that travel into NSW are not be obliged to comply with current stay-at-home orders imposed in Victoria while north of the Murray River.
NSW has also expanded its definition of the border region to now include Pleasant Hills, Lockhart, Benalla, Bright, and Mount Beauty.
NSW Health Minister Brad Hazzard says restrictions are able to be eased because the threat of COVID-19 transmission in regional Victoria is reduced.
"We are able to ease restrictions on the border given the reduced risk of COVID-19 transmission in regional Victoria," said Hazzard.
"NSW and Victoria border communities have been extremely resilient during this one-in-100 year pandemic as we continue to fight the challenges of COVID-19."
The easing of restrictions on border communities comes as Victoria recorded just 28 new cases of COVID-19 yesterday, the state's lowest daily total in three months.
There were five new cases of the coronavirus in NSW yesterday, while QLD and WA recorded one new case each.
Updated at 10.05am AEST on 18 September 2020.
---
Telehealth breakthroughs for Emerald Clinics, MedAdvisor

With telehealth services experiencing tremendous growth due to the pandemic, two ASX-listed medical technology have announced new milestones today.
Perth-based Emerald Clinics' (ASX: EMD) Openly platform will be adopted by a COVID-19 recovery team at one of the USA's most prestigious research hospitals, while Melbourne-based MedAdvisor will launch its ePrescribing software function thanks to Australian Government approval.
Emerald Clinics has entered into a professional services agreement with the precision recovery team at New York's Mt Sinai Hospital, where it will provide remote monitoring and consulting services as part of the ongoing development and global delivery of Openly.
The platform provides digital health and wellness screening including the use of biometrics to check for vital signs via smart phone devices, with support from Emerald Clinics' clinical team. On 15 September, the group announced Openly had been registered as a Class 1 medical device with the Australian Therapeutic Goods Administration (TGA).
Clients using Openly can adjust their configurations to receive alerts when certain survey responses or other health information is entered by a user.
Whilst the company does not anticipate the financial consideration for its alerts payment system at Mt Sinai Hospital to be material, Emerald's CEO Dr Michael Winlo says it will provide real-world experiences and the expertise of the precision recovery team to enhance the capabilities of the Openly platform.
"We're thrilled to be working with such an innovative and world-leading organisation to advance remote patient care," says Winlo.
The team is currently managing more than 1,600 COVID-positive, COVID-suspected and COVID-recovering individuals remotely.
"COVID-19 has fundamentally changed the way that we provide high quality medical care and thrust the use of technology in healthcare to the forefront," says the team's director, Assistant Professor David Putrino.
"Where possible, management of mild to moderate COVID cases should happen in the home, and we have been working to develop innovative technologies and clinician workflows that enable healthcare professionals to keep sick patients safe at home."
Australian first for MedAdvisor
Closer to home, Australian Digital Health Agency has approved ePrescribing for medical software group MedAdvisor, which will help connect GPs, pharmacists and patients as they navigate the roll out of eScripts across the country.
The Federal Government accelerated the roll-out of ePrescribing after the COVID-19 pandemic restricted patients' ability to access their prescribers or pharmacies, and the development is expected to facilitate remote medicines management and accurate dispensing in the healthcare market.
"MedAdvisor is delighted to be the first in the Australian market with a digital app solution that helps patients keep track of and organise all their eScripts," says MedAdvisor CEO and managing director Robert Read.
"The national rollout of ePrescribing provides patients with convenience, access and choice - something we've been long time advocates for."
Read says recent studies in countries that already use e-prescribing show that more than 80 per cent of patients prefer e-scripts to paper.
"By providing continued excellence in customer service, combined with hyper-convenient patient experiences, local pharmacists can strengthen their loyal customer base and better compete with online pharmacies," he says.
The MedAdvisor platform utilises tokens as a streamlined, private and secure way to handle eScripts. Much like an airline ticket, tokens can be tapped into MedAdvisor and then automatically organised into a digital script wallet that can be easily sent right to a pharmacy's dispensing workflow.
The roll-out is expected to start imminently in Victoria before going national later this month.
"With the rise of telehealth and digital consults during this COVID-19 pandemic and the changes to prescribing temporarily allowed by the Government, prescribers have needed to send digital images of scripts directly to pharmacies via fax or email, which adds significant administrative burden for both prescribers and pharmacies, and poses the risk of prescribers channelling patients to specific pharmacies," says Read.
"The introduction of ePrescriptions will solve these issues and put the control back in the patient's hands."
This Australian development is on the back of MedAdvisor recently going live with digital health programs in the USA in the fourth quarter of FY20, and launching an app in the UK through its key partnership with Day Lewis Pharmacy more recently.
MDR shares were up 4.76 per cent at $0.44 at the time of writing, while EMD shares were down 2.27 per cent at $0.086 each.
Updated at 11:44am AEST on 17 September 2020.
---
Dreamworld and WhiteWater World reopen in time for school holidays

After six months of closures, Ardent Leisure's (ASX: ALD) Gold Coast theme parks Dreamworld and WhiteWater World have reopened to the public this morning, in time for Queensland school holidays.
The two neighbouring parks were forced to close down back in March because of the COVID-19 pandemic and associated health risks to patrons, but both are up and running as of 10am today.
Both parks will operate under an approved COVID Safe plan, meaning a number of popular attractions will remain closed, physical distancing will be enforced in-park, and hand washing facilities and sanitiser will be readily available.
In addition, WhiteWater World is now a seasonal water park, meaning it will only operate from early September until late January annually and across some peak weekends.
Back in August Ardent Leisure announced the reopening of its theme parks was made possible thanks to the Queensland Government's COVID-19 Industry Support Package and Queensland Tourism Icons Program 2020.
However, today's reopening comes months after competitor Village Roadshow (ASX: VRL) was able to open the gates to its Gold Coast-based theme parks Warner Bros. Movie World, Sea World, Wet'n'Wild and Paradise Country.
VRL reopened back in late-June under an approved COVID Safe plan and at 50 per cent capacity.
The enforced closures of Ardent Leisure's theme parks and cinemas in the US due to COVID-19 restrictions resulted in the company reporting a full year loss of $136.6 million.
Total reported revenue for the Dreamworld operator decreased by $85 million to $398.3 million in the full year, also due to COVID-19 restrictions on trade.
Ardent Leisure also suffered from an impairment charge of $15.4 million on property, plant and equipment in its theme parks division, and a charge of $2 million relating to its Main Event family entertainment centre business.
The reopening also comes nearly two months after Ardent Leisure pleaded guilty over three charges relating to the 2016 Thunder River Rapids Ride tragedy.
Each of the three charges over breaches of the QLD Work Health and Safety Act (2011) attract a maximum penalty of $1.5 million, meaning the company could now be slugged with $4.5 million in fines.
Shares in Ardent Leisure are up 1.10 per cent to $0.46 per share at 10.36am AEST.
Updated at 11.08am AEST on 16 September 2020.
---
SA lifts border for ACT travellers, but NSW will have to wait

ACT residents are able to travel to South Australia as of midnight last night without spending 14 days in quarantine, although they aren't able to do so by car as the Festival State's authorities still don't consider NSW to be a safe zone.
Despite the positive developments for the ACT, SA Police Commissioner Grant Stevens said ongoing isolated cases of community transmission in NSW meant current restrictions on the state would be in place indefinitely.
"As of midnight tonight, people wishing to travel between the ACT and South Australia will be able to do so without having to quarantine when arriving in South Australia," Commissioner Stevens said yesterday.
"They will be required to fulfill in the pre-approval online as with all other safe community transmission zones, and people will be required to declare that they have not been outside of a safe community transmission zone for the 14-day period prior to traveling into South Australia.
"This is our way of assuring as best as possible that those people traveling between South Australia and other places have not exposed themselves unnecessarily to the risk of contracting COVID-19."
He explained visitors from the ACT are only able to arrive in SA by plane.
"It's simply not possible for us to be confident that a person driving between ACT and South Australia has not had contact with members of the New South Wales community," he said.
"We're hopeful that the situation with NSW will continue to improve. My advice from health is that they are doing an exceptional job with contact tracing, and they are confident that the situation will improve there to the point where we can lift that 14-day quarantine.
"It's an open-ended timeframe because NSW is continuing to identify isolated cases of community transmission. And the advice from the chief public health officer is that we want to see a better situation in terms of community transmission before we relax the restrictions on NSW.
Updated at 3:53pm AEST on 15 September 2020.
---
Great news as regional Victoria set to open up

Victorian Premier Daniel Andrews has heralded a "day of hope and optimism" today after regional Victoria met the requirements to enter the next stage in the roadmap to recovery from COVID-19.
Regional Victoria will enter a Third Step easing of restrictions from midnight tomorrow night, including no restrictions on leaving home, the reopening of all retail to include services such as beauty and tattooing, and the reopening of hospitality venues for mostly outdoor seated service only.
However, indoor service venues can be open with a cap of 10 seated patrons per space subject to a one per 4sqm density rule, with a maximum of two subspaces. This means larger venues will be able to have up to 20 people inside.
Meanwhile, there will be a cap of 50 people on outdoor hospitality venues.
Groups of up to 10 will be able to gather outdoors, household bubbles of up to five people will be allowed, and schools will return to on-site learning from Term 4 with safety measures.
The state government was able to take these steps as the average daily number of cases in the last fortnight has been below five, and there have been no new cases in that time with an unknown source.
"Regional Victoria will be opening up in just the next 24 hours or so," Premier Andrews said.
"It's a massive thing. It is such good news - I am so, so pleased and proud of every single regional Victorian who has stayed the course, followed the rules, got tested. They've done an amazing job.
"I know it hasn't been easy because there have been many communities where to the best of our knowledge there has not been the virus."
He said there was no greater evidence than today's news to the people of Melbourne that strategies to get numbers low are possible.
"It is essential. You have no chance of keeping numbers low once you open up if you don't first get them low via the restrictions and the rules we have in place," he said.
The Premier explained restrictions on visitors to businesses would remain, including limits on the number of people, physical distancing and the wearing of masks.
For real estate services outdoor options will be permitted with a limit of 10 people, all community sport will also return for children, and non-contact sport will be allowed for adults.
Gathering limits for weddings will increase to 10 people, funerals will be allowed to have 20 mourners, and religious gatherings will have a limit of 10 people plus one faith leader.
"Tourist accommodation will open for regional Victorians in regional Victoria for them to travel and holiday within regional Victoria," Premier Andrews said.
"Every single business across regional Victoria will be required to have a COVID-safe plan, and those plans will be enforced from 28 September.
Photo: Visit Victoria
Updated at 11:11am AEST on 15 September 2020.
---
Qantas mulls HQ move as downsizing rolls on

National carrier Qantas (ASX: QAN) has announced further cost cuts to stay airborne during the pandemic, flagging plans to potentially exit its 49,000sqm Mascot, Sydney headquarters as well as Jetstar's head office in Collingwood, Melbourne.
Following last month's announcement the airline would outsource ground staff jobs to save $100 million, the group now aims to reduce its current $40 million annual spend on leased office space.
The company is undertaking a three-month property review of its corporate offices and non-aviation locations, which may result in several facilities being brought together in one state.
Qantas' management claims the review flows from job losses already announced and the need for more efficiencies, although there is no intention to offshore facilities as a result of the review.
Some aviation facilities will also be considered for possible relocation, such as flight simulator centres currently in Sydney and Melbourne as well as Qantas' heavy maintenance facilities in Brisbane; particularly if an opportunity arises to bring some or all of these facilities under the one roof in Australia.
Qantas Group chief financial officer Vanessa Hudson says like most airlines, the ongoing impact of COVID-19 means Qantas will be a much smaller company for a while.
"We're looking right across the organisation for efficiencies, including our $40 million annual spend on leased office space," she says.
"As well as simply rightsizing the amount of space we have, there are opportunities to consolidate some facilities and unlock economies of scale. For instance, we could co-locate the Qantas and Jetstar head offices in a single place rather than splitting them across Sydney and Melbourne.
"Most of our activities and facilities are anchored to the airports we fly to, but anything that can reasonably move without impacting our operations or customers is on the table as part of this review. We'll also be making the new Western Sydney Airport part of our thinking, given the opportunity this greenfield project represents."
She claims the review will help set up Qantas for the long term with recovery from the COVID-19 crisis, and the group is "open minded" about the outcome.
"It's possible that our HQ stays where it is but becomes a lot smaller, and other facilities consolidate elsewhere," she says.
"Or we could wind up with a single, all-purpose campus that brings together many different parts of the Group. These are all options we need to consider as we look to the future.
"The Qantas Group will remain one of the country's largest employers and a major generator of economic activity, so we're keen to engage with state governments on any potential incentives as part of our decision making."
To assist with the first phase of consolidation, Colliers International has been appointed to sublease about 25,000 square metres of surplus office space across Mascot, Melbourne CBD and Hobart. A lease on a 230 square metre Sydney CBD office that is due to expire in October will not be renewed.
Updated at 10:44am AEST on 15 September 2020.
---
Victoria pledges $87m to bring outdoor dining to life

Victorians will be able to enjoy a summer of al fresco drinking and dining once COVID-19 trading restrictions on hospitality businesses are eased, thanks to almost $90 million in government funding.
Announced today, the Victorian Government's 'Outdoor Eating and Entertainment Package' will target funding at hospitality businesses and city councils to make outdoor dining experiences possible under COVID-19 restrictions.
Business will be able to apply for up to $5,000 grants to pay for practicalities needed to make the Government's plans work like umbrellas, furniture, screens and other equipment.
The State Government estimates more than 11,000 eligible businesses will benefit from the $58 million in grants.
Eligible businesses include licenced and unlicenced cafes, restaurants, takeaway food businesses, pubs, taverns, bars and clubs with a payroll of less than $3 million.
They will be able to make the most of the funds from 26 October - the date at which the State Government hopes outdoor dining will be permitted once again when COVID-19 restrictions ease.
"We're the cultural and dining capital of our nation," says Victorian Premier Daniel Andrews.
"That means, when it comes to reimagining what eating and entertainment means under COVID Normal, there's no one better equipped than Melbourne and Victoria.
"It will be our innovation, ideas and creativity that will help us find and maintain our COVID Normal."
Further funding of $29.5 million will be provided to local councils to help them implement permit, enforcement and monitoring processes to support expanded outdoor dining in the 'Third Step' of Victoria's reopening roadmap.
The close to $90 million in funding for outdoor dining experiences follows the State Government's $50 million pledge (matched by the City of Melbourne for a total of $100 million) to assist CBD-based businesses transform.
From that fund, SMEs in Melbourne's CBD will be able apply for $30 million worth of grants to pay for equipment, convert spaces like rooftops and courtyards into hospitality zones and remodel internal layouts to allow for the better flow of patrons.
A further $30 million will support COVID Safe events and cultural activities to attract visitors back to the CBD when it's safe to do so. Another $40 million will go towards providing physical improvements to the CBD streetscape, which may include wider footpaths, bollards and street planter boxes.
$100m sole trader support package established
To support struggling sole traders the State Government has also established a $100 million support fund, providing eligible entrepreneurs with grants of $3,000.
To be eligible sole trades must demonstrate that they are continuing to be affected by restrictions, like those in media and film production, creative studios, outdoor entertainment, in private museums and galleries, and gym owners.
"While many sole traders have been relying on JobKeeper payments to get by, overheads are adding up and these grants will provide extra support to help these businesses get through until they are back to full operation," says the Victorian Government.
Today's announcements are in addition to yesterday's $3 billion in grants, tax relief and cashflow support for Victorian businesses.
Updated at 4.26pm AEST on 14 September 2020.
---
City of Melbourne establishes $100m recovery fund

A $100 million recovery fund created by the City of Melbourne and the Victorian Government will be used to reactivate the central city as the state progressively reopens.
The funds will be used to invest in programs and infrastructure to kick-start the economy and attract workers and visitors back to the city.
This will be achieved by extending outdoor trading hours, waiving permit fees, activating vacant shopfronts and increasing marketing, events and entertainment in the City of Melbourne.
The Melbourne City Recovery Fund includes:
$30 million for small to medium sized businesses to rapidly adapt their operations to be more COVID Safe and comply with health directions.
$30 million for COVID Safe events and cultural activities to attract visitors back to the central city.
$40 million on infrastructure works to support the return of people to the central city through making the city more safe, accessible and sustainable.
"This fund will provide support for businesses to trade safely and help encourage customers back into the city once restrictions ease. These businesses are part of the fabric of our city and will be crucial to our recovery," said Lord Mayor Sally Capp.
"Funding to help local businesses become more COVID safe or expand their trade outdoors will be available as part of this package.
"The funding will also be used to tailor events so we can reactivate our city safely and provide a boost for hospitality and retail businesses."
The Fund includes $50 million from the City of Melbourne and $50 million from the Victorian Government.
The Lord Mayor said Melbourne's economy was booming before COVID-19, reaching a record $104 billion last year, which is 24 per cent of Victoria's Gross State Product.
"Economic research shows the pandemic could reduce Gross Local Product by up to $110 billion over the next five years compared to pre COVID-19 projections," said the Lord Mayor.
"I would like to thank the Premier for partnering with us in delivering a jointly funded recovery package for businesses and workers. This is great for kick-starting the economy and safely welcoming people back into our city."
The establishment of this new fund follows the announcement of a $3 billion business support package from the Victorian Government over the weekend comprising cash grants, tax relief and cashflow support.
More than $1.1 billion in cash grants will support SMEs, including $822 million as part of a third round of the Business Support Fund.
A cash grant scheme that has already given $1.47 billion to 108,000 businesses will also be expanded, with the government expecting around 75,000 eligible businesses with payrolls up to $10 million will receive grants of $10,000, $15,000 or $20,000 depending on their size.
Updated at 1.20pm AEST on 14 September 2020.
---
Starpharma nasal spray found to be effective at preventing COVID-19 infection

Testing of Starpharma's (ASX: SPL) nasal spray has been shown to inactivate more than 99.9 per cent of SARS-CoV-2, the virus that causes COVID-19.
The effectiveness of the treatment depends on its use before or after exposure to the virus.
Emboldened by the positive results, Starpharma has expedited production of the spray to make it market-ready for the first half of 2021.
The announcement comes just weeks after the company announced it had received $1 million in funding to develop the nasal spray called SPL7013.
The findings came from studies conducted in the laboratory of internationally recognised virology researcher Professor Philippe Gallay at the Scripps Research Institute in the US.
"We are delighted to be working with Professor Gallay to expedite the development of this important product," says Starpharma CEO Dr Jackie Fairley.
"These latest data show that at clinically relevant concentrations, SPL7013 inactivates more than 99.9 per cent of SARS-CoV-2, which represents a compelling feature for the product.
"This potent virucidal action is consistent with the activity seen for SPL7013 in other viruses, including HIV and HSV."
Professor Gallay, an expert in HIV (the virus that can cause AIDS) and the hepatitis C virus, says this discovery is an exciting development in the global fight against COVID-19.
"We have been working with Starpharma for a number of months now and are impressed with the antiviral data generated in our lab for SPL7013 against SARS-CoV-2," says Professor Gallay.
"It is particularly exciting to see a product show such a potent and clear virucidal effect against this highly infectious virus, and for its antiviral activity to be present when SPL7013 is added either before or after exposure of the cells to the virus."
Dr Fairley says the nasal spray will be able to hit pharmacy shelves soon and will complement other prevention measures such as PPE and vaccines.
"Starpharma's COVID-19 nasal spray has potential to be an important near-term preventative product, and given it is based on an already marketed active, its path to market is both faster and less complex than a completely new product," says Dr Fairley.
"Another attractive feature of Starpharma's SPL7013 COVID-19 nasal spray is that it is entirely complementary to other prevention measures such as PPE and vaccines.
"It also has a special relevance where social distancing is not possible such as crowded environments and certain workplaces. The importance of multiple preventative product strategies has been highlighted by the recent challenges with some vaccine trials."
Starpharma has already completed reformulation of the drug, pilot product manufacture, selection of device and packaging component, meaning the SPL7013 nasal spray will be expedited into the market.
The company has also commenced commercial discussions across a range of distribution channels and customer groups.
The discovery and subsequent announcement of it to the ASX have seen shares in the pharmaceutical company rise by more than 7 per cent at the time of writing.
Updated at 12.38pm AEST on 14 September 2020.
---
Victorian restrictions eased overnight: curfew extended, social bubbles introduced

Victorians can now expect more social interaction and extra time outside after the state cautiously eased out of heavy lockdown restrictions at midnight.
The gradual easing of restrictions, part of the 'First Step' of the state's roadmap to reopening, comes as Victoria records just 35 new cases of COVID-19 and seven deaths today.
As part of step one social bubbles are now allowed in Melbourne, meaning those living alone or single parents can have one other person in their home.
The 8pm curfew has been extended by one hour to 9pm as Melbourne moves into the warmer months.
Exercise is permitted for two hours split over a maximum of two sessions per day, and Melburnians are allowed to use that out time outside for social interaction with one other person or the members of their household.
Playgrounds and outdoor fitness equipment have also been reopened, while libraries are able to open for contactless click and collect services.
However, Melbourne is largely still subject to strict Stage 4 restrictions, meaning most businesses are still closed.
---
---
Meanwhile, regional Victoria moved from Stage 3 restrictions to the second step of the roadmap as of midnight last night, meaning up to five people can gather together in outdoor and public places from a maximum of two households.
Outdoor pools and playgrounds have reopened, and religious services can be conducted outside with a maximum of five people plus a faith leader.
Because regional Victoria's 14-day rolling average of COVID-19 cases is doing so well (currently sitting at 4.1) the state government says areas outside of greater Melbourne could move to the third step of easing within a matter of days.
"I'm so proud of Victorians for the way we are all working together to beat this virus it means we can take our first safe and steady steps towards a COVID Normal tonight," said Victorian Premier Daniel Andrews yesterday.
"What we've seen in regional Victoria should give hope to all Victorians. If we all play our part, we can drive numbers down and get through this together."
Updated at 10.05am AEST on 14 September 2020.
---
Victoria announces $3 billion business support package

When asked recently about whether the Federal Government would give additional support to Victoria given lockdowns are still in place and JobKeeper amounts will be scaled back, Prime Minister Scott Morrison played hardball, indicating he would wait for Premier Daniel Andrews' (pictured) next move.
Today that move has come in the form of a new $3 billion support package from the Victorian Government comprising cash grants, tax relief and cashflow support, doubling the state's business support to $6 billion.
More than $1.1 billion in cash grants will support SMEs, including $822 million as part of a third round of the Business Support Fund.
A cash grant scheme that has already given $1.47 billion to 108,000 businesses will also be expanded, with the government expecting around 75,000 eligible businesses with payrolls up to $10 million will receive grants of $10,000, $15,000 or $20,000 depending on their size.
Other support measures in the new package include:
A $251 million dedicated Licenced Venue Fund with grants of between $10,000 and $30,000 for licenced venues, along with the waiving of liquor license fees for 2021;
$4.3 million worth of $20,000 grants to alpine resorts affected by COVID-19 restrictions;
Grants of up to $20,000 for local business groups and chambers of commerce to help members adapt and find their feet in a "COVID-normal" world;
A deferral of payroll tax for businesses with payrolls of up to $10 million in FY21, adding to refunds totalling $540 million to 20,000 businesses to date;
A further $137 million in waivers and deferrals of charges including liquor licence fees, the congestion levy and increases to the landfill levy;
The 50 per cent stamp duty discount for commercial and industrial property across all of regional Victoria will be brought forward to 1 January 2021 and the Vacant Residential Land Tax will be waived for properties that are vacant in 2020.
A $44 million investment in business support to adapt to a COVID-normal environment, including $20 million for small businesses to access off-the-shelf digital programs such as Shopify or Squareonline, training and workshops designed to help businesses adapt to online operations; and
An additional $8.5 million for the 'Click for Vic' campaign to support the state's food, wine, galleries and homewares, through marketing and advertising as well as expanding the digital platform and its partnerships with third-party e-commerce providers. To date the initiative has already generated 211,000 leads to the businesses featured.
"For our state to recover, we need our businesses to recover too. As we take our first safe and steady steps towards COVID Normal, this support will help make sure we get through this together," says Premier Andrews.
"We'll continue meeting with and listening to businesses, so we can do everything we can to support them and their workers."
"We're helping business to endure during these difficult times, and then to rebuild on the other side. This package comes on the back of extensive consultation with businesses in every sector," adds Minister for Industry Support and Recovery Martin Pakula.
Updated at 2:57pm AEST on 13 September 2020.
---
Suncorp store closures will lead to 550 job cuts

The Finance Sector Union of Australia (FSU) has today revealed Suncorp's (ASX: SUN) major restructure will involve 550 job losses, following the announcement on Wednesday that 19 stores and one business centre would be closed.
The Brisbane-headquartered banking and insurance group will permanently close several locations across Queensland, New South Wales and Victoria, although most of these stores have been shut already since April when COVID-19 restrictions came into place.
The company explained customers of the stores concerned have moved to online, claiming that their nearest in-person option such as an alternative store or Australia Post outlet was usually within 500 metres or no further than several kilometres.
Suncorp noted affected employees would however be given the opportunity to apply for contact centre roles they can perform from their local communities.
FSU Queensland local executive secretary Wendy Streets argues that as a large financial services company Suncorp should have the capacity to maintain its business operations through the global pandemic and the subsequent recession caused by Covid-19.
"However, instead of valuing the staff it currently employs and planning for playing its part in rebuilding the Australian economy once the pandemic subsides, Suncorp has taken a short-sighted decision to make up to 550 roles redundant," says Streets.
"While Suncorp says 180 new roles will be created, there are no guarantees that any displaced employees will successfully be redeployed into these new roles.
"This is the worst time to be unemployed and we know how difficult it will be for some of these Suncorp workers to find new jobs."
After noting Suncorp recently recorded a statutory profit of $913 million, Streets said it was difficult to see how the loss of so many loyal employees will not affect frontline services to customers.
"Suncorp is a profitable finance company and in these difficult times, with so many Australians out of work, if we can't rely on companies like Suncorp to do the right thing by their employees, who can we rely on?"
In a response today, a Suncorp spokeswoman said the group continued to "align" its teams under an operating model announced on 1 July.
"The new model is designed to deliver on our priorities and ensure we can support the changing needs of our customers through COVID-19," she said.
"This week teams were advised of proposed changes across our business and we are fully committed to consulting with our people and supporting those impacted.
"We expect a number of new roles to be created while it's also likely some people will leave the organisation."
Earlier this week, Suncorp's executive general manager of consumer distribution, Chris Fleming, said many customers had switched to digital banking in 2020 and would likely continue to bank that way beyond COVID-19 and face-to-face transactions will fall further.
He said the number of digital transactions has risen by 10 per cent this year and two-thirds of new accounts have now opened online. At the same time, over-the-counter transactions are down almost 60 per cent since June 2016.
"Suncorp must make changes to our business so we can keep up with our customers' demands and remain a strong alternative to the major banks, which is something our customers also value," Fleming said.
"We can only be a genuine choice over the major banks if we focus on customer needs and keep our bank strong."
Updated at 4:58pm AEST on 11 September 2020.
---
Federal Government to subsidise business events with $50m in grants

The Federal Government will cover up to half of the costs for Australian businesses involved in conferences and events as part of a $50 million grant program intended to help restart the sector.
Under the Business Events Exhibitor Grants program, Australian businesses exhibiting at an approved business meeting, convention, conference or incentives event in 2021 will be able to apply for upfront grants to cover up to 50 per cent of their costs.
The grants on offer will range from $10,000 to $250,000 per business.
The scheme is aimed at encouraging businesses to attend events, trade shows and conferences, with the government covering the costs associated with exhibiting such as exhibition space hire, the manufacture of displays, travel and accommodation.
Prime Minister Scott Morrison says the funding will support the business events industry that was heavily hit by COVID-19 restrictions, with around 95 per cent of business events for 2020 either cancelled or postponed.
"Getting business events up and running again will be a critical part of the recovery of our tourism industry, but will also have huge flow-on effects through the entire economy," said Prime Minister Morrison.
"This is not only about supporting events companies and venues, but will also be a shot in the arm for a broad range of businesses and the people they employ - whether it's accommodation providers, those who build exhibitions, caterers, cleaners or those offering audio-visual services."
The Business Events Council of Australia (BECA) has welcomed the announcement, hoping the targeted support will drive confidence and create momentum for the sector.
"Australia's business events industry wholehearted welcomes the Federal Government's support through this grants program. Australia's business events industry has left devastated by the COVID-10 pandemic, at a cost to our economy of $35.7 billion, and counting," says chair of the Business Events Council of Australia Dr Vanessa Findlay.
"Today announcement is an important step towards recovery. We can now look to rebuilding business confidence and kick-starting momentum across the entire business events supply chain for meetings, conventions, incentives and exhibitions.
"BECA's goal is to both support the business events industry and maximise the contribution that this makes to the recovery of our wider economy. This support package will be pivotal to that."
BECA notes that last year over 480,000 business events were held in Australia and over 43 million people attended a business event in the form of a meeting, convention, exhibition or incentive event.
In a recent survey conducted by BECA, 67 per cent of businesses said they don't have any business events confirmed for 2020 and 48 per cent of businesses said they don't have any business events confirmed for 2021 either.
More information about the Business Events Exhibitor Grants program can be found here.
Updated at 10.59am AEST on 11 September 2020.
---
New QLD public health alerts for Westfield Garden City, Orion Springfield Central

Queensland Health has today expanded its list of venues where confirmed cases of COVID-19 cases visited while infectious.
The list now includes two major shopping centres in South East Queensland, including Orion Springfield Central Shopping Centre in Springfield Central and Westfield Garden City in Mount Gravatt.
The public health alerts note the confirmed COVID-19 case visited stores like Big W, City Beach, Woolworths, Pandora and more.
Anyone who has been to these locations at the times specified should monitor for symptoms of COVID-19 and get tested if any present: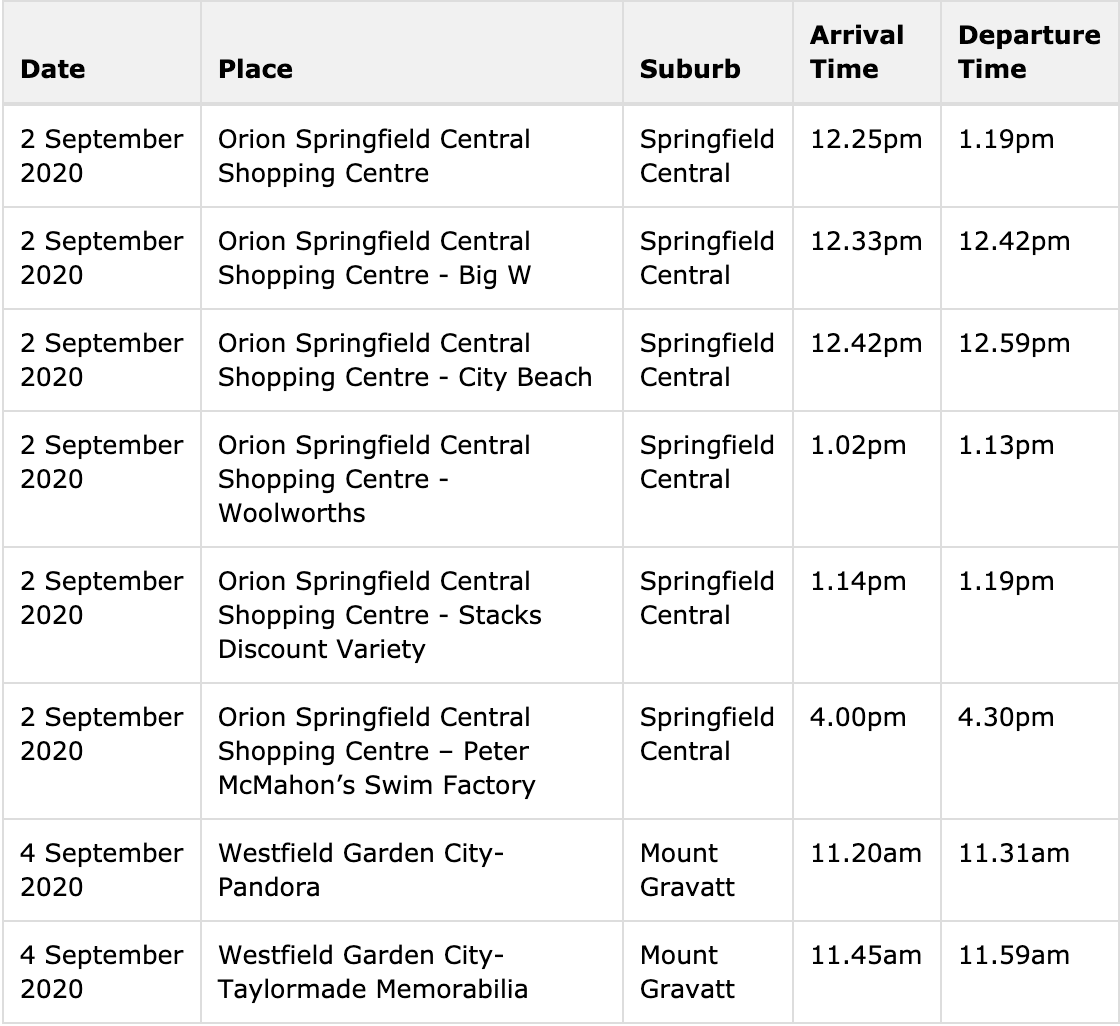 The health alerts come as Queensland records two new confirmed cases of COVID-19 today.
Both of the cases are direct contacts of already confirmed cases and have been in home quarantine while infectious.
One is the seventh member of a household to have contracted COVID-19, meaning all members of that household have now had the virus.
There are now 28 active cases of COVID-19 in Queensland, bringing the cumulative number of infections in the state since the pandemic began to 1,145.
Victoria has also confirmed that there are 43 new cases of COVID-19 in the state today, down from 51 yesterday.
The state also recorded nine new deaths from COVID-19 today, bringing the total number of deaths since the pandemic began in Australia to 797.
Updated at 9.43am AEST on 11 September 2020.
---
Tax on vacant properties waived in Victoria

Owners of vacant land in Victoria will not have to pay tax on their properties this year as part of the state government's sweeping pandemic relief measures.
Announced today by Victorian Treasurer Tim Pallas, the government will waive the Vacant Residential Land Tax for properties that are vacant in 2020.
The state government says the waiver is necessary considering travel restrictions and heavy lockdown measures which make property inspections impossible and leave many properties vacant that would otherwise be occupied.
Additionally, car park owners will have 25 per cent of this year's congestion levy waived by the state government.
Car park owners can also defer any outstanding balances until next year.
"We've listened to the sector and we've acted. These are small changes but they will make a big difference towards getting to the other side of this virus," says Treasurer Tim Pallas.
"These restrictions are keeping us all safe but they come at a devastating economic cost that's why we're providing billions of dollars in support to those who need it most."
Updated at 3.56pm AEST on 10 September 2020.
---
Inner Melbourne economy to take $23.5 billion hit from COVID-19 in 2020, PwC research shows

Modelling released today shows the City of Melbourne's (CoM) economy is likely to contract by 22 per cent on pre-COVID levels this year, making it the hardest hit region in the country.
PricewaterhouseCoopers (PwC) research commissioned by the CoM estimates a $23.5 billion reduction on last year's record economic output of $104 billion, which accounted for almost a quarter of Victoria's gross state product (GSP).
A total reduction of $49 billion - or 8 per cent - is expected over five years under a scenario in line with the latest government projections, but prolonged public health measures could lead to a $110 billion fall over the period.
Under that worst case scenario considered by PwC, Victorian state-wide economic output would be $327 billion below pre-COVID projections over five years, affecting around 398,000 jobs.
The report also notes co-dependencies for the state and national economy, which have historically been driven by growth in major cities.
Overall, the CoM is expected to bear the brunt of jobs and output decline across Victoria, with the daily population in the city running at 34 per cent of 2019 daily averages.
The report also considered a scenario of a quicker and stronger recovery, under which CoM's economic output over five years would be down $41 billion with GSP down by $74 billion.
"This shows that the difference between a slower and quicker recovery over the five years is $69 billion in CoM economic output," the report stated.
"This highlights the importance of the speed and strength of recovery and cements the importance of the CoM in driving Victoria's response."
Lord Mayor Sally Capp said the city economy was booming before COVID-19, describing it as the economic powerhouse of Australia.
"The scale of the economic shock being felt across the central city is unprecedented," the Lord Mayor said.
"The modelling shows more than 22,000 jobs could be lost in our accommodation and food services sector this year alone. We can't afford to lose our world-class food, café and retail culture."
She said the new data showed Melbourne needed urgent support from the Victorian and Australian Governments to support businesses.
"We are working closely with the State and Federal governments to secure further support for businesses and investment for the city's reactivation when it is safe to do so," she said, adding her council was making a record $50 million investment in rate relief and stimulus packages to help the economy recover as quickly as possible.
A return of international students is one of the critical factors to help ensure a faster recovery, with the report highlighting how the University of Melbourne was the state's largest exporter by value last year.
"The closure of domestic and international borders has forced the deferral of thousands of international student enrolments in 2020, significantly impacting institutions like the University of Melbourne which relies on overseas student fees for 35 per cent of its income," the report stated.
"It will also impact the local economies which house these institutions, with ABS data showing for every $1 lost in university tuition fees, another $1.15 is lost in the broader economy due to student spending."
The report also emphasises inner Melbourne's historic strength in drawing tourists to the state, which received 95.5 million visitors in the year to March 2020.
"The tourism expenditure for these visitors was $31.3 billion, which amounts to spending of approximately $85.6 million per day in the State," the report stated.
"With the exception of visitors from China, the top source markets by overnight visitor spend were visitors from Victoria, New South Wales, Queensland, and South Australia, highlighting the significance of Victoria as a colourful domestic travel destination.
"The Greater Melbourne region drew 39.6 per cent of these visitors to Victoria. For international tourists, who make up only 3 per cent of visitors to Victoria but 26 per cent of tourism expenditure, Melbourne provides a gateway for arriving visitors to explore the rest of the state."
Under a scenario in line with current government projections, the City of Melbourne's accomodation, food services and retail trade is set for a 42 per cent decline in employment, compared to a 30 per cent reduction for the state.
PwC also pointed to inner Melbourne's startup economy as another strong driver of jobs growth and productivity.
"The Life Sciences and Fintech subsectors are the largest contributors to the city's startup economy, with the latter accounting for 80 per cent of key funding investment across Australia in the last financial year.
"These startups thrive in environments, such as that found in CoM, characterised by an abundance of talented founders and employees, strong investment opportunities, proximity to research organisations, universities, and corporate organisations, and a conducive policy environment.
"In aggregate, city workers produce 23 per cent more value add than the average Victorian worker. This is driven, in part, by the concentration of diverse businesses in the Melbourne CBD and Docklands precincts and the associated agglomeration economies for CoM."
Updated at 9:50am AEST on 10 September.
---
Deloitte reveals scale of hospitality spending slump, but retail rebounds

Divergence in spending across the retail landscape means not all categories are on an equal footing, despite a strong lift in total spending volumes during June and July 2020.
As a result, there has been a wide range of growth across both categories and states, with sectors like recreational goods and liquor performing exceptionally well while spending at cafes, restaurants and catering services has plummeted.
The findings, from Deloitte's quarterly Retail Forecasts report for the third quarter, demonstrate how overall retail spending is faring better than general consumer spending.
According to Deloitte, retail volumes fell just 3.4 per cent over the June quarter, compared to a 12.1 per cent collapse in household spending.
Looking ahead, the report forecasts this positive momentum will continue into the September quarter, with retail volumes expected to bounce back by 5.4 per cent.
Even on a year-on-year basis retail spending volume are up 7.4 per cent in June compared to the previous year.
However, Deloitte Access Economics partner and the author of the Retail Forecasts report David Rumbens says while the figures look healthy on a first glance, the real story is told when broken down into categories.
"There is an enormous gulf in retail performance by sector. Restrictions have sent cafes, restaurants and catering services into a tailspin, with spending remaining over 20 per cent lower than pre-COVID levels in the month of July," says Rumbens.
"Meanwhile, with more people at home more of the time, spending on recreational goods, alcohol, electrical and electronic goods, and hardware, building and garden supplies have surged, with all posting more than 30 per cent gains in the month of July compared to pre-COVID levels.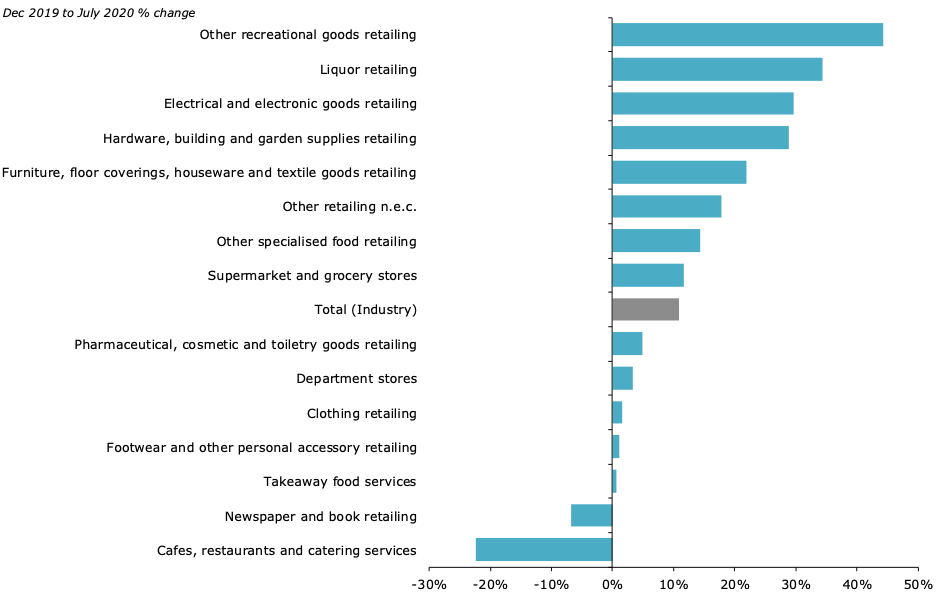 Change in nominal retail spending compared to pre-COVID levels (via Deloitte)
"And it's not just categories experiencing a divergence in spend. Victoria's second wave COVID outbreak and Stage 4 restrictions have sent the state back into a spending slump. Meanwhile retailers in Queensland and Western Australia continue to benefit from the easing of restrictions."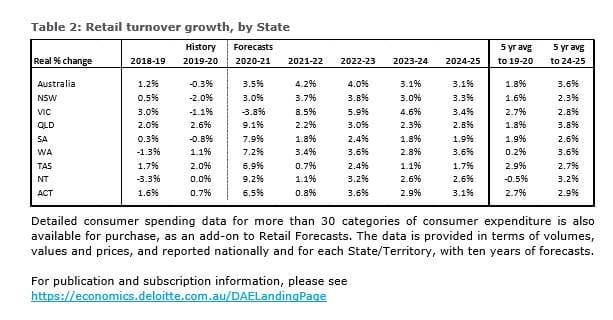 According to Rumbens the COVID-induced employment crisis has hurt take home incomes and eroded consumer willingness to spend.
This is despite fiscal stimulus resulting in more cash washing through the economy, adding 2.2 per cent on average to household disposable income.
"Unfortunately, we weren't willing to go out and spend this extra cash, with the savings rate skyrocketing to 19.8 per cent as households prepare for what they expect to be further difficult and uncertain times ahead," says Rumbens.
"Looking forward, some parts of retail are expected to take longer than others to recover. Supermarkets, specialty food and liquor, household goods, and other retailing have already exceeded December's pre-COVID spending levels for spending over a whole quarter.
"However, it is expected to take much longer for department stores, catered food and apparel to reach this benchmark."
Updated at 1.00am AEST on 10 September 2020.
---
Safety concerns trigger pause of AstraZeneca COVID-19 vaccine trial

Pharmaceutical company AstraZeneca has put its late-stage trial of a potential COVID-19 vaccine on hold after a participant fell ill.
According to the British-Swedish multinational, which is working on the vaccine with Oxford University, the voluntary pause is part of its "standard review process".
The suspension, described as a "routine action", will give the company time to investigate the cause of the illness in the participant.
"This is a routine action which has to happen whenever there is a potentially unexplained illness in one of the trials, while it is investigated, ensuring we maintain the integrity of the trials," says a spokesperson from AstraZeneca.
"In large trials illnesses will happen by chance but must be independently reviewed to check this carefully.
"We are working to expedite the review of the single event to minimise any potential impact on the trial timeline. We are committed to the safety of our participants and the highest standards of conduct in our trials."
The announcement from the pharmaceutical giant comes just two days after biotechnology company CSL (ASX: CSL) announced it would be manufacturing 30 million doses of the AstraZeneca vaccine.
According to CSL, that vaccine is expected to be ready for the Australian public in early 2021. AstraZeneca has not indicated whether this pause will delay that timeline.
CSL also announced on Monday it would be producing 52 million doses of a vaccine developed by the University of Queensland if clinical trials are successful.
Updated at 10.40am AEST on 9 September 2020.
---
Public health alert issued for China Doll restaurant, Balmain pub shut down

A number of new public health alerts have been issued for venues in New South Wales, including for high-end restaurant China Doll in Woolloomooloo and a golf club in Paramatta.
A pub in Balmain has also been shut down for one week after authorities determined it had repeatedly breached COVID-19 restrictions.
The alerts come after confirmed cases of COVID-19 visited the venues, with NSW Health urging other attendees to isolate for a fortnight and get tested immediately.
NSW Health says an infectious person dined at China Doll on Thursday 3 September, with a small number of patrons and staff considered close contacts. They have been directed to self-isolate and seek testing.
In addition, NSW Health says anyone who attended the following venues at the specific times are considered to be close contacts and must isolate immediately:
Oatlands Golf Club, 94 Bettington Rd Oatlands, on Friday, 4 September, 6:30-8:45pm. Anyone who attended the Bavarian Night Dinner in the Bistro on Bettington main dining room is a close contact and should isolate and get tested immediately.
Paperboy Café, 18 Tennyson Rd Concord, Sunday, 6 September, 10am-12pm.
Further, anyone who attended the following venues at the specified times is considered a casual contact and must monitor for symptoms of COVID-19:
Stanhope Village Shopping Centre, including Kmart Stanhope Gardens, on Monday, 7 September, 8.30am-9.30am
Clovelly Hotel on Saturday, 5 September,12:45-1:45pm
Rouse Hill Town Centre, including Target Rouse Hill, on Saturday, 5 September, 12.30pm-1.30pm
Fitness First Maroubra, 737 Anzac Parade Maroubra, on Saturday, 5 September, 8am 12pm
"NSW Health is working with Fitness First to identify people who attended the Maroubra gym that morning, and will directly advise those who are considered to be close contacts and need to get tested and isolate for 14 days," says NSW Health.
Balmain pub shut down for breaches of COVID-19 restrictions
The Unity Hall Hotel in Balmain is the first venue in NSW to be formally closed for one week after it was found to be breaching public health orders.
Authorities from NSW Liquor & Gaming found the pub was not following COVID-19 safety plan requirements while hosting two birthday parties, just one day after receiving a penalty notice for other breaches.
The venue will be closed for seven days from 5am today in addition to having been fined a total of $10,000 by Liquor & Gaming and NSW Police.
"The venue was fined $5,000 after our inspection on 5 August, where inspectors identified an out of date COVID-19 Safety Plan, inadequate sign in processes relating to not recording times of entry and digitising records, and a lack of physical distancing between chairs and tables," says Liquor & Gaming director of compliance Dimitri Argeres.
Liquor & Gaming says a penalty notice was issued for those offences on 7 August.
When police attended the pub on 8 August in response to a complaint from a member of the public they observed a private function of 32 guests who were dancing, standing and mingling while consuming alcohol.
Police fined the venue $5,000 and then referred the matter to Liquor & Gaming to consider further action.
Liquor & Gaming reviewed the CCTV which corroborated breaches of physical distancing; 10-person limits on bookings; dancing; and staying seated while consuming alcohol.
"This is the risk posed by not following the Public Health Orders and not adequately implementing COVID-safe practices. People in large groups who are known to each other are far more likely to mingle including by dancing and this increases the risk of transmission," says Argeres.
"Each person brings with them a history of interaction with others in the community which means the more people in a group, the more close contacts they are sharing across that group.
"To repeatedly not comply with the Public Health Orders poses a clear and significant risk to public health."
Updated at 9.27am AEST on 9 September 2020.
---
Business insolvency and bankruptcy protections extended until the end of 2020

Temporary insolvency and bankruptcy protections to assist financially distressed Australian businesses during the COVID-19 pandemic have been extended until 31 December 2020.
The Federal Government will introduce regulations to extend the temporary increase in the threshold at which creditors can issue a statutory demand on a company, as well as the time companies have to respond to demands they receive.
In addition, the changes will extend the temporary relief for directors from any personal liability for trading whilst insolvent.
"The extension of these measures will lessen the threat of actions that could unnecessarily push businesses into insolvency and external administration at a time when they continue to be impacted by health restrictions," Federal Treasurer Josh Frydenberg and Minister for Industrial Relations Christian Porter said in a joint statement.
"These changes will help to prevent a further wave of failures before businesses have had the opportunity to recover.
"As the economy starts to recover, it will be critical that distressed businesses have the necessary flexibility to restructure or to wind down their operations in an orderly manner."
Updated at 12.39pm AEST on 7 September 2020.
---