Staying informed is more important than ever as the situation unfolds with Covid-19. Stay tuned here for our live updates, and be sure to let us know what your business is doing to face this unprecedented challenge.
---
Melbourne shops, cafes and bars to reopen from midnight tomorrow

Victorians will be out to celebrate after Premier Daniel Andrews announced an easing of restrictions will come into effect for Melburnians from 11.59pm on Tuesday night, with long-awaited reopenings for retail, restaurants, cafés and bars.
So-called "dark openings" for staff to prepare their COVID-Safe businesses for reopenings will be allowed on-site straight away, while on 11:59pm on 8 November the metropolitan-regional border will be removed.
The State Government was able to make the decision after pending tests from Melbourne's northwestern suburbs came back negative.
"I'm able to say now is the time to open up," Premier Andrews said.
Under the third step from midnight tomorrow, the state capital will move from "stay home" to "stay safe", with no more restrictions on the reasons to leave home.
Pubs, clubs and restaurants will be limited to a limit of 50 outdoors and 20 inside. Density limits, record keeping and COVID-Safe Plans also apply.
Gatherings will no longer be limited to just two households, but groups cannot exceed 10.
"Weddings will increase to a maximum of 10 people, funerals will increase to a maximum of 20 mourners," he said.
"In terms of faith gatherings...indoor there'll be a maximum of 10 people plus one faith leader; outdoor there will be a maximum of 20 people plus one faith leader."
Andrews explained the 25-kilometre limit would remain in place until the next step comes into effect on 9 November when the "state will be as one again".
When that date comes, restaurants, hotels, cafés and bars will then move to an indoor maximum of 40 people with 10 people per space, while outdoor will have a maximum of 70 outdoor with a limit of one person per two square metres.
At that point, other regulations for Melbourne's outdoor gatherings, faith gatherings, weddings, funerals and other events will be aligned with regional Victoria.
"Accordingly in Melbourne, gyms and fitness studios will reopen on the 8th [of November] - maximum of 20 people, a maximum of 10 people per space, density of one person per eight square metres," he said.
From this Wednesday, outdoor contact sport for those aged 18 and under will also begin again, along with non-contact sport for adults.
Personal trainer, fitness and dance classes can also be held outdoors with up to 10 people, and the number of people at outdoor pools can increase to 50, subject to density limits.
"Libraries and community venues will be able to open for outdoor events. Outdoor entertainment venues can also begin hosting visitors," the Premier added.
Andrews emphasised COVID-19 was still a threat despite the low numbers.
"It's not over. This virus will continue to be a feature of our lives until a vaccine is found," he said.
"There cannot be a bending of rules. There cannot be a search for loopholes.
"Until a vaccine comes there will be no normal, only corona-normal."
Commonwealth Government welcomes Victorian announcement
In a statement following the announcement, Prime Minister Scott Morrison, Treasurer Josh Fydenberg and Minister for Health Greg Hunt issued a statement describing the news as a "reflection of the dedication and effort of Victorians".
"Victorians have worked hard and sacrificed a lot to get to this point. We thank them for their patience and perseverance," they said.
"After a long winter, there is light at the end of the tunnel for Victorians.
"As we said yesterday - Victorians have made great progress in reducing the rate of COVID-19 infections from the second wave outbreak in Victoria."
The Federal Government representatives highlighted Victoria was now moving towards Step 1 under the new National Framework plan released last week.
"The new National Framework to reopen by Christmas is a clear and transparent, three step national plan which provides the Australian community and businesses with a way forward where Australians can live and work in a COVID Normal Australia, ensuring that we maintain strong health protections and minimise job losses and mental health impacts," they said.
"Australia has been a world leader in fighting the virus to save lives and to save livelihoods and with today's announcement, we look forward to Victoria continuing to make progress on the path to reopening and joining the rest of the country at Steps 2 and 3 in the national plan.
"It will be important for the Victorian Government to provide even more clarity to Victorians in the coming days and where restrictions do not have a health basis that they are removed quickly."
The plan to develop a national framework by Christmas was agreed upon by the Commonwealth and all states and territories except Western Australia.
"Western Australia did not agree to the National Framework for Reopening, specifically the domestic border and international arrival proposals," the National Cabinet said in a release at the time.
"The Framework will establish an updated Common Operating Picture with strengthened criteria to ensure that health systems are prepared and detailed information is publicly available on COVID-19 conditions.
"The criteria take into account the National Hotel Quarantine Review by Ms Jane Halton AO PSM and will be informed by further work underway by Australia's Chief Scientist Dr Alan Finkel AO on digital contact tracing and public health systems, and advice from the Australian Health Protection Principal Committee (AHPPC)."
Updated at 4:17pm AEDT on 26 October 2020.
---
Noxopharm starts trial in COVID-19 treatment race

Burgeoning medtech company Noxopharm (ASX: NOX) is making strides in the effort race to find a treatment for COVID-19.
The Sydney-based clinical-stage drug development company has filled the first two cohorts for its trial of Veyonda, an experimental anti-cancer drug.
Noxopharm is hoping Veyonda's anti-inflammatory properties could be a vital step in preventing COVID-19 sufferers deteriorating from moderate to severe phases of the disease.
The drug works by helping curb a strong inflammatory reaction known as a cytokine storm by the body's immune system in response to lung damage caused by the virus.
Noxopharm announced plans in April to trial the drug's effect on COVID-19 sufferers. The move had an electric effect on the company's share price, which was languishing at 11 cents.
Since that announcement shares have skyrocketed almost 600 per cent to be trading at 50 cents.
Noxopharm had initially developed the drug for use in treating prostrate cancer, but moved rapidly into the COVID-19 space when Veyonda's anti-inflammatory properties were realized.
The company is planning on launching the study, which is being conducted in the eastern European country of Moldova, in early-November.
Noxopharm CEO and managing director Graham Kelly (pictured) said with the precarious position of many patients in the study, plus not having the benefit of knowing which patients are at risk of progressing, required the company to tread cautiously.
"Hence, we have started with dosages well below where we expect to see any clinical benefit," he said.
"In the cancer setting, 1200mg is what we regard as a minimum therapeutic dose.
"However, cancer is a chronic disease, and we anticipate that in the COVID-19 setting we may have to go up to 1800 mg to address a hyper-acute situation such as a cytokine storm."
Noxopharm's NOXCOVID-1 trial will enrol up to about 40 patients, with enrolment due to be completed before the end of the year.
Patients will be treated with Veyonda for between 14-28 days depending on clinical response.
Updated at 2:35pm AEDT on 26 October 2020.
---
Victoria reports no new cases of COVID-19 for the first time since June

For the first time since 9 June Victoria has reported no new cases of COVID-19 and zero deaths.
As such, metropolitan Melbourne's 14-day rolling average of cases has fallen to 3.6, and there are just seven cases with an unknown source in the Victorian capital.
The 14-day rolling average in regional Victoria is now down to just 0.2 and zero cases with an unknown source.
The major achievement comes as Victorians have been subjected to months of strict COVID-19 restrictions, designed to drag the state's infection numbers down to what has been achieved today.
Yesterday there were no new cases and no lost lives reported. Cases with unknown source are down, as is the 14 day rolling average in Melb, this remains stable in regional Vic. There is more info here: https://t.co/eTputEZdhs#COVIDVicData pic.twitter.com/CcLKzwPQHk

VicGovDHHS (@VicGovDHHS) October 25, 2020
It is a bright spot of news for Melburnians who were left disappointed yesterday after Premier Daniel Andrews delayed the announcement of the easing of restrictions.
Andrews said yesterday that the delays were necessary to get on top of an outbreak of COVID-19 in the city's northern suburbs.
Following extensive testing of residents in the northern suburbs since yesterday there have been no new reported cases in the area.
Updated at 9.28am AEDT on 26 October 2020.
---
Easing of restrictions delayed in Melbourne due to northern suburbs outbreak

COVID-19 restrictions in Melbourne will not be eased today as the state's health authorities work to contain an outbreak of the virus in the city's northern suburbs.
The news comes after six new cases were identified in Melbourne's northern suburbs, meaning there have so far been 39 cases spread across 11 households in the area.
According to the state's Premier Daniel Andrews (pictured), health authorities are not yet aware of how the cases link together.
"I know plenty of people were looking forward to some good news today. And soon, very soon, we'll have some," said Andrews.
"But for now, we need to do again what we've done throughout this pandemic: follow the advice of our public health experts. That means there can be no changes to restrictions in Melbourne today."
Over the last 24 hours more than 3,000 residents of the area were tested for COVID-19.
The Premier hopes to announce further easing of restrictions in Melbourne later this week once the tests results are returned.
"Put simply: this is a couple of extra days that might put us weeks ahead of this virus. To not only get on top of this outbreak but to stamp it out," said Andrews.
"I know everyone will be disappointed we're not making that move today. I get that. I am too.
"But I want to reassure you, this is not us taking a step back. This is us making sure we can take a step forward and stay there."
While today's news will be disappointing for Melburnians the state has announced further easing of COVID-19 restrictions in regional Victoria.
From 11.59pm on Tuesday 27 October indoor gyms and fitness spaces in regional Victoria will be able to open up to 20 people, with a maximum of ten per space and a density of one person per 8 square metres.
Indoor pools will also open to 20 people at a time, and indoor sport will be permitted for those aged 18 and under.
Food courts will also be permitted to resume trading and live music can resume as part of outdoor hospitality.
School graduations will be allowed within school communities and 20 people can gather together indoors for religious ceremonies or 50 people outdoors.
"Regional Victorians should be proud of this success. Everyone should be proud of this success. Because soon, it will belong to our whole state," said Andrews.
The news comes as New South Wales has recorded no new locally acquired cases of COVID-19 for the third day in a row, plus seven cases of the coronavirus in hotel quarantine.
Updated at 12.03pm AEDT on 25 October 2020.
---
Border opening delays stymie Qantas earnings by $100m

Qantas Airways (ASX: QAN) CEO Alan Joyce claims ongoing state border closures have delayed the airline's recovery, cutting $100 million from earnings in the September quarter with expected impacts for the months ahead.
Joyce told the company's annual general meeting (AGM) today capacity was currently below 30 per cent, but if Queensland's border opens to New South Wales in the coming weeks domestic capacity could rise to 50 per cent by Christmas.
"We know that latent travel demand is strong. We saw that with our 'scenic flight' earlier this month, which sold out in 10 minutes," Joyce said.
"And we saw it when South Australia opened to New South Wales, with 20,000 seats selling across Qantas and Jetstar in just 36 hours," he said.
He added the group's domestic share would likely rise organically from 60 per cent to 70 per cent of the business as Virgin Australia changes its strategy. Meanwhile, Qantas Freight has been performing very well with activity "more in-line with the Christmas rush in recent months".
"Some of this is obviously temporary but Australia Post believes the shift to online shopping has been permanently accelerated and freight volumes will be significantly higher going forward which is a great sign for our exclusive, seven-year deal with Post," Joyce said.
As part of Qantas' deal with Australia Post, it will have the first of three A321 freighters arriving, which carry 60 per cent more than its current 737 freighters and are more fuel efficient.
Chairman Richard Goyder highlighted very encouraging signs from the lifting of some restrictions with New Zealand, as well as the potential for travel bubbles with parts of Asia.
"Both Qantas and Jetstar are keeping a close eye on new markets that might open up as a result of these bubbles - including places that weren't part of our pre-COVID network," Goyder said.
"By early next year, we may find that Korea, Taiwan and various islands in the Pacific are top Qantas destinations while we wait for our core international markets like the US and UK to re-open.
"We're already doing this domestically - adding new destinations that suddenly make sense - and it's the kind of flexibility we need to make the most of any cash positive opportunities in the year ahead."
The chairman discussed the tough decisions that had been made for the airline to survive, including the decision to let go of more than 6,000 people while a review contemplates removing another 2,000-plus roles in ground handling.
With 18,000 of its people remaining stood down and revenue having fallen by $4 billion in the fourth quarter of FY20, the group has nonetheless managed to raise billions of dollars to stay afloat.
"Since March, we have raised over $2 billion in secured and unsecured debt," Goyder said.
"In addition to debt, we secured $1.4 billion through our first equity raising in a decade. I'd like to thank shareholders for their support of this raising, which will power our recovery.
"Importantly, we have the liquidity to manage this. And, because our cash flow from continuing operations is positive before one-offs like redundancies, we could continue at this level of flying for a very long time - if we had to," Joyce noted.
Goyder also drew attention to more than 100 repatriation missions to bring Australians home from COVID-19 hotspots around the world.
"The latest one, from London, is due to land shortly. All flown by crew who volunteer. All handled extremely safely. The national carrier at its absolute best," he said.
Updated at 12:18pm AEDT on 23 October 2020.
---
Casual job opportunities spike in September quarter

The number of casual job vacancies in Australia rose by nearly 20 per cent in the September quarter, but the quantity of opportunities overall is still one-third lower than a year ago.
According to the Sunsuper Australia Job Index, which measures and tracks digital job advertisements, the number of casual roles on offer are at a record high.
However the rise in casual opportunities was not enough to offset a general slump in vacancies both permanent and casual, with the index 40 per cent lower than the same period last year.
"Although we've seen a strong recovery in permanent job opportunities this quarter, rising 12.6 per cent, the stronger recovery was actually in contingent or casual work, which rose nearly 20 per cent," said Sunsuper chief economist Brian Parker.
"Also, the ratio of contingent (temporary, fixed term contract and casual) job advertisements as a percentage of total advertisements is now 33.2 per cent, the highest in the history of Sunsuper Australian job index, which highlights employers' preference towards flexible staffing arrangements in uncertain times."
According to the Sunsuper Index there was a large variation in the movement in job vacancies by occupation during the quarter.
Manager and clerical roles grew by 12 per cent and 14 per cent respectively, however this recovery is from a low base and both remain 42 per cent lower than a year ago.
The strongest performing occupational group was education and training, where the number of opportunities rose by 51.6 per cent, albeit off a low base.
Professional job vacancies rose by 25.3 per cent in the last three months, representing the highest volume of job advertisements of all job types.
"It's also worth noting that those occupations showing the higher levels of growth, notably managers, professionals and clerical and administration, have all seen larger increases for contingent vacancies than permanent opportunities," said Parker.
Job opportunities within retail and wholesale rose 11.8 per cent, but remain 51.3 per cent lower than this time last year, while the healthcare industry rebounded strongly with demand for casuals and temps rising 22.6 per cent, although permanent opportunities rose by just 2.6 per cent.
State by state, the most consistent gains were made in New South Wales, up 24.4 per cent in permanent job opportunities and 27.3 per cent in contingent work. However, the number of opportunities in NSW is still down 35.6 per cent year-on-year.
"Victoria did, surprisingly, show improvement since June, particularly in contingent work. After recording solid gains in May, June and July, renewed lockdowns resulted in a sharp fall in the number of opportunities in August before a partial recovery in September," said Parker.
"The rebound in job prospects in the ACT is a more encouraging story for job seekers. The strong growth, particularly in contingent work, means that the ACT, down just 8 per cent on year-ago levels, along with Tasmania (down 9.5 per cent), are the regions to have best withstood the first six months of the pandemic."
Updated at 10.22am AEDT on 23 October 2020.
---
ABS survey shows improved outlook, but Australian businesses are still just hanging on

The latest survey from the Australian Bureau of Statistics (ABS) shows fewer businesses are reporting revenue declines compared to July, but the proportion recording rising income remains flat along with cash on hand levels.
Almost half of the businesses interviewed reported revenue declines in July, but that has since improved to just under a third at 31 per cent.
The percentage of respondents who have kept revenue steady month-over-month has risen substantially to 49 per cent, but the share of businesses actually seeing better results remains unchanged at 16 per cent.
Two key signs of recovery in the data include a one percentage point lift in the share of companies with more employees (7 per cent), and a large jump in revenue expectations for the month ahead compared to sentiments back in July.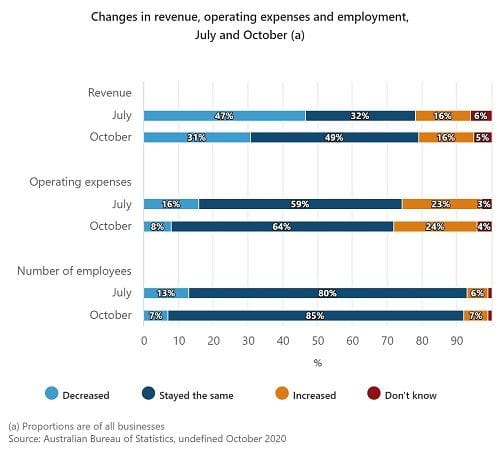 The ABS reports 18 per cent of businesses expected improved revenue in November, compared to just 11 per cent in July when they were looking ahead to August.
Additionally, the proportion of businesses expecting revenue to remain the same rose by seven percentage points to 56 per cent.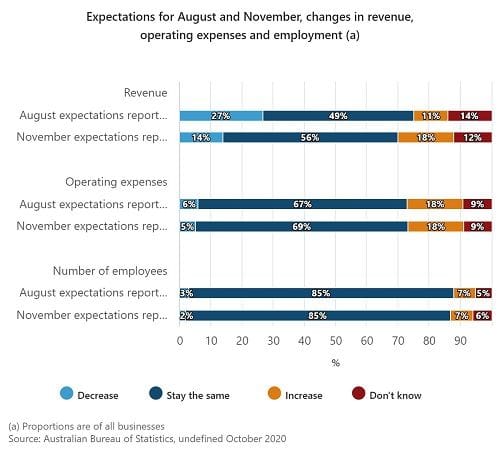 Another encouraging sign is that many more businesses actually took the ABS' calls, at 63 per cent of its 2,000-strong sample compared to just half in July.
The statistics agency clarifies that estimates of the prevalence of adversely affected businesses may be an underestimate if they have typically not responded due to negative impacts from COVID-19.
The ABS surveys randomise the selection while accounting for small, medium and large businesses across a diversity of sectors, but the headline numbers don't reveal the significant disparity between different business sizes.
Medium and large businesses have a much higher proportion of respondents reporting new hires at 22 per cent and 19 per cent respectively, and SMEs are much more likely to have seen declining revenue than larger companies.
But small businesses have also been less likely to seek out additional funds, at 21 per cent compared to 24 per cent for large businesses and 27 per cent for medium businesses.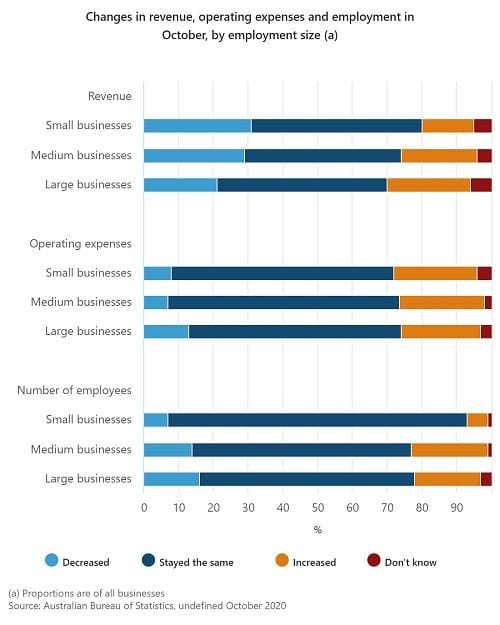 The ABS reports similar responses in terms of the amount of cash on hand, with 8 per cent of businesses having enough for less than a month, 21 per cent with enough for under three months, 13 per cent to last up to six months and 38 per cent with sufficient funds to continue for more than six months.
The survey results align well with a recent report from the Australian Banking Association (ABA) that showed repayments had resumed for almost half the nation's deferred loans.
The ABS survey showed the share of businesses deferring loan repayments had fallen by more than half since May, from 16 per cent to 7 per cent, although some industries are suffering more than others such as accommodation and food services, wholesale trade and manufacturing.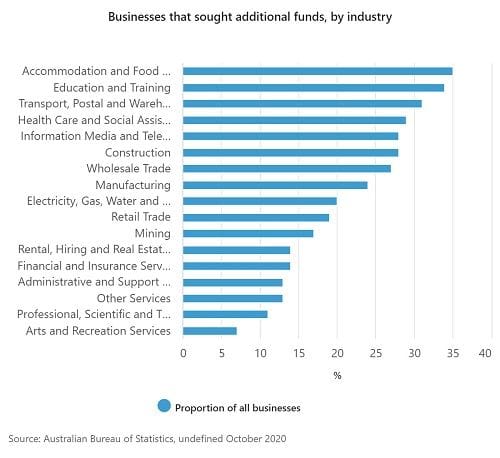 Updated at 3:05pm AEDT on 22 October 2020.
---
MyDeal.com.au is kind of a big deal, enters ASX with a bang

If there is any sector that symbolises bullish opportunities for a post-pandemic world, it is e-commerce.
Kogan (ASX: KGN) shares have tripled since the start of the year, Temple & Webster (ASX: TPW) shares have quintupled, and traditional retailers that have successfully pivoted online are reaping the rewards.
Even the incumbent global giant Amazon (NASDAQ: AMZN) has seen its shares jump 68 per cent off a very high base since January 2020.
Investors simply can't get enough of the space, so it is unsurprising that household goods e-commerce player MyDeal.com.au (ASX: MYD) started trading today at an 80 per cent premium to its initial public offering price of $1 per share.
Founded in 2011 by Sean Senvirtne (pictured), who now owns 47 per cent of the $465 million listed entity, MyDeal recorded 317 per cent year-on-year gross sales growth to $56.7 million in the September quarter alone.
But in the company's prospectus Senvirtne said the group was only at the beginning of its journey.
The IPO sought to raise funds of $40 million at $1 per share in order to grow MyDeal's private label business that is targeting gross margins of 35-40 per cent, as well as invest in proprietary technology such as app development and advertising to grow the customer base and brand.
At the time of writing this morning, MYD shares were trading at $1.81 each.
"MyDeal has gone through several evolutions since inception including group buying, dropshipping, and we were one of the earliest online retailers in Australia to launch a marketplace," Senvirtne said in the prospectus.
"We have an exciting roadmap of growth opportunities in the short to medium term such as the development of our mobile apps and the expansion of our private label business, however, what I am most excited about is the innovative solutions that we can deliver for our customers and sellers in the future as our marketplace continues to evolve."
RBC and Morgans were the joint lead managers and underwriters of the IPO, Henslow was the company's corporate advisor and Maddocks acted as legal advisor.
"This is a very exciting day for MyDeal, and I am delighted with the strong support that we received from both institutional and retail investors," Senvirtne said today.
"I would like to thank our long-term shareholders for their ongoing support, and welcome new shareholders to be part of the exciting journey ahead of us.
"I would also like to thank the amazing team at MyDeal. It has been an incredible journey, and this milestone would not have been possible without your hard work and dedication."
After recording a statutory profit of $849,232 in FY20, in the first quarter of the current financial year MyDeal recorded 268 per cent year-on-year active customer growth to 669,897.
With more than 1,700 sellers on the platform, the group's main source of revenue is a commission fee for every product and service sold on the marketplace.
The company pushed forward with its private label strategy with the market segment expanding rapidly, including more than 100 products listed for sale across key categories such as furniture and homewares.
MyDeal started selling products under the Duke Living and ErgoDuke brands in June 2020, which racked up $1.6 million in gross sales until the end of September.
Updated at 12:02pm AEDT on 22 October 2020.
---
Online sales soar 400 per cent for Lovisa

Jewellery retailer Lovisa (ASX: LOV) is glistening at the moment with not just phenomenal growth for its online sales in the first 16 weeks of FY21, but also a significant improvement for its bricks-and-mortar stores globally.
Even though 30 stores in metropolitan Melbourne remain closed with a potential re-opening on the cards for 1 November, global comparable store sales were down just 10.2 per cent in the financial year to date.
This compares to a 32.5 per cent year-on-year decline in the June quarter.
"We have continued to see stronger performance from those markets that have been re-opened longest and with the least restrictions in place, with Australia and New Zealand continuing to be our best performing regions," the group reported in an update today.
"We have seen a large increase in COVID cases across a number of our markets over the past few weeks, in particular in Europe, and continue to monitor these situations, however at the current time all of our European stores remain open."
But the company has also been ringing the figurative online till at an unprecedented rate. Lovisa's e-commerce sales growth stood at 384 per cent in the June quarter, but now that rate has edged even higher to 400 per cent.
"Our execution online remains a key focus to ensure it can become a meaningful part of our business, with digital store fronts now in place servicing all 8 of our major markets around the world," Lovisa said.
However, the improved performance in Australia both for stores and online has meant the company is no longer eligible for the JobKeeper wage subsidy past the end of September.
The expected impact of this development on profitability is likely what pushed LOV shares down 1.15 per cent today to $8.60, but they are still more than three times higher than their lowest price when the pandemic hit.
"Our Global Support Centre and our Australian Distribution Centre are both located in Melbourne and both have continued to function well during the government-imposed lockdown in supporting our global business operations," the group clarified.
"Our strategic plans remain in place, we are ready to continue our store roll out and we continue discussions with our landlords globally as we believe current circumstances will create further opportunities for expansion of our store network, which will be supported by our strong balance sheet with a continued net cash position and undrawn cash debt facilities available to support our ongoing investment in growth."
Updated at 3:55pm AEDT on 20 October 2020.
---
South east Sydney residents on alert after public health warning issued

Residents of south east Sydney have been told to monitor for symptoms after a positive case of COVID-19 visited a number of venues and cafes in the Kingsford and Ramsgate areas.
NSW Health says after alerting the public to a positive case of COVID-19 in the area on 15 October it is still investigating the source of the infection and no specific venues of concern have been identified.
However, it is believed the case visited several cafes for short periods of time and ordered takeaway while potentially infectious in the first two weeks of October.
"Anyone who has visited these suburbs, especially cafés, should monitor for symptoms and immediately isolate and get tested should even the mildest of symptoms appear," said NSW Health.
"After testing, you must remain in isolation until a negative result is received.
"NSW is at a critical point, and the only way to find new cases and prevent further transmission is to increase testing. This is particularly important in south eastern, south western, and western Sydney as well as in south western Sydney and western Sydney where there have been recent locally transmitted cases."
Health authorities strongly recommend those in the area to wear a mask when using public transport, rideshares and taxis, and in shops, places of worship and other places where physical distancing is not possible.
NSW reported no new cases of locally transmitted COVID-19 in the latest reporting period to 8pm last night.
The last time there were no new locally transmitted cases in NSW was the 24 hours to 6 October.
Four cases of the coronavirus in hotel quarantine were diagnosed overnight, bringing the cumulative number of cases in NSW to 4,153 since the pandemic began.
In Victoria there was just one new confirmed case of COVID-19 today, which is promising as Premier Daniel Andrews suggested over the weekend that sustained low case numbers could result in further restrictions being eased on hospitality and retail in the state.
Globally the total number of confirmed COVID-19 cases have crossed past the 40 million mark overnight.
Of the confirmed cases, 1.1 million have passed away because of the coronavirus, while 30.3 million have recovered.
India is leading the world in terms of new daily cases of COVID-19 with 55,511 confirmed infections recorded yesterday, followed by the USA with 49,134 new cases of COVID-19.
They are followed by France, the UK and Russia in terms of new confirmed daily cases.
In total the USA has been hit the worst by the coronavirus, recording more than 8.3 million cases of COVID-19 since the beginning of the pandemic.
Updated at 10.20am AEDT on 20 October 2020.
---
WA Premier delays next easing phase as COVID-positive ship crews pose increasing threat

Western Australia was due to enter Phase 5 of its recovery roadmap this Saturday with practically all restrictions removed except its hard border, but heightened threats from overseas arrivals have thrown a spanner in the works.
As the state now goes six months without community spread, health authorities are on alert over the recent entry of New Zealand travellers from other parts of the country, as well as 24 COVID-positive cases for ship workers on a vessel docked at Fremantle.
Premier Mark McGowan highlighted Western Australia was currently one of the most open and free societies on the planet, but its relaxations of internal controls also made it more vulnerable if the hard border were to be breached.
"Western Australia remains more susceptible to a major outbreak given nearly all physical distancing and gathering restrictions have been removed," he said.
Because of these concerns, the state's Chief Health Officer has recommended a further two months be considered for Phase 4 modified measures.
With new modifications to the phase from 11:59pm on 23 October, selected venues with predominantly seated events will be exempt from the two square metre rule.
"They will be permitted to reach up to 60 per cent of their usual maximum capacity for seated and ticketed performances," McGowan said.
"These venues include theatres, concert halls, auditoriums, amphitheatres, cinemas, comedy lounges and performing arts centres.
"These venues have been deemed low risk by the Chief Health Officer as they are seated," he said, adding these new measures would allow these venues and industries the opportunity to function, particularly in the culture and arts sector.
Today's announcements were made against a backdrop of unease in the Western Australian Government over recent developments.
Premier McGowan urged the Federal Government to "slow down" with border bubbles, and noted 23 New Zealand travellers were now in quarantine in the state.
"They will be tested in accordance with our hotel quarantine testing regime for international arrivals," he said.
"Exempt travellers from New Zealand via Sydney or Darwin will be sent to a hotel quarantine though at their own expense.
"A rushed approach to border control is not in Australia's interests. It is not in Western Australia's interest - we need to get back to National Cabinet and find a working solution."
He also revealed test results had just come through from crew members of the Al Messilah ship in Fremantle.
"We have a further 24 positive COVID-19 crew members on the ship currently at Fremantle Port. This is in addition to the one positive case reported over the weekend," he said.
"Obviously these test results are only at one point in time, so it is possible we could get further positive results in the coming days given there are 52 crew on board."
Premier McGowan said it was becoming clear ships arriving with COVID-19 on board are one of the weakest links and biggest risk to WA's way of life.
"This is why we demand the Commonwealth Government step up and work with other jurisdictions on this issue - we need a coordinated international approach to this, and we need our Federal Government to take international action," he said.
"Foreign Affairs is the Commonwealth's responsibility, and the arrival of unwell maritime crew is now fast becoming the most difficult issue for our authorities to manage safely without putting our community at risk."
Photo: Bahnfrend, via Wikimedia Commons
Updated at 2:16pm AWST on 19 October.
---
NSW eases restrictions, lifts restaurant booking limit to 30

After reporting zero cases of community transmission in the 24 hours to 8pm yesterday, NSW Premier Gladys Berejiklian has eased restrictions further for hospitality venues while the wedding industry will also receive a boost in time for summer.
"All hospitality venues, rather than having bookings of 10, you will be able to have bookings of 30," the Premier said.
"If it's indoors the four square metre rule applies and you can have 30 to a group booking, and if it's outdoors the two square metre applies and you can have 30 to one group booking."
Premier Berejiklian also urged people to eat out for Christmas, citing the health advice that COVID Safe venues would be safer than gathering indoors in a confined space.
"We want everybody to think about their plans and to plan ahead for that," she said.
The limits on outdoor gathering numbers will be raised from 20 to 30, while from 1 December there will be 300 people allowed at weddings so long as guests are sitting down
The announcement followed just four daily cases of COVID-19 reported in NSW, all of which occurred in hotel quarantine.
The Premier has however expressed concern that testing rates were low over the weekend.
Updated at 12:12pm AEDT on 19 October 2020.
---
Virgin sacrifice: boardroom bloodletting signals a classic private-equity hijacking

US private equity firm Bain Capital won't formally assume control of Virgin Australia until November. But its coup last week against chief executive Paul Scurrah, dumping him for Jayne Hrdlicka, a former Bain employee with a reputation for toughness, signals the start of a classic private equity smash-and-grab operation.
When Virgin's administrators and creditors formally accepted Bain's bid for the stricken airline, they did so in part due to undertakings job losses would be minimised. Administrator Vaughan Strawbridge optimistically said in September the deal would provide "certainty for employees and customers" as well as "maintaining a competitive Australian aviation industry for the benefit of consumers".
Now, just weeks later, Scurrah's exit indicates Bain's intentions. He was reportedly reluctant to undertake the cost-cutting Bain wants as part of a plan to position Virgin Australia between Qantas and its budget carrier Jetstar.
Hand-picked appointment
Hrdlicka spent about 15 years working for Bain in both the US and Australia. She joined Qantas as a senior executive in 2010, where she reportedly gained a reputation for being tough on unions. She was appointed group chief executive of Jetstar in 2012 (a position she held until 2017).
Replacing the existing boss with a hand-picked replacement is standard practice in private equity deals. It is one of the most important strategic decisions (and typically the first) a private equity owner makes.
As such, the choice says a great deal about what an owner hopes to achieve, and how it plans to achieve it.
In contrast to the chief executive of a public company (the shares of which are traded on a stock exchange) who must act on behalf of a multitude of shareholders, the head of a private-equity company answers solely to the private equity owners.
This relationship, therefore, is an intensely personal one, with private-equity partners being very "hands-on" owners.
Urgency trumps empathy
What are the qualities private-equity owners look for in a chief executive?
According to researchers who interviewed 32 managing partners of private-equity firms to find out what they valued, a handful of key qualities are particularly sought after.
They want candidates with a track record in overcoming setbacks, who are team builders, and who won't shy away from telling their bosses (the private equity firm) how things are. Previous experience is less important. So too is empathy. As one interviewee told them:
I'm not down on empathy, but there are times when empathy needs to take a back seat to urgency. Some highly empathetic leaders are not able to make the tough personnel decisions that need to be made - which compromises performance.
In this vein, Bain's jettisoning of Scurrah for Hrdlicka is highly suggestive of the management approach Bain would like to see.
Among other things, it is likely to involve a more combative approach to employee relations with a view to aggressively, and quickly, driving down Virgin's cost base.
Scurrah's dumping has already reportedly led to the Transport Workers Union (representing the biggest proportion of Virgin Australia employees) suspending negotiations with management. Unions had reportedly been assured months ago Hrdlicka would not be made chief executive.
Private equity's poor track record
Yesterday, Virgin's administrator Vaughan Strawbridge again (somewhat optimistically) "reaffirmed" that "Virgin Australia will not be repositioned as a low-cost airline":
Virgin Australia will be a 'hybrid' airline, delivering high value to its customers by delivering a distinctive Virgin experience at competitive prices.
But Bain's dumping of Scurrah for Hrdlicka fits the classic narrative of how private-equity players squeeze money for themselves out of takeover targets before bailing out before those companies nose-dive.
As I wrote after Virgin Australia's August announcement that it would axe its budget brand Tigerair and sack about 3,000 of its 9,000 staff:
Private-equity owners have a poor track record in creating strong, sustainable companies with long-term prospects. At their worst they can act a bit like used-car salesmen who know how to spruce up and turn a profit on a vehicle with underlying mechanical problems.
If the typical private-equity experience is anything to go by, Bain, having acquired Virgin with mostly borrowed money, will seek to maximise cash flow by operating only high-margin, high-volume routes (consistent with servicing "premium corporate" and "budget-focused" travellers). It will abandon other low-margin, mostly regional routes to the vagaries of the Qantas monopoly.
---
Read more: Cutbacks may keep Virgin Australia alive for now, but its long-term prospects are bleak
---
Bain will also likely seek to reduce staffing costs through renegotiating pilot and cabin-crew employment contracts, using the threat of further redundancies as leverage. On the most popular trunk routes, where it will provide a parallel service to Qantas, customers will face cosy duopoly prices.
The upshot of all this: to allow Bain and its co-investors to pay themselves handsome dividends upfront, thereby facilitating an exit at the earliest opportunity at a tidy profit. This would be a classic debt-fuelled private-equity play.
In public-interest terms, however, it will be a costly missed opportunity to build a robust long-term domestic competitor to Qantas.
---
Read more: 'Home away from home': reflecting on past airline collapses in Australia
---
Inevitably, once the private equiteers have left the building, a once-proud airline will be left labouring under a mountain of debt, marking time until it capitulates at the onset of the next economic crisis; the unfortunate plaything of financial, not aeronautical, engineers.

Mark Melatos, Associate Professor of Economics, University of Sydney
This article is republished from The Conversation under a Creative Commons license. Read the original article.
---
Victoria set to open on 1 November, or even earlier if trends continue

Victorian Premier Daniel Andrews has today accelerated the state's plans for reopening towards a COVID normal, with retail, hospitality and other sectors to be back in operation from midnight, 1 November.
If recent trends continue, the Premier flagged he could potentially be announcing an even earlier date next Sunday.
"There is some optimism or confidence that if things continue this week as they have the last five days, we may be able to bring that forward," Premier Andrews said.
Today's announcement came after just two cases were reported in the past 24 hours and just one case the day before that, with a rolling daily average of 7.5 cases in metropolitan Melbourne to 17 October.
Changes from tomorrow
Because of these encouraging results in Melbourne, the Premier announced a series of relaxations of restrictions in the city from 11:59pm tonight including: no time limit on leaving the home for exercise or socialising; an expansion of the allowed travel distance from the home from 5km to 25km; and outdoor gatherings increasing to 10 people from two households.
Other openings as of tomorrow - subject to COVID-safe conditions - will include tennis courts, skate parks, golf, hairdressers, outdoor pools with up to 30 swimmers and indoor pools for one-on-one hydrotherapy sessions.
There will be a full return of allied health services, and real estate auctions will also be allowed with a maximum of 10 people and commercial real estate inspections can occur too.
Other activities that will be permitted tomorrow include automated car washing and pool cleaning, mobile or home business pet grooming, outdoor photography.
Further easing in November
But the biggest changes will be seend on the first day of next month when retail will open back up, and hospitality venues will be allowed a maximum of 20 people inside and 50 people outside.
"Outdoor seated entertainment can host a maximum of 50 people or 25 per cent of the venue's fixed seating capacity," he added.
Beauty and personal services will return, contact sport for under 18-year-olds and non-contact for adults will recommence, a maximum of 20 people will be allowed for outdoor religious gatherings, and a maximum of 10 people will be allowed at weddings and a limit of 20 mourners at funerals.
Relaxations for regional Victoria
As is expected to be the case in Melbourne in two weeks' time, as of tomorrow in regional Victoria "the bubble is gone", with two adults and any dependents at a time allowed to visit the home.
"Hospitality venues can increase their capacity to 70 people outside and 40 people inside - four groups of 10 instead of two groups of 10," Premier Andrews said.
"Outdoor religious gatherings will increase to 20 people, indoor pools are open for 18 and under, a maximum of 20 swimmers, and one-on-one hydrotherapy with health professionals will also be allowed."
In the intervening weekend of 24 November, residents of metropolitan Melbourne who have properties in regional Victoria will be allowed to travel to those properties to undertake flood or fire preparedness measures.
"There will be a process in consultation with your local council from Wednesday next week to go and do those important works. It will be upon the issuance by your council of a fire prevention notice that legally requires you to go and do that work," he said.
The Premier congratulated Victorians for the amazing job they have done in recent weeks and months.
"What it means is that as so many cities across the world head into what is going to be a deadly winter, we in Melbourne and across Victoria are well placed to have a COVID-safe summer and a COVID-normal 2021," Premier Andrews said.
"Yes these lockdowns have come with significant hurt and pain and damage, but the strategy is working and will continue to work.
"It's not so long ago that we had 725 cases and there was simply no way we could have a debate - a perfectly legitimate debate about how to open, when to open, how to do that. That was just not an option available to us."
Updated at 11:43am AEDT on 18 October 2020.
---
Repayments underway for half of Australia's deferred loans

The Australian Banking Association (ABA) revealed positive signs of economic recovery today, with payments resuming for almost half the nation's deferred loans.
The number of paused loans in Australia peaked in June with around 500,000 mortgages and more than 200,000 small business loans.
Data revealed by the association shows that as of last week repayments had resumed on 224,000 mortgages and 82,000 small and medium business loans.
This means that two in five business loans that were deferred are getting back on track, while the improvement is slightly better for mortgages at 45 per cent.
To provie some breathing pace during the worst of the COVID-19 pandemic, Australian banks provided a loan repayment deferral to around one in 11 Australian mortgage holders and one in 8 small business owners.
ABA chief executive Anna Bligh highlights the latest numbers as a good sign for the economy.
"It shows that more Australians are getting back on their feet and resuming their loan repayments," she says.
"These loan deferrals have helped hundreds of thousands of Australian families and small businesses survive the pandemic."
In just the past month, as customers came to the end of their six-month deferral, more than 130,000 mortgages and 50,000 SME loans had their repayments resumed.
According to the data from Australia's seven largest banks, the total number of deferred loans has dropped to 439,000.
"Right now, it's really important that people contact their bank to figure out the path ahead. The earlier you speak to your bank, the more options they have to help you find a way through," says Bligh.
"Banks will work with customers to figure out a tailor-made solution. That might include restructuring a loan, or in some cases, granting an additional four-month deferral.
"If you are in financial difficulty, please call your bank, they can help you find a way through. Don't tough it out on your own."
RBA Governor: Recovery from a very uneven recession
As a symbolic reflection of the changes afoot in the economy, Reserve Bank Governor Philip Lowe gave a speech this morning not on a Zoom call, but rather a room of people at Citi's 12th Annual Australia and New Zealand Investment Conference.
"It is especially good to be able to join you in person, rather than over the internet," he told attendees.
"This is the first time since February that I have been able to speak to a room of people. I hope this is another sign that the worst is behind us and that a recovery is under way."
Governor Lowe said we could look forward to the recovery continuing, but its shape and nature remains highly uncertain.
"Much depends upon how as a society we can live with the virus and the success of the scientists in terms of a vaccine, anti-viral treatments and rapid testing," he said.
"There has been positive news on these fronts recently and we hope for more positive news, but success is not yet assured.
"So the single most important influence on the recovery is how successful we are in containing the virus."
He described a certain unevenness in the recession that was especially evident in the labour market.
"The picture is pretty clear. The job losses have been largest for young people, with around 500,000 people under 35 losing their jobs in the early stages of the pandemic, and around 300,000 still out of work in August," he said.
"The hospitality industry - in which many young people and women work - has been worst affected, with almost 300,000 job losses between February and May.
"There has been an encouraging recovery of late, and for this to be sustained our economy will need to open up further. In contrast, a number of other areas including the finance industry, the public sector and mining have been much less affected."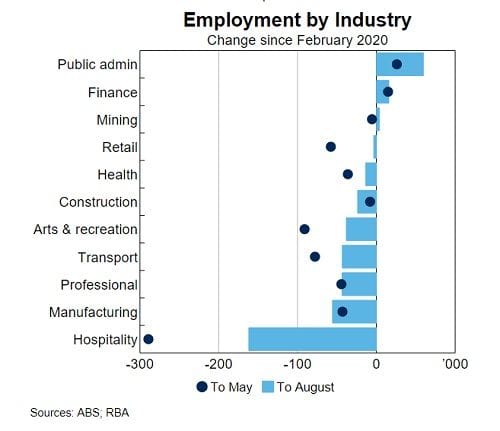 People working in lower-paid occupations have been the hardest hit on average, while employment has actually increased for occupations with the highest hourly earnings.
"The difference in experience is striking," Governor Lowe said.
"The uneven effect of the pandemic is also evident in small businesses being harder hit, on average, than large businesses," he added.
"As at mid September, the number of people on the payrolls of firms with at least 200 employees was down just 1 per cent on the level of mid March."
He said in contrast, payrolls are down seven per cent on average for firms with between 20 and 200 employees, with a similar decline for firms with fewer than 20 employees.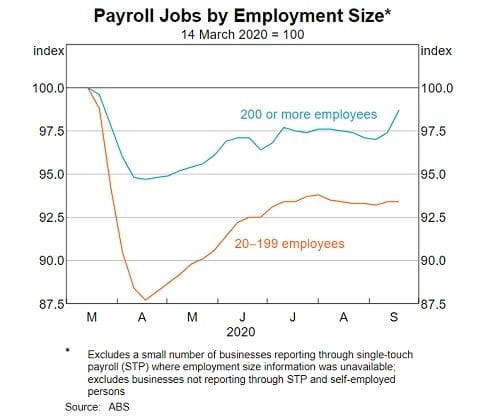 That unnevenness of experience can also be suneen geographically, with Western Australia seeing the strongest recovery, so much so that the RBA's business liaison is hearing reports of some labour shortages.
"Consistent with the labour market data, retail spending, consumer confidence and house building have also picked up by more in Western Australia than elsewhere," he said.
"At the other end of the distribution is Victoria, where the second wave has meant that the earlier recovery in jobs has been reversed, with the number of jobs there still down by 8 per cent from that in March.
"Retail spending in Victoria in August was also 11 per cent lower than at the start of the year - in contrast, spending in the rest of the country was up by 13 per cent."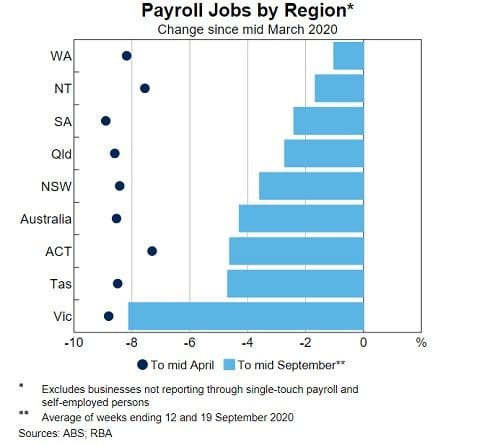 He said one factor that will shape the recovery is how willing people and businesses are to draw on their accumulated financial buffers to spend and invest over the months ahead.
"One of the many unique features of this recession is that it has been associated with a big increase in household saving," Governor Lowe said.
"Normally in a recession, income falls and many people draw on their savings to get through the hard times. But in the June quarter, when fears about the pandemic were at their peak, the household saving rate surged to 20 per cent, the highest in almost 50 years."
He said this high savings rate came down to caution and Australians having fewer opportunities to spend as many services were not on offer, in addition to a large boost to incomes from various government support programs.
"Many households have used this extra income and their increased savings to put their balance sheets on a firmer footing," the Governor said.
"Some of the money withdrawn from superannuation funds under the early release scheme - which is now equivalent to about an additional 10 per cent of quarterly household disposable income - has also been used to pay down debt and strengthen cash buffers."
He said for many people with mortgages, much of the extra savings and some of the superannuation withdrawals have been used to increase their balances in their offset accounts, with offset balances up 10 per cent since March.
"Other people have simply paid down principal directly. Combined, all forms of mortgage payments including the additional balances in offset accounts reached a record high over recent months, despite repayments being deferred on around eight per cent of housing loans," he said.
"In aggregate, household income is likely to decline in the December quarter as the unemployment rate increases and government support becomes more targeted.
"In normal times, a decline in income would be expected to affect consumption, but these are not normal times. It is entirely possible that as restrictions ease, people will choose to draw on their accumulated buffers to sustain and increase their spending."
Whether it's for households or businesses, the recovery hinges on confidence, and the ongoing pandemic response will have an important role to play in that.
"If people are nervous about the health situation or their job prospects, they are likely to sit on their savings. On the other hand, if they are confident that the virus can be contained and that they will have a job, they will be more willing to spend," Governor Lowe said.
"This means that there are large payoffs to be had from ensuring public confidence in the capacity of the health system to respond.
"From this perspective alone, there are likely to be large returns from public investments in first-class testing, contact tracing and quarantine arrangements. These are essential, not only to open up our economy successfully but to also build the confidence that is required for people to spend and invest."
Australia's debt "entirely manageable and affordable"
The issue of national debt is a divisive topic in Australia, and opinions vary as to how much borrowing is appropriate to fuel the country's Keynesian response to the recession; that is, stimulating demand through government policy such as economic stimulus and cutting taxes.
Whilst the RBA's role is to handle the monetary supply side of the economic equation and keep inflation under control, Governor Lowe said the fiscal support from government necessarily involves increased borrowing.
"For a country that became used to low budget deficits and low levels of public debt, this is quite a change," he said.
"But it is a change that is entirely manageable and affordable and it is the right thing to do in the national interest.
"Debt across all levels of government in Australia, relative to the size of our economy, is much lower than in many other countries and it is likely to remain so."
He reiterated the national balance sheet was in a strong position and able to provide the support that is now required.
"Government can borrow at the lowest rates ever and the demand from investors for government bonds remains very strong," he said.
"The states and territories can also borrow at record low rates and have an important role to play in the national fiscal response."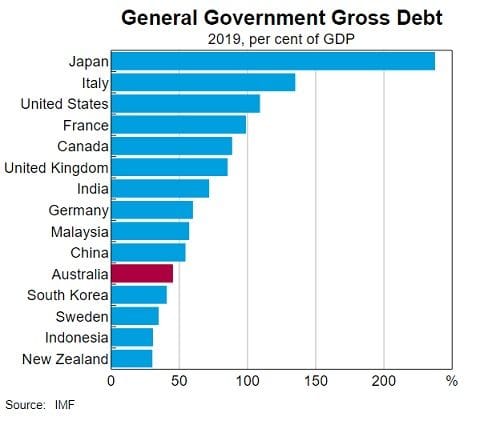 Updated at 3:12pm AEDT on 15 October 2020.
---
Virgin CEO Paul Scurrah to resign once Bain takes control, Hrdlicka to step in

Virgin Australia (ASX: VAH) CEO Paul Scurrah (pictured) will soon step away from the restructured airline after just over 18 months in the role, six of which have undoubtedly been the most turbulent in the company's history.
Scurrah will step down from his roles as CEO and managing director following the handover to US investment company Bain Capital due at the end of this month, with his departure expected in early November.
He is expected to be replaced by Jayne Hrdlicka, who previously headed up A2M (ASX: A2M) as well as CEO stints at Jetstar and Qantas' loyalty and digital ventures division.
Scurrah says Hrdlicka - who is also currently president and chair of Tennis Australia - is very focused on seeing the business succeed, and he wishes the company well under her leadership.
The Brisbane-based airline has undergone drastic changes due to the pandemic, including around 3,000 job cuts and a withdrawal from its budget brand Tigerair.
Vaughan Strawbridge from Deloitte Restructuring Services says Scurrah has done an "outstanding job" in supporting the team through the process of administration and entering Deeds of Company Arrangements (DOCAs) with Bain.
"His exceptional leadership enabled us to stabilise the business and achieve a sale in a timely and orderly manner," says Strawbridge.
"It is a testament to his leadership that we have been able to complete this sale and the business is well positioned to play its vital role in the rebuilding of the Australian aviation industry and economy more broadly.
"I know there has been speculation about the shape of the airline into the future, and I have reaffirmed with Bain Capital that Virgin Australia will not be repositioned as a low-cost carrier."
Strawbridge says Virgin Australia will be a 'hybrid' airline, offering great value to customers by delivering a distinctive Virgin experience at competitive prices.
"This will appeal to the full spectrum of travellers, from premium corporate through to more budget-focused customers," he says.
"Paul has provided the leadership to enable Virgin Australia to emerge from voluntary administration as a well-capitalised, best in class carrier. His personal commitment and determination to lead Virgin Australia through such a turbulent period is a credit to him," adds Bain Capital managing director Mike Murphy.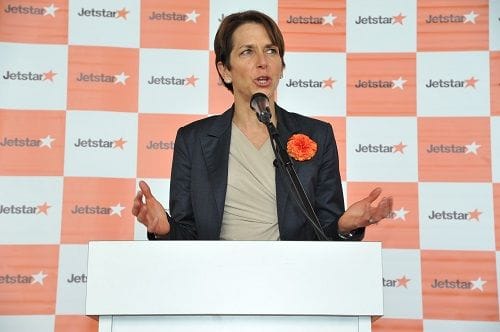 Photo: Jayne Hrdlicka in 2012 when she was CEO of Jetstar Group, announcing the the operational launch of Jetstar Japan at Narita Airport.
Scurrah says he is proud of the work done to transition the business and remove complexity.
"Whilst it has been the most challenging time in aviation history, I have continued to be so proud of the way my team and our entire organisation has fought to save this airline and to keep competition alive and well in Australia," he says.
"We have succeeded in not just ensuring the future of the company, but also reset the business to ensure it is well placed to deliver for Bain Capital for many years to come.
"Having seen the company through COVID-19, voluntary administration, the sale to Bain Capital and the redesign of the business, I will be stepping down as CEO and Managing Director at financial close of the DOCAs. I have made this decision after some long discussions with my family. The time feels right, and I know the business will be in good hands."
The outgoing executive also describes his time at the airline as being a privilege, and thanks all team members who have continued to support and work tirelessly to get the company through to this stage.
"It is the people that make this airline the great place it is and I wish them all the best. I was extremely humbled by the warmth with which I was embraced on day one and for the unwavering support afforded to me throughout this ongoing major industry crisis," he says.
"I also want to thank Vaughan Strawbridge and his team at Deloitte as well as our legal and financial advisers for the major achievement and tireless efforts to ensure that Virgin Australia has a future. I won't forget the support they provided me and the team.
"I have also appreciated working with Bain Capital in recent months and recognise the significant contribution they have made to Virgin Australia's long-term future. They have demonstrated a deep understanding of aviation and our culture."
Updated at 12:57pm AEDT on 15 October 2020.
---
Premier warns NSW "on the verge" of COVID-19 spike, new public health alerts issued

Premier Gladys Berejiklian has warned the state is coming close to a new spike of COVID-19 cases after New South Wales reported 11 new locally transmitted cases today.
According to the Premier the state is heading toward a Crossroads Hotel-style outbreak of COVID-19.
"Our state is on the verge of being where it was when we had the first seeding event from Victoria," said Berejiklian.
Of the 14 new cases in NSW 11 are locally transmitted infections while three are in overseas travellers in hotel quarantine.
Nine of the new cases reported today are linked to the Lakemba GP cluster, which now has 12 cases in total.
Two of the new cases reported today are linked to the private clinic cluster, which now has 10 cases in total. One case attended the clinic, and the other is a staff member at the clinic.
One of the new cases of COVID-19 reported today attended the Narellan Town Centre on Camden Valley Way on 7 October from 11.30am to 1pm. Anyone who attended this venue at this time is considered a casual contact and must monitor for symptoms and get tested immediately if they develop.
The news comes just days before NSW is poised to ease COVID-19 restrictions on Friday - measures that would double the permitted number of people that can dine outside.
Public health alerts in South West Sydney issued for Ikea, Bunnings and Aldi
An Ikea in Tempe, a Bunnings in Gregory Hills, and a Woolworths in Oran Park are among several businesses that have been issued public health alerts by NSW Health yesterday.
The alerts come after health authorities confirmed cases of COVID-19 attended venues in South West Sydney.
Anyone who attended the following venues is considered a casual contact and must monitor for symptoms and get tested immediately if they develop:
Woolworths Oran Park, 351 Oran Park Dr, Oran Park on the following dates:

Wednesday 30 September from 5:30pm to 6:30pm
Thursday 8 October from 5:15pm to 6pm
Friday 9 October 6pm to 6:30pm

Prasadi Nepali Emerald Hills, 2 Hurricane Drive, Raby on Friday 2 October from 3:30pm to 4pm
Emerald Hills McDonalds 101 Raby Rd, Leppington on Friday 2 October from 5pm to 5:15pm
Aldi Emerald Hills, Shop 2/03, 5 Emerald Hills Blvd, Leppington, on Friday 2 October from 5:30pm to 6:15pm
Fantastic Furniture Campbelltown, 4 Blaxland Rd, Campbelltown, on Friday 9 October from 3:30pm to 5:20pm
Bunnings Gregory Hills, 2 Rodeo Rd, Gregory Hills, on Tuesday 6 October from 7pm to 8:00pm
IKEA Tempe, 634-726 Princes Hwy, Tempe, on Wednesday 7 October from 1:30pm 5:30pm
Updated at 1.40pm AEDT on 14 October 2020.
---
Outdoor dining restrictions in NSW to ease from Friday

From this Friday restrictions on restaurants and venues in New South Wales will be eased, doubling the number of people permitted to dine outside.
Additionally, musical performances for up to 500 people at outdoor venues will be allowed as long as the audience is seated and compliant with the one person per four square meter rule.
Outdoor dining restrictions will be relaxed to allow one person per two square meters, as long as venues have a QR code system set up to track the identities of patrons.
Indoor dining restrictions of one person per four square meters will remain in place.
The eased restrictions on outdoor dining comes after the NSW Government announecd an al fresco dining pilot to commence on 16 October.
Under the 12-month pilot there will be no need to get a planning approval when cafes, bars, restaurants and hotels apply for an outdoor dining licence.
An amendment to the Liquor Regulation will also allow expanded liquor licence boundaries to be approved in three days, compared to a process that used to take up to 51 days.
According to NSW Treasurer Dominic Perrottet the eased restrictions will be a boon for hospitality businesses in the state.
"We know, particularly in our state, during this pandemic some of the hardest hit industries have been arts and recreation and hospitality we've seen a reduction in employment between March and September in hospitality of around 14 per cent," said Perrottet.
"As we head into Summer we're going to take New South Wales from being inside to outside."
The announcement comes as NSW reports seven new cases of locally transmitted COVID-19 in the 24 hours to 8pm last night.
Six cases of COVID-19 in overseas travellers in hotel quarantine were also diagnosed, bringing the total number of cases in NSW to 4,106 since the beginning of the pandemic.
Two new locally acquired cases, publicly announced on Monday 12 October, are doctors who worked at the A2Z Medical Clinic and are linked to a previously reported case of unknown source. At this point, these cases have no known links to other clusters.
Another five new locally acquired cases today are members of the same household in South Western Sydney. They have now been identified as part of the ongoing investigation into four previously reported unlinked cases, including a nurse from St Vincent's Hospital.
NSW Health also says one of the new cases is a disability support worker who has worked at three small group homes in South Western Sydney.
Another one of the new cases attended the Great Beginnings Oran Park childcare centre on 1, 2, 8, and 9 October while infectious. The centre is closed today. Contact tracing and investigations are underway.
Updated at 1.24pm AEDT on 13 October.
---
Public health alerts issued in Sydney after two doctors test positive for COVID-19

NSW Health has issued several public health alerts overnight after two doctors that worked at a medical clinic in Lakemba tested positive for COVID-19.
Both cases worked at the A2Z Medical Clinic in Lakemba, forcing all staff at the clinic into isolation and sparking a contract tracing flurry for NSW Health.
NSW Health is in the process of contacting everyone considered to be a close contact of the two cases, both of which are connected to a previously reported case who attended Lakemba Radiology.
According to health authorities, anyone who attended A2Z Medical Clinic at the following times should self-isolate for 14 days and get tested if symptoms occur.
Thursday, 1 October, 2.30-3.30pm
Friday, 9 October, 3-4.30pm
Saturday, 10 October, all day
Some people will be managed as close contacts and NSW Health will contact everyone directly to provide tailored advice depending on their exposure.
The patient that is a confirmed COVID-19 case also attended Isra Medical Practice in Lakemba, and anyone who attended the venue on Monday, 5 October between 7.15pm to 7.40pm is considered a casual contact.
NSW Health has also advised that previously reported cases attended the Ingleburn Hotel on Sunday, 4 October from 3-6pm:
Ingleburn Hotel Bar Room: anyone who spent an hour or more in the Bar Room between these times is considered a close contact and must immediately isolate and be tested. Anyone who spent less than an hour there is considered a casual contact.
Ingleburn Hotel Bistro and Gaming Room: anyone who attended either of these areas in the hotel is considered a casual contact.
Authorities also say those who used the following train services at the specified times are also considered a casual contact of a confirmed COVID-19 case:
Thursday, 1 October, from Wiley Park Station to Lakemba Station, between 12.02 and 12.14pm
Thursday, 1 October, from Lakemba Station to Wiley Park Station, between 3.14pm and 3.27pm
Tuesday, 6 October, from Wiley Park Station to Lakemba Station, between 12.10pm and 12.30pm
Tuesday, 6 October, from Lakemba Station to Wiley Park Station, between 1:42pm and 1:58pm
Earlier yesterday evening NSW Health announced anyone who attended the Ali Dine Inn and Take Away Lakemba on Friday 9 October, from 7.30pm to 8.30pm is considered a close contact of a confirmed COVID-19 case and must isolate for 14 days.
NSW reported six new cases of COVID-19 yesterday, including one new locally acquired case.
Updated at 9.34am AEDT on 13 October 2020.
---
Check customers are not from Melbourne or face an almost $10,000 fine

Regional Victorian businesses that fail to check customers are not from metropolitan Melbourne could face fines of up to $9,913 under laws that came into force overnight.
The onus will now be placed on businesses to check customers' drivers' licenses or Keypass IDs, although they won't be fined if they do the right thing and are misled by someone intent on breaking the rules.
Previously these businesses, which unlike those in Melbourne are allowed to be open, have only had to check the addresses of customers when taking bookings.
Melburnians who are found in regional Victoria without a valid reason face fines of up to $4,957.
"We know regional businesses are doing everything they can to keep their community safe and now we're giving them the confidence to check that their customers are not breaking Chief Health Officer directions," Victorian Premier Daniel Andrews said.
The State Government is also upping the ante on testing, and will require new tests from close contacts of COVID-19 patients who are in their 11th day of quarantine.
The Department of Health and Human Services will be in touch with these contacts, and those who refuse to take a coronavirus test will have to go into quarantine for a total of 24 days from their last exposure to the virus.
People working in targeted industries who undertake surveillance testing are not required to isolate, unless they are feeling unwell or have been directed to quarantine or isolate by the Department.
"Testing close contacts on day 11 of quarantine is one of a number of important measures we're taking to limit the spread of coronavirus in Victoria and reduce the risk of further outbreaks," Premier Andrews said.
"We know this has been a challenging time for Victorians but we're so close to beating this thing. Extra testing and Victorians continuing to follow the rules will get us to the other side," added Minister for Health Martin Foley.
Updated at 10:30am AEST on 12 October.
---
CSIRO: COVID-19 virus can last 28 days on phone screens, banknotes

The virus that causes COVID-19 can last longer than previously thought on hard surfaces such as stainless steel, plastic banknotes and the glass on mobile phone screens, according to the latest research from the CSIRO.
Research undertaken at the Australian Centre for Disease Preparedness (ACDP) in Geelong and published in the Virology Journal, found SARS-CoV-2 can survive for up to 28 days on such common surfaces.
The virus endures for longer on smoother surfaces than softer ones such as cotton, and also survives better at lower temperatures.
CSIRO chief executive Dr Larry Marshall says surface survivability research builds on the national science agency's other COVID-19 work, including vaccine testing, wastewater testing, personal protective equipment (PPE) manufacture and accreditation, and big data dashboards supporting each state.
"Establishing how long the virus really remains viable on surfaces enables us to more accurately predict and mitigate its spread, and do a better job of protecting our people," says Dr Marshall.
ACDP deputy director Dr Debbie Eagles says the fact SARS-CoV-2 can remain infectious on surfaces for long periods of time reinforces he need for good practices such as regular handwashing and cleaning surfaces.
"At 20°C, which is about room temperature, we found that the virus was extremely robust, surviving for 28 days on smooth surfaces such as glass found on mobile phone screens and plastic banknotes," says Dr Eagles.
"For context, similar experiments for Influenza A have found that it survived on surfaces for 17 days, which highlights just how resilient SARS-CoV-2 is."
The research involved drying virus in an artificial mucus on different surfaces, at concentrations similar to those reported in samples from infected patients and then re-isolating the virus over a month. Further experiments were carried out at 30°C and 40°C, with survival times decreasing as the temperature increased.
"Together, we hope this suite of solutions from science will break down the barriers between us, and shift focus to dealing with specific virus hotspots so we can get the economy back on track," says Dr Eagles.
"We can only defeat this virus as Team Australia with the best Australian science, working alongside industry, government, research and the Australian community."
The study was also carried out in the dark, to remove the effect of UV light as research has demonstrated direct sunlight can rapidly inactivate the virus.
"While the precise role of surface transmission, the degree of surface contact and the amount of virus required for infection is yet to be determined, establishing how long this virus remains viable on surfaces is critical for developing risk mitigation strategies in high contact areas," she says.
ACDP director, professor Trevor Drew, says many viruses remained viable on surfaces outside their host.
"How long they can survive and remain infectious depends on the type of virus, quantity, the surface, environmental conditions and how it's deposited - for example touch vs droplets emitted by coughing," says Dr Drew.
"Proteins and fats in body fluids can also significantly increase virus survival times.
"The research may also help to explain the apparent persistence and spread of SARS-CoV-2 in cool environments with high lipid or protein contamination, such as meat processing facilities and how we might better address that risk."
Updated at 10am AEDT on 12 October 2020.
---
Northern Sydney Datacom workers in self-isolation, NSW reports five new local COVID-19 cases

Staff on a floor of Datacom's northern Sydney office building have been told to self-isolate after a co-worker tested positive for COVID-19 as New South Wales reports five new local cases of the coronavirus.
As reported by the Sydney Morning Herald and confirmed to the publication by Datacom CEO Greg Davidson, a COVID-19 case worked at the North Ryde call centre while infectious.
As such, all staff on the floor the infectious case worked on have been directed to self-isolate and get tested until further notice.
Davidson also told the Sydney Morning Herald that most of the employees in the North Ryde office had been working from home, but some roles required staff to work in the office.
The publication also confirmed that staff directed to self-isolate are doing so on full pay.
It comes as NSW confirmed 10 new cases of COVID-19 today including five locally acquired cases and five returned travellers in hotel quarantine.
According to NSW Premier Gladys Berejiklian all five of the locally acquired cases are connected to already known cases or clusters.
Four of the five are associated with the private health clinic cluster, three are household contacts of a case reported yesterday, and one is a co-worker of a case reported yesterday.
There are now seven cases associated with the private health clinic cluster, and investigations into its source are ongoing.
One of the locally acquired cases included in today's numbers is an old case and was most likely acquired back when the virus was circulating in low levels in south-western Sydney in August according to NSW chief health officer Dr Kerry Chant.
The COVID-19 update from NSW follows a number of public health alerts issued yesterday including for the Monopole Restaurant in Potts Point and for Macquarie University.
Updated at 12.31pm AEDT on 9 October.
---
Public health alerts issued in Sydney for Monopole Restaurant, Macquarie University

NSW Health has issued public health alerts after confirmed cases of COVID-19 visited a number of venues and businesses including Monopole Restaurant at Potts Point.
Health authorities are working with Monopole Restaurant to assess the risk to patrons and staff who may have been exposed to COVID-19 after a person who was infectious visited there from 6pm to 8pm on Sunday 4 October.
Anyone who visited the restaurant that evening should monitor for symptoms and get tested if they develop.
Further, anyone who attended the following venues is considered a casual contact and must monitor for symptoms:
Surf Dive 'n' Ski at Castle Towers Shopping Centre, Castle Hill - 5 October 2020, 12.00pm to 5.00pm
Chemist Warehouse on the corner of Bridge and Rawson Streets, Epping 6 October, 10.30am to 11.00am
Macquarie University Sports and Aquatic Centre outdoor pool area at North Ryde 7 October 2020, 5.30am to 10.30am
A number of public transport routes have also been identified by NSW Health - anyone who travelled on the following is considered a casual COVID-19 contact and must monitor for symptoms:
Train from Parramatta at 14:41 arriving Town Hall 15:31 on 4th October
Train from Town Hall at 17:29 arriving Kings Cross 17:50 on 4th October
Train from Artarmon at 23:18 arriving Central 23:48 on 5th October
Bus replacement from Central at 23:48 arriving Strathfield 00:15 on 6th October
Train from Strathfield at 00:15 arriving Parramatta 00:45 on 6th October
Bus 550 from Epping Station, Beecroft Rd, Stand D at 17:08 to Smith St after Phillip St, Parramatta 17:41 on 6th October
Train from Moss Vale 04:52 arriving Liverpool 07:09 on 6th October
Train from Liverpool 16:58 arriving Moss Vale 19:12 on 6th October
Train from Moss Vale 04:51 arriving Liverpool 07:08 on 7th October
Train from Campbelltown 13:31 arriving Moss Vale 15:50 on 7th October
NSW Health says testing numbers have dropped recently.
"NSW Health renews its call for increased testing across Sydney, even if you have the mildest of symptoms like a runny nose or scratchy throat, cough, fever or other symptoms that could be COVID-19," said NSW Health.
NSW recorded eight new locally acquired cases of COVID-19 yesterday and four new cases in hotel quarantine, bringing the state's cumulative total of confirmed cases of the coronavirus to 4,072.
Updated at 9.35am AEDT on 9 October 2020.
---
Buon appetito! Sydney CBD venues to welcome al fresco dining pilot on 16 October

Sydney's simmering hospitality industry will soon receive a well-needed boost as the city council and state government make it quicker and easier to set up outdoor drinking and dining areas.
Under a 12-month pilot starting on 16 October in The Rocks and at the start of November in the Sydney CBD, there will be no need to get a planning approval when cafes, bars, restaurants and hotels apply for an outdoor dining licence.
An amendment to the Liquor Regulation will also allow expanded liquor licence boundaries to be approved in three days, compared to a process that used to take up to 51 days.
Minister for Planning and Public Spaces Rob Stokes says COVID-19 has had a devastating effect on the hospitality industry.
"This solution will not only keep our communities safer, but draw people back into the city so we can support local business and boost the economy," says Minister Stokes.
The NSW Government advises pubs, small bars and cultural venues with a food or drink outlet are invited to have their say on proposed changes to legislation that would temporarily allow outdoor dining.
The pilot follows last month's launch of the "neon grid" nighttime economy for the NSW capital, described by the Committee for Sydney as "one of the most detailed and comprehensive nightlife plans ever compiled for a city".
Updated at 12:31pm AEDT on 8 October 2020.
---
CSL seals deal to supply 51 million doses of UQ COVID-19 vaccine candidate

Biotechnology giant CSL (ASX: CSL) has finalised an agreement with the Commonwealth Government to supply 51 million doses of a COVID-19 vaccine to Australia.
Signed by CSL's subsidiary Seqirus, the agreement would see the vaccines supplied should the University of Queensland's (UQ) clinical trials of the candidate be successful.
The agreement includes an up-front financial commitment from the Federal Government to support the clinical and technical development activities that CSL will need to assume in order to progress the candidate called V451.
According to CSL the large-scale clinical study for V451 is "almost ready", with recruitment of subjects expected to be completed by March 2021.
The study will be randomised, observer-blinded, and placebo-controlled across numerous countries and more than 100 sites. It will evaluate efficacy, immunogenicity and safety in adults aged 18 years and above.
"We are committed to demonstrating the vaccine is safe and effective prior to availability in the market," says CSL.
"Discussions have already commenced with the Australian Therapeutic Goods Administration to ensure this goal is met, while also making the vaccine available to the Australian population in the shortest possible time."
The company says it is working in parallel to engage partner organisations to assist with production of further doses with the goal of providing broader access to the vaccine, should trials be successful.
In September CSL announced it would manufacture more than 80 million doses of COVID-19 vaccines for supply in Australia, slated for release in 2021.
This includes the 51 million doses of the UQ vaccine, plus 30 million doses of a vaccine candidate being developed by Oxford University and AstraZeneca.
The candidate being developed by Oxford University and AstraZeneca was put on pause in early-September after a participant fell ill.
The suspension, described as a "routine action", was put in place to give the company time to investigate the cause of the illness in the participant.
Shares in CSL are up 0.88 per cent to $294.94 per share at 10.15am AEDT.
Updated at 10.59am AEDT on 8 October 2020.
---
Ten public health alerts issued in Sydney including Ripples restaurant at Milsons Point

NSW Health has issued 10 public health alerts after confirmed cases of COVID-19 visited a number of venues and businesses including the Ripples restaurant at Milsons Point.
It comes after three new cases of the coronavirus were confirmed in South West Sydney yesterday, all three of which are still under investigation with contact tracing underway.
Since then the state has reported five more locally acquired confirmed cases of COVID-19, plus four new cases in hotel quarantine.
One confirmed case attended Ripples restaurant in Milsons Point on Saturday 3 October from 8pm to 10.30pm.
NSW Health said the details of a small number of walk-in diners in the restaurant during this time were not recorded.
All diners who were in this restaurant at that time are considered close contacts and must immediately get tested and isolate for 14 days since they were there, and stay isolated for the entire period even if a negative test result is received.
People who attended the Fitness First Carlingford Pilates Class on Saturday 3 October from 8.15am to 9.15am are also considered close contacts of a confirmed COVID-19 case.
They must immediately get tested and isolate for 14 days since they were there, and stay isolated for the entire period, even if a negative test result is received. NSW Health is directly contacting those who attended.
NSW Health also advises anyone who attended the Mazda Artarmon repair centre on Campbell Street between 7.30am and 9.30am on Friday 2 October are considered casual contacts and should immediately isolate and get tested if they develop the slightest symptoms of COVID-19.
Authorities are also assessing potential exposure to COVID-19 of people who attended several other venues.
Anyone who attended the following venues is considered casual contacts and should immediately isolate and get tested even if they develop the slightest symptoms of COVID-19:
Friday 2 October: Kmart, Narellan Town Centre, Narellan 6pm to 7pm
Saturday 3 October: Fitness First, Carlingford (all attendees other than those in the pilates class notified above): 8am to 9:15am
Sunday 4 October: Penrith Homemaker Centre, Penrith 11am to 1pm
Sunday 4 October: Guzman y Gomez, Penrith 1.30pm to 2pm
Sunday 4 October: Home Co, Penrith 2pm to 2.30pm
Monday 5 October: Westfield Parramatta 9.30am to 11am
Monday 5 October: Castle Towers Shopping Centre, Castle Hill 12pm to 1pm
The state government also says its sewage surveillance program detected fragments of the virus at the North Richmond and West Camden treatment plants.
NSW Health said testing numbers have dropped recently which is of concern.
"NSW Health renews its call for increased testing across Sydney, even if you have the mildest of symptoms like a runny nose or scratchy throat, cough, fever or other symptoms that could be COVID-19," said NSW Health.
The confirmation of three new locally acquired cases of COVID-19 in NSW could put its border opening date with Queensland in jeopardy.
Queensland is set to open to NSW on 1 November on the condition that no unlinked community transmission of COVID-19 is detected in NSW for 28 days prior.
The Queensland border will remain closed to Victoria until community transmission is under control.
UPDATE: According to NSW Health a known case travelled on a train on Saturday, 3 October that left Parramatta station at 7:13pm and arrived at Milsons Point station at 8:04pm. Anyone who caught the train at this time is considered a casual contact and must monitor for symptoms and get tested immediately if they develop.
Updated at 9.37am AEDT on 8 October 2020.
---
Jetstar launches new Gold Coast to Hobart service

Travellers will be able to fly directly between Hobart and the Gold Coast on a new Jetstar service once Tasmania opens its borders to Queensland on 26 October.
Unveiled today, the new service will connect the two destinations in time for the busy summer season, which Queensland Airports CEO Chris Mills said will be a welcome shot in the arm for tourism operators.
"Both the Gold Coast and Tasmanian tourism industries have been particularly hard hit by COVID-19 related travel restrictions, given the strong focus on tourism for both destinations," said Mills.
"We have seen how eager family and friends are to see each other, since the Canberra services restarted. The flights will start in time for the peak tourism seasons in both destinations, opening up another part of the country for travellers to explore in the summer months."
The service, supported by the Queensland Government and Destination Gold Coast, will deliver more than 1,200 passenger seats between the Gold Coast and Tasmania each week, or 62,400 annually.
Queensland Assistant Tourism Minister Meghan Scanlon said the new service, which will operate three times per week, is set to generate $11.6 million in overnight visitor expenditure on the Gold Coast.
"Tourism is a cornerstone of our economy. We're working with airlines to secure new direct flights to the Gold Coast because we know that flights pump millions of dollars into local businesses and support local jobs," she said.
Destination Gold Coast deputy chair Adrienne Readings welcomed the announcement, saying the new service would give Tasmanians the opportunity to come and play on the Gold Coast this summer and beyond.
"With the support of our industry partners we are working hard to secure opportunities for the Gold Coast to increase accessibility into the region, to springboard tourism recovery," said Readings.
Updated 2.11pm AEST on 7 October 2020.
---
Businesses are winners as the Budget takes the path of least resistance

Unveiled last night, the Federal Budget puts jobs creation in the spotlight, alongside a raft of measures designed to boost business confidence and keep companies hiring and spending.
It is a Budget that has been welcomed across the board by the business community, acting as a life raft for those struggling against the tide of the global recession.
According to national chairman of the Pitcher Partners National Association John Brazzale the quickfire measures, including allowing the full costs of eligible assets to be deducted by many businesses, will encourage firms to spend.
"For middle-market businesses, the initiatives are designed to reward those with the money able to invest in new equipment and new opportunities," said Brazzale.
"The Treasurer called the move a game-changer, and it opens the door for businesses wanting to level-up their production or capacity, so they can bring forward purchases after 7.30pm AEDT today and first used or held ready for use before 30 June 2022.
"For those with tax losses last year, this year or next, they can be offset against previously taxed profits rather than having to be carried forward against profits in future years. This measure will also apply to corporate tax entities with turnover up to $5 billion and will no doubt appeal to many."
Also included in the Budget is what Brazzale has dubbed JobKeeper 3.0, a program that will incentivise firms to hire unemployed young people.
The new JobMaker Hiring Credit will provide up to $10,400 a year for new employees, who have been on JobSeeker, Youth Allowance or the Parenting Payment for at least one of the past three months. These people will need to work more than 20 hours a week.
The measure is predicted to support around 450,000 jobs, about four times the number for the Boosting Apprentices Wage Subsidy for new apprentices or trainees, which will see eligible businesses reimbursed up to 50 per cent of an apprentice or trainee's wages worth up to $7,000 per quarter.
"Providing subsidies to support businesses in hiring those younger Australians who may have been seeking employment for some time may help in addressing unemployment," said Brazzale.
"While subsidies can reduce pressure on businesses, it must be noted that it's not a long-term solution to the deeper structural issues that need to be addressed."
For individuals, the back-dated tax cuts will put an immediate spring in their spending, however Pitcher Partners says this may be one area of the Budget that could prompt some political pushback. Labor, while committed to bringing forward stage two tax cuts, has already warned it will scrutinise carefully a proposal to bundle them with business tax measures.
"Bringing forward the tax cuts will act as a pay rise for many, taking the burden off businesses that will continue to face pressure on expenses," said Brazzale.
"But other groups are less fortunate. Self-funded retirees are notably absent from the Budget, and regional communities are likely to have hoped for more direct support."
While this Budget is designed to get things moving again, Brazzale noted that now is the opportunity to make the key structural reforms needed to build a sustainable economy and to see those changes in the next Federal Budget.
"In the midst of domestic and global uncertainty, it is no surprise that the Federal Budget is focused on the here and now, but the measures announced don't deliver the future vision required for Australia's long-term recovery," he said.
"The Budget fails to incentivise the growth of intellectual property, Australian resourcefulness and digital change needed to become a value-add economy.
"We will need new industries and faster creation of ideas that can be taken to the world. We will need serious investment in sectors that are primed for growth and support for sectors that need to transition. We will need a tax system and an industrial relations system robust enough for dynamic global markets."
Brazzale said businesses seek incentives for growth in future-focused industries and targeted support for those sectors most punished by the pandemic.
"As our Pre-Budget submission noted, business wants investment with impact, rebuilding Australia's manufacturing sector, incentivising businesses to invest in practices that create value, modernising the country's industrial relations framework and simplifying complex structures," he said.
"These are big structural reforms that have been left off the list this time and while that is understandable by the next Budget in 2021 Budget we would want to be seeing the transformational, system-wide changes that will be required to move Australia's economy forward."
Updated at 11.57am AEDT on 7 October 2020.
---
Budget 2020: Frydenberg tells Australians, 'we have your back'

Accelerated tax cuts, cash splashes for pensioners, massive incentives for business to invest and a subsidy to hire unemployed people are the centrepieces of the Morrison government's COVID-19 budget.
More than 11 million taxpayers will get a tax cut backdated to July 1, giving lower and middle-income earners tax relief this financial year of up to $2,745. Dual income families will receive relief of up to $5,490, compared to their tax in 2017-18.
Australians on pensions and other eligible recipients will also receive a cash handout of $250 from December and another $250 from March next year.
Treasurer Josh Frydenberg said the Australia economy was "fighting back", with more than half of those who had lost their jobs now back at work. But "there remains a monumental task ahead," he said, assuring Australians "we have your back".
"The road to recovery will be hard but there is hope," he said
A budget focused on creating jobs delivers multiple measures to boost business activity, and a new plan to subsidise hiring young people who are unemployed for up to a year.
Frydenberg said the Australian economy had been hit hard, but "we have a plan to rebuild our economy and to create jobs".
Massive deficit
The budget has a massive $213.7 billion deficit for this year. It will stay in the red throughout the budget period, with deficits totalling $480.5 billion over the next four years.
Net debt will reach $703 billion this financial year more than 36% of GDP, rising to $966 billion (44% of GDP) by June 2024.
Frydenberg told parliament, "this is a heavy burden, but a necessary one to responsibly deal with the greatest challenge of our time".
The economy is forecast to contract by 3.75% this calendar year, with unemployment peaking at 8% in the December quarter. In the 2021 calendar year, economic growth is forecast to be 4.25%, with unemployment falling to 6.5% by the June quarter 2022.
---
Read more: Budget 2020: promising tax breaks, but relying on hope
---
In his speech to parliament, Frydenberg reiterated the government's two-phase strategy.
The first phase is to focus on "boosting consumer and business confidence, growing the economy and creating jobs".
Once unemployment is "comfortably below 6%" the government will move to phase two, "where there is a deliberate shift from providing temporary and targeted support to stabilising gross and net debt as a share of the economy."
"We will then rebuild our fiscal buffers, so that we can be prepared for the next economic shock," Frydenberg said.
The income tax cuts, at nearly $7 billion, are the biggest cost this financial year, rising to nearly $18 billion in total over the forward estimates.
Tax cuts brought forward
The government is bringing forward stage two of its already legislated tax plan, lifting the 19% threshold from $37,000 to $45,000 and the 32.5% threshold from $90,000 to $120,000.
It is also retaining the Low and Middle Income Tax Offset for an extra year.
Frydenberg said, as a proportion of tax payable, compared to 2017-18, the greatest benefit would flow to people on lower incomes, with those earning $40,000 paying 21% less tax, and people on $80,000 paying about 11% less tax this year.
"Under our changes, more than seven million Australians receive tax relief of $2,000 or more this year," Frydenberg said.
JobMaker hiring credit and huge tax breaks
A new JobMaker hiring credit will be available for employers who take on people on JobSeeker aged 16 to 35. The subsidy will be $200 a week for those under 30 and $100 a week for older people. These new hires must work at least 20 hours a week. All businesses except big banks will be able to use the scheme and the government says it will support about 450,000 jobs for young people.
The hiring credit will cost $850 million in the current financial year, rising to $2.9 billion in 2021-22, and $4 billion in total over the forward estimates.
The government says the initiative will support about 450,000 young people into jobs.
Tax breaks for business are huge over the budget period.
From budget night, more than 99% of businesses will be able to write off the full value of any eligible asset they purchase. The concession will be available for businesses with a turnover of up to $5 billion until mid-2022, with the program costing $26.7 billion over the forward estimates.
---
Read more: The budget's tax cuts have their critics, but this year they make fiscal sense
---
Frydenberg described the concession as "a game changer" which "will unlock investment".
"It will dramatically expand the productive capacity of the nation and create tens of thousands of jobs."
In another business initiative, companies will be able to use their losses earlier.
Frydenberg said the combination of these two measures would create an extra 50,000 jobs.
Infrastructure and water spending
The government is also looking to infrastructure to stimulate activity, with Frydenberg saying "the budget will see $14 billion in new and accelerated infrastructure projects."
As part of supporting the regions, Frydenberg announced $2 billion in new funding to build water infrastructure.
With women's jobs particularly badly hit during the recession, the budget has a women's economic security statement including $240 million in measures.
Thousands of new home care packages
On aged care, Frydenberg announced an increase of 23,000 home care packages, costing $1.6 billion. He said the government would provide "a comprehensive response" after the royal commission's final report on aged care, which comes early next year.
The government is also implementing reforms to superannuation arrangements.
New superannuation accounts will no longer be automatically created when a worker moves jobs. "Under our reforms, your super will follow you," Frydenberg said. The government had previously flagged that it would implement the change, recommended by the Productivity Commission.
Labour described the budget as a "grab bag of headline seeking announcements" which would "rack up a trillion dollars of debt, but still doesn't do enough to create jobs, fails to build for the future and leaves too many Australia's behind".
Business welcomed the budget, with the Business Council of Australia saying it was "about getting Australians back to work, and getting businesses back on track".
The Australian Chamber of Commerce and Industry said "Australian entrepreneurs will be energised by the unparalleled investment incentives".
ACTU secretary Sally McManus tweeted:
The Community Housing Industry Association said the budget's extension of the government guarantee for the National Housing Finance and Investment Corporation by $1 billion was welcome but criticised the lack of direct investment in social housing.

Michelle Grattan, Professorial Fellow, University of Canberra
This article is republished from The Conversation under a Creative Commons license. Read the original article.
---
Gold Coast locals offered 'Play Money' for discounts on attractions and experiences

A $1 million program led and funded by Destination Gold Coast will see locals receive discounts on tours, attractions and experiences in an effort to stimulate bookings.
The campaign called 'Play Money for Gold Coasters' will highlight the city's tourism offerings, giving locals 50 per cent discounts (up to $50) on a range of experiences from Friday 9 October.
For those located out of the region that are still keen to cash-in on the promotion a $10 discount will be applied at checkout.
Destination Gold Coast Chairman Paul Donovan said tapping into localised marketing was a first for the organisation which is ordinarily charged with promoting the tourist destination throughout Australia and internationally.
"It is imperative during this extraordinary time to safeguard the economic sustainability of Gold Coast tourism and that includes lending a hand to struggling businesses who desperately need our support now and into the future," said Donovan.
"Whilst local area marketing traditionally sat outside of Destination Gold Coast's remit, ongoing impacts to tourism businesses resulting from COVID-19 and the disruption at large to interstate travel, led us to take an active and leading role to market to the region to Gold Coasters."
The 'Play Money' will be available from Friday morning with 10,000 unique promotional codes unlocking more than 200 experiences including theme park and amusement venues, nature-based encounters, hot air ballooning, jet boating, wine tastings and transfers.
Powered by Experience Oz in partnership with Destination Gold Coast, the incentive will be accessible per unique user to book local tours and attractions up for grabs until the end of the year.
"Emphasis on the Gold Coast market ensures we effectively target 100 per cent of the visitor economy available to us right now and we hope 'Play Money' inspires locals to experience Australia's favourite playground for themselves," said Donovan.
"In a bid to offset those who can't travel to the Gold Coast, or may be reluctant to travel at-large, the local campaign is set to shoulder recovery efforts in the immediate term whilst instilling civic pride among residents.
"Once Queensland's border reopens and travel restrictions are further eased, we will turn our attention as planned to recapture the Gold Coast's core visitor fly markets, starting with New South Wales."
To book and browse tourism experiences visit DestinationGoldCoast.com/playmoney.
Updated at 11.51am AEST on 6 October 2020.
---