Staying informed is more important than ever as the situation unfolds with Covid-19. Stay tuned here for our live updates, and be sure to let us know what your business is doing to face this unprecedented challenge.
---
Doorknocking no-show numbers drop in Melbourne as lockdowns take effect

Following the Australian Defence Force's largest single day effort of doorknocking, Premier Daniel Andrews has confirmed the numbers of no-shows at homes in Victoria are improving.
Of the 1,150 home visits to people meant to be isolating conducted yesterday by the ADF and Health Department officials, 1,000 people were home.
This is an improvement to the previous rate of just one in four people being home, and comes as Stage 4 restrictions were imposed in Melbourne this week.
Cumulatively 500 people have been referred to Victorian police for breaches of home quarantine orders since the ADF doorknocking program commenced.
"I'm very grateful to those Victorians who are doing the right thing and are where they should be," says Andrews.
"I know [isolation] is very challenging and that's why visiting is important, not just for compliance but for the purposes of information and clarity and providing support to anybody who might need it."
Victoria recorded 450 new confirmed infections of COVID-19 today, bringing the total number of active cases in the state to 7,636.
There were 11 new deaths overnight, with seven of those connected to aged care settings.
Of the 450 new cases there were 66 that are classified as 'mystery cases', meaning health officials cannot trace the infection back to a known source.
Updated at 12:49pm AEST on 7 August 2020.
---
JobKeeper eligibility expanded with $15.6 billion added to the pool

Federal Treasurer Josh Frydenberg (pictured) has announced changes to the JobKeeper program in response to Stage 4 lockdowns in Victoria, making it easier for companies to access the stimulus.
The changes will see an extra $15.6 billion added to the pool of funds available to struggling Australian businesses, bringing the total cost of the program to $101 billion.
Of the extra $15.6 billion Frydenberg says around $13 billion will go toward businesses in Victoria, with an estimated 500,000 employees in the state to go onto JobKeeper in the September quarter.
Two important changes have also been made to eligibility requirements, namely the business turnover test and the employee eligibility test.
Previously, business turnover needed to be down in both the June and September quarters to be eligible for JobKeeper in the December quarter.
Now, businesses only need to be down by the requisite amount in the September quarter to be eligible for payments in the December quarter.
"This takes into account that some businesses through May, through June, through April, did OK," Frydenberg said.
"But obviously with the Stage 4 restrictions particularly in Victoria through the months of July and August and September it's going to be very difficult. And these businesses will now be eligible for payment."
The other change means employees who were on the books as of 1 July are now eligible to receive the payment.
Previously employees had to have been on the books from 1 March to receive JobKeeper.
"Some businesses, as they were opening up and progress was made on the health front, they took on new employees," Frydenberg said.
"Those employees will now be eligible for JobKeeper, which will again provide additional relief to businesses."
The amounts available to employees under the program have not changed.
From October, businesses that continue to meet the revenue reduction requirements will be entitled to $1,200, followed by a reduction to $1,000 starting in 2021.
For employees who worked less than 20 hours per week, their supports will drop to $750 per fortnight as of October and $650 from the start of next year.
---
Read more: JobKeeper 2.0 details revealed, extended by six months
---
Just yesterday the Prime Minister revealed the cost of Victorian lockdowns could shrink real GDP in Australia by up to $12 billion.
Approximately 80 per cent of the economic cost is expected to be in the affected areas of Victoria, representing an approximately $6-7 billion hit.
The national unemployment rate is now expected to peak at 10 per cent, up from a previously forecast high of 9.25 per cent.
However, when looking at the effective unemployment rate, which includes those who are employed but not working any hours, Morrison says that could now reach 13 per cent.
Business Council chief executive Jennifer Westacott has today welcomed Frydenberg's announcement, saying it will boost confidence in Australia.
"These sensible changes to JobKeeper will make it easier for businesses to retain workers and will boost much needed confidence in the community," says Westacott.
"The changes to the eligibility test reflect the upheaval and uncertainty in the jobs market, and the changes to the turnover test reflect that businesses are struggling.
"People are worried about the future and we endorse the government's actions in targeting taxpayers' money to saving jobs and creating new ones. Crucially these changes target money to the jobs and people most at risk."
Updated at 10:13am AEST on 7 August 2020.
---
Ardent Leisure to reopen Dreamworld and WhiteWater World

Ardent Leisure (ASX: ALG) has announced plans to reopen Dreamworld and WhiteWater World on the Gold Coast in mid-September, just in time for the school holidays.
The reopening date is expected to be confirmed over the next week, but in any case it comes months after competitor Village Roadshow (ASX: VRL) - currently in the midst of a buyout from BGH Capital - reopened its Gold Coast theme parks.
Ardent says its staged reopening has been made possible by the Queensland Government's COVID-19 Industry Support Package and Queensland Tourism Icons Program 2020, through which financial assistance has now been received.
Ardent's SkyPoint Observation Deck and Climb located in Surfers Paradise reopened on Friday, 10 July 2020
"We appreciate the Queensland Government's strong recognition of the important role that the theme park industry plays in the economic development of Queensland and the broader tourism industry in Australia," Ardent Leisure chairman Dr Gary Weiss and theme parks chief executive officer John Osborne said in a joint statement.
"The Queensland Government's foresight in providing this financial assistance package will enable Ardent to re-open its iconic theme parks, continue to employ hundreds of people and continue to invest in future tourism infrastructure and create more local jobs.
"We are very excited about welcoming back our valued team members and loyal guests and have already commenced preparations for the re-opening of our parks, including the implementation of our Queensland Health approved COVID SAFE Plan," added Osborne.
The announcement is the first good news in a while for Ardent, which late last month pleaded guilty over three charges relating to the 2016 Thunder River Rapids Ride tragedy.
Other theme parks on the Gold Coast including Warner Bros. Movie World, Sea World and Wet'n'Wild have reopened at 50 per cent, and their parent company Village Roadshow yesterday entered an implementation agreement for a takeover from a group connected to BGH.
BGH is aiming to acquire control of VRL by way of two alternative but concurrent schemes of arrangement representing total value of up to $2.45 per share, which is 16.7 per cent higher than yesterday's closing price.
Th full value of the takeover would only be achieved if VRL keeps its theme parks open, reopens cinemas and Queensland borders reopen for any person from New South Wales (from 15 October) and Victoria (31 October).
Updated at 9:46am AEST on 7 August 2020.
---
70 to isolate in SA medi-hotels as state's Thebarton cluster grows

A new confirmed case of COVID-19 linked to a growing South Australian cluster has forced 70 close contacts into a medi-hotel for quarantine, while 1,100 casual contacts are required to isolate for just over a week.
The new case has also forced adult education facility Thebarton Senior College to close as the cluster associated with the school grows to five.
The 70 close contacts will be moved into medi-hotels that have traditionally been used for returning international travellers.
Despite the harsh measures imposed on these individuals, with eight active cases currently in South Australia the state's chief public health officer Nicola Spurrier has advised the public not to panic.
"We have not got community transmission in South Australia in any way in a widespread form and this is why we're being absolutely over-cautious in this instance," she said.
"There are a large number of close contacts and this is because the Thebarton Senior College is a college for adult learners."
This growing cluster, dubbed by health authorities as the Thebarton Cluster, was linked to a 20-year-old returning essential worker who was self-isolating at the Walkers Arms Hotel.
He then passed the virus on to a cleaner and another woman in her 20s which has sparked this outbreak.
A new drive-through COVID-19 testing location has opened in Aldinga at the GP Plus Health Care Centre.
Updated at 9:09am AEST on 7 August 2020.
---
Newcastle health alerts expanded to include Sushi Revolution and Bar 88

Update: Since publication NSW Health has reported 11 new cases of COVID-19
A sushi restaurant and a bar in Newcastle have been added to a list of venues attended by two confirmed cases of COVID-19 in the city.
Hunter New England Health (HNEH) has urged anyone who attended Bar 88 on Sunday 2 August from 5pm to 7.15pm and Sushi Revolution on Saturday 1 August from midday to 12.45pm to self-isolate and get tested.
The public health alerts follow the confirmation that a male teenager transmitted COVID-19 to a man in his 20s sparking fears of community transmission in Newcastle.
HNEH is now urging anyone who attended the following venues at the specified times to self-isolate immediately and seek testing:
Bennett Hotel, Hamilton Friday 31 July, from 5.30pm to 10.00pm
Bar 88, Wests New Lambton Sunday 2 August, from 5.00pm to 7.15pm
Sydney Junction Hotel, Hamilton Saturday 1 August, from 11pm midnight to 1.15am Sunday 2 August
Greenroof Bar and Restaurant, Hamilton Friday 31 July, from 10.30pm to 12.15 midnight
Sushi Revolution, Hamilton on Saturday 1 August, from 12noon to 12.45pm
Queens Wharf Hotel Saturday 1 August from 9.30pm to 11.00pm
McDonald Jones Stadium Sunday 2 August, 7:30pm to end of game, Newcastle Jets match
HNEH is still working to identify any further close contacts and venues visited by the pair of confirmed cases. Further updates will be provided as more information becomes available.
The health authority will notify any close contacts who will then be required to isolate for two weeks.
NSW Health announced 11 new cases of COVID-19 today, bringing the state's cumulative total to 3,653.
Of the new cases, one is still under investigation, and one was acquired in Victoria and is in self-isolation.
The other nine were locally acquired, with one linked to The Apollo restaurant cluster and eight close contacts of known cases.
11 new cases of #COVID19 have been diagnosed in NSW between 8pm on 5 August and 8pm on 6 August.

For the latest list of COVID-19 locations, visit: https://t.co/pqkRdfh3cR pic.twitter.com/Y6hsoOhFiZ

NSW Health (@NSWHealth) August 7, 2020
Updated at 9:38am AEST on 7 August 2020.
---
A "heavy blow": Victorian lockdowns could cost economy $12b

The imposition of Stage 4 restrictions in Melbourne may shrink real GDP by $7 to $9 billion and push effective unemployment up to 13 per cent, according to Prime Minister Scott Morrison.
Combined with the impact of earlier Stage 3 restrictions in Melbourne, Morrison says the total hit to GDP will be in the range of $10 to $12 billion.
Fronting the press this morning, Morrison says these estimates are a "heavy blow" for Australia.
"That is very concerning, that is very troubling, but it is not unexpected," Morrison said.
"In the circumstances these measures will have a very significant cost, and it will impact the recovery path, but the task doesn't change. We get on top of this issue in Victoria and we band together and we make this work."
Approximately 80 per cent of the economic cost is expected to be in the affected areas of Victoria, representing an approximately $6 to $7 billion hit.
The remainder represents a preliminary estimate of the broader impact of confidence in other states and supply chain impacts from the shutdown of industries in Victoria.
The national unemployment rate is now expected to peak at 10 per cent, up from a previously forecast high of 9.25 per cent.
However, when looking at the effective unemployment rate, which includes those who are employed but not working any hours, Morrison says that could now reach 13 per cent.
The news comes as many businesses in Melbourne have been forced to close overnight in line with Stage 4 restrictions.
Only a small handful of 'essential services' are still operating, including grocery stores, pharmacies, and petrol stations.
Manufacturing, food processing, and supply chain facilities have also been slowed down, and the construction industry must work with skeleton crews to keep the flame of a pilot light glowing until restrictions can be eased.
Morrison said we needed to "work together across the country, to do the things we need to do, to boost that demand, to encourage that investment, and to rebuild our economy and to go forward."
"I know this news is upsetting and disappointing, but as Australians we have to keep our heads up. Let's keep our heads up together, let's look out for each other, and let's get through this."
471 new COVID-19 cases in Victoria as Stage 4 causes headaches for Premier
Businesses in Melbourne have woken up to a new six-week reality with most retailers closed and only essential services able to continue operating, as the state records 471 new COVID-19 cases and eight new deaths.
This new level of restriction has resulted in businesses like meatworks and other food processors struggling to figure out how to operate under the new rules, but Premier Daniel Andrews says imposing the rules was "always an imperfect process".
As such, the Premier has announced some specific rules for certain industries today to enable them to continue to operate under Stage 4 in a COVID safe manner.
Beacuse it is a high risk sector, abbatoirs and meat processors will go down to 66 per cent of operations. Any abbatoir with less than 25 staff will not need to make any reductions at all to the workforce.
For poultry facilities, production will need to be reduced by 20 per cent. Andrews says this is because if they are forced to go down to 66 per cent there will be many hundreds of thousands of animals that would be destroyed but not processed.
Finally, for seafood producers with less than 40 staff, no reductions will need to take place.
"All of these measures are about driving down the number of workers to the lowest number we can practically get to, whilst at the same time not delivering critical shortages of products," says Andrews.
"Therefore there are balanced points to be found and we're confident that we have been able to do that."
Updated at 12:11pm AEST on 6 August 2020.
---
Health alerts issued in Newcastle as region records two new COVID-19 cases

Two new confirmed cases of COVID-19 have put Hunter New England Health (HNEH) on high alert for community transmission in the Newcastle region, with the body issuing a number of health alerts today.
Pubs, venues and last Sunday's Newcastle Jets match at McDonald Jones Stadium are on the list of locations visited by the COVID-19 cases.
The two new cases are a male teenager and a man in his 20s. The source of infection for the teenager is unknown and still under investigation, but the man in his 20s is a close contact of the teenager.
The two cases bring the total number of new COVID-19 infections in NSW at 8pm on 5 August to 12, with none of the new cases connected to hotel quarantine.
HNEH is urging anyone who attended the following venues at the specified times to immediately self-isolate and seek testing:
Bennett Hotel, Hamilton Friday 31 July, from 5.30pm to 10.00pm
Greenroof Bar and Restaurant, Hamilton Friday 31 July, from 10.00pm to 12 midnight
The Hopsmith Sports Bar, Wests New Lambton Sunday 2 August, from 5.00pm to 7.30pm.
Queens Wharf Hotel Saturday 1 August from 9.30pm to 11.00 pm
Sydney Junction Hotel, Hamilton Saturday 1 August, from 12 midnight to 1.30am Sunday 2 August
McDonald Jones Stadium Sunday 2 August, 7:30pm to end of game, Newcastle Jets match
The infected teenager is a student at St Pius X High School (Adamstown) and attended school on Monday 3 August.
The school has been closed to allow for contact tracing to occur and for thorough cleaning.
The teenager caught the Number 26 school bus (Hamilton to Adamstown) to school on Monday 3 August, at 8.20am. All people on the bus at this time will be required to isolate for 14 days and seek testing.
He is also a team member of the Newcastle Jets under 15's representative squad who played a soccer match against the Stanmore Hawks at Arlington Oval in Dulwich Hill on 1 August. His team mates and the members of the opposing team are considered close contacts and will be required to isolate for 14 days.
With the identification of additional cases in the Newcastle area, the region is expecting an increase in the demand for testing.
"To ensure we can best serve the community during this time, we have enhanced our local testing capability," says public health controller for HNEH's COVID-19 response Dr Kat Taylor.
"In addition to expanding our call centre capacity and the number of phone lines available to improve booking wait times, we will extend hours and capacity at a number of local clinics.
"However, please be patient if visiting a clinic or calling for a booking. We have thousands of testing opportunities throughout the course of today and will see people as quickly as possible," Dr Taylor said.
Updated at 11:09am AEST on 6 August 2020.
---
Scentre Group board salaries return to normal despite trying times for retail

After reports it has been driving a hard bargain with tenants and expectations net operating cash flows will fall by 60 per cent in the second half, the board of shopping mall giant Scentre Group (ASX: SCG) will now be paid at pre-COVID levels.
Like many leadership teams in Australia, the senior management and board of the Westfield operator took cuts of 20 per cent to their base salaries and fees respectively as of 1 May, but that has now been limited to a three-month period.
"In April 2020 the Group announced that, in light of the COVID-19 pandemic, temporary arrangements to reduce base Board Fees and fixed remuneration for the executive team (including the Senior Leadership team)," Scentre Group stated today.
"These arrangements commenced from 1 May 2020 and, as announced, would be reviewed by the Board in August 2020.
"The Board has reviewed these arrangements and has determined the Board and fixed remuneration for the executive team will revert to their previous levels, effective from 1 August 2020."
Ahead of its expected second half results announcement on 25 August, Scentre Group has today announced expectations the carrying value of its property portfolio will be down approximately 10 per cent due to impacts from COVID-19.
The group also expects net operating cashflow after interest, overheads and tax will be more than $250 million for the half year, compared to $629.1 million for the same period in 2019.
Scentre Group also clarified it had not received any funds from the Australian Government under the JobKeeper scheme, and its available liquidity stood at $4.4 billion as at 30 June.
Never miss a news update, subscribe here. Follow us on Facebook, LinkedIn, Instagram and Twitter.
Business News Australia
---
Alliance Aviation soars with record profit

A Brisbane-based airline with a strong focus on charter flights has defied the aviation sector's doom and gloom with record profit and revenue for FY20.
After its shares reached new highs on the back of an aircraft acquistion deal funded by a recent capital raise, Alliance Aviation Services (ASX: AQZ) has reported a record full-year profit before tax (PBT) $40.7 million.
This represents a 24.1 per cent lift, while net profit after tax (NPAT) was up 18.9 per cent at $27 million.
Total revenue from operations rose 7.8 per cent to $298.6 million even though total flying hours were down slightly, as social distancing requirements for fly-in-fly-out (FIFO) clients led to additional income in the second half.
In fact, charter revenue almost doubled for the financial year overall while contract services were up 22.5 per cent. This helped offset the impacts of COVID-19 on wet lease, inbound tourism and regular public transport (RPT) service cash inflows.
Revenues for wet lease and and RPT services declined by 46.3 per cent and 15.9 per cent respectively due to restrictions of movement imposed by various governments in response to the pandemic.
Inbound tourism charters ceased operations altogether in March 2020 due to COVID-19 restrictions.
Alliance Aviation managing director Scott McMillan (pictured) describes the staff's achievements during the last six months as "truly remarkable".
"Alliance is pleased to release these results today as we continue to demonstrate the underlying robustness and diversity of Alliance's business model despite the impacts of COVID-19," says McMillan.
"The operational credibility on which Alliance has built its reputation is second to none, as demonstrated during the COVID-19 pandemic.
"Performance against our internal key performance indicators of safety, reliability/on-time performance and financial sustainability has again been outstanding."
During the year, five long-term contract renewals were completed with a 100 per cent retention rate, while the airline added four aircraft into the operating fleet which were required for capacity expansion.
In its results announcement today, the company also noted specific routes that had suffered due to the pandemic such as the suspension of Brisbane-Port Macquarie since April, and a reduction to minimum frequency levels for Brisbane-Gladstone and Brisbane-Bundaberg.
Adelaide to Olympic Dam services however continued as normal.
The airline retains a positive outlook for FY21, based on a number of ad-hoc contracts that have been awarded during the COVID-19 pandemic that it expects to be converted into long-term charter contracts, continued increased schedules for some charter clients even though the majority of social distancing on planes has ceased, the launch of new RPT routes and other expected new revenue sources.
Alliance is in a net cash positive position of $44.4 million as at 30 June 2020 due to the receipt of the placement funds in June 2020.
Updated at 10:11am AEST on 6 August 2020.
---
Man in his 30s among 15 new deaths in Victoria

A man in his 30s is among the 15 new deaths from COVID-19 in Victoria today, representing the deadliest day in the pandemic to date.
725 new confirmed cases of COVID-19 were also reported today as the state's businesses brace for the enforcement of Stage 4 restrictions from 11:59pm tonight.
In addition, Premier Daniel Andrews announced today that all elective surgery will be put on hold in regional Victoria except for Category 1 patients and the most urgent Category 2 patients.
"We can't have a situation where we are making the sickest patients wait longer because we are treating wholly worthy and important conditions but not necessarily time-critical conditions," says Andrews.
"We can't put those ahead of people who need that urgent care. The sickest patients must get treated quickest, and that is always a principle that our public and indeed our private hospitals work under."
---
Read more: Sweeping changes for Victorian retail and construction, more cash grants on offer
---
The state's death toll since the beginning of the pandemic now stands at 162.
Of today's 15 new deaths, 12 can be linked to aged care. Further details about the man in his 30s could not be given by Andrews but the Premier did confirm that he was not a healthcare worker.
There are currently 538 COVID-19 patients in hospital and 42 in intensive care.
Just six days ago the state reported its deadliest day with 13 deaths. This week there have been 11 deaths yesterday and 13 deaths on 3 August.
In a recent press conference, WHO Health Emergency Response executive director Dr Michael Ryan noted the global infection fatality rate (IFR) for COVID-19 was 0.6 per cent, meaning around one in 200 people who get the virus die with the probability much higher for the elderly.
This compares to a a rate of between one in 10,000-100,000 for the 2009 swine flu epidemic.
"0.6 per cent is quite high, and so we need to do everything that we can not only to save lives among the cases that we know about but to prevent as many infections as possible," Dr Ryan said.
The number of COVID-19 cases globally is now above 18.7 million and there have been more than 704,000 recorded deaths associated with the virus.
The USA continues to have the highest number of cases at close to five million, and accounts for more than one in three of the world's approximately six million active cases.
Yesterday the total number of cases in Latin America surpassed five million, representing more than one in four globally despite accounting for around 8.5 per cent of the population.
Brazil has the second-highest amount of active cases at more than 741,213, followed by India (585,133), Russia (185,601), South Africa (148,683), Colombia (143,406), Peru (117,426) and Argentina (115,427).
Updated at 12:46pm AEST on 5 August 2020.
---
Mandatory hotel quarantine for returning NSW residents from VIC

The NSW State Government has today announced that as of 12:01am on Friday, NSW residents returning from Victoria will have to go into mandatory hotel quarantine for 14 days at their own expense.
Only residents of the NSW border regions will be exempt from the new measure.
"I realise this may be difficult for some people, but the changing situation in Victoria means we must exercise extreme caution," NSW Premier Gladys Berejiklian said.
"The health of our citizens and economy must be protected - and the health advice says this is the best way to do it.
"We will also further limit the reasons Victorians can seek exemptions to come into NSW."
Dr Kerry Chant said this latest change would reduce the number of people entering NSW from Victoria, and reduce the risk of community transmission.
"This is a critical time in the NSW response and we need to reduce any further risk of seeding of cases from Victoria," Dr Chant said.
Yesterday NSW Health announced there would be a strict permit system put in place for all flights arriving in NSW from Victoria, with all passengers to undergo police and health checks on arrival.
People who can apply for a permit include defence officials, doctors and nurses, critical workers in energy, mining and construction, child protection workers and disability workers.
New South Wales has again recorded 12 new cases of COVID-19 today, with four connected to restaurant outbreaks in Sydney as the state imposes strict new procedures for Victorian flights.
Of the 12 new cases one is a return traveller in hotel quarantine and one is a locally acquired case with an unknown source.
The remaining 10 are linked to known cases including:
Two linked to the Thai Rock restaurant in Wetherill Park,
Two linked to The Apollo restaurant in Potts Point, and
Six associated with the funeral gatherings cluster.
There have been 52 deaths in NSW since the beginning of the COVID-19 pandemic, and there are currently 113 people being treated for the virus in the state.
12 new cases of #COVID19 have been diagnosed in NSW between 8pm on 3 August and 8pm on 4 August.

For the latest list of COVID-19 locations, visit: https://t.co/pqkRdfyEBr pic.twitter.com/ZUc78P6iG4

NSW Health (@NSWHealth) August 5, 2020
Updated at 1:23pm AEST on 5 August 2020.
---
Queensland declares all of NSW and ACT as hotspots

Continuous attempts to break through Queensland's border controls have forced the State Government's hand in a bid to keep its residents safe, with a hard border to be implemented with NSW and the ACT starting from 1am on Saturday.
From that time returning Queenslanders will have to pay for 14 days mandatory hotel quarantine, while anyone from NSW or the ACT will be denied entry except for rare exemptions.
Only residents of border communities and essential workers such as truck drivers will be allowed to cross the border.
These residents will be required to present a photo ID and proof of address when crossing into the state, and exemptions including for compassionate reasons will be limited.
The decision follows Queensland Disaster Management Group meetings yesterday and this morning to assess the risk posed by travellers from NSW, as well as those who may fly from Canberra to skirt the rules.
"I can now confirm that our Chief Health Officer (CHO) is declaring New South Wales and the ACT a hotspot," Queensland Premier Annastacia Palaszczuk (pictured) told a press conference this morning.
"This will take immediate effect from Saturday 1am, and this is the right thing to do. I know it's going to be tough on Queenslanders but your health comes first.
"It's not getting better and we're not going to wait for New South Wales to get worse. We need to act and we have taken the decisive decision to act."
Just yesterday CHO Jeannette Young said there are six critical days to go before the effects of recent breaches would become clear.
Today, following two straight days of reporting no new COVID-19 cases, a new positive test was recorded for a 68-year-old woman in the West Moreton area with the source of transmission unknown.
Deputy Premier Steven Miles said the state currently had 11 active cases, of whom five were in hospital.
"We went 63 days with no community transmission - more than two months with no community transmission, but that all changed seven days ago," he said.
"A lot can change in a week, and we've seen in other states how it can only take one case to see a widespread outbreak.
"In that week we've had nine cases here in Queensland - two travellers from Victoria, three cases of local transmission, two Queenslanders who travelled to Sydney, and one returning Queenslander via Sydney, as well as that one case today and we don't yet know the source of their infection."
He said these cases placed an enormous burden on the state's health system.
"We've done 85,000 tests in that week - 84,795 tests. We've contact traced thousands of Queenslanders; many are now in quarantine," he said.
"We've seen people go to great lengths to avoid our border lockdown; people being dishonest, people try to deceive our police, people lying on their border passes, and not just at the border but right around the state in Cairns, Townsville, Gympie, Nanango.
"In fact police have now served more than a dozen notices to appear in court."
Through its announcement today, Queensland authorities want to avoid suffering the same fate as other states where a second wave is occurring.
"It is clear now that Australia is experiencing a second wave of COVID-19, and we cannot afford to have that second wave here in Queensland," he said.
"We've eased restrictions, businesses are open again, people are back at work. We cannot afford to risk that progress, we cannot afford to risk the opportunity to continue to unite and recover."
Premier Palaszczuk added the hard border would be reviewed at the end of the month.
Updated at 9:26am AEST on 5 August.
---
Hotham and Falls Creek ski fields closed for the season

The implementation of stricter rules to combat the spread of COVID-19 in Victoria has prompted the operator of the Hotham and Falls Creek ski resorts to shut down operations indefinitely for the remainder of the year.
Vail Resorts previously suspended operations at the two resorts just two weeks after the season began, but with a tentative end date of at least after 19 August.
But the increased restrictions to Stage 4 in Melbourne and Stage 3 for regional Victoria prompted the decision not to plan a re-opening in the spring for skiiers and snowboarders.
"We made the decision to close Hotham and Falls Creek in early July to support the government's efforts to slow the spread of COVID-19 and to prioritise the health of our employees, guests and community," says Vail Resorts Australia senior VP and COO Pete Brulisauer.
"It was certainly a difficult decision, which unfortunately has been reinforced by the worsening COVID-19 trends and the declaration of a State of Disaster in Victoria until 13 September.
"We are disappointed to mark the end of the season this way and extend our gratitude to our teams and the businesses in the local community who all worked incredibly hard to open this winter."
Guests who retained their 2020 Epic Australia Pass planning to ski and board late season at Hotham and Falls Creek, may apply for a refund under Epic Coverage by emailing claims@epicaustraliapass.com.au.
"We also want to thank our loyal guests for their patience and understanding; we look forward to welcoming them back to our resorts for the 2021 season," says Brulisauer.
Meanwhile, Perisher will remain open and is unaffected by this decision, operating in accordance with COVID-19 restrictions in NSW.
Updated at 4:37pm AEST on 4 August 2020.
---
Health alerts issued across Adelaide, two new COVID-19 cases confirmed

SA Health has issued three health alerts in Adelaide's northern suburbs after a new confirmed COVID-19 case attended three businesses in the area.
It comes as South Australia confirms two new cases of COVID-19 today: one being a contact of a known case and one potentially the result of community transmission.
Those who have attended the following locations at these specific times should immediately self-isolate for 14 days and get tested for COVID-19 even if no symptoms currently present:
Sat 1 Aug (6.00pm 8.30pm) - Fernwood Fitness, Salisbury Downs
Fri 31 Jul (5.00pm 7.30pm) - Agha juice house, Blair Athol
Wed 29 Jul (5.00pm 8.00pm) - Najafi Carpet Gallery, 5/392 Prospect Rd, Kilburn
"Unfortunately this young woman has been to a number of public places during the time she was infectious," says SA Chief Public Health Officer Nicola Spurrier regarding the new confirmed COVID-19 case that has sparked these health alerts.
"This was a close contact that we've not been told about originally, but this is somebody who has come forward, has understood the importance of coming forward when symptomatic, and got tested."
The health alerts come as South Australia is set to re-introduce COVID-19 restrictions from midnight tonight, with at home gathering sizes to be reduced down to just 10 people.
SA Premier Stephen Marshall says the state is on "high alert" and has not ruled out the potential for more restrictions to be reintroduced going forward.
"We have to respond quickly, listen to the trusted expert advice and keep South Australia ahead of the game," says Marshall.
"It is very possible now that there will be further restrictions put in place, but we only do this to keep the people of our state very safe during this COVID-19 pandemic."
Because most of South Australia's cases over the last week can be tied to those crossing the border from Victoria the state has been ramping up its efforts in Mt Gambier to stop the virus before it makes its way into Adelaide.
Today a new satellite control centre has been established at Mt Gambier to support the state's police effort on the border, and a new 'MediHotel' will be set up for testing and quarantine purposes at the border town.
12 new cases in NSW
Just 12 new cases in New South Wales have been reported today, with three connected to people crossing the border from Victoria.
Of the other new cases, one is a traveller in hotel quarantine, one is linked to the Thai Rock restaurant in Wetherill Park, two are connected to The Apollo restaurant.
Two cases attended Mounties, Mount Pritchard and three are linked to people who attended Mounties, Mount Pritchard.
One student at Bonnyrigg High School and two students at Greenway Park Public School have also tested positive for COVID-19.
Queensland reported its second straight day of no new cases this morning, however the state's Chief Health Officer Dr Jeannette Young said there were really "another six days to go" before people could feel they had safely gotten through the latest cluster of cases.
Today it was also revealed that three Logan residents who had been to Victoria had illegally crossed the border into Queensland, and they are under investigation with notices to appear for false declarations.
The three men are in the process of getting tested and are in hotel guarded quarantine in Brisbane.
Updated at 12:51pm AEST on 4 August 2020.
---
Wesfarmers and JB Hi-Fi reshuffle Victorian retail operations, Ingham's slows things down

With Stage 4 restrictions coming into effect from 11:59pm tomorrow major retailers like Wesfarmers and JB Hi-Fi are making big changes to their operations.
Meanwhile, producers and manufacturers in the city are bracing for the impacts of reduced workforces.
Wesfarmers (ASX: WES), the operator of Bunnings, Kmart, Target and Officeworks will continue its online operations through home delivery and contactless click and collect options.
This should soften the blow resulting from the slow-down of Wesfarmers' Melbourne retail network which delivered 17 per cent of total retail sales from stores in FY20.
But the changes will inevitably result in the standing down of some of Wesfarmers' 30,000-strong Victorian workforce, with the company to support those affected with paid pandemic leave.
Bunnings will remain open for trade customers but will be closed for in-store retail customers.
Kmart and Target stores in Melbourne will be unable to service customers in-store but Officeworks will continue to service business customers because it is a specialist supplier of stationary and printing services. Ultimately Officeworks will be closed for in-store retail customers.
The company says those stood down will receive a support payment equivalent to two weeks of normal rostered hours.
---
Read more: Sweeping changes for Victorian retail and construction, more cash grants on offer
---
Following this two-week period the company will provide permanent team members with access to existing accrued leave entitlements.
Further, Wesfarmers will provide paid pandemic leave to eligible permanent and casual team members who may be required to self-isolate pending COVID-19 test results.
"Our businesses are well equipped to further adapt their operations to continue safely support customers and suppliers through these restrictions, with a focus on supporting business, trades and home delivery as well as contactless click and collect in many of our Melbourne metropolitan stores," says Wesfarmers managing director Rob Scott.
The company's industrial businesses, including Blackwoods, Workwear Group, Coregas, Australian Vinyls and Modwood, will continue to operate in Victoria in accordance with COVID safe guidelines.
BIG W goes contactless as Woolworths assesses meat production slow-down
Woolworths Group (ASX: WOW) has confirmed that all 22 BIG W stores in metropolitan Melbourne will close for six weeks and move to contactless in-store pick up services while it continues to engage with the meat industry to ensure ongoing supply.
Of the 22 impacted BIG W stores 15 will move to a click and collect model with the option for drive up collection, while the remaining seven will be in-store pick up only.
The nine BIG W stores in regional Victoria will remain open for customers under Stage 3 restrictions.
Woolworths also operates 80 venues in Victoria, of which 50 had partially reopened before Stage 3 restrictions in Melbourne but were closed again on 8 July. The three venues the company operates in regional Victoria will close on Wednesday 5 August.
Because of new restrictions imposed on the meat industry that will be effective Friday night this week Woolworths has been engaging with the government and suppliers to mnimise any disruption to the supply of meat and other products.
"These are challenging times in Victoria and I can only imagine the stress and anxiety being felt by the entire community," says Woolworths CEO Brad Banducci.
"We are focused on doing everything we can to minimise the impact on our team members, including temporary opportunities to support other businesses in the Woolworths Group where possible.
Under Stage 4 restrictions supermarkets and grocery stores including Woolworths are permitted to remain open as usual to customers.
JB Hi-Fi closes stores, Baby Bunting open for parents
46 JB Hi-Fi (ASX: JBH) stores and 21 The Good Guys stores will be temporarily closed to customers for six weeks in line with Stage 4 restrictions in Melbourne.
The company says its online and commercial operations will continue to trade and be available via home delivery services and contactless click and collect.
These services will be supported by operational warehouses and its store network, with strict safety measures in place, to fulfil online and commercial orders.
As a retailer of maternity supplies, with 12 stores in Melbourne, Baby Bunting (ASX: BBN) has been given the green light to remain open for business.
In addition, its distribution and online operations based at Dandenong South will continue to operate with minor adjustments in line with Stage 4 rules.
"With over 9,000 new babies due in Victoria during the lockdown period, new and expectant parents face many critical and specialised needs and our Melbourne stores remain open to provide the essential products and services for them," says Baby Bunting CEO and managing director Matt Spencer.
"We encourage all of our customers to think about how they shop and to limit their movements. Customers can shop online or use our contactless click and collect service.
"We will adapt to new measures that are introduced as we focus on ensuring that parents of new and young children can get the essential products they need."
Ingham's reduces workforce, Blackmores staff work from home in VIC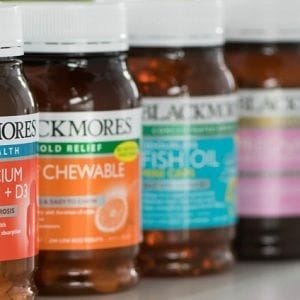 Poultry producer Ingham's (ASX: ING) will reduce its workforce by 33 per cent at its Somerville and Thomastown meat processing facilities in line with new Stage 4 restrictions on meat processing plants.
These restrictions do not apply to other assets and facilities in its Victorian supply chain such as its hatcheries, farms, feed mills, or logistics operations.
"Whilst we await the formal Victorian government directive to provide further certainty on the detail of the restrictions, Ingham's management are working through the implications for the reduced workforce at both our Victorian processing sites, and looking to minimise the impact of the restrictions through use of other processing sites in the Ingham's network and inventory that we have on hand," says Ingham's.
Meanwhile, vitamin manufacturer Blackmores (ASX: BKL) will emerge relatively unscathed as its packing, warehousing and distribution facilities are located in Sydney.
Because Blackmores' manufacturing facility at Braeside produces pharmaceutical products it will continue to operate.
All Blackmores employees in Victoria that can work from home will continue to do so.
Reliance Worldwide assessing Stage 4 impact
Provider of water control systems and plumbing solutions Reliance Worldwide (ASX: RWC) says it is still assessing the impact of Stage 4 restrictions but appears optimistic about its prospects.
The company manufactures products at four plants in Melbourne, but because it maintains sufficient inventory levels the company anticipates this will sustain it going forward and does not expect any supply disruptions.
Further, Reliance says the new restrictions will not have any short term impact on sales in North America.
Updated at 11:24am AEST on 4 August 2020. Updated again at 4:54pm AEST on 4 August 2020.
---
Victoria raises penalties as COVID-19 isolation breaches fail to improve

Victorian Premier Daniel Andrews has today announced on-the-spot fines of close to $5,000 for people who breach isolation orders, following "disgraceful" incidents of individuals acting like they were above the law.
Last week the Premier noted COVID-19 cases were not at home for one in four doorknocks, or 130 out of 500 occasions. The latest figures show no signs of improvement.
"I can confirm that the ADF (Australian Defence Force) together with important authorised officers from the Department of Health and Human Services have conducted more than 3,000 doorknocks of people who should be isolating at home," Andrews said.
"[In] more than 800 of those homes the person who should have been isolating could not be found."
This ongoing trend was confirmed after another deadly 24 hours for the state with 11 deaths and 439 new cases. There are currently 456 Victorians in hospital, of whom 38 are receiving intensive care.
Because of these troubling compliance numbers the government has also put new rules in place that exercise outside the home is not allowed for people under isolation orders.
"Fresh air at the front door, fresh air in your front yard or your backyard, or opening a window, that's what you're going to have to do," he said.
"I apologise to those who were doing the right thing, but we simply have no choice but to move to that setting.
"Anything short of a massive reduction in movement across the community will mean more virus, not less, more restrictions, not less, and the other side of this will be further away than it has ever been."
Police Minister Lisa Neville and Chief Commissioner Shane Patton (pictured) revealed instances of Victorians not only flouting health directives but acting violently.
"Last night a 26-year-old police woman was on patrol with another partner down in the Frankston area near a Bayside shopping centre. During that time they approached a 38-year-old woman who wasn't wearing a mask," Commissioner Patton said.
"After a confrontation and being assaulted by that woman, those police officers went to ground and there was a scuffle, and during that scuffle this 38-year-old woman smashed the head of the police woman several times into a concrete area on the ground.
"That behaviour is just totally unacceptable. That's someone who thinks they're above the law."
Patton described an emergence of self-described "sovereign citizens" who don't believe the law applies to them.
"We've seen them at checkpoints baiting police, not providing a name and address," he said.
"On at least three or four occasions in the past week we've had to smash the windows of people in cars and pull them out of there so that they could provide their details, because they weren't telling us where they were going."
Not wearing a mask carries a fine of $200, although Premier Andrews said not too many of those fines have needed to be issued to date.
However, he said if particularly selfish behaviour is encountered like going to work when you have the virus, then there was an alternative pathway of the Magistrates Court where the maximum penalty can be $20,000.
"We don't want it to come to that. We want people to be where they're supposed to be," he said.
More than 500 additional ADF personnel will arrive in Melbourne in the coming days, and they will be accompanied by more than 300 additional authorised officers from the health department to undertake random and repeat checks.
Updated at 12:05pm AEST on 4 August 2020.
---
PM announces pandemic leave disaster payment

The Australian Government has today patched up a serious hole in its policy to incentivise social distancing, offering $1,500 pandemic leave disaster payments valid over 14 days to workers who don't have access to sick leave.
It is a move that follows Victoria's approach of test isolation and worker support payments, designed to prevent individuals from showing up to work with COVID-19 symptoms when they feel no other financial options are available.
"Last week I indicated to you that we were working on a plan, and consulting and discussing these issues of pandemic leave, and we've been able to come to a conclusion on that today," Prime Minister Scott Morrison (pictured) has told a press conference.
"What we will be doing is establishing a pandemic leave disaster payment," he said, noting it could be accessed multiple times if someone is unfortunately instructed to self-isolate on multiple occasions.
The PM drew a parallel to disaster payments that were made when the nation was confronting bushfires earlier this year.
"What we're dealing with here is a disaster, and we need to respond on the basis of the way we provide support in the midst of disasters," he said.
"We need a disaster payment when it comes for people who have to isolate for a period of 14 days, through no fault of their own - regardless of what job they're in and employment they're in, they need that support.
"That payment will be modelled on exactly the same set of criteria that the Victorian Government has put in place. Those payments are principally made to those who are on short-term visas...who otherwise wouldn't have access to Commonwealth payments."
He said from Wednesday people looking to access these payments if they are getting tested will be able to call 180-22-66 to make arrangements.
"They'll be able to make their application over the phone...and that should be turned around fairly quickly," the PM said.
"That means that those who need to self-isolate as a result of instruction by a public health officer, there is no economic reason for you to go to work.
"We're also encouraging the Victorian Government to ensure that there are appropriate penalties in place to those who do break those public health notices."
He said people who went to work when they were sick put their workmates and their employees' businesses at risk.
The proposal has been formulated over recent days, but prior to the PM's announcement the Business Council of Australia and the Australian Council of Trade Unions issued a joint letter to the Attorney General calling for a similar scheme.
"Paid pandemic leave is now an essential public health measure that will combat the recent spike in workplace transmission in Victoria," the Business Council and ACTU stated.
"The recent outbreaks in Victoria have highlighted that there are still a number of workers who are attending work whilst infectious or at risk, which is accelerating the rate of community transmission.
"This is both harmful to the health of the community and disruptive to businesses that are now closing in increasing numbers following workplace transmission."
The groups said while many businesses had implemented policies to provide for paid pandemic leave, not all are able to do so given the cost, especially under current circumstances where workers are often required to isolate and get tested on multiple occasions.
"We acknowledge the efforts of the Victorian Government to introduce its own scheme. This scheme is available to all workers who are required to isolate and do not have access to leave," they said.
"Unfortunately, the mechanisms available to state governments to effectively implement and administer such a scheme are inadequate and consequently we have seen minimal take up over recent weeks.
"It is for these public health reasons that business and unions believe the Federal Government, together with relevant States, must urgently provide for and fund a national Paid Pandemic Leave Scheme."
Updated at 5:11pm AEST on 3 August 2020.
---
Sweeping changes for Victorian retail and construction, more cash grants on offer

Retail will look more "different than it has ever looked" before and work on construction sites will be slowed to a crawl under extensive new restrictions to be imposed on Victorian businesses.
From 11:59pm on Wednesday many businesses will be forced to shut and retailers will have to adapt to a new non-contact reality, while later in the week major industries will be wound down to bare minimum staffing levels.
Industries like meatworks will slow production by a third, and the construction sector will be put on "pilot light" levels of activity, keeping the flame of Victoria's economy burning until Stage 4 restrictions are eased.
Cash grants of $5,000 will be available to businesses in Melbourne for the second time during the second wave, while the same sum will be made available for the first time for regional victorians entering stage 3 later this week.
---
Read more: State of Disaster: Melbourne enters Stage 4 lockdown
---
Businesses deemed "essential" in the state will remain open during the six-week Stage 4 lockdown period and include:
Supermarkets
Grocery stores
Bottle shops
Pharmacies
Petrol stations
Banks
News agencies
Post office
In addition, all facilities that form the state's front line effort against COVID-19 will remain open and operational including health facilities.
Non-essential retailers will face a change like nothing yet seen in this pandemic, with Victorian Premier Daniel Andrews announcing they will either have to close or move to a completely non-contact method of operation by 11:59pm on Wednesday.
For example, Andrews says Melburnians will no longer be able to go into a store like Bunnings but will be able to collect goods without making contact via drive thru arrangements.
Home delivery will also be allowed to continue for retailers with that capability.
"Retail will look very different than it has ever looked," says Andrews.
"But unless we have literally hundreds and hundreds of thousands of people at home and not going to work, so hundreds of thousands less movements around the community each and every day, then we will not pull this virus up."
Meatworks and construction sectors slowed down
The third category of businesses impacted by Stage 4 are those that will be permitted to operate but under significantly different conditions.
These businesses, including those in the meatworks and the construction sectors, will have until 11:59pm on Friday 7 August to enact a COVIDSafe plan focused on safety, prevention and response in the event that coronavirus is linked to the workplace.
These plans will include mandated reductions to the number of workers on site; for example, in the meat industry the workforce will be scaled back by two thirds.
Warehousing and distribution centres in Melbourne will be limited to no more than two-thirds the normal workforce allowed onsite at any one time.
The construction sector, described by Andrews as "the lifeblood of the Victorian economy", will move to "pilot light" levels of activity.
For major constructions sites, this means no more than 25 per cent of the normal workforce can be on site, while small scale construction will be limited to a maximum of five people on site.
"To date, we've almost halved the number of people onsite on some of our biggest Government projects. Now we're going to go through project by project, line by line to make sure they are reduced to the practical minimum number of workers," says Andrews.
"These workplaces that are continuing to operate will also have additional requirements including extra PPE, staggering shifts, staggering breaks, health declarations and more support for sick workers to ensure they stay home.
"To give one example, workers in abattoirs will be kitted out in full PPE gowns, masks and shields more akin to what a nurse would wear. They'll also be subject to routine testing."
Stage 4 will "make a huge difference"
According to Victorian Chief Health Officer Brett Sutton these restrictions at Stage 4 are limiting, but are necessary to bring down the number of new COVID-19 infections in the state.
"We should reflect on the fact that Stage 3 restrictions did make a difference, they genuinely flattened the curve but they flattened the curve to a point where we got to a plateau of 400-500 cases every day," says Sutton.
"That would've continued indefinitely because if you're really only driving transmission down to a level where one person infects one other individual then you've got 400 or 500 cases every day ongoing.
"We'll see a reduction in the numbers week on week as long as people are following the directions that have been laid out. Obviously, there are some constraints that have been set in stone...they will make a huge difference."
The new announcements come as Victoria records 429 new cases of COVID-19 today and 13 new deaths.
There are now 6,489 active cases across the state including 386 in regional Victoria.
Of the active cases 416 are in hospital and 35 are in intensive care.
Updated at 4:42pm AEST on 3 August 2020.
---
New restrictions for SA venues after two new COVID-19 cases

Venues in South Australia will be restricted to serving alcohol to seated patrons only from midnight on Tuesday night as the state records two new cases of COVID-19 today.
In addition, the number of people who can be at home gatherings will be reduced from 50 down to just 10.
Premier Steven Marshall says the new measures have to be imposed because of the situation in Victoria and the potential for seeding of virus in SA.
"We are concerned about seeding. We are concerned about community transmission, and we are absolutely focused, 100 per cent, on keeping ahead of the game. That's what we've done in South Australia since day one," says Marshall.
"We expect a very high level of compliance with these new restrictions."
Marshall also says the state's health authorities will be looking "very closely" at the density arrangements currently in place for licenced venues and will be announcing changes later this week.
"We're also going to be looking very carefully at the numbers who attend our football matches in South Australia and finally fitness studios," says Marshall.
SA recorded two new cases today, meaning the state has recorded nine new cases in the last 10 days.
Of the new infections, one is a returned overseas traveller in hotel quarantine and one is a close contact of a case announced yesterday.
"That particular person has one close contact who will be tested and isolated," says Chief Public Health Officer Dr Nicola Spurrier.
"That group of cases originated from Victoria. That will now be called a cluster."
Dr Spurrier says SA is on high alert because of the ongoing COVID-19 situation in Victoria.
"Obviously this is disappointing to South Australians starting to have this number go upand this absolutely reflects the situation in Victoria" says Dr Spurrier.
"This is a reflection of how transmissible this virus is and how quickly it is spread."
Updated at 1:55pm AEST on 3 August 2020.
---
The house loses $1 billion as COVID-19 hits Tabcorp

The economic effects of COVID-19 are expected to result in a $1 billion impairment charge for gambling giant Tabcorp (ASX: TAH) in its FY20 results.
Announced this morning, the non-cash goodwill impairment charge in the range of $1 billion to $1.1 billion will relate to the Wagering & Media and Gaming Services Businesses.
Tabcorp says they reflect an assessment which took into account the impact of COVID-19 restrictions, the acceleration of retail contraction and uncertainty regarding longer term impacts from the pandemic.
The company also says structural changes in the Wagering & Media businesses, particularly in an increasingly digital-centric market, have taken a toll on Tabcorp.
"We are facing a challenging and uncertain environment, and the current operating conditions and those expected into the future are relevant factors in assessing the value of the goodwill in those businesses at this time," says outgoing Tabcorp managing director and CEO David Attenborough.
"We remain confident in the strength and resilience of Tabcorp's diversified portfolio of assets and are pleased that integration is now substantially complete.
"We are focused on supporting our people and partners during these challenging times while ensuring that Tabcorp emerges strongly post COVID-19."
Tabcorp says the impairment charges are non-cash and will not impact the company's financial covenants with its lenders.
In addition Tabcorp says it expects FY20 EBITDA to be in the range of $990 million and $1 billion and NPAT for the period will be in the range of $267 million and $274 million, down from $369 million in FY29.
Earlier this year Tabcorp was forced to stand down 700 staff as Australian sporting competitions were put on pause, affecting licenced venues and TAB agencies where many of its clients like to take a punt.
A further 160 technology contractors were also let go, representing a cut of 40 per cent.
Because of the situation CEO Attenborough took a 20 per cent fixed remuneration pay cut until the end of FY20, and he is set to step down in the current half-year. Chairman Paula Dwyer will also retire from the board at the end of this calendar year.
Shares in Tabcorp are down 3.37 per cent to $3.44 per share at 10:26am AEST.
Updated at 10:52pm AEST on 3 August 2020.
---
Zero new cases as "very crucial" week begins for QLD

Queensland has reported no new cases of COVID-19 overnight but Premier Annastacia Palaszczuk says this will be a "very crucial" week for controlling the virus in the Sunshine State.
The Premier also revealed all the 105 residents at the Bolton Clarke Aged Care home at Pinjarra Hills, who had a staff member infected with COVID-19, received negative tests.
"In the last 24 hours 7,482 people have come forward to be tested," she said.
Today's news follows the reporting of one new coronavirus case yesterday who had recently returned from overseas via New South Wales and is in quarantine.
The man travelled on a Jetstar flight JQ790 to Maroochydoore on 31 July while infectious - an issue Premier Palaszczuk will be raising with National Cabinet.
"I think now is the time for overseas travelers to definitely go into mandatory hotel quarantine," she said.
"There have been some exemptions. I don't think the time is right now for those exemptions."
Also on the Sunshine Coast, concerns were raised over a lack of social distancing on a crowded hill at yesterday's NRL clash between the Melbourne Storm and the Newcastle Knights at Sunshine Coast Stadium in Kawana Waters.
"The majority of people were seated, they weren't moving around...I want to commend the NRL for taking that very swift action and letting my office know this morning that they will be reducing the numbers [in the stadium] by 1,000," the Premier said at today's press conference.
Deputy Premier Steven Miles noted there were now just 12 active cases in Queensland, of whom one in the Metro North region is considered recovered and seven are still in hospital.
"Our contact tracing has progressed well over the weekend," Miles said.
"There are now just 10 remaining contacts outstanding, and our teams will continue to work to contact those people throughout the day.
"We've now tested nearly 510,000 Queenslanders, which is a great result."
Chief Health Officer Dr Jeannette Young said there had been an increase in turnaround times for test results from the usual 17 hours to beween 31 and 38 hours, but teams were now working to bring the timeframe down to under 24 hours.
Queenslanders with symptoms or who have been to venues registered as attended by coronavirus-positive cases are urged to get tested and stay in self-isolation until they receive a negative result.
The recent cluster that has emerged in Brisbane's south and the Logan corridor led the Northern Territory to declare Brisbane, Ipswich and Logan as COVID-19 hotspots on Friday afternoon.
This means the NT border will effectively be closed to people who have been in these areas in the past 14 days, and if they do enter the territory they will need to go into hotel quarantine at their own expense.
Updated at 11:07am AEST on 3 August 2020.
---
State of Disaster: Melbourne enters Stage 4 lockdown

Significant new restrictions, including an evening curfew and strict travel restrictions, were imposed in Melbourne overnight as the city entered into Stage 4 COVID-19 restrictions.
The new restrictions will last for at least six weeks until Sunday 13 September, with a curfew from 8pm to 5am every night imposed as part of the new State of Disaster.
Melburnians are only be permitted to leave home for work, medical care and caregiving, and can only travel up to five kilometres from their place of residence, including for shopping for essentials.
"Where you slept last night is where you'll need to stay for the next six weeks. There'll be exemptions for partners who live apart and for work, if required," says Andrews.
In addition, regional Victoria will enter into Stage 3 restrictions from 11:59pm on Wednesday in order to curb the spread of the virus outside of Melbourne.
The announcement came yesterday afternoon alongside news the state had recorded 671 new confirmed infections since Saturday, with 6,322 active infections in Victoria.
Seven more people died from COVID-19 in Victoria at the time of Andrews' announcement, taking the state's death toll to 123.
"We must do more. We must go harder. It's the only way we'll get to the other side of this," says Andrews.
"Our health experts tell us the measures we've introduced are working. But too slowly.
"The current rate of community transmission - mystery cases that cannot be traced back to work or home - is far too high.
"Based on the current numbers, cases might begin to drop off not in days or weeks - but in months. Months more of lockdown restrictions. Months more of 300, 400, 500 cases a day."
What are the new rules under Stage 4?
In addition to the curfew and the five km movement restrictions exercise will be limited to a maximum of one hour per day and no more than five km from the home. Only two people can exercise together.
Shopping will be limited to one person per household per day, with the five km rule to apply.
Restaurants and cafes will be allowed to remain open for takeaway and home delivery, while bottle shops will also be allowed to continue trading.
Andrews also says to expect public transport schedules to be reduced to a "fraction" of what they were.
Study at TAFE and university must be done remotely and from Wednesday at 11:59pm, weddings in Melbourne cannot occur.
Face coverings will continue to be compulsory and all schools will return to remote and flexible learning.
Restrictions on funerals will remain unchanged, allowing 10 mourners plus those conducting the ceremony.
Mitchell Shire on the same page as regional VIC
Based on current COVID-19 numbers outside of Melbourne Andrews has imposed Level 3 restrictions in regional Victoria.
Mitchell Shire will join the rest of regional Victoria and stay on the same Level 3 restrictions it has been experiencing for the last few weeks.
This means there will only be four reasons to be out of the house: shopping for food and essential items, care and caregiving, daily exercise, and work & study.
Businesses will be subject to these restrictions too, meaning restaurants and cafes can only offer delivery and takeaway.
Beauty and personal services will need to close, entertainment and cultural venues will need to shut and community sport will stopped too.
Face coverings will be made compulsory and regional schools will return to remote and flexible learning.
"I know that will cause a certain level of anxiety and uncertainty. But the truth is, this is complex - and we're going to take some extra time to make sure we get these calls right," says Andrews.
"The whole way through this, I promised to be upfront. So I'll say this now. This will be imperfect. And for a little while, there'll be more questions than answers.
"It's why I'm asking something else of Victorians - please be calm, please be kind, please be patient."
The declaration of a State of Disaster will give police greater power to enforce these new rules like the curfew and to prevent crowds from gathering at places like supermarkets.
Andrews said in a statement to expect more information sometime today about changes to workplaces and how Stage 4 restrictions will impact businesses.
Victoria invests in research to better understand COVID-19
Today, Victoria announced the beneficiaries of the state's $5.5 million COVID-19 research fund to back cutting-edge medical research projects to better understand, prevent and treat the coronavirus.
The Murdoch Children's Research Institute (MCRI) will use human-derived stem cells to better understand the virus's effects on different organ systems in the body, including the lung, heart, kidneys, brain, immune system and blood vessels, to support the development of targeted treatments.
The multi-agency study - which includes partners from the Doherty Institute, Monash University, and the Walter and Eliza Hall Institute - has benefitted from Australia-first custom-built stem cell processing equipment with sections sourced from Japan and Switzerland.
Among other grant recipients, the Burnet Institute and University of Melbourne will conduct separate studies focusing on improving the understanding of COVID-19 immunity, while Barwon Health will conduct a study in regional Victoria to determine the long-term biological, physiological and psychological impacts of coronavirus.
Alfred Health, Eastern Health and Bendigo Health will undertake projects examining the impacts of coronavirus on the workforce, with a focus on healthcare and other frontline workers.
Separately, the Victorian Medical Research Acceleration Fund will provide $3 million to fund 12 projects across a range of research fields, including a team at RMIT that is exploring a new way to manage viral infections, which could allow for the repurposing of existing drugs to fight coronavirus.
"It is becoming clear this virus can cause longer-term damage to the body's vital organs," says Theme Director of Cell Biology at MCRI Professor Melissa Little.
"Our new research program will generate a wide variety of stem cell derived human tissues to improve our understanding of disease pathology, change clinical care and hasten the rollout of targeted treatment options."
Updated at 9:17am AEST on 3 August 2020.
---
One in four COVID-19 cases not at home in Victoria, 627 new infections today

Victorian Premier Daniel Andrews (pictured) has revealed one in four people infected with COVID-19 are not at home when health authorities come doorknocking.
This disturbing figure was announced alongside the news Victoria crossed the 10,000 cumulative cases mark today with 627 new infections of COVID-19.
Andrews says the Australian Defence Force (ADF) has been ramping up doorknocking efforts over the course of this week and completed more than 500 home visits to positive COVID-19 cases yesterday.
Of those 500 visits more than 130 people were not found at home when the ADF came knocking, meaning one in four are not at home when they should be.
More than 100 of these people have been referred to the Victorian police for breaching COVID-19 restrictions.
"It is simply unacceptable for you to have this virus and not be at home," says Andrews.
"There may be a handful that are out and getting some fresh air; that does not explain these numbers. These numbers go well and truly beyond anything like that and all that will do is spread the virus."
In addition to the 627 new infections of COVID-19 reported today there have been eight more deaths, four of which are from aged care settings.
There are currently 349 people in hospital and 39 in intensive care.
Andrews says because of the high numbers of new cases, including yesterday's record number of new infections, the state and Federal governments are assessing the data to figure out a path forward.
It comes as Victoria crossed the half-way mark of a six-week Stage 3 lockdown imposed to curb the spread of COVID-19 on Wednesday.
"It is clear to all of us that these numbers are still far too high," says Andrews.
"We will spend the next day or so looking through in fine detail, analysing the data, looking for trends, looking to have a really clear sense of exactly what is presenting and exactly what the nature of our challenge is.
"We could not open up with these numbers. Even with significantly less and less numbers. So it may well be the case, and the data may well bear this out and the best advice may well come to me that we need to take further steps; that the steps we've taken are not enough to pull this up."
Victorian Businesses access support grants
The Premier also provided an update on the state's grants to businesses, revealing 12,600 companies had accessed the $5,000 emergency support grant.
Further, 215 tourism businesses have accessed an industry-specific grant designed to soften the blow from the second round of Melbourne lockdowns.
Of the original $10,000 grant Andrews says 77,600 businesses have been paid to date, but applications for those funds are still open so the number is expected grow.
"We're making good progress on those - obviously we'll continue to process those applications," says Andrews.
"My team is working very hard to make sure that those payments are made on time."
As for the $300 emergency payment to individuals in financial distress due to COVID-19 testing restrictions Andrews says 5,200 people have applied.
Thus far 4,200 have been paid out, equating to around $1.26 million in payments to date.
Updated at 11:34am AEST on 31 July 2020.
---
One new case in QLD ahead of border closure to Sydneysiders

Queensland authorities have reported one new case of COVID-19 linked to the Korean restaurant Madtongsan IV in Sunnybank, which was among the venues attended by two 19-year-old women who ignored health directives after returning home from Melbourne.
The new COVID-19 case is a 27-year-old man from Bellbird Park who is believed to be a relative of one of the cases who attended the Sunnybank restaurant on 23 July.
One of his relatives who may be the source of the infection works at Bolton Clarke Aged Care Facility in Pinjarra Hills.
"It's very important that if anyone else was at that Korean restaurant...if you have any concerns, if you are feeling the slightest bit unwell, you must go and get tested," Queensland Premier Annastacia Palaszczuk told a press conference this morning.
"We still have 11 active cases, and I can confirm in the last 24 hours we have had 9,076 tests that have been conducted."
Deputy Premier Steven Miles said 1,500 contacts have now been traced to three recent cases, underlying how important it is for restaurants to keep records of their patrons.
"They allow us to contact people quickly who may have been exposed to the disease," he said.
"It also underlines how important it is that everybody checks that list of places where we think people who have been infected has been.
Premier Palaszczuk reiterated a previous announcement that from 1am tomorrow Greater Sydney will be considered a COVID-19 hotspot. This means people coming to Queensland who have been in that area within 14 days will be turned away, unless they are Queensland residents in which case they must enter hotel quarantine at their own expense.
"There will be delays at the border so think about your travel plans, and think about where you need to go and think about the timing of those journeys," she said.
"I'm not making any apologies for those delays because our police have a very important job to do."
A total of 34 local government areas (LGAs) in Sydney will be considered hotspots, adding 31 LGAs to the existing hotspots Liverpool City, Fairfield City and Campbelltown City, as well as the whole state of Victoria.
Anyone entering Queensland is required to complete a border declaration pass which is valid for seven days, and providing false information or entering Queensland unlawfully could result in a $4,003 fine.
"Today is the day that Queenslanders who are currently in Sydney and who would like to return without going into quarantine must return," added Deputy Premier Miles.
Photo: Google Maps
Updated at 10:39am AEST on 31 July 2020.
---
Sydney: Health alert for venues in Surry Hills, Cabramatta, Marrickville

Last night NSW Health put out health warnings for three locations attended by confirmed COVID-19 cases: Harpoon and Hotel Harry in Surry Hills, Tan Viet in Cabramatta and Matinee Coffee in Marrickville.
These venues are in addition to a warning for Fitness First St Leonards, advised earlier yesterday.
A confirmed case who had been at the Apollo Restaurant in Potts Point on 25 July also attended Harpoon and Hotel Harry in Surry Hills on 26 July from 2.15pm to 11pm in the indoor dining areas.
"People who attended Harpoon and Hotel Harry for two hours in the above time period must self-isolate and get tested and stay isolated for a full 14 days, even if the test is negative. If symptoms develop, get tested again," NSW Health said.
The same advice has been given to people who attended Tan Viet in Cabramatta on 23 July, where a case relating to the funeral gatherings cluster attended, as well as patrons of Matinee Coffee in Marrickville between 8-9am on 26 July and 7-7:45am on 27 July.
Earlier it was revealed another infected person linked to the Potts Point cluster had been to Fitness First St Leonards on Monday July 27 between 9-10:30am.
The venue has been contacted by NSW Health and closed for a deep clean.
The case also attended Woolworths, Crow's Nest on Monday July 27 between 10.30-11am.
"Customers and staff at the store during this time are considered casual contacts. They should continue to monitor for symptoms and get tested if they become unwell," NSW Health said.
New infections update
NSW Health has today confirmed another 21 new cases, with almost a third of them linked to the Potts Point cluster.
The new cases are as follows:
two are linked to the funeral gatherings cluster
three are associated with the Our Lady of Lebanon cluster
two are associated with the Thai Rock Wetherill Park cluster
six are associated with The Apollo restaurant in Potts Point
two cases are associated with the Mounties Club
two are returned travellers in hotel quarantine
one case was acquired in Victoria
two are under investigation
one case is linked to a known case that is under investigation.
NSW Health can advise the Everlearn Childcare Centre in Prestons will be reopening, after a suspected case has subsequently tested as negative. The Centre will resume normal operations on Monday.
There are now 94 cases associated with Thai Rock Wetherill Park, 57 cases associated with the Crossroads Hotel cluster, eight cases associated with Batemans Bay Soldiers Club, and 23 associated with the funeral events and three associated with Mounties in Mount Pritchard. There are 19 cases associated with the Potts Point cluster.
Originally published at 9:23am on 31 July 2020, updated at Noon on 31 July 2020.
---
Dine in or walk away? How to tell if a venue is COVID safe in NSW

New South Wales premier Gladys Berejiklian has called for more businesses to register as COVID Safe, as the state recorded 19 new cases of coronavirus in the 24 hours to 8pm Tuesday night. Berejiklian said:
"If I walk into a venue and I'm not comfortable with how COVID safe that venue is, I'd leave. I expect patrons to do the same."
Good advice and timely, too. As NSW Health's Jeremy McAnulty said on Wednesday, NSW is "at a knife's edge, a critical point".
Here's what to look for when you walk into a bar, cafe or restaurant to know if it's COVID safe and how to know when to walk out the door.
What to look for
Familiarise yourself with the rules business must follow to register as a COVID Safe business in NSW. The rules are here.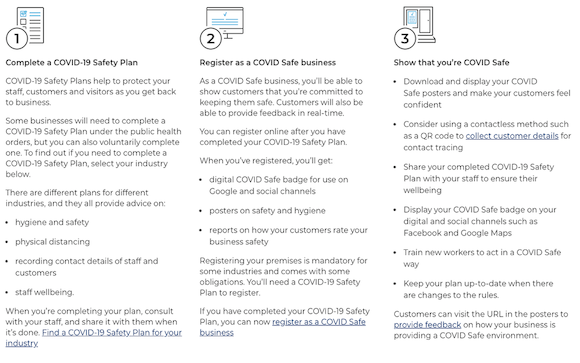 Steps to become a COVID Safe business, according to NSW Health. NSW Health
Check to see the venue's COVID Safe certificate is clearly displayed and that they are taking every patron's contact details. If a patron is dining in, the venue must be recording their contact details or checking they are registered with the COVIDSafe app.
If they're not recording people's details in some way, leave. If a COVID-19 positive case visits that venue, contact tracers are unable to do their job unless all patrons' details are recorded.
Check if tables are appropriately spaced and that cutlery, napkins, glasses, plates, bowls or straws aren't left lying on tables even if they are disposable. Nothing should be on the table for people to pick up (or in a tub for patrons to collect themselves). Cutlery and other utensils should be brought out by staff when your order is ready. The idea is to reduce the risk of a COVID-19 positive person handling your utensils.
Your table should be 1.5m away from other tables but I'd even be trying to keep 1.5m from friends at my own table. Personally, I'd also want to see my friends wearing masks (it's different if you're dining with people with whom you live). Even if you or your friend had a COVID-19 test yesterday and it came back negative, that doesn't mean you're negative today. You could have been infected in the past 12 hours.
Watch what happens when a patron leaves. Are staff appropriately sanitising tables and chairs with spray and, ideally, disposable paper towel? They should be.
Look around to see if the venue provides hand sanitiser for patrons and keep an eye on the staff to make sure they are using it too.
Staff, ideally, should be wearing masks, in my view. I know that's not yet compulsory in many places, but masks provide a barrier if a staff member is unknowingly positive. It's hard to make patrons wear masks, because they have to eat, but I'd be looking for the staff to be wearing them (all staff, not just a couple).
Check if the venue is enforcing contactless transactions to reduce the handling of money, cards and pin pads. I know the evidence about the role of surfaces in spreading this coronavirus is still emerging but we should stick to universal precautions if something can be avoided, it should be.
Staff should be limiting the number of patrons at the venue, and the number of patrons allowed in the venue at any one time should be clearly displayed. If people are lining up outside, make sure they are being spaced out too.
In general, aim for an open-air setting if you can, such as a beer garden or an open-air cafe. The more fresh air flow you have around you, the more transmission risk is reduced. Any sort of indoor socialising, where air flow is limited, is inherently risky at the moment in NSW.
When to leave
Breaches of any of the above would be enough to make me want to leave. But here are some more triggers that would make me think, "I'm getting out of here."
If you see staff or patrons with symptoms they have a cough, or cold, or seem unwell leave.
If they are not wiping surfaces or tables, or allowing patrons to come in and seat themselves, leave. Patrons should be shown to tables that have been sanitised.
If the place is starting to fill up and you sense physical distancing is not being observed leave.
A critical point
NSW is at an especially critical point. I'd be very, very careful right now. If I was in a Sydney hotspot, I wouldn't be going out to dinner at all.
NSW is doing a good job of putting out spot fires but any one of those spot fires can flare up if people aren't taking precautions.
If you thinking of going out, and you are wondering if it is risky, then you are better off not doing it. If you feel you have to go, then mitigate your risk by moving the event outside or making sure everyone is distancing and wearing masks.
COVID-19 is a really serious disease that affects young and old. You can get sick or even die, even if you are young and healthy and the evidence on long term effects is worrying. And of course, healthy people can pass it on to someone who is in a high risk category. It's so important that everyone continues to observe the appropriate protocols today. This week. This weekend.
Until COVID-19 either burns out globally or we get a vaccine and neither of those are right on the horizon and may not happen at all then this may become the new normal, sadly.
Infection control measures remain our best chance of keeping the pandemic in check.

Lisa Bricknell, Senior Lecturer in Environmental Health, CQUniversity Australia
This article is republished from The Conversation under a Creative Commons license. Read the original article.
Updated at 4:22pm AEST on 30 July 2020.
---
Ten NSW venues to be fined for "serious" breaches of COVID-19 restrictions

Venues have been urged to comply with COVID-19 restrictions in New South Wales or face a hefty fine as the state's health authorities prepare to crack down on breaches this weekend.
Ten more venues have been singled out by the Department of Customer Service today for breaches including not having a safety plan, non-compliant record keeping, and a lack of social distancing.
Liquor & Gaming NSW, SafeWork NSW and NSW Fair Trading have visited 410 licenced venues since the new restrictions were introduced, issuing $50,000 in penalty infringement notices for breaches of COVID safety.
Executive director of compliance, Peter Dunphy, has labelled non-compliant behaviour as reckless with the potential to put livelihoods, jobs, and community health at risk.
"It beggars belief that anyone would want to eat, drink and mingle, shoulder to shoulder with others during a pandemic," Mr Dunphy said.
"Pubs, clubs, bars, casinos, cafes and restaurants are high risk for COVID transmission. They are subject to public health order conditions specifically designed to keep them open and keep our communities safe.
"We all need to play it safer - businesses as well as customers."
These ten pubs, clubs, cafes and restaurants will be fined $5,000 each:
Mapo Galbi Korean BBQ - Gosford
Natapit Samintkaew - Central Coast
Thai Thyme - Erina
Hero Sushi - Erina
Heart 2 Heart - Cumberland
Master Hot Pot - Cumberland
Tamworth Service Club - Tamworth
Greyhound Social Club Ltd - Yagoona
Hurlstone Park Hotel - Hurlstone Park
Kingswood Hotel Kingswood
The NSW Government also announced yesterday that in addition to hospitality premises, gyms will be subject to new public health orders from Saturday 1 August at 12:01am.
"You never know who is filming or taking photos or when police and inspectors might visit your business," Mr Dunphy said.
The warning comes as clusters of COVID-19 infection continue to grow, tracing back to a number of venues in Sydney.
As of today, there are now 89 cases associated with Thai Rock Wetherill Park, 57 cases associated with the Crossroads Hotel cluster, and eight cases associated with Batemans Bay Soldiers Club.
A cluster from The Apollo restaurant in Potts Point has also continued to grow today with four new cases associated with the venue in NSW and two in Queensland.
NSW Health has advised anyone who attended Frank's Pizza Bar Restaurant in Camperdown on 27 July from 6pm to 8pm to monitor for symptoms after a case attended the establishment.
Updated at 4:01pm AEST on 30 July 2020.
---
Mask rules will cover all of Victoria as new COVID-19 cases climb to 723

After a new daily record of 723 COVID-19 cases in Victoria, Premier Daniel Andrews is rolling out two new measures to "jealously guard" the low number of infections in regional areas.
Masks will be made mandatory across the whole state as of midnight on Sunday, while as of midnight tonight residents in the Geelong corridor will not be allowed to have visitors to their homes.
Of the 5,385 active cases in the state just 255 are in regional areas, but a high percentage of those happen to be in the Geelong region.
In response, residents in Colac-Otway, Greater Geelong, Surf Coast, Moorabool, Golden Plains, and the Borough of Queenscliffe, will no longer be allowed to have visitors as of 11:59pm tonight.
"To date, new cases in regional communities have largely been contained to workplaces. Increasingly though in some locations we're seeing a different kind of spread," Andrews said.
"Understandably, there'll be plenty of questions about why this and not that. Why you can have dinner together at a restaurant but not at a mate's place?
"And the simple truth is the data - the data is telling us that outside work this is the single greatest cause of transmission in these communities. People are visiting friends and family and taking the virus home with them."
He said this made sense, as these were the occasions when people tended to let their guards down, relaxing and forgetting about social distancing rules to stay safe.
There were 13 new deaths overnight, and the total number of confirmed infections since the pandemic began is now just below 10,000.
The Premier said the decision to make masks required state-wide was because it could be implemented without causing a significant economic cost but get a really significant public health benefit.
"I understand this will a big step for some. But by covering your face, you're protecting your community, and protecting those extra freedoms your community enjoys," Andrews said.
"From midnight Sunday, everyone in regional Victoria and therefore everyone across the whole state will have to wear a mask, and I stress, or a face covering, whenever they're out of their home."
Usual exemptions that are now well understood in Metropolitan Melbourne and Mitchell Shire, such as strenuous exercise, will also apply to regional Victoria.
"But I don't think this is the biggest leap...many, many people in regional Victoria where they have that sense that they can't distance, can't maintain that 1.5 metres apart, are already wearing masks," he said.
"Both these decisions are on the advice of the chief health officer...we have low numbers in regional Victoria, and we want to jealously guard that - we want to keep those numbers low.
"These are preventative steps. They're an abundance of caution approach."
Victorians going to work while sick with COVID-19
Shockingly, Andrews today revealed that there is a small number of people still going to work after testing positive for COVID-19.
He says, as part of Australian Defence Force's doorknocking program, they have come across a number of people who were not at home depsite being infected with the virus and were instead out at work.
"If you're a positive case then you need to be at home and you need to be isolating," says Andrews.
"These numbers today are a reflection of increased cases in aged care, that's one element...But the key point here is that too many people are still going to work when they have symptoms.
"So long as that continues then we will continue to see numbers go up. To put it another way, we will not get businesses reopened and we will not see many businesses survive...as long as people continue to go to work when they are unwell."
A $300 Test Isolation Payment is available to eligible Victorians, including parents and guardians of children, who are required to self-isolate while waiting for the results of a coronavirus test.
Further, a $1,500 payment is available to those who have been asked to self-isolate or quarantine at home either for those diagnosed with coronavirus or those who are a close contact of a confirmed case.
Update: An earlier version of this article incorrectly stated that there were 732 new cases of COVID-19 in Victoria today. The actual number is 723 new cases.
Updated at 11:35am AEST on 30 July 2020.
---
Important step around the corner for Mesoblast COVID-19 treatment

A major milestone is "imminent" for Australian regenerative medicine company Mesoblast (ASX: MSB) as its potential treatment for severely ill COVID-19 patients faces one of its biggest tests to date.
Following encouraging early results for its candidate product remestemcel-L in treating severe acute respiratory distress syndrome (ARDS) in patients with the virus, Melbourne-based Mesoblast's trials are advancing in the US.
The country's independent Data Safety Monitoring Board (DSMB) has set a date for early September to complete the first interim analysis of a Phase 3 trial of the medicine in ventilator-dependent COVID-19 patients with moderate to acute ARDS.
The trial's first 90 patients will have completed 30 days of follow up during August, after which the DSMB will perform an interim analysis review of the safety and efficacy data.
The DSMB will then inform Mesoblast on whether the trial should proceed as planned, or should stop early.
If the Phase 3 continues, up to 30 leading medical centers across the United States are expected to participate in the trial with recruitment due for completion in September.
The clinical protocol for evaluation has been based on results from a pilot study on patients under emergency compassionate care at Mt Sinai Hospital in New York, whereby nine of the 12 people treated were taken off a ventilator and discharged from hospital within a median of 10 days.
The current trial is randomised with placebo controls of 1:1 with two intravenous infusions of remestemcel-L to be received three to five days apart, or the placebo on top of maximal care.
Related stories: Mesoblast emboldened by lung disease treatment results
Mesoblast raises $138m to bolster manufacturing for potential COVID-19 medicine
Mesoblast ramps up trials for COVID-19 treatment
Mesoblast treatment achieves "remarkable" results for critical COVID-19 patients
Updated at 12:03pm AEST on 30 July 2020.
---
Three new COVID-19 cases in QLD, two linked to growing The Apollo cluster

A cluster of COVID-19 cases connected to The Apollo at Potts Point is still growing, with six new cases today including two in Queensland and four in New South Wales.
Queensland has recorded three new confirmed cases of COVID-19, but none are connected to the two 19-year-old women who returned from Melbourne and ignored self-isolation orders.
Both of the Queensland cases linked to the Potts Point restaurant have been self-isolating since their return home.
The third is a man in his 20s who returned from the United States and is in hotel quarantine.
Queensland Deputy Premier Steven Miles says the news validates the government's decision to close the State's borders to Greater Sydney yesterday.
"The fact that two of these three new cases came from Sydney, as well as the fact that two of the cases we recorded yesterday had transited through Sydney underlines how important it is that we have made that decision to declare Greater Sydney a hotspot," says Miles.
"It will allow us to control cases returning from Sydney where we know there are out breaks and that means it was the right decision."
While none of the new cases reported today by Queensland authorities are connected to the two 19-year-old women, Chief Health Officer Dr Jeannette Young says the state is still on high alert.
"In the last two days we've had six cases. It's been a long time since we've had those sorts of case numbers," says Dr Young.
"So this is an incredibly risky time for Queensland. We need to get through the next week."
Dr Young has encouraged anyone displaying symptoms to self-isolate and immediately get tested for COVID-19.
NSW update
New South Wales has recorded 18 new cases of COVID-19 today, bringing the total number in the state to 3,547.
Of the new cases:
Two are linked to the funeral gatherings cluster,
Four are associated with the Thai Rock Wetherill Park cluster,
Four are associated with The Apollo restaurant in Potts Point,
Two are returned travellers in hotel quarantine, and
Six are under investigation.
There are now 89 cases associated with Thai Rock Wetherill Park, 57 cases associated with the Crossroads Hotel cluster, eight cases associated with Batemans Bay Soldiers Club, and 20 associated with the funerals. There are eleven cases associated with the Potts Point cluster.
NSW Health has advised anyone who attended Frank's Pizza Bar Restaurant in Camperdown on 27 July from 6pm to 8pm to monitor for symptoms after a case attended the establishment.
Three cases have now attended the Mounties at Mount Pritchard and new times have been identified. Anyone who attended the club from 6pm Wednesday 22 July to 3am on Saturday 25 July must isolate and get tested regardless of symptoms, but stay isolated for a full 14 days even if they test negative.
Health authorities have also expanded testing advice to Perisher after commencing a research program to test sewage for traces of COVID-19 across NSW.
Initial samples collected at the Perisher sewage treatment plant on Wednesday 22 July 2020 returned a positive result for the presence of COVID-19.
Further sampling and analysis is required to assess the significance of this initial positive result. The positive sewage result can be due to shedding of the virus by someone who may have previously had the illness, with the virus 'shedding' through their system for up to four weeks later.
"While no cases of COVID-19 have been identified in Perisher or Thredbo to date, it's important that anyone who was in this area get tested if they have even the mildest of symptoms," says NSW Health.
There are 100 COVID-19 cases being treated by NSW Health currently, with five people in intensive care and one being ventilated.
Updated at 10:33am AEST on 30 July 2020.
---