Staying informed is more important than ever as the situation unfolds with Covid-19. Stay tuned here for our live updates, and be sure to let us know what your business is doing to face this unprecedented challenge.
---
Suncorp store closures will lead to 550 job cuts

The Finance Sector Union of Australia (FSU) has today revealed Suncorp's (ASX: SUN) major restructure will involve 550 job losses, following the announcement on Wednesday that 19 stores and one business centre would be closed.
The Brisbane-headquartered banking and insurance group will permanently close several locations across Queensland, New South Wales and Victoria, although most of these stores have been shut already since April when COVID-19 restrictions came into place.
The company explained customers of the stores concerned have moved to online, claiming that their nearest in-person option such as an alternative store or Australia Post outlet was usually within 500 metres or no further than several kilometres.
Suncorp noted affected employees would however be given the opportunity to apply for contact centre roles they can perform from their local communities.
FSU Queensland local executive secretary Wendy Streets argues that as a large financial services company Suncorp should have the capacity to maintain its business operations through the global pandemic and the subsequent recession caused by Covid-19.
"However, instead of valuing the staff it currently employs and planning for playing its part in rebuilding the Australian economy once the pandemic subsides, Suncorp has taken a short-sighted decision to make up to 550 roles redundant," says Streets.
"While Suncorp says 180 new roles will be created, there are no guarantees that any displaced employees will successfully be redeployed into these new roles.
"This is the worst time to be unemployed and we know how difficult it will be for some of these Suncorp workers to find new jobs."
After noting Suncorp recently recorded a statutory profit of $913 million, Streets said it was difficult to see how the loss of so many loyal employees will not affect frontline services to customers.
"Suncorp is a profitable finance company and in these difficult times, with so many Australians out of work, if we can't rely on companies like Suncorp to do the right thing by their employees, who can we rely on?"
In a response today, a Suncorp spokeswoman said the group continued to "align" its teams under an operating model announced on 1 July.
"The new model is designed to deliver on our priorities and ensure we can support the changing needs of our customers through COVID-19," she said.
"This week teams were advised of proposed changes across our business and we are fully committed to consulting with our people and supporting those impacted.
"We expect a number of new roles to be created while it's also likely some people will leave the organisation."
Earlier this week, Suncorp's executive general manager of consumer distribution, Chris Fleming, said many customers had switched to digital banking in 2020 and would likely continue to bank that way beyond COVID-19 and face-to-face transactions will fall further.
He said the number of digital transactions has risen by 10 per cent this year and two-thirds of new accounts have now opened online. At the same time, over-the-counter transactions are down almost 60 per cent since June 2016.
"Suncorp must make changes to our business so we can keep up with our customers' demands and remain a strong alternative to the major banks, which is something our customers also value," Fleming said.
"We can only be a genuine choice over the major banks if we focus on customer needs and keep our bank strong."
Updated at 4:58pm AEST on 11 September 2020.
---
Federal Government to subsidise business events with $50m in grants

The Federal Government will cover up to half of the costs for Australian businesses involved in conferences and events as part of a $50 million grant program intended to help restart the sector.
Under the Business Events Exhibitor Grants program, Australian businesses exhibiting at an approved business meeting, convention, conference or incentives event in 2021 will be able to apply for upfront grants to cover up to 50 per cent of their costs.
The grants on offer will range from $10,000 to $250,000 per business.
The scheme is aimed at encouraging businesses to attend events, trade shows and conferences, with the government covering the costs associated with exhibiting such as exhibition space hire, the manufacture of displays, travel and accommodation.
Prime Minister Scott Morrison says the funding will support the business events industry that was heavily hit by COVID-19 restrictions, with around 95 per cent of business events for 2020 either cancelled or postponed.
"Getting business events up and running again will be a critical part of the recovery of our tourism industry, but will also have huge flow-on effects through the entire economy," said Prime Minister Morrison.
"This is not only about supporting events companies and venues, but will also be a shot in the arm for a broad range of businesses and the people they employ - whether it's accommodation providers, those who build exhibitions, caterers, cleaners or those offering audio-visual services."
The Business Events Council of Australia (BECA) has welcomed the announcement, hoping the targeted support will drive confidence and create momentum for the sector.
"Australia's business events industry wholehearted welcomes the Federal Government's support through this grants program. Australia's business events industry has left devastated by the COVID-10 pandemic, at a cost to our economy of $35.7 billion, and counting," says chair of the Business Events Council of Australia Dr Vanessa Findlay.
"Today announcement is an important step towards recovery. We can now look to rebuilding business confidence and kick-starting momentum across the entire business events supply chain for meetings, conventions, incentives and exhibitions.
"BECA's goal is to both support the business events industry and maximise the contribution that this makes to the recovery of our wider economy. This support package will be pivotal to that."
BECA notes that last year over 480,000 business events were held in Australia and over 43 million people attended a business event in the form of a meeting, convention, exhibition or incentive event.
In a recent survey conducted by BECA, 67 per cent of businesses said they don't have any business events confirmed for 2020 and 48 per cent of businesses said they don't have any business events confirmed for 2021 either.
More information about the Business Events Exhibitor Grants program can be found here.
Updated at 10.59am AEST on 11 September 2020.
---
New QLD public health alerts for Westfield Garden City, Orion Springfield Central

Queensland Health has today expanded its list of venues where confirmed cases of COVID-19 cases visited while infectious.
The list now includes two major shopping centres in South East Queensland, including Orion Springfield Central Shopping Centre in Springfield Central and Westfield Garden City in Mount Gravatt.
The public health alerts note the confirmed COVID-19 case visited stores like Big W, City Beach, Woolworths, Pandora and more.
Anyone who has been to these locations at the times specified should monitor for symptoms of COVID-19 and get tested if any present: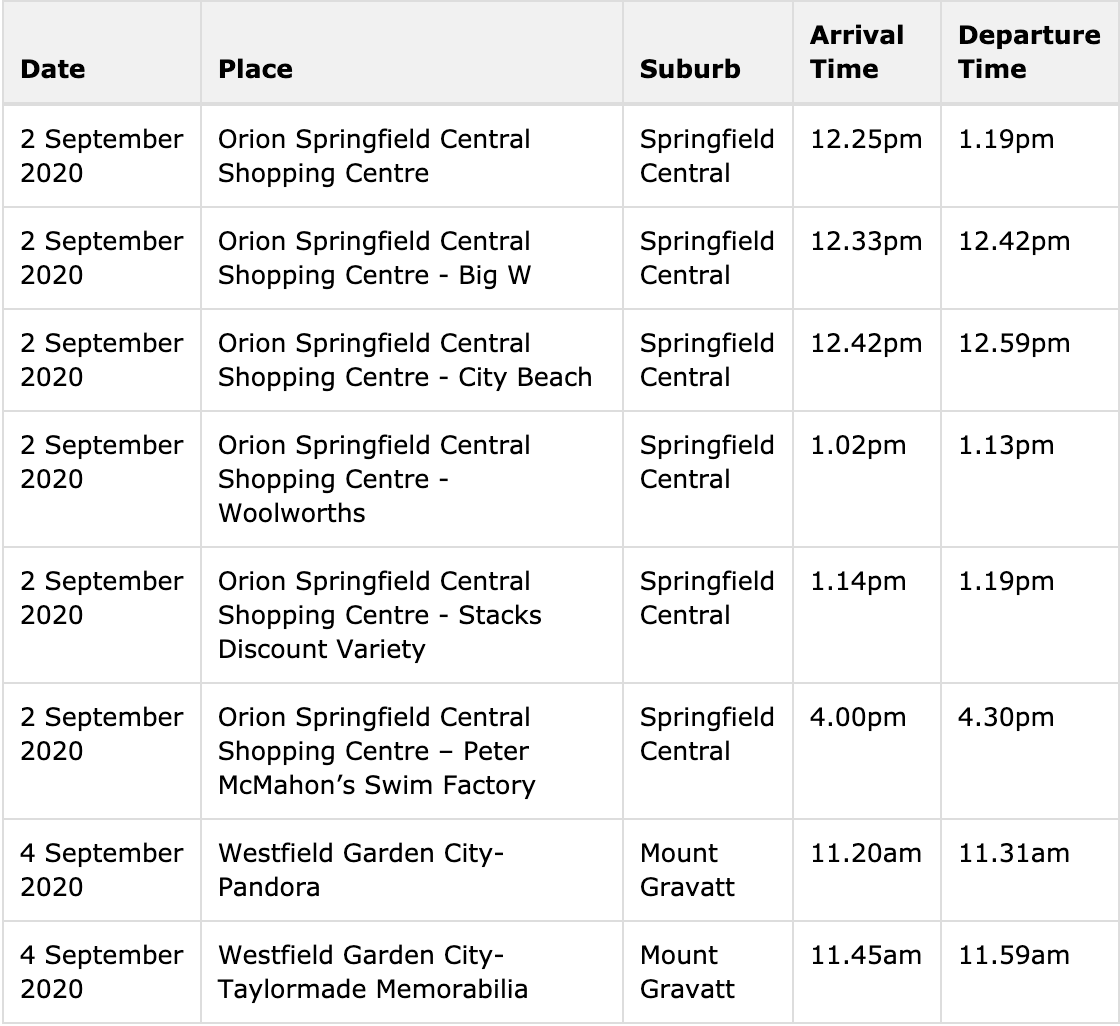 The health alerts come as Queensland records two new confirmed cases of COVID-19 today.
Both of the cases are direct contacts of already confirmed cases and have been in home quarantine while infectious.
One is the seventh member of a household to have contracted COVID-19, meaning all members of that household have now had the virus.
There are now 28 active cases of COVID-19 in Queensland, bringing the cumulative number of infections in the state since the pandemic began to 1,145.
Victoria has also confirmed that there are 43 new cases of COVID-19 in the state today, down from 51 yesterday.
The state also recorded nine new deaths from COVID-19 today, bringing the total number of deaths since the pandemic began in Australia to 797.
Updated at 9.43am AEST on 11 September 2020.
---
Tax on vacant properties waived in Victoria

Owners of vacant land in Victoria will not have to pay tax on their properties this year as part of the state government's sweeping pandemic relief measures.
Announced today by Victorian Treasurer Tim Pallas, the government will waive the Vacant Residential Land Tax for properties that are vacant in 2020.
The state government says the waiver is necessary considering travel restrictions and heavy lockdown measures which make property inspections impossible and leave many properties vacant that would otherwise be occupied.
Additionally, car park owners will have 25 per cent of this year's congestion levy waived by the state government.
Car park owners can also defer any outstanding balances until next year.
"We've listened to the sector and we've acted. These are small changes but they will make a big difference towards getting to the other side of this virus," says Treasurer Tim Pallas.
"These restrictions are keeping us all safe but they come at a devastating economic cost that's why we're providing billions of dollars in support to those who need it most."
Updated at 3.56pm AEST on 10 September 2020.
---
Inner Melbourne economy to take $23.5 billion hit from COVID-19 in 2020, PwC research shows

Modelling released today shows the City of Melbourne's (CoM) economy is likely to contract by 22 per cent on pre-COVID levels this year, making it the hardest hit region in the country.
PricewaterhouseCoopers (PwC) research commissioned by the CoM estimates a $23.5 billion reduction on last year's record economic output of $104 billion, which accounted for almost a quarter of Victoria's gross state product (GSP).
A total reduction of $49 billion - or 8 per cent - is expected over five years under a scenario in line with the latest government projections, but prolonged public health measures could lead to a $110 billion fall over the period.
Under that worst case scenario considered by PwC, Victorian state-wide economic output would be $327 billion below pre-COVID projections over five years, affecting around 398,000 jobs.
The report also notes co-dependencies for the state and national economy, which have historically been driven by growth in major cities.
Overall, the CoM is expected to bear the brunt of jobs and output decline across Victoria, with the daily population in the city running at 34 per cent of 2019 daily averages.
The report also considered a scenario of a quicker and stronger recovery, under which CoM's economic output over five years would be down $41 billion with GSP down by $74 billion.
"This shows that the difference between a slower and quicker recovery over the five years is $69 billion in CoM economic output," the report stated.
"This highlights the importance of the speed and strength of recovery and cements the importance of the CoM in driving Victoria's response."
Lord Mayor Sally Capp said the city economy was booming before COVID-19, describing it as the economic powerhouse of Australia.
"The scale of the economic shock being felt across the central city is unprecedented," the Lord Mayor said.
"The modelling shows more than 22,000 jobs could be lost in our accommodation and food services sector this year alone. We can't afford to lose our world-class food, café and retail culture."
She said the new data showed Melbourne needed urgent support from the Victorian and Australian Governments to support businesses.
"We are working closely with the State and Federal governments to secure further support for businesses and investment for the city's reactivation when it is safe to do so," she said, adding her council was making a record $50 million investment in rate relief and stimulus packages to help the economy recover as quickly as possible.
A return of international students is one of the critical factors to help ensure a faster recovery, with the report highlighting how the University of Melbourne was the state's largest exporter by value last year.
"The closure of domestic and international borders has forced the deferral of thousands of international student enrolments in 2020, significantly impacting institutions like the University of Melbourne which relies on overseas student fees for 35 per cent of its income," the report stated.
"It will also impact the local economies which house these institutions, with ABS data showing for every $1 lost in university tuition fees, another $1.15 is lost in the broader economy due to student spending."
The report also emphasises inner Melbourne's historic strength in drawing tourists to the state, which received 95.5 million visitors in the year to March 2020.
"The tourism expenditure for these visitors was $31.3 billion, which amounts to spending of approximately $85.6 million per day in the State," the report stated.
"With the exception of visitors from China, the top source markets by overnight visitor spend were visitors from Victoria, New South Wales, Queensland, and South Australia, highlighting the significance of Victoria as a colourful domestic travel destination.
"The Greater Melbourne region drew 39.6 per cent of these visitors to Victoria. For international tourists, who make up only 3 per cent of visitors to Victoria but 26 per cent of tourism expenditure, Melbourne provides a gateway for arriving visitors to explore the rest of the state."
Under a scenario in line with current government projections, the City of Melbourne's accomodation, food services and retail trade is set for a 42 per cent decline in employment, compared to a 30 per cent reduction for the state.
PwC also pointed to inner Melbourne's startup economy as another strong driver of jobs growth and productivity.
"The Life Sciences and Fintech subsectors are the largest contributors to the city's startup economy, with the latter accounting for 80 per cent of key funding investment across Australia in the last financial year.
"These startups thrive in environments, such as that found in CoM, characterised by an abundance of talented founders and employees, strong investment opportunities, proximity to research organisations, universities, and corporate organisations, and a conducive policy environment.
"In aggregate, city workers produce 23 per cent more value add than the average Victorian worker. This is driven, in part, by the concentration of diverse businesses in the Melbourne CBD and Docklands precincts and the associated agglomeration economies for CoM."
Updated at 9:50am AEST on 10 September.
---
Deloitte reveals scale of hospitality spending slump, but retail rebounds

Divergence in spending across the retail landscape means not all categories are on an equal footing, despite a strong lift in total spending volumes during June and July 2020.
As a result, there has been a wide range of growth across both categories and states, with sectors like recreational goods and liquor performing exceptionally well while spending at cafes, restaurants and catering services has plummeted.
The findings, from Deloitte's quarterly Retail Forecasts report for the third quarter, demonstrate how overall retail spending is faring better than general consumer spending.
According to Deloitte, retail volumes fell just 3.4 per cent over the June quarter, compared to a 12.1 per cent collapse in household spending.
Looking ahead, the report forecasts this positive momentum will continue into the September quarter, with retail volumes expected to bounce back by 5.4 per cent.
Even on a year-on-year basis retail spending volume are up 7.4 per cent in June compared to the previous year.
However, Deloitte Access Economics partner and the author of the Retail Forecasts report David Rumbens says while the figures look healthy on a first glance, the real story is told when broken down into categories.
"There is an enormous gulf in retail performance by sector. Restrictions have sent cafes, restaurants and catering services into a tailspin, with spending remaining over 20 per cent lower than pre-COVID levels in the month of July," says Rumbens.
"Meanwhile, with more people at home more of the time, spending on recreational goods, alcohol, electrical and electronic goods, and hardware, building and garden supplies have surged, with all posting more than 30 per cent gains in the month of July compared to pre-COVID levels.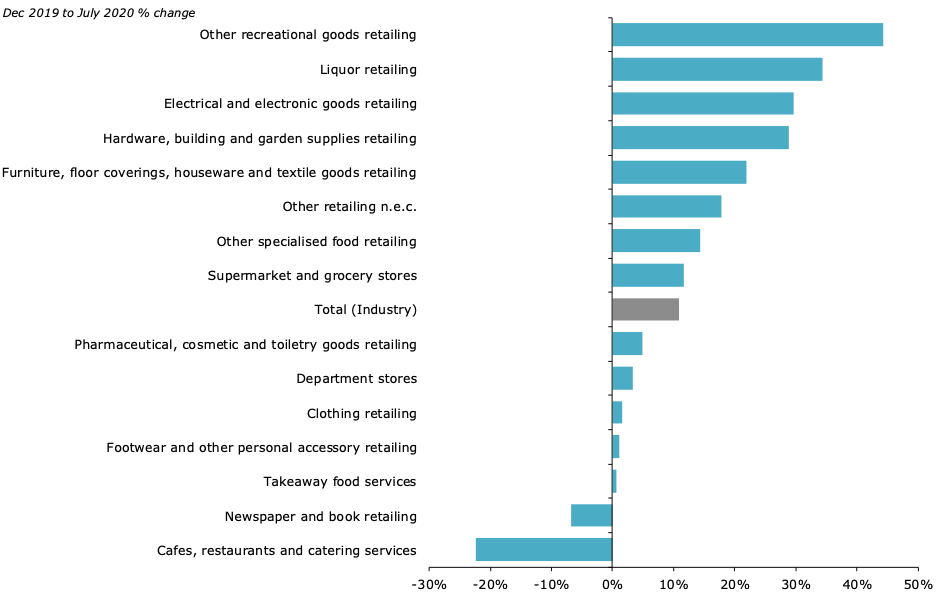 Change in nominal retail spending compared to pre-COVID levels (via Deloitte)
"And it's not just categories experiencing a divergence in spend. Victoria's second wave COVID outbreak and Stage 4 restrictions have sent the state back into a spending slump. Meanwhile retailers in Queensland and Western Australia continue to benefit from the easing of restrictions."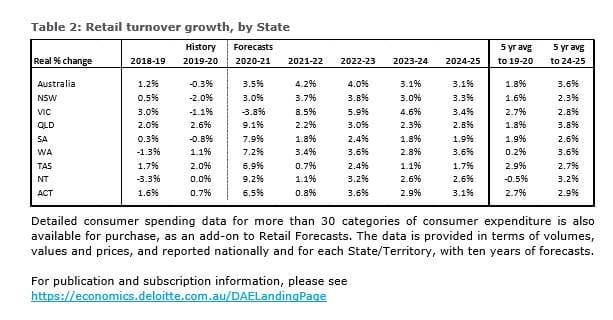 According to Rumbens the COVID-induced employment crisis has hurt take home incomes and eroded consumer willingness to spend.
This is despite fiscal stimulus resulting in more cash washing through the economy, adding 2.2 per cent on average to household disposable income.
"Unfortunately, we weren't willing to go out and spend this extra cash, with the savings rate skyrocketing to 19.8 per cent as households prepare for what they expect to be further difficult and uncertain times ahead," says Rumbens.
"Looking forward, some parts of retail are expected to take longer than others to recover. Supermarkets, specialty food and liquor, household goods, and other retailing have already exceeded December's pre-COVID spending levels for spending over a whole quarter.
"However, it is expected to take much longer for department stores, catered food and apparel to reach this benchmark."
Updated at 1.00am AEST on 10 September 2020.
---
Safety concerns trigger pause of AstraZeneca COVID-19 vaccine trial

Pharmaceutical company AstraZeneca has put its late-stage trial of a potential COVID-19 vaccine on hold after a participant fell ill.
According to the British-Swedish multinational, which is working on the vaccine with Oxford University, the voluntary pause is part of its "standard review process".
The suspension, described as a "routine action", will give the company time to investigate the cause of the illness in the participant.
"This is a routine action which has to happen whenever there is a potentially unexplained illness in one of the trials, while it is investigated, ensuring we maintain the integrity of the trials," says a spokesperson from AstraZeneca.
"In large trials illnesses will happen by chance but must be independently reviewed to check this carefully.
"We are working to expedite the review of the single event to minimise any potential impact on the trial timeline. We are committed to the safety of our participants and the highest standards of conduct in our trials."
The announcement from the pharmaceutical giant comes just two days after biotechnology company CSL (ASX: CSL) announced it would be manufacturing 30 million doses of the AstraZeneca vaccine.
According to CSL, that vaccine is expected to be ready for the Australian public in early 2021. AstraZeneca has not indicated whether this pause will delay that timeline.
CSL also announced on Monday it would be producing 52 million doses of a vaccine developed by the University of Queensland if clinical trials are successful.
Updated at 10.40am AEST on 9 September 2020.
---
Public health alert issued for China Doll restaurant, Balmain pub shut down

A number of new public health alerts have been issued for venues in New South Wales, including for high-end restaurant China Doll in Woolloomooloo and a golf club in Paramatta.
A pub in Balmain has also been shut down for one week after authorities determined it had repeatedly breached COVID-19 restrictions.
The alerts come after confirmed cases of COVID-19 visited the venues, with NSW Health urging other attendees to isolate for a fortnight and get tested immediately.
NSW Health says an infectious person dined at China Doll on Thursday 3 September, with a small number of patrons and staff considered close contacts. They have been directed to self-isolate and seek testing.
In addition, NSW Health says anyone who attended the following venues at the specific times are considered to be close contacts and must isolate immediately:
Oatlands Golf Club, 94 Bettington Rd Oatlands, on Friday, 4 September, 6:30-8:45pm. Anyone who attended the Bavarian Night Dinner in the Bistro on Bettington main dining room is a close contact and should isolate and get tested immediately.
Paperboy Café, 18 Tennyson Rd Concord, Sunday, 6 September, 10am-12pm.
Further, anyone who attended the following venues at the specified times is considered a casual contact and must monitor for symptoms of COVID-19:
Stanhope Village Shopping Centre, including Kmart Stanhope Gardens, on Monday, 7 September, 8.30am-9.30am
Clovelly Hotel on Saturday, 5 September,12:45-1:45pm
Rouse Hill Town Centre, including Target Rouse Hill, on Saturday, 5 September, 12.30pm-1.30pm
Fitness First Maroubra, 737 Anzac Parade Maroubra, on Saturday, 5 September, 8am 12pm
"NSW Health is working with Fitness First to identify people who attended the Maroubra gym that morning, and will directly advise those who are considered to be close contacts and need to get tested and isolate for 14 days," says NSW Health.
Balmain pub shut down for breaches of COVID-19 restrictions
The Unity Hall Hotel in Balmain is the first venue in NSW to be formally closed for one week after it was found to be breaching public health orders.
Authorities from NSW Liquor & Gaming found the pub was not following COVID-19 safety plan requirements while hosting two birthday parties, just one day after receiving a penalty notice for other breaches.
The venue will be closed for seven days from 5am today in addition to having been fined a total of $10,000 by Liquor & Gaming and NSW Police.
"The venue was fined $5,000 after our inspection on 5 August, where inspectors identified an out of date COVID-19 Safety Plan, inadequate sign in processes relating to not recording times of entry and digitising records, and a lack of physical distancing between chairs and tables," says Liquor & Gaming director of compliance Dimitri Argeres.
Liquor & Gaming says a penalty notice was issued for those offences on 7 August.
When police attended the pub on 8 August in response to a complaint from a member of the public they observed a private function of 32 guests who were dancing, standing and mingling while consuming alcohol.
Police fined the venue $5,000 and then referred the matter to Liquor & Gaming to consider further action.
Liquor & Gaming reviewed the CCTV which corroborated breaches of physical distancing; 10-person limits on bookings; dancing; and staying seated while consuming alcohol.
"This is the risk posed by not following the Public Health Orders and not adequately implementing COVID-safe practices. People in large groups who are known to each other are far more likely to mingle including by dancing and this increases the risk of transmission," says Argeres.
"Each person brings with them a history of interaction with others in the community which means the more people in a group, the more close contacts they are sharing across that group.
"To repeatedly not comply with the Public Health Orders poses a clear and significant risk to public health."
Updated at 9.27am AEST on 9 September 2020.
---
Business insolvency and bankruptcy protections extended until the end of 2020

Temporary insolvency and bankruptcy protections to assist financially distressed Australian businesses during the COVID-19 pandemic have been extended until 31 December 2020.
The Federal Government will introduce regulations to extend the temporary increase in the threshold at which creditors can issue a statutory demand on a company, as well as the time companies have to respond to demands they receive.
In addition, the changes will extend the temporary relief for directors from any personal liability for trading whilst insolvent.
"The extension of these measures will lessen the threat of actions that could unnecessarily push businesses into insolvency and external administration at a time when they continue to be impacted by health restrictions," Federal Treasurer Josh Frydenberg and Minister for Industrial Relations Christian Porter said in a joint statement.
"These changes will help to prevent a further wave of failures before businesses have had the opportunity to recover.
"As the economy starts to recover, it will be critical that distressed businesses have the necessary flexibility to restructure or to wind down their operations in an orderly manner."
Updated at 12.39pm AEST on 7 September 2020.
---
CSL to manufacture UQ and Oxford COVID-19 vaccines for Australia

Biotechnology giant CSL (ASX: CSL) will manufacture more than 80 million doses of COVID-19 vaccines for supply in Australia, slated for release in 2021.
The manufacture and supply agreements are contingent on the success of clinical trials at both the University of Queensland and Oxford University where the vaccines are being developed.
Once trials are complete, the deals will see 52 million doses of UQ's vaccine made by CSL for Australia, plus 30 million doses of the Oxford vaccine.
First doses of the UQ vaccines are scheduled for release in mid-2021, while Oxford's would be ready in early 2021.
UQ is currently undertaking Phase 1 clinical studies on its vaccine to assess how safe it is in healthy human volunteers.
"The social and economic impact of the COVID-19 pandemic has brought a high level of urgency to the task of developing a vaccine against the SARS-CoV-2 virus, and to manufacture a successful vaccine at high quality and in sufficient quantities," says CSL CEO and managing director Paul Perreault.
"CSL has been working at pace to respond to the pandemic and has invested significant resources in the rapid development and large-scale manufacture of UQ-CSL V451, along with a number of other therapeutic programs.
"Together with partners including the University of Queensland and Coalition for Epidemic Preparedness (CEPI), our development and manufacturing teams have been working extremely hard to advance this program to ensure the availability of a safe and effective vaccine should clinical studies prove successful."
Perreault says results from the pre-clinical and early clinical studies for UQ's vaccine are promising, but he notes it is impossible to predict the level of success the university will have in late stage trials.
"CSL's focus is to produce a safe and effective vaccine," says Perreault.
"It is important that on completion of clinical trials, the public has confidence in UQ-CSL V451, which makes use of the well-established recombinant protein technology platform, and Seqirus' proprietary adjuvant MF59, which has an extensively safety track record in humans."
Shares in CSL are up 0.30 per cent to $279.89 per share at 10:57am AEST.
Updated at 11.19am AEST on 7 September 2020.
---
Victorian cases lowest since June

Victoria has today recorded its lowest daily case rate in more than two months at 41, reaching a level in line with conditions for the staged relaxation of restrictions planned for later this month.
The state's Department of Health and Human Services (DHHS) announced the encouraging figures for the past 24 hours this morning, although it also reported nine lives were lost.
The last time Victoria reported a lower daily case rate was on 27 July with 40 new cases, of which 15 were from unknown community sources.
That proportion of unknown sources, which is more worrying for epidemiologists as they attempt to get on top of the virus, was in stark contrast to the last two days when all cases were from known sources.
Premier Daniel Andrews says the fall in numbers shows the strategy is working, and the goal is to drive them down further so that when the state opens up in slow and steady steps, it can stay open.
"To go from 725 cases to 41 cases in a month, that demonstrates to you that this strategy is working. The sacrifices that we are making, all of us, are worth something. I want that to count and that's why we simply can't open up as quickly as everyone would like us to," he said.
"I'm grateful, I'm proud of every single Victorian and the work that they're doing - without that, we simply can't keep driving these numbers down. Please get tested if you've got any symptoms, and please look out for each other. These are difficult times."
It is a cautious approach that Premier Andrews will help give Victorians not just a sense of normality when the state opens up, but one that is lasting and can be defended throughout 2021 until a vaccine is available.
Victoria currently has 1,781 active cases, with 266 people in hospital of whom 25 are in intensive care, and out of that group 17 are on ventilators.
Updated at 9:22am AEST on 7 September 2020.
---
Melbourne Stage 4 lockdown extended by two weeks, easing roadmap unveiled

With new daily cases of COVID-19 still above 60 in Victoria, Stage 4 lockdown restrictions in metropolitan Melbourne will be extended for two weeks before the state cautiously eases into a new normal.
As such, current Stage 4 lockdowns will be in place until 28 September, subject to public health advice.
But after that date Victorians will slowly move out of heavy COVID-19 restrictions, with an aim to reach the final step on the roadmap from 23 November.
According to Premier Daniel Andrews, the decision to extend Stage 4 was made with reference to extensive modelling which demonstrated that a third wave of COVID-19 was inevitable if restrictions were eased too fast.
"This is not a 50/50 choice. The modelling...indicates that if we open up too fast then we have a very high likelihood that we're really opening up at all, we're just beginning a third wave," Andrews said.
"We will be back in and out of restrictions, in and out of lockdown before the end of the year. Indeed, potentially, well before the end of the year.
"We can't run out of lockdown; we have to take steady and safe steps out of lockdown to find that COVID normal."
During the two week extension of Stage 4 in Melbourne restrictions will be changed somewhat to accommodate those living alone.
From 11.59 pm on 13 September the curfew will be expanded to 9pm instead of 8pm in recognition that the days are getting longer as Victoria heads into the warmer months.
Additionally, exercise will be permitted for two hours per day, and social bubbles will be allowed to accommodate those who live on their own and have been socially isolated for a long period of time.
Playgrounds will reopen and public outdoor gatherings of two people will be allowed.
Restrictions to be eased from 28 September
Subject to health advice, and if Melbourne is only recording between 30 to 50 new cases of COVID-19 per day at the time, restrictions will be eased further from 28 September.
At that time public outdoor gatherings can increase to up to five people from two households, and school will return for students in prep, grade 1 and grade 2.
More workplaces will be allowed to reopen at that time (particularly the construction industry), outdoor pools will reopen, outdoor personal training will be allowed, and outdoor religious gatherings of up to five people will be permitted.
From 26 October the 9pm curfew will no longer apply, Melburnians will be able to leave home for any reason and for any distance, and public outdoor gatherings of up to 10 people will be allowed.
Additionally, visitors to homes will be permitted of up to five people from another nominated household.
Retailers and hairdressers will also be allowed to reopen, hospitality will recommence with outdoor seated service, and non-contact adult sport will make a staged return.
The final step of the roadmap will begin from 23 November and will see gathering sizes increase and most of the economy able to operate under COVID-19 guidelines.
As such, public outdoor gatherings will be allowed for up to 50 people, and visitors to the home will be allowed with up to 20 people at a time.
Hospitality services will be mostly back online, with seated indoor service of up to 20 people.
Real estate operations will recommence, and weddings and funerals will be allowed with up to 50 people.
"We would all like to reopen up as quickly as possible. We would all like to find that COVID normal or indeed go back to actual normal as soon as possible, but that is not the nature of this virus," Premier Andrews said.
"You can't run out of lockdown, because all you're doing is running into a third wave and we'll all be locked up again.
"I want a Christmas that is as close to normal as possible, and this is the only way."
Because the state's COVID-19 cases are predominantly being detected in metropolitan Melbourne, regional Victoria will be able to move along the easing roadmap faster.
As such, the state's regions, currently in Stage 3 restrictions, will be able to jump to the second step of reopening from 11.59pm on 13 September.
Today's announcements came as Victoria reported 63 new cases of COVID-19 today and just five deaths attributed to the virus.
There are 283 people in hospital because of COVID-19 in Victoria, with 16 people on a ventilator.
Updated at 1.05pm AEST on 6 September 2020.
---
All but WA agree to December border opening goal, NZ hotspot plan in the works

The vast majority of Australia's states and territories have today agreed on ambitions to lift border restrictions and reach Stage 3 of the Federal Government's COVID-safe roadmap by December.
In addition, the hotspot approach to facilitating or restricting free movement between states and territories may be expanded to New Zealand, allowing Trans-Tasman tourists to visit Australia.
The agreements were made during today's National Cabinet meeting, which saw every state and territory except Western Australia coming to a consensus; the latter avoiding a set deadline due to its success so far in combatting the virus and avoiding recession.
Essentially, this means by Christmas every state and territory border would be open (potentially excluding WA's border), gathering sizes would be increased to 100, and more staff would be back in the workplace.
Prime Minister Scott Morrison says the country is in a very different position to where it was back in March when the roadmap was unveiled, but he is hopeful life will soon return to a semblance of normality.
"Now, almost six months later, all the states and territories sit in a different position and they're coming from a different point of risk," Morrison said.
"So we've agreed today, seven out of eight states and territories, that before what you know what you've got to do, you've got to agree where you're going to.
"We said before we wanted to get there in July and the virus prevented us from achieving that, but seven out of eight states wants us to get back to that position in December of this year."
Morrison clarified he understood and respected Western Australia's unique position, emphasising the National Cabinet process meant "the door is always open" should the state change tack.
Therefore, while WA is not joining the rest of the country on agreeing to the December date for open borders, it will engage with the states and territories on a case by case basis at a later time.
WA Premier defends stance, highlighting "gangbusters" economy thanks to hard border
Following the PM's press conference, WA Premier Mark McGowan has clarified his government and health authorities' rationale for the decision.
He notes the state's ongoing position is supported by the findings of the Federal Court, which ruled in its favour against the hard border challenge brought by Clive Palmer.
The court deemed a hotspot approach would be less effective than Western Australia's hard border measures in preventing the spread of COVID-19.
"Today at National Cabinet we discussed border controls at length. It was a productive discussion but I made it clear that Western Australia would not be agreeing to a hotspot model or hotspot definition which replaces our successful border controls," Premier McGowan says.
"A date will be set when our health advice recommends it, but that might be some time away.
"We've been through this before, and then Victoria happened. Opening and closing borders just causes more confusion, and it isn't a good outcome for the state's economy."
He emphasises WA is not in a recession like the rest of the country, and opening the borders prematurely could lead to "economic devastation", not to mention more deaths from the virus.
"WA does not have border communities so we don't face the associated social disruption seen on the Eastern Coast. In WA we have positive economic activity, business confidence is buzzing, and retail trade is increasing and businesses are hiring," he says.
"WA's housing and construction market is responding well to stimulus measures. It's going gangbusters. Weekly land sales have reported a sharp increase with the introduction of housing grants - more homes are being built, the building pipeline has increased by more than 75 per cent between late April and mid-August.
"Retail figures for July were released today and they show in WA retail trade grew by 3.8 per cent, and by 6.2 per cent in annual average terms; the best result in seven years."
After 146 days with no community transmission cases and just two remaining active cases in the state, McGowan says the "island within an island" approach gives him confidence, but it also brings consequences for families who haven't seen each other for a long time.
"I feel for those people. I also cannot see my mother and father, and my brother in New South Wales, but I want to thank so many people for their understandings and commitment to doing the right thing as we monitor the situation," he says.
Hotspot approach may extend to New Zealand
With all state and territory chief health officers in agreement about what constitutes a 'hotspot' under a broad definition, PM Morrison says he is working to bring New Zealand in on the approach.
This could mean that if New Zealand is not designated as a hotspot, states and territories could allow tourists from our neighbouring island to visit.
"When we're in a position to do so, and when the acting Chief Medical Officer has come to a set of arrangements with New Zealand, then we would be able to have New Zealanders come to Australia," says Morrison.
"That doesn't mean Australians can go to New Zealand - that's a matter for their Prime Minister - but if there's no COVID in Christchurch and there's no COVID in Queensland then there's no reason both of them can't come to Sydney.
"That will mean an important boost for our tourist economy, whether it's in New South Wales or anywhere else."
Further, bringing New Zealand into the program would take the pressure off states like New South Wales in accommodating Australians returning from overseas.
"New South Wales have had to do the heavy lifting on [hotel quarantine]," says the PM.
"The idea that New Zealanders do not have to go into quarantine, because they come in from COVID-free areas, will also free up space.
"Equally, if states are requiring Australians come in from areas where there's not COVID cases like the ACT, and they don't have to go into hotel quarantine places, well that obviously frees up more capacity."
Agriculture Workers Code adopted by most states and territories
Five out of the eight states and territories have agreed to adopt the proposed Agriculture Workers Code, with just QLD, WA, and TAS declining to join.
The code, designed to ensure border closures do not diminish Australia's food production and supply chains, will be immediately put into place in SA, NSW and VIC.
"They will begin immediately to put that prescriptive code in place to facilitate a greater engagement of agricultural workers and other important workers in the agricultural sector, so as not to dislocate what is occurring in the ag sector between those three states and territories," says Morrison.
Updated at 2.27pm AEST on 4 September 2020.
---
Virgin creditors accept terms ahead of Bain Capital handover

Virgin Australia CEO Paul Scurrah says the airline is closer to exiting administration after a successful second meeting of creditors today, with expectations shares will be transferred to Bain Capital by 31 October.
The US fund is buying out the group for $3.5 billion, and its 10 proposed deeds of company arrangement (DOCAs) covering 41 Virgin Australia-associated entities were approved by creditors in an online meeting.
Deloitte administrators Vaughan Strawbridge, John Greig, Sal Algeri and Richard Hughes have confirmed the DOCAs will be signed, and completed, within 15 business days.
The DOCAs provide for the previously announced partial return of funds to unsecured creditors, in the range 13 and 9 cents in the dollar on claims from funds of $462 million and $612 million.
Once shares have been transferred a proposed creditors' trust is set to be created to adjudicate claims and pay distributions, all undertaken by the Deloitte Restructuring Services partners as trustees.
The timing of the payment of the dividend to creditors has been estimated at between six and nine months from completion of the sale transaction.
The DOCAs also provide for the value of all customer travel credits and prepaid flights provided post-administration; continued employment for the majority of employees and entitlements paid in full, including for those leaving the business; the continuation of the Velocity Frequent Flyer program; the retention of aircraft and equipment; and interim funding and acceptance of economic risk by Bain from 1 July 2020.
"This outcome provides certainty for employees and customers, a return to creditors, opportunities for suppliers and financiers to continue to trade with the Virgin Australia Group as well as maintaining a competitive Australian aviation industry for the benefit of consumers," says joint voluntary administrator Vaughan Strawbridge.
"While the outcome of the meeting today is a significant milestone for both the future of Virgin Australia and Australia's aviation industry more broadly, we also acknowledge those loyal Virgin Australia Group employees who will lose their jobs and the difficulties that this will cause them and their families as well as the numerous suppliers and investors who will not receive all of the monies owed to them.
"The outcome has also been achieved due to the incredible support from Virgin management and staff, unions who have played an important part in securing the future jobs for so many of their members, financiers, service providers, trade suppliers, and other key stakeholders including the federal government."
However, Strawbridge explained there was still a lot of work to do to complete the restructuring of the airline and complete the sale transaction before the business is ready to emerge from Voluntary Administration under Bain Capital's ownership.
Virgin Australia CEO Paul Scurrah says it is vital for the country to have two major airlines for consumer choice, value airfares and to help support the recovery of a robust tourism sector after this crisis is over.
"This is an important outcome for Virgin Australia, which brings us closer to exiting administration and allows us to focus on the future," says Scurrah.
"While we can feel very proud that we have got to this point, the impact of COVID-19 remains very challenging for our business and industry. These are tough times and we must remain focused and adapt to this new environment.
"It's been an incredibly tough journey for our people and they should be commended for how they have handled themselves. I'm pleased today gives us some more certainty around the company's future."
Updated at 2:16pm AEST on 4 September 2020.
---
Eviction moratorium in VIC extended until March 2021

A moratorium on evictions in Victoria will be extended until 28 March 2021 to give both residential tenants and landlords more certainty as the state emerges from Stage 4 lockdowns.
In addition, eligible residential tenants will now be able to apply for rental relief of up to $3,000, an increase of $1,000 to what was previously announced.
Further, the eligibility criteria for relief, which is essentially an assessment of asset holdings, will be increased to $10,000.
This means families will be able to amass significantly more funds than before to be eligible for relief under the Victorian government's program.
The residential tenancies dispute resolution scheme will be also extended until the 28 March 2021 to enable landlords and tenants to work together in good faith to reach new rental agreements in this current climate.
"Everybody would understand the importance of a home in the current environment, the security of a roof over your head in these difficult times," says Victorian Treasurer Tim Pallas (pictured).
"We've assessed how the virus is presenting, the length of time that we know that people need security and certainty in terms of their residences going forward."
Residential landlords who give tenants relief under the scheme will be entitled to 2021 land tax relief in addition to relief already provided in the 2020 calendar year.
"Once it is recognised and appropriate agreements have been struck, and there is a clear indication of proportionality that appropriate relief has been given to tenants and that landlords should expect similar relief from the state in regard to the land tax obligations," says Pallas.
The announcement comes as Victoria reports 81 new confirmed cases of COVID-19 today.
The state has also attributed 59 more deaths to the coronavirus today, including a number of historical deaths that are the result of the reconciliation of data between private aged care providers, the Commonwealth and Victorian health officials.
Updated at 12:53pm AEST on 4 September 2020.
---
Sydney: New public health alert issued for Fitness First in Randwick

UPDATE (11:50am, 4 September): New heatlh warnings issued for New Brighton Golf Club, Aldi North Strathfield, Bunnings Padstow.
NSW Health has added new dates to a public health alert for Fitness First in the Sydney suburb of Randwick after confirmed COVID-19 cases attended the gym.
Anyone who attended the gym between Sunday, 23 August and Tuesday, 1 September should monitor for symptoms and get tested if they develop.
The alert follows notification of an additional two cases who attended the gym.
"NSW Health is continuing to work with Fitness First Randwick to identify and notify close contacts," says NSW Health.
In addition, Regents Park Christian School was closed yesterday for deep cleaning after a case of COVID-19 was confirmed late Wednesday night.
NSW Health is contacting people who attended after-school hours care on Monday, 31 August and Tuesday, 1 September, from 3-6pm.
All children and staff who attended at these times are considered close contacts and have been directed to get tested and isolate for 14 days, and stay isolated for the entire period, even if a negative test result is received.
Health alert issued for New Brighton Golf Club
More health warnings were issued later this morning for three Sydney-based venues and businesses.
NSW Health has confirmed a COVID-19 case attended New Brighton Gold Club while infectious on 28 August 2020.
Anyone who was at the club for more than two hours between 6.15pm and 12.30am on that date is considered a close contact must self-isolate and get tested.
Further, anyone who attended the following businesses at the specified times should monitor for symptoms:
Aldi North Strathfield, 20 George St North Strathfield Tuesday 1 September 2020, 10:00am-10:30am
Bunnings Padstow, 88 Fairford Rd Padstow Thursday 27 August 2020, 12:00pm-2:00pm
The warnings come as NSW Health has diagnosed eight new cases of COVID-19 in the state, bringing the cumulative total number of confirmed cases since the pandemic began to 3,910.
Of the eight new cases, one is a returned traveller and seven are locally acquired and linked to a known source or cluster.
Of the seven linked to known clusters, three are contacts of cases linked to the CBD cluster, two are contacts linked to the St Pauls Catholic College Greystanes cluster, and two are household contacts of previously reported cases linked to Liverpool Hospital.
Updated at 9.45am AEST on 4 September 2020.
---
QLD expands border bubble to Moree, records zero new cases

After reporting its first 24-hour period of no new cases in 10 days, the Queensland Government has taken the decision to extend its border travel bubble to Moree in northern NSW.
The move follows complaints from Moree residents who haven't been able to see their children in southern Queensland boarding schools, as well as the recent burning down of the only supermarket in the nearby Queensland border town of Mungindi.
Queensland's Chief Health Officer Dr Jeannette Young told a press conference this morning she had been working very closely with her NSW counterpart, sharing information to help find a solution.
"With that information I'm very confident that Moree is a safe place to add into our border zone that we're looking at for New South Wales," Dr Young said.
"We know that's particularly important. I went and looked into it in great detail because unfortunately when that supermarket burnt down they didn't have a lot of options...the distances, if you look at them, it would be quicker for them to have travelled down into Moree."
She said the decision was made mainly because it was deemed safe to do so, remembering that the extension could potentially change.
"But at this point in time New South Wales does have control of their outbreak and they've been able to limit it to other parts of New South Wales," she said.
"The risk, of course, is that people in those other parts can travel up into the northern part of New South Wales, but I discussed that risk every single day with my counterpart in New South Wales."
Premier Annastacia Palaszczuk's message was "well done Queensland" after reporting zero new cases overnight, but emphasised the state was "not out of the woods yet" with 25 active cases.
The Premier also announced the launch of a special dedicated health unit for residents of northern New South Wales.
"There is a team of eight specialists that will that will involve doctors, nurses, paramedics and also social workers because this is often a distressing time for people," she said.
Dr Young noted 900 New South Wales residents were treated in Queensland hospitals last week.
"We are continuing to provide essential and emergency health care to people who live in northern New South Wales, because we've always done that," she said.
"Traditionally, Queensland provides that care. There has been no change to that."
The Premier added there was currently a team of 80 people working in the unit for exemptions.
Photo: VisitNSW
Updated at 9:47am AEST on 4 September 2020.
---
Have we just stumbled on the biggest productivity increase of the century?

One of the most striking responses to the COVID-19 pandemic has been the sudden, shift of around half the workforce to working at home.
In many cases, this was combined with an equally sudden shift to home schooling.
Contrary to what might have been expected, working from home was one part of the pandemic response that went remarkably smoothly. Most kinds of office work continued almost as if nothing had changed.
Discussion of the crisis has mostly worked on the assumption that a return to something like the pre-crisis 'normal' is both inevitable and desirable.
But the unplanned experiment we have been forced to undertake suggests we might have stumbled upon a massive opportunity for a microeconomic reform, yielding benefits far greater than those of the hard-fought changes of the late 20th century.
The average worker spends an hour on commuting every work day. Remarkably, this is a figure which has remained more or less stable since Neolithic times, a finding known as Marchetti's Law. (The same observation has been attributed to Bertrand Russell).
If working from home eliminated an hour of commuting, without changing time spent on work or reducing production, the result would be equivalent to a 13% increase in productivity (assuming a 38 hour working work).
If half the workforce achieved such a gain, it would be equivalent to a 6.5% increase in productivity for the labour force as a whole.
For a comparison, let's look at the radical microeconomic reforms of the 1990s, including privatisation, deregulation and national competition policy.
In 1995 the main advocate of these reforms, the Productivity Commission, then called the Industry Commission, estimated they would increase national income by 5.5%.
In retrospect, that estimate appears to have been over-optimistic.
Although there was an upsurge in measured productivity growth in the mid-1990s, the total increase relative to the long term trend was less than 1 percentage point per year above normal and low productivity growth since then has wound back those gains.
These gains are big, compared to those we sweated on
Even so, those reforms were, and to a large extent still are, widely seen as a crucial contributor to economic prosperity.
So, an improvement of 6.5% would be a huge benefit. It would be enough over a few years to offset the economic costs of the lockdown and many other impacts of the pandemic.
But, as in the case of microeconomic reform, this initial estimate may be misleading. And even if there are real benefits on average, it's important to ask who will get them and who, if anyone, will lose.
A study by Harvard and New York University economists finds that people working from home spend around 48 minutes more time per day connected to their offices, leaving an average gain in free time of only 12 minutes per day.
It seems likely however, that at least some of this time is spent on household tasks, especially to the extent that workers had to take on child care and home schooling during the lockdown period. And, as well as saving commuting time, workers also save the monetary costs of commuting and at least some of the time spent getting ready for work.
On balance, it seems clear that on average working from home yields net benefits.
However, workers for whom social contacts at work represent a significant "fringe benefit" will lose that benefit while other workers who value privacy or separating work and social life will gain a benefit.
It'll be harder for managers
Similarly, those who rely on chatting to colleagues to develop ideas will lose something relative to those who prefer more systematic approaches to obtaining information relying on electronic contact.
Another group of workers who might lose from remote working are middle managers.
To the extent that management depends on "presenteeism", that is, physically keeping an eye on workers, remote working presents problems.
Intrusive checking on computer activity is likely to be resisted and evaded. Managers will have to learn to manage by objectively assessing results rather than observing what people do, and to get that evidence accepted further up in the hierarchy.
manageable for employers
For employers, the shift to working from home has had little immediate impact. Workers wages haven't changed, and, at least in the short run, neither has spending on office space.
But in the long run, remote working offers the possibility of much greater flexibility in hiring. Some employers such as Facebook's Mark Zuckerberg have already floated the idea of paying workers less because they can now live in cheaper locations, setting the stage for future conflict.
For the most part, disputes over sharing the benefits of remote office work will be hashed out between employers, workers and unions, in the ordinary workings of the labour market.
But what about the other half of the workforce, who don't have the option of working from home? In particular, what about the mostly low-paid service workers who depend on people coming into offices?
If the productivity gains made possible through remote work are to be shared by the entire community, substantial government action will be needed to make sure it happens.
Most obviously, the higher rate of JobSeeker allowance has helped us get through the pandemic without the upsurge in suicide and other measures of social distress predicted by many. Returning to the poverty-level unemployment benefit (the old Newstart) would be a disaster.
We'll need to change the way we support workers
The pandemic has shown how whole sectors of the economy, such as aged care, rely on casual workers piecing together multiple jobs, with no access to standard conditions like sick leave. Younger workers in particular suffer from underemployment and difficulties in making the transition to permanent full-time work.
What will be needed is both an expansion of publicly funded employment in a wide range of services including aged care and a reversal of trends towards casual and contract employment.
Disastrous though it has been, COVID-19 has taught us a lot about ourselves and about how our economy and society work. If we learn these lessons, we might be able to benefit and mitigate at least some of the harm done by the disaster.
John Quiggin, Professor, School of Economics, The University of Queensland
This article is republished from The Conversation under a Creative Commons license. Read the original article.
---
Starpharma secures funding to develop COVID-19 nasal spray

Shares in Starpharma (ASX: SPL) are on the rise after the pharmaceutical company announced it has received $1 million in funding to develop its COVID-19 nasal spray.
The company was selected by the Australian Government's Medical Research Future Fund (MRFF) as a recipient of the funding to expedite the development and commercialisation of its novel SPL7013 nasal spray.
The listed pharmaceutical company was selected as one of five recipients of MRFF funding for its project the Fund determined was "capable of achieving substantial and rapid impact in the global response to the COVID-19 pandemic within 12 months".
The spray has demonstrated potential to prevent both acquisition and transmission of COVID-19 due to its broad-spectrum antiviral properties.
While its efficacy to prevent the spread of COVID-19 was at the forefront of the company's mind during development, Starpharma says the spray could also play a role for other respiratory viruses.
Additionally, Starpharma says while its initial focus is on a nasal spray as the most rapid path to market, SPL7013 could also be administered via eye drops, inhalers, or injections.
"Feedback from clinicians and healthcare providers indicates a strong interest in a preventative product for COVID-19 as an additional line of defence, in addition to conventional PPE and vaccines," says Starpharma.
"The product would have application for the general population, including those in the frontline of this crisis, such as doctors, nurses and those exposed to crowded and high-risk environments, such as public transport, airlines and aged care."
The expedited development and commercialisation process to get SPL7013 onto shelves has been ongoing since April.
To date, the company has already identified a manufacturer for the spray with pilot manufacturing already underway.
Further, work has commenced on compiling regulatory documentation in preparation for submission.
"We are very pleased that the SPL7013 COVID-19 nasal spray has been selected for this grant, especially from such a large and competitive field of applicants," says Starpharma CEO Dr Jackie Fairley.
"This is an important initiative aimed at accelerating Australian innovations to address the global COVID-19 pandemic and we thank the Government for continuing to fund programs like these that drive the local development of novel, innovative therapies for patients globally.
"We are proud of our contribution to the Australian biomedical industry response to combat COVID-19."
Receipt of the funding comes hot on the heels of the announcement that Starphrama has created a slow release, water soluble version of COVID-19 treatment remdesivir.
That announcement saw the company's shares hit a record high of $1.90 per share on 1 September.
Today, the company's shares are up 4.91 per cent to $1.71 per share at 2.40pm AEST.
---
Photo: The concept of the treatment of the common cold at home. Male nose and nasal spray close up by Marco Verch under Creative Commons 2.0
---
Never miss a news update, subscribe here. Follow us on Facebook, LinkedIn, Instagram and Twitter.
Business News Australia
---
Churchgoers in isolation after COVID-19 case attended Sydney service

NSW Health has issued a public health warning for visitors of a church service at Life in the Spirit Ministry in Prestons after a confirmed COVID-19 case attended a service.
Those who were at the Preston church on 30 August from 12.30pm to 2.30pm are considered close contacts and must be tested for COVID-19 and self-isolate for 14 days until midnight on 13 September.
The warning comes as 12 new cases of COVID-19 were confirmed today in New South Wales, including three returned travellers in hotel quarantine.
Of the 12, three are locally acquired, including two in a South Western Sydney family and a case in Parkes, with no source of infection identified at this point.
One is linked to a previously reported case in South Eastern Sydney whose source is under investigation, and the remaining five are linked to known cases or clusters.
Among today's new cases is a contact of a previously reported case in a student at St Pauls Catholic College Greystanes and a new case in Girraween Public School, bringing the total linked to the schools to 12.
In addition to the public health warning for Life in the Spirit Ministry, NSW Health has asked anyone who attended the following venues to get tested as they are considered casual contacts of confirmed COVID-19 cases:
Westfield Chatswood on Thursday, 27 August from 1pm-1.50pm
Gram Café and Pancakes, Chatswood Station on Thursday, 27 August from 11.10am-12.15pm
Balmain Community Pharmacy, 273 Darling Street, Balmain, on Monday, 31 August from 11am-11.20am
God's Power Ministries Heckenberg, 18/7-9 Progress Circuit, Prestons, on Sunday, 30 August from 2.50pm-3.30pm
Quality Suites Camperdown in the foyer, 108 Parramatta Rd Camperdown on Saturday, 29 August 3.15-4.30pm
Leaf Café & Co, Lidcombe Shopping Centre on Monday, 31 August from 11.30am-1.30pm
Updated at 12:52pm AEST on 3 September 2020.
---
Victorian recovery roadmap to be released on Sunday

Victorian Premier Daniel Andrews (pictured) has described a recently leaked roadmap to recovery blueprint as "out of date" and clarified an updated plan will be announced on Sunday, 6 September.
The leaked documents revealed by the Herald Sun signalled an extension of Stage 4 lockdown restrictions for two weeks, followed by an easing from 28 September.
The publication reported that blueprint also entailed changes from 14 September whereby single people could have one visitor at their homes and limited outdoor gatherings would be allowed.
But Premier Andrews said these documents have no status.
"We will on Sunday give people a clear roadmap with as much detail and as much certainty as we can possibly provide," he told a press conference this morning.
"It won't be guided simply by dates on the calendar though. It'll be guided by the science and the data; it'll be guided by how many cases there are in Victoria, and the types of cases.
"There is an enormous amount of modelling going on at the moment. That does take quite some time - literally thousands of scenarios are run through various computers and processors."
The state reported new daily cases above the 100-mark again today at 114 and 15 lives lost.
The Premier emphasised the easing of restrictions would need to be done in a safe way, reiterating that if everything opens up too quickly the COVID-19 case numbers will explode and authorities will have "no sense of control whatsoever".
"It's not something that occurs from the 14th of September. It's not an instant thing...we have to find a COVID-19 normal and lock that in with the aim of those settings remaining in place for 2021, or indeed until we receive a vaccine," he said.
"I know everyone wants to open up tomorrow. I understand that, but if we were to do that these numbers will explode, and we will have a couple of weeks of sunshine and we will be back most likely in an even worse position than we were four or five weeks ago."
Updated at 10:41am AEST on 3 September 2020.
---
SA declared COVID-19 free

Update: SA has since recorded one new case of COVID-19 on 5 September, its first in nearly two weeks.
With no active cases South Australia has been declared COVID-19 free today by Premier Steven Marshall.
It has been 10 days since SA last reported a positive COVID-19 case, and the state has only recorded 459 positive infections of the coronavirus since the beginning of the pandemic.
However, according to SA Health, a woman in her 40s who returned from interstate has tested positive to COVID-19.
She was a confirmed case interstate but was cleared to enter SA and was not considered infectious while travelling.
The woman is now in hotel quarantine, and the current positive result represents an old infection and does not contribute towards SA's COVID-19 case numbers.
As SA currently has its borders open to visitors from Queensland, SA Health has asked all travellers returning from Brisbane and greater surrounds, Logan, Ipswich, Darling Downs, Toowoomba, and the Gold Coast to closely watch for COVID-19 symptoms on their return to SA and to get tested for COVID-19 if any symptoms develop, even if mild.
Despite the declaration that SA is COVID-free, health authorities are still asking those in the state to practice social distancing, good hygiene, and to stay at home if unwell.
Updated at 5:47pm AEST on 2 September 2020.
---
AFL Grand Final to be played in Brisbane

AFL chief executive Gillon McLachlan has today confirmed Queensland will be home to the Grand Final this year, with the Adelaide Oval playing understudy to Brisbane's Gabba in case any COVID-19 outbreak disrupts plans.
The match will be held outside Victoria for the first time in 123 years, and will be the played under lights at night for the first time as well in what McLachlan described as an opportunity to make it a "truly unique event".
The game will be held on 24 October although the exact time is yet to be decided.
Speaking from the AFL quarantine hub on the Gold Coast, McLachlan said the decision was by no means a "done deal" from early on, and confirmed Perth was not chosen as the back-up option due Western Australia's very strict border controls.
He said presentations from different states to host the final were "outstanding" and the decision was "extraordinarily difficult". In the end the choice was based on the following criteria:
Safety in the best environment for all;
Integrity and the need for uncompromised games in a high-performance environment;
Fans and the engagement with existing and new supporters;
Financial support for the game in a year when revenue has been so impacted; and
The legacy and long-term vision for the game.
Premier Annastacia Palaszczuk has welcomed the decision, claiming the state is honoured and ready.
"I want to thank the AFL, and especially the game's fans in Victoria, for trusting Queensland with their most important event," the Premier said.
"This will be a once-in-a-lifetime opportunity, so we are determined to give everyone a Grand Final they'll never forget."
More than 30,000 fans will be allowed into the stadium under COVID-safe plans that have allowed the season to progress safely this year in Queensland. However, contingency measures are in place in case there are COVID-19 outbreaks that warrant a reduction in crowd numbers.
Premier Palaszczuk said the AFL Grand Final would be an economic boost for the state and an opportunity to attract new fans.
"Rather than marking the end of a very difficult year I hope it marks the beginning of a whole new era," she said.
"Very few industries have been as hard hit by COVID-19 as our tourism and events businesses, so to be able to host the AFL Grand Final in Queensland for the first time ever is a huge confidence boost," added Tourism Minister Kate Jones.
"This is so much more than a game of footy, this is a chance to show Australia exactly what Queensland offers when it comes to being not only an events destination, but a tourist destination."
The Victorian Government also announced it had agreed to the relocation of the AFL Grand final for one year, with that year to be added to the MCG's decades-long Grand Final contract.
Victorian Minister for Tourism, Sport and Major Events Martin Pakula said the decision to hold the event outside the state was made in the interests of Victorians and all footy fans.
"This is a one-off deal in a one-off year that means the Grand Final can be played in front of supporters, as it should be," he said.
"The pandemic is a life and death battle and we cannot risk our hard-fought gains for the sake of rushing back to crowds before it is safe.
"This agreement secures the Grand Final at the MCG until 2058 and reinforces our position at the heart of Australian football."
McLachlan thanked the Queensland Government for making the relocation possible, with plans underway to help it successfully stage the biggest event on the AFL calendar and share it with the community.
"This is a really exciting opportunity for our code to take our biggest game to new audiences across Queensland and to also provide a lasting legacy for future generations," McLachlan said.
The AFL chief also thanked Pakula and Victorian Premier Daniel Andrews for working with the organisation so the Grand Final could be played in front of a crowd.
"The Victorian Government has been a long-term partner and supporter of our game and a driving force behind the growth of our game," McLachlan said.
"We know this is a tough time for all Victorians and our thoughts are with the Victorian community as we continue to deal with the impacts of this pandemic.
"We look forward to returning our Grand Final to the MCG in 2021."
Melbourne Cricket Club chief executive Stuart Fox said while there was disappointment the beloved Grand Final would not be held at the MCG, "we know this is an important decision to support the health of all Victorians and the AFL".
Updated at 1:50pm AEST on 2 September 2020.
---
Public health warning issued for Paddington pub

NSW Health has issued a public health warning for the Four in Hand Pub in Paddington after a confirmed case of COVID-19 attended the venue.
Guests who attended the pub downstairs between 6.30-10pm on 26 August for more than two hours are considered close contacts and must immediately get tested and self-isolate for 14 days since they were there.
The warning comes as NSW confirms 17 new cases of COVID-19 today, including one in hotel quarantine and one locally acquired infection with no known source.
The other 15 are linked to a known case or cluster, including eight linked to the August CBD cluster, six to St Paul's Greystanes school, and one linked to Liverpool Hospital.
One previously reported case, who worked at Cubbyhouse Childcare out-of-school-hours centre at Homebush Public School, has been excluded following further investigation. People previously identified as close contacts are no longer required to isolate for 14 days.
Two more students at St Paul's Greystanes and four contacts have tested positive, bringing the total cases associated with the school to 10.
The school has been cleaned and remains closed for onsite learning today but the source of the original infection is still under investigation.
NSW Health is treating 75 COVID-19 cases, including five in intensive care and three who are ventilated. 87 per cent of cases being treated by NSW Health are in non-acute, out-of-hospital care.
In addition to the public health warning issued for the Four in Hand Pub, NSW Health has asked anyone who attended the following venues or public transport to monitor for symptoms:
Four in Hand Pub, 105 Sutherland Street Paddington guests who dined upstairs only or for less than two hours on 26 August from 6:30-10pm.
Metro Fuel Greystanes on 27 August, 3.15-3.35pm
Big Bun, 260 Pitt Street Merrylands, 27 August 3.30-4pm
Carslaw Building, University of Sydney Camperdown toilets, 28 August 8-8.20pm
Stockland Merrylands on 29 August between 9-11am
Bus 810 28 August departed St Paul's Catholic College Greystanes 3.04pm, arrived 3.28pm Macquarie Rd opposite Boothtown Reserve Greystanes
Updated at 1:19pm AEST on 2 September 2020.
---
Australian GDP falls by a record 7 per cent

The Australian economy is officially in recession after the country's gross domestic product (GDP) fell by 7 per cent in the June quarter.
The contraction is the largest on record and follows a dip of 0.3 per cent in the March 2020 quarter.
According to the Australian Bureau of Statistics (ABS) the combined effect of the pandemic and government responses led to movements of an "unprecedented size".
"The global pandemic and associated containment policies led to a 7.0 per cent fall in GDP for the June quarter," says head of national accounts at the ABS Michael Smedes.
"This is, by a wide margin, the largest fall in quarterly GDP since records began in 1959."
Private demand detracted 7.9 percentage points from GDP, driven by a 12.1 per cent fall in household final consumption expenditure.
Spending on services fell 17.6 per cent, with falls in transport services, operation of vehicles and hotels, cafes and restaurants.
"The June quarter saw a significant contraction in household spending on services as households altered their behaviour and restrictions were put in place to contain the spread of the coronavirus," says Smedes.
In addition, Net Trade contributed 1.0 percentage points to GDP, imports of goods fell 2.4 per cent, with falls in consumption and capital goods reflecting weak domestic demand.
Imports of services fell 50.5 per cent while exports of services fell 18.4 per cent, due to restrictions on travel and tourism.
General government net saving fell to -$82.6 billion from $1.2 billion in the March quarter 2020.
However, according to analysis from Deloitte, the contraction to GDP needs to be put into perspective.
Only a small number of countries have seen less damage to their economies amid the COVID-19 pandemic including China, Vietnam, Taiwan and South Korea.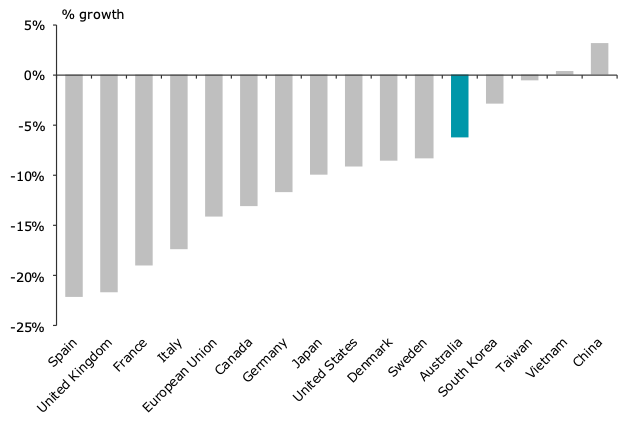 GDP growth rates over the same quarter of the previous year international comparison (via Deloitte)
"The underlying equation is simple. The greater the success against the virus, the greater the success in protecting economies against the pandemic," says Deloitte Access Economics senior economist Sheraan Underwood.
"At the other end of the scale, the hit to most economies is rather larger than that seen in Australia.
"The defence of Australian lives and livelihoods has seen us thread the needle. Australia has seen both less economic damage and relatively fewer lives lost than most nations, including the US, the UK and most of Europe, including Sweden, which has taken a different path than many others."
Despite today's economic update, the All Ordinaries are up 1.58 per cent at 6,240.500.
Updated at 12:53pm AEST on 2 September 2020.
---
Mesoblast gains ethics approval to treat COVID-19 patients in Australia

With US trials for its potential COVID-19 treatment now at the Phase 3 stage, regenerative health company Mesoblast (ASX: MSB, NASDAQ: MESO) has today received a breakthrough for testing the stem cell-based intravenous solution in Australia.
The Melbourne-based group has today announced it received ethics approval to include Australian hospitals in the Phase 3 randomised controlled trial of remestemcel-L in ventilator-dependent COVID-19 patients with acute respiratory distress syndrome (ARDS).
Participating hospitals in Melbourne and Sydney have been granted approval by the Human Research Ethics Committee of Monash Health, and will join more than 17 leading US medical centers already in the Phase 3 trial.
This study is being conducted by the US National Institutes of Health-funded Cardiothoracic Surgical Trials Network, and cleared by the US Food and Drug Administration (FDA).
"As an Australian company developing a potential treatment for COVID-19 ARDS, the primary cause of death in patients infected with COVID-19, we have a responsibility to evaluate remestemcel-L in Australian patients as the country continues to grapple with COVID-19," says Mesoblast chief executive and founder Dr Silviu Itescu (pictured).
"We are pleased that Monash Health is involved in this important COVID-19 trial, especially given the extensive experience we have had with Mesoblast's mesenchymal lineage cells," adds principal investigator, Associate Professor Tony Goldschlager.
The company's shares have skyrocketed since April when restemcel-L produced encouraging results in a small cohort of severely ill COVID-19 patients in New York, with 83 per cent surviving compared to a 12 per cent rate at the time for those in similar circumstances.
Before COVID-19 and the company's pivot to treat the virus, Mesoblast was worth $1.56 billion. Today it is worth more than $3 billion.
Updated at 11:36am AEST on 2 September 2020.
---
Nufarm forecasts $215m impairment charge, 29 per cent profit drop

Crop protection group Nufarm (ASX: NUF) is capping off a whirlwind financial year with a $215 million hit to its asset values in Europe, where competition and high input costs have put profit margins under strain.
It is a state of affairs that prompted the Melbourne-based group to curtail herbicide manufacturing at its operations Austrian operations in June, when Nufarm also revealed its decision to cease manufacturing insecticides and fungicides at its Raymond Road site in Laverton, Victoria.
Apart from logistical challenges and demand pressures caused by the pandemic, dry weather has also worked against Nufarm in Europe as less rain means less disease pressure and people don't buy as many fungicides.
The opposite is the case in Australia and New Zealand, where CEO Greg Hunt says wet weather led underlying EBITDA to double in the second half.
But overall the company is expecting a 29 per cent reduction in EBITDA to $290-300 million for FY20; a decline also partly driven by around $33 million foreign exchange losses due to currency volatility that damaged returns in some markets such as Eastern Europe and Mexico.
Expectations of underlying EBITDA for continuing operations are lower still at $230-240 million, following Nufarm's $1.19 billion sale of its South American assets.
"We have delivered positive momentum across most regions in the second half of the financial year, however earnings for the full year will be down on last year, primarily due to the divestment of the South American businesses, lower earnings in the first half and reduced earnings in Europe," says Hunt.
"Drought breaking rains on the east coast of Australia in late January and good follow up rainfall has provided welcome relief for farmers and generated strong demand for crop protection products.
"This has more than doubled second half underlying EBITDA for the ANZ business compared to the prior year and provides a much stronger outlook for the summer cropping season."
He says EBITDA in North America also increased in the second half with increased crop planting and improved seasonal conditions lifting demand for crop protection products, with a particularly strong performance in Canada.
"This more than offset the impact of lower demand in the Turf and Ornamental segment due to COVID-19 restrictions. Earnings in the second half also benefited from a stronger US dollar relative to the Australian dollar," says Hunt.
"Our business in Asia had a strong second half as a result of improved weather, positive momentum from product launches and lower costs contributing to a much stronger EBITDA performance than the second half last year."
The market appears to have expected a worse result as NUF shares rose 5.1 per cent to $4.12.
This price level is still well down on Nufarm's $5.50 level three months ago before multinational Bayer reached one of the largest civil settlements in US history at more than $10 billion over claims Roundup - which Nufarm sells - caused cancer for more than 10,000 claimants.
Controversy has surrounded Roundup, scientifically known as glyphosate, since 2015 when the chemical herbicide was declared as "probably carginogenic" by the World Health Organisation.
NUF shares were trading at close to $10 each in 2017, but the potential implications of legal cases and court orders against glyphosate's former owner Monsanto - which was acquired by Bayer - were not lost on Australian investors and shares have steadily declined since then.
The company is now aiming to rise above these issues through its other divisions, including the ramp-up of commercialisation activities for Omega-3 canola oil and Carinata as part of its seed technologies business.
Nufarm is also switching its financial year from ending on 31 July to finishing on 31 September, so it is currently in a transitional period before that change takes effect.
The company will report its financial results on 23 September, and the following day ex Bunnings Group CEO and Officeworks chairman John Gillam will succeed Donald McGauchie AO as Nufarm chairman.
Updated at 10:50am AEST on 2 September.
---
Starpharma rises on breakthrough COVID-19 treatment news

Pharmaceuticals developer Starpharma (ASX: SPL) has been riding positive investor sentiment for just over a week now after the announcements of two major COVID-19 breakthroughs.
Last week, SPL shares rose by about 40 per cent in response to the company's update about a nasal spray for protection against COVID-19, based on the company's proprietary antiviral dendrimer, SPL7013.
This run has continued today, with shares up around 13 per cent at the time of writing on the back of the news that SPL has created a slow release, water soluble version of remdesivir. At 10:25am this morning shares in SPL were at a record high of $1.90 per share.
Remdesivir is an antiviral drug, currently being developed by Gilead to treat COVID-19 and has emergency use authorisation from the US Food and Drug Administration for the treatment of the coronavirus in hospitalised adults and children.
According to Starpharma, its version of the COVID-19 treatment, dubbed 'DEP remdesivir', is an improvement on Gilead's.
The original is required to be administered intravenously, due to the drug's low solubility, and each infusion takes up to two hours and requires daily administration for either five or 10 days.
In contrast, Starpharma claims its DEP remedesivir variant is highly water-soluble with controlled release properties, potentially allowing for less frequent dosing and use in a non-hospital setting such as aged care.
"The solubility of DEP remdesivir is 100-fold higher than standard remdesivir," says SPL.
"The benefit of DEP remdesivir's enhanced aqueous solubility is that it would enable subcutaneous injection rather than intravenous infusion, allowing for outpatient treatment and reducing the burden on hospitals."
Starpharma CEO Dr Jackie Fairley says the company's new product will make remdesivir more widely available.
"The ability to deliver remdesivir via a long-acting, subcutaneous injection has the potential to expand its application outside hospitals, into settings like aged care, and also facilitate its use in countries with less developed healthcare systems," says Dr Fairley.
"It would also improve patient convenience and reduce the burden on the healthcare system.
"We're pleased to be able to utilise the DEP platform to improve the delivery of this important antiviral medicine."
Updated at 4:24pm AEST on 1 September 2020.
---
Victorian manufacturer crafts ventilator for COVID-19 from scratch

A new ventilator specifically designed for COVID-19 patients has been designed in Ballarat, Victoria with manufacturing of the device to begin within weeks.
Built by Gekko Systems, the ventilator is easy to use, highly robust and can be transported and used in regional and more remote environments.
The move into ventilator manufacturing is a major pivot for Gekko, which was founded in the mid-1990s to build mining equipment.
Gekko will harness local suppliers and its 100-strong workforce to build the GeVentor ventilator, which co-founder Sandy Gray designed in his shed with the help of local anaesthetist Doug Paxton.
Health Purchasing Victoria has placed an order for 170 ventilators with Gekko Systems after the company's machine was provided with a production exemption from the Therapeutic Goods Administration (TGA).
The speed at which the final product was designed and developed at is a testament to the proven agility of Victorian manufacturers according to the state's Minister for Industry Support and Recovery Martin Pakula.
"Creating a local ventilator industry in a matter of just months is testament to the excellence and agility of Victorian manufacturers," says Pakula.
"We have seen an amazing response to the challenges posed by the pandemic and that has helped to shore up jobs and place the state in the best position possible to recover once the health crisis is behind us."
In addition to the order from Health Purchasing Victoria, Gekko has reported interest in its ventilator from humanitarian organisations for potential use in developing countries.
Following the successful development of the GeVentor, Gekko has now created a medical arm of the company to produce a range of equipment to supply local, national and international markets.
"The Gekko group of companies is delighted to have designed and developed the GeVentor ventilator and, as a result, to launch a start-up medical technology company, Gekko Medical, in regional Victoria," says Gekko Systems chair and co-founder Elizabeth Lewis-Gray.
The Victorian Government provided development grants to Gekko Systems and three other groups in the early stages of the pandemic.
Health Purchasing Victoria has also placed orders for 200 ventilators that are being produced by Grey Innovation. The company established a consortium of local companies to build its transportable Notus Vivere Emergency Ventilator, with components coming from manufacturers ANCA, Marand, Hosico, Bosch Australia and Hydrix.
Grey Innovation is also producing machines under licence to fill an order from the Commonwealth Government.
Two other Victorian companies, Planet Innovation and Compumedics, are in the final stages of the TGA process for their ventilators.
Updated at 2:15pm AEST on 1 September 2020.
---
NSW loosens border restrictions with Victoria

As of Friday communities along the Victorian-NSW border will be able to move more freely, with the buffer zone extended to 50km on either side.
The easing of restrictions will extend the geographical scope of which residents are allowed to move interstate, but existing restrictions outside that zone will continue unchanged for the time being.
NSW Premier Gladys Berejiklian (pictured) told a press conference this morning the decision to close the border was a "last resort option", and she appreciated the measures led to disruption and angst for many people.
"We've had many people on both sides of the border within the border communities and outside the border communities who've been deeply impacted by the pandemic," she said.
"As Victorian numbers continue to decline, that gives us greater confidence to ease restrictions and to listen to the concerns raised by border communities."
The Premier took note of concerns raised when the initial 50km zone was reduced.
"I regret deeply the fact that the community wasn't prepared for what we had to do at that time.
"I want people to appreciate that every decision we take is in the interests of our citizens. The alternative to what we did could have resulted in high rates of infection in rural and regional New South Wales, not just in in the border communities but throughout the state.
"We have had a few close calls in respect to the virus seeding into regional communities and border communities, but our health officials have done an outstanding job in contact tracing."
Today's announcement follows yesterday's call from the state's Deputy Premier John Barilaro and Minister for Agriculture Adam Marshall to remove restrictions on agricultural workers crossing the border.
Ahead of a National Cabinet meeting on Friday where an Agricultural Workers Code will be presented and considered, Barilaro said it was imperative restrictions were lifted to ensure farmers had an adequate workforce for the fast-approaching harvest.
"The situation is now at the 11th hour for many producers across the state. We cannot stand by and watch farmers, crops and businesses face ruin due to the border closure with Victoria," Barilaro said.
"Agriculture is an essential industry. Our farmers feed and clothe the nation and we must do everything to ensure they can continue to operate as smoothly as possible.
"NSW is an agriculture production powerhouse and this needs to continue, to help the economy recover after COVID-19, and bring many communities and farmers back from the brink after years of drought."
Marshall, who described the border restrictions as "senseless", said the proposed Agricultural Workers Code included "sensible" safety requirements imposed in exchange for the removal of all other restrictions on the movement of ag workers.
"Our farmers are suffering because the current cumbersome permit system restricts the free movement of agricultural workers across the NSW/Victoria border, beyond 100 kilometres," Marshall said.
"While we have been able to introduce a new permit which has allowed more primary producers to access exemptions, the time has definitely come to remove these restrictions altogether.
"As part of that proposal, new requirements would be introduced to ensure the safety of primary producers and rural communities, including having a mandatory COVID Safe Plan in place, the use of PPE by workers as well as robust records keeping to allow contact tracing."
Updated at 11:28am AEST on 1 September 2020.
---