WANTED: BUSINESSES FOR SPRINGFIELD
Written on the 5 March 2010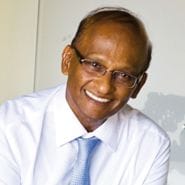 SPRINGFIELD Land Corporation has embarked on an ambitious campaign to attract businesses to its CBD, offering up to $500,000 in incentives to one lucky company.

Chairman Maha Sinnathamby, says the move follows an independent survey of 500 Australian business leaders that showed 47.3 per cent would prefer to move to southeast Queensland.

"We are in the fastest growing corridor and questions in the survey were linked in to it. All the facilities are there for anyone to move to Springfield and for staff it takes no more than five minutes to get to the office," he says.

"It doesn't matter if it's a multi-national or a mum and dad operation, we want you. Paying payroll tax, rent-free business premises, golf memberships and the chance for postgraduate study, this prize has it all.

"We need everybody. Springfield's 20,000 population all need the basic facilities like bakeries and so forth, and we want them to do well – the proof is in the pudding when a family says they're going to sell their house and move to Springfield."
Sinnathamby says the current residents, students and multinationals such as NEC and Veolia, are all testament to the opportunities available in Springfield, as businesses look for ways to reduce expenditure and keep staff happy.

"Today Greater Springfield throws down the gauntlet to Australia and the rest of the business world – if you do not look after your businesses, we will take them from you and give them what they need," he says.

"I encourage big, medium and small businesses to enter the competition and even if they don't win, I am sure Greater Springfield can make an offer that suits.

"I guarantee by 2030, Greater Springfield will have a CBD twice the land size of Brisbane's and will boast some of Australia's biggest companies."

He also emphasises the development's need for increased health and education facilities, with school like St Peters Lutheran College unable to satisfy the high demand for places in their Springfield campus.