TWIN-TOWER DEAL ON THE ROAD TO CHINA
Written on the 11 September 2015 by Jenna Rathbone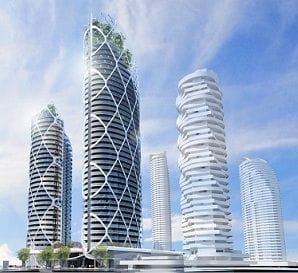 IT'S one of the biggest projects planned for Broadbeach since The Oracle, just weeks away from gaining development approval, and now it's being offered up to a developer keen to take a chance on the Gold Coast's resurgent apartment market.
The twin-tower development, earmarked for the Niecon Plaza site, has been placed on the market through an expression of interest campaign that is being heavily marketed by Colliers International in Asia.
The campaign for the Albert Avenue property, which was amalgamated by interests associated with Brisbane businessman George Raptis, was launched in China a few weeks ago.
"There were some groups we were targeting in China, Hong Kong and Singapore who have already expressed interest in this type of opportunity on the Gold Coast," says Colliers International special projects national director Darrell Irwin.
"There is good interest out of China with the low Australian dollar and the flight of capital out of China, and Australia is the recipient of some of that."
Irwin says in particular the Gold Coast is proving a popular spot and says a 'spotlight' has been shone on the city following the launch of Wanda Ridong's Jewel joint-venture project.
"Other tourism investors and developers in Asia are looking at the Gold Coast favorably based on the Jewel development, the Wanda commitment to it, and the flights from Wuhan and Hong Kong which are commencing later this year and early next year."
Irwin expects development application approval in coming weeks for the twin-tower mixed-use development which will compromise one 28-storey tower with 90 apartments and a second 35-storey tower with 154 apartments.
In addition to the residential offering, the proposed development is set to feature 4525sqm of retail and office space across open-air arcade and podium level, and a three-level basement car park with 396 spaces.
Irwin says an alternative use for one of the towers is hotel accommodation due to a buoyant local tourism market with the strongest visitor arrivals in the city for more than a decade.
The 4856sqm site currently occupies three separate titles with multi-level retail and commercial uses and 7400sqm of lettable area.
Buildings that currently sit on the site include Niecon Plaza built in the 1980s, which also boasts a retail arcade; the McGrath Building; and a two level commercial building currently occupied by Commonwealth Bank of Australia.
Jason Lynch, national director of Capital Markets, who is also marketing the property, says the site benefits from surrounding infrastructure upgrades which are planned for the area.
"There is increasing demand for development opportunities particularly in Broadbeach, given the infrastructure spend in the area and the limited supply of quality development sites in the precinct," he says.
"What makes the site even more attractive is all of the current redevelopment activity that surrounds it."
Colliers International is marketing the site on behalf of Niecon Plaza and Rockdune, linked to George Raptis company Raptis Investments. George Raptis has no ties to the Raptis Group (ASX:RPG).
Expressions of interest close on November 5.
Author:
Jenna Rathbone
About: Jenna Rathbone is a Queensland-based journalist who writes on a range of issues including business and property affairs and social issues.
Connect via:
Twitter