ADAM ROCKETT & CHRIS RYAN: STRIKE GROUP
12 January 2011,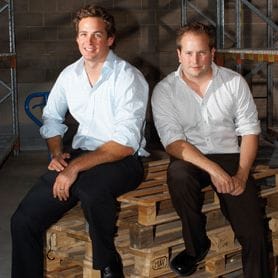 TECHNOLOGY distribution company Strike Group has improved margins this year to 38 per cent amid plans for automotive Bluetooth product roll-outs.

Co-owner Chris Ryan (right) says the business has improved its vertical supply chain in the last 12 months, along with successful sales for its motorbike GPS product Strike Genius.

"For the last two years we've worked on preparing and testing technology products, which we do contract manufacturing with, so it's now more vertically integrated in our supply chain which allows us to increase margins," he says.

"We've also launched a specific GPS for motorbikes called Strike Genius, which is going fantastic. I haven't seen the numbers but I believe it is the No.1 GPS for motorbikes in the country, as all of our stores are only selling this product.

"We're the biggest distributor of car Bluetooth products in the country and we'll have more products out next year, including a futuristic technology so you can have live data and the internet in your car, and that should be out in March or April."

Ryan says the Bluetooth internet-based automotive products will present greater growth opportunities than the motorbike GPS due to the size of the market, as the company looks release more new products in the next 12 months.

"We're also working on daytime running lights, with a strip of lights under the headlights, which should be out in a year or so. In Europe they're making it compulsory that all cars produced have daytime lights," he says.

"We're getting a cradle made at the moment for the iPhone 4 and to do that we ran a strategy to go into both Asia and Australia for manufacturing. It costs more in Australia but the timing is a third, as it takes a long time to go back and forth with all the mistakes from overseas, so it's more economical to use technological know-how in Australia."
Ryan highlights margins as the most important financial aspect of a business, but there are more intrinsic motivations too.

"Too many companies are only focused on the top line and some think it will take market share, but what's more important, whether it be private companies like Strike or publicly-listed companies, is return on investment, because revenue doesn't always pay the bills.

"If your goals are always numbers-based then the goal Adam Rockett & Chris Ryan never ends because it's never enough. There's an old saying that to be wealthy you can keep acquiring or be happy with what you've got.

"For me, it's naturally about a good financial result, but more so about having a company people want to be a part of and proud to be a part of it. You want to do well but not to go above good ethics, because there's no point in being successful if you can't look yourself in the mirror."
For a full profile list on Brisbane's 2010 Young Entrepreneurs, including interviews with all of the finalists, get a copy of the special annual edition of Brisbane Business News – out now in more than 500 greater Brisbane newsagents.