PRIVATE EQUITY FLOAT IN FOCUS AS DICK SMITH FALTERS
Written on the 5 January 2016 by Nick Nichols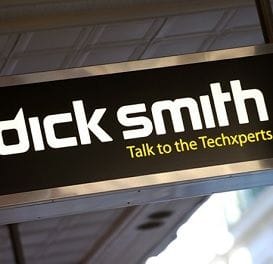 THE 2013 float of Dick Smith Holdings (ASX:DSH) by private equity firm Anchorage Capital Partners is firmly in the spotlight after the electronics retailer was placed into voluntary administration overnight.
After calling for a trading halt of shares on Monday ahead of an announcement regarding its debt position, the Dick Smith board sent a shiver through the retail sector by announcing it had appointed McGrathNicol as voluntary administrator of the group.
Bankers to the company have appointed James Stewart from Ferrier Hodgson as receiver to protect their interests.
The move comes a little over two years after Anchorage issued an IPO for Dick Smith, selling shares in the company for $2.20 each to raise $344.5 million and valuing the business at $520 million.
A year earlier Anchorage had acquired Dick Smith from Woolworths for just $20 million. It sold the last of its holding, about 20 per cent of the company, in September 2014 for $105 million.
The Sydney-based private equity firm declined to comment on the Dick Smith administration today.
In its first financial year as a listed company, Dick Smith delivered on the prospectus forecasts of $1.22 billion in annual sales for FY14 and a pro forma net profit of $42.1 million.
More recently the business has suffered from weaker than expected sales and deep discounting of stock to maintain momentum. Sales grew just 1 per cent to $1.3 billion in FY15, despite a raft of new store openings.
Chairman Rob Murray says the appointment of administrators was the best option for creditors, staff and shareholders, although many analysts are forecasting the end of the line for the struggling electronics retailer.
The news places in jeopardy about 3300 jobs across the group's network of 393 stores.
Murray says sales and cash generation in December were below expectations, building on the downturn experienced in the second quarter of FY16.
"The company explored alternate funding, however the directors have been unsuccessful in obtaining the necessary support of its banking syndicate to see it through this period," he says.
"The directors are of the view that without this support there is no option but to appoint a voluntary administrator.
"The board and senior management intend to work with McGrathNicol to explore all options to allow the company to continue as a going concern."
Receiver James Stewart says it's too early to pinpoint blame for the company's financial position, although he says it will be business as usual for the company in the near term.
"Dick Smith is one of the best known brands associated with consumer electronics in Australia and New Zealand." Stewart says. "We are immediately calling for expressions of interest for a sale of the business as a going concern."
He describes the New Zealand arm as profitable and likely to attract potential buyers.
Meanwhile, Ruslan Kogan, the founder and CEO of online retailer Kogan.com, believes Dick Smith's woes can partly be blamed on the growth of online retailing.
"Dick Smith has been an iconic Australian brand for decades and it's sad to see their demise," Kogan says.
"It's a sign of the changing retail landscape that has more and more Aussies turning online for the latest products at the best prices.
"It's a bitter-sweet situation. On one hand, we love competition it gets us out of bed in the morning. On the other hand, Kogan.com is proud to have played a significant part in creating more efficiency in the industry and driving down prices for shoppers, which has had a noticeable effect on many large retailers, past and present."
Dick Smith's shares last traded at 36c, but slumped to a low of 35.5c a week ahead of Christmas on the back of two profit warnings in October and November.
The company announced on November 30 that it would be posting a $60 million non-cash impairment on its December-half profit following weaker-than-expected sales over the preceding month. At the time it also warned further impairments could be recorded, depending on Christmas trading.
The downgrades sealed the fate of the company, with its shares falling 84 per cent since the year high of $2.25 was reached in May. The dwindling share price is understood to have placed the company's debt covenants with its bankers in a perilous position.
Latest News
WHY NEXTDC'S STOCK IS SOARING
AFTER posting its interim result, NEXTDC (ASX: NXT) gained more than 12 per cent on the stock market before noon.
...