PREFERRED CRUISE DEVELOPER CHOSEN
Written on the 20 February 2014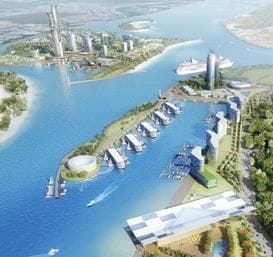 ASF China Property Consortium is the preferred developer of the Broadwater Marine Project, but will have to overcome significant hurdles to proceed to construction.

Pictures unveiled this morning show a redeveloped Wavebreak Island boasting a 50-storey high rise, with cruise ship terminal on the north-western side of the spit, not far from the seaway, plus a super yacht marina on the western side of the spit.

If the plan, which is the only viable option received from the government, can progress through the community consultation and environmental impact processes, there is no guarantee the project will receive one of two casino licenses the Queensland Government has made available for regional Queensland.

Deputy Premier and Minister for State Development, Infrastructure and Planning, Jeff Seeney says the government will make state land available should the proponent satisfy the approval process.

"Possible proponents, the ASF Consortium and Gold Coast Mayor Tom Tate are now free to work together to address a number of outstanding issues highlighted during the assessment process, including the need for extensive community consultation, environmental studies and infrastructure planning," says Seeney in a statement.

A sticking point for the developer will be the casino licence, while the environmental issues are also considered significant. The proponent must have an operational cruise ship terminal to be eligible for a casino licence, but it is understood the casino is crucial to funding the dredging necessary for an operational terminal.

"The ASF consortium is free to participate in the Queensland Government's current Expressions of Interest process to develop two Integrated Resort Developments with associated gaming licences in regional Queensland," says Seeney.

"However the proponent must understand that, in this instance, a gaming licence is conditional on the prior establishment and ongoing operation of a successful cruise ship terminal – no cruise ship terminal, no casino licence."

The Queensland Government has also ruled out the issuing of a temporary casino licence associated with the potential construction of the terminal.

Should the project go ahead, Gold Coast Mayor Tom Tate says it will reshape the Gold Coast as Queensland's construction and economic hub.

"This integrated resort, our new Southport CBD, light rail, the Jupiters redevelopment, Pacific Fair refurbishment, Cultural Precinct and the Commonwealth Games will permanently drive down unemployment," he says.

Tate says the project is feasible and will create 36,000 jobs.

"I'm quietly confident that locals will get behind the project because they know too many friends and family making the lonely drive to Brisbane to find work," says Tate.

"This is about the unemployed, this is about the under employed, this is about the apprentices and whether we want to give our kids the opportunity to live and work right here on the Gold Coast."
Surf and environment community groups have slammed the proposal this morning. Chairman of Recreational Beach and Surf Association Jim Wilson says dredging the broadwater channel will impact sand movement up the coast, causing erosion at on beaches to the south.
Latest News
SANTA DELIVERS KOGAN A GIFT
KOGAN.COM (ASX: KGN) has exceeded its expectations and reported another strong quarter of trade.

The online retail...