EXECUTIVES RECOGNISED AS BUSINESS LEADERS
Written on the 9 May 2014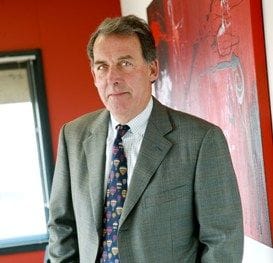 CEO community The Executive Connection (TEC) has appointed 13 new chairs to the network, including four business leaders from Queensland.
There are now 83 chairs across Australia and New Zealand, including the addition of Bill Lazarus, Camille Morin, Catherine Palin-Brinkworth and Dr Tony Watt from the state.
TEC chairman Nigel Stoke (pictured) says the selection and training process is no easy feat and the latest recruits deserve the honour.
"We've been doing this in Australia since 1986 and research clearly shows that our members outperform the average SME, making the economic and broader social value of our activities vitally important.
"There has been no more important time in our history where the need to retool, to change, to adapt, to innovate in order to survive and prosper was so real for business," he says.
Stoke says TEC allows executives to connect to reputable leaders in Australia, as well as internationally through affiliates.
"SME's have always been the engine room of our economy and today this is certainly true, and because of that the broader national economies of Australia and New Zealand depend on SME's succeeding.
"TEC mentors provide business leaders and owners with one on one coaching to help them test ideas, improve decision-making and see the broad and long view of business for the years ahead."
Lazarus has more than 30 years experience as a CEO and COO in resources, energy and project development.
Morin has 18 years experience at a CEO and COO level, instrumental in developing five start-up ventures domestically and internationally.
Palin-Brinkworth has led a business development and training consultancy for 25 years, winning numerous awards as a key-note speaker, mentor and coach.
Dr Watt has been involved with TEC for 11 years and is managing director of a workplace culture specialist agency.
BRISBANE BUSINESS NEWS
INSIDE THE BIGGEST PETCARE MERGER
PETS before profits is the Greencross Vets (ASX: GXL) mentality, which appears to be paying off in light of the company's rapid growth and recent merger with Petbarn. GXL has experienced a 25 per cent compound annual growth rate of clinics and stores over the past five years. Since 1994, it has grown from a single Greencross clinic to 107, and has recently taken on 108 Petbarn and 25 Animates retail stores in Australia and New Zealand. As one of the fastest growing ASX-listed...Read More
Chief economist Ivan Colhoun says historically labour demand indicates that interest rates will follow suit. "While the pace of improvement in job ads suggests that labour market conditions...Read More
BLUE SKY'S IPO FOR FIRST ALTERNATIVES INVESTMENT COMPANY
BLUE Sky Alternative Investments Limited (ASX:BLA) has launched an initial public offering (IPO) of shares in a subsidiary company. The Blue Sky Alternatives Access Fund (BASSF) will be Australia's first diversified, alternatives-focused Listed Investment Company (LIC) on the ASX. BSAAF is seeking to raise a minimum of $50 million and up to $100 million under the IPO at an issue price of $1 per share, along with options on a one-for-one basis with an exercise price of $1 before...Read More
CONSUMER CONFIDENCE DOWN AFTER BUDGET SPECULATION
The ANZ-Roy Morgan weekly report shows a drop last week, coinciding with the Commission of Audit's report and speculation around the deficit reduction levy. Chief economist Ivan Colhoun says the figures provide a clear reading of the budget's impact on consumers. "The policies of most concern to the consumer...Read More
GREENCROSS ACQUIRES CLINICS AND OPENS NEW STORES
GREENCROSS Limited (ASX: GXL) has announced its acquisition of four veterinary clinics and the opening of three retail stores. The practices will fall under the Greencross partnership model,...Read More
SAME DAY SETTLEMENT ESSENTIAL FOR SMALL BUSINESS
SMALL businesses enjoying high trades on weekends and public holidays could be taking advantage of same day settlement. Often, businesses don't see their weekend takings arrive in their bank account until mid-week, causing interruptions to cash flow and reliance on short term loans. With same day settlement businesses can get their card sales in their account on the same day, 365 days a year, including weekends and public holidays. This enables a much smoother cash flow for...Read More
BUSINESSES POSITIVE ABOUT ECONOMY
Companies have predicted a boost in sales, employment and investment activity during the third quarter of this year in the latest Business Expectations Survey. The sales index has lifted to a new 10-year high...Read More
Latest News
APOLLO REVS UP ITS RESULTS
APOLLO Tourism & Leisure (ASX: ATL) has hit its profit forecast in its maiden result as a publicly traded company...
PROFIT DROP AT SERVCORP
SERVICED office company Servcorp has seen its profit fall, citing New York City, Singapore and Saudi Arabia as the pr...