Staying informed is more important than ever as the situation unfolds with Covid-19. Stay tuned here for our live updates, and be sure to let us know what your business is doing to face this unprecedented challenge.
---
Tasmania to open borders from 24 July

If everything goes to plan, Tasmania will open up its borders to the rest of the country on 24 July.
This plan to further ease COVID-19 restrictions in the state will be reassessed regularly over the next four weeks, with a formal review into the situation in Victoria to be conducted in a fortnight from now.
Tasmanian Premier Peter Gutwein says the state will not reopen its borders if medical advice says it is not safe to do so.
"If the public health advice, at that time or in the immediate lead up to that date, is that it is not safe to open and remove our restrictions then, very simply, we will not open up our borders," says Premier Gutwein.
"Over the next four weeks we'll put in place a plan to support a safe relaxation of our border restrictions and we'll include the reviewing of the circumstances of other states and territories on a weekly basis and we will have a full review of Victoria's situation in two weeks."
The Premier says the situation in Victoria as it is today would mean Tasmania would remain closed to its northern neighbour.
"I want to be absolutely clear, as the circumstances stand today, if we were opening up tomorrow we would not be opening up our borders with Victoria tomorrow," says Gutwein.
The opening up of Tasmania's borders on 24 July will include heightened measures at the State's borders, including at airports and seaports.
Border safety will be supported by an app, currently under development, that incoming travellers to Tasmania will have to download and use. This app will be complemented by a manual record system too for those unable to download the app.
The app will replace Tasmania's current arrivals form and will include the use of a QR scanner.
Updated at 4:17pm AEST on 26 June 2020.
---
Retail Food Group sees customers return, but permanent closures inevitable

Retail Food Group (ASX: RFG), the owner of Gloria Jean's Coffees, Brumby's Bakeries, Donut King, Michel's Patisserie and others, has observed an increase of customers returning to its outlets as COVID-19 restrictions ease across most of the country.
However, the pandemic has sped up the permanent closure of a number of its outlets in Australia as 17 stores remain temporarily closed.
Of those 17 stores RFG executive chairman Peter George says approximately seven will be permanent closures.
"These were forecast to close in the near future, and COVID-19 has simply expedited that outcome," says George.
"Customer count has continued to improve, with recent trading data reflecting a weighted average decline amongst all brands of 13.76 per cent versus the previous corresponding period, albeit this remained well below pre-pandemic levels.
"The Company is also closely monitoring the situation in Victoria given a recent spike in COVID-19 infections and speculation regarding the potential re-introduction of restrictions within that State."
The company has also provided FY20 underlying EBITDA guidance of approximately $35 million today and anticipates net debt at 30 June 2020 will be around $25 million.
Rental relief for franchisees has been obtained in respect of approximately 415 outlets, according to George.
"This is a positive outcome for both franchisees and RFG which provides both cash-flow support and added certainty," says George.
"Negotiations with landlords regarding relief arrangements are ongoing and are anticipated to persist for the duration of the pandemic and a reasonable recovery period thereafter."
Internationally around 138 international outlets remain closed, 30 of which are now permanently shut. Around 150 international outlets are operating with limited dine-in options and a further 230 on a takeaway only basis.
"RFG expects trading conditions to remain challenging in the foreseeable term and therefore anticipates a continuation of those measures implemented by the Group in response to the pandemic to support franchisees," says George.
"That said, there are a number of positive developments within the Group's business that provide optimism for the future."
Shares in RFG are up 0.01 per cent to $0.07 per share at 10:32am AEST.
Updated at 11:10am AEST on 26 June 2020.
---
Stylerunner, The Athlete's Foot drive profit lift at Accent Group

A shift to online has put a spring in the step of footwear retail company Accent Group (ASX: AX1), pushing up digital sales in the June quarter by 150 per cent.
The group, which owns the Australia-New Zealand distribution rights to footwear brands like The Athlete's Foot, Stylerunner, Skechers, Vans and Dr. Martens, is now forecasting a 10 per cent lift in EBITDA to almost $120 million for FY20.
However, FY20 final operating profit below the EBITDA line is expected to include a non-cash impairment of assets of $3-4 million on several store and other assets where revenue has been impacted by the current environment.
The outbreak of COVID-19 and associated restrictions forced Accent to close down 470 stores in March, but demanad for active footwear and apparel as well as Skechers' range for health professionals contributed to a quadrupling of online sales.
All of Accent's stores in Australia had opened by 11 May, and the same was true in New Zealand by 22 May, but there has now been a "seismic and most likely enduring" shift to digital.
While customers had physical store options at their disposal the company still achieved a new daily record of $2 million in digital sales during the Click Frenzy event from 19-22 May.
Digital sales in May reached $29 million, while this month they are currently accounting for around 23 per cent of revenue.
"The strong trading performance over the last two months driven by digital has been well ahead of expectations," says Accent Group CEO Daniel Agostinelli.
"It is clear that there has been a seismic and most likely enduring shift in consumer behaviour. With 18 websites and our leading digital capability, Accent Group is capitalising on this trend.
"Through this period Accent has attracted many new customers online who have never shopped with us before. We will continue to drive digital growth as the number one priority in our company."
In general, sales in New Zealand, Western Australia, South Australia, Queensland and regional areas have bounced back more strongly than the metro centres in Melbourne and Sydney.
Accent Group reports the customer trend towards activewear and performance running continues to remain very strong in Stylerunner and The Athlete's Foot, with a broad-based recovery in spend across all banners and product categoriesthrough May and June.
The company's sales in May and June (to week 51) have been strong with like-for-like sales up 7 per cent, and at the start of this month the group stood up all its 1,500 permanent employees to full employment and full pay, which enabled a further acceleration of sales results in June.
Successful negotiations have also been concluded with landlords and Accent has continued to pay rent.
"We are committed to maintaining our position as the largest multi-channel footwear retailer in our market," says Agostinelli.
"The mix of Accent's superior digital capability and the magic of our stores gives us a key competitive advantage, but it is important that we reach agreement with our landlords for sustainable and fair rental deals.
"With landlords where this cannot be achieved, we will close stores. We are delighted to report that to date we have been able to reach agreement with the vast majority of our major and independent landlords."
Never miss a news update, subscribe here. Follow us on Facebook, LinkedIn, Instagram and Twitter.
Business News Australia
---
Qantas to raise $1.9 billion for COVID-19 recovery, 6,000 staff made redundant

Airline Qantas (ASX: QAN) will raise $1.9 billion in equity to accelerate recovery as it taxis onto its COVID-19 recovery plan.
Qantas' three-year recovery plan includes making 6,000 staff redundant, grounding 100 aircraft for at least a year, and immediately retiring Qantas' six remaining 747s.
Of the $1.9 billion, approximately $1.4 billion will come from a fully underwritten institutional placement and up to $500 million from a non-underwritten share purchase plan.
The issue price for new shares under the placement will be $3.65, representing a 12.9 per cent discount to the last traded price on 24 June.
Approximately 372.7 million new fully paid ordinary shares will be issued under the placement, representing a 25 per cent increase to total shares on issue.
Following the placement the company's available liquidity is expected to be $4.6 billion, including a $1 billion undrawn facility.
As at 31 May 2020 pro forma net debt is expected to be $4.7 billion with no major debt maturities until June 2021.
Most of the funds will be used for working capital requirements, but at the same time 6,000 roles will be made redundant.
Of the group's 29,000 people, around 8,000 are expected to have returned to work by the end of July this year.
The company anticipates this will increase to around 15,000 at the end of the calendar year and will reach 21,000 active employees by June 2022.
In the meantime, 15,000 staff will continue to be stood down, particularly those associated with Qantas' international operations.
"Adapting to this new reality means some very painful decisions," says Qantas CEO Alan Joyce (pictured).
"The job losses we're announcing today are confronting. So is the fact thousands more of our people on stand down will face a long interruption to their airline careers until this work returns."
But there is a positive sign of recovery on the horizon: Joyce says the airline expects to return to 40 per cent of Qantas' pre-crisis domestic flying during July.
"But we'll be living with COVID for some time and recent events show we can't take a low infection rate for granted," says Joyce.
"That means all airlines - including Qantas - must take action now. We have to position ourselves for seveal years where revenues will be much lower. And that means becoming a smaller airline in the short term."
$15 billion cost savings
Ultimately, the company expects costs to be reduced by $15 billion during the coming three-year period of expected lower activity, followed by $1 billion in ongoing cost savings per annum from FY23.
Joyce says the airline entered this crisis in a better position than most airlines with "some of the best prospects for recovery, especially in the domestic market, but it will take years before international flying returns to what it was."
"It's clear that international travel is likely to be stalled for a long time. IATA - the peak body for airlines - says it will take more than three years for global travel to return to 2019 levels.
"Despite the hard choices we're making today, we're fundamentally optimistic about the future. Almost two-thirds of our pre-crisis earnings came from the domestic market, which is likely to recover fastest particularly as the state borders prepare to open," says Joyce.
In comparison to its main Australian-based rival Virgin Australia (ASX: VAH) Qantas has fared well. The news of the $1.9 billion equity raising comes in conjunction with Virgin finalising the sale of the airline following its collapse into administration.
Bain Capital and Richard Branson-linked advisory firm Cyrus Capital Partners have been shortlisted to acquire the ailing VAH, with a final decision to be made on Tuesday 30 June.
Qantas has also been hit with an asset impairment charge of between $1.25 billion and $1.4 billion in FY20 as a result of its 12 Airbus A380 aircraft being grounded.
These Airbus assets will remain idle for the foreseeable future, representing a significant percentage of their remaining life.
As a result, the carrying value of the A380 fleet, spare engines and spare parts will be written down to their fair value, resulting in the impairment charge.
The airline has also provided a FY20 financial performance update today, during which the airline saw a significant reduction in the second half of the financial year.
After reporting a strong underlying profit before tax of $771 million in the first half, Qantas now expects to report a full year result between breakeven and a small underlying profit before tax as the financial year comes to a close.
The group's loyalty business will make the largest positive contribution to this result, with only a 5 per cent to 10 per cent reduction in earnings compared to FY19.
"The program continues to see strong levels of engagement, with a range of initiatives planned over the next six months to maintain and improve its value to members and partners," says Qantas.
Because of COVID-19 disruption Qantas deferred its interim dividend on 19 March.
The airline says the uncertainty has now "crystallised" into a significant detrimental impact on the company's earnings and cash position.
Accordingly the Qantas board has decided to revoke the interim dividend, avoiding the outflow of $201 million of cash.
Updated at 9:03am on 25 June 2020.
---
Mirvac retail property value drops $349m

The impacts of social distancing requirements due to COVID-19 have taken their toll on real estate group Mirvac (ASX: MGR), slashing the value of its retail property portfolio by $349 million.
The preliminary unaudited devaluation represents a 9.9 per cent drop for the group's second-largest property asset class.
In contrast Mirvac's office and industrial property valuations lifted slightly in the half, with the former notching a large jump in the six months to December.
For the full-year the office portfolio looks to be up 3.4 per cent, or $231 million, while industrial asset values have risen by 3.6 per cent or $33 million.
Overall the reduction is tracking at around 2.8 per cent less than the December 31 book value of $11.6 billion.
"COVID-19 has transformed the world in the space of a few short months. No sector has been untouched by the health and economic crises that have developed," says Mirvac CEO and managing director Susan Lloyd-Hurwitz.
"These are unprecedented times and Mirvac is taking necessary measures to address these challenges including appropriate capital management.
"Mirvac's purpose and unique asset creation capability positions the group to capture opportunities and generate value throughout the recovery process and beyond."
Updated at 12:51pm AEST on 24 June 2020.
---
Village Roadshow to reopen theme parks, cinemas

Village Roadshow (ASX: VRL) will start opening some Queensland theme parks on Friday, while its cinema circuit in Tasmania is already open with Victorian regional cinemas to follow suit later this week.
The company's theme parks Warner Bros. Movie World, Sea World, Wet'n'Wild and Paradise Country have all had their COVID Safe plans approved by the Queensland Government and are able to reopen at 50 per cent capacity.
"Sea World and Paradise Country will reopen on Friday 26 June, Australian Outback Spectacular on Friday 3 July and Warner Bros. Movie World and Wet'n'Wild on Wednesday 15 July," the group said today, adding Topgolf Gold Coast reopened on Friday, 12 June.
It has now been just over three months since Village Roadshow announced the closure of its theme parks in respond to COVID-19, and earlier this month the Queensland Government pledged millions of dollars in funding to support the company along with Ardent Leisure (ASX: ALG) and Currumbin Wildlife Sanctuary.
Village Roadshow has also announced it aims to reopen its metropolitan Melbourne cinemas by late July if coronavirus restrictions allow it.
"VRL's cinema circuit in other States, including those operated by VRL's partner Event, are expected to reopen in early July," the company said.
"VRL's businesses will operate under applicable operating restrictions and social distancing policies, ensuring the safety of patrons, employees and the community."
Updated at 11:43am AEST on 24 June 2020.
---
Crown Perth to reopen on Saturday

The easing of COVID-19 restrictions in Western Australia will allow Crown Perth to recommence operations from Saturday 27 June.
With effect from this weekend Crown will restart its casino and gaming floor food and beverage outlets under temporary restrictions agreed with the WA Government.
The restrictions include:
Capacity limits at each venue based on the 2sqm rule;
Physical distancing between patrons at electronic gaming machines and electronic table games;
Restricting the number of players at table games;
Enhanced hygiene protocols.
"Crown's priority is to the health and safety of our employees, customers and the community," says Crown Resorts (ASX: CWN) CEO Ken Barton.
"The physical distancing and hygiene measures have been developed in consultation with the Government, Commissioner of Police and Chief Health Officer to allow reopening in a safe manner.
"We look forward to welcoming back many of our employees and customers to Crown Perth."
The reopening of Crown Perth comes in conjunction with Western Australia entering Phase 4 of its COVID-19 restriction easing roadmap that will do away with seated service requirements and will deploy the 2sqm rule govern capacity numbers in venues.
Phase 4 will start from Saturday, 27 June (11:59pm, 26 June), allowing major sport and entertainment venues to operate at 50 per cent capacity, casino gaming floors to reopen and gyms to operate unstaffed but with regular cleaning.
WA reported two new cases of COVID-19 overnight, bringing the State's total to 607.
Both cases are related to overseas travel and are in hotel quarantine.
There are currently four active cases in WA following one additional recovery overnight.
Updated at 4:17pm AEST on 23 June 2020.
---
SA to adopt 2sqm rule, mulls VIC traveller pre-approvals

South Australia will implement the two square metre rule per person for indoor gatherings, restaurants, bars and cafes when it moves to Stage 3 on Monday 29 June.
The approach sees COVID-19 restrictions being wound back even further, after the SA Government previously announced the application of the 4sqm rule would be applied across the board from next week.
SA Premier Steven Marshall says the new rule can be implemented thanks to the hard work done by South Australians in suppressing COVID-19.
"South Australia continues to have an excellent, excellent record in terms of reduced infections," says Marshall.
"We're the envy of the entire country and quite frankly I think we are the envy of the entire world, and this is what has given the Transition Committee confidence today to further ease restrictions in Stage 3."
"Large events" like outdoor concerts and the reopening of nightclubs are also on the cards for Stage 3, with the specificities of how these events and venues can operate to be announced in the coming days.
"Some higher risk activities which have never even been contemplated before, larger events and nightclubs, will be considered, but only after a comprehensive COVID management plan has been put in place and approved by SA Health and the Transition Committee," says Marshall.
SA's borders have gradually begun to open up to travellers from WA, NT, QLD and TAS, but the spike in COVID-19 cases in Victoria has raised red flags for Premier Marshall.
As such, the State is planning on implementing a pre-approval process for travellers from Victoria, whereby Victorians must obtain essential travel approval if they wish to enter SA.
SA will open its borders to Victoria on 20 July as previously announced, but Marshall says he is looking "very closely" at Victoria.
"Having said that, I do emphasise that we're not going to lift the borders if we're going to go backwards as a State," says Marshall.
"We've got three, nearly four weeks until that date, we are looking at what's happening in Victoria extraordinarily carefully, but we as a nation have got on top of outbreaks and clusters before and I'm sure that's exactly what will happen in Victoria."
SANFL games this weekend will also be permitted to host spectators. The maximum capacity for both days will be 5,000 people per game on Saturday and Sunday.
Updated at 12:32pm AEST on 23 June 2020.
---
NSW Premier tells tourism providers to bar travellers from Melbourne

NSW Premier Gladys Berejiklian (pictured) may not be closing down the border with Victoria as the neighbouring state's COVID-19 cases spike, but today she has taken a firm stance against Melburnians coming to visit.
The ABC reports the Premier called on all accommodation owners and tourism operators "not to interact with citizens from Melbourne at this stage", albeit with the caveat they can choose to accept any traveller as they wish.
Premier Berejiklian also reportedly urged people not to undertake business travel to and from the Victorian capital.
Her stance contrasts with South Australian Premier Steven Marshall's approach to the latest Victorian case uptick, involving a pre-approval process in the works for admitting Victorians into his state.
Berejiklian's rally cry could potentially disincentivise Melburnians to travel to NSW. However, it could just as easily prompt people to travel under the radar, lie about their residence or stay in households, making traceability more challenging if they turn out to be COVID-19 positive.
Victoria has reported 17 new cases today with "significant community transmission" including 11 cases currently under investigation.
Updated at 12:12pm AEST on 23 June 2020.
---
Positive signs from plasma treatment tests on 20,000 COVID-19 patients

Researchers in the US have observed reduced mortality in COVID-19 patients who were given convalescent plasma with anti-viral antibodies, prompting calls to shift the focus of studies from safety to efficacy.
Mayo Clinic scientists and collaborators have found investigational convalescent plasma to be safe following transfusion in a diverse group of 20,000 patients with the disease.
The safety report assessed the seven days following transfusion for hospitalized patients between 3 April and 11 June who were deemed at risk of progressing to a severe or life-threatening condition.
Seven-day mortality rates declined to 8.6 per cent, compared to 12 per cent in a previous safety study of the first 5,000 transfused patients. Serious adverse events continued to be less than one percent.
"Our efforts to understand convalescent plasma continue," says Michael Joyne,r MD, principal investigator of the EAP at Mayo Clinic and lead author of the article.
"We're optimistic but must remain objective as we assess increasing amounts of data."
The expanded safety report reveals a decline in mortality which appears contemporary with the more rapid availability of plasma for use, but the authors caution that this alone does not provide any evidence on effectiveness of convalescent plasma for treating COVID-19.
Given the accelerating use of the therapy, research is now broadening its focus to determine indicators of efficacy.
The 7000-plus physicians who are part of the program have done an exceptional job of offering convalescent plasma to a diverse group of patients, enrolling women as forty percent of the participants as well as significant numbers of patients who are of African American, Asian or Hispanic ethnicity," says researcher DeLisa Fairweather, PhD.
"We hope recruitment of minority subjects continues to increase given the disproportionate burden these communities have faced with COVID-19," Fairweather says.
The researchers say that while the mortality rate has decreased, the patients in the latter part of this study were less critically ill.
They also say the decrease may be in part due to improved medical care based on increased knowledge during the pandemic and that more of the patients received the plasma earlier in their hospital treatment.
---
---
There are now close to 9.19 million COVID-19 cases worldwide with 474,258 deaths recorded.
Nearly 2.4 million of these cases are in the US where the death tally stands at 122,610, which is more deaths than the country recorded in World War I.
Case rates are rising rapidly globally, particularly in Brazil and India where the numbers of new daily cases continue to skyrocket.
Chile and Peru, whose combined population of around 51 million is dwarfed by other virus hotspots, have also seen a worrying increase in infection rates. If counted together, these two Andean countries would constitute the fourth hardest-hit region behind the US, Brazil and Russia.
Updated at 11:36am AEST on 23 June 2020.
---
WA to remove seated service requirements on Saturday

The Western Australian Government has created two new phases in its COVID-19 roadmap, doing away with seated service requirements and letting the two square metre rule govern numbers in restaurants, cafes, bars, nightclubs and other venues.
Phase 4 will start from Saturday, 27 June (11:59pm, 26 June), allowing major sport and entertainment venues to operate at 50 per cent capacity, casino gaming floors to reopen and gyms to operate unstaffed but with regular cleaning.
Major venues will be allowed to have more ticketholders for concerts, so Optus Stadium will be able to have 30,633 for sport events and 35,000 for concerts; HBF Park can hold 10,150 (16,500 for concerts) and RAC Arena can hold 7,150 (8,250 for concerts).
Staff will not be included in the 2sqm rule for venues that hold 500 patrons or less, while food businesses and licensed premises will no longer need to keep a register of patrons.
Depending on infection rates locally, Phase 5 involving the removal of the 2sqm rule is set to be introduced on Saturday, July 18, along with a lifting of the 50 per cent capacity limit for major venues.
The State Government was planning to announced Phase 6 including a the removal of WA's hard border with the rest of the country and travel restrictions currently in place for remote Aboriginal communities, but this was put on hold due to the rapidly evolving situation in Victoria.
The WA hard border will only be removed when the WA Chief Health Officer is confident the spread of infection is controlled in the Eastern States.
"Western Australia is ready take another giant step out of COVID-19 restrictions," says Premier Mark McGowan.
"Our phased approach has allowed us to get more Western Australians back to work and into more social and recreational activities, as together we continue to kick-start WA's economy.
"It's because of the incredible effort of all Western Australians that we've been able to reach each phase and continue to lead the states in relaxing restrictions."
He explains WA is the only state in the country that doesn't have the "problematic" 4sqm rule, and today's step goes a step further.
"We can only do this thanks to WA's success in minimising the spread of COVID-19, and our hard border with the Eastern States," he says.
"We all need to be aware that the virus has not been eradicated, so we all have a personal responsibility to keep the community safe.
"To better protect each other in the community we need to continue to keep our physical distance, practice good personal hygiene and stay home if we're unwell."
Updated at 4:52pm AEST on 22 June 2020.
---
Deloitte Australia slashes 700 jobs in response to COVID-19 impacts

The economic impacts of the COVID-19 pandemic have forced Deloitte Australia to tighten its belt, resulting in 700 staff members being made redundant.
The company says the decision to reduce its workforce of 10,000-strong by 700 was made in response to COVID-19.
Whilst Deloitte's revenue has grown for the financial year by 10 per cent the firm experienced a "significant" decline in revenue in the fourth quarter.
This decline includes a 19 per cent revenue drop year on year in May 2020, and the company anticipates this reduced level of revenue will continue for at least the first quarter of FY21.
The staff reduction equates to approximately 7 per cent across most business units and client service departments, with most of the reductions coming from the consulting and advisory parts of the business.
"From the beginning of the COVID-19 crisis two of our important principles have been to preserve as many jobs as possible while also protecting the long-term sustainability of the firm," says Deloitte Australia CEO Richard Deutsch.
"Unfortunately, the last quarter of our 2020 financial year has seen a substantial drop in revenue and operating profit. We expect this trend to extend into at least the first quarter of our new financial year.
"Today, I have announced a second round of measures that includes a reduction in our workforce, actions that would not have occurred had it not been for the impact of COVID-19."
In April Deloitte announced that it would be making some immediate changes to the business to keep the company afloat during the COVID-19 pandemic including the short term reduction in annualised pay of 8 per cent for the majority of Deloitte Australia's staff.
Updated at 4:57pm AEST on 22 June 2020.
---
QLD, NSW Premiers raise concerns over VIC case spike

A recent spike in community transmission of COVID-19 in Victoria has raised alarm bells up north and could derail Queensland's border reopening plans, while New South Wales Premier Gladys Berejiklian has urged people to reconsider travelling to Melbourne.
Speaking to the press this morning, Queensland Premier Annastacia Palaszczuk (pictured) said the state's plan to reopen borders on 10 July would still involve a review at the end of the month, but Victoria could be excluded from the plan.
It comes as Victoria extended a state of emergency over the weekend and has today reported 16 new cases of COVID-19 overnight.
"The AHPPC has said they have concerns about Victoria, I have concerns about Victoria, and the Health Minister has concerns about Victoria," says Palaszczuk.
"There is a lot of community transmission happening in Victoria and I hope that Victoria can get this community transmission under control."
Palaszczuk says the question of whether Queensland will open up to the entire country excluding Victoria will be considered this Friday during a National Cabinet meeting.
"The Prime Minister has said that he does not want to have certain states open to certain states, so I think that will have to be a very considered conversation at National Cabinet," says Palaszczuk.
"But I think it's something that we all need to look at in terms of what is happening in Victoria."
Ultimately, a decision regarding Queensland's borders will not be made until next Tuesday.
Queensland has reported zero new cases of COVID-19 today.
NSW Premier: Reconsider travelling to Melbourne
New South Wales Premier Gladys Berejiklian has told her citizens to reconsider travelling to Melbourne if possible as the city's COVID-19 cases grow.
Berejiklian says the travel warning is in line with health advice she has received, but has stressed the border to Victoria will remain open.
"Nobody from New South Wales should be travelling to those hotspots in the present time, and people should consider whether they should be travelling to Melbourne at this poin in time whilst community transmission is where it is," says Berejiklian.
"Having said that, we said from the beginning that once you start easing restrictions we will expect case numbers to go up but it's a question of how you monitor them, how you clamp down on them, how you make sure people are coming forward to get tested.
"It would be wonderful to think that we're through the pandemic but we're not, we have to live with this until there's a cure or a vaccine, and it's how you manage spikes that allows the community to keep being able to be active and working, and having a good life."
Updated at 12:55pm AEST on 22 June.
---
Victorian COVID-19 cases keep growing, hospitalisations double

After putting the brakes on increased patron numbers and extending a state of emergency by four weeks over the weekend, Victoria has today reported 16 new cases of COVID-19 overnight.
Health Minister Jenny Mikakos (pictured) says six of these new cases are linked to known outbreaks, four relate to hotel quarantine, five are from routine testing and one is under investigation.
The number of cases linked to an H&M store at Northland Shopping Centre has doubled to four, two teachers have tested positive at Albanvale Primary School taking its total to three, while two more have been linked to the Stamford Plaza hotel taking its total to 14.
The Great Beginnings Nursery in Reservoir has also been shut down for deep cleaning after a toddler tested positive to the coronavirus.
Five cases have been removed from Victoria's total due to duplication, taking the total to 1,847 including 125 active cases. This means around 57 per cent of Australia's active cases are currently in the state.
"We currently have nine patients in hospital including two in intensive care...the number of people in hospital has gone up from just four a few days ago, which is always a concerning sign," Mikakos told a press conference today.
"We're very grateful for the sacrifices that people have made, but the thing that keeps me awake at night is the thought of a second peak - we have seen very concerning increased numbers in recent days. We don't want this to get away from us."
Mikakos welcomed a statement yesterday from the Australian Health Protection Principal Committee (AHPPC) which strongly discouraged travel to and from COVID-19 hotspots identified by the Victorian Government, which include the local government areas (LGA) of Hume, Casey and Brimbank, Moreland, Cardinia and Darebin.
"I want to stress to Victorians just because you don't leave in a hotspot local government does not mean that your area is without risk. Everybody should still be complying very closely with all the public health advice," she said.
Mikakos said she was also stepping up testing community engagement in hotspot areas.
"We have a team of 50 that is starting from today to do door knocking - we are going to start with Brimbank and Cardinia, and they will be people who will be clearly identifiable as public health officials," she said.
That strategy also includes a strong focus on multicultural communities where some residents may struggle with English, and there will be a focus on shopping centres and train stations as well.
"We want to make sure that everyone in the state understands the public health messaging," she said.
"Clearly, in terms of the hotspot areas that have been identified, we have some some lower socio-economic disadvantaged communities - not all of them but there are very strong pockets of disadvantage in some of those communities."
This is a particularly important point considering the experience of Singapore, which was held up as an example in virus containment but saw a second wave of cases arising from its underprivileged communities of migrant workers.
Today's update follows yesterday's announcement that a state of emergency would be extended until 11.59pm on 19 July.
The extension was made in response to the recent substantial rise in household contacts spreading the virus amongst extended family groups. There will be a squad of 500 officers conducting spot checks of venues and homes to ensure compliance.
On the spot fines include up to $1,652 for individuals and up to $9,913 for businesses. Under the state of emergency, people who don't comply could also be taken to court and receive a fine of up to $20,000. Companies face fines of up to $100,000.
"Now is not the time to let our guard down, our coronavirus fight is far from over. Keeping the State of Emergency in place will ensure we have the tools we need to keep Victorians safe," Mikakos said yesterday.
"We know these restrictions are frustrating, but we can't get complacent and let the virus get away from us. It's vital we follow these directions to keep our community transmission numbers low and protect more Victorians," added Chief Health Officer Professor Brett Sutton.
Updated at 12:31pm AEST on 22 June 2020.
---
SEEK improves at home, records $190m impairment after "devastating" impacts in Latin America

Online job postings giant SEEK (ASX: SEK) has seen improved momentum across its three largest businesses, but green shoots have been offset by the economic impact of COVID-19 in Brazil and Mexico with impairments of $190-230 million.
Weekly billings have been on the rise for SEEK's Australia-NZ business although they are still down 40 per cent year-on-year. It is a similar story for SEEK Asia, although the numbers are down by half.
The group's Zhaopin business in China, which originally served as a bellweather of troubles to come due to the economic fallout from COVID-19 restrictions, has seen a significant improvement in billings since March 2020.
In February Zhaopin's billings were down a whopping 60 per cent year-on-year, but now they are tracking just 10 per cent below this time last year.
But it is in the new epicentre for COVID-19 in Latin America where SEEK's results have been hit the hardest recently.
The company today recognised an impairment of $130-170 million for its businesses Brasil Online and OCC Mundial (Mexico), while impairments have been lifted by a further $60 million due to problems with four early-stage minority investments.
Brazil is now approaching 1.1 million cases of COVID-19. Mexico's numbers are much lower at around 175,000, although reports on the ground indicate a high degree of underreporting from officials.
The latest official figures show Brazil and Mexico have had close to 1,000 coronavirus-related deaths in the past 24 hours. Brazil and Mexico have populist leaders - Jair Bolsonaro and Andres Manuel Lopez Obrador respectively - from opposing ends of the political spectrum, but both have been dismissive of social distancing measures throughout the crisis.
"In recent weeks, we have begun to see improving momentum across our three largest businesses in SEEK ANZ, SEEK Asia, Zhaopin and the continuation of good results from OES and the ESV portfolio," says SEEK CEO and co-founder Andrew Bassat.
"However, not all businesses have fared as well in these challenging times and we will need to recognise a reduction in the carrying values of Brasil Online, OCC Mundial and four other small investments.
"Whilst our near-term profitability has been impacted by the Virus, our largest businesses remain highly defensible and well placed to capitalise on our large opportunity set. Job creation will be at the core of any economic recovery and SEEK is well placed to play a meaningful role in connecting the most relevant candidates to hirers across our major markets."
Based on the current market situation the group has released a "best estimate" forecast for FY20, with revenue up slightly at $1.575 billion and EBITDA down close to 10 per cent at $410 million.
Updated at 11:12am AEST on 22 June 2020.
---
Queensland stadiums to welcome up to 10,000 fans from next weekend

Up to 10,000 spectators will be allowed to watch the footy in Queensland stadiums from Saturday 27 June.
The move is the latest COVID-19 restriction to ease in the sunshine state, and represents things returning to a sense of normality according to Queensland Premier Annastacia Palaszczuk.
"This is another small, sensible step towards getting life back to normal," says Palaszczuk.
"We can make these steps because of the outstanding way Queenslanders have united to confront COVID-19 but we are still in a pandemic so we have to keep being careful."
Health Minister Steven Miles said the increase in crowd numbers was in line with the professional codes' COVID-safe plans.
"The codes have shown they are taking COVID-safe measures seriously," the Deputy Premier said.
"Our stadiums are also taking their responsibilities seriously making it safe for more spectators enjoy their favourite games.
"The first two games welcoming smaller numbers of spectators on Saturday at Suncorp Stadium and the Gabba showed the COVID safe measures put in place work, with fans respecting the new social distancing arrangements and guidance from stadium officials and security."
Measures protecting the health of spectators include:
Extra cleaning and sanitisation of high traffic areas such as hand-rails
Seating plans of segmented zones
Dedicated facilities and exits to reduce potential for virus spread.
Townsville will welcome 2,000 spectators for its home game on 27 June at QLD Country Bank Stadium.
They will be permitted to increase to 25 per cent capacity (6,359 spectators) at future games.
NRL Chairman Peter V'Landys welcomed the move.
"I want to personally thank Queensland Premier Annastacia Palaszczuk for her assistance during the COVID-19 pandemic. Rugby league is part of a Queenslander's DNA and her support has been instrumental throughout the resumption of the competition," V'Landys said.
"This is an outstanding outcome for our Queensland clubs, players and importantly Queensland fans. Queensland is rugby league heartland and we're delighted the State Government has approved the return of crowds to Queensland venues."
The easing of restrictions comes as Queensland has gone almost five days without reporting any new cases of COVID-19 in the state.
No new cases have been reported today at the time of writing, but yesterday 25 new cases were reported in Australia, with 19 of those in Victoria, five in New South Wales and one in Western Australia.
Globally the situation is a different story; there were 140,000 new cases reported yesterday, including 31,000 in the USA and 34,000 in Brazil.
There are now more than 9 million cases of COVID-19 worldwide, including 466,000 deaths.
Updated at 9:27am AEST on 22 June 2020.
---
Victoria delays easing restrictions to tackle COVID-19 resurgence

A sharp rise in COVID-19 cases has prompted the Victorian Government to take a harder line on home visits and postpone an increase in patron numbers for venues by three weeks.
After 25 new cases were reported in the state overnight, Premier Daniel Andrews said medical experts had advised Victoria was at a "critical crossroads".
In response, as of 11:59pm tomorrow the number of visitors allowed in someone's home will be cut to five.
"Outside the home, families and friends can meet in groups up to 10. As we've seen across the world, this virus has the ability to turn a few cases into hundreds in a matter of days," Andrews said.
"That's why we also need to delay an increase to gathering limits in businesses and community facilities."
The government was previously planning to allow up to 50 people inside restaurants, cafes and pubs - with a maximum group size of 20 people - on 22 June, but that date has now been changed to 12 July.
These changes will also apply to auction halls, community halls, libraries, museums and places of worship.
"Businesses that were set to open on Monday like gyms, cinemas, theatres and TABs can do so - but again, only with a maximum of 20," Andrews said.
"Community sport for kids and non-contact competition for adults can proceed as planned. Ski season and accommodation facilities with communal spaces will also open, but with increased screening and safeguards in place."
Medical experts have told the government the numbers are largely being driven by families, with big get-togethers where advice around social distancing and hygiene has not been followed.
"In fact, around half of our cases since the end of April have come from transmission inside someone's home," the Premier said.
"You can see how this could happen. People feeling relaxed at home. Letting their guard down. Letting old habits creep back. But we are still in a pandemic - and people's lives are still at risk.
"Today, our case numbers have hit the highest they've been in more than two months. I know that's not what people want to hear but sadly, that is our reality."
The situation in Victoria demonstrates the state is not out of the woods yet, and as this virus spreads exponentially there is always potential that similar circumstances could take place elsewhere.
"If you do have to see people, keep your distance. No handshakes and no hugs. Maintain good hygiene. Don't share food or drinks. And if you're feeling unwell - stay at home," Andrews advised Victorians.
"Don't visit friends and family. Don't go on holiday. Don't go to work. Stay home."
To make it easier for people to comply with the rules, the state government is also announcing a $1,500 payment for those who have a confirmed case or are a close contact and who can't rely on sick leave.
"This is about making sure there's no financial reason for these people not to isolate and to go to work instead," he said.
"I know businesses are keen to open further - which is why we've all got to play our part.
"That means ensuring those who can work from home continue to do so at least until 31 July. And if you do have people on the job - having a zero-tolerance approach to sickness. Having symptoms must mean you go home, and you get tested.
"The vast majority of Victorians have been doing the right thing. But this is a wake-up call. We cannot be complacent. And the only thing between us and a second wave is what we do next."
Updated at 5:21pm AEST on 20 June 2020.
---
SA borders open to Queenslanders from midnight tonight

As of midnight tonight travellers from Queensland into South Australia will no longer be required to complete 14 days of self-isolation.
The removal of the self-isolation requirement brings Queensland in line with travellers from Western Australia, Tasmania, and the Northern Territory who have been able to freely travel into SA since 17 June.
The State plans on opening its borders to all remaining Australian states on 20 July.
This latest development comes as South Australia eases COVID-19 restrictions further today, increasing the number of patrons allowed to gather in public and in venues like pubs, bars, restaurants and clubs.
From today, the upper capacity limit per room in a venue moves from 20 people to 75, and the total capacity per venue has been increased from 80 to 300.
Fitness classes can now have a maximum capacity of 20 people where the one person per seven square metre rule can be observed.
The cap on public assemblies has also been increased to 300 people, and alcohol can now also be consumed at these types of events which includes public, outdoor sporting events.
The start date for Stage 3 easing of restrictions in SA remains at this coming Monday 29 June.
This will enable even more people to gather in public, with the four square metre per person rule to be applied broadly with no maximum capacity limit to be enforced.
For venues like smaller stadiums with a capacity of 40,000 people or less under Stage 3 they will be able to operate with specific restrictions in place.
Venues that run outdoor sporting or cultural/entertainment events can be operational as long as people are seated with a cap on 25 per cent capacity, meaning some venues may be able to have up to 10,000 people.
Updated at 12:58PM AEST on 19 June 2020.
---
NT to reopen borders, COVID-19 "eradicated"

Northern Territory Chief Minister Michael Gunner has today announced interstate borders will reopen from 17 July, giving the country four weeks' notice before visitors can enter the "safest place in Australia without question".
Speaking at a press conference this afternoon, Gunner said today marked 28 days since the last coronavirus patient recovered.
"That means today the Northern Territory has officially eradicated the coronavirus - the first and only place in Australia to do so," he said.
Gunner said hard borders had been the territory's most effective weapon in its arsenal against the spread of COVID-19, allowing it to be at the forefront of opening up businesses.
But in order to make today's decision, the territory government needed to be confident that the number of active cases would continue to fall with low rates of community transmission in other parts of the country
Now that 10 days have passed since mass Black Lives Matter protests in states with the highest numbers of active cases, Gunner met with NT Chief Health Officer Dr Hugh Heggie to seek his advice on allowing people in.
"10 days after mass gatherings, community transmission down south is now tracking at an acceptable risk level. This was the final piece of the puzzle," Gunner said.
"Northern Territory will keep these mandatory quarantine arrangements in place for all states and territories until 12:01am on Friday, the 17th of July. From that date, arrivals will not have to self-quarantine for 14 days.
"That gives the rest of Australia four weeks notice, and it gives Territorians four weeks to get ready...it gives businesses time to prepare, and allows us to market the territory; it also gives us the time to lock in the gains that we've made and be absolutely certain that we aren't putting our progress at risk."
Photo: Kata Tjuta (The Olgas), Matt Ogg
Updated at 2:20pm AEST on 18 June 2020.
---
Employment levels dive again in May with 228,000 jobs lost

Employment levels in Australia have continued to tumble in the month of May, down 227,700 people according to the Australian Bureau of Statistics (ABS).
Speaking to the press this afternoon, Prime Minister Scott Morrison described the figures as "devastating" but stressed the situation was improving with consumer and business confidence on the rise.
The drop in employment of close to a quarter of a million people, when added to the dive of 600,000 people in April, brings the total fall to 835,000 people since March when the COVID-19 pandemic began to take its toll on the Australian economy.
Unemployment also increased by 85,700 people to 927,000, representing a rise in the unemployment rate of 0.7 percentage points to 7.1 per cent.
This compares to the eight per cent unemployment rate Treasury Secretary Steven Kennedy forecasted for September in a recent Senate inquiry, and is much lower than a previous estimate that the rate would be in double digits by June.
The participation rate in the workforce, representing the number of people currently in the workforce or actively looking for work, is now at 62.9 per cent. This is the lowest level of participation since 2001.
Underemployment has decreased in May by 0.7 per centage points to 13.1 per cent, but remained 4.3 points above March's rate.
The majority of those counted as newly unemployed are female, with 180,00 or 52 per cent of the jobs lost in May being women.
Young people continue to be impacted disproportionately, with youth employment (people aged 15 to 24 years) falling by 103,000 in May, representing 45 per cent of the total jobs lost.
The underutilisation rate, which combines unemployment and underemployment rates, rose to a new record high of 20.2 per cent.
Monthly hours worked also fell by 0.7 per cent in May, to be down 10.2 per cent since March, with the April fall revised up to 9.5 per cent.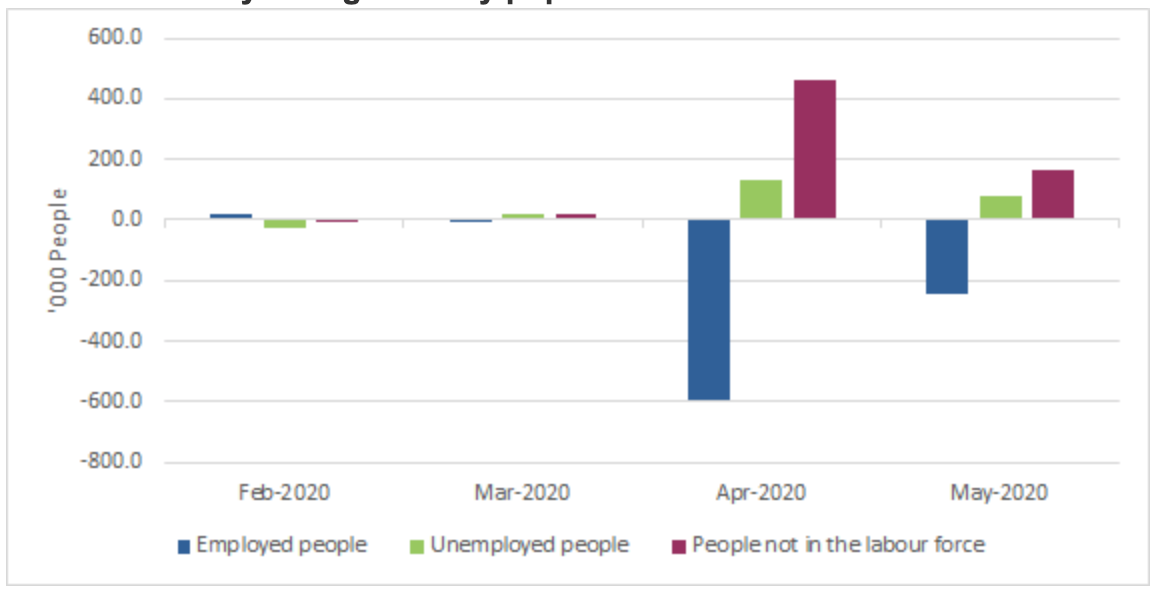 Chart: Monthly changes in key populations (via ABS)
Despite these dire statistics, Prime Minister Scott Morrison remains optimistic about Australia's future.
"I can see that ray of light, and I'm sure Australians can too, but we've got to keep moving towards it," PM Morrison said.
"We're looking at around two years to get the economy back to where it was before COVID hit it, and let's make no mistake, this recession is a product of the coronavirus pandemic.
"We estimate around two years to get back just to where we were when that happened and I believe over five years we can catch where we were planning to be."
Federal Treasurer Josh Frydenberg pointed toward some signs that an economic rebound is slowly emerging, citing how consumer confidence has regained 93 per cent of its lows, and business confidence regaining 70 per cent of its lows.
"We still have a very steep mountain to club, but as the Prime Minister said, we are working day and night to get Australians back into work," Frydenberg said.
Updated at 1:10pm AEST on 18 June 2020.
---
PharmAust shares surge on COVID-19 treatment results, plans for human trials

A Perth-based pharmaceutical company attempting to repurpose existing drugs for COVID-19 treatment has received a boost today, after repeat in vitro experiments showed a reduction in infectivity in cell culture.
Two weeks ago PharmAust (ASX: PAA) announced preliminary tests using monepantel (MPL) and monepantel sulfone (MPLS) managed to surpress the replication of SARS-CoV-2 virus particles in the lab by 50-95 per cent.
MPL is traditionally used against gastrointestinal deadworms in sheep, and PharmAust has previously evaluated its effects on human patients with cancer.
The repeat experiments undertaken by virologists at the Walter and Eliza Hall Institute of Medical Research in Melbourne again showed the virus particles could be suppressed by up to approximately 95 per cent with these drugs.
Discussions are now underway with the institute to explore the significance of this work, including a comparison to a similar drug rapamycin and current anti-viral drugs authorised by the FDA for emergency use to treat COVID-19, such as remdesivir.
Walter and Eliza Hall Institute researcher Professor Marc Pellegrini describes MPL's and MPLS' anti-viral profiles as encouraging.
"These exciting repeat results validate the results of the initial test and form strong grounds for progressing the drug to the next step," says Pellegrini.
"Demonstrating twice that infectivity of SARS-CoV-2 virus particles can be suppressed by up to approximately 95 per cent in cell cultures is a remarkable outcome.
"We intend to continue collaborating with PharmAust with preclinical experimentation to support their progress."
PharmAust's chief scientific officer Dr Richard Mollard says the reproducible nature of this work in vitro "paves a propitious pathway for continued evaluation".
The company will now prepare an Executive Summary and an Investigator's Brochure to permit discussions with clinicians about a Phase I trial in a small number of human patients to treat COVID-19.
PAA shares were up 27 per cent at $0.14 each at 12:19am AEST.
Updated at 12:19am AEST on 18 June 2020.
---
Lights, camera, action again as QLD film industry restarts

A COVID-safe plan has meant the film industry is back on set in Queensland, with two productions about to start and plans to get Baz Luhrmann's Elvis biopic filming again "as soon as possible".
Premier Annastacia Palaszczuk says two productions in Cairns and on the Gold Coast will start filming again, showing great confidence in recovery with 225 jobs to be created along with a $10 million in the state's economy.
"Rom-com feature film This Little Love of Mine, by Brisbane-based The Steve Jaggi Company, will start filming in Cairns and is part of our Far North Queensland Screen Production Strategic Plan designed to grow the industry in the region," she says.
"This production will create 25 local jobs and inject more than $1.5 million into the economy.
"Also resuming filming this month is the second season of The Bureau of Magical Things, on the Gold Coast, employing more than 200 cast and crew and injecting more than $8.5 million into the Queensland economy."
She says season three of Harrow is also poised to kickstart filming, while the government and Screen Queensland are also working to ensure major international productions can return to the State.
"We're working closely with Baz Luhrmann and his production team to recommence filming of the new "Elvis" movie at Village Roadshow Studios on the Gold Coast," the Premier says.
"We want to ensure that this can happen as soon as possible while making sure that the cast and crew can operate safely.
"Screen Queensland and Queensland Health are also currently developing a screen industry COVID safe plan that will be released shortly, paving the way for the whole sector to get rolling cameras again and crew back to work on sets."
The Premier notes the industry had been hit hard by COVID-19 in Queensland and around the world, but it is great to see the sector ramping up again.
"While the global pandemic may have forced productions into hiatus, the Queensland Screen industry has still been active - doing what they do best, creating and developing until productions can recommence," she says.
"Screen Queensland established a Queensland Screen Industry Task Force and announced a $3.3 million COVID-19 support package to support Queensland writers and producers and businesses.
"I look forward to announcing the start of more productions in our State soon, that are getting people back to work and our economy recovering."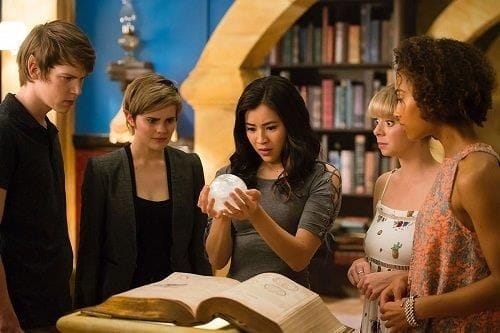 The Bureau of Magical Things.
Member for Mulgrave Curtis Pitt has been instrumental in developing the Far North Queensland Screen Production Strategic Plan, and welcomes the This Little Love of Mine production and crew to the Tropical North.
"The screen industry is rebounding and it's absolutely fantastic that the very first production to start up again will be filmed here in Cairns," says Pitt.
Member for Cairns Michael Healy says the film will showcase he stunning locations and lifestyle of Far North Queensland when released in cinemas in 2021, ideally timed to put the state in the spotlight for potential tourists.
Member for Barron River Craig Crawford says he is sure the Cairns community will welcome the crew with open arms.
This is the third feature film to be shot in Queensland by The Steve Jaggi Company in less than 18 months, since relocating to Brisbane from Sydney in late 2019.
Producer Steve Jaggi says the production is led by a outstanding team of female talent in key creative roles.
"With director Christine Luby at the helm of this romantic comedy written by Australian screenwriter Georgia Harrison, we know we are on the right track to connect with our female target audience," Jaggi says.
It has been a challenging year for the screen sector, and we feel fortunate to be heading into production on this feature and would like to recognise the support of Screen Queensland in helping us get to this crucial point."
The film is produced by Kelly Son Hing, Spencer McLaren and Steve Jaggi, with Kylie Pascoe co-producing.
Updated at 11am AEST on 18 June 2020.
---
Gold Coast Convention and Exhibition Centre prepares to reopen

Green shoots are showing at one of Australia's preeminent conference and events spaces as the Gold Coast Convention and Exhibition Centre (GCCEC) announces plans to reopen.
The GCCEC says it has received approval from the Gold Coast Public Health Unit to operate under its COVID-safe plan.
As such, the Centre could potentially host 4,500 visitors per day based on the one person per four square metre rule.
GCCEC's arena, that normally can accommodate up to 6,000 people, now has a COVID-safe capacity of between 1,500 and 3,000 people.
The venue's COVID-safe plan covers all areas of operation including cleaning, hygiene, and social distancing.
"We are all looking forward to welcoming businesses back to the Centre after months of getting the building and business COVID safe," says GCCEC general manager Adrienne Readings.
"We are confident in our plan and the processes that we have implemented to ensure the safety of all visitors to GCCEC.
"We're in a unique position on the Gold Coast to be able to accommodate larger events such as graduations, conferences, meetings and dinners to current distancing regulations."
ICC Sydney back in the frame
GCCEC's reopening plans follows similar news from New South Wales' equivalent conference space, the International Convention Centre Sydney (ICC Sydney).
Last week the ICC Sydney announced it had launched the 'ICC Sydney EventSafe Operating Framework' - a set of operating principles that will allow the venue to safely reopen.
The launch of the Framework signals the preparedness of ICC Sydney to reopen pending the further rollback of NSW and Federal Government COVID-19 restrictions.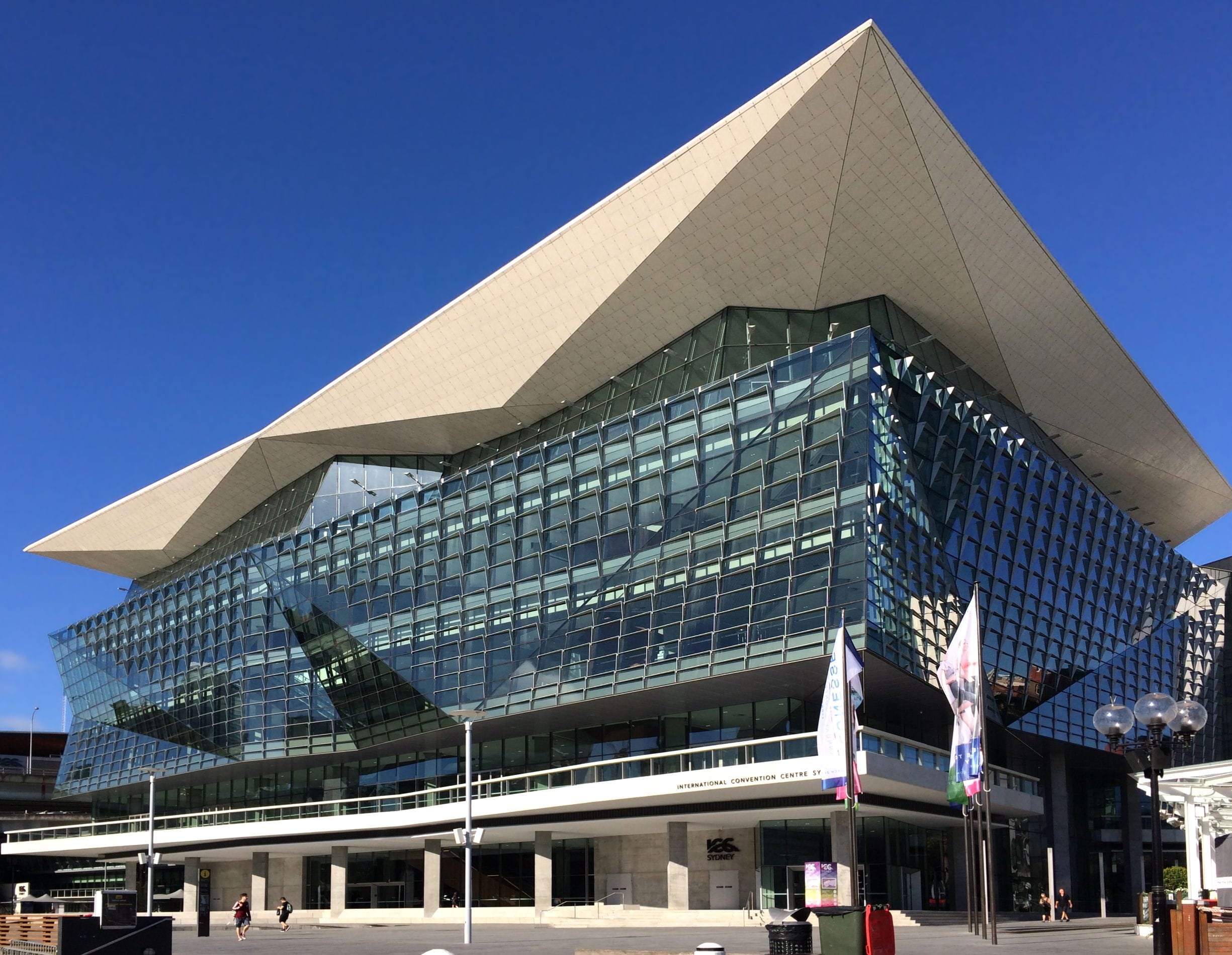 ICC Sydney
"We are confident that ICC Sydney's EventSafe Operating Framework not only delivers against this challenge by establishing best practice, but will also reinstill confidence in people to start hosting and attending events," ICC Sydney CEO Geoff Donaghy said.
"This is critical for rebooting our industry and the many other businesses and parts of Australia's economy that will benefit from that success."
Convention centres in Adelaide, Melbourne, Brisbane, Perth and Hobart all remain closed due to COVID-19 restrictions.
Updated at 10:44am AEST on 18 June 2020.
---
Beacon Lighting beaming on profit growth forecast

Beacon Lighting (ASX: BLX) shares are shining 22 per cent brighter this morning after the Melbourne-based retailer reported sales growth throughout the pandemic to date, as well as expectations underlying profit will rise in FY20.
By the close of business yesterday BLX shares had already clawed back all of their losses due to the market crash, but today's illumination of recent results - including 15.5 per cent total sales growth - sent them surging.
Comparative sales growth for company stores is up 16.9 per cent in the second half to date, while online sales have risen 77.7 per cent.
"The Beacon Lighting Group has experienced significant growth in sales in H2 FY2020 as customers are spending more time working, educating and completing projects at home," the company said.
"Given the recent changes to customer shopping patterns and future changes in government policies, it is uncertain as to whether the higher levels of sales will continue in the future."
In December the group announced the sale of its Parkinson distribution centre in Queensland to Charter Hall for $28 million, with a leaseback arrangement for the site that was initially developed for Woolworths' (ASX: WOW) failed hardware venture Masters.
The group made a $7.8 million profit before tax on the sale, but this was partially offset to the tune of around $5 million from the closure of its Beacon Energy Solution business.
Regardless of this $2.8 million lift to the bottom line, Beacon Lighting still expects underlying net profit after tax (NPAT) to exceed its $16.5 million result from FY19.
Updated at 11:18am AEST on 17 June 2020
---
SA to open borders to WA, TAS and NT tonight

South Australia has today taken its first major step since COVID-19 restrictions began to welcome visitors from the rest of the country, with plans to open borders to Western Australia, the Northern Territory and Tasmania as of midnight.
This lifting of restrictions means travellers coming from these origins will not be required to spend 14 days in self-isolation.
A relaxation of the border with Queensland also could be imminent.
"It's important for me to point out this doesn't mean that those jurisdictions have lifted their borders for South Australians going into their jurisdictions," SA Premier Steven Marshall told a press conference this afternoon, signalling airlines to reopen flight routes into Adelaide.
"What we are effectively doing is removing the border on our side, and what that means is we should see more people travelling into South Australia."
The Premier clarified the travel must be direct. For example, someone cannot avoid the self-isolation requirements if they travel from WA to SA via Sydney.
As of midnight, people who have entered SA from WA, NT and TAS and are currently in self-isolation will no longer be required to complete the duration of their quarantine.
"I would say that we are also considering Queensland. We didn't make a decision on Queensland today, but it's likely that we will again meet later this week or early next week and again consider whether or not we can remove that state border with Queensland," the Premier added.
The State Government also made two other decisions today:
As of Friday, public assemblies of up to 300 people will be permitted; and
Indoor classes such as fitness, dance and yoga that have previously had a 10-person limit will have that number lifted to 20, so long as seven square meters per person can be provided.
As announced last Friday, South Australia plans to open all state borders as of 20 July.
"What we've seen in recent weeks is a massive improvement in virtually every jurisdiction around the country - last week I think only 42 new cases across the entire country; two thirds of those came from people travelling back from overseas," the Premier reiterated this afternoon.
"All jurisdictions are doing well, and we look forward to a time when the entire country can be open to all interstate travel."
Updated at 2:34pm AEST on 16 June 2020.
---
Fresh $100m grant round for QLD small business, plus $10m interstate flight boost

The next phase of the Queensland Government's economic recovery plan has been unveiled, and small businesses, the tourism and arts industries and more are set to receive some stimulus.
More than $300 million will be pumped into a variety of sectors as part of the next phase in the Queensland Government's 'Unite and Recover' program, designed to restore and create jobs.
"In the fallout of the Covid-19 pandemic, it's imperative that we prepare Queensland for the difficult road ahead and plot a definitive, responsible and comprehensive plan for our economic recovery," says Queensland Premier Annastacia Palaszczuk.
"Today's new package of measures shows that our focus continues to be Queensland jobs and a plan for our economy.
"Every job matters and we stand shoulder to shoulder with our workers, businesses and industries on the road ahead."
Additional $100 million in small business grants
Queensland small businesses impacted by COVID-19 will be able to tap into a new $100 million funding round.
Grants of up to $10,000 will be made available from next month to help small businesses survive and grow their staffing levels.
The additional funding comes after the State's first round of small business grants were "snapped up within days".
"Our small business community has spoken, and we have listened and responded as part of the second stage of our Unite and Recover for Queensland Jobs plan," Palaszczuk said.
"Round one of the Small Business grants received an overwhelming response.
"In the second round, we are prioritising regional areas and allocating half of the funding to support small businesses in regional Queensland."
Small businesses, including those who had expressed interest in the first round of grants, are encourage to apply from 1 July.
Airlines and national parks supported ahead of tourism revitalisation
As Queensland gears up for the pencilled in 10 July border reopening date the tourism industry will be supported by the State Government.
The State has committed an extra $10 million to airline route support for interstate flights, designed to encourage the domestic tourism spend across the State and bring back airline capacity faster than it would have otherwise.
It comes on top of $5 million already committed to 16 airports to help airlines to secure intrastate flights.
"The combined $15 million program will give even greater scope to negotiate with airlines to open up the state and bring more tourists to our regions," Palaszczuk said.
"Airports and aviation are crucial to our regional economies as we recover from the COVID-19 pandemic.
"More flights will help to further revive our tourism industry, support hundreds of thousands of jobs and pump millions of dollars into local businesses."
National parks will also receive $8.93 million under a works and jobs boost to provide visitor infrastructure upgrades and enhancements.
"Before COVID-19, one in 10 Queenslanders were employed in tourism," says Tourism Minister Kate Jones.
"We want to continue getting people back to work. More direct flights will help us do that."
$22.5 million for creative industries
A new 'Arts and Cultural Recovery Package', worth $22.5 million, will help support the recovery of the sector hard hit by COVID-19 restrictions.
The package includes $11.3 million to offset revenue losses in music and performing arts venues.
The package will also support COVID-safe cultural experiences for Queensland audiences, and brings the total dedicated by the QLD Government to the arts sector to $42.5 million.
"The funding will boost jobs through the creation of a pipeline of live and local music and other performing arts experiences, including a focus on our independent artists who have been particularly impacted during this time, says Palaszczuk.
"Importantly it ensures the activation of our venues and helps the arts sector move past the economic impacts of COVID-19.
"Our arts, cultural and creative sector has shown ingenuity and hope, so we're continuing to support them in finding new ways to connect and inspire us."
Indigenous creatives will also be supported by this funding program, with the Government supporting the distribution of First Nations arts product through a digital marketplace, expanded sale channels and investment in the growth of the Indigenous Arts Centre network.
Agriculture, construction and resources industries to receive a boost
As part of the latest economic recovery measures the State's agricultural, construction and energy sectors will also receive funding for growth.
More than $12 million will be delivered to the agricultural sector designed to create new technologies, sponsor e-commerce platforms, and to explore potential tourism opportunities.
The Queensland Government will also commit $10 million to promote exploration activity for new economy minerals for emerging technologies.
Renewable energy is also at the forefront of the stimulus package, with the Government investing $17 million in a state-of-the-art renewable energy training facility in Brisbane to teach workers about solar and other renewables.
The State Government has also reaffirmed its commitments to the $15,000 first home owner grants program, plus for those building a new home in a regional location an additional $5,000 grant will be made available.
Additionally, the Government has committed to a further $100 million 'Housing Construction Works for Tradies' program, with new social housing to be built across Queensland.
Councils in South-East Queensland will receive an additional $50 million for a 'Unite and Recover Community Stimulus Program' to support minor works and projects that create local jobs in our most impacted areas.
Updated at 12:01pm AEST on 16 June 2020.
---
NSW to cut nightlife red tape for COVID-19 recovery

The New South Wales Government will relax late night trading laws and lift a freeze on new liquor licences across Sydney's CBD, as part of a plan to reinvigorate the city's night time economy post-coronavirus.
The state says changes will allow venues like pubs, clubs, hotels and bottle shops to adjust service offerings to meet consumer demand.
Changes to late night trading will also allow new venues to open up, with the state to remove a freeze on new liquor licence applications.
It is expected that the NSW Government will allow applications for these new licences later in 2020. The initial licence freeze was implemented as part of the State's measures to target alcohol-related harm in areas with high concentrations of liquor businesses.
The freeze completely prevented the granting of new licences for hotels, nightclubs, registered clubs and liquor shops across Sydney's CBD and Kings Cross.
Minister for Customer Service Victor Dominello said trading restrictions for existing venues ended on 1 June 2020, and the NSW Government is working with stakeholders on a framework for approving new licences.
"In some CBD locations, this will be the first time in 11 years that applications for new venues will be considered. These changes will kick-start a new era in Sydney's 24-hour economy," Dominello said.
NSW is calling upon the public and industry to have a say in how Sydney's 24-hour economy will be reformed.
Those interested in providing feedback to the NSW Government can do so here.
Updated at 10:46am AEST on 16 June 2020.
---
CBA data shows rebound in spending intentions

The Commonwealth Bank of Australia (ASX: CBA) has observed "big changes" to household spending intentions in May, with upticks for retail and entertainment in particular.
The latest report in the bank's Household Spending Intentions (HSI) series provides early signs of stabilisation and recovery in parts of the economy, largely driven by government policy according to CBA chief economist Stephen Halmarick.
"Data up to the end of May 2020 showed retail spending intentions jumped higher on the month, consistent with our CBA credit and debit card spending data. Improvement was also seen in entertainment spending intentions," he says.
"After big falls in April, spending intentions stabilised for home buying and travel. Health and fitness spending intentions also stabilised after recent gains, while some weakness was evident for education spending intentions and motor vehicle spending intentions."
The economist says travel spending intentions stabilised in May as parts of the economy re-opened.
"While Australians may not be able to holiday overseas until well into 2021, domestic tourism is likely to get a significant boost in coming months," says Halmarick.
"Australians will no doubt be keen to visit family and friends around the country and use the opportunity to explore the best that Australia has to offer."
The key drivers of the jump in retail spending were food, general retail (department and discount stores) and household furnishings and equipment.
"Perhaps adding to coronavirus 'waist-lines', there was also an ongoing increase in spending on both alcohol for at home consumption, and confectionery," he says.
"Weakness is still evident in alcohol sales at licenced premises, as well as restaurants, art galleries, live music venues, bowling allies, cinemas and theatres.
Halmarick adds home buying spending intentions stabilised in May due to an increase in mortgage applications as house prices fell.
"This was especially the case for owner-occupiers looking to lock in low fixed rate mortgages," he says.
"Online Google searches related to home buying decreased in previous months and is in line with house price falls for the month.
"While we know that the Australian economy is in recession, the path to recovery is becoming clearer."
Photo: Visit Melbourne
Updated at 11.32am AEST on 16 June 2020.
---
$72 billion worth of infrastructure projects fast-tracked as PM targets "restoration of growth"

Prime Minister Scott Morrison has today pledged to drastically cut Commonwealth assessment and environmental approval times on projects, with at least $72 billion worth of priority works set to be fast-tracked across the nation.
Addressing the Committee for Economic Development of Australia (CEDA) this morning, the PM highlighted key aspects of a five-year JobMaker plan that "charts the way forward for a new generation of economic success".
He said 15 major projects had been identified for fast-tracked approvals under a bilateral model between the Commonwealth, States and Territories, with around 66,000 direct and indirect jobs to be created.
"This investment, and most importantly these jobs, will be brought to market earlier by targeting a 50 per cent reduction in Commonwealth assessment and approval times for major projects from an average of 3.5 years to 21 months," the PM said.
"This priority list includes the inland rail from Melbourne to Brisbane, the Marinus Link between Tasmania and Victoria, Olympic Dam extension in in South Australia, emergency town water projects in New South Wales, and road, rail and iron ore projects in Western Australia.
"Early examples of this approach are already paying dividends and are very encouraging. I commend the New South Wales government who we've been working with and we are on track to complete Commonwealth assessment and approval for the Snowy 2.0 project in under two years, unlocking over 2,000 regional jobs."
The government also aims to cut approval times under the Environment Protection and Biodiversity Conservation (EPBC) Act 1999.
"According to departmental estimates, delays associated with these approvals alone cost industry over $300 million just in 2019 - that's not good," Morrison said.
"The Commonwealth has already taken steps to cut project approval times under the EPBC Act, and at the end of 2019 approval decisions took 90 days on average. Today they take 40; that is what we've achieved this year in 2020.
"Our goal is to cut these times by a further 25 per cent by the end of this year, getting down to 30 [days] for major projects," he said, adding the National Cabinet has been working on how to streamline Commonwealth and State process for "point of single-touch" approvals.
In terms of new spending, the Prime Minister outlined $1.5 billion would go towards immediately starting small priority projects that have been identified by states and territories.
"As part of this package $1 billion will be allocated to priority projects which are shovel-ready smaller projects - they're ready to go - with $500 million reserved specifically to target road safety works," he said.
"This is an important opportunity to make our roads safer across the country, not just in rural areas where it is critically important, but also in other parts of the country."
Once this support is finalised the government expects to have either brought forward or provided additional funding to some $9.3 billion in infrastructure investment in the past eight months, building a pipeline of future projects.
Deregulation
The PM also announced the Deregulation Taskforce established last year would be brought into his department of the Prime Minister and Cabinet as part of the JobMaker agenda.
"This [taskforce] has already included simplifying business registers, streamlining export documentation, and making it easier for a sole trader and micro business to employ people; in most cases their first ever employee," he said.
"The next phase of the taskforce work will zero in on areas to assist COVID-19 economic recovery, so for example occupational licensing and registration requirements often vary across states and territories, which increases costs on businesses and workers who operate or move across Australia.
"Greater mutual recognition of qualifications and improved information flows between jurisdictions will be vital to allow Australians to take up to opportunities in coming months."
Morrison added COVID-19 had shown the country's laws have not kept pace with digital technology when it comes to business communication.
"For example, by requiring businesses to use paper for storing information instead of using electronic delivery or adopting new technologies like blockchain; these laws too are ripe for modernisation.
"This crisis has shown what can be achieved when regulators are pragmatic and responsive, solving problems without compromising safeguards.
"Successful deregulation has increased competition and economic efficiency, raising productivity and ultimately supporting jobs and wages."
"Australia is opening up again"
The PM referenced consumer confidence indices from both Westpac and ANZ that show lost ground has been recovered, and high frequency spending data shows this has been increasingly translated into increased retail sales.
But the harsh reality is that around 1.6 million in Australians are now on JobSeeker, and around half of these people have started accessing these payments over the past few months.
"Many have done it for the first time in their lives," the Prime Minister said.
"It has been young people who have had the greatest increase in the demand for JobSeeker; this is also true when you include those still employed but working zero hours.
"We know there is a disproportionate impact on women and younger Australians and those with lower skills attainment."
In accommodation, hospitality and retail more than 600,000 Australians have either lost their job or are working zero hours, while national household consumption of services figures are expected to get worse in the June quarter as so many businesses were shut down or remained idle.
"We're aspirational and we're a positive people, and the good news is we are now coming back. Australia is opening up again," he said.
"While trailing the improvement in consumer sentiment, business confidence and conditions are also clawing their way back; the easing of restrictions and Australians emerging from isolation confident in the health measures taken by governments, will continue to drive up demand and indicate to businesses that they can once again open their doors and make a go of it.
"It's not just enough for businesses to be able to be open - they've got to have confidence to open, to bring the staff back, to get the orders in for their inventories; you have to put the investments in, including through the instant asset write-off which the Treasury extended out till the end of the year."
He said while global growth forecasts were "weak and bleak", the outlook for Australia's major trading partners was much stronger.
"Our mining sector has also been able to keep on running. Export volumes and prices are encouraging...and will provide much needed income for the country, and the same is true for many other export sectors," he said.
The PM noted Australia had been able to get the balance right between health and economic priorities in comparison to other nations.
"Whereas other countries imposed strict lockdowns, we've been able to keep large sectors of our economy open and functioning, including construction, manufacturing, agriculture, mining, as well as large parts of the retail sector which were not closed," he said.
"The recent national accounts show that the Australian economy shrunk by 0.3 per cent in the March quarter. Now, while the damage to the economy is heartbreaking at that level, it has been far less than so many countries.
"Looking forward, Australia is expected to have the third lowest fall in GDP in 2020 of all economies surveyed by the OECD. But the hit to our economy, we must understand, is significant despite our relatively stronger performance and the road ahead will be very hard. There is a mountain yet to climb."
It is expected that more than $100 billion of economic activity has been lost as a result of this crisis, and that it will take the country at least two years to get back to the level it was at prior to COVID-19.
"That's why we have a plan to lift that growth not just for the next few months, just not for now, but the next five years.
"We need to lift our economic growth rate by more than one percentage point above trend, to beat the expected pre-COVID-19 GDP position by 2025, to catch back up to where we were before COVID hit. The restoration of growth is also critical to our public finances."
Updated at 10:47am AEST on 15 June 2020.
---
QLD border opening date pencilled in, further restrictions to be eased in VIC and NSW

The highly anticipated July 10 date for the reopening of Queensland's borders has been tentatively confirmed this morning by the State's Premier.
Speaking at a press conference, Premier Annastacia Palaszczuk reiterated plans to stick to that date, which was outlined in the state's roadmap for recovery but will be subject to review at the end of this month.
"Our roadmap clearly says July 10," Palaszczuk said.
"I raised at National Cabinet that Queensland has a very comprehensive roadmap, and that July 10 is listed there. I also mentioned that we will review at the end of the month but it is our clear intention that July 10 will be the date for consideration."
Palaszczuk's statements come as the State announces the further easing of restrictions on funerals in Queensland.
From tomorrow, 16 June, up to 100 people will be allowed to attend a loved one's funeral. Social distancing restrictions will still apply and records of attendees must be kept.
"The restrictions we've had to enforce on funerals has been one of the hardest for us to implement," QLD Deputy Premier Steven Miles said.
"We've received hundreds of heartbreaking stories from families wanting to have more people to grieve their loved ones. It's an event that people don't get to choose the timing of so they can't put it off as they can other events.
"So to be able to now allow up to 100 people at a funeral, provided records are kept of those attending and social distancing measures are implemented, we can do that safely while allowing people to grieve their loved ones."
Palaszczuk also announced today that the Queensland Government is assessing the new gathering restriction rules for Stage 3 announced on Friday by Prime Minister Scott Morrison.
These new rules will allow venues in Australia to ditch the 100-person venue capacity limit which will instead be replaced by a four square metre per person per room rule.
"We are actively considering that and we don't have a problem," says Palaszczuk.
The latest announcements from Queensland follow statements from the Victorian and New South Wales Governments regarding the further easing of restrictions in those states.
Victoria
On Sunday, the Victorian Government announced the gradual easing of restrictions from 11:59pm on Sunday, 21 June 2020.
From 22 June up to 50 people will be permitted to sit inside restaurants, cafes and pubs, with a maximum group size of 20 people.
Patrons of these establishments will also be allowed to be served alcohol without food, and bars and clubs will also be permitted to have up to 50 patrons per space.
The state has also increased the number of people permitted to visit a gallery, museum, national institution, historic site, outdoor amusement park, zoo, or outdoor arcade with up to 50 patrons per indoor space.
Indoor cinemas, movie theatres, concert venues, theatres and auditoriums will also be allowed to reopen with up to 50 seated patrons per space.
Private worship or small religious ceremonies can now include up to 50 people plus people reasonably required for the ceremony.
Auction houses, real estate auctions and open house inspections can now increase to 50 people plus those required to facilitate the auction.
Indoor sport centres and venues can open with up to 20 people per space, with a limit of up to 10 people per group or activity at any one time.
A staggered approach to the return of community sport will also commence from 22 June, including the resumption of full-contract training and competition for people 18 years' old and under, and the resumption of non-contract competition for people aged over 18 years (both indoor and outdoor).
From 13 July, Victoria will allow the resumption of full-contact training for adults, and from 20 July the resumption of all sport competition for adults.
Other limitations on sports will eased on 22 June including the removal of the limit on three people per lane in swimming pools and the ski season will resume.
Shared facilities at camping and tourist accommodation can also reopen on 22 June and indoor play centres and toy libraries will be able to open with 20 people per space.
New South Wales
New South Wales will begin moving into Stage 3 easing of restrictions from 1 July, with the state to apply the new gathering restrictions announced on Friday by PM Scott Morrison.
This will mean the number of people allowed inside indoor venues will be determined by the one person per four square metre rule with no upper limit. All activity must be seated only.
Smaller stadiums with a maximum capacity of 40,000 or less will be allowed to reopen at up to 25 per cent of their normal capacity. Events must be ticketed, seated and follow strict social distancing guidelines.
Restrictions on funerals will be eased to allow the four square metres rule to apply, while all other restrictions including the 20 guests in the home and 20 for outside gatherings rules will remain the same.
"We are keen to open the economy in a COVID-safe way," NSW Deputy Premier John Barilaro said.
"The government will also be considering solutions for smaller venues, particularly in regional NSW, where the four square metre rule is not practical for small businesses.
"The July 1 measures will allow vital community hubs in the region to open, such as showgrounds, providing a big boost for communities many of which are still recovering from the devastating impacts of drought and bushfires."
Updated at 10:19am AEST on 15 June.
---