Staying informed is more important than ever as the situation unfolds with Covid-19. Stay tuned here for our live updates, and be sure to let us know what your business is doing to face this unprecedented challenge.
---
PM outlines triggers for easing of restrictions

The Australian Government has set a four-week goal to achieve surveillance, tracing and response milestones if social distancing measures are to be eased, but Prime Minister Scott Morrison emphasises there will be "sobering" economic news along the way.
While 63 people have lost their lives so far to Covid-19 in Australia and a further 43 are battling for their lives with the virus on ventilators, our citizens can take comfort in encouraging trends for the virus here relative to the rest of the world.
New daily case rates have been below 50 for several days, and on average every case that is mitigated and controlled has led to less than one additional reported infection.
This is known as the effective reproduction rate (ERR) and right now it is where authorities want it to be - except for Tasmania which has seen a slight uptick due to a local outbreak in the state's northwest.
In a press conference today, Chief Medical Officer Brendan Murphy pointed to a modelling paper from the London School of Hygiene and Tropical Medicine that concluded Australia had the highest symptomatic case detection rate of any country studied.
Meanwhile, the PM noted more than half of those who have contracted the coronavirus in Australia have actually overcome it, which is also positive news.
But all of these achievements would amount to very little if we lost sight of how vulnerable the health situation, and subsequently the economy, could be to any lapse in our systems and behaviour.
"We need to hold our performance in relation to the effective reproduction rate, and we are looking at that by state - that is the most important way to look at how we're tracking in relation to those statistics," Morrison said.
"If you move too early, and the health response gets out of control, then the economic consequences will be even worse.
"We were advised today that markets are finding a new normal in this Covid-19 world but that new normal and that relative stability - and everything's relative now - will depend very much on continuing to achieve a stable health outcome."
As the country works towards this objective, the Australian Health Protection Principal Committee (AHPPC) advised National Cabinet today of important benchmarks to guide decisions on the easing of restrictions "when that is deemed possible". The PM summarised these guidelines in three main parts:
A more extensive surveillance/sentinel testing regime that goes beyond just including people who are symptomatic to Covid-19;
Ensuring there is greater tracing capability than at present, including automated functions. A tracing app similar to Singapore's that is still being refined is likely to play a key role in this; and
Boosting local response capability so that authorities can move quickly to contain any outbreak.
While these are the three key aspects of the triggers, the National Cabinet has agreed to seven precedent conditions overall:
Situational awareness of current measures and their impact - sophisticated surveillance of disease incidence and spread, health system status, public health capabilities, stocks of material and community adherence to public health measures.
Finalised surveillance plan - enabled with adequate resources.
A better understanding of the implications of the modelling and a better understanding of the characteristics and transmission of the virus.
Complete maturation of public health capacity - including capacity to conduct testing more broadly; and public health workforce and technology for contact tracing, data collection and analysis.
Advanced technology for contact tracing - the role of a mobile phone application should be wholly explored, as it could be a valuable tool in contact tracing if numbers increase and the application is widely taken up. This would act to complement and augment our current public health contact tracing strategies and enable scale-back strategies.
Assurance of adequate health system capacity - should control measures fail, there must be assurance that the system will cope with any surge in cases, including the requirement for hospital beds, ventilators, PPE and ongoing workforce training.
Assurance of supply lines for - PPE, pathology consumables, ventilators.
"There will be other outbreaks in other parts of the country, and in all states and territories we need that ability to move very fast, to be able to lock down an outbreak where it occurs, and to ensure that it does not transmit more broadly within the community," Morrison said.
"[If] You're going to move to an environment where there are fewer and strict restrictions, then you need these three things in place, and National Cabinet agreed today that we will use the next four weeks to ensure that we can get these in place.
"And the baseline restrictions that have been set some weeks ago, will remain in place until we're able to achieve those three goals. We'll be reviewing that in the next four weeks."
Once these three conditions have been reached, the Federal, State and Territory governments will be able to work on opening up "high-value, low-risk economic activities".
"The six month timeframe gives us a ticking clock basically on this lifeline and it gives us a clear goal to work towards to ensure that we find that road out with these restrictions eased ideally," the PM said.
Under this scenario, he said the goal was for the economy to "lift to a level of activity where people's wages and incomes can be supported again" so they do not need to rely on JobKeeper or JobSeeker payments; both six-month plans he confirmed would be in place until the end of the September quarter.
"That's the timeframe that we have bought through those economic supports, so you've got to work backwards from there. There will be I imagine baseline levels of restrictions that will be changed over that period of time."
The PM also pointed to a positive sentiment towards Australian bonds, with $28 billion raised by the Australian Office of Financial Management since 20 March, including a $13 billion syndicated offer yesterday.
"This should give Australians a sense of assurance and confidence...we have been successful in raising those funds on markets - some 68 per cent of this latest syndicated offer was from domestic investors and that was dominated by banks.
"We are finding ourselves in a situation where Australia's bond issuances have been well received, and that is because of the relative strength and the relative the positive impression that markets have in relation to Australia."
Updated at 4:40pm AEST on 16 April 2020.
---
QLD Government to tackle "hefty" food delivery fees

The Queensland Government has called a meeting for Monday to address ways of tackling the delivery fee burden on restaurants and cafés.
Minister for Employment and Small Business Shannon Fentiman says key stakeholders will come together to discuss the issue of "exorbitant delivery fees as a matter of urgency".
"The last thing we want to see [is] struggling businesses hit with high fees from delivery companies - it's not the Queensland way," says the minister.
"Many of our restaurant and café owners have been forced to shut their doors and operate solely on takeaway and delivery orders due to the Covid-19 crisis.
"Small businesses have had to innovate and think fast, pivoting their business to online and takeaway."
Fentiman says these businesses deserve a "fair go" in this time of crisis, but delivery companies such Uber Eats and Deliveroo will often charge up to 35 per cent commission, leaving businesses to bear the cost.
"We need our food and beverage businesses to be open, not just now but also once the economy recovers,"
"They will play a driving force in kick starting local economies and job growth once the pandemic is over."
The minister says cafés and restaurants are experiencing downturns of up to 90 per cent.
"We aim to help small businesses by making home delivery work for them as well as for the delivery services and the customers," she says.
Queensland's Small Business Champion, Maree Adshead, welcomes Monday's meeting.
"Opening the lines of communication and exploring ways to better support and inform small businesses is important. As we all know, small Businesses across Queensland are doing it tough," Ms Adshead said.
"I look forward to addressing these issues with stakeholders on Monday."
One food precinct in northern Brisbane has launched its own app in a bid to reduce reliance on Uber, while Uber Eats has offered new payment options and extra marketing spend to help some foodservice providers rise to the challenge.
Photo: Cyclonebill, via Creative Commons.
Updated at 2:12pm AEST on 16 April 2020.
---
Casinos cut CEO pay as thousands of staff stood down

Two of Australia's largest casino operators have announced pay cuts for CEOs as staff are stood down across the board to manage costs during Covid-19.
Star Entertainment Group (ASX: SGR) and Crown Resorts (ASX: CWN) have stood down around 12,355 staff cumulatively to manage operating costs.
To reflect the sacrifices made by staff, Star has reduced non-executive director fees by 50 per cent and CEO Matt Bekier's salary by 40 per cent.
Star's properties have been shut down since Monday 23 March and will remain closed until gathering restrictions are lifted.
As a result the company has had to reduce expected group capital expenditure for both FY20 and FY21.
To see the period through, Star has executed an additional debt funding facility with existing relationship banks for $200 million.
Including the new facility Star has available cash and undrawn debt facilities of around $700 million, which the company says will provide sufficient liquidity for an extended shutdown period.
Star estimates monthly expenditure at its properties will be around $10 million, comprising payments to employees who are not stood down, asset security, technology and other fixed costs.
"The Star is implementing necessary and wide-ranging measures to strengthen the balance sheet and preserve liquidity in the current exceptional circumstances," says Bekier.
"The shutdown continues to have a significant impact on our people and their families, and the group welcomes the Australian Government's support, particularly the JobKeeper Payment program. Our focus remains on preserving the group's solid financial position and operating flexibility to resume operations quickly when the current Covid-19 restrictions begin to lift."
Crown Sydney construction continues
Construction of the Crown Sydney Hotel Resort will continue as planned and remains on track for completion by the end of 2020.
The project cost remains unchanged at approximately $2.2 billion. During the build 1,300 construction staff have been employed and once completed the company expects more than 2,000 people to work in the hotel.
Crown has agreed to terms with three relationship banks for a $450 million project finance facility to support the continued construction of Crown Sydney.
The unwavering commitment to the build comes as Crown CEO and managing director Ken Barton has taken a 20 per cent reduction in fixed remuneration until 30 June 2020.
The company has progressively stood down on either a full or partial basis approximately 95 per cent of its employees, representing more than 11,500 staff.
The casino business has agreed to provide an ex gratia payment of two weeks' pay to those full-time and part-time employees that have been stood down and a lump sum payment of $1,000 to eligible casual workers.
Crown expects its underlying operating costs to reduce between $20 million to $30 million per month during the Covid-19 crisis.
"We have taken the tough but necessary decision to stand down a large number of our employees," says Crown CEO Ken Barton.
"We are continuing to investigate ways in which we can support our employees on an ongoing basis. Crown welcomes the Commonwealth Government's JobKeeper scheme, which will be critical in keeping our business and our employees connected."
Like Star, Crown has also entered into new debt facilities with its banks for a total of $560 million.
The company's current cash balance of approximately $500 million, in addition to Crown's ability to secure more than $1 billion in extra debt facilities, means the company is confident it will make it through this period of market destabilisation.
"As a result of today's announcement, Crown is well placed to withstand an extended period of closure," says Barton.
Crown will pay its FY20 interim dividend on 17 April 2020.
Never miss a news update, subscribe here. Follow us on Facebook, LinkedIn, Instagram and Twitter.
Business News Australia
---
Sewage the next frontier in tracking Covid-19 cases

Researchers from the University of Queensland (UQ) and the CSIRO have taken the first steps to develop a sewage-based early warning surveillance system to track Covid-19 prevalence in the community.
Scientists have successfully demonstrated the presence of SARS-CoV2, the virus which leads to the disease COVID-19, in untreated wastewater from two treatment plants in South East Queensland.
A proof of concept study completed last week found NA fragments of SARS-CoV2 in the raw sewage, which would have been shed in the stream by coronavirus-infected people.
Director of UQ's Queensland Alliance for Environmental Health Sciences, Professor Kevin Thomas, said the validated method built on work by research groups in the Netherlands and the US.
"This is a major development that enables surveillance of the spread of the virus through Australian communities," Professor Thomas said.
Federal Minister for Health Greg Hunt welcomed the Covid-19 wastewater pilot as "extremely encouraging" with potential to further strengthen Australia's response to the global pandemic.
"A national program based on this work could add to the broader suite of measures our Government can use in the identification and containment of Covid-19," Hunt said.
Federal Minister for Industry, Science and Technology Karen Andrews said this was the latest example of Australian scientists making a difference in the fight against the coronavirus.
"From the work happening to find a vaccine through to this research to track community spread of the disease - our science and research community are among our greatest assets in our efforts to beat this pandemic."
CSIRO chief executive Dr Larry Marshall said the testing would help Australia manage the outbreak.
"The hope is eventually we will be able to not just detect the geographic regions where Covid-19 is present, but the approximate number of people infected without testing every individual in a location. This will give the public a better sense of how well we are containing this pandemic," Dr Marshall said.
CSIRO Land and Water Science Director Dr Paul Bertsch said the project showed Australia had the capability to deliver timely COVID-19 wastewater surveillance data to inform decisions, response actions and public communications.
"These data will be particularly useful for catchments with vulnerable populations where testing using other methods may not be feasible," Dr Bertsch said.
"An early warning detection system like this would also be incredibly useful for monitoring and response in the recovery phase."
The team is keen to share the new knowledge and methods to develop a national collaboration.
"By showing how the method has worked in Australia, it is hoped that this research will bring together a national collaboration of government authorities, wastewater utilities, universities and other research organisations and commercial laboratories," Professor Thomas said.
"The next step is to build the capacity to deliver a national program."
Professor Thomas said the research used systematic sampling and analysis of wastewater for SARS-CoV-2 using a standardised, coordinated approach based on refined analytical methods.
"The wastewater samples were analysed for specific nucleic acid fragments of the virus using RT-PCR analysis, which is used to identify a gene fragment from SARS-CoV2," he said.
"The presence of SARS-CoV2 in specific wastewater samples was then confirmed using sequencing techniques."
Updated at 11:04am AEST on 16 April 2020.
---
Virgin suspended from ASX

Two days after entering into a trading halt Virgin Australia (ASX: VAH) has requested an immediate suspension of its ordinary shares and unsecured notes on the ASX.
The suspension relates to internal discussions at Virgin regarding how the airline intends to continue during the Covid-19 crisis, including deliberation over financial assistance and restructuring alternatives.
"Whilst this consideration and these discussions have continued over the last two days including discussions which remain confidential and are incomplete, the company is not presently in a position to make an announcement to the market with respect to these matters," says Virgin.
"In particular the company requests that trading in its securities be suspended to enable this consideration and these discussions to continue so as to ensure the market is not trading in the relevant securities on an uninformed basis."
The suspension will remain in place until the Virgin makes an announcement regarding these discussions or at the expiry of seven days from today's date 16 April.
It has been reported that Virgin could be looking at going into voluntary administration if support from the Federal Government is not granted.
As reported by The Guardian, Virgin has hired insolvency and turnaround experts at Deloitte to consider restructuring the business or going into administration.
Virgin's decision comes after the airline announced last week that it would be suspending all domestic passenger flights except for a daily Sydney to Melbourne service (but not on Saturday).
The company also recently stood down around 10,000 staff and suspended all Tigerair Australia domestic services. International flights have also been suspended until mid-June except for one return flight per week between Los Angeles and Brisbane and two return flights between Hong Kong and Brisbane. These flights have been scheduled to ensure Australians can get back home.
Virgin is also running flights to maintain important freight links into the country.
Updated at 9:34am AEST on 16 April 2020.
---
Aussie Disposals enters administration, 11 stores to close

Australian camping store chain Aussie Disposals appointed voluntary administrators yesterday after bearing the brunt of shopper impacts from bushfires and the Covid-19 crisis.
A notice filed with the Australian Securities and Investments Commission (ASIC) shows the company appointed Melbourne-based administrators Magnetic Insolvency.
Peter Goodin of Magnetic Insolvency says 11 of Aussie Disposals' 36 stores in Victoria, NSW and South Australia are due to close in order to achieve a profitable model.
In a press release, Aussie Disposals managing director Mark Purvis explained the company had experienced many highs and lows as a family-owned retail organisation over the past 58 years.
"ln recent times the drought, bushfires and now the Coronavirus has taken a massive toll on the business leaving us no alternative but to place the business into Voluntary Administration," Purvis said.
"We are now working extremely hard with our banker's creditors and suppliers to secure a way forward."
He said the main focus now was to make sure all of Aussie Disposals' more than 120 staff are looked after in the best possible way, ensuring they receive their full entitlement regardless of the company's future.
"Aussie Disposals also has a very loyal large customer base with so many of them supporting our business over so many years. We would like to ensure them our service will continue as it always has and this is the time we need them the most," Purvis said.
"The Directors along with the Adm jnistrators have a strong business plan for the future and would hope all affected parties can see their way clear to support us in these most difficult times.
Initially published at 4:10pm AEST on 15 April 2020, and updated at 11:48am AEST on 16 April 2020.
---
State governments pump billions into land tax and rent relief

The Victorian Government is acting on the new commercial tenancies code by pledging half a billion dollars to tenants and landlords as they struggle with the impacts of coronavirus-related economic disruption.
The package is the largest state-backed initiative of its kind to date, compared to $440 million from the NSW Government and $400 million from the Queensland Government over the past week. In late March the South Australian Government also announced six-month land tax deferrals.
The lion's share of the Victorian funding will come in the form of $420 million for land tax relief, while the remaining $80 million will go to a rental assistance fund for renters facing hardship due of coronavirus.
"More than ever, we need to be working in partnership. Landlords working with tenants. Tenants working with landlords. And Government willing to help those most in need," says Premier Daniel Andrews (pictured).
"This is about supporting tenants, landlords and small business and making sure that everyone can make it to the other side of this pandemic," adds Treasurer Tim Pallas.
Businesses will only be eligible for the measures if they have an annual turnover under $50 million per year and have experienced more than a 30 per cent reduction in turnover due to the coronavirus.
Key aspects of the bill include:
Land tax relief for landlords who give rental relief to tenants;
A ban on evictions for six months for residential and commercial tenants;
A ban on rental increases;
Rent relief for tenants experiencing hardship;
Fast-tracked dispute resolution access for tenants and landlords;
The establishment of a Coronavirus Relief Deputy Commissioner to handle land tax relief claims; and
Implementation of the mandatory code of conduct for commercial tenancies as agreed upon by the National Cabinet.
If a landlord provides tenants impacted by Covid-19 with rent relief, they will be eligible for a 25 per cent discount on their land tax, while any remaining land tax can be deferred until March 2021.
A new Coronavirus Relief Deputy Commissioner will be established at the State Revenue Office to manage these land tax relief claims.
The government has encouraged partnerships between tenants and landlords, and landlords and their banks, to help people continue to pay the rent and have a roof over their heads through the crisis.
But if tenants and landlords struggle to strike deals over rent reductions, they will be given access to a fast-tracked dispute resolution service with Consumer Affairs Victoria or the Victorian Small Business Commission mediating to ensure fair agreements are reached.
Evictions will banned for six months for the non-payment of rent for commercial tenancies involving small and medium-sized businesses, while rental increases will also be banned for commercial or residential properties.
Evictions will also be banned for residential properties for the same period, except in some circumstances.
Consistent with the National Cabinet agreement to implement a mandatory code of conduct for commercial tenancies, the Government will also urgently legislate so that eligible small and medium sized businesses can be granted rental waivers or deferrals.
"This support will help small businesses keep their doors open, keep employing and keep driving the state's economy," says Minister for Small Business Adem Somyurek.
"These are unprecedented measures - but we are facing an unprecedented crisis. With this support, we'll help tenants cover the rent and keep a roof over their head," adds Minister for Consumer Affairs Marlene Kairouz.
WA takes action to support tenants and landlords
The move follows an announcement yesterday from the Western Australian Government it would introduce the Commercial Tenancies (COVID-19 Response) Bill 2020 to State Parliament this week.
The WA Government's bill, aimed at minimising financial impacts from the pandemic on both commercial and residential tenants and landlords, will include:
A moratorium on eviction for six months except in limited circumstances including, for example: if a tenant is causing serious damage to the property or injury to the landlord or a person in adjacent premises; the landlord or tenant is experiencing undue hardship; a tenant is experiencing family violence and the perpetrator needs to be evicted; the tenant abandons the premises; or the agreement is frustrated;
A prohibition on rent increases during the emergency period;
That any fixed term tenancy agreement due to expire during the emergency period will continue as a periodic agreement;
Relieving lessors of the obligation to conduct ordinary repairs if the reason they cannot do so is Covid-19 related financial hardship or a lawful restriction on movement; and
Enabling a tenant to end a fixed term tenancy prior to its end date without incurring break lease fees (tenants will still be liable for damage and rent arrears).
"Under the proposed reforms, tenants must continue to pay rent. If a tenant can't pay their rent they will still have to pay it later, so continuing to pay rent will increase your chances of keeping debt to a manageable level," says WA Premier Mark McGowan.
"Tenants in financial distress due to Covid-19 should contact their landlord or property manager to try and make an arrangement. This could include a reduction to the amount paid for a period of time, for example.
"What we're introducing are sensible amendments to help landlords and tenants to work together during these challenging and uncertain times."
Commerce Minister John Quigley says there are expectations of a spike in disputes during the emergency period.
"As a result of these concerns, the legislation will provide a mandatory conciliation step in the dispute resolution process," says Quigley.
"This will act as a buffer between complainants and the Magistrates Court and the State Administrative Tribunal (SAT) protecting the Magistrates Court and SAT from being flooded by residential tenancy dispute applications.
"We will also be introducing a code of conduct that will apply broadly to all tenancies for small to medium enterprises that are suffering financial stress or hardship as a result of the pandemic."
NSW divvies up $440m to commercial and residential sectors
On Monday the NSW Government announced a $440 million land relief package to be distributed roughly 50-50 between the commercial and residential property sectors hit by the economic impacts of the pandemic.
Commercial landlords will be offered a land tax concession if they pass savings on to tenants through a rent reduction.
Eligible landlords will be able to apply for a land tax concession of up to 25 per cent of their 2020 (calendar year) land tax liability on relevant properties.
A further land tax deferral for any outstanding amounts for a three-month period will also be offered to landlords who claim the land tax concession.
The Government will give effect to the Code of Conduct, which will operate for a temporary period during the pandemic, and include the following key measures:
Landlords must negotiate rent relief agreements with tenants in financial distress due to Covid-19 by applying the leasing principles in the Code;
A ban on the termination of a lease for non-payment of rent;
A freeze in rent increases.
To facilitate these changes, and deliver increased mediation and advisory services to commercial parties, the NSW Small Business Commission will be bolstered with extra staff and an injection of $10 million from the $1 billion Working for NSW Fund.
The policy will apply to business tenants with a turnover of less than $50 million that experience a 30 per cent (or more) reduction in revenue as a result of the COVID-19 pandemic, in line with the Prime Minister's announcement on 7 April.
This will include any business with annual turnover of less than $50 million who is eligible for the Commonwealth's JobKeeper program.
Treasurer Dominic Perrottet welcomed the initiatives, saying they would help businesses stay afloat and provide greater surety for tenants and landlords.
"This provides a way forward for tenants and landlords so they can reach an agreement during this difficult period and includes an incentive in the form of a land tax reduction." Perrottet said.
"I thank the many landlords who are already supporting their tenants through this period and the banks for showing flexibility with deferring loan repayments - we are all in this together and need to work together."
Finance and Small Business Minister Damien Tudehope said the package demonstrated the need for a united effort to endure the COVID-19 pandemic.
"Breathing room on rent is one of the most frequently raised issues by businesses, and we want to ensure we protect retailers and offer landlords an incentive to do so. We also want to ensure retail tenants have more time and options," Mr Tudehope said.
"For any small business rent is one of the biggest fixed costs, easing this burden will help operators survive and keep people employed."
Perrottet said it was important that both landlords and tenants understood that the policy only applied to those businesses significantly impacted by COVID-19.
"If your circumstances have not significantly changed you need to fulfil the terms of your existing agreement." Perrottet said.
Queensland Government pledges $400m in land tax relief
Last Thursday, Queensland Deputy Premier and Treasurer Jackie Trad said her Government had heard "loud and clear" people's concerns about losing their homes or businesses through no fault of their own.
The Queensland Government announced $400 million in land tax relief for property owners, which must be passed on to tenants.
"Since February, we have announced more than $3 billion in measures to sustain businesses through the coronavirus downturn, but when it's over, they need to know their shops and tenancies are still there," Trad said.
"Whether they've been required to close their doors or not, many businesses have seen their cash flow dry up, making it harder to pay the rent.
"To ensure commercial or residential property owners don't face undue hardship on their own, we will be offering a three-month rebate of land tax for 2019-20, followed by a three month deferral of land tax 2020-21 for property owners who agree to provide rent relief for tenants affected by the coronavirus downturn."
A landowner can apply for land tax relief if they meet criteria including:
The landowner rents all or part of a property to a tenant/s OR all or part of a property is currently available for lease;
At least one tenant's ability to pay their normal rent OR the landowner's ability to secure a tenant is affected by the Covid-19 pandemic;
The landowner provides rent relief to an affected tenant/s commensurate with the amount of the land tax rebate or if the property is unable to be leased, the landowner requires land tax relief to meet their financial obligations (such as debt repayments); and
The landowner complies with new leasing requirements, even if the relevant lease is not regulated.
Property Council Queensland executive director Chris Mountford said the land tax relief was an effective way for the Government to support businesses through this crisis.
"By granting this relief, landlords will have a greater capacity to support tenants that have been adversely affected COVID-19, taking pressure off their cash flow at this critical time," Mountford said.
"We know the circumstances that landlords and tenants are finding themselves in vary greatly. A 'one size fits all' approach to these challenges simply does not work.
"Today's announcements are a demonstration that the State Government is stepping up and supporting tenants and landlords as they work this through."
The Deputy Premier said the ban on eviction would be underpinned by new laws.
"We'll make changes to legislation that will ban evictions on the grounds of financial distress, prevent rent increases, except in cases where business turnover has increased, and allow leases to be extended for the term of a rent waiver that has been agreed to by property owner and tenant," Trad said.
"By working together, we can protect homes, businesses and jobs as much as possible through this downturn."
Updated at 12:09pm AEST on 15 March 2020.
---
Trump suspends funding for WHO

As the world grapples with containing the Covid-19 pandemic and total deaths now stand at almost 126,000, US President Donald Trump has announced a suspension of his country's funding for the World Health Organisation (WHO).
Trump has today alleged the WHO severely mismanaged the health crisis, which began in the Chinese city of Wuhan in November last year.
"We have deep concerns whether America's generosity has been put to the best use possible," Trump said.
"The reality is that the WHO failed to adequately obtain, vet and share information in a timely and transparent fashion.
"The world depends on the WHO to work with countries to ensure that accurate information about international health threats is shared in a timely manner, and if it's not to independently tell the world the truth about what is happening, the WHO failed in this basic duty and must be held accountable."
The President said he was instructing his Administration to halt funding for the WHO while a review is undertaken to assess the organisation's "role in severely mismanaging and covering up the spread of the coronavirus".
"American taxpayers provide between $400 million and $500 million per year to the WHO - in contrast China contributes roughly $40 million a year and even less," he said.
"As the organization's leading sponsor the United States has a duty to insist on full accountability.
"One of the most dangerous and costly decisions from the who was its disastrous decision to oppose travel restrictions from China and other nations - they were very much opposed to what we did."
In an interview with 6PR, Prime Minister Scott Morrison said he sympathised with Trump's criticisms of the WHO and noted he'd made a few of his own.
"We called this thing weeks before the WHO did," he said.
"If we were relying on their advice, then I suspect we would have been suffering the same fate that many other countries currently are. We were calling it a pandemic back in early January or mid-January, I should say.
"The WHO is also as an organisation does a lot of important work, including here in our own region in the Pacific, and we work closely with them so that we're not going to throw the baby out with the bathwater here. But they're also not immune from criticism and immune from doing things better."
The PM dismissed criticisms from some that the economic damage wrought by measures taken to slow the virus spread is worse than the health crisis itself.
"I think they should Google Italy, the United Kingdom, New York, any of these countries will do, Spain, Sweden, the Netherlands. And look at the horror show that's happening there and ask themselves the same question," he said.
Updated at 9:46am AEST on 15 April 2020.
---
NSW Premier appoints special commissioner for Ruby Princess inquiry

The NSW Government has today announced a special commission of inquiry into events surrounding the Ruby Princess cruise ship, whereby thousands of passengers disembarked the vessel in Sydney on 19 March despite the known presence of Covid-19 onboard.

The ship is single largest source of coronavirus cases in Australia, and its handling is the subject of a potential class action under investigation by Shine Lawyers (ASX: SHJ).

Within a couple of weeks of NSW Police Commissioner Mike Fuller announcing a criminal investigation would be launched into the matter, Premier Gladys Berejiklian (pictured) has today galvanised the push for answers.

The Premier will appoint leading barrister Bret Walker SC as Commissioner for the inquiry, which will report back to the government in three to four months.

"It is important that answers are provided quickly for the people of NSW," Berejiklian said.

"As I have said before, we will leave no stone unturned until we find out exactly what happened."

Walker will have the extraordinary powers of a special commissioner to examine all matters involving the cruise ship, including its departure and arrival, and the actions of all agencies and parties involved.

"Discussions with the Police Commissioner and the State Coroner have made clear to me their expected investigation timelines, and I have decided that the quickest path to answers is through a powerful and independent inquiry," Berejiklian said.

Police and the State Coroner will continue their respective investigations.

Updated at 9:19am AEST on 15 April 2020.
---
Relaxed financial advice rules praised by industry groups

Several industry bodies have praised regulators for relaxing rules around how financial advice is given during the Covid-19 crisis.
The Australian Securities and Investments Commission (ASIC) announced yesterday that registered tax agents (RTAs) would be allowed to temporarily give advice about early access to superannuation without having to hold an Australian Financial Services (AFS) licence.
Financial planners providers won't need to give a statement of advice (SOA) to clients when providing advice about early access to superannuation, and they will also have access to simplified advice documents instead of a long and complex statement of advice.
These decisions have been made to help the sector adjust to new rules permitting individuals to access their superannuation early if they are facing financial hardship due to the virus outbreak.
"The decision to access superannuation early is significant and many Australians will seek assistance from superannuation funds, financial advisers and registered tax agents before deciding whether to access the early release scheme," ASIC said.
The new measures are the result of lobbying from five major professional bodies CPA Australia, Chartered Accountants Australia and New Zealand (CA ANZ), SMSF Association (SMSFA), Financial Planning Association (FPA) and Institute of Public Accountants (IPA).
In an announcement yesterday, the groups said they had joined forces to ensure Australians can get the advice they need to understand the Federal Government's COVID-19 economic packages, including early access to their superannuation.
"There has been an increasing demand for advice around early access to super since the Government announced Australians could access up to two parcels of $10,000 in superannuation tax-free as part of their second stimulus," the joint bodies said.
"We have come together and collectively worked with ASIC to help the Australian community and to ensure there are more skilled advisers in the marketplace to address this demand.
"This move has removed significant red tape and ensured a simple, streamlined process is in place so those facing financial hardship during this time get the right advice."
CPA Australia CEO Andrew Hunter said these unprecedented times called for a pragmatic approach to regulation and a commitment from the associations to work together in the public interest.
"Over 600,000 people have registered their interest accessing their super early, so there is great need for support. It's important that these people and others also considering their options can access professional advice," Hunter said.
"As trusted advisers, accountants are well-placed to provide individuals with advice and many already have an existing relationship with their accountant. This is therefore an excellent extension for clients," added CA ANZ group executive for advocacy & professional standing, Simon Grant.
FPA CEO Dante De Gori said Australians can sleep better at night knowing they have a professional financial planner assisting them in managing their financial position, which is "second only to their health in personal importance".
"This is welcome and timely relief from ASIC to assist our members in supporting as many Australian's as possible through the financial crisis caused by this pandemic, and demonstrates ASIC acting on sensible calls from professional associations," De Gori said.
SMSF Association CEO John Maroney said the professional bodies had worked together with ASIC to provide regulatory relief for financial advisers and registered tax agents that allow them to provide advice in the most efficient, timely and cost-effective way to individuals in the current environment.
"The decision to access superannuation early is a significant one with a long-term impact on individuals' retirement savings, so for them to be able to speak to an accountant or adviser for a small fee to get the advice they need without sacrificing safeguards is welcomed," Maroney said.
"At this time in particular, Australians need access to high quality financial advice. Decisions around superannuation are critical to quality of life. For this reason, a decision to access superannuation early should be based on advice that is easily accessible," added IPA CEO Andrew Conway.
Around 9 per cent of the 10,323 submissions made to the Royal Commission into the banking, superannuation and finance sectors related to financial advice.
Updated at 10:19am AEST on 15 April 2020.
---
Genetic Signatures' Covid-19 testing kit receives regulatory approval

A new rapid testing kit that can detect the virus which causes Covid-19 has been given the tick of approval from the Therapeutic Goods Administration (TGA).
Genetic Signatures' (ASX: GSS) SARS-CoV-2 Detection Kit has been approved for inclusion in the Australian Register of Therapeutic Goods (ARTG), giving the company greater access to patients during the Covid-19 pandemic and upcoming flu season.
The kit can be used on high throughput instruments to allow for rapid detection of up to 188 patient samples in under five hours with minimal interaction required from laboratory technicians.
The TGA's approval follows formal European authorisation for the kit which was announced on 4 April.
"We thank the TGA for moving so quickly and the opportunity to support the important national and international effort to rapidly and accurately test, treat and contain the spread of coronavirus throughout the community," says Genetic Signatures CEO Dr John Melki (pictured).
Several domestic private and public testing labs are already using the EasyScreen detection kit and the new SARS-CoV-2 test can be used alongside the broader respiratory kit which detects 14 common respiratory pathogens.
"Our hope is it will help clinicians move faster and better manage their urgent work, to detection infection and save lives," says Dr Melki.
Shares in Genetic Signatures spiked up 10.59 per cent to $1.99 on the news from the TGA this morning.
Life sciences company Cellmid Limited (ASX: CDY) has also confirmed today that the first shipment of 12,000 SARS-CoV-2 rapid diagnostic tests have arrived in Sydney.
The test, manufactured by Chinese company Wondfo Biotech, detects antibodies to SARS-CoV-2. If antibodies are discovered doctors can confirm that a patient has been exposed to Covid-19 and is likely to convey immunity to the coronavirus.
Cellmid says this test will be likely used to confirm whether someone is able to return to work or not.
Updated at 4:40PM AEST on 14 April 2020.
---
Sales rise for Afterpay as online drives growth

Shares in Afterpay (ASX: APT) are up 26 per cent today after the buy-now-pay-later (BNPL) powerhouse reported March was its third-highest underlying sales month on record, up 12 per cent on January and February.
The group claimed it was "difficult to identify any sustained trends" in any region as a result of Covid-19 impacts, and has benefited from digital exposure as 88 per cent of total underlying sales were online.
The daily increase was particularly marked Afterpay Day on 19-20 March, illustrating "customer appetite notwithstanding the new and sudden impact to their work and living conditions".
On the day of that particular online sales event, CEO Anthony Eisen released a letter to shareholders emphasising Afterpay's business model, balance sheet and customer base offered protection in times of economic uncertainty.
His calls were not heeded though and market hysteria got the better of investors, with APT shares closing at $9.90 on 19 March. Today they have reached $28 each - a level not seen since 10 March.
In today's announcement, Afterpay explained underlying sales moderated by 4 per cent in the second half of March as governments enforced lockdown and isolation protocols. The falls were more pronounced in the UK and the US compared to Australia.
"ANZ online sales showed a marked uptick in the second half of March (up 8 per cent on first half of March), while in-store volumes were significantly impacted (down 29 per cent on first half of March)," the company said.
The initial skew and increase in online sales were weighted towards necessity, personal care and homeware categories, however this trended back somewhat towards lifestyle and luxury categories.
"We have experienced positive growth in April month-to-date in all markets with average daily underlying sales up approximately 10 per cent on the second half of March globally."
Afterpay has also held up the mature ANZ region as a "blueprint" for the path to profitability in other markets.
"Estimated profitability on a YTD basis has increased relative to H1 FY20 and for the month of March relative to the pcp," the company said of the Australian and NZ markets.
"Gross Losses (Group) for the month of March is estimated to be approximately 1.0 per cent (unaudited), in line with H1 FY20, notwithstanding increased contribution from newer markets that are initially higher loss early in lifecycle."
For the March quarter underlying sales globally were up 97 per cent at $2.6 billion, with a 40 per cent increase in ANZ and a 263 per cent jump in the US.
Related story: Zip Co sales rise despite Covid-19 challenges
Updated at 3:15pm AEST on 14 April 2020.
---
800,000 businesses register for JobKeeper package

Australian businesses have applied en masse for the Federal Government's $130 billion JobKeeper package, keeping the projected unemployment rate much lower than it would have been otherwise.
This afternoon Treasurer Josh Frydenberg (pictured) announced more than 800,000 businesses had registered for the scheme so far, while Treasury figures forecast a peak in the unemployment rate at 10 per cent for the June quarter.
"But for the JobKeeper package, unemployment would have peaked at 15 per cent - five percentage points higher," he said.
"The JobKeeper package is providing an economic lifeline to millions of Australians. At $130 billion, it's a wage subsidy the size of and scale and scope of which Australia has never seen before.
"As of today well over 800,000 businesses have registered with the tax office for the JobKeeper payment. So the unemployment rise is very concerning, but it's also a reflection of the economic challenges we face."
The treasurer reiterated the government's message that "we cannot get ahead of the medical advice" and "to do so would be dangerous and unrealistic".
"The medical advice has served Australia well and Australians expect us to be implementing measures that reflect that advice, so over time once we get to the recovery phase and restrictions are eased, at that point you will see more people come back into the workforce.
"Businesses are paying their employees and others are working on getting access to that finance, but we do know once we get to that first week of May the money will continue to flow."
Frydenberg said more than $4.5 billion had so far made its way to people's pockets as a result of the package.
"We've actually seen some of the spending as a result of that money, indicating that people are spending that money, whether it's at the local mechanic or whether it's at the local corner or paying down some other accumulated debts."
Updated at 2:27pm AEST on 14 April 2020.
---
Funeral operator InvoCare to raise $150 million

InvoCare (ASX: IVC) is set to raise $150 million to strengthen its balance sheet as social distancing measures impact its memorial services business.
The net proceeds of the raise will be used to reduce net debt and increase liquidity to support the business during the Covid-19 financial crisis.
The placement will be conducted at $10.40 per new share; a 7.8 per cent discount to the last closing price.
Approximately 14.4 million new shares will be issued, representing around 12.3 per cent of InvoCare's existing issued capital.
Following the placement, total cash on hand plus undrawn bank facilities will increase to approximately $258 million.
In addition to paying off debt, which at 31 December 2019 stands at $360 million of drawn down facilities, InvoCare says it will be deploying cash to fund pre-identified acquisitions and a "digital transformation".
The latter is certainly a necessity for the company, which has witnessed a deferral of consumer spend on memorial services and a 2.2 per cent decrease in funeral cases.
As social distancing measures clamp down on the maximum number of attendees at funerals those mourning the loss of loved ones are spending less on memorial services.
According to the funeral operator the group is turning to tech and has built new measures into the business like video steaming.
InvoCare has also been postponing memorial services to reduce the impact of Covid-19 on its case averages.
To further save cash InvoCare will be deferring the payment of a FY19 dividend until the impact and duration of Covid-19 is better understood.
"Our ability to offer a full range of services to our client families is being affected by the current restrictions issued by governments on social distancing in response to the Covid-19 outbreak," says InvoCare CEO Martin Earp.
"We have implemented a series of contingency plans to both reduce the impact of Covid-19 on our business and allow us to continue to meet the needs of our client families during this unprecedented crisis."
"The decisive actions we are taking today will assist the company in being well placed to weather the current market uncertainties from a position of strength."
Following the $150 million placement InvoCare will offer eligible shareholders in Australia and New Zealand to participate in a non-underwritten share purchase plan (SPP) capped at $30,000 per shareholder and up to $50 million in aggregate.
Further details regarding this non-underwritten SPP will be provided to eligible shareholders in due course.
Updated at 11:49am AEST on 14 April 2020.
---
Shine investigating class action against Ruby Princess

The 2,700 passengers who disembarked the cruise ship Ruby Princess in March may receive justice for how an outbreak of Covid-19 onboard was handled by operators.
Australian law firm Shine Lawyers (ASX: SHJ) has commenced an investigation into whether there are legal avenues to hold the Ruby Princess' US-based owner and operator Carnival Corporation accountable for failing to protect the health and safety of passengers.
The law firm will also explore the role state and Commonwealth authorities had to play in the situation, specifically whether the docking and disembarkation of the ship was done in accordance with the law.
To date, 18 passengers from the Ruby Princess have died from Covid-19 and hundreds more passengers have been diagnosed with the virus.
The criticism of the ship's operators and government officials comes down to the fact that passengers on board the Ruby Princess were simply let off the boat and out into Australia without any quarantine or testing.
This is despite the fact that the ship had previously logged 158 cases of illness on a pervious voyage.
Shine Lawyers says all 2,700 passengers on board were not informed of the fact there were people previously infected with the coronavirus on the cruise ship.
"We have received many enquiries from passengers on board the Ruby Princess, and will continue to take enquiries from all passengers, irrespective of whether they contracted COVID-19 or not," says Shine Lawyers.
"If you are one of the 2,700 passengers, we encourage you to register for the Ruby Princess coronavirus legal action investigation so that we may determine the legal avenues that exist to ensure your rights are protected."
Cruise ships are in a sticky situation for our island home as many seek refuge in ports around the country.
Western Australia has effectively closed its borders to not just international arrivals, but those interstate too, because the majority of its confirmed Covid-19 cases are those from cruise ships.
Right now there are seven cruise ships ailing off the coast of WA, but the State's Premier Mark McGowan says he hopes they leave sometime soon.
One of the ships, the Ovation of the Seas, has around 84 cases of Covid-19 confirmed on board.
Cruise ships have been major breeding grounds for Covid-19 since the outbreak began to spread out of China at the beginning of the year.
The Diamond Princess was the first to receive international attention after it experienced a major outbreak on board while quarantined off the coast of Yokohama for around a month.
Over 700 people on the Diamond Princess were infected and 12 people died.
As of 13 April 2020 more than 20 cruise ships have had a confirmed positive case of Covid-19 on board, while nearly 5,000 passengers remain at sea on five cruise ships.
Updated at 10:25am AEST on 14 April 2020.
---
Virgin Australia enters trading halt over restructuring talks

After announcing the suspension of all domestic passenger flights except a daily Sydney-Melbourne service, Virgin Australia (ASX: VAH) has requested an immediate trading halt today as it explores options to stay aloft.
As most air travel grounds to a standstill due to coronavirus-related restrictions, the airline's last reported available cash balance was $2.95 billion; a figure that is just under its ordinary half-yearly net operating expenses.
Those expenses have been slashed recently though after Virgin Australia stood down around 10,000 staff last month, cutting domestic capacity by 90 per cent and suspending all Tigerair Australia domestic services. International flights have also been suspended until mid-June.
The group has proposed a $1.4 billion bailout from the Federal Government, and over the long weekend Deputy Prime Minister Michael McCormack told the ABC he had been in discussions with the bosses of VAH and Qantas (ASX: QAN) about possible subsidies to ensure vital routes were maintained.
Today the group announced a trading halt would be in place for up to two days or before an announcement is made.
"Virgin Australia requests a trading halt as it continues to consider the issues brought about by the Covid-19 crisis including discussions with respect to financial assistance and restructuring alternatives which are ongoing," company secretary Sharyn Page wrote in a letter to the ASX.
In the airline's announcement last week, Virgin Australia noted a few major flight routes continued to be in place.
"We continue to support the Australian Government with flights between Los Angeles and Hong Kong to help bring Australians home and maintain important freight links in and out of the country," the group said.
"Demand for charter services in the resources sector remains strong and we continue to support our customers with services. We also remain open to charter opportunities or any flying the Australian Government needs support with.
"We stand ready to support Australians flying to their destinations again when travel restrictions ease."
Updated at 10:18am AEST on 14 April 2020.
---
CSL sees dip in plasma as blood donors stay home

The largest listed company on the ASX is a world leader in plasma therapies - a business that depends on the supply of blood from donors worldwide.
But Melbourne-headquartered CSL (ASX: CSL) has seen a drop-off in blood donations over the past six weeks as people stay at home due to the Covid-19 pandemic.
The situation exacerbates an already tight supply of immunoglobins, or antibodies that come from plasma cells, that was present well before the virus outbreak.
CSL CEO Paul Perreault (pictured) says the company has enough plasma to supply its needs through this year and the circumstances are unlikely to impact FY20 results, but FY21 on the other hand is uncertain.
"That doesn't mean there won't be any impact to next year's numbers. I think it'll be a bit bumpy as time goes on because we just don't know yet," Perreault said in a webcast this morning.
"In the month of March we started to see a dip in collections. We were still above collections from last year, but over the last two weeks we've seen a dip again, where collections have dropped below last year's levels for the same month."
The group has opened 32 plasma collection centres so far this financial year and expects to meet its target of opening another eight by the end of June, but that will still depend on resources in cities where launches are planned and how conditions fare at existing centres.
"Investors may recall that plasma collection activity during the global financial crisis of 2008 and there was also a bit of a slowdown," Perreault said.
"And although this is a completely different environment and a different issue, I do expect that we will see our donors return as they're able to feel like they're safe to come out of their homes and come back."
He says CSL's medical facilities have critical infrastructure designations, and it is able to provide staff, donors and key vendors with letters of safe passage so that operations can continue.
"This provides the mobility needed to travel to the centres," he said.
"Importantly, the document also extends to Mexican citizens allowing them to continue to cross the border of the United States and donate.
"This is not a silver bullet however. We still have to make sure that we're increasing our advertising promotional programs, to encourage new donors to come into a centre and donate plasma."
Tackling Covid-19
The company's chief scientific officer Andrew Cuthbertson also used the webcast to discuss the work CSL was doing to tackle Covid-19.
"Vaccines take time but they are very effective in a public health sense. We've chosen to partner with the University of Queensland and CEPI, an international epidemic preparedness organisation," Cuthbertson said.
"That relationship is very strong and we were already working closely to accelerate that program and we are in a position to manufacture at large scale for that program should be successful in clinical development."
But in the meantime, Cuthbertson emphasised another thing the world needed was treatment.
"Emil von Behring won the Nobel Prize in 1901 for describing a hyperimmune therapy for diphtheria, and CSL has the ability to make hyperimmune medicines," he said.
Cuthbertson said the basis of these medicines was to take antibodies from people who have recovered from Covid-19 infections, take the antibodies from their plasma, purify them into a potent medicine, and deliver that medicine to patients and subjects.
"We were very pleased to announce a an alliance in the Northern Hemisphere with Takeda and other plasma product development companies to a focused powerful hyperimmune effort across sites in the Northern Hemisphere.
"We have mounted a similar effort here in Australia with the Australian Red Cross and the Department of Health."
But the issue of hyperimmune therapy, which can be life-saving, is that you need access to convalescent donors.
"While our clinical colleagues around the world are very excited about producing hyperimmune medicine, it is limited to accessing safe convalescent donors who are willing to donate their plasma," he said.
"We very recently announced an exciting collaboration with a company called SAB Therapeutics based in the United States - they have wonderful technology for effectively transplanting the human antibody repertoire into cattle.
"In this case it's possible to vaccinate cattle, [and] harvest their hyperimmune serum which will contain human immunoglobulin."
Perreault added that in addition to increased requests for immunoglobulins recently, demand for influenza vaccines has also been strong as we enter into the vaccination period in the southern hemisphere.
"Covid-19 has also given rise to an increased demand for influenza vaccine, and unlike Covid-19 there is a vaccine available for influenza," he said.
"People are taking the precautionary measures to vaccinate. At the request of the Australian government we will be manufacturing Additional southern hemisphere influenza vaccine doses to meet the increased demand."
Updated at 11:31am AEST on 9 April 2020.
---
Preschool will be free for six months in NSW

Parents in New South Wales need not worry about paying preschool fees for the time being as the State Government has made the service free for six months.
As part of a $51 million funding package announced this morning, preschool fees have been waived to support parents during the Covid-19 crisis.
The State Government has also committed $82 million to support 260 council childcare centres that are not eligible for the JobKeeper payments.
"Parents are under a lot of pressure at the moment and it's crucial for them to continue to have access to childcare, particularly those working on the frontline during this crisis," says NSW Premier Gladys Berejiklian.
"This will also provide financial relief to families during the pandemic and ensure childcare centres remain viable into the future."
The funding will be available to 700 state funded community preschools and 38 mobile services that provide care to 45,000 three to five year olds.
Today's announcement follows the Federal Government's plan to make childcare free for working parents and carers.
The Federal Government announced last Thursday it will pay 50 per cent of the sector's fee revenue up to the existing hourly rate cap, which will be based on a point in time before parents started withdrawing their children in large numbers.
The sector would have received an estimated $1.3 billion if current revenues and subsidies had continued, but now that has been lifted to $1.6 billion.
Updated at 9:55AM AEST on 9 April 2020.
---
Mesoblast secures US stem cell treatment trial for Covid-19

Australian regenerative medicine company Mesoblast (ASX: MSB) is moving quickly on plans to repurpose its stem cell treatment to help fight Covid-19, securing a multi-center Phase
2/3 trial in the US.
Within days of gaining Investigational New Drug (IND) clearance from the US Food and Drug Administration (FDA) for its product remestemcel-L, Mesoblast has announced a partnership with the Cardiothoracic Surgical Trials Network (CTSN) for a trial with 240 patients.
The aim of the randomised, placebo-controlled trial is to test the treatment's impact on acute respiratory distress syndrome (ARDS) caused by Covid-19.
Using bone marrow aspirate from healthy donors, Mesoblast's proprietary technology is currently used to treat a condition called acute graft versus host disease (aGVHD), which many suffer after receiving a bone marrow transplant (BMT).
"Remestemcel-L has demonstrated safety, efficacy and significant survival benefit in aGVHD where inflammation is at the core, similar to ARDS from Covid-19," says Mesoblast chief medical officer Dr Fred Grossman.
Grossman notes the mortality rate in moderate to severe ARDS due to Covid-19 can be as high as 80 per cent.
"The mechanism of action of remestemcel-L demonstrated in aGVHD supports the evaluation of remestemcel-L to safely tame a similar cytokine storm in the lungs that leads to the high mortality in patients with COVID-19."
Mesoblast chief executive Dr Silviu Itescu is upbeat about the arrangement with CTSN, which was established by the United States National Institutes of Health's National Heart, Lung and Blood Institute (NHLBI) as a flexible platform for conducting collaborative trials.
"This significant public-private partnership is a prime example of how the combined resources of industry and government can be leveraged to evaluate in a most efficient and rigorous manner the potential of innovative therapies to make a meaningful difference to patient outcomes," says Itescu.
CTSN chairman Dr A. Marc Gillinov says the network is excited to work with Mesoblast to make a "real impact on the high mortality associated with Covid-19".
"This randomised controlled trial is in line with our mandate to rigorously evaluate novel therapies for public health imperatives," says Gillinov.
"The Covid-19 pandemic has resulted in very large numbers of people suffering with ARDS requiring ventilation in hospital intensive care units, with dismal outcomes, placing an enormous burden on the United States health system," adds Dr Annetine Gelijns, the Edmond A. Guggenheim Professor of Health Policy at the Icahn School of Medicine at Mount Sinai.
"We are committed to evaluating whether Mesoblast's mesenchymal stem cell product candidate for ARDS has the potential to make an impact on this unprecedented health crisis."
Updated at 9:34am AEST on 9 April 2020.
---
Parliament passes $130 billion JobKeeper stimulus package

The largest stimulus spend in Australia's history has been passed by the Senate overnight, ensuring millions of Australian workers will be supported during the Covid-19 crisis.
Worth $130 billion the package will see around 6,000,000 workers that have been stood down by their employers eligible for economic relief.
The package comes in the form of a $1,500 fortnightly payment to be distributed by employers to employees.
Those eligible include full-time workers, part-time workers, sole traders, and casuals who have worked with their current employer for 12 months or more.
Since the program was announced more than 730,000 business have registered for JobKeeper.
Eligible businesses include those that can demonstrate a minimum of 30 per cent in turnover downturn because of Covid-19. For businesses turning over more than $1 billion per annum that threshold is set at 50 per cent in revenue downturn.
The passing of the legislation through both the Lower and Upper houses of Parliament is a significant display of bipartisanship, with leader of the opposition Anthony Albanese ensuring the Bill would be passed by his party.
Despite the support for the Bill, the opposition did raise concerns about the package, saying it would leave behind more than one million casual employees.
Albanese ultimately said he would "never let the perfect be the enemy of the good".
"And this is good legislation, it will make a difference to people as a result of what we do in this Parliament here."
The passage of the JobKeeper legislation comes as Australia confirms 6,024 cases of Covid-19.
Of those cases 2,773 are in NSW, 1212 in VIC, 943 in QLD, 481 in WA, 420 in SA, 107 in TAS, 99 in the ACT, and 28 in the NT.
Updated at 9:20am AEST on 9 April 2020.
---
JobKeeper legislation passes the House of Representatives

The Federal Government's landmark $130 billion JobKeeper stimulus package has been passed in the Lower House of Parliament.
The Bill will now be handed to the Federal Senate where it is also likely to be passed.
The JobKeeper legislation will guarantee around 6,000,000 Australians out of work because of Covid-19 will receive a fortnightly payment of $1,500.
During today's proceedings in the House of Representatives Opposition Leader Anthony Albanese and Shadow Treasurer Jim Chalmers criticised the Government's proposed Bill for excluding the many Australians left behind by the JobKeeper program.
Namely, the Labor party were concerned that as many as 1.1 million casual employees who had not been working for their current employer for more than 12 months would be left out of the package.
"We want the government to get the policy settings right, our nation simply cannot afford the alternative," said Albanese.
The JobKeeper payments will not begin flowing into employees' pockets until the beginning of May 2020.
Updated at 4:59PM AEST on 8 April 2020.
---
Zip Co sales rise despite Covid-19 challenges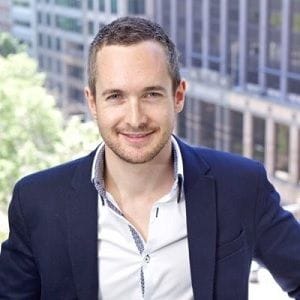 With thousands of retail stores closed and job losses putting pressure on consumer spending, shares in buy-now-pay-later (BNPL) companies have been battered over the past six months.
But Zip Co (ASX: Z1P) has escaped the March quarter relatively unscathed as far as performance is concerned, against a backdrop of sustained demand despite uncertainty surrounding the virus.
The group's revenue jumped 96 per cent year-on-year in the quarter, with transaction volumes in Australia and New Zealand reaching $2.1 billion.
In April, trading month-to-date for the first seven days of the month was up 6 per cent and was also 15 per cent higher than in February.
The group believes there are a few factors playing in its favour to ride out the crisis, including exposure to online sales and recession-proof sectors including bills, home improvements and office supplies, electronics and gaming, whitegoods and furniture.
Zip Co notes trading in these cateogires has offset a reduction in sales across fashion and apparel, travel and leisure, personal care and hospitality.
The average age of Zip Co customers is 35, representing a slightly older, more financially savvy customer segment that has gone through a fully underwritten application.
Nonetheless, the fast-evolving changes to the economy have led Zip Co to undertake cost-cutting measures to position the business for the possibility of a protracted downturn.
In the last week the company has reduced its staff numbers by 78, representing around 20 per cent of its full-time workforce, thus cutting costs by $8 million.
Planned expenditures have been slashed to $1.2 million for Q4, compared to $3.2 million in Q3.
The group will also delay its UK launch date and put on hold any team increases on the ground. The board, executive team and senior leaders have taken a voluntary 20% reduction in salaries.
Zip Co estimates a total liquidity to meet its corporate and general expense needs of around $30 million, which in combination with the cost-cutting measures gives it "sufficient liquidity to support the growth of the business".
Managing director and CEO Larry Diamond (pictured) says the virus has presented an unexpected and significant challenge to many in the community, and the company's priority remains ensuring the safety of staff and supporting its customers and retail partners.
"Despite the economic impact of Covid-19, the Zip ANZ business continues to perform strongly, with healthy customer growth, transaction volume, and a strong pipeline of new partners in the March quarter," he says.
"Zip is well funded and uniquely positioned to trade through the current environment, given our product differentiation, strong proprietary credit platform, healthy repayment profiles and penetration into defensive, everyday spend categories.
"We continue to believe the credit card model is broken with customers in need of flexible, responsible, interest free alternatives."
The group applauds the government's "bold and decisive action" in response to the coronavirus to keep Australians employed, small business supported, and ensuring a strong banking sector.
"Zip would also like to encourage the Government to broaden the eligibility of the financial sector-specific packages to include Fintechs, who add a vital, competitive and innovative segment to the market," he says.
Updated at 3:03pm AEST on 8 April 2020.
---
Parliament to pass landmark JobKeeper legislation today

The Federal House of Representatives is set to pass the Government's proposed $130 billion Job Keeper plan today.
In an impassioned Ministerial Statement this morning Prime Minister Scott Morrison introduced the stimulus package designed to keep workers in jobs and supported financially.
The $1,500 per fortnight payment will be distributed to around 6,000,000 workers nationally and is worth the equivalent of 70 per cent of the national median wage.
"This is the greatest economic crisis to afflict the world in many generations," says PM Morrison.
"We have responded with the biggest economic lifeline in Australia's history."
In response Leader of the Opposition Anthony Albanese says the Labor Party will be moving a second reading Bill today to suggest some changes to the Federal Government's package.
Under the scheme as it is full-time staff, part-time staff and sole traders will be eligible to access the payment but not casual workers who have worked for their current employer for less than 12 months.
Labor intends to fight for all casual workers and will ask for more partliamentary sitting days to debate the legislation. Parliament is not scheduled to sit again for another four months after today.
"There are over one million Australians who are casual workers, who will not be eligible for the JobKeeper program. This fails to recognise that in the modern workforce, many workers defined as casual, but who have been stood down, have expectations and financial commitments based upon that regular work and income that they do," says Albanese.

"Every worker who misses out means that the relationship between that worker and their employer risks being broken. And when you break this relationship, you not only weaken the existing economic position of both the worker and their employer, but the pace of economic recovery coming outs of this crisis is also weakened."
Despite the party's objections and suggestions Albanese says his party will not stand in the way of the Bill passing the House of Representatives in its current form.
"The scale of the spend is without equal," says Albanese.
"It is a bill that will saddle a generation."
Updated 10:48AM AEST on 8 April 2020.
---
Covid-19 call-out to reinvigorate manufacturing

There has been no shortage of inspiring stories of companies repurposing to produce vital goods for tackling the Covid-19 crisis, from ventilators to hand sanitisers to surgical masks and the machines that make them.
But there are so many businesses out there that have much offer but don't know where to start, whether it be for product testing, certification, funding or even having the right contacts in government to get personal protective equipment (PPE) to health workers on the frontline.
Prime Minister Scott Morrison has often evoked the metaphor of a "bridge" to describe various measures taking us to the other side of this pandemic, but there is another bridge that is just as vital.
Serial entrepreneur Ben Bradshaw, who has set up the company Emergency Medical Supplies, believes Australia's public and private sectors need to collaborate and connect now more than ever.
Bradshaw has been given the support of the Federal Government to conduct initial discussions with suppliers about the potential procurement of important PPE to assist the country's Covid-19 effort.
"We need to just cut through the red tape and move as fast as we can to help the healthcare workers and make sure there is going to be enough PPE gear," says Bradshaw, who was Brisbane Young Entrepreneur of the Year in 2018 and founded such companies as Disrupt Digital and SponsoredLinX.
"Australia is ahead of the curve, we're making sure there are proper factory inspections going on, making sure that the standards are there, but ideally we can get to a place where local supply can start gearing up.
"That's a much better scenario because then we could be an industry leader in making this kind of equipment."
Through his various networks Bradshaw has established a comprehensive list of domestic and international PPE suppliers, but the aim is that the local side of that will grow.
"We're there asking businesses what they need. Is it funds? Is it TGA approval?
"We can expediate that, we can introduce you to the right government authorities to get that happening - we've got supply chains established with our lists globally."
Bradshaw says he has already successfully helped some manufacturers pivot to PPE production. For example, yesterday he organised the supply of 100 million N95 masks and began discussions with a startup that is making cutting-edge field ventilators.
"There is a scramble happening across the country right now. There are other people like us contributing.
"The decision makers are really getting their act together, taking this seriously and making sure there's good supply coming. Last week was a good example of that with Andrew Forrest.
"If you can make PPE gear or have capacity to pivot to making PPE gear, let us know."
Bradshaw can be contacted at ben.bradshaw@emergencymedicalsupplies.com.au.
Updated at 10:36am AEST on 8 April 2020.
---
Retailers welcome commercial leasing code

The stakeholders whose impetus led to a commercial leasing code of conduct have applauded its adoption by federal, state and territory governments.
The National Cabinet has agreed to a set of principles for governing commercial tenancies for those businesses that have been put under strain due to the Covid-19 pandemic.
With good faith leasing and proportionality at its core, the code involves several relief measures including rent waivers and deferrals for those businesses earning $50 million or less that have experienced at least a 30 per cent drop in turnover.
The National Retail Association (NRA), the Australian Retailers Association (ARA), the Pharmacy Guild of Australia (PGA) and the Shopping Centre Council of Australia (SCCA) are yet to see the finalised code, but welcome its announcement today.
The parties submitted a draft code to the National Cabinet on 5 April.
Given retail leasing is regulated in each jurisdiction, a key purpose of a code was to ensure a nationally consistent approach, and efficient and timely application given the rapid commercial impacts arising from the virus.
"The model announced by the Prime Minister today is sensible and proportionate. It will ensure - to the greatest degree possible - that businesses who suffer a major downturn have the best chance of surviving," says NRA CEO Dominique Lamb.
"And that is good for both tenants and landlords. Just as we want to see businesses survive to keep employing their staff, property owners will also want to see the retail sector survive."
ARA CEO Russel Zimmerman says the Prime Minister and National Cabinet can be assured his association and retail industry colleagues will work to ensure the code is progressed and applied in good faith.
"The most important issue is that the industry is talking, and landlords and tenants are working together to ensure business continuity."
Pharmacy Guild of Australia national president George Tambassis says the code will provide clarity for commercial tenants, including community pharmacies that need to negotiate arrangements with landlords during the Covid-19 downturn.
"Fundamentally, as the Prime Minister said, it is about sitting down and working out an agreed course so that we can all get through this together, and with normal business and employment able to resume," says Tambassis.
"A lot of the principles under the Code the SCCA has already agreed to, including publicly and independently committing to not terminating leases for the non-payment of rent a few weeks ago," adds Shopping Centre Council CEO Angus Nardi.
The SCCA's focus is on small, medium and family-owned businesses.
"Every day, our members are having hundreds of conversations with their retailers. Like many other industries, centre owners are receiving high volumes of requests for assistance. These are being worked through as quickly as possible," says Nardi.
"We welcome the approach to proportionality, which we understand provides a set of guiding principles and examples, which will ultimately be negotiated on a case-by-case basis."
All groups look forward to working with States and Territories on regulation, particularly to ensure a uniform approach.
"All of our groups engaged on retail lease legislation across the country, and we look forward to the next stage of work. We call on States and Territories to work together to ensure a uniform approach and efficient application," adds Lamb of the NRA.
"We look forward to working with the NRA, Pharmacy Guild and SCCA as are all working towards the same goal to emerge from the other side of this unprecedented experience with our retail partners especially our SMEs in the best possible position to succeed," notes Zimmerman of the ARA."
Today's announcement coincided with the release of a survey from the Australian Bureau of Statistics (ABS), which found more than a third of businesses have renegotiated their lease and rental arrangements and a quarter have deferred loan repayments.
Updated at 4:43pm AEST on 7 April 2020.
---
PM unveils mandatory commercial tenancies code

A mandatory commercial tenancies code, released today by the Federal Government, will be legislated and regulated in each State and Territory to guide landlord and tenant negotiations during the Covid-19 crisis.
The code will bring together principles of good faith leasing and proportionality and will be overseen through a binding mediation process.
The announcement comes as the Australian Bureau of Statistics reveals more than a third of Australian businesses have renegotiated their lease and rental agreements while a quarter have deferred loan repayments.
To be eligible to negotiate under the code either party must:
be a business that is in a position of financial distress;
have a turnover of $50 million or less;
be eligible to receive support under the JobKeeper program (meaning the business has experienced at least a 30 per cent drop in revenue due to Covid-19 restrictions).
Under the Code landlords must not terminate the lease or draw on a tenant's security. Likewise tenants must honour the lease agreement.
With regard to rent reduction, landlords will be required to reduce rent in proportion to the trading reduction suffered by the tenant. This will be achieved by a combination of waivers and deferrals of rent.
Waivers of rent must account for 50 per cent at least of the reduction in the rental provided to the tenant during that period while deferrals must be covered over the balance of the lease term and for no less of a period than 12 months.
For example, if the lease term goes for three years the cost can be amortised over the three year period. However, if the lease only has another six months left to run then the tenant would still have a minimum of 12 months after the pandemic period to cover the deferrals of the rental payments.
Prime Minister Scott Morrison says he hopes the code will enable landlords and tenants to come to an agreement.
"The point here is simple that is they sit down and work it out," says Morrison.
"This must be shared.
"What this does is it preserves the lease, it preserves the relationship, it keeps the tenant in their property and it keeps the tenant on the lease which is also good for the landlord and it preserves the lease that is in place that underpins the value of those assets."
Morrison has also expressed his hopes that banks will also join these negotiations to provide relief to landlords impacted by Covid-19; particularly international banks of which many do business with some of Australia's larger landlords.
"Banks also must come to the table here and provide the support to landlords and I would particularly send that message to international banks operating in Australia who are in many cases providing that support to many larger landlords," says Morrison.
"We will expect those banks to be providing the same levels of support and cooperation as we are seeing from the Australian banks."
As for residential tenancies the PM says these negotiations will now been overseen by individual States and Territories with little input from the Federal Government beyond a nation-wide moratorium on evictions.
Modelling data to be released this afternoon
The Federal Government is set to release data pertaining to a possible spread of Covid-19 in the Australian community, though PM Morrison says to take the numbers with a grain of salt.
While the modelling does show Australia is flattening the curve and slowing the rate of new infections per day, Morrison says the modelling is theoretical and based on international experiences with Covid-19.
"It is not based on Australian case data and does not model Australian responses," says Morrison.
"The modelling does not predict what will happen in Australia, it does not tell you how many Australians will contract the virus or succumb to the virus or how long it will last in Australia."
With the curve flattening Morrison and the Chief Medical Officer Professor Brendan Murphy both warned Australians to not be complacent over the Easter period.
"Complacency is our biggest risk, we cannot be complacent," says Murphy.
In terms of broadening the testing regime Professor Murphy says testing asymptomatic people is not a high priority at this point in time, but the Government is looking at possibly testing those in aged care facilities without symptoms.
"Because this virus wreaks havoc in aged care that's a strategy that we will be undertaking," says Murphy.
"We think the yield is more in testing people with acute respiratory symptoms in areas of community transmission, so that's where we're broadening the testing at the moment."
The Prime Minister's announcement comes as Australia reports 96 new cases of Covid-19 for a total of 5,896.
There have been four new deaths today including South Australia's first reported deceased patient bringing the total toll to 45.
To date 308,508 tests have been conducted.
Advice for businesses with infected staff
Professor Murphy also provided some advice to businesses that do find themselves in the situation where an employee does contract Covid-19.
He says Safe Work Australia has set out simple procedures at swa.gov.au/coronavirus where the organisation has detailed a response plan.
There are seven simple steps to follow that are detailed below: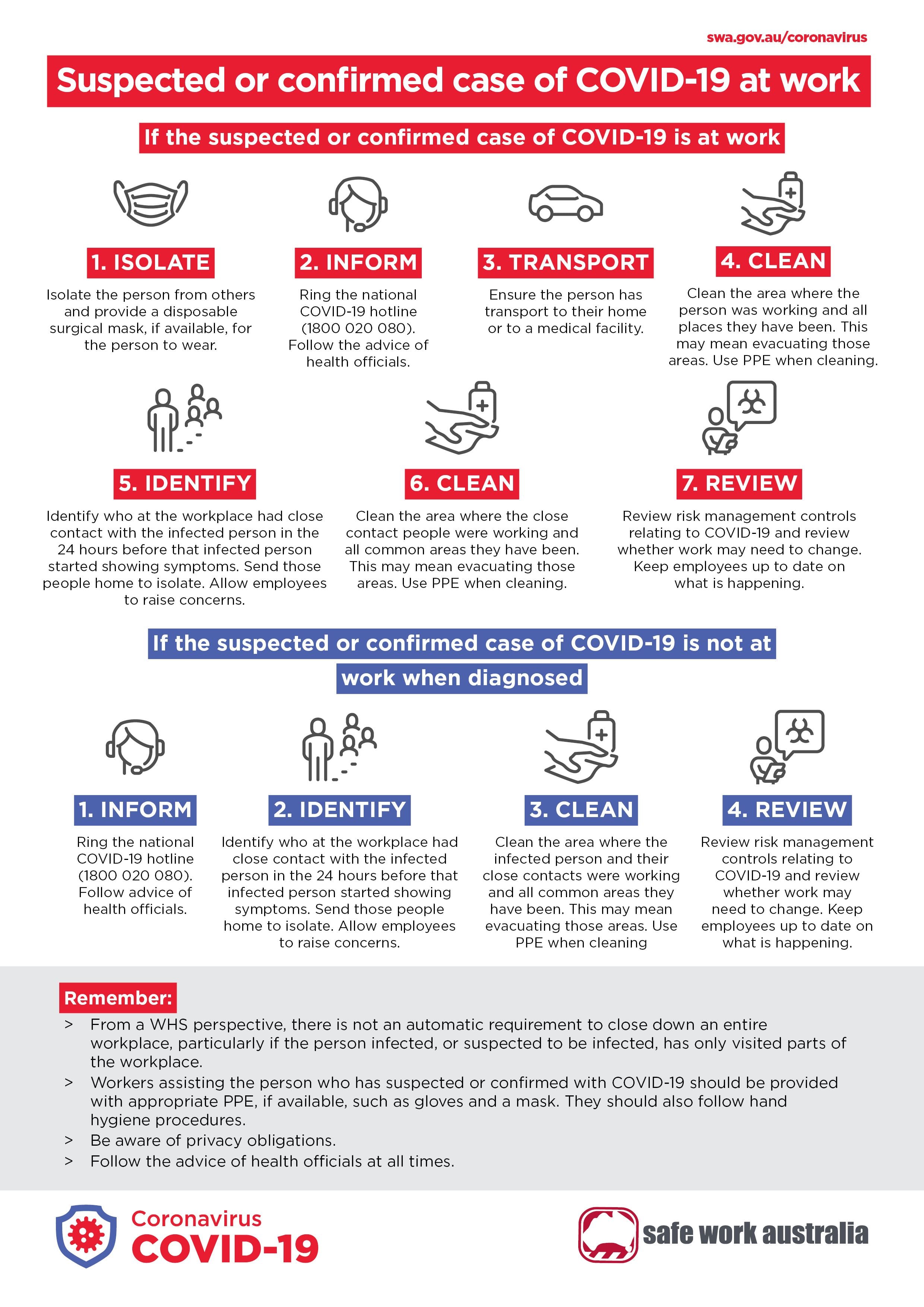 Updated 2:07PM AEST on 7 April 2020.
---
ABS survey shows big shift to deliveries and online

A survey from the Australian Bureau of Statistics (ABS) into the business impacts from Covid-19 has revealed some interesting trends, particularly around adaptation and negotiations with landlords.
In the second survey in relation to the effects of the pandemic on the business community, the ABS found close to two in five businesses (38 per cent) have changed how they deliver their products or services, including shifting to online services.
More than a third of businesses have renegotiated their lease and rental arrangements and a quarter have deferred loan repayments.
The bureau found two thirds (66 per cent) of Australian businesses reported that their turnover or cash flow had reduced as a result of the virus, and nearly half (47 per cent) had made changes to their workforce arrangements.
For some businesses this included temporarily reducing or increasing staff working hours, changing the location where staff worked (including working from home) or staff being placed on leave.
Related story: PM unveils mandatory commercial tenancies code
Updated at 12:24 AEST on 7 April 2020.
---
SCA Property to raise $300m for buying assets on the cheap

While several ASX-listed companies are raising money to stay afloat or build resilience against uncertainty, Shopping Centres Australasia Property Group (ASX: SCP) is issuing new equity so it can snap up supermarket-anchored small shopping centres.
Last month SCP CEO Anthony Anthony Mellowes told Business News Australia the company's 85 neighbourhood shopping centres were thriving due to strong activity at Woolworths, Coles and Kmart, whose increased traffic in many cases helped lift sales for other retailers as well.
In an update today the company indicates this is still the case, with the expectation numerous Government stimulus packages should benefit its small business tenants and their customers.
SCP has formed the position the Covid-19 pandemic may provide a "unique opportunity to secure quality assets at competitive prices over the next 6-12 months", and in order to capitalise on that it will raise $300 million.
The raising will include a $250 million fully-underwritten institutional placement, as well as a $50 million non-underwritten unit purchase plan (UPP).
"With over $550 million in cash and undrawn facilities following the Equity Raising, we will be in a position to act quickly as earnings accretive opportunities arise," the company said.
The company's cash and undrawn debt facilities stand at $277 million prior to the raise, and it has also lifted its bilateral debt facilities by $100 million.
"We have a proven track record of securing and successfully integrating acquisitions in this market segment, where ownership remains fragmented," the group said.
"All but one of our 85 shopping centres are anchored by either a Coles or Woolworths supermarket, and as such our centres are benefitting from the elevated foot-traffic being generated by these anchor tenants over recent weeks.
"Our specialty tenants account for the other 52% of our gross rental income and are heavily weighted toward non-discretionary categories.
"Many of these specialty tenants are trading strongly, including pharmacies, medical centres, discounters, liquor and fresh food retailers."
Some of SCP's tenants have had to close down such as gyms, cinemas, massage, beauty, tanning salons and nail bars, but these represent approximately $1 million per month of the group's gross rental income.
In addition, cafés and restaurants - which are still able to offer takeaway services - represent approximately $700,000 million per month of our gross rental income
The company earns about $300 million in gross property income annually.
Other companies to announce capital raisings recently include Flght Centre (ASX: FLT), Webjet (ASX: WEB), Reece (ASX: REH) and Southern Cross Austereo (ASX: SXL).
Data centre operator NEXTDC (ASX: NXT) is also raising capital, but similarly to SCP this is due to heightened demand.
Updated at 11:13am AEDT on 7 April 2020.
---
Victorian students to learn from home after Easter break

The Victorian Government has announced all government primary, secondary and special school students will move to remote and flexible learning and teaching when class recommences next week.
The drastic measure has been taken on the advice of the Chief Health Officer in order to slow the spread of Covid-19.
Victorian government schools will recommence on Tuesday 14 April with a pupil-free day, with students to begin classes on Wednesday 15 April. These new arrangements will remain in place for the duration of Term 2 and will then be reviewed.
"I know this year will be different to any that students, teachers and families have experienced before, but we are making sure that our kids still get the education they deserve," says Victorian Premier Daniel Andrews.
"We've done the work and planning so we're ready to make the move to remote and flexible learning, and I want to thank everyone involved for their dedication to our kids' education at this unprecedented time."
To support students the State Government has announced changes to the academic timetable for those in Year 12, as well as free Internet access and laptops for students in need.
VCE students will still receive an ATAR but there will be a number of chances to the academic timetable including:
The GAT test will move from June to October or November;
End of year exams will be postponed until at least December;
School based assessment tasks will be reduced where possible to relieve some pressure on students as they move to remote and flexible learning arrangements; and
Universities will be asked to delay the start of the 2021 academic year to account for impacts of coronavirus on senior secondary students.
VCE study scores will continue to be a combination of school-based assessment and external exams. VCAL students will have more time to complete their courses and this will be consistent with the revised dates for the VCE.
On-site learning will only be available for children whose parents can't work from home and vulnerable students without access to a suitable learning environment at home.
Further, the State Government will loan more than 6,000 laptops and tablets to students who currently do not have access to digital technologies at home. Schools will also distribute other classroom devices as required.
Free Internet access via SIM cards or dongles will be provided to thousands of students at public schools who need them the most. The State Government has partnered with Telstra to provide 4,000 SIM cards for public primary and secondary students.
The measure comes as Victoria reports 1,191 confirmed cases of Covid-19 in the state.
In total there are currently 5,895 confirmed cases of the coronavirus in Australia with 2,686 in NSW, 934 in QLD, 460 in WA, 411 in SA, 96 in the ACT, 89 in TAS, and 28 in NT.
Updated at 10:54AM AEST on 7 April 2020.
---
Queensland to send away foreign flagged cruise ships

The Queensland Government has announced all foreign-flagged cruise ships will be banned from entering its waters by midnight.
The move follows a national order from the Australian Border Force, and comes as a a criminal investigation is underway into the Ruby Princess as the largest single source of Australian Covid-19 infections, accounting for around 10 per cent of the total.
The Premier says the remaining four ships are just refuelling and "they'll be on their way as well".
Around 119 of Queensland's 934 coronavirus cases can be traced to cruise ship passengers.
There are currently 5,895 cases of Covid-19 in Australia and 45 deaths.
Although the amount of daily new cases has been declining the authorities have reiterated that is no cause for complacency. And with some states and territories yet to announce their numbers, it is looking like the decline will be less pronounced today if at all.
Updated at 10:38am AEST on 7 April.
---