Staying informed is more important than ever as the situation unfolds with Covid-19. Stay tuned here for our live updates, and be sure to let us know what your business is doing to face this unprecedented challenge.
---
$10k grants on offer for NSW businesses to go global

The New South Wales Government has unveiled a $12 million 'Going Global Package', with grants of up to $10,000 available to eligible businesses that want to boost their export capabilities.
The package is available to SMEs across NSW who will benefit from the state government's push to showcase local products and develop global export sales.
"Helping home-grown businesses succeed in the global marketplace is more important than ever before and here in NSW we have some of the best produce in the world," says NSW Deputy Premier and Minister for Regional NSW, Industry and Trade John Barilaro.
"Our Export Assistance Grants, together with intensive, direct assistance through the Going Global program will complement existing support and advice services to forge new business connections and sales offshore."
The $12 million 'Going Global Package' includes:
A $1.8 million Going Global program which will provide export coaching, networking and in-market assistance for export-ready firms. The initiative includes 15 tailored programs covering nine markets and ten sectors;
a $10 million Export Assistance Grant scheme reimbursing 50 per cent of eligible expenses up to a maximum of $10,000 per eligible business;
connections to international consumers via the Buy Regional Goes Global initiative;
online webinars to help businesses upskill;
ongoing support through the NSW Government's network of trade advisors in regional locations and Sydney, and its international trade and investment offices around the world
access to information on the Global NSW website;
other support, tools and resources available online.
According to NSW Treasurer Dominic Perrottet, assisting businesses in the NSW with international exports will be a vital component of the state's post-COVID recovery plan, with exports making up 16 per cent of the state economy prior to the global pandemic.
"We know our exporters have faced big hurdles in recent months, especially in regional areas also affected by bushfires and drought," says Perrottet.
"I urge small and medium-sized firms in regional areas and across NSW to apply."
Applications for the Going Global Package can be submitted now.
Updated at 11:19am AEST on 18 August 2020.
---
Patent litigation, COVID-19 send Cochlear into the red with $238m loss

Hearing implant maker Cochlear (ASX: COH) has reported its first ever loss since listing on the ASX almost 25 years ago, as a US court battle and suspended surgeries due to COVID-19 weighed heavily on its results in FY20.
The Sydney-based group has today announced a $238.3 million loss, down 186 per cent from a profit of $276.7 million in FY19.
The bulk of this sharp drop can be explained by a US patent infringement case brought by two research institutes that compete with Cochlear, which led a District Court to order US$268 million (AUD$371 million) in damages.
After losing an appeal on the decision in March, Cochlear is now taking its legal activities up a notch through an appeal to the US Supreme Court.
A US$75 million (AUD$104 million) settlement was also reached for prejudgment interest and attorneys' fees with the Alfred E. Mann Foundation for Scientific Research (AMF) and Advanced Bionics, but the money is in escrow pending the outcome of Cochlear's appeal.
In a letter to shareholders released today, CEO Dig Howitt and chairman Rick Holliday-Smith claimed the amount of damages awarded was "out of proportion".
"If Cochlear's Supreme Court appeal is successful, there may be a new trial to redetermine the quantum of damages," Howitt and Holliday-Smith said.
"As the patent at issue in the litigation has expired, the judgment will not disrupt Cochlear's business or customers in the US."
The rest of the negative shift in performance is due to the impacts of COVID-19, with implant sales going from a 13 per cent rise in the first half to a decline of 60 per cent in April.
"The impact of COVID-19 on profitability was significant with underlying net profit declining by 42 per cent to $153.8 million," the Cochlear leaders said.
Sales revenue for FY20 fell 6 per cent to $1.4 billion, although in constant currency terms it fell by 11 per cent. In the second half revenue was down by more than a fifth.
But the trading trend has improved since May with surgeries restarting across most markets, and in June-July cochlear implant revenue was only down 15 per cent year-on-year.
"For the developed markets, unit volumes were in line with last year for the June/July trading period, reflecting both a return to surgery and marketshare gains," Howitt and Holliday-Smith said.
"While the resumption of surgeries in the US, Germany, Japan and northern Europe has been quite rapid, there are still a number of markets with lower levels of surgery activity including the UK, Italy and Spain.
In contrast, volumes were down 50 per cent year-on-year for Cochlear's emerging markets, although circumstances vary greatly from country to country.
"Surgeries in China are growing quickly, and we remain committed to continuing to invest in further growth," the pair said.
"In other markets, including India and Latin America, surgeries have remained very low as COVID-19 cases continue to grow."
The group added it expected $23.6 million in coronavirus-related government assistance from a number of countries.
It has now been just over six months since Cochlear - like most ASX-listed companies - started to factor COVID-19 into its guidance.
On February 11 the company reduced its earnings forecast by around $15 million due to expected impacts from the virus in greater China, but if that result materialised it would have still been a 2-9 per cent increase year-on-year. In mid-March Cochlear bit the bullet like so many and withdrew its guidance.
This was swiftly followed by a $1.1 billion capital raising that was well received, and the company has continud on its course of reinvestment with $185 million spent on R&D in FY20. In July the company also received US FDA approvals for four new products.
COH shares were up 6.15 per cent to $210.50 each at 10:35am AEST.
Updated at 10:35am AEST on 18 August 2020.
---
COVID-19 health alert issued for Sydney Market Flemington

A health alert has been issued for Sydney Market Flemington overnight after person who worked at the market tested positive for COVID-19.
The person worked at the market while infectious on Sunday 9 August and is now in isolation. The case was reported positive on 16 August but the source of infection is still under investigation.
NSW Health has asked all people who were at the market on 9 August at any time between 8am and 4pm to monitor for symptoms and get tested if any develop.
Seven new cases of COVID-19 were diagnosed in New South Wales yesterday, bringing the state's cumulative total of confirmed cases to 3,768.
Of the new cases, six were locally acquired and one is a traveller in hotel quarantine.
Three locally acquired cases are close contacts of case linked to Chopstix Asian Cuisine at Smithfield RSL. Two are close contacts of a case linked to the Our Lady of Mercy College, whose source is still under investigation.
One case attended Sydney Girls High school at Surry Hills while infectious on 6, 7, 10 and 11 August. The school is closed for cleaning and will reopen on Tuesday, 18 August.
Another case worked at Parramatta Local Court. The person last attended Parramatta Local Court on Wednesday, 12 August, and the positive result was received on Saturday, 15 August.
NSW Health has directed that people who attended the following locations should watch for symptoms and get tested if they appear:
Parramatta Local Court on Tuesday 11 August and Wednesday 12 August between 8.30am and 12.30pm
Woolworths Metro North Strathfield on Saturday 8 August between 12.50pm and 1.15pm
DFO Homebush on Saturday 8 August between 10.45am and 12pm.
Updated at 9:29am AEST on 18 August 2020.
---
Adelaide to trial the return of international students to Australia

Around 300 international students will make their way back to Adelaide, South Australia from early September as part of a pilot test program.
The trial will test how the Federal Government will manage the return of international students to Australia, including quarantine management, testing requirements, and getting students back at universities safely.
The pilot program was announced yesterday in Adelaide by Federal Minister for Trade, Tourism and Investment Simon Birmingham, who stressed the importance of international students for Australia's economic rebound.
"This is a very important next step in terms of the recovery from the economic disaster of COVID," said Birmingham.
"International education is a huge services expert industry for Australia and for South Australia. It underpins many thousands of jobs and it is important that we work out how we can get international students back to Australia safely and appropriately.
"This pilot of around 300 students coming into Adelaide is going to be used to test just exactly how we're going to manage that, but it's being done with the utmost of safety requirements in place."
The students will be flying in from Singapore, while the contingent will also include Hong Kongers, mainland Chinese and Japanese nationals.
Birmingham says Adelaide residents should have no concerns about the potential for COVID-19 to be re-introduced into the city as a result.
"We have successfully demonstrated, particularly in states like South Australia, that we can return Australians from all corners of the world, safely quarantine them, and provide no exposure to the South Australian community in that process," said Birmingham.
"We have to work through these steps very carefully. But that's why a careful pilot program is the right approach to take."
The news comes as exporters in Adelaide were given some good news from Birmingham, with the Minister announcing that new flights out of Adelaide into Doha with Qatar Airways had been secured.
"We're thrilled now to see the additional service flying out of Adelaide into Doha that opens up market opportunities...right across Europe, and indeed frankly around the world by getting back into that key hub," said Birmingham.
South Australian Minister for Trade and Investment Stephen Patterson also welcomed the news of the additional flights out of Adelaide into Doha.
"Today really is another important step forward as Qatar Airways resumes their direct flights from Adelaide into the Middle East," said Patterson.
"That's fantastic news for South Australian producers as it opens them up to one of our emerging markets so that then we can export our high-quality produce such as beef and lamb, and also our seafood into those markets.
"It's also a vote of confidence in the South Australian market itself and the handling of South Australia, how it's gone about its way with the COVID-19."
Updated at 12:15pm AEST on 17 August 2020.
---
Lendlease reports $310m loss as COVID-19 strangles market conditions

The divestment of its underperforming engineering business and the impact of COVID-19 resulted in property developer Lendlease (ASX: LLC) recording a $310 million loss in FY20.
This marks two years in a row of "disappointing" results from Lendlease, with the major loss representing a 166.4 per cent dive year-on-year following a $467 million profit in FY19.
The majority of the group's woes were experienced in the second half, with COVID-19 impacts contributing to $212 million in losses during the period.
Despite the result Lendlease is still distributing a dividend, with shareholders to secure 33.3 cents per stapled security.
During the financial year Lendlease was supported by $9.7 million in JobKeeper wage subsidies. Globally, the company received $15 million in government support in markets where it was offered.
Lendlease CEO and managing director Steve McCann (pictured) says a number of mitigating actions were implemented to stem the company's losses, including cost reductions, but COVID-19 market conditions ultimately took a heavy toll.
"The group responded swiftly to the onset of COVID-19 with the health and safety of our people and customers paramount, along with measures to strengthen our financial position," says McCann.
"Notwithstanding the challenging environment, the group advanced its strategic agenda in FY20.
"Significant progress was made on growing and converting the development pipeline, including securing additional major urbanisation projects, achieving important planning milestones and creating new investment partnerships to support projects moving into delivery."
The impacts of the COVID-19 pandemic were felt by Lendlease during the second half leading to delays in converting development opportunities and weak trading conditions in its home building segment.
Lendlease says its construction business was most hit in cities where mandated shutdowns were implemented, with effects including lower productivity, projects being put on ice, and delays in the commencement or securing of new projects.
Further, deteriorating market conditions and declining real estate values saw the company's investment portfolio take a hit.
McCann says he has optimism for the company's post-COVID future.
"Our ability to developer urban precincts with a focus on financial, environmental and social outcomes is being recognised globally," says McCann.
"Continued organisation success during the year resulted in the development pipeline more than doubling over the last five years to above $100 billion."
Since June 30 the company has already added a major investment partnership with Mitsubishi Estate to deliver the first residential tower at One Sydney Harbour, Barangaroo South. This project is expected to contribute approximately $100 million to after tax profit in FY21.
"The ongoing conversion of our pipeline provides access to development opportunities and high quality assets for our investment partners," says McCann.
"This integrated approach, along with our placemaking skills, provides a point of difference we believe few can match."
The previously announced $160 million sale of Lendlease's engineering business is expected to complete soon.
Lendlease says it expects the costs associated with the sale of its engineering business will now be $550 million pre-tax, with $525 million accounted for in FY20.
Post-sale Lendlease will retain some major projects including the NorthConnex project in Sydney and the Melbourne Metro Tunnel Project.
Updated at 9:56am AEST on 17 August 2020.
---
Record profit as JB Hi-Fi leverages lockdown leisure

Electronics retailer JB Hi-Fi Group (ASX: JBH) had no need for JobKeeper in FY20 as consumers arrived in droves to stock up on entertainment and working from home (WFH) goods, sending net profit after tax (NPAT) soaring by 21 per cent to $302.3 million.
Strong sales momentum continued in July for its Australian and NZ stores along with The Good Guys, but lockdowns in Melbourne and Auckland mean it won't entertain any speculation about results for the current financial year.
Online sales rose by almost half in FY20 to reach $600 million, although the percentage rise was much higher in Q4 at 134 per cent due to the pandemic, bolstered by a consolidation of supply chain and logistics capabilities in Sydney, Melbourne and Brisbane.
The group has also seen a significant acceleration of online sales in Victoria in the first 11 days following the stage 4 temporary store closures, which led to a shutdown of 46 JB HI-FI stores and 21 The Good Guys stores that is currently scheduled to end after mid-September.
But even with this massive growth online sales were just 7.6 per cent of the group's total sales of $7.9 billion, which were up 11.6 per cent.
JB Hi-Fi's Australian operations accounted for the greatest proportion of that $5.32 billion, with their sales growth rate outpacing the group's at 12.5 per cent.
However, it was The Good Guys that recorded the biggest jump in earnings with EBIT up 47.8 per cent to $107.8 million, driven by portable appliances, floorcare, laundry, computers and televisions.
This compares to a 26.2 per cent rise for JB Hi-Fi Australia to $380.8 million, whose leading sales categories were communications, computers, visual, audio and small appliances.
Group CEO Richard Murray says this is a strong result in the most challenging of times.
"We are pleased to report strong sales and earnings for FY20 and importantly, we have provided our customers with the products they required as they spent more time working, learning and seeking entertainment at home, and kept our team members in jobs with an absolute focus on health and safety," he says.
"I would like to recognise and thank our almost 13,000 team members who have done an incredible job in meeting the extraordinary challenges faced during FY20.
"Our customers have continued to turn to us for their technology and home appliance needs and our team members have responded and adapted in an amazing manner to make sure we can meet these needs safely and effectively."
This gratitude to staff was expressed through a $1,000 cash bonus to store and warehouse team members, adusted in accordance with hours for part-timers and casuals.
The company did not receive any wage subsidies from the Australian Government, although it did receive NZD$3 million in wage subsidies from the New Zealand Government while its stores in the country were closed.
Updated at 10:07am AEST on 17 August 2020.
---
Brisbane's Caxton Hotel hit with large fines after Broncos staff incident

An iconic Brisbane pub near Suncorp Stadium faces $13,344 in fines over two alleged breaches of COVID-19 regulations, one of which involved three Brisbane Broncos coaching staff including NRL legend Allan Langer.
Queensland Police have declined to reveal details of the incidents in question, but the news follows reports of a birthday function held for Langer at the Caxton Hotel that breached the league's biosecurity bubble rules.
Langer and his colleagues Blake Duncan and Ryan Whitley each received $5,000 fines from the NRL over the breach.
"It is important everyone within club bubbles follows the protocols, not only so the season continues, but to ensure no risk to the general community," NRL acting chief executive Andrew Abdo said last week.
Police been investigating that incident and another on the same weekend at the venue.
"The Queensland Police Service (QPS) issued two corporate penalty infringement notices (PINs) to a hotel on Caxton Street in Brisbane in relation to breaches of the public health directions," the QPS said in a statement.
"Officers from Task Force Sierra Linnet commenced an investigation and as a result two corporate penalty infringement notices were issued on Friday, August 7 for two separate incidents.
"Police will allege on July 31 and August 2, the licensed venue failed to comply with COVID-19 public health directions," the police said, adding the fine for each infringement notice is $6,672.
This afternoon the NRL reported Queensland Police had confirmed Brisbane Broncos players had not breached the government's public health directions after attending a venue - reported by the Brisbane Times as the Everton Park Hotel - on 1 August .
This means the players will not need to enter a "COVID Hold" and can continue to train and play while the NRL investigation continues.
All players who attended the venue will however take a COVID-19 test.
The NRL Integrity Unit is continuing to investigate the actions of players at the hotel and has been collecting and examining all available evidence.
Abdo said the league was working closely with Queensland authorities to determine if NRL rules had been breached.
"We are conducting a detailed investigation to ensure we have all available evidence before determining the need for sanctions. It is important we have all the facts and evidence before making a decision," Abdo said.
"Right from the start of this pandemic we have made it clear if protocols are breached players and officials will face strong sanctions. Our actions in recent days have confirmed that.
"Our biosecurity experts have determined the players will not be required to enter a COVID-19 Hold."
Yesterday the NRL proposed Brisbane Broncos player Tevita Pangai Junior be fined $30,000 over multiple alleged breaches of protocols over a period of time.
Pangai Junior has been given a breach notice which excludes him from the Broncos' bubble and any NRL match day.
"We believe this was a case of a player committing multiple contraventions of the protocols and showing a disregard for the league's rules," Abdo said.
"We will do everything we can to protect our season. Players or officials who show they are unable to comply with the biosecurity protocols will be removed from club bubbles until we are satisfied that they will comply with the protocols. We believe in this case, Tevita has not been able to do that.
"This decision protects the health of our playing squads and most importantly the general community."
Updated at 3:36pm AEST on 13 August 2020.
---
CBD office vacancy rates remain stable during pandemic

Australian CBD office vacancy rates have risen modestly in response to the COVID-19 pandemic, thanks to historicially high levels of occupancy in the months leading into the crisis.
According to research from the Property Council of Australia, Australian CBD office vacancy rates increased from 8 per cent to 9.2 per cent over the six months to July 2020, with flat tenant demand overall.
However, vacancy remains below its historic average, with the key Sydney and Melbourne CBDs sitting at less than six per cent.
Vacancies in other capital city markets are stable with Canberra at 10.1 per cent, Brisbane at 12.9 per cent, Adelaide at 14.2 per cent and Perth at 18.4 per cent.
Property Council chief executive Ken Morrison said the previous record low rates of vacancy in the biggest CBD office markets provided a strong buffer against the initial impact of COVID-19.
"The impact of COVID-19 on our CBDs and office markets is still at an early phase, but so far the pandemic has had only a modest impact on vacancy rates," says Morrison.
"Vacancy rates have increased over the past six months, but tenant demand has so far been flat, not falling, and overall vacancies are still below the historic average.
"It's a reminder that office markets have been resilient in the first stage of the pandemic, despite the fact that many office workers have spent months working from home."
The vacancy rate for the Sydney CBD was 5.6 per cent (up from 3.9 per cent in January) and the Melbourne CBD vacancy was 5.8 per cent (up from 3.2 per cent in January).
Melbourne CBD vacancy was most significantly impacted by a 4.6 per cent increase in additional office supply, while the Sydney CBD vacancy was most influenced by 1.2 per cent reduction in tenant demand.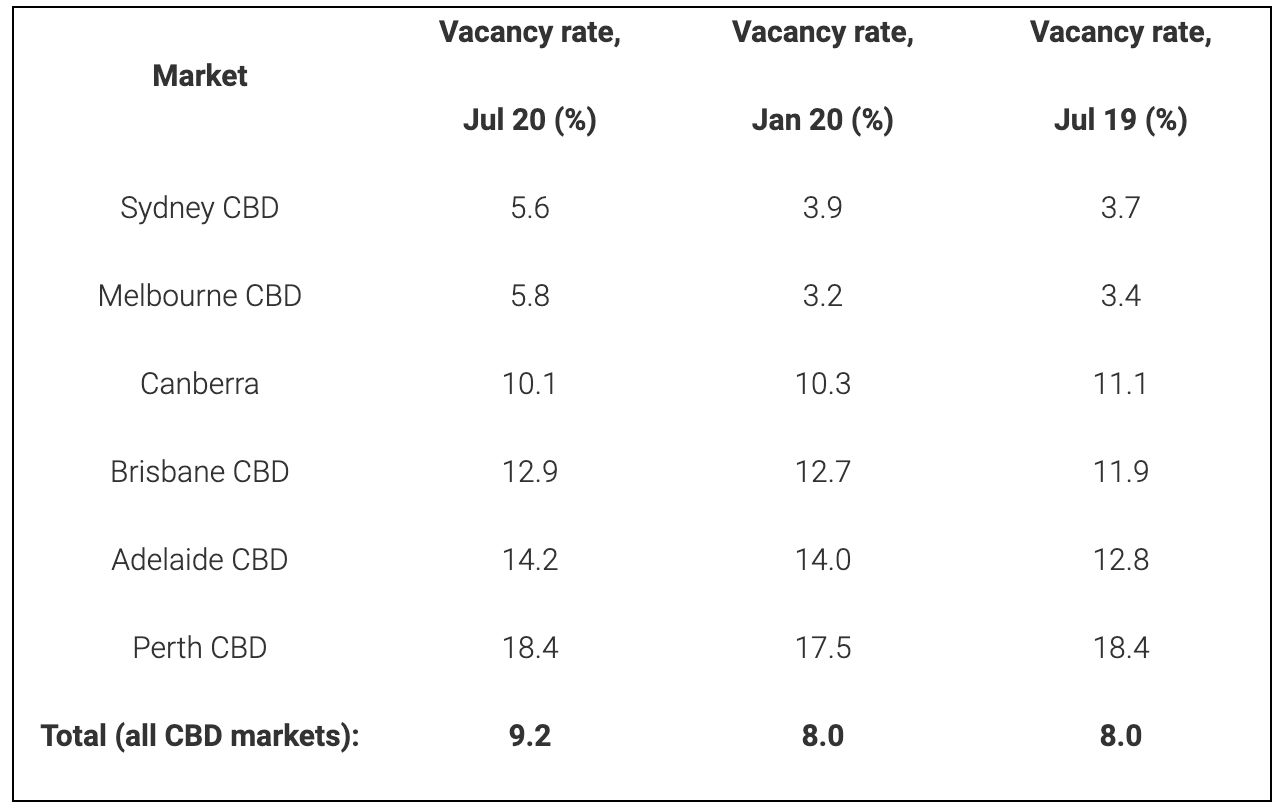 In the non-CBD markets a similar story played out, with vacancy rates increasing from 9.2 per cent to 10.3 per cent.
Though the COVID-19 pandemic forced many Australians to experience working from home for the first time, Morrison says this trend is temporary and unlikely to result in the forecast "end of the office".
"While there is plenty of commentary about the end of the office, the data doesn't suggest this and there is a long way to go as business works its way through the economic and social impacts of COVID-19," says Morrison.
Almost 400,000 square metres of new office space will come onto capital cities markets in the remainder of this year, with the Melbourne CBD will account for 48 per cent of this space, of which 82 per cent is already pre-committed.
In addition, the Property Council says almost 1.2 million sqm of office space will be supplied in CBD markets over the next two and a half years.
Vacancy low for premium space in Sydney
While the Sydney CBD recorded its lowest level of demand in 11 years for the six months to July 2020, vacancy generally remains tight for premium office space.
"Sydney's office market has traditionally been very tight and recorded some of its lowest vacancy rates in the past couple of years, which has put us in a better position to navigate the challenges of the COVID-19 pandemic being felt right across the property industry," says Property Council of Australia's NSW acting executive director Belinda Ngo.
"Tenant demand fell by 58,675 sqm over the six months with most of this occurring in B-grade office space, whereas there was slight positive demand for Premium space.
"We saw some new supply enter the Sydney CBD with more to come over the next two years. There is 117,161sqm of new stock due to enter the market in the second half of 2020, and a strong pipeline of new office stock planned for 2021and 2022."
Vacancy rises in Melbourne for the first time in four years
Melbourne's CBD office vacancy rate hit 5.8 per cent at the end of July, the first rise in four and a half years.
The Property Council says the increased rate is not due to falling demand, but a confirmation of significant developments opening.
"It is simply too soon to tell what the impact of the pandemic will be on the office market, but Melbourne started from a very strong position," says Property Council Victoria executive director Cressida Wall.
"Coming off the lowest vacancy rates in the city's history prior to the pandemic, it is likely that demand will remain strong, notwithstanding Melbourne's temporary shift to home-based working.
"While we all deal with this significant public health situation, it is not too early to put plans in place that reanimate the Melbourne CBD and provide a sense of safety and comfort for office employees when they return."
Adelaide hot property as the most "liveable" city
COVID-19 has only had a moderate impact on Adelaide's office market, with vacancy increasing marginally from 14 per cent to 14.2 per cent.
The city saw 11,530sqm of new commercial office space come online over this period. A-Grade office stock was the most popular asset class, with vacancy dropping from 11.3 per cent to 10.8 per cent in the six months to July 2020.
The Adelaide City Fringe also recorded an increase in vacancy from 14.2 per cent to 14.4 per cent, primarily due to negative demand.
"Adelaide has demonstrated over the past six months that it is a comparatively safe, healthy and resilient capital city, with a growing number of competitive national advantages," says Property Council SA executive director Daniel Gannon.
"When it comes to which capital is Australia's most liveable city at the moment, Adelaide wins hands down.
"Occupancy rates in the CBD are strong and increasing, businesses are building momentum and investors are still looking for reliable places to park capital."
Brisbane and Gold Coast in line with national trends
The CBD office markets in South East Queensland have remained stable during the COVID-19 pandemic period, with the impacts mirroring what's happening on a national scale.
Vacancy in Brisbane CBD increased from 12.7 to 12.9 percent over the past six months", says Property Council Queensland executive director Chris Mountford.
"It was a very similar story in the Brisbane fringe market with vacancy increasing from 13.6 to 14.2 percent.
On the Gold Coast vacancy increased marginally from 12.8 per cent to 13 per cent, driven by negative demand for space.
Perth market remains resilient
With Western Australia more or less isolated from the health crisis ongoing in Australia's eastern states Perth's office market has emerged relatively unscathed.
In Perth the overall vacancy rate for the six months to July 2020 was 18.4 per cent, in line with a year ago, and only slightly higher than the January 2020 vacancy rate of 17.5 per cent vacancy.
Property Council WA executive director Sandra Brewer said Perth's Premium and A-grade office continued to perform strongly but vacancies rose in the lower grades.
"Perth and Adelaide was the only capital cities in the country to report a reduction in space available for sublease," says Brewer.
"Perth's CBD market, which was thought to be on the cusp of a turnaround before the pandemic, has so far experienced relatively moderate effects. The industry will be monitoring tenant demand and sublease vacancy over the next six months as the economic impact of the pandemic plays out."
Updated at 12:08PM AEST on 13 August 2020.
---
Flight Centre forecasts $875m loss

Flight Centre (ASX: FLT) has tightened its belt and corporate clients are spending more than expected, but the pandemic's toll has shown its jetlagged weary face with the travel company anticipating a loss before tax of $825-875 million in FY20.
This will likely represent more than a $1 billion shift in the negative from Flight Centre's FY19 result, or more than its recent $700 million capital raise, $200 million debt facility increase and Melbourne HQ sell-off combined.
Before the virus became a pandemic and led to widespread travel restrictions, in the eight months to February the group had achieved a profit before tax of $150 million.
On an underlying basis the performance for FY20 would have been around $350 million higher if it weren't for around $110 million in COVID-related costs to reduce monthly cash outflows, as well as costs arising from supplier failure, impairment charges, write-offs against goodwill and other one-off factors.
The Brisbane-based company took drastic steps to reduce costs over the last few months, slashing its number of leisure shops in half, negotiating rent reductions for remaining stores and placing 70 per cent of its staff globally on government stand-down/furlough programs or in redundancy.
"COVID-19 and, specifically, the government responses to it have clearly had devastating impacts on businesses worldwide and on the airline, travel, tourism and hospitality industries in particular," says FLT managing director and co-founder Graham Turner.
"This has severely impacted us and our people and some very tough decisions have been made over the past four or five months."
Flight Centre's goal was to reduce monthly net operating cash outflows from their pre-COVID levels of $230 million down to $65 million, but this was surpassed by keeping the figure down to $53 million.
The outflow was lower still when considering a $10 million per month net benefit from the JobKeeper program for Flight Centre's retained employees in Australia.
Recent developments such as the Melbourne property sale, a government-backed UK loan and ongoing eligibility for JobKeeper are expected to extend to add $200 million to the group's $1.15 billion "liquidity runway" as at 30 June.
Revenue was higher than anticipated in July at $17 million, mostly fuelled by the company's corporate business which was also a fast-growing segment leading up to the crisis with previous annual TTV of more than $10 billion.
Total transaction value (TTV) exceeded $200 million globally for the month and approached $100 million in Australia.
"Despite ongoing restrictions, revenue has now started to increase, particularly in Europe, and we have surpassed our initial cash flow target, thereby extending our liquidity runway," says Turner.
"We have also continued to win a record amount of new corporate accounts, while generating an underlying corporate profit during FY20.
"This highlights both our corporate business's resilience and its strong future growth prospects in this large, global travel sector which was estimated to be worth $US1.5 trillion per year pre-COVID-19."
Turner says there are still further challenges to be overcome as well as ongoing uncertainty about government COVID-19 objectives and strategies.
"It is critical that businesses across all sectors know these objectives and data lines for COVID-19 control and the lifting of restrictions - whether the end goal is community immunity, suppression, eradication or learning to live with this virus," he says.
"Learning to live with the virus involves protecting the vulnerable, particularly the elderly, while ramping up testing, contact tracing and ultimately isolation so we don't overwhelm intensive care units.
"Adopting this approach, while continuing to take sensible health precautions, flattening the curve and getting society and business back to a reasonable level of normality must be priorities to reduce the already dire economic outcomes being experienced."
Updated at 10:04am AEST on 13 August 2020.
---
Sydney pub slogged with $10k penalty for "complete disregard" of COVID-19 restrictions

The Garry Owen Hotel in Rozelle, Sydney, has been labelled the "worst pub seen so far" by NSW authorities and hit with $10,000 in fines for breaches of COVID-19 restrictions.
As alleged by Liquor & Gaming NSW Director of Compliance Dimitri Argeres, when inspectors arrived at the Garry Owen Hotel there were only three staff in the whole venue despite being "packed" with patrons.
"The list of breaches grew from there," says Argeres.
"In fact the venue was essentially being operated as though there were no restrictions in place," Mr Argeres said.
Inspectors further allege that:
The business wasn't registered as COVID safe.
It didn't have an up to date COVID-19 Safety Plan.
Sign in procedures weren't enforced.
Inspectors observed a lack of hygiene processes.
Customers were standing and mingling while drinking.
Physical distancing was not enforced.
"The venue was letting down its workers, the community, and all the other businesses trying to do the right thing to keep their doors open," says Argeres.
"Hospitality venues cannot disregard these requirements. If we visit again and observe further breaches, at this premises or any others that have already been fined, they may be temporarily shut down.
"Now is not the time to be facilitating mingling among strangers, let alone allowing patrons to stand on your pub balcony sculling beers."
This week Liquor & Gaming has issued six more fines, SafeWork NSW one, and NSW Fair Trading one, bringing the total number of fines issued by the Department of Customer Service to 29, venues to 27, and the dollar amount to $152,500.
These eight venues were fined this week for breaches related to not having a COVID-19 Safety Plan; non-compliant record keeping; improper hygiene; and a lack of appropriate physical distancing, including in gaming rooms:
Garry Owen Hotel Rozelle
Riverview Hotel Balmain
Dry Dock Hotel Balmain
Padstow Park Hotel Padstow
Padstow Bowling Club Padstow
Marrickville Ritz - Marrickville
Royal Hotel Randwick
Yai Thai Gosford
"If you want to continue operating, if you care about the health of your community, then take responsibility for safety in your space," Argeres said.
"This goes for customers too. If you visit a business, follow its rules. If it doesn't look like it has adequate COVID safety measures in place, avoid it."
The news comes as Australia suffers through the deadliest day during the pandemic so far, with Victoria reporting 21 deaths from COVID-19.
There have also been 428 new cases of COVID-19 detected today in Australia, including 18 in NSW and 410 in VIC.
Public health alerts issued in Sydney, returning residents have quaranteine fee waived
NSW Health has issued a range of new public health alerts today, including for an Ikea store, two shopping centres, and a Baby Bunting store.
Because of NSW Health's concern about community transmission the authority has asked anyone who attended the following venues during the dates and times below to monitor for symptoms, and if symptoms present, however mild, isolate and get tested:
Rhodes Ikea on 8 August, between 1:20pm -2:20pm
Parramatta Westfield on 5 August between 4pm-5:30pm and 8 August between 12pm 1pm
Dooleys Lidcombe Catholic Club from 5pm on 7 August to 1:30am on 8 August
Castle Towers Shopping Centre on 7 August between 3:30pm 5pm
Baby Bunting, Penrith on Saturday 8 August between 1.15pm - 1.45pm
In addition, the NSW government has decided to waive the hotel quarantine fee for NSW residents returning from Victoria to ease the financial buden on returnees.
The charge will be waived retrospectively and apply to NSW residents already in hotel quarantine after travelling from Victoria.
Updated at 3:26pm AEST on 12 August 2020.
---
1300 Smiles emerges from shutdowns with higher profits "than ever before"

Shares in Townsville-headquartered dental group 1300 SMILES (ASX: ONT) continued their bull run today to reach pre-pandemic levels, following a 22 per cent lift in EBITDA to $16.2 million for FY20.
Around $1.27 million of that EBITDA can however be explained by JobKeeper, which appears to have kept the group going during closures and prepared to rebound when patients started to return from mid-May onwards.
While revenue was down slightly to $57.1 million and net profit after tax (NPAT) decreased 8 per cent to $7.1 million, managing director Dr Daryl Holmes (pictured) claimed the true strength of the business model had shone through a severe test of its operations.
"We have emerged from a lengthy shutdown with a business that has rebounded to higher levels of revenue and profit than ever before," he said in a letter to shareholders today, also explaining the company does not have facilities in any of the current hotspots.
Dr Holmes noted revenue was greatly reduced during the period of maximum economic restrictions between 23 March and 11 May, with many practices closed while others had their activities sharply limited.
"Subsequent to 11 May our revenue rebounded sharply, with the month of June 2020 delivering our highest monthly revenue ever, by a big margin," the executive said.
"The results for the quarter, the second half, and the full year mask the fact that we've been through a terrible spell which extended over several weeks, followed by an extremely positive period which lasted right to the end of the financial year and has continued without pause through the end of July.
"On a quarterly basis, revenue in 2020 exceeded revenue in the previous year in each of the first three quarters. Over the first three quarters, revenue was up by more than 7 per cent over the previous year."
Following these encouraging results, the board decided to give shareholders a 3 per cent lift in dividends to 12.5 cents per share, which likely contributed to the six per cent lift in today's share price.
He explained the COVID-19 pandemic had led to many weaker players simply leaving the market, which has improved 1300 Smiles' competitive position considerably.
"First of all, our facilities inspire confidence in our patients. Our practices are bright and clean, obviously sanitised and disinfected to the highest standard," Dr Holmes said.
"Our scheduling systems mean that patients spend minimal time in our waiting areas. Our equipment is modern and professionally maintained.
"We were equipped to prevent disease transmission long before COVID-19 came along, and the presentation of our facilities is reassuring to patients."
He described an "unprecedented flow" of both returning and new patients since June.
"Why so many new ones? I speculate that the presentation of our facilities gives people comfort. I speculate that many people who have previously not prioritised their dental and overall health, have reconsidered their life priorities.
"I also speculate but cannot yet measure another effect of COVID-19: it appears that a number of older dentists have kept their practices closed while they consider whether to resume operations at all.
"Along with the flood of new patients, we have also enjoyed an unprecedented stream of applications from qualified dentists wishing to join our practices."
Never miss a news update, subscribe here. Follow us on Facebook, LinkedIn, Instagram and Twitter.
Business News Australia
---
NT border closed for a further 18 months

The Northern Territory's hard border restrictions will stay in place for at least a further 18 months and will close to Victoria indefinitely according to Chief Minister Michael Gunner.
The lengthy extension of COVID-19 border restrictions has been implemented to protect the Territory's vulnerable Indigenous population, and extra police will be recruited to maintain these barriers.
As a result, the NT will be closed to anyone in a designated COVID-19 "hotspot", which currently includes all of Sydney and Victoria.
Just last week the NT removed a number of "hotspots" from its list, allowing those from Brisbane, Ipswich, Logan, the Blue Mountains and Eurobodalla Shire to enter the jurisdiction without completing a mandatory two-week period of quarantine.
Travellers from Sydney and Victoria are still required to complete a two-week quarantine at their own expense upon entering the Territory and must also sign a border declaration pass.
Chief Minister Gunner described the 18-month timeline as "conservative" on ABC Radio this morning and told all Territorians to "cancel their Christmas holiday plans" to limit the spread of COVID-19.
The announcement comes as Australia reported 353 new cases of COVID-19 today, including 331 in Victoria and 22 in NSW.
Today, for the second day in a row, Victoria confirmed 19 new deaths attributed to COVID-19, bringing the country's total number of deaths to 332.
Updated at 4:00pm AEST on 11 August 2020.
---
SCA Property profits fall as specialty retailers struggle to pay rent

Supermarkets have benefited from consumers flooding small suburban shopping centres during the pandemic, but the rising tide did not lift all boats.
Results released today by Shopping Centres Australasia Property Group (ASX: SCP) show even a 5.1 per cent sales increase for anchor supermarket tenants in its community malls was not enough to offset the difficulties faced by specialty retailers.
SCA is reporting a 22 per cent year-on-year drop in net profit after tax (NPAT) to $85.5 million, even though on most metrics its performance was strong; high portfolio occupancy, increased leasing activity, lower vacancies, more renewals and even a profit on the sale of a Victorian property.
Chief executive officer Anthony Mellowes says the company's convenience-based centres have been relatively resilient and have even received increased turnover rent from anchor tenants.
Approximately 92 per cent of tenants are now open and trading, including approximately 63 per cent in Victoria.
While SCA's suburban shopping-leveraged business model does have its advantages, there is no escaping the economic reality of the 52 per cent of tenants who run specialty stores, even if their goods and services are non-discretionary.
Mellowes says the COVID-19 pandemic has impacted many of these tenants who have experienced sales declines.
"We have provided rental assistance to over 600 tenants in accordance with the Mandatory Code of Conduct," he says.
"Our rental collection rate was 77 per cent during the COVID-19 period, and we will continue to pursue payment from tenants of all of the outstanding amounts not covered by agreed waivers or deferrals.
"Our focus continues to be to improve the tenancy mix in our centres with a bias toward non-discretionary categories, to maintain high retention rates on renewals, and to maintain low specialty vacancy by working pro-actively with our tenants in these challenging times."
SCA has estimated a COVID-19 earnings impact of $20.5 million and an $87.9 million decrease in the like-for-like valuation of investment properties.
Of that coronavirus-related impact, $14.4 million comes from an incremental expected credit loss allowance against rental arrears, $4.5 million is in waived rent that is not included in rental income, and around $1.6 million is from additional expenses relating to the pandemic such as cleaning and security.
"The direct impact of COVID-19 on FY20 FFO (funds from operations) is $20.5 million, with the largest contributor to this being expected credit loss allowances due to increased rental arrears," says CFO Mark Fleming.
"In addition, the like-for-like valuation of our investment properties decreased by $87.9 million with $27.4 million of that decrease due to the expected impact of the COVID-19 pandemic on FY21 cash flows.
"In response to the COVID-19 pandemic we raised $279.3 million of new equity in April and May 2020 through an institutional placement and a unit purchase plan," he says, adding this was aimed at strengthening the balance sheet and having liquidity to make more acquisitions as opportunities arise."
As at 30 June 2020, SCA Property had cash and undrawn facilities of $622.8 million and gearing of 25.6 per cent.
"This means that we could fund approximately $300 million of acquisitions and still keep our gearing below 32.5 per cent," says Fleming.
Updated at 11am AEST on 11 August 2020.
---
Atomo rapid COVID-19 test approved by TGA

Atomo Diagnostics (ASX: AT1) expects to soon start selling its rapid COVID-19 antibody blood test in Australia following the Therapeutic Goods Administration's (TGA) approval for its use by medical professionals.
The AtomoRapid COVID-19 (IgG/IgM) test is jointly manufactured by Atomo and its French partner NG Biotech, which makes the test strip while the Australian company produces the testing device itself.
The breakthrough means Sydney-based Atomo will soon have its second Australian Register of Therapeutic Goods (ARTG) listing, alongside the Atomo HIV Self-Test.
AT1 shares were up 13.24 per cent at $0.385 each at 2:08pm AEST.
Today's announcement is the result of an expanded partnership with NG Biotech giving Atomo an exclusive market in several countries.
On 4 June, the company secured the exclusive rights as the listed manufacturer to market and distribute the COVID-19 antibody test in Australia, New Zealand, Singapore, Malaysia, Indonesia, Taiwan, Hong Kong, Thailand, Vietnam, Myanmar and the Philippines.
Until that date, NG Biotech had already ordered more than 1.5 million of Atomo's Galileo devices for use in its COVID-19 antibody test in France.
Atomo's global expansion continued in late July after signing a binding agreement with US-based diagnostics specialist Access Bio Inc (KOSDAQ: 950130) to supply its devices for the North American market, with co-branding from both companies.
Under the agreement, Access Bio is obliged to sell a minimum of two million products by 30 September 2021.
Regulatory approval in Australia may represent a relatively small achievement in comparison, although testing rates per capita are relatively high here (20th in the world).
Atomo also plans to submit its product for assessment to the Doherty Institute, which has been engaged by the Department of Health to assist with the post-market validation of new COVID-19 rapid tests, upon listing on the ARTG.
Other ASX-listed companies in the space include Brisbane-based AnteoTech (ASX: ADO) and Sydney-based Cellmid (ASX: CDY).
"Thanks to the TGA approval and the work of our dedicated team, we can now deliver what is in our view, a high-quality, reliable antibody rapid test to Australia," says Atomo Diagnostics co-founder and managing director John Kelly.
"Atomo already sells Australia's only approved HIV Self-Test and we know that our solution simplifies rapid bloodbased testing in point-of-care settings.
"We are excited that our test can now be used in our home market, Australia, to assist in the fight against the COVID-19 pandemic."
Kelly highlights two French studies of Atomo's Galileo device for testing COVID-19 had specificity rates, meaning how well the test correctly identifies a negative result, of 100 per cent.
For sensitivity, meaning the ability of the test to correctly identify positive cases, the rates were around 97 per cent.
In a report to Federal Health Minister Greg Hunt, Australia's Chief Scientist Dr Alan Finkel referenced Atomo in his discussion of the specificity of available COVID-19 tests.
"For as long as the prevalence of COVID-19 is low in Australia and available serological tests are not approaching 100 per cent specificity, serological testing to measure the prevalence of COVID-19 will not be meaningful," Dr Finkel said in the report.
"As noted earlier, the Atomo rapid test meets this requirement having demonstrated 100% specificity in both studies in France."
Kelly concludes TGA approval will accelerate negotiations for use of the test across a number of channels in Australia.
"In our view, the performance data for the test generated from independent French studies and the proven ease-of-use of the Atomo device in the field, make our test well suited for deployment in a large country like Australia, with a variety of point of care settings," he says.
Updated at 2:18pm AEST on 10 August 2020.
---
Qantas share purchase plan falls short by $428m

Melbourne lockdowns and further flight restrictions have put a drag force on Qantas Airways' (ASX: QAN) planned $500 million share purchase plan (SPP), which came up 86 per cent short while shares traded below the original offer price.
The iconic company announced a $1.9 billion capital raising on 25 June to help fund its COVID-19 recovery plan, comprising a roughly $1.4 billion fully underwritten institutional placement and the balance to come from the SPP capped at $500 million.
Of that SPP cap sum Qantas has only managed to raise $71.7 million, with the new shares on issue purchased by 8,660 eligible shareholders.
In mid-July the SPP closing date was extended by an extra fortnight, but in the end it meant little as a second wave in Victoria would soon rear its head and the national trend of eased restrictions started to move in the opposite direction.
"As distinct from the underwritten Placement, the timing of the SPP coincided with a series of tightened border restrictions across Australian states and territories, sparked by a COVID-19 outbreak in Melbourne and small clusters elsewhere," the company said today.
"While the Qantas Group's recovery plan anticipates some uncertainty associated with the pandemic, the timing of these events and their implications for travel demand had an obvious impact on the Qantas share price and the take-up of the SPP offer by eligible shareholders.
"Qantas confirms that all valid applications by eligible shareholders were accepted in full for the amount validly applied for. Qantas expects to issue approximately 22.5 million new fully paid ordinary shares.
When the equity raising was announced Qantas was offering $3.65 per share, representing a 12.9 per cent discount to the previous trading price. But the extension of the SPP included the option of the volume-weighted average price of shares over a five-day period, minus a 2.5 per cent discount.
As a result, the new shares will be issued at $3.18 per share on 12 August, and are expected to start trading on the ASX the following day.
QAN shares were up slightly by 0.75 per cent to $3.345 each at 10:21am AEST.
Updated at 10:22am AEST on 10 August 2020.
---
Doorknocking no-show numbers drop in Melbourne as lockdowns take effect

Following the Australian Defence Force's largest single day effort of doorknocking, Premier Daniel Andrews has confirmed the numbers of no-shows at homes in Victoria are improving.
Of the 1,150 home visits to people meant to be isolating conducted yesterday by the ADF and Health Department officials, 1,000 people were home.
This is an improvement to the previous rate of just one in four people being home, and comes as Stage 4 restrictions were imposed in Melbourne this week.
Cumulatively 500 people have been referred to Victorian police for breaches of home quarantine orders since the ADF doorknocking program commenced.
"I'm very grateful to those Victorians who are doing the right thing and are where they should be," says Andrews.
"I know [isolation] is very challenging and that's why visiting is important, not just for compliance but for the purposes of information and clarity and providing support to anybody who might need it."
Victoria recorded 450 new confirmed infections of COVID-19 today, bringing the total number of active cases in the state to 7,636.
There were 11 new deaths overnight, with seven of those connected to aged care settings.
Of the 450 new cases there were 66 that are classified as 'mystery cases', meaning health officials cannot trace the infection back to a known source.
Updated at 12:49pm AEST on 7 August 2020.
---
JobKeeper eligibility expanded with $15.6 billion added to the pool

Federal Treasurer Josh Frydenberg (pictured) has announced changes to the JobKeeper program in response to Stage 4 lockdowns in Victoria, making it easier for companies to access the stimulus.
The changes will see an extra $15.6 billion added to the pool of funds available to struggling Australian businesses, bringing the total cost of the program to $101 billion.
Of the extra $15.6 billion Frydenberg says around $13 billion will go toward businesses in Victoria, with an estimated 500,000 employees in the state to go onto JobKeeper in the September quarter.
Two important changes have also been made to eligibility requirements, namely the business turnover test and the employee eligibility test.
Previously, business turnover needed to be down in both the June and September quarters to be eligible for JobKeeper in the December quarter.
Now, businesses only need to be down by the requisite amount in the September quarter to be eligible for payments in the December quarter.
"This takes into account that some businesses through May, through June, through April, did OK," Frydenberg said.
"But obviously with the Stage 4 restrictions particularly in Victoria through the months of July and August and September it's going to be very difficult. And these businesses will now be eligible for payment."
The other change means employees who were on the books as of 1 July are now eligible to receive the payment.
Previously employees had to have been on the books from 1 March to receive JobKeeper.
"Some businesses, as they were opening up and progress was made on the health front, they took on new employees," Frydenberg said.
"Those employees will now be eligible for JobKeeper, which will again provide additional relief to businesses."
The amounts available to employees under the program have not changed.
From October, businesses that continue to meet the revenue reduction requirements will be entitled to $1,200, followed by a reduction to $1,000 starting in 2021.
For employees who worked less than 20 hours per week, their supports will drop to $750 per fortnight as of October and $650 from the start of next year.
---
Read more: JobKeeper 2.0 details revealed, extended by six months
---
Just yesterday the Prime Minister revealed the cost of Victorian lockdowns could shrink real GDP in Australia by up to $12 billion.
Approximately 80 per cent of the economic cost is expected to be in the affected areas of Victoria, representing an approximately $6-7 billion hit.
The national unemployment rate is now expected to peak at 10 per cent, up from a previously forecast high of 9.25 per cent.
However, when looking at the effective unemployment rate, which includes those who are employed but not working any hours, Morrison says that could now reach 13 per cent.
Business Council chief executive Jennifer Westacott has today welcomed Frydenberg's announcement, saying it will boost confidence in Australia.
"These sensible changes to JobKeeper will make it easier for businesses to retain workers and will boost much needed confidence in the community," says Westacott.
"The changes to the eligibility test reflect the upheaval and uncertainty in the jobs market, and the changes to the turnover test reflect that businesses are struggling.
"People are worried about the future and we endorse the government's actions in targeting taxpayers' money to saving jobs and creating new ones. Crucially these changes target money to the jobs and people most at risk."
Updated at 10:13am AEST on 7 August 2020.
---
Ardent Leisure to reopen Dreamworld and WhiteWater World

Ardent Leisure (ASX: ALG) has announced plans to reopen Dreamworld and WhiteWater World on the Gold Coast in mid-September, just in time for the school holidays.
The reopening date is expected to be confirmed over the next week, but in any case it comes months after competitor Village Roadshow (ASX: VRL) - currently in the midst of a buyout from BGH Capital - reopened its Gold Coast theme parks.
Ardent says its staged reopening has been made possible by the Queensland Government's COVID-19 Industry Support Package and Queensland Tourism Icons Program 2020, through which financial assistance has now been received.
Ardent's SkyPoint Observation Deck and Climb located in Surfers Paradise reopened on Friday, 10 July 2020
"We appreciate the Queensland Government's strong recognition of the important role that the theme park industry plays in the economic development of Queensland and the broader tourism industry in Australia," Ardent Leisure chairman Dr Gary Weiss and theme parks chief executive officer John Osborne said in a joint statement.
"The Queensland Government's foresight in providing this financial assistance package will enable Ardent to re-open its iconic theme parks, continue to employ hundreds of people and continue to invest in future tourism infrastructure and create more local jobs.
"We are very excited about welcoming back our valued team members and loyal guests and have already commenced preparations for the re-opening of our parks, including the implementation of our Queensland Health approved COVID SAFE Plan," added Osborne.
The announcement is the first good news in a while for Ardent, which late last month pleaded guilty over three charges relating to the 2016 Thunder River Rapids Ride tragedy.
Other theme parks on the Gold Coast including Warner Bros. Movie World, Sea World and Wet'n'Wild have reopened at 50 per cent, and their parent company Village Roadshow yesterday entered an implementation agreement for a takeover from a group connected to BGH.
BGH is aiming to acquire control of VRL by way of two alternative but concurrent schemes of arrangement representing total value of up to $2.45 per share, which is 16.7 per cent higher than yesterday's closing price.
Th full value of the takeover would only be achieved if VRL keeps its theme parks open, reopens cinemas and Queensland borders reopen for any person from New South Wales (from 15 October) and Victoria (31 October).
Updated at 9:46am AEST on 7 August 2020.
---
70 to isolate in SA medi-hotels as state's Thebarton cluster grows

A new confirmed case of COVID-19 linked to a growing South Australian cluster has forced 70 close contacts into a medi-hotel for quarantine, while 1,100 casual contacts are required to isolate for just over a week.
The new case has also forced adult education facility Thebarton Senior College to close as the cluster associated with the school grows to five.
The 70 close contacts will be moved into medi-hotels that have traditionally been used for returning international travellers.
Despite the harsh measures imposed on these individuals, with eight active cases currently in South Australia the state's chief public health officer Nicola Spurrier has advised the public not to panic.
"We have not got community transmission in South Australia in any way in a widespread form and this is why we're being absolutely over-cautious in this instance," she said.
"There are a large number of close contacts and this is because the Thebarton Senior College is a college for adult learners."
This growing cluster, dubbed by health authorities as the Thebarton Cluster, was linked to a 20-year-old returning essential worker who was self-isolating at the Walkers Arms Hotel.
He then passed the virus on to a cleaner and another woman in her 20s which has sparked this outbreak.
A new drive-through COVID-19 testing location has opened in Aldinga at the GP Plus Health Care Centre.
Updated at 9:09am AEST on 7 August 2020.
---
Newcastle health alerts expanded to include Sushi Revolution and Bar 88

Update: Since publication NSW Health has reported 11 new cases of COVID-19
A sushi restaurant and a bar in Newcastle have been added to a list of venues attended by two confirmed cases of COVID-19 in the city.
Hunter New England Health (HNEH) has urged anyone who attended Bar 88 on Sunday 2 August from 5pm to 7.15pm and Sushi Revolution on Saturday 1 August from midday to 12.45pm to self-isolate and get tested.
The public health alerts follow the confirmation that a male teenager transmitted COVID-19 to a man in his 20s sparking fears of community transmission in Newcastle.
HNEH is now urging anyone who attended the following venues at the specified times to self-isolate immediately and seek testing:
Bennett Hotel, Hamilton Friday 31 July, from 5.30pm to 10.00pm
Bar 88, Wests New Lambton Sunday 2 August, from 5.00pm to 7.15pm
Sydney Junction Hotel, Hamilton Saturday 1 August, from 11pm midnight to 1.15am Sunday 2 August
Greenroof Bar and Restaurant, Hamilton Friday 31 July, from 10.30pm to 12.15 midnight
Sushi Revolution, Hamilton on Saturday 1 August, from 12noon to 12.45pm
Queens Wharf Hotel Saturday 1 August from 9.30pm to 11.00pm
McDonald Jones Stadium Sunday 2 August, 7:30pm to end of game, Newcastle Jets match
HNEH is still working to identify any further close contacts and venues visited by the pair of confirmed cases. Further updates will be provided as more information becomes available.
The health authority will notify any close contacts who will then be required to isolate for two weeks.
NSW Health announced 11 new cases of COVID-19 today, bringing the state's cumulative total to 3,653.
Of the new cases, one is still under investigation, and one was acquired in Victoria and is in self-isolation.
The other nine were locally acquired, with one linked to The Apollo restaurant cluster and eight close contacts of known cases.
11 new cases of #COVID19 have been diagnosed in NSW between 8pm on 5 August and 8pm on 6 August.

For the latest list of COVID-19 locations, visit: https://t.co/pqkRdfh3cR pic.twitter.com/Y6hsoOhFiZ

NSW Health (@NSWHealth) August 7, 2020
Updated at 9:38am AEST on 7 August 2020.
---
A "heavy blow": Victorian lockdowns could cost economy $12b

The imposition of Stage 4 restrictions in Melbourne may shrink real GDP by $7 to $9 billion and push effective unemployment up to 13 per cent, according to Prime Minister Scott Morrison.
Combined with the impact of earlier Stage 3 restrictions in Melbourne, Morrison says the total hit to GDP will be in the range of $10 to $12 billion.
Fronting the press this morning, Morrison says these estimates are a "heavy blow" for Australia.
"That is very concerning, that is very troubling, but it is not unexpected," Morrison said.
"In the circumstances these measures will have a very significant cost, and it will impact the recovery path, but the task doesn't change. We get on top of this issue in Victoria and we band together and we make this work."
Approximately 80 per cent of the economic cost is expected to be in the affected areas of Victoria, representing an approximately $6 to $7 billion hit.
The remainder represents a preliminary estimate of the broader impact of confidence in other states and supply chain impacts from the shutdown of industries in Victoria.
The national unemployment rate is now expected to peak at 10 per cent, up from a previously forecast high of 9.25 per cent.
However, when looking at the effective unemployment rate, which includes those who are employed but not working any hours, Morrison says that could now reach 13 per cent.
The news comes as many businesses in Melbourne have been forced to close overnight in line with Stage 4 restrictions.
Only a small handful of 'essential services' are still operating, including grocery stores, pharmacies, and petrol stations.
Manufacturing, food processing, and supply chain facilities have also been slowed down, and the construction industry must work with skeleton crews to keep the flame of a pilot light glowing until restrictions can be eased.
Morrison said we needed to "work together across the country, to do the things we need to do, to boost that demand, to encourage that investment, and to rebuild our economy and to go forward."
"I know this news is upsetting and disappointing, but as Australians we have to keep our heads up. Let's keep our heads up together, let's look out for each other, and let's get through this."
471 new COVID-19 cases in Victoria as Stage 4 causes headaches for Premier
Businesses in Melbourne have woken up to a new six-week reality with most retailers closed and only essential services able to continue operating, as the state records 471 new COVID-19 cases and eight new deaths.
This new level of restriction has resulted in businesses like meatworks and other food processors struggling to figure out how to operate under the new rules, but Premier Daniel Andrews says imposing the rules was "always an imperfect process".
As such, the Premier has announced some specific rules for certain industries today to enable them to continue to operate under Stage 4 in a COVID safe manner.
Beacuse it is a high risk sector, abbatoirs and meat processors will go down to 66 per cent of operations. Any abbatoir with less than 25 staff will not need to make any reductions at all to the workforce.
For poultry facilities, production will need to be reduced by 20 per cent. Andrews says this is because if they are forced to go down to 66 per cent there will be many hundreds of thousands of animals that would be destroyed but not processed.
Finally, for seafood producers with less than 40 staff, no reductions will need to take place.
"All of these measures are about driving down the number of workers to the lowest number we can practically get to, whilst at the same time not delivering critical shortages of products," says Andrews.
"Therefore there are balanced points to be found and we're confident that we have been able to do that."
Updated at 12:11pm AEST on 6 August 2020.
---
Health alerts issued in Newcastle as region records two new COVID-19 cases

Two new confirmed cases of COVID-19 have put Hunter New England Health (HNEH) on high alert for community transmission in the Newcastle region, with the body issuing a number of health alerts today.
Pubs, venues and last Sunday's Newcastle Jets match at McDonald Jones Stadium are on the list of locations visited by the COVID-19 cases.
The two new cases are a male teenager and a man in his 20s. The source of infection for the teenager is unknown and still under investigation, but the man in his 20s is a close contact of the teenager.
The two cases bring the total number of new COVID-19 infections in NSW at 8pm on 5 August to 12, with none of the new cases connected to hotel quarantine.
HNEH is urging anyone who attended the following venues at the specified times to immediately self-isolate and seek testing:
Bennett Hotel, Hamilton Friday 31 July, from 5.30pm to 10.00pm
Greenroof Bar and Restaurant, Hamilton Friday 31 July, from 10.00pm to 12 midnight
The Hopsmith Sports Bar, Wests New Lambton Sunday 2 August, from 5.00pm to 7.30pm.
Queens Wharf Hotel Saturday 1 August from 9.30pm to 11.00 pm
Sydney Junction Hotel, Hamilton Saturday 1 August, from 12 midnight to 1.30am Sunday 2 August
McDonald Jones Stadium Sunday 2 August, 7:30pm to end of game, Newcastle Jets match
The infected teenager is a student at St Pius X High School (Adamstown) and attended school on Monday 3 August.
The school has been closed to allow for contact tracing to occur and for thorough cleaning.
The teenager caught the Number 26 school bus (Hamilton to Adamstown) to school on Monday 3 August, at 8.20am. All people on the bus at this time will be required to isolate for 14 days and seek testing.
He is also a team member of the Newcastle Jets under 15's representative squad who played a soccer match against the Stanmore Hawks at Arlington Oval in Dulwich Hill on 1 August. His team mates and the members of the opposing team are considered close contacts and will be required to isolate for 14 days.
With the identification of additional cases in the Newcastle area, the region is expecting an increase in the demand for testing.
"To ensure we can best serve the community during this time, we have enhanced our local testing capability," says public health controller for HNEH's COVID-19 response Dr Kat Taylor.
"In addition to expanding our call centre capacity and the number of phone lines available to improve booking wait times, we will extend hours and capacity at a number of local clinics.
"However, please be patient if visiting a clinic or calling for a booking. We have thousands of testing opportunities throughout the course of today and will see people as quickly as possible," Dr Taylor said.
Updated at 11:09am AEST on 6 August 2020.
---
Scentre Group board salaries return to normal despite trying times for retail

After reports it has been driving a hard bargain with tenants and expectations net operating cash flows will fall by 60 per cent in the second half, the board of shopping mall giant Scentre Group (ASX: SCG) will now be paid at pre-COVID levels.
Like many leadership teams in Australia, the senior management and board of the Westfield operator took cuts of 20 per cent to their base salaries and fees respectively as of 1 May, but that has now been limited to a three-month period.
"In April 2020 the Group announced that, in light of the COVID-19 pandemic, temporary arrangements to reduce base Board Fees and fixed remuneration for the executive team (including the Senior Leadership team)," Scentre Group stated today.
"These arrangements commenced from 1 May 2020 and, as announced, would be reviewed by the Board in August 2020.
"The Board has reviewed these arrangements and has determined the Board and fixed remuneration for the executive team will revert to their previous levels, effective from 1 August 2020."
Ahead of its expected second half results announcement on 25 August, Scentre Group has today announced expectations the carrying value of its property portfolio will be down approximately 10 per cent due to impacts from COVID-19.
The group also expects net operating cashflow after interest, overheads and tax will be more than $250 million for the half year, compared to $629.1 million for the same period in 2019.
Scentre Group also clarified it had not received any funds from the Australian Government under the JobKeeper scheme, and its available liquidity stood at $4.4 billion as at 30 June.
Never miss a news update, subscribe here. Follow us on Facebook, LinkedIn, Instagram and Twitter.
Business News Australia
---
Alliance Aviation soars with record profit

A Brisbane-based airline with a strong focus on charter flights has defied the aviation sector's doom and gloom with record profit and revenue for FY20.
After its shares reached new highs on the back of an aircraft acquistion deal funded by a recent capital raise, Alliance Aviation Services (ASX: AQZ) has reported a record full-year profit before tax (PBT) $40.7 million.
This represents a 24.1 per cent lift, while net profit after tax (NPAT) was up 18.9 per cent at $27 million.
Total revenue from operations rose 7.8 per cent to $298.6 million even though total flying hours were down slightly, as social distancing requirements for fly-in-fly-out (FIFO) clients led to additional income in the second half.
In fact, charter revenue almost doubled for the financial year overall while contract services were up 22.5 per cent. This helped offset the impacts of COVID-19 on wet lease, inbound tourism and regular public transport (RPT) service cash inflows.
Revenues for wet lease and and RPT services declined by 46.3 per cent and 15.9 per cent respectively due to restrictions of movement imposed by various governments in response to the pandemic.
Inbound tourism charters ceased operations altogether in March 2020 due to COVID-19 restrictions.
Alliance Aviation managing director Scott McMillan (pictured) describes the staff's achievements during the last six months as "truly remarkable".
"Alliance is pleased to release these results today as we continue to demonstrate the underlying robustness and diversity of Alliance's business model despite the impacts of COVID-19," says McMillan.
"The operational credibility on which Alliance has built its reputation is second to none, as demonstrated during the COVID-19 pandemic.
"Performance against our internal key performance indicators of safety, reliability/on-time performance and financial sustainability has again been outstanding."
During the year, five long-term contract renewals were completed with a 100 per cent retention rate, while the airline added four aircraft into the operating fleet which were required for capacity expansion.
In its results announcement today, the company also noted specific routes that had suffered due to the pandemic such as the suspension of Brisbane-Port Macquarie since April, and a reduction to minimum frequency levels for Brisbane-Gladstone and Brisbane-Bundaberg.
Adelaide to Olympic Dam services however continued as normal.
The airline retains a positive outlook for FY21, based on a number of ad-hoc contracts that have been awarded during the COVID-19 pandemic that it expects to be converted into long-term charter contracts, continued increased schedules for some charter clients even though the majority of social distancing on planes has ceased, the launch of new RPT routes and other expected new revenue sources.
Alliance is in a net cash positive position of $44.4 million as at 30 June 2020 due to the receipt of the placement funds in June 2020.
Updated at 10:11am AEST on 6 August 2020.
---
Man in his 30s among 15 new deaths in Victoria

A man in his 30s is among the 15 new deaths from COVID-19 in Victoria today, representing the deadliest day in the pandemic to date.
725 new confirmed cases of COVID-19 were also reported today as the state's businesses brace for the enforcement of Stage 4 restrictions from 11:59pm tonight.
In addition, Premier Daniel Andrews announced today that all elective surgery will be put on hold in regional Victoria except for Category 1 patients and the most urgent Category 2 patients.
"We can't have a situation where we are making the sickest patients wait longer because we are treating wholly worthy and important conditions but not necessarily time-critical conditions," says Andrews.
"We can't put those ahead of people who need that urgent care. The sickest patients must get treated quickest, and that is always a principle that our public and indeed our private hospitals work under."
---
Read more: Sweeping changes for Victorian retail and construction, more cash grants on offer
---
The state's death toll since the beginning of the pandemic now stands at 162.
Of today's 15 new deaths, 12 can be linked to aged care. Further details about the man in his 30s could not be given by Andrews but the Premier did confirm that he was not a healthcare worker.
There are currently 538 COVID-19 patients in hospital and 42 in intensive care.
Just six days ago the state reported its deadliest day with 13 deaths. This week there have been 11 deaths yesterday and 13 deaths on 3 August.
In a recent press conference, WHO Health Emergency Response executive director Dr Michael Ryan noted the global infection fatality rate (IFR) for COVID-19 was 0.6 per cent, meaning around one in 200 people who get the virus die with the probability much higher for the elderly.
This compares to a a rate of between one in 10,000-100,000 for the 2009 swine flu epidemic.
"0.6 per cent is quite high, and so we need to do everything that we can not only to save lives among the cases that we know about but to prevent as many infections as possible," Dr Ryan said.
The number of COVID-19 cases globally is now above 18.7 million and there have been more than 704,000 recorded deaths associated with the virus.
The USA continues to have the highest number of cases at close to five million, and accounts for more than one in three of the world's approximately six million active cases.
Yesterday the total number of cases in Latin America surpassed five million, representing more than one in four globally despite accounting for around 8.5 per cent of the population.
Brazil has the second-highest amount of active cases at more than 741,213, followed by India (585,133), Russia (185,601), South Africa (148,683), Colombia (143,406), Peru (117,426) and Argentina (115,427).
Updated at 12:46pm AEST on 5 August 2020.
---
Mandatory hotel quarantine for returning NSW residents from VIC

The NSW State Government has today announced that as of 12:01am on Friday, NSW residents returning from Victoria will have to go into mandatory hotel quarantine for 14 days at their own expense.
Only residents of the NSW border regions will be exempt from the new measure.
"I realise this may be difficult for some people, but the changing situation in Victoria means we must exercise extreme caution," NSW Premier Gladys Berejiklian said.
"The health of our citizens and economy must be protected - and the health advice says this is the best way to do it.
"We will also further limit the reasons Victorians can seek exemptions to come into NSW."
Dr Kerry Chant said this latest change would reduce the number of people entering NSW from Victoria, and reduce the risk of community transmission.
"This is a critical time in the NSW response and we need to reduce any further risk of seeding of cases from Victoria," Dr Chant said.
Yesterday NSW Health announced there would be a strict permit system put in place for all flights arriving in NSW from Victoria, with all passengers to undergo police and health checks on arrival.
People who can apply for a permit include defence officials, doctors and nurses, critical workers in energy, mining and construction, child protection workers and disability workers.
New South Wales has again recorded 12 new cases of COVID-19 today, with four connected to restaurant outbreaks in Sydney as the state imposes strict new procedures for Victorian flights.
Of the 12 new cases one is a return traveller in hotel quarantine and one is a locally acquired case with an unknown source.
The remaining 10 are linked to known cases including:
Two linked to the Thai Rock restaurant in Wetherill Park,
Two linked to The Apollo restaurant in Potts Point, and
Six associated with the funeral gatherings cluster.
There have been 52 deaths in NSW since the beginning of the COVID-19 pandemic, and there are currently 113 people being treated for the virus in the state.
12 new cases of #COVID19 have been diagnosed in NSW between 8pm on 3 August and 8pm on 4 August.

For the latest list of COVID-19 locations, visit: https://t.co/pqkRdfyEBr pic.twitter.com/ZUc78P6iG4

NSW Health (@NSWHealth) August 5, 2020
Updated at 1:23pm AEST on 5 August 2020.
---
Queensland declares all of NSW and ACT as hotspots

Continuous attempts to break through Queensland's border controls have forced the State Government's hand in a bid to keep its residents safe, with a hard border to be implemented with NSW and the ACT starting from 1am on Saturday.
From that time returning Queenslanders will have to pay for 14 days mandatory hotel quarantine, while anyone from NSW or the ACT will be denied entry except for rare exemptions.
Only residents of border communities and essential workers such as truck drivers will be allowed to cross the border.
These residents will be required to present a photo ID and proof of address when crossing into the state, and exemptions including for compassionate reasons will be limited.
The decision follows Queensland Disaster Management Group meetings yesterday and this morning to assess the risk posed by travellers from NSW, as well as those who may fly from Canberra to skirt the rules.
"I can now confirm that our Chief Health Officer (CHO) is declaring New South Wales and the ACT a hotspot," Queensland Premier Annastacia Palaszczuk (pictured) told a press conference this morning.
"This will take immediate effect from Saturday 1am, and this is the right thing to do. I know it's going to be tough on Queenslanders but your health comes first.
"It's not getting better and we're not going to wait for New South Wales to get worse. We need to act and we have taken the decisive decision to act."
Just yesterday CHO Jeannette Young said there are six critical days to go before the effects of recent breaches would become clear.
Today, following two straight days of reporting no new COVID-19 cases, a new positive test was recorded for a 68-year-old woman in the West Moreton area with the source of transmission unknown.
Deputy Premier Steven Miles said the state currently had 11 active cases, of whom five were in hospital.
"We went 63 days with no community transmission - more than two months with no community transmission, but that all changed seven days ago," he said.
"A lot can change in a week, and we've seen in other states how it can only take one case to see a widespread outbreak.
"In that week we've had nine cases here in Queensland - two travellers from Victoria, three cases of local transmission, two Queenslanders who travelled to Sydney, and one returning Queenslander via Sydney, as well as that one case today and we don't yet know the source of their infection."
He said these cases placed an enormous burden on the state's health system.
"We've done 85,000 tests in that week - 84,795 tests. We've contact traced thousands of Queenslanders; many are now in quarantine," he said.
"We've seen people go to great lengths to avoid our border lockdown; people being dishonest, people try to deceive our police, people lying on their border passes, and not just at the border but right around the state in Cairns, Townsville, Gympie, Nanango.
"In fact police have now served more than a dozen notices to appear in court."
Through its announcement today, Queensland authorities want to avoid suffering the same fate as other states where a second wave is occurring.
"It is clear now that Australia is experiencing a second wave of COVID-19, and we cannot afford to have that second wave here in Queensland," he said.
"We've eased restrictions, businesses are open again, people are back at work. We cannot afford to risk that progress, we cannot afford to risk the opportunity to continue to unite and recover."
Premier Palaszczuk added the hard border would be reviewed at the end of the month.
Updated at 9:26am AEST on 5 August.
---
Hotham and Falls Creek ski fields closed for the season

The implementation of stricter rules to combat the spread of COVID-19 in Victoria has prompted the operator of the Hotham and Falls Creek ski resorts to shut down operations indefinitely for the remainder of the year.
Vail Resorts previously suspended operations at the two resorts just two weeks after the season began, but with a tentative end date of at least after 19 August.
But the increased restrictions to Stage 4 in Melbourne and Stage 3 for regional Victoria prompted the decision not to plan a re-opening in the spring for skiiers and snowboarders.
"We made the decision to close Hotham and Falls Creek in early July to support the government's efforts to slow the spread of COVID-19 and to prioritise the health of our employees, guests and community," says Vail Resorts Australia senior VP and COO Pete Brulisauer.
"It was certainly a difficult decision, which unfortunately has been reinforced by the worsening COVID-19 trends and the declaration of a State of Disaster in Victoria until 13 September.
"We are disappointed to mark the end of the season this way and extend our gratitude to our teams and the businesses in the local community who all worked incredibly hard to open this winter."
Guests who retained their 2020 Epic Australia Pass planning to ski and board late season at Hotham and Falls Creek, may apply for a refund under Epic Coverage by emailing [email protected].
"We also want to thank our loyal guests for their patience and understanding; we look forward to welcoming them back to our resorts for the 2021 season," says Brulisauer.
Meanwhile, Perisher will remain open and is unaffected by this decision, operating in accordance with COVID-19 restrictions in NSW.
Updated at 4:37pm AEST on 4 August 2020.
---
Health alerts issued across Adelaide, two new COVID-19 cases confirmed

SA Health has issued three health alerts in Adelaide's northern suburbs after a new confirmed COVID-19 case attended three businesses in the area.
It comes as South Australia confirms two new cases of COVID-19 today: one being a contact of a known case and one potentially the result of community transmission.
Those who have attended the following locations at these specific times should immediately self-isolate for 14 days and get tested for COVID-19 even if no symptoms currently present:
Sat 1 Aug (6.00pm 8.30pm) - Fernwood Fitness, Salisbury Downs
Fri 31 Jul (5.00pm 7.30pm) - Agha juice house, Blair Athol
Wed 29 Jul (5.00pm 8.00pm) - Najafi Carpet Gallery, 5/392 Prospect Rd, Kilburn
"Unfortunately this young woman has been to a number of public places during the time she was infectious," says SA Chief Public Health Officer Nicola Spurrier regarding the new confirmed COVID-19 case that has sparked these health alerts.
"This was a close contact that we've not been told about originally, but this is somebody who has come forward, has understood the importance of coming forward when symptomatic, and got tested."
The health alerts come as South Australia is set to re-introduce COVID-19 restrictions from midnight tonight, with at home gathering sizes to be reduced down to just 10 people.
SA Premier Stephen Marshall says the state is on "high alert" and has not ruled out the potential for more restrictions to be reintroduced going forward.
"We have to respond quickly, listen to the trusted expert advice and keep South Australia ahead of the game," says Marshall.
"It is very possible now that there will be further restrictions put in place, but we only do this to keep the people of our state very safe during this COVID-19 pandemic."
Because most of South Australia's cases over the last week can be tied to those crossing the border from Victoria the state has been ramping up its efforts in Mt Gambier to stop the virus before it makes its way into Adelaide.
Today a new satellite control centre has been established at Mt Gambier to support the state's police effort on the border, and a new 'MediHotel' will be set up for testing and quarantine purposes at the border town.
12 new cases in NSW
Just 12 new cases in New South Wales have been reported today, with three connected to people crossing the border from Victoria.
Of the other new cases, one is a traveller in hotel quarantine, one is linked to the Thai Rock restaurant in Wetherill Park, two are connected to The Apollo restaurant.
Two cases attended Mounties, Mount Pritchard and three are linked to people who attended Mounties, Mount Pritchard.
One student at Bonnyrigg High School and two students at Greenway Park Public School have also tested positive for COVID-19.
Queensland reported its second straight day of no new cases this morning, however the state's Chief Health Officer Dr Jeannette Young said there were really "another six days to go" before people could feel they had safely gotten through the latest cluster of cases.
Today it was also revealed that three Logan residents who had been to Victoria had illegally crossed the border into Queensland, and they are under investigation with notices to appear for false declarations.
The three men are in the process of getting tested and are in hotel guarded quarantine in Brisbane.
Updated at 12:51pm AEST on 4 August 2020.
---
Wesfarmers and JB Hi-Fi reshuffle Victorian retail operations, Ingham's slows things down

With Stage 4 restrictions coming into effect from 11:59pm tomorrow major retailers like Wesfarmers and JB Hi-Fi are making big changes to their operations.
Meanwhile, producers and manufacturers in the city are bracing for the impacts of reduced workforces.
Wesfarmers (ASX: WES), the operator of Bunnings, Kmart, Target and Officeworks will continue its online operations through home delivery and contactless click and collect options.
This should soften the blow resulting from the slow-down of Wesfarmers' Melbourne retail network which delivered 17 per cent of total retail sales from stores in FY20.
But the changes will inevitably result in the standing down of some of Wesfarmers' 30,000-strong Victorian workforce, with the company to support those affected with paid pandemic leave.
Bunnings will remain open for trade customers but will be closed for in-store retail customers.
Kmart and Target stores in Melbourne will be unable to service customers in-store but Officeworks will continue to service business customers because it is a specialist supplier of stationary and printing services. Ultimately Officeworks will be closed for in-store retail customers.
The company says those stood down will receive a support payment equivalent to two weeks of normal rostered hours.
---
Read more: Sweeping changes for Victorian retail and construction, more cash grants on offer
---
Following this two-week period the company will provide permanent team members with access to existing accrued leave entitlements.
Further, Wesfarmers will provide paid pandemic leave to eligible permanent and casual team members who may be required to self-isolate pending COVID-19 test results.
"Our businesses are well equipped to further adapt their operations to continue safely support customers and suppliers through these restrictions, with a focus on supporting business, trades and home delivery as well as contactless click and collect in many of our Melbourne metropolitan stores," says Wesfarmers managing director Rob Scott.
The company's industrial businesses, including Blackwoods, Workwear Group, Coregas, Australian Vinyls and Modwood, will continue to operate in Victoria in accordance with COVID safe guidelines.
BIG W goes contactless as Woolworths assesses meat production slow-down
Woolworths Group (ASX: WOW) has confirmed that all 22 BIG W stores in metropolitan Melbourne will close for six weeks and move to contactless in-store pick up services while it continues to engage with the meat industry to ensure ongoing supply.
Of the 22 impacted BIG W stores 15 will move to a click and collect model with the option for drive up collection, while the remaining seven will be in-store pick up only.
The nine BIG W stores in regional Victoria will remain open for customers under Stage 3 restrictions.
Woolworths also operates 80 venues in Victoria, of which 50 had partially reopened before Stage 3 restrictions in Melbourne but were closed again on 8 July. The three venues the company operates in regional Victoria will close on Wednesday 5 August.
Because of new restrictions imposed on the meat industry that will be effective Friday night this week Woolworths has been engaging with the government and suppliers to mnimise any disruption to the supply of meat and other products.
"These are challenging times in Victoria and I can only imagine the stress and anxiety being felt by the entire community," says Woolworths CEO Brad Banducci.
"We are focused on doing everything we can to minimise the impact on our team members, including temporary opportunities to support other businesses in the Woolworths Group where possible.
Under Stage 4 restrictions supermarkets and grocery stores including Woolworths are permitted to remain open as usual to customers.
JB Hi-Fi closes stores, Baby Bunting open for parents
46 JB Hi-Fi (ASX: JBH) stores and 21 The Good Guys stores will be temporarily closed to customers for six weeks in line with Stage 4 restrictions in Melbourne.
The company says its online and commercial operations will continue to trade and be available via home delivery services and contactless click and collect.
These services will be supported by operational warehouses and its store network, with strict safety measures in place, to fulfil online and commercial orders.
As a retailer of maternity supplies, with 12 stores in Melbourne, Baby Bunting (ASX: BBN) has been given the green light to remain open for business.
In addition, its distribution and online operations based at Dandenong South will continue to operate with minor adjustments in line with Stage 4 rules.
"With over 9,000 new babies due in Victoria during the lockdown period, new and expectant parents face many critical and specialised needs and our Melbourne stores remain open to provide the essential products and services for them," says Baby Bunting CEO and managing director Matt Spencer.
"We encourage all of our customers to think about how they shop and to limit their movements. Customers can shop online or use our contactless click and collect service.
"We will adapt to new measures that are introduced as we focus on ensuring that parents of new and young children can get the essential products they need."
Ingham's reduces workforce, Blackmores staff work from home in VIC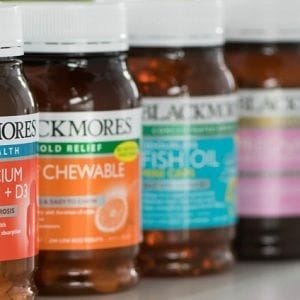 Poultry producer Ingham's (ASX: ING) will reduce its workforce by 33 per cent at its Somerville and Thomastown meat processing facilities in line with new Stage 4 restrictions on meat processing plants.
These restrictions do not apply to other assets and facilities in its Victorian supply chain such as its hatcheries, farms, feed mills, or logistics operations.
"Whilst we await the formal Victorian government directive to provide further certainty on the detail of the restrictions, Ingham's management are working through the implications for the reduced workforce at both our Victorian processing sites, and looking to minimise the impact of the restrictions through use of other processing sites in the Ingham's network and inventory that we have on hand," says Ingham's.
Meanwhile, vitamin manufacturer Blackmores (ASX: BKL) will emerge relatively unscathed as its packing, warehousing and distribution facilities are located in Sydney.
Because Blackmores' manufacturing facility at Braeside produces pharmaceutical products it will continue to operate.
All Blackmores employees in Victoria that can work from home will continue to do so.
Reliance Worldwide assessing Stage 4 impact
Provider of water control systems and plumbing solutions Reliance Worldwide (ASX: RWC) says it is still assessing the impact of Stage 4 restrictions but appears optimistic about its prospects.
The company manufactures products at four plants in Melbourne, but because it maintains sufficient inventory levels the company anticipates this will sustain it going forward and does not expect any supply disruptions.
Further, Reliance says the new restrictions will not have any short term impact on sales in North America.
Updated at 11:24am AEST on 4 August 2020. Updated again at 4:54pm AEST on 4 August 2020.
---