Staying informed is more important than ever as the situation unfolds with Covid-19. Stay tuned here for our live updates, and be sure to let us know what your business is doing to face this unprecedented challenge.
---
Almost three million Australian jobs hit somehow by COVID-19 crisis

The Australian Bureau of Statistics (ABS) has today revealed the unemployment rate rose by one percentage point to 6.2 per cent between March and April.
On face value the number of unemployed people increased by 104,500 for the period, but seasonaly adjusted employment fell by a much larger figure of 594,300.
The reason for this discrepancy is that almost half a million people in Australia simply left the labour force, meaning they weren't actively looking or available for work.
"The large drop in employment did not translate into a similar sized rise in the number of unemployed people because around 489,800 people left the labour force", says ABS head of labour statistics Bjorn Jarvis.
As a result Australia's participation rate, meaning the proportion of people either working or actively looking for work, has dropped by a whopping 2.4 percentage points to 63.5 per cent.
But the situation is worse when you consider cuts to people's hours, which the ABS has described as "extensive" in the wake of COVID-19 shutdowns. Total hours worked fell 9.2 per cent between March and April.
The bureau explains 2.7 million people - or one in five who were employed before the crisis hit - either left employment or had their hours reduced between March and April.
As a result, the number of underemployed people also rose sharply (up 603,300 people, to a total of 1.8 million people), and the underemployment rate rose to a record high 13.7 per cent (up 4.9 percentage points).
The underutilisation rate, which combines the unemployment and underemployment rates, also rose to a record high of 19.9 per cent.
The falls in employment and hours in April were consistent with the fall in payroll jobs for employers reporting through the Single Touch Payroll system published in the recent releases of Weekly Payroll Jobs and Wages in Australia.
That data showed a fall of around 607,000 paid jobs in Single Touch Payroll enabled employers over the same period.
Updated at Noon AEST on 14 May 2020
---
Myer to reopen eight more stores

Department store Myer (ASX: MYR) will soon more than double the amount of reopened stores across Australia with bricks-and-mortar operations set to begin in WA and SA, along with further openings in NSW.
After bringing seven outlets on-stream in QLD and NSW in time for Mother's Day, Myer will trial the opening of the following eight stores this Saturday:
NSW: Albury, Dubbo, Wagga, Erina, Miranda
WA: Morley, Garden City
SA: Tea Tree Plaza
"Given the success and positive response from opening seven trial stores this past weekend, Myer has made the decision to open eight additional stores," a Myer spokesperson said.
"We look forward to welcoming more team members back to work, and more customers back to their favourite department store, where we have taken extra precautions to ensure Myer has a safe and hygienic shopping environment for all."
This now means that a quarter of the company's 60-strong store network is back in business, but the online side of the company that has thrived in this climate will continue with Click and Collect services now available at selected stores nationally.
The reopening comes after scenes of busy crowds at shopping centres ignoring social distancing etiquette last weekend, Myer has emphasised its focus on providing a safe working and shopping environment for its team members and customers.
Cleaning services will be increased across the trial stores, sneeze guards at registers will be progressively rolled out, and protective items such as hand sanitiser stations, face masks and gloves will be made available for team members.
Customers will be monitored to ensure social distancing is kept, while hand sanitiser will also be provided to shoppers
Some services at stores will however remain suspended to reduce close contact, such as beauty appointments, intimate apparel fittings, suit fittings and shoe fittings.
The new openings will come hot on the heels of Premier Investments opening doors for all of its remaining stores tomorrow, including Smiggle, Portmans, Just Jeans, Peter Alexander, Jay Jays, Jacqui E, and Dotti.
As of Myer's last Annual Report, Premier Investments held a 10.77 per cent stake in the company, and its chairman Solomon Lew had a fairly antagonistic relationship with the Myer board in 2017 and 2018 over management issues.
Updated at 9:52am AEST on 14 May 2020.
---
Victoria's sport, tourism and creative industries to receive $150m boost

The Victorian Government has thrown its support behind some of the sectors hardest hit by COVID-19 restrictions with a $150 million 'Experience Economy Survival Package'.
The fund will assist sporting clubs and competitions across the state, major tourist attractions, galleries and museums, and the racing industry.
Cumulatively these industries contribute nearly $70 billion to the economy according to the Victorian Government.
They were also some of the worst hit sectors when COVID-19 restrictions were put in place; Federal Treasurer Josh Frydenberg restrictions resulted in 33.4 per cent of jobs in the accommodation and food services sector and 27 per cent of jobs in the arts and recreation sector being lost.
The $150 million package includes $40 million for community sport and recreation bodies, including the state sporting associations, leagues and clubs.
National sporting organisations will receive $16 million, $5.3 million will go toward the State Sport Centres Trust and the Kardinia Park Stadium Trust and Victoria's racing industry will receive $44 million.
Under the package $32 million will go toward creative agencies and initiatives, and $6 million will support live music industry workers and other workers in the creative industries.
The package also includes $11 million for Victoria's tourism industry, with funding to be targeted at the Emerald Tourist Railway Board and other not-for-profit and privately-owned visitor attractions.
"Victorians love turning out for big events and while they can't do that currently, this support will go a long way to making sure our tourism, sport and racing bodies can rebound quickly as restrictions are lifted," Victorian Minister for Tourism, Sport and Major Events Martin Pakula said.
Support for the creative industry comes on top of a $16.8 million survival package already announced, bringing the total being delivered into the arts sector to more than $49 million.
"Victoria has the best galleries, museums and performance venues in the country and one of the best live music scenes anywhere in the world," Minister for Creative Industries Martin Foley said.
"They are central to life in this state and this funding is vital to safeguarding jobs in the $31 billion creative industries economy."
The Western Australian Government has also announced a support package for the tourism industry today worth $14.4 million.
The Survival Grants will target businesses located in parts of the State with more restrictive travel bans in place, or whose circumstances otherwise mean they will face a more difficult road to recovery.
Updated at 3:13pm AEST on 13 May 2020.
---
WA launches $14.4m package for small tourism operators

The Western Australian Government has today announced a multi-million dollar survival and recovery package to help small tourism businesses adapt to the COVID-19 landscape.
As the state looks set to cautiously ease some regional travel and other restrictions from Monday 18 May, the $14.4 million Tourism Recovery Program will support a staged return to business.
The initiative will start with $10.4 million in one-off cash grants for up to 1,600 individual small businesses around the state.
Worth $6,500 each, these grants will go to eligible sole traders and businesses with four or less employees and annual taxable wages of less than $1 million, covering sub-sectors such as accommodation, attraction, tour and transport.
The second, $4 million Tourism Business Survival Grants package will be available for tourism operators dealing with exceptionally difficult circumstances, with grants of $25,000-$100,000 available.
The Survival Grants will target businesses located in parts of the State with more restrictive travel bans in place, or whose circumstances otherwise mean they will face a more difficult road to recovery.
As of next Monday the number of borders within the state is set to drop from 13 to only four, allowing:
Travel between the South-West, Great Southern, Wheatbelt, Perth and Peel regions;
Travel between the Mid-West, Gascoyne and Pilbara regions (excluding Biosecurity zone);
Travel within the Goldfields-Esperance region (excluding the Biosecurity zone); and
Travel permitted within the Kimberley local government areas (the Commonwealth's Biosecurity zone remains in place).
Businesses that deliver iconic experiences are also eligible to apply for the survival payments. A probity auditor would review the robust and transparent criteria-led application and panel assessment.
As part of the application process, businesses are required to submit a recovery and marketing plan to outline how the funding will be used and indicate how their product, service or experience could be adapted.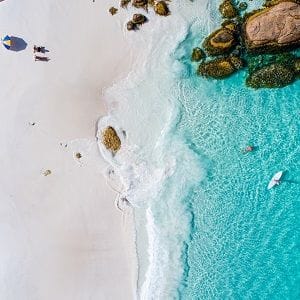 Businesses must have a valid Australian Business Number and be an active part of the WA tourism industry through membership of one of the State's eligible tourism organisations, or tourism accreditation programs.
"COVID-19 has been devastating for WA tourism - with thousands of small businesses impacted all around the State," says Premier Mark McGowan.
"Our hearts go out to everyone that has been impacted by this pandemic.
"This new funding package will help small tourism operators adjust and adapt their businesses away from targeting the international and interstate market and towards Western Australians."
The Premier says with the relaxation of restrictions it is expected thousands of Western Australians will be looking to travel around the state this year, and the plan is to have as many local businesses as possible benefit from these opportunities.
"I want to acknowledge every Western Australian for their patience during this COVID-19 pandemic. It's been trying and nothing like any of us have ever experienced before," he says.
"The broadened boundaries still impact areas including the regions north of our State and the Goldfields-Esperance region along with biosecurity regions and remote communities. The restrictions are in place to protect more vulnerable communities north of our State. Where we can alter these, we will.
"While it's starting to look more encouraging we're not out of the woods yet and every move and adjustment is made based on the best of health advice."
Tourism Minister Paul Papalia says in only a few short months WA tourism has gone from enjoying record international and interstate visitor numbers to a complete industry shutdown.
"The impact on the thousands of Western Australians who make their living in the sector has been severe," he says.
"With international and interstate border restrictions expected to remain for some time, we are now focused on helping tourism operators to adjust their businesses to appeal to the intrastate market.
"The Tourism Recovery Fund will provide cash grants direct to these small businesses to help them reorganise and refocus to the new environment."
Updated at 1:07pm AEST on 13 May 2020.
---
QLD Premier calls on Federal Government to settle its beef with China

Queensland Premier Annastacia Palaszczuk has called upon the Federal Government to resolve escalating tensions with China that have impacted Australian beef exports.
The Premier's concerns arise from a growing trade dispute between China and Australia which has seen the former blacklist three Queensland red meat abattoirs.
The Queensland abattoirs in question are Kilcoy Pastoral Company (owned by Chinese company New Hope Investment), JBS-owned Beef City and Dinmore. JBS is one of the largest meat processing companies in the world and is based in Brazil.
The Australian-owned Northern Cooperative Meat Company in Casino, New South Wales, has also been blacklisted.
Speaking to the press this morning Palaszczuk said she has concerns that a trade war could result in 3,200 workers being impacted.
"China is an incredibly important trading partner to Queensland," Palaszczuk said.
"Most of our trade goes to China.
"What I'm really concerned about is this potential for a trade war to erupt and to damage Queensland's exports, to damage Queensland's reputation and to damage Queensland's jobs and livelihoods."
Palaszczuk says beef is a cornerstone element of the Queensland economy, generating $4.89 billion in exports and generating over 18,000 jobs.
The Queensland Minister for Agricultural Industry Development and Fisheries Mark Furner put it quite simply: "We don't need another beef with China".
"It was only around about this time last year I was in Hong Kong and Chongqing with a trade delegation, delivering the beautiful beef that Queensland is able to provide. In that territory of Chongqing there's an insatiable appetite for our beef, so that's why this issue is so important to Queensland," said Furner.
"I call on the Federal Government to resolve this as soon as possible, because it is such an important trade matter for Queensland and for our Queensland farmers as well."
As reported by the ABC yesterday Federal Trade Minister Simon Birmingham said the emerging trade dispute was a technical issue and not did not relate to the pressure Australia is placing on China to approve an independent investigation into the origins of COVID-19.
Queensland reports just one new case of COVID-19
Just one new confirmed case of COVID-19 has been recorded in Queensland today, bringing the state's total to 1,052 cases including 18 active cases.
Premier Palaszczuk said the one new case was an "old" case.
Elsewhere in Australia New South Wales has reported six new cases today, and Victoria has reported seven.
In total there have been 6,980 confirmed cases of COVID-19 of which 6,273 have recovered.
Updated at 11:27am AEST on 13 May 2020.
---
Mesoblast raises $138m to bolster manufacturing for potential COVID-19 medicine

Investors are betting big on Mesoblast's (ASX: MSB, NASDAQ: MESO) yet to be proven treatment for critically ill COVID-19 patients, with the announcement today it has successfully raised US$90 million (AUD$138 million).
Following "remarkable results" from a small sample of ventilator-dependent COVID-19 patients in New York, the Melbourne-based company recently embarked on a Phase 2/3 trial across more than 20 medical centres in the US; a target that has since risen to 30.
Based on bone marrow aspirate, Mesoblast's candidate product remestemcel-L is intravenously infused in patients suffering from acute respiratory distress syndrome (ARDS) - the most common cause of death from COVID-19 infections.
Around 300 patients are expected to participate in the trial over three to four months.
In an institutional placement led by Bell Potter Securities with 43 million new shares on issue, new funds were raised at AUD$3.20 per share, representing a 7 per cent discount to the last MSB trading price.
The sum itself is worth around 20 per cent of its market capitalisation before 20 March, but share values have more or less tripled since then.
Interest in Mesoblast started to build from that date when it was announced to the market that director Donal O'Dwyer had bought more than $100,000 worth of shares, just 10 days after the company had announced its pivot to using its stem cell treatment in COVID-19 lung infections.
Now the group plans to spend a significant portion of net proceeds on scaling up manufacturing of remestemcel-L, with the remainder to go towards working capital and general corporate purposes.
The use of remestemcel-L drastically improved survival rates in the initial trial at Mt Sinai Hospital in New York, at a rate of 83 per cent (10) compared to the average rate of 12 per cent for ventilator-dependent COVID-19 patients in the city.
Three in four patients were able to come off ventilator support within a median of 10 days, compared to a 9 per cent rate for patients treated with standard of care during March and April.
Led by founder and chief executive Silviu Itescu (pictured), Mesoblast previously had a predominant focus on applying its proprietary technology mostly to treat a condition called acute graft versus host disease (aGVHD), which many suffer after receiving a bone marrow transplant (BMT).
But on 10 March the company hypothesised Remestemcel-L would be able to treat what is known as a cytokine storm - a kind of hyperinflammatory syndrome - in the lungs that often occurs with serious Covid-19 cases. This prompted plans for trials across four continents.
"We greatly appreciate the support shown by both our existing investors and new institutional investors, with demand for the placement far exceeding the funds raised," says Itescu.
"We look forward to updating the market as this important COVID-19 ARDS trial progresses and to its completion in the coming months."
Updated at 11:31am AEST on 13 May 2020.
---
Treasurer: Private sector to drive economic rebound, not government

Speaking in Parliament today for the first time since 8 April, Federal Treasurer Josh Frydenberg (pictured) made his intentions clear for Australia's economic future.
At the centre of his plan are free market economic principles, small government and temporary assistance for those who are struggling.
The Government's ultimate aim is to reopen Australia to the point that businesses can recommence in a COVIDSafe economy, delivering billions to the national GDP.
"While there'll be a significant increase in government debt, which will take many years to repay, our measures have been designed in a way that protects the structural integrity of the budget," Frydenberg said.
"The proven path for paying back debt is not through higher taxes, which curtails aspiration and investment, but by growing the economy through productivity enhancing reforms.
"The values and the principals that have guided coalition reforms in the past must guide us again in the future... Unleashing the power of dynamic, innovative and open markets must be central to the recovery with the private sector leading job creation; not government."
According to Frydenberg, the national GDP is about to witness the results of a reopened Australia.
Once all restrictions are lifted the Treasury expects to see $9.4 billion returning to the economy.
But Frydenberg has warned that if restrictions need to be reimposed the GDP would be hit by more than $4 billion per week.
Under the three separate stages of the Federal Government's roadmap to recovery more than 850,000 people will be able to return to work.
More than half of these workers will come from three industries: the arts and recreation sector, the transport sector and the construction sector.
"Treasury estimates that as a result of easing the restrictions in line with stages One, Two, and Three, the GDP will increase by $9.4 billion each month," Frydenberg said.
This $9.4 billion will come directly from the reanimation of the retail sector, the opening of hospitality venues, and the opening of schools and local government buildings.
The relaxation of travel restrictions is also expected to contribute around $700 million.
Just lifting restrictions at Stage One will result in more than 250,000 people going back to work, and more than $3 billion additional GDP.
State by state, the Treasury estimates lifting Stage One restrictions will lead to:
83,000 jobs and $1 billion in NSW;
64,000 jobs and more than $715 million in VIC;
51,000 jobs and $610 million in QLD;
25,000 jobs and $435 million in WA;
17,000 jobs and $178 million in SA;
5,000 jobs and $50 million in TAS;
4,000 jobs and $60 million in the ACT;
And 3,000 jobs and $40 million in the NT.
"These improvements in the economy depend on us continuing to follow their health advice," says Frydenberg.
"Failing to do so could see restrictions imposed at a loss of more than $4 billion a week to the economy."
His Statement to Parliament today was replete with some sobering figures about the current state of Australia's economy.
Unemployment is set to hit 10 per cent in the June quarter, household consumption is expected to be around 16 per cent lower, and business investment will be down 18 per cent.
The Treasurer will provide another update on Australia's economic situation in June and will detail the Federal Budget in October this year.
Updated at 1:36PM AEST on 12 May 2020.
---
Tasmanian restaurants, cafes and pubs to reopen next Monday as roadmap revealed

Tasmanian's roadmap to recovery will see restaurants and cafes open for up to 10 people from Monday 18 May, putting the state on a path to rejuvenating its economy by mid-July.
A staged approach to lifting restrictions has been announced, guiding Tasmania back to a semblance of normality over the next two months.
Some restrictions on funerals and national parks were lifted yesterday, but the major changes will start next Monday.
"The changes are gradual, with careful monitoring of each stage to ensure our safeguards are working in reducing the risk of outbreaks and enabling health authorities to respond if needed," says the Tasmanian Government.
"The timeframe for the implementation of each stage is based on people following the rules and the ongoing success of the measures in protecting the community.
"For the staged approach to work, it needs your support to reduce the risk of outbreaks, ensuring cases can be identified and managed and keep us on track for the easing of restrictions."
Stage One
Stage One of Tasmania's roadmap commences on 18 May and will include allowing:
Gatherings of 10 people (except visitors to households, which is capped at five people) for indoor and outdoor including real estate, small religious gatherings and weddings;
Funerals can extend to 30 people outdoor;
Restaurants and cafes in all settings to open and seat patrons of up to 10 people at a time;
Community and local government facilities to open for up to 10 people;
Park exercise equipment and playgrounds, pools and boot camps open for up to 10 people.
Stage One will see changes implemented in tranches. The second tranche of Stage One will commence on 25 May and will allow:
Kindergarten to Year 6 students return to learning at school;
Year 11 and 12 students at extension schools and colleges return to learning at school;
Aged care visits will move to national restrictions of two visitors, once per day.
The third tranche of Stage One will commence on 9 June and will see high school students from years 7 to 10 going back to learning at school.
Racing will resume on 13 June 2020 subject to a review and risk-assessment by Public Health Tasmania.
Stage Two
Stage Two of the roadmap to recovery will commence on 15 June (subject to public health advice) and will allow:
Gatherings of 20 people for indoor and outdoor including restaurants/cafes, cinemas, museums, galleries, theatres, performance venues, historic sites, religious gatherings and weddings;
Funerals up to 50 people;
Accommodation services to recommence;
Camping, overnight boating and shacks to open with up to 20 people;
Gyms and boot camps for up to 20 people;
Beauty services for up to 20 people;
Park exercise equipment and playgrounds open for up to 20 people;
Outdoor community sport to resume, with up to 20 athletes/personnel;
Indoor sport and recreation, including pools with up to 20 people;
Visitors to households will be reviewed at this time and border controls will remain in place.
Stage 3
Stage 3 is expected to commence on 13 July 2020 (subject to public health advice) and will allow:
Gatherings of 50 to 100 people;
Aged care homes allowed five visitors and multiple visits;
Potentially reopening clubs, bars, nightclubs and casinos;
Markets to reopen;
Food courts and food vans at markets to recommence;
Spas and bathhouses to reopen;
Day trips and camping for school groups allowed;
Outdoor community sport to resume (with numbers to be determined later);
Indoor sport and recreation including pools (with numbers to be determined later).
Today's COVID-19 Australian case numbers
There have been 17 confirmed cases of COVID-19 today, all from Victoria, bringing the national total to 6961.
Eight people have recovered today, bringing the total recovered to 6190, with 670 cases still active.
Globally there have been 4.17 million cases of COVID-19 confirmed, with 1.34 million in the USA, and 285,945 confirmed deaths from COVID-19.
Updated at 10:49am AEST on 12 May 2020.
---
Deloitte Access Economics calls for "JobTweaker"

Deloitte Access Economics has applauded the Federal Government's $130 billion JobKeeper package, describing it as an economic lifeline that chose speed over elegance but "got the balance right for most people".
After the package was announced the consultancy reduced its forecast FY21 unemployment rate from 12 per cent to a peak of 8.5 per cent, implying the saving of more than half a million jobs.
However, Deloitte does not expect unemployment to return to pre-coronavirus levels of around 5 per cent until 2024. Bringing down the number of jobless while phasing out the wage subsidy will be a key policy challenge for the government.
"While Treasury is no doubt working up options to put on the table, we recommend that the federal government should opt for what we call 'JobTweaker' - tweaking JobKeeper to shore up a strong recovery," the group said.
"The aim is to save more jobs that can be saved, while recognising that there will be some we cannot save. Australians cannot keep a job that won't earn its keep, but we can keep more if we tweak JobKeeper.
"For JobKeeper to stop abruptly, all it would have done is have kicked the unemployment can down the road."
Deloitte notes there is a good chance the original $130 billion cost of JobKeeper won't be fully spent, as its costing was put together at a time when the outlook was at its bleakest.
"The more successful the measure has been the cheaper it has become, and many businesses - and people - thought that they qualified for JobKeeper when they didn't," the group said.
"This means a JobTweaker approach could potentially have a minimal impact on the budget bottom line. Every taxpayer dollar is vital. And so, it is vital that we make sure the $130 billion this nation is spending gets maximum bang for buck."
The consultancy proposes making JobKeeper "smaller, but for longer".
"JobKeeper eventually needs to go - it costs a lot, it may cause competitive problems between firms, and its relationship with JobSeeker with respect to incentives to work is complicated," Deloitte Access Economics said.
In designing the phase-out, the group considers that:
The dignity of work will reign: Lots of good things will happen regardless of how JobKeeper is phased out. People want to work, and businesses want to reopen. We all want to get back to 'normal'. So, the incentives generated by JobKeeper and JobSeeker are important, but the dignity and purpose of work and individual aspirations are even more important.
Timing is everything: Different types of businesses will be opening in different states at different times, but JobKeeper is due to expire all at once on 27 September 2020. That means a complex problem will be addressed with a one-size-fits-all response. We can do better than that. We need to ensure there isn't a mass shift from JobKeeper to JobSeeker because some businesses simply can't sustain reopening or afford to keep their employees.
So, complexity is key: Where a one-size-fits-all approach on the way into hibernation worked, one size will not fit all on the way out. Different businesses and different occupations will open up at different times and at different speeds.
No zombies: One pandemic is enough for a lifetime and there is a risk that JobKeeper, as a measure designed to preserve jobs, could eventually create 'zombie firms' that neither fully recover, but don't go bankrupt. This would slow the broader recovery. But so too would a sudden stop to all support.
Deloitte Access Economics proposes the following ideas for considerations in the government's review in mid-June:
Phase JobKeeper out in line with a turnover measure over the short-term and in line with reopening steps. As turnover increases with economic activity, the JobKeeper payment steps down from $1,500 per fortnight to $0 until turnover begins to return to the pre-COVID levels. Just like the turnover drop made them eligible for JobKeeper in the first place, a turnover recovery could make them ineligible.
Or more simply, the payments could be withdrawn slowly from $1,500 a fortnight to lower amounts on succeeding fortnights: to $1,200, then $900, $600 and finally $300 adding eight weeks and a further $20 billion to its cost or potentially just using up the already 'unsubscribed' amount.
Even more narrowly, the government could take a targeted and more sectoral approach. For instance, it replaced JobKeeper with a $600 a fortnight supplement for just over three months (beyond September) for businesses that fit narrower criteria and have been hit the hardest: 20 workers or fewer, and working in industries such as air transport, food and accommodation and arts and recreation. Such a measure is estimated to cost around $1.5 billion a much smaller share of the unsubscribed JobKeeper pie, but equally sustaining a much smaller share of the economy.
Prime Minister Scott Morrison has today dismissed any speculation JobKeeper would be wound back before its September end date as "very premature".
"We are six weeks into a six-month program. And the impact of the virus, how it will impact on Australia in the months ahead with a reopening economy is very much a work in progress," he said.
"In early March, I said we had to have programs that were targeted. We had to have programs that used existing distribution mechanisms within the government.
"Now, how that program can be adjusted to better support over that period or if there are sectors that come under greater strain over a longer period of time, these are all things that the government is fully aware of."
Updated at 4:21pm AEST on 11 May 2020.
---
NZ to ease restrictions further on Thursday

New Zealand Prime Minister Jacinda Ardern has announced the country will be moving to Alert Level 2 on Thursday, thus relaxing COVID-19 restrictions further.
Ardern says the NZ Government will approach the easing of restrictions gradually in order to manage the risks of moving too fast.
"At the moment, what we're being guided by is how do we open up the economy but in the safest way possible," says Ardern.
New Zealanders will then be able gather in groups of up to 10 people, including at home, for weddings, funerals, cultural gatherings, religious ceremonies, and within a restaurant or venue.
Bars will have to wait until 21 May to reopen; a "pragmatic" decision according to the PM based on evidence and data gathered by the government.
"It does give us time to look at that extra data...to make sure we are moving safely," says Ardern.
"We will be looking to provide more support to business and that it something we will be announcing soon. But that of course is reflective of the fact that there will be some businesses who will take a while to gear up even when we start to move into Level 2."
Under this next stage, schools will resume next Monday.
New Zealand will remain in Alert Level 2 for two weeks, after which the Government will conduct a review and determine whether to stay at the same level of restrictions or not.
"The goal has always been as safely as possible to move back to some form of normality as soon as possible," says Ardern.
"We haven't put a final number on Level 2, but if we are able to sustain longer and no cases then that will mean that we are further and further towards our ongoing goal of elimination and we will be able to further open up.
"Regardless...even if we have low and low numbers we'll still be looking at border restrictions and we will still be encouraging everyone to practice those hygiene measures that will keep all of us safe."
Updated at 3:24pm AEST on 11 May 2020.
---
Victoria to take "cautious" approach to relaxing COVID-19 restrictions until June

Victorian Premier Daniel Andrews is cautiously relaxing COVID-19 restrictions, emphasising complacency could result in the virus getting out of control.
The State will relax gathering restrictions from 11:59pm on Tuesday night, enabling five guests to visit a household.
Unlike in other states, cafés, restaurants and bars will remain closed.
"At just 10 patrons the feedback has been pretty overwhelming, that that's not a model that is viable," says Andrews.
"If we wait those three weeks when we move to go beyond just takeaway for cafés and restaurants, we might not have to stick with a number of 10. We might be able to go higher than that," he says.
For those working arrangements the message is the same: if you can work from home, keep doing so.
Other new rules include:
for outdoor activities like hiking, fishing, playing golf etc, groups must be restricted to no more than 10 people;
weddings will now be able to have 10 guests;
and up to 20 people will be able to attend funerals held indoors and up to 30 if they're outdoors.
These latest measures will remain in place until the end of May at the earliest and demonstrates Victoria's reluctance to follow in the footsteps of other States.
"There is a real need to be cautious," says Andrews.
"There is a need for us to take a small first step and be vigilant in following a new set of rules. This is not over. I wish it was, but it is not over.
"You only get one chance to do this right, unless of course you're prepared to settle for this stop start, rules changing, restrictions on and off, lockdowns, coming out of lockdowns, going back into lockdown. That hasn't worked in other countries and it certainly would not work here."
Andrews says restrictions on cafés, restaurants and pubs need to stay in place for now, to both stop the spread of COVID-19 and to ensure the future viability of businesses in the State.
"There will be a gradual opening up of the economy, a gradual relaxation of these rules, but each step, and particularly the first step, has got to be cautious, safe, and appropriate to the circumstances that we are dealing with," says Andrews.
The Premier cited the recent outbreak in Korea, where a single individual with COVID-19 attended a number of bars resulting in the re-closure of hundreds of bars across the country and the forced quarantine of more than 1,000 Koreans.
"We have to be very careful to not do too much too soon, because the problem then is it gets away from you," says Andrews.
"We've seen just how rapidly it spreads, not just in our state, in our nation."
For those Victorians still working from home today's announcement from the Premier has not changed much; the message to those who can work from home is that they should continue to do so.
"There are many Victorians, their employers and workers, who have, because of the work they do, been able to work from home, and I don't want to see that change," says Andrews.
"The fact that we're going to have literally hundreds of thousands of people visiting family and friends, that's a big step, that's a lot of movement that wasn't happening previously."
The announcement from Andrews comes as the State reports seven new cases of COVID-19, including one from the Cedar Meats processing facility, four from returning overseas travellers, and two under investigation.
The seven new cases take Victoria's total confirmed cases of COVID-19 to 1,494.
To date, 161,000 people have been tested in the largest testing regime ever implemented in Victoria. Of the 141,000 tests that have been processed Andrews says 30 cases were discovered that would've otherwise gone undetected.
This testing program will remain a feature of the rest of 2020 according to Andrews, though likely not at the immense scale the State has been undertaking to date.
Victoria's new rules are extremely cautious in comparison to how other states and territories in Australia have approached relaxing COVID-19 restrictions.
Today in South Australia the State is moving into Stage One of its COVID-19 roadmap to normality, which will allow outdoor dining, regional travel, and auctions.
Queensland will begin relaxing restrictions on 16 May, opening up restaurants, pubs and bars to 10 people indoors and a range of other relaxations including the opening of beauty therapy and nail salons with bookings, retail shopping, personal training, outdoor gyms, open homes and auctions, libraries and more.
Yesterday New South Wales announced it would be rolling back restrictions on 15 May, broadly in line with the policies of South Australia and Queensland, allowing restaurants and cafés to reopen with up to 10 patrons at a time.
And Western Australia, thanks to its hard border, will be more liberal with its easing of restrictions from 18 May, allowing the opening up of hospitality venues, indoor or outdoor fitness classes, and non-work gatherings, all with a maximum limit of 20 people.
Andrews says his cautious approach will ensure Victoria is the "envy" of the rest of the world in terms of how it handled the COVID-19 pandemic.
"The last thing we want to do is follow the example that so many other countries have given us," says Andrews.
"If you relax too many rules too quickly, then we will find ourselves back here and indeed worse. We will find ourselves in a lockdown even harder than the one that we are now coming out of.
"Our performance is the envy of the world. We need to make sure that we jealously guard that."
Updated at 11:51am AEST on 11 May 2020.
---
Scentre Group poised for retail return as COVID-19 restrictions ease

Around the country states are planning to ease COVID-19 restrictions, giving Australian retailers the confidence to reopen.
This is good news for the operator of Westfield centres, Scentre Group (ASX: SCG), as it remerges from the slowdown.
All 42 Westfield Living Centres remained open and trading during the quarter, but new life is set to be injected over the coming weeks.
As of today 57 per cent of retailers in Scentre's portfolio are now open and trading, with "significantly more" expected to reopen over the coming weeks.
Scentre says it has seen an increase in customer visitation as more retailers have reopened.
Significantly, over this last weekend, there was double the visitation of just five weekends ago.
"All Westfield Living Centres have remained open throughout the pandemic. I am proud of the Group's focus on the health and wellbeing of our customers, retail partners and employees whilst maintaining business continuity and economy activity to the extent we possibly can," says Scentre Group CEO Peter Allen.
"Balancing these priorities remains our objective."
During the extended retail shutdown Scentre Group was slammed by retail giant Premier Investments (ASX: PMV) for its handling of the pandemic.
Premier Investments CEO Mark McInnes' was particularly critical of Scentre's hygiene standards.
"This issue is very real for Premier Retail - we have had two incidents in Scentre Group's Carindale mall where our team members were exposed to COVID-19-positive customers, and in both instances, when Scentre was notified, they took no action," McInnes alleged.
"We were made aware of these incidents by the affected customers themselves and the Queensland Health Department.
"We then notified Scentre, who to our knowledge took no steps to notify the other tenants, customers or the community of Carindale that positive COVID-19 cases had been shopping in the mall."
In a response, a Scentre Group spokesperson said its retail partners and centre management followed the correct Queensland Health protocols at Westfield Carindale.
"The Queensland Health advice was these individuals posed no risk to any customers, retailers or employees," the spokesperson said.
"As a precaution, the relevant retailers closed their stores temporarily for deep cleaning. Centre management also conducted additional cleaning."
The company increased its liquidity to $3.1 billion in April in response to the financial crisis. As a result of additional refinancing of bank facilities the amount of debt maturing through to December 20201 has been further reduced to $1.9 billion.
To mitigate the damage of COVID-19 Scentre implemented a range of initiatives targeting more than a 25 per cent reduction in centre operating expenses during the pandemic period.
These initiatives included a 20 per cent reduction in base Board fees, while the Senior Leadership team also agreed to a 20 per cent pay cut.
Across the group more than 80 per cent of employee's roles were adjusted, including moving to reduced remuneration of reduced hours. These arrangements will be reviewed in August 2020.
Scentre still doesn't expect to pay an interim distribution to shareholders for the half year period ending 30 June 2020, and the company's FY20 guidance remains suspended.
"The Group believes that retaining this capital will further strengthen its financial position and ability to continue to deliver long term returns to its securityholders," says Scentre.
Shares in Scentre Group are up 3.64 per cent to $2.28 per share at 10:20am AEST.
Never miss a news update, subscribe here. Follow us on Facebook, LinkedIn, Instagram and Twitter.
Business News Australia
---
Suncorp reveals COVID-19 hit and up to $70 million in staff underpayments

Queensland-based financial institution Suncorp (ASX: SUN) has detailed the full impact of COVID-19 on its business, as well as major staff underpayments across the group today.
In a company update Suncorp says it is well capitalised to ride out the COVID-19 pandemic, despite expecting a $133 million impact due to the coronavirus crisis.
The announcement coincides with an update on Suncorp's pay and leave entitlements review, with Suncorp expecting costs to remediate underpaid staff to land in the range of $40 to $70 million.
Unlike other major financial institutions Suncorp will not be embarking on a capital raise to increase its cash buffer, as it claims it entered the pandemic in a sound financial position.
Group Excess Common Equity Tier 1 at 31 March 2020 was $682 million, and the company will rely on its conservative investment portfolio with more than 94 per cent of investments in cash and fixed income securities.
According to Suncorp the impact of COVID-19 will materialise in reduced consumer motor claims volumes, increased landlord loss of rent claims and negative market-to-market movements on its investment portfolio.
Costs during FY20 are now going to be slightly above $2.7 billion including the pay and leave entitlements remediation program.
According to Suncorp Group CEO Steve Johnston the company was quick to respond to the COVID-19 crisis by realigning its business, supporting its customers, and protecting its stakeholders to prepare for the post-COVID-19 environment.
Johnston says the company has already received thousands of requests for financial hardship relief from both Suncorp's bank and insurance customers and has provided discounts and premium waivers to 12,300 insurance customers in Australia and New Zealand and approved $4.05 billion in loan deferrals.
"A key priority for us is to ensure our customers are protected and prioritising those most in need," says Johnston.
"We have launched several support packages and financial hardship options, and we have been working closely with industry bodies, government and regulators to ensure a coordinated response."
The bushfire crisis at the beginning of 2020 forced Suncorp to mobilise on an extraordinary scale; the company set up customer support teams in bushfire affected areas to assist impacted customers with claims lodgements, access to emergency funds and temporary accommodation.
So far Suncorp has delivered a claims response to the 12 declared events with over 72,000 claims lodged across its company.
For bushfire customers, 70 per cent of property claims and 80 per cent of motor claims have been finalised, while for storm, hail & flood customers over 30 per cent of the 35,000 consumer home claims and almost 60 per cent of the 28,000 consumer motor claims have been finalised.
As for the underpayments issue, Johnston says he is disappointed to have let team members down, and the company is implementing processes to ensure a problem of this scale does not occur again.
"As a Suncorp employee of long standing I am incredibly disappointed that we have let our people down there is no excuse and we need to get this right," says Johnston.
"I want to offer my sincere apologies to those who may have been affected."
Suncorp says it is still too early to determine individual impacts, but the group will recognise $40 to $70 million in remediation payments in its FY20 results.
Never miss a news update, subscribe here. Follow us on Facebook, LinkedIn, Instagram and Twitter.
Business News Australia
---
WA sets generous reopening roadmap with restaurants and fitness classes fast-tracked

Western Australia will enter the next phase of easing COVID-19 restrictions later than South Australia and Queensland, but the scope of many reopenings will be much more liberal for the "hard border" state.
Premier Mark McGowan and Health Minister Roger Cook today announced the next phase of relaxing restrictions would start on 18 May, including opening up hospitality venues, indoor or outdoor fitness classes, and non-work gatherings, all with a maximum limit of 20 people.
This compares to a 10-person limit when South Australia and Queensland enter their next stages of easing on 10 May and 16 May respectively.
Meanwhile, the Northern Territory has been at the forefront of recovery and will also lift more restrictions on 15 May, including on food courts which are slated for much later in the piece within the national guidelines.
The WA Government has announced the state is already in the first part of a four-phase plan after the cautious relaxing of some restrictions on 27 April to allow families and friends to stay connected.
Phase 2 will focus on encouraging Western Australians to return to work, unless they are unwell or vulnerable, so the WA economy can further rebuild in a safe and measured way.
A later date than some other parts of the country was chosen to give businesses and families time to prepare, and includes the following:
Indoor and outdoor non-work gatherings lifted to 20 people;
People are encouraged to return to work, unless they are unwell or vulnerable;
Cafés and restaurants can reopen with meal service (including within pubs, bars, clubs, hotels and casino), limited to 20 patrons and the four square metre rule applied;
Weddings and funerals, limited to up to 20 attendees (30 for outdoor);
Places of worship, community facilities and libraries to re-open, limited to 20 patrons;
Community sports (non-contact) limited to 20 people;
Outdoor or indoor fitness classes (minimal shared equipment) limited to 20 participants; and
Public swimming pools can open under strict rules (one indoor pool and one outdoor pool), limited to 20 patrons per pool.
If businesses or premises want to reopen they will be required to complete an official COVID Safety Plan, which the government plans to release soon in consultation with industry.
"Western Australia is ready to take the next step in our COVID-19 recovery," says McGowan.
"The WA roadmap is our plan to start getting Western Australians back to work within a 'COVID safe economy.
"We have been able to get to this point thanks to the efforts of all Western Australians, who have gone above and beyond to do the right thing to help stop the spread of COVID-19."
He says the state's hard borders and its isolation have been an advantage, and urged people to "keep it that way".
"This phased approach allows us to carefully monitor COVID-19 in WA, and ease restrictions in a way that supports our economy, with the smallest risk to the community's health," he says.
"It might not meet everyone's expectation, but we are doing what we can to carefully get businesses up and going that have been devastated by the impacts of COVID-19.
"The resumption of dine-in services at cafés and restaurants is an important step forward in our State's recovery. These are some of the hardest hit local businesses, and I feel deeply for those who have been forced to close and staff who have lost their job."
Phase 2 will also open up more regional travel, with the number of borders within the state set to drop from 13 to only four, allowing:
Travel between the South-West, Great Southern, Wheatbelt, Perth and Peel regions;
Travel between the Mid-West, Gascoyne and Pilbara regions (excluding Biosecurity zone);
Travel within the Goldfields-Esperance region (excluding the Biosecurity zone); and
Travel permitted within the Kimberley local government areas (the Commonwealth's Biosecurity zone remains in place).
"We understand they have been inconvenient and challenging, and by removing most of the boundaries, I expect many Western Australians will now be able to reconnect with loved ones, and some tourism operations can resume," says McGowan.
"Let me be clear - we will continue to take a cautious approach to the easing of restrictions, based on the best of health advice. This approach has served us well so far, and has seen WA lead the nation in its response to the COVID-19 pandemic.
"We will closely monitor the situation over the coming week and if needed, due to a COVID-19 outbreak, we will reassess the commencement of Phase 2."
Phase 3 is set to be finalised in the coming weeks, based on the advice from the Chief Health Officer and will take into account the infection rates across WA. It is expected Phase 3 will be implemented around four weeks from the commencement of Phase 2.
Phase 3 will focus on continuing to build stronger links within the community and include further resumption of commercial and recreational activities, including:
Further increases in the number of people allowed at indoor and outdoor non-work gatherings, including patrons at cafés and restaurants, weddings and funerals;
Possible further relaxation of regional travel restrictions;
Restrictions further relaxed for gyms, health clubs and indoor sport centres;
Contact community sport (indoor and outdoor) permitted, with gathering limits;
Beauty therapy and personal care services permitted;
Auction houses and real estate auctions (not just online as it is currently); and
Public playgrounds, outdoor gym equipment, skate parks, zoos, cinemas, galleries, museums and concert venues permitted to open, with gathering limits.
The Government announced Phase 4 would be assessed and finalised in due course, with WA's hard border set to be the final restriction lifted.
"Our roadmap has been developed specifically to help get some businesses going, while maintaining strict health guidelines to ensure Western Australians are kept safe," says Cook.
"It takes into account the Western Australian community's world-leading response to COVID-19, that has seen WA maintain consistently low numbers of new COVID-19 cases and success in reducing the spread of the virus.
"It allows for health experts to review the impact of the changes, before we move to the next phase of restrictions being lifted.
"Implementing these phases relies on each and every Western Australian to continue to practice good social distancing and good personal hygiene."
Updated at 6:11pm AEST on 10 May 2020.
---
NSW to start rolling back restrictions on 15 May

NSW Premier Gladys Berejiklian has announced an easing restrictions that is broadly in line with the policies of South Australia and Queensland, allowing restaurants and cafés to reopen with up to 10 patrons at a time.
Unlike in these two states however, NSW's next stage does not explicitly include pubs.
Following the National Cabinet's three-part reopening plan that serves as a roadmap for states and territories depending on their different circumstances, NSW will start winding back restrictions from Friday, 15 May.
"The changes will allow NSW to fire up the economy, while allowing more personal freedoms," says Berejiklian.
"Our community has demonstrated that by working together we can achieve positive results.
"We will continue to closely monitor COVID-19 rates, especially community transmissions, to guide us towards easing further restrictions."
In addition to measures already announced, including the Premier's call for retailers to reopen with caution, the following will be allowed in NSW as of Friday:
Outdoor gatherings of up to 10 people;
Cafes and restaurants can seat 10 patrons at any one time;
Up to 5 visitors to a household at any one time;
Weddings up to 10 guests;
Indoor funerals up to 20 mourners, outdoor funerals up to 30;
Religious gatherings/places of worship up to 10 worshippers;
Use of outdoor equipment with caution; and
Outdoor pools open with restrictions.
It is too soon to allow for regional holidays and ease further restrictions but NSW will continue to work with business and communities during the path forward.
NSW Chief Health Officer Dr Kerry Chant says it is safe for NSW to ease further restrictions as the community as the community is vigilant with social distancing and hygiene.
"The chief health officers of the Commonwealth and States supported by experts have prepared advice on the way forward," says Chant.
"As we take this next step we need to continue to work together - governments, community, business and NGOs - with high rates of testing, social distancing and adherence to other public health measures like handwashing and staying at home if you show even slight symptoms."
Health Minister Brad Hazzard warns the COVID-19 fight is far from over.
"Without a vaccine we need to be vigilant, especially when restrictions lift," he says.
"There will inevitably be more cases, so social distancing will become even more crucial."
Berejiklian thanks the community as the State embarks on this important step that will allow more businesses to open up and more people to stay in work.
"NSW can only do this following the hard work and sacrifice of our communities," she says.
"NSW can only do this following the hard work and sacrifice of our communities."
Photo courtesy of 'Shot at Byron', via Wikimedia Commons.
---
Queensland to start relaxing restrictions on 16 May

Queenslanders will only have to wait until Saturday week before they can dine in at restaurants or have a beer at the pub, although only 10 people will be allowed in any venue at a time unless you're in an outback area where the limit is 20.
Following the Prime Minister's announcement of a three-part plan that aims for the vast majority of restrictions to be eased by the end of July, albeit with strict hygiene and tracing protocols, Queensland has released its "Roadmap to Easing Restrictions".
Starting Saturday week, or technically next Friday at 11:59pm, Queensland's Stage 1 will come into force allowing for a range of relaxations including the opening of beauty therapy and nail salons with bookings, retail shopping, personal training, outdoor gyms, open homes and auctions, libraries and more.
Most Queenslanders will only be allowed to travel up to 150km within their region for recreational daytrips, while residents in outback Queensland will be able to travel up to 500km from home.
"We know how important our industries are to our state - our tourism industry's over $12 billion, the retail industry's over $15 billion, and of course our hospitality - café, restaurant, accommodation is also a multi-billion dollar industry," says Premier Annastacia Palaszszuk.
"There's a gradual return to some form of normality in our post-COVID world.
"It's going to look a bit different but we're going to back each other, and we're going to get through this."
Click here to see the full plan.
The Premier hopes to get more tourism going in time for the school holidays, with the goal of implementing Stage 2 on 12 June; a stage that also contemplates reopening gyms, health clubs and yoga studios, as well as expanding the number of people allowed in hospitality venues to 20.
"You will be able to travel in your region up to 250km to go to local destinations for a drive holiday, and then in July we are absolutely hoping - fingers crossed if our numbers remain low and everything is going well we will be able to open up travel for right across Queensland," she says.
By mid-June the aim is also to have indoor cinemas, outdoor amusement parks, concert venues, arenas and stadiums reopened.
If all goes to plan, by 10 July it is possible that gatherings of up to 100 people will be allowed.
Photo courtesy of Visit Bundaberg.
Updated at 3pm AEST on 8 May 2020.
---
Outdoor dining, regional travel, and auctions allowed in SA from Monday

South Australia will embark on its own roadmap for easing COVID-19 restrictions from Monday, allowing residents to return to a sense of normality in the State.
Restrictions will be lifted in three tranches in-line with the National Cabinet's guidelines announced today.
Premier Steven Marshall (pictured) says SA will return to a COVID-safe economy by July.
The roadmap takes into account South Australia's low case numbers to date and the State's already relaxed restrictions compared to other Australian states.
As of today 10 people are able to gather indoor and outdoor, retail is not restricted, social gatherings are allowed, and outdoor playgrounds are still open.
But from 11 May restrictions will be lifted including:
Regional travel
Uni and TAFE face-to-face tutorials
Outdoor dining for restaurants and cafes
Community, youth and RSL halls opened
Auctions and inspections
Local government libraries
Sport training (outdoor only)
Funerals
Worship, weddings and ceremonies
Pools (limits apply)
Campgrounds and caravan parks
Step 2 comes into play on 8 June, meaning 20 people max can gather indoor and outdoor and further restrictions will be lifted including:
Cinemas and theatres
Seated dining
Galleries and museums
Beauty, nails, tattoo, massage (non-therapeutic)
Driving instruction lessons
Gyms and indoor fitness
Funerals (50 max)
Sports transition to competition without spectators, including indoor sports
The State says it is considering further restrictions to be lifted including:
Larger gatherings
Licensed pubs and bars
Nightclubs
Shisha/hookah bars
International students returning
Casino and gaming venues
Stadiums and larger entertainment venues
Food courts
Spas and saunas
State border restrictions
Travel into protected communities
South Australia broke a two-week streak of no confirmed cases of COVID-19 yesterday with one new case, bringing the State's total to 439.
Updated at 2:57pm AEST on 8 May 2020.
---
National Cabinet sets July end date for three-part full opening plan

Australian Prime Minister Scott Morrison says we will "walk before we run" as part of a three-part plan to fully reopen the economy in July.
Speaking this afternoon, the PM said the National Cabinet had agreed to the plan and a national framework to achieve a COVID-safe economy and society.
Under the first step small cafés and restaurants can be reopened along with some recreational sport facilities, while people will have travel freedom within their state or territory.
The plan acts as a guideline for State and Territory Governments who will ultimately make their own decisions about when to start each step of the reopening scheme.
Eventually, Step 3 contemplates the reopening of Trans-Tasman and Pacific Island travel, along with the consideration of letting international students back into the country and reopening nightclubs.
"We know we need to be careful to preserve our gains, but we also know that if we wish to reclaim the ground that we have lost we cannot be too timid," Morrison said.
"There will be risks, there will be challenges, there will be outbreaks, there will be more cases, there will be setbacks. Not everything will go to plan, there will be inconsistencies.
"States will and must move at their own pace, and will cut and paste out of this plan to suit their local circumstances."
He said that according to Treasury, the reopening plan would see some 850,000 jobs restored in the months ahead with the following three stages:
Step 1: COVID safe reopening commences with physical distancing & hygiene
Greater connection with friends and family allowing gatherings of up to 10 people, including up to five guests in your own home;
Working from home if it suits the employee and employer;
Children allowed back in classrooms and playgrounds;
Golf courses, parks, swimming pools, libraries and community centres reopened;
Retail, small cafés and restaurants reopened;
Home sales and auctions allowed
Boot camps reopened
Intrastate recreational travel allowed; and
Easier restrictions for funerals of up to 30 attendees outdoors and 10 at weddings.
Step 2: Most businesses reopen with physical distancing & hygiene
Larger gatherings allowed for up to 20 people;
Cinemas, theatres and amusement parks reopened;
Beauty parlours reopened;
Gyms reopened;
Some caravan parks and campgrounds reopened
More retail openings on sector-based COVID-safe plans;
Organised community sport; and
Some interstate travel.
Step 3: All Australians return to work with physical distancing & hygiene
Allowing gatherings of up to 100 people;
Food courts reopened;
Saunas and bathhouses reopened;
Nightclubs reopened;
All interstate travel allowed; and
Cross-Tasman, Pacific Island and international student travel to be considered.
The PM said Step 3 would become clearer as we work through Steps 1 and 2, but "by then most workers will be back in the workplace".
"It is our aspiration, it is agreed amongst Premiers and Chief Ministers and myself, that in July we will have moved through these three steps across the country," he said.
"Premiers and Chief Ministers have asked me to stress that there should be no expectation of Step 1 starting on Day 1, unless they are indeed already there. Moving on these steps will take some preparation.
"We're open to everything pretty much to get the economy back and firing as much as possible."
He said moving from one step to the next would need to be in keeping with the following three criteria:
That further easing would not present an undue risk;
That widespread testing is adequately identifying community transmission;
Public health actions are able to trace cases and track local outbreaks.
"Testing, tracing, tracking, as they were saying in the Northern Territory recently," Morrison said.
"Downloading the COVIDSafe app, which is now over 5.3 million, is the best way you can help us do this job to keep you and your families safe."
The PM added a review into JobKeeper would be taking place next month.
"That was a temporary lifeline put in place to help Australians through the worst of this crisis," he said.
There are currently 737 active cases of COVID-19 in Australia, including 19 new cases in the last 24 hours from Victoria (14), NSW (4), WA (1).
Nationwide there have been 41 recoveries reported today, while there have been no new deaths, meaning the death toll remains at 97.
Updated at 1:01pm AEST on 8 May 2020.
---
Victoria to consider easing restrictions on Monday

Victorian Premier Daniel Andrews says he will consider easing COVID-19 restrictions in the state on Monday as per a three-part roadmap announced today by the Prime Minister.
Andrews says he will be cautious and has likened the National Cabinet-approved roadmap as a "menu" from which he will pick and choose from for restrictions to relax.
"Now, whilst I welcome the overall pathway, I also welcome the commentary from the Prime Minister and the decision of National Cabinet that what is done and when, that is the timeline, the staggered nature of easing off the rules we've put in place, is fundamentally a matter for individual states and territories," Andrews said.
"On Monday, and indeed throughout next week, I will have a series of announcements to make about changes to the rules. Those rules that will not be all the rules going, and it won't necessarily be that the moment I announce something a change happens right then.
"If you think about the top line in that framework document that the Prime Minister has put out today, and the National Cabinet agreed to, that's a kind of menu, if you like. And we will choose elements of that and the respective timing for the rollout of each of those elements that best suit Victoria, that best suit the unique circumstances that we face."
The announcement comes as Victoria has announced 13 new cases of COVID-19 today.
Eight of those new cases trace back to the cluster of COVID-19 cases at the Cedar Meats Australia processing facility, while the other five are believed to be cases of community transmission.
The state's total now stands at 1,467 cases.
Updated at 2:07pm AEST on 8 May 2020.
---
Events industry calls for conferences to be exempt from gathering restrictions

The Exhibition and Event Association of Australasia (EEAA) has called upon Federal and state governments to exempt business conferences and events from mass gathering restrictions.
The industry body has also asked for clarification on an anticipated restart date for domestic events in the Australian market to get things back on schedule.
The EEAA says business conferences and events can operate under a controlled set of 'bio-safe' principles and therefore should not be subject to the same restrictions as other mass gatherings and large scale public events like professional sporting events and music festivals.
"The business events industry run highly organised events where we can trace every one of our visitors, delegates, speakers and exhibitors as well as monitor, track and put in place a range of measures that can ensure these events comply with Government measures on hygiene and physical distancing," says EEAA chief executive Claudia Sagripanti.
"The business events industry, which includes exhibitions, conferences and business meetings contributes $35 billion to the national economy, with another $17.2 billion in value add and employs over 229,000 people across a range of sectors and trades.
"The re-opening of this important sector will support the Government's objective to implement work safe guidelines to get Australian's back to work. It is of vital importance to ensure that Governments understand the role business events plays in restarting the economy."
The EEAA, in collaboration with the Business Events Council of Australia and the Venue Management Association is developing safety and hygiene principles for the business events community.
To get events and conferences back up and running the EEAA has requested governments provide a clear timetable on when business events can restart as considerable lead-time is required to plan and implement events of scale.
"The sector needs support now with a clear timetable on when we can run events August/September and the last quarter of 2020 is vital to recovery, but the industry needs a confirmed date to commence planning," Sagripanti said.
"An August restart allows government and the health authorities further time to ensure the state's COVID numbers continue to decrease and stabilise and to enable an agreed Bio-Safe environment for our controlled and organised events where the business community comes to do business."
The EEAA's plea to state and federal governments comes as the Queensland Tourism Industry Council (QTIC) today announced it would be cancelling the 2020 Queensland Tourism Awards for the first time in the event's history.
"Like so many other aspects of our industry, 'normal' no longer applies this year and the awards program was not viable under the current circumstances," says QTIC chief executive Daniel Gschwind.
"This is a huge disappointment to us and to many operators, but the reality is that the industry has an overwhelming challenge on their hands to get through this crisis. It is the sole focus for everyone. We will be back with the program next year, bigger and better and remain fully committed to supporting excellence in business."
Updated at 11:46am AEST on 8 May 2020.
---
An extra 100,000 loans deferred by Australian banks this week

Australian banks have deferred an extra 100,000 loans over the last week, bringing the total value of loans deferred to $200 billion.
According to new figures released by the Australia Banking Association (ABA) half of the new deferrals were home loans.
To date, Australian Banks have deferred 643,000 loans for customers, including 392,000 home loans.
"These new figures, released today, shows banks working overtime to ensure assistance is given where needed to customers who are affected by this crisis," says ABA CEO Anna Bligh.
"The surge in demand for assistance from banks shows that the economic impacts continue to be felt, and by no means is the nation through this crisis."
These deferments are coming at a serious cost to Australian banks.
Commonwealth Bank's (ASX: CBA) loan deferral arrangements are expected to cost the giant around $10 billion.
"These are unprecedented times, and we will continue to take decisive actions to support households and the small business community," CBA chief executive officer Matt Comyn said in March.
"We stand shoulder to shoulder with the Government, the Reserve Bank, our regulators and the banking industry to support the economy at this time."
ANZ (ASX: ANZ) says its deferral program has been provided on $7.5 billion of lending to Australian customers, with assistance given to approximately 15 per cent of commercial lending customers.
Further, it has pre-approved more than $4 billion in lending to 35,000 small business customers with existing transactional accounts and provided temporary overdraft increases for approximately 5,500 commercial accounts.
Updated at 10:58am AEST on 8 May 2020.
---
Active cases fall to single digits as WA readies relaxation roadmap

More recoveries from COVID-19 in Western Australia means the state has just nine active cases of the virus, bringing the total down to single digits for the first time since the pandemic took hold.
WA Premier Mark McGowan (pictured) told a press conference this morning a 29 year-old who recently returned from overseas has tested positive, but the number of active cases was reduced by three new recoveries.
"Obviously, it's disappointing that our sreak of zero cases has come to an end, however we always knew we would get more cases as people returned from overseas or interstate," he said.
It was a similar story yesterday for South Australia, whose two-week run of no new daily cases was also cut short by a returned traveller testing positive.
McGowan said the good news was that the systems were in place to ensure the spread of the virus was limited, and there have now been 534 recoveries in the state.
"As a result we now have just nine active cases here in Western Australia - the first time we've hit single digits," he said.
"Only four people are in hospital in total, with one in ICU. The number of people in our hospitals with the virus continues to fall."
McGowan said after today's National Cabinet meeting, a State Disaster Council meeting will be held including the Police Commissioner and the Chief Health Officer to plan out Western Australia's roadmap forward.
"I want to provide the people of Western Australia with a way forward with a plan to get Western Australia moving in a safe and sensible way. I expect our roadmap to be finalised and ready for release on Sunday," he said.
"Clearly Western Australia has the opportunity to be more economically progressive perhaps than other states. The eastern seabord I expect will be more conservative as they have been along this road, but frankly they've had a much bigger problem than we have.
"Our hard borders allow us to do more than the eastern states can, so that initiative has meant that we can potentially loosen restrictions to a greater degree than the eastern states, but that's a decision the State Disaster Council will make later on today."
Updated at 10:01am AEST on 8 May 2020.
---
NZ gears up for major easing of restrictions

After setting a global example with its strategy of "going hard and going early" to win the battle against COVID-19, New Zealand will soon make a big call on whether to ease a wide range of restrictions.
NZ Prime Minister Jacinda Ardern has today outlined what an Alert Level 2 situation might look like, including a restart for businesses, gatherings indoors or outdoors for up to 100 people, the recommencement of amateur and professional sport, and domestic travel freedom.
If the NZ Cabinet decides to go ahead with the alert downgrade on Monday, hospitality venues (except nightclubs and dance venues) may also be able to reopen with a "three S's" policy - seated, separated, single-server.
The move comes now that New Zealand's total active case numbers are at 136, or slightly more than Victoria and Queensland combined; both states with larger populations than NZ.
"In a nutshell, Level 2 is a safer normal designed to get as many people back to work as possible and the economy back up and running in a safe way, made possible only by our collective actions at Levels 4 and 3 to beat the virus and break the chain of transmission," the PM said today.
After hunkering down through a full lockdown experience at Level 4, New Zealanders are currently living with Level 3 - Restrict measures.
"On Monday, May 11, we will make a decision on whether to move, taking into consideration the best data and advice we can, recognising the impact of restrictions, and ensuring we don't put at risk all of the gains we have made," Ardern said, noting the view of the Director-General of Health would also need to be taken into account.
"There is a much higher level of individual responsibly required at Level 2 to prevent the spread of the virus.
"We will continue to act with caution and not move before it is safe to do, so entry into Level 2 could be phased, with higher risk activity occurring when there is stronger evidence it is safe to do so.
While the amount of people who can gather indoors would increase to 100, the maximum level for outdoor gatherings would actually go down from 500 to 100.
"For managed events like weddings, music events, religious services, funerals, these can be held at Level 2 when we get there, but with all the same public health guidance as with the 100-person limit," she said.
"You no longer need to stick to your bubble. You can begin seeing family and friends, but we do want you to hang onto the same principles that we are using generally in hospitality; issues around the space and hygiene and contact tracing.
"If we have large scale events held in people's home, all of that becomes harder. That is why at Level 2 we are saying that you can have friends and family over to your home but keep the numbers small."
At Level 2 playgrounds, gyms, pools, public courts, museums and markets are also permitted to reopen.
The Level 2 scenario has been summarised by the NZ Government as follows:
Businesses can restart for staff and customers
Bubbles can cease
Domestic travel recommences
Schools and early learning centres can open
Gatherings both indoors and outdoors are limited to 100 people
Public places reopen
Sport and recreation comes back on-stream, including professional sports competitions
Home gatherings must be kept small
Hospitality must follow the three S's seated, separated, single-server
Updated at 3:56pm AEST on 7 May 2020.
---
CBA approves $555 million in SME loans

More than 6,500 business customers hit by COVID-19 shutdowns have made the most of a government-backed SME loan scheme through the Commonwealth Bank of Australia (ASX: CBA).
The bank has so far approved more than $555 million in new loans - which are 50 per cent guaranteed by the Federal Government - for small and medium businesses.
The bank says its customers were able to apply for the loans from Monday, 23 March.
"We want to help as many of our customers as we can through this challenging time we know for many, these loans could be the make or break of a business," says CBA group executive business banking, Mike Vacy-Lyle.
"Getting funds quickly to our customers means they have the cash flow they need to pay for critical expenses like wages, supplier payments and other overheads.
"We are doing all we can to help. The sheer demand we are seeing means our teams are working around the clock to help as many customers as possible and our priority right now is to get funds into accounts as quickly as we can."
Shortly before the SME Guarantee Loan Scheme was announced on 22 March, CBA pledged $10 billion towards six-month loan deferral arrangements including an auto-enrolment feature for businesses.
Updated at 12:10pm AEST on 7 May 2020.
---
Pop-up hospital may be answer to future pandemic needs

A South Australian company has launched a portable isolation hospital for widespread medical emergency hotspots to treat patients with respiratory illnesses in the wake of the COVID-19 pandemic.
Based in Adelaide, South Australia, Humanihut's 'Florey' isolation hospital has received expressions of interest from government clients in the United States, Europe, Middle East and Australia to better prepare for future epidemics or health crises.
The deployable medical facility was adapted in partnership with French-based business Utilis International from Humanihut designs for disaster accommodation.
Humanihut Co-Founder and Managing Director Neale Sutton said the new Florey model was created for the COVID-19 outbreak in New York and serves as an efficient market-ready alternative to tents, which are the current industry standard for field hospitals.
"In the initial stages, the [coronavirus] epidemic had governments around the globe looking for very quick solutions to assist the pressure that was being placed on their medical facilities," Sutton said.
"We're now focusing our product into the longer term, it's about what comes next after COVID-19 and after all of the equipment has been used on this outbreak; is there enough to be used for the next outbreak?"
Sutton said the Florey costs A$200,000 per bed in comparison to approximately $1.5 million per bed for a hospital.
"The Humanihut Florey system is a far more robust and rapidly deployable system than just about anything else that's around," he said.
"We're talking to a number of prospective clients around the world about what they're going to do next and the part we can play in their operations going forward looking over their horizon to 2021 and beyond."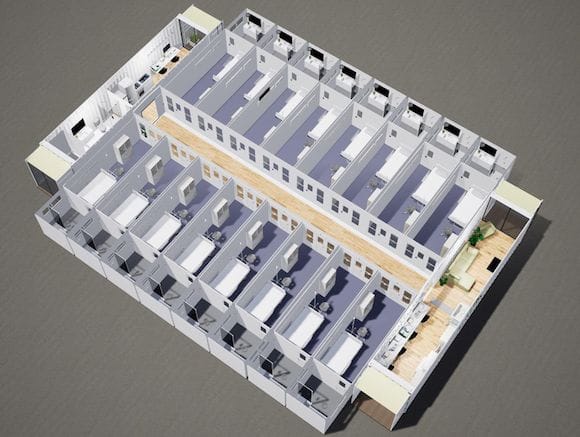 An artist's render of the Humanihut Florey Isolation Hospital.
Sutton said he was in talks with a local government in the US for the purchase of a Florey unit within the next 12 months.
In its basic configuration, the Florey isolation hospital comprises of 16 flatpack huts each measuring 6m x 2.3m (19f x 7.5f) that are set up as single-bed patient rooms attached with ensuites, which stand between two 40ft containers housing a nurse's station, staffroom, kitchen, bathroom and laundry.
A fully enclosed weatherproof internal corridor made from a soft polymer canvas is then placed in the centre of the facility to connect the containers and patient rooms.
The huts are steel skinned and have insulated walls, enabling them to maintain a suitable temperature for patients and doctors.
The Florey isolation hospital includes utilities for water, power and wastewater treatment, Wi-Fi connectivity, and medical grade equipment supplied by G3 Systems through Humanihut's partnership with Utilis.
Sutton said two South Australian companies provided the important airflow controls. The negative pressure air filtration system to prevent cross-contamination throughout the site is from Airepure Australia and the air conditioning is by globally renowned Seeley International.
"Isolation wards require negative pressure systems, combined with specialist HEPA filters, to ensure the containment of airborne contaminants within a room, whilst reducing the risk of transfer of airborne particles to medical staff." Sutton said.
An animation of the Humanihut design.
The Florey is deliverable by land, air or sea inside the two 40ft containers and can be established within 24 hours. The facility is also scalable for increased capacity to meet required demand.
Sutton said the rapidly deployable nature of the product was crucial for assisting medical workers at the beginning of a health crisis.
"[Clients] need things set up quickly, they don't want them to be permanent, but they want to be able to call on them time and time again and once the field infrastructure system has done its job it can be packed up and reused again over the life of the product," Sutton said.
More than half of the manufacturing process for the huts is done in South Australia, including work from South Australian companies Enviroclad and Kadego. Sutton plans to shift the remainder of the operations to the state later this year.
Humanihut have sold other variations of their field infrastructure systems to the South Australian State Emergency Service as well as to clients in Saudi Arabia and France.
Never miss a news update, subscribe here. Follow us on Facebook, LinkedIn, Instagram and Twitter.
Business News Australia
---
AusCann CEO resigns after 12 months on the job

The head of one of Australia's leading medicinal cannabis companies AusCann Group Holdings (ASX: AC8) has announced his resignation today, citing personal reasons for the exit.
Ido Kanyon joined the Perth-based company a year ago after previously working with Teva Pharmaceuticals in the United States, and has helped AusCann achieve several milestones since then including the kick-off of clinical evaluations just last week.
But as is the case for most medicinal cannabis companies at the moment, these efforts are not necessarily reflected in the AC8 share price which is down almost 55 per cent on when Kanyon took the reins.
Kanyon will still remain with the company for six months to assist in the leadership transition, with non-executive director Dr Marcel Bonn-Miller to share responsibilities in the interim.
"On behalf of our Board, our staff and our shareholders, I would like to thank Ido for his leadership in refocussing the company's strategy to becoming a leading research and development company in the medical cannabis industry, bringing our first product to market and commencing our first clinical evaluation programme," says chairman Max Johnston.
"Ido has strengthened and streamlined the operating model positioning the Company well for future commercial success."
---
Australia's top 20 cannabis companies
---
Johnston highlights Bonn-Miller is an internationally renowned cannabinoid expert, and he will assume executive responsibilities alongside Ido to provide continuity during the transition.
"At the same time, we have started the search for a new outstanding candidate and leader that can spearhead our existing products growth and continued development of a robust pipeline of future products," he says.
Kanyon has expressed his gratitude for the opportunity to lead a talented team at AusCann.
"We have achieved a lot in a short space of time, given the focused growth strategy put in place," he says.
"I am proud of the results we have been able to deliver to shareholders, healthcare professionals and patients, bringing an innovative product to market and continuing to generate clinical evidence for the benefit of patients."
Never miss a news update, subscribe here. Follow us on Facebook, LinkedIn, Instagram and Twitter.
Business News Australia
---
Consumers expand online horizons and turn to Aussie brands

A recent survey from the Boston Consulting Group (BCG) has found one in five Australians purchased at least one new category online over the past month, while the appetite for domestic brands is on the rise.
BCG's 'Australian Consumer Sentiment Snapshot: Confidence, Nostalgia and Shifting Trust' shows the average number of new categories purchased by Gen Z and Millennials was nearly four, compared with nearly two new categories purchased by the Baby Boomer and Silver segment combined.
The top 12 categories purchased online for the first time include education, preventative health care, takeaway food and medical procedures, and this is the case across all age groups.
Gen Z and Millennials increasingly turned to e-commerce for insurance, home renovation products, personal care products and pet care products, while many Baby Boomers and Silvers bought shoes and footwear, women's clothing, plants and gardening supplies, and fresh fruit and vegetables online for the very first time.
"The BCG report has revealed seismic shifts in how Australians are spending their time and money, and importantly, who they trust in the COVID-19 environment," says BCG managing director & partner Monica Wegner.
"That's why in these rapidly changing times, creating and maintaining consumer trust should be a key focus for organisations to ensure they maintain their relationship with customers into the future."
The findings are consistent with reports of e-commerce upticks for a wide range of Australian retailers, including homeware specialist Adairs (ASX: ADH), online furniture retailer Temple & Webster (ASX: TPW), e-commerce giant Kogan (ASX: KGN), Booktopia, footwear purveyor Accent Group (ASX: AX1) and department store Myer (ASX: MYR), as well as supermarket majors Woolworths Group (ASX: WOW) and Coles Group (ASX: COL).
The BCG report also reveals 84 per cent of Australian consumers believe that there will be an economic recession post-COVID-19, however only 40 per cent feel financially insecure at this stage.
"In this time, 47 per cent of surveyed consumers are abandoning luxury products, and 64 per cent say that basic and simple products that do the job are all they need, placing greater emphasis on purchases that promote self-reliance and provide comfort and assurance," says Wegner.
Organisations that invest well in digital services will be pleased to know that consumers are likely to continue using those online platforms when COVID-19 is over.
One third of Australian consumers surveyed for the BCG report said they will increase spend on digital purchases post COVID-19; 34 per cent for Gen Z and Millennials and 31 per cent for Baby Boomers and Silvers.
Consumers said they will increase online spending on travel, preventative healthcare, insurance, appliances, education and home essentials.
"Companies that can leverage technologies by meeting changing consumer demands online complemented by human interaction where it is needed most have the opportunity to earn consumer loyalty well after their concerns subside," says Wegner.
The report also demonstrates an increased desire and appetite to buy Australian brands, with 37 per cent of consumers saying they would purchase Australian brands - a 56 per cent increase from 2016.
This is despite the premium price perception of domestic goods, with the trade-up for Australian brands largely seen in fresh food, personal care, packaged food and first aid/medicines.
The BCG report found consumer trust in health service providers, supermarket chains and Australian State and Federal Governments had increased significantly over the last month.
Net trust in health service providers has risen 25 per cent, national supermarket chains 18 per cent, the Federal Government 18 percent, State and Territory Governments 17 per cent, telecom providers three per cent and banks net neutral.
For supermarkets, this is in part owed to a strong investment in services that ensure the basic needs of Australians are met, such as measures to ensure older Australians can access supermarkets and a strong suite of online and offline services to get groceries to peoples' doors.
"The BCG report shows consumers are carefully watching how Australian institutions are responding to the crisis and the initiatives they're providing, to determine how much they trust them," says Wegner.
Never miss a news update, subscribe here. Follow us on Facebook, LinkedIn, Instagram and Twitter.
Business News Australia
---
Victorian restrictions to stay in place as Cedar Meats cluster grows

Restrictions on gathering in Victoria are unlikely to ease before Mother's Day as a cluster of confirmed COVID-19 cases from a meat processing facility continues to grow.
The state confirmed 14 new cases of COVID-19 this morning, with 13 of the 14 tracing back to a growing cluster at Cedar Meats Australia.
The new cases from Cedar Meats brings the facility's total to 62 cases, representing the majority of active cases in the State and close to one in ten active cases across the country.
According to Victorian Premier Daniel Andrews (pictured) the State has 105 active cases of COVID-19. Eight of these cases are hospitalised and six are in intensive care.
The latest figures come as the state continues its expansive testing regime that has so far seen 106,000 people tested in the last week and a half, with 18,200 of those tests conducted just yesterday.
Despite the State's good work in testing more and more people Premier Andrews says it is still too early to look at easing restrictions on the rest of the population.
"The last thing we want to do is ease off any of those restrictions without a sense of confidence that we are truly on top of this," says Andrews.
"This is a very infectious disease, it spreads rapidly, and it can get away from you very, very quickly, and that's why we've taken such a cautious approach.
"The last thing I think business wants is the notion that they reopen quickly only then to have to close again. That would make a very difficult situation almost unbearable as businesses burnt that cash that they had perhaps put away for them to restart only then to have to then close again."
Updated at 12:16pm AEST on 7 May 2020.
---
Queensland businesses exempt from payroll tax on JobKeeper payments

Businesses in Queensland will not have to pay payroll tax on Federal Government JobKeeper Payments as part of the State Government's latest fiscal relief initiative.
The fast-tracked arrangements will ensure payroll tax assessments do not include JobKeeper payments and will provide Queensland businesses with effective relief of $360 million over the next six months.
"We know businesses and workers have been doing it tough through the necessary restrictions we have put in place to come down hard on the spread of coronavirus," says Queensland Premier Annastacia Palaszszuk (pictured).
"Life will be tough for many businesses for months to come, so we will ensure they don't have to foot the bill for payroll tax on the Federal Government's JobKeeper payments which are now starting to flow."
Queensland Deputy Premier and Treasurer Jackie Trad says this latest measure will assist businesses to keep employees on and allow them to survive during the COVID-19 pandemic.
"Measures to relive payroll tax have been at the heart of the Palaszczuk Government's response, including tax holidays, tax deferrals, and payroll tax refunds that have put more than $345 million back into the accounts of Queensland businesses," says Trad.
"Exempting JobKeeper from payroll tax assessments at this time helps protect Queensland businesses and Queensland jobs.
"Now it's up to the Federal Government to help Queensland workers by exempting JobKeeper payments from income tax assessment."
The JobKeeper payment scheme commenced on 30 March and is available for eligible businesses to cover the costs of their employees' wages through payments of $1,500 per fortnight to eligible employees.
Queensland Treasury's Office of State Revenue will be adjusting its payroll tax information to ensure there is a smooth transition when the next payroll tax returns are due to be lodged next week.
Nationally States have been implementing a range of payroll tax waiver and deferment initiatives to assist businesses through the COVID-19 crisis.
In Victoria the State Government will pick up the bill for payroll taxes, saving businesses around $225 million, as part of the State's $1.7 billion stimulus package.
Businesses in New South Wales with payrolls over $10 million will have payroll tax deferred for six months, while businesses with payrolls under $10 million will receive an additional three-month deferment of payroll tax on top of the three-month waiver previously announced.
Down in South Australia the State Government will be delivering $60 million of payroll tax relief to businesses, including a six-month waiver for all businesses with annual payroll of up to $4 million from April to September.
SA employers with grouped annual wages above $4 million will be able to defer payroll tax payments for six months on demonstration of significant impacts on cash flow from COVID-19.
In Western Australia any business affected by COVID-19 will be able to defer payroll tax payments until July 21, 2020.
QLD to ease gathering restrictions further on Mother's Day
Up to five people from the same household will be able to visit another household from this Sunday in Queensland as the state continues to ease COVID-19 restrictions.
Premier Palaszczuk said the easing of restrictions was made possible because QLD residents had managed to keep the rate of new cases down.
The five visiting people must be from the same household and can visit another household of any size, thus allowing more than 10 people to be inside a house at any one time.
Queenslanders will still be restricted to not being able to travel more than 50km from their household.
This latest easing of restrictions comes as Queensland reports only two new cases of COVID-19 overnight.
Both of these new cases are on the Gold Coast, with one originating from a cruise ship and the other still being investigated.
There are only 50 active cases of COVID-19 in Queensland now, with eight in hospital and three in intensive care.
The two new cases brings Queensland's total number of confirmed COVID-19 cases to 1,045.
NSW keeps restrictions in place
Meanwhile in New South Wales gathering restrictions will remain in place for Mother's Day as the state continues its testing blitz.
Premier Gladys Berejiklian says social distancing measures will stay as they are even if the National Cabinet announces changes to national guidelines on Friday.
"As we proceed through May and through June there will be an easing of restrictions and that is something all of us can look forward to, and so I suspect that by the end of June life will feel much more normal," Berejiklian said.
"I can say that whilst National Cabinet is considering easing some restrictions I doubt very much that New South Wales will be in a position to implement anything before Mother's Day."
This means the same restrictions will stay in place in NSW, those being two adults and their children from the same household can visit another household.
Today Berejiklian announced that over the last 24 hours 10,900 tests were conducted which is a record for NSW.
Three new cases of COVID-19 were confirmed overnight, all from known sources, bringing the state's total to 3,044.
Updated at 9:32am AEST on 7 May 2020.
---
From Rockmans to Katies, Mosaic Brands puts store reopenings on the table

After trial openings over the past week and an 80 per cent jump in online sales, a group that owns some of the biggest names in Australian fashion retail will start progressively reopening stores on Monday, 11 May.
As the owner of Rockmans, Noni B, Millers, Rivers, Katies, Autograph, W.Lane, Crossroads and Beme, Mosaic Brands (ASX: MOZ) shut almost 1,400 stores in March as a response to social distancing recommendations.
Despite recording a positive EBITDA of $32 million in the first half, Mosaic is forecasting an overall EBITDA loss for FY20, as reopenings and an anticipated gradual recovery in customer demand will be unlikely to offset the impacts of the coronavirus-induced decline in foot traffic and store closures.
"However, management anticipates the pandemic's impact on its performance to be short-term and expects a return to profit in FY2021," Mosaic said.
"The Board will not declare an interim dividend for the half year to 29 December 2019 following its earlier deferral, which was pending clarification of the impact of COVID-19.
"The Company is very supportive of the Government's JobKeeper program, which has allowed it to retain its store and support office team members, and recognises the support of ANZ in facilitating Mosaic's access to the program and assisting it to navigate through this period."
The company notes valuable insights into changing customer shopping habits have been gained from the trial openings, although it did not state which fashion stores specifically had ben trialled.
Mosaic is providing these insights to landlords in a bid to renegotiate rental terms in keeping with the Government's mandatory code of conduct for commercial leasing arrangements.
The group emphasises stores will only be reopened where satisfactory commercial terms are agreed with the landlord.
"Mosaic is committed to working with its landlords to resume normal trading as soon as it is viable to do so and to provide a safe and improved shopping experience for customers," the company said.
An 80 per cent year-on-year jump for online sales for the past six weeks has been attributed to the strength of Mosaic's nine brands and increased investment in its digital strategy.
"This performance reflects substantial work during this challenging time to accelerate the company's strategy to expand the range of products offered and grow customer acquisition," Mosaic Brands said.
"Twenty categories and over 100,000 SKUs, reflecting each brand's unique customer proposition, have been added during this period to the company's websites."
Updated at 9:37am AEST on 7 May 2020.
---