Staying informed is more important than ever as the situation unfolds with Covid-19. Stay tuned here for our live updates, and be sure to let us know what your business is doing to face this unprecedented challenge.
---
SA reveals plans to reopen borders and increase gathering limits

South Australian Premier Steven Marshall has today announced his state will move to Stage 3 restrictions from 29 June, and interstate travellers will be permitted to enter the Festival State from 20 July.
However, before Stage 3 is implemented SA will move into 'Stage 2.5' next Friday, under which the number of people allowed to attend venues will be increased from 20 people per room to 75 people per room.
The total number of people allowed in a venue at one time will also be increased from 80 people per venue to 300.
This tentative step prefaces the major easing of restrictions that will be implemented from 29 June when the State enters Stage 3.
In line with the alterations made to Stage 3 restrictions, announced today by Prime Minister Scott Morrison and agreed upon by the National Cabinet, the 100-patron limit will be scrapped in SA to be replaced with the more lenient one person per four square metre rule.
SA's domestic borders will also be lifted on Monday 20 July as part of Stage 3, allowing interstate travellers to visit.
"This could only be possible because of the massive improvement right across the entire nation," says SA Premier Steven Marshall.
"We will be looking at some of the state borders with individual jurisdictions who are doing particularly well; we don't want to unnecessarily detain people for two weeks of isolation if they don't pose a health risk to us in South Australia."
Marshall says the state is still considering final legal advice over the lifting of borders and will announce further developments next week.
While SA is pushing ahead with the reopening of its venues, it is unlikely the State's crown jewel Adelaide Oval will be allowed to reopen at a higher capacity under the new Stage 3 restrictions announced today by the Prime Minister.
For venues like smaller stadiums with a capacity of 40,000 people or less under Stage 3 they will be able to operate with specific restrictions in place.
Venues that run outdoor sporting or cultural/entertainment events can be operational as long as people are seated with a cap on 25 per cent capacity, meaning some venues may be able to have up to 10,000 people.
But Adelaide Oval has a total capacity of 53,500, meaning it is too large to fit under the national guideline announced today by the Prime Minister.
That has not deterred SA so far, with the Adelaide Oval to host an AFL match tonight between the Adelaide Crows and Port Adelaide to a seated crowd of 2,000 people.
Updated at 2:59pm AEST on 12 June 2020.
---
PM scraps 100-patron limit, international students to return to Australia

Prime Minister Scott Morrison expects pilot programs for the return of international students to start next month, while patron caps at indoor venues will be replaced with the four square metre rule under Stage 3.
Under changed rules for that next stage under Australia's suppression strategy, stadiums with less than 40,000 people will be able to have seated ticketing at 25 per cent capacity.
Following a week where there have only been 38 new cases of COVID-19, of which more than half were from overseas transmission, National Cabinet met today to put the wheels in motion for significant changes.
The application of these guidelines will still depend on decisions made by State and Territory governments, but they are expected to commence in July.
South Australian Premier Steven Marshall has also announced today that his state's borders will reopen on 20 July.
As of next Friday the 20-person per room limit will be lifted to 75 in the Festival State, while the number of people allowed in a venue will go up from 80 to 300. Thenn Stage 3 will kick in on 29 June with a cap removal as per National Cabinet plans.
100-person venue cap replaced with four square metre rule
Stage 3 previously capped indoor gatherings to 100 people per establishment, but that limit has now been removed and will be replaced by a four square metre rule per person per room rule.
This measure will apply to each room in a premises, so larger venues will have scope to let more people inside.
The new rule will not just apply to venues like pubs, clubs and restaurants, but also for funerals, places of worship and outdoor areas too.
However, nightclubs are "not on the agenda" for this change given the difficulty of enforcing social distancing in the setting.
"We have seen overseas that that is one of the areas of failure where nightclubs have opened, and Michael Gunner, the Chief Minister in the Northern Territory, today noted that even though that is not prohibited the application of the one and a half metre distancing means that venues have not opened there because it's just not commercially practical to do so."
Smaller stadiums to open up for capped seated events
The PM has also announced that for venues like smaller stadiums with a capacity of 40,000 people or less under Stage 3 they will be able to operate with specific restrictions in place.
Venues that run outdoor sporting or cultural/entertainment events can be operational as long as people are seated with a cap on 25 per cent capacity, meaning some venues may be able to have up to 10,000 people.
For example a venue with a capacity of 40,000 up to 10,000 people will be able to attend.
This new rule will also apply to outdoor festivals, enabling them to operate on the condition that patrons are seated. This may rule out traditional music festival-style events though, considering how people often roam about the space and are not seated.
"This is something that will be happening under Stage 3 where states and territories choose to move to that, and it will require quite a bit more work," says the PM.
"We have to give venues and others time to prepare for that sort of change, and I think that will be welcomed."
The PM says venues with a capacity of more than 40,000 people are an entirely separate issue which will require further work, and that these larger venues will not be able to operate under the freedoms given to their smaller counterparts.
This means venues like the MCG, ANZ Stadium in Sydney, Optus Stadium in Perth, Marvel Stadium in Melbourne, Adelaide Oval, Suncorp Stadium in Brisbane, the Sydney Cricket Ground and the Gabba in Brisbane will not be covered under the new changes. However, the PM speculates there will be individual approval processes undertaken by the State Chief Medical Officers to develop re-opening plans.
"When you're up above 40,000 you've got more than 10,000 people going to a gathering and that has implications for the access to those premises, public transport crushes, all of those sorts of things," says the PM.
"I wouldn't want to raise expectations there, I think that will require a fair bit of work. But for those smaller, mid-tier venues and below, up to 25 per cent is something that can be done in Stage 3."
Despite this announcement Adelaide Oval will be operating at a severely reduced capacity this evening for an AFL match between the Adelaide Crows and Port Adelaide. Just 2,000 spectators will be permitted to watch the match live in the stadium that has a capacity of 53,500 people.
International students to return to Australia
Finally, the PM has announced that international students will soon be able to return to Australia.
He says the Federal Government is working closely with states and territories on a pilot program to facilitate the re-entry of international students into Australia, but no date has been set for when that might occur.
Students will only be allowed to come to Australia on a pre-approved plan for particular institutions.
"I'm not suggesting this is going to happen soon - there's still a lot of work to do," says the PM.
"We have received some very well thought through proposals from states as to how this can be done, particularly here in the ACT, and this is something I'm sure we would all welcome happening again.
"But it has to be done with the appropriate quarantine, entry arrangements, biosecurity, all those matters being addressed."
Ultimately, the PM has stressed that States will first need to open up borders domestically before any plan to allow international students into the states can be put into motion.
"If you want borders open for international students then you need to open the borders for Australians," says the PM.
Updated at 2pm AEST on 12 June 2020.
---
Restrictions to ease further in NSW on Saturday

A number of restrictions will be eased in NSW from this Saturday, 13 June, as the State's businesses continue to reopen with COVID-safe practices implemented.
From Saturday food courts will be allowed to reopen, the number of people allowed to visit homes will be increased from five to 20, and the number of people allowed to gather outdoors will be increased from 10 to 20.
"NSW acted quickly to introduce restrictions to tackle the spread of COVID-19 and I am determined for us to move as quickly as possible out of them," says NSW Premier Gladys Berejiklian.
"We have been a world leader in dealing with COVID-19 and I want us to be an example on how to reopen an economy in a COVID-safe way."
Berejiklian says the next raft of changes to COVID-19 restrictions will be implemented from 1 July.
Food courts that do reopen on Saturday must have a COVID-safe plan implemented, including: abiding by the four square metre rule, a maximum of 50 people per separate seated eating area, and enhanced hygiene and cleaning processes.
The announcement comes as NSW has gone two full weeks without detecting a single case of community transmission of COVID-19.
Updated at 10:44am AEST on 11 June 2020.
---
Alliance Aviation hopes to land $122m capital raising

At a time when airlines are synonymous with financial woes, shares in Alliance Aviation Services (ASX: AQZ) have been flying at record highs after the Queensland Government pledged support for a key Whitsundays flight route.
Amidst the broad sentiment of business reopening, it's probably as good a time as any for Alliance to raise some extra cash.
This morning the Brisbane-based group entered a trading halt before announcing a $121.9 million capital raising to capitalise on "a number of prospective expansion opportunities" that have arisen during the COVID-19 pandemic.
The raising comprises a $91.9 million fully underwritten institutional placement that will dilute existing shareholdings by around 24.4 per cent, followed by a share purchase plan (SPP) aiming a further $30 million.
The placement will be at $2.95 per share, representing a 5 per cent discount to the last traded price on the ASX.
"Alliance's recent performance has been outstanding and allows us to be uniquely positioned to look to expand through a number of growth initiatives," says Alliance's managing director Scott McMillan.
"Importantly, this capital raising will give us the ability to invest in these initiatives whilst maintaining our strong balance sheet.
"Maintaining a strong balance sheet has been the focus of the Board for a number of years and is something we will jealously guard."
The company intends to acquire additional aircraft after the raising, provide additional services to existing customers in response to changes in their air travel requirements due to COVID-19, and continue to provide services to entities that were not long-term customers before the outbreak.
The airline also extended the term of its debt facilities with existing lenders on 28 May, with revolving term loan facilities of $70.2 million and a working capital facility of $5 million extended until January 2022.
"We are pleased to announce that Alliance has been able to successfully extend its debt facilities with our banking partners being the Australia and New Zealand Banking Group and the Commonwealth Bank of Australia until January 2022," says McMillan.
"Completing an extension at this time further cements the strong and long-standing relationship Alliance has with its banking club. We intend to undertake a formal refinancing process in 2021."
Updated at 10:10am AEST on 11 June 2020.
---
Consumer confidence almost back to pre-COVID levels, says Westpac chief economist

A spike in employment and underemployment has failed to dampen Australians' spending intentions, with the Westpac-Melbourne Institute Index of Consumer Sentiment rising 6.3 per cent this month.
Westpac Chief Economist Bill Evans says the index level of 93.7 is just two per cent below the average from September to February.
"Remarkably, consumer confidence is now back around pre-COVID levels, having recovered all of the extreme 20 per cent drop seen when the pandemic exploded in March-April," says Evans, who has recently advocated for negative interest rates to stimulate the economy.
"Confidence has clearly been buoyed by Australia's continued success in bringing the Coronavirus under control, which has in turn allowed for a further easing in social restrictions over the last month."
However, he notes sentiment was already "on the weak side" prior to the COVID-19 shock, when the index showed a persistent excess of pessimists over optimists.
"With the unemployment rate set to remain elevated; extensive restrictions staying in place and the economy facing permanent structural change it would be surprising if the recent upward momentum continues and is able to sustain a stable level of confidence which is above that previous period," says Evans.
"We have also seen more even confidence levels in the major states as restrictions begin to be eased extensively across the country."
Victoria's consumer confidence index lagged NSW in May with an 8.4 per cent lift compared to 23 per cent, but this month Victoria's level has jumped by 11.9 per cent, placing it ahead of the national average at 94.9.
Confidence NSW is also above the national level at 95.5, representing a rise of 4.8 per cent.
"While the monthly gains are impressive, the Index is still relatively weak by historical standards in pessimistic territory overall and down 7 per cent on a year ago," the economist explains.
"The general picture is of continued intense pressure on family finances and concern about the nearterm outlook for the economy but with firming optimism around prospects for finances in the year ahead and the economy's medium-term outlook."
He says the contrast between that medium-term outlook in this recession compared to the last recession in the 1990s is important, as it is 50 per cent higher than the average over those "long four years".
"Respondents are confident that they can see eventual better times ahead whereas in the early 1990s there was a pervasive mood of despair for years," he says.
"All component indexes recorded gains in June but the largest improvements were around views on the economic outlook and 'time to buy a major item'.
"Consumer concerns around the economy are definitely easing. The 'economy, next 12 months' sub-index is up another 8.4 percent and the 'economy, next five years' sub-index is up 6.4 per cent," he says, clarifying this is however from an "exceptionally weak base".
Meanwhile, consumer assessments of family finances are up 3.6 per cent versus a year ago, while their forward views are in "net optimistic" territory 105.3; just a couple of points shy of the long-run average of 107.5.
Evans says this mix points to what is likely to be a delicate period for policy.
"A tangible improvement in finances, linked to the reopening of the economy, will be required (rather than just an expected one)," he says.
"This improvement will need to be firmly in place before key supports to household finances such as JobKeeper, JobSeeker and home loan repayment holidays can be withdrawn.
"On a more promising note, the picture from buyer sentiment suggests we may see a significant 'pop higher' in some forms of spending near term."
Sentiment around housing showed a modest improvement in June, with assessments around 'time to buy' consolidating on previous gains and price expectations showing a lift, albeit to still very weak levels.
"The 'time to buy a dwelling' index dipped 0.5 per cent but held on to most of May's strong rebound following the collapse in this index in April.
"At 107.6, the index continues to hold in positive territory but is still well below 2019's average level of 118 - a pattern evident across all of the major states.
"To date, house prices have held up surprisingly well, albeit on extremely low turnover. Resilient reads on 'time to buy a dwelling' are encouraging but the survey continues to point to a sharp deterioration in the outlook for prices compared to a few months ago."
This pessimism extends across all the major states, although Evans observes it is somewhat more entrenched in Victoria (75.3) than in NSW (84.2).
"Responses to additional questions on the 'wisest place for savings' show risk aversion has lifted since March," he says.
Updated at 11:47am AEST on 10 June 2020.
---
Kogan to ride e-commerce success with $115 million capital raise

At a time when e-commerce star Kogan.com (ASX: KGN) is seeing accelerated sales prompted by the COVID-19 pandemic, the company has announced it will conduct a $115 million capital raise.
The company says its $100 million placement and $15 million share purchase plan (SPP) will enable the retailer to take advantage of positive market conditions and provide improved financial flexibility.
Kogan's announcement comes just a few days after the company announced its adjusted earnings before interest, taxes, depreciation and amortisation (EBITDA) was up 200 per cent in the fourth quarter to date, demonstrating the resilience of the company's online model during the COVID-19 pandemic.
Additionally, adjusted EBITDA in the financial year through to the end of May was up by more than 50 per cent.
"Kogan.com is well positioned to take advantage of current market conditions given the Company's ability to extract synergies through its leading proprietary systems, diversified supply chain and low cost of doing business," says Kogan.
"While multiple opportunities are presenting themselves, the Company will focus on opportunities that are value accretive and broaden its offering, expand its customer base or enhance its operating model."
The raise also comes in the wake of Kogan recently acquiring Australian furniture retailer Matt Blatt for $4.4 million which will be moved online.
"Kogan.com is committed to making the most in-demand products and services more affordable and accessible," says Kogan CEO Ruslan Kogan.
"Our long-term strategy has enabled us to thrive in the current challenging environment, and we are now in a better position than ever to take advantage of growth opportunities. Our low cost of doing business and digital expertise have put us in the driver's seat to capture market share as the retail industry undergoes significant change."
The $100 million fully underwritten placement will see 8.7 million new shares issued, representing 9.2 per cent of the company's existing issued capital.
The placement will be conducted at $11.45 per share, representing a 7.5 per cent discount to the last close price at Tuesday, 9 June of $12.38.
Canaccord Genuity (Australia) Limited and Royal Bank of Canada are acting as joint lead managers and underwriters to the placement.
After the placement is completed Kogan will conduct the offer of new shares under a non-underwritten SPP to existing shareholders.
The SPP will give eligible shareholders the opportunity to apply for up to $30,000 worth of new shares at the same issue price of the placement.
Updated at 10:27am AEST on 10 June 2020.
---
Wesfarmers online sales shoot up during COVID-19 restrictions

The COVID-19 pandemic has continued to be a bountiful period for retail giant Wesfarmers (ASX: WES), with sales up across almost every one of the company's brands over the last five months.
The company attributes its continued success to the strong positions its brands hold in a variety of consumer segments that have generally performed well during the period of COVID-19 restrictions this year.
Of note, online has been increasingly important for Wesfarmers; the company's retail businesses delivered total online sales growth of 89 per cent in the first five months of the year.
On a financial year to date basis, total online sales across the group increased 60 per cent to $1.4 billion (or $1.9 billion if Catch is included).
In particular Wesfarmers says significant demand growth was witnessed at Bunnings and Officeworks as customers continue to spend more time at home, whether they be working or relaxing. But these COVID-19 trends could just be a temporary sales boost.
"Sales growth in the calendar year to date has increased significantly relative to the levels achieved in the first half of the financial year," says Wesfarmers.
"Given the significant changes to the usual customer shopping patterns and expected future changes to government measures, it is uncertain whether the high levels of sales growth will continue for the remainder of the calendar year."
Overall, effectively every one of Wesfarmers brands saw positive sales growth in the first five months of 2020, with the company's ecommerce arm Catch proving to be the standout segment in terms of growth, with sales up 68.7 per cent so far this year.
Officeworks, Bunnings and Kmart also recorded positive sales momentum in the first five months up 27.8 per cent, 19.2 per cent and 4.1 per cent respectively.
Target was the only Wesfarmers brand that saw sales go down during the period, demonstrating further why the company is planning on transforming to 40 large format Target stores and 52 Target Country stores into Kmart stores.
Now, with the easing of trading restrictions in New Zealand and north-western Tasmania, the company's managing director Rob Scott (pictured) has celebrated Wesfarmers' retail networks returning to full operation.
"Each of our businesses remains vigilant in prioritising the safety of team members and customers," says Scott.
"Safety measures, including restricting the number of people in store, may at times result in some inconvenience and we are grateful for the patience and understanding of customers."
Never miss a news update, subscribe here. Follow us on Facebook, LinkedIn, Instagram and Twitter.
Business News Australia
---
NZ to lift all COVID-19 restrictions tonight

After taking a stricter approach than most nations to tackling COVID-19, New Zealand is now in the enviable position of being able to lift all social distancing restrictions except border controls.
The country reported no active cases today for the first time since 28 February, and it has now been 17 days since the last new case was reported.
Following the good news that it has been 40 days since the last case of community transmission and 22 days since that person finished self-isolation, Prime Minister Jacinda Ardern (pictured) announced New Zealand would move to Covid-19 Alert Level 1 at 11:59pm.
The declaration means effectively all restrictions will be lifted, although borders will remain closed with mandatory isolation and quarantine as New Zealand's first line of defence.
There will be no restrictions on gatherings, schools or workplaces, but people will be encouraged to keep diaries of their movements, maintain good hygiene and exercise caution.
"With care and commitment our team of 5 million has united to protect New Zealanders' health and ensure we now have a head-start on our economic recovery," Ardern said today.
"At Level 1 we become one of the most open economies in the world and now we must seize our advantage of going hard and early to beat Covid-19 and use the same focus and determination we applied to our health response to rebuild our economy.
"We are confident we have eliminated transmission of the virus in New Zealand for now, but elimination is not a point in time it is a sustained effort."
She noted the world would remain in the grip of a global pandemic for some time to come, and emphasised New Zealand would need to be prepared for more cases.
"Caution and hard work got us down the mountain safely when the descent is always the most perilous part," she said.
"At every step there have been those who've pushed us to do something different, to go faster or further, but our results speak for themselves."
Updated at 4:10pm AEST on 8 June 2020.
---
QLD Government to prop up Village Roadshow, Ardent Leisure, Currumbin Wildlife Sanctuary

Gold Coast theme parks will receive around one in every five dollars spent under the Queensland Government's $50 million tourism recovery package.
Premier Annastacia Palaszczuk has today announced $11 million to help Village Roadshow (ASX: VRL), Ardent Leisure (ASX: ALG) and Currumbin Wildlife Sanctuary retain staff while they wait for other support from banks and the Federal Government.
Village Roadshow operates Warner Bros Movie World, Sea World and Wet'n'Wild, while Ardent Leisure is known for Dreamworld which even before COVID-19 was struggling to recover from the Thunder River Rapids Ride (TRRR) tragedy of 2016.
"These are some of the biggest employers on the Coast. I'm making sure that this funding gets out the door as soon as possible to help safeguard jobs during these tough times," says Palaszczuk.
"Tourism businesses are doing it tough right now. It's crucial that we work with the private sector to ensure that they can get back to businesses soon."
Tourism Minister Kate Jones says theme parks are vital to the Gold Coast's economy.
"Sea World, Dreamworld, Currumbin Wildlife Sanctuary - these are names that are recognised right throughout the world," she says.
"We're working closely with these operators to ensure workers don't lose their jobs.
"The funding we're delivering today must be used for specific purposes, including wages, re-opening of attractions and other supplier costs."
Assistant Tourism Minister and Member for Gaven, Meaghan Scanlon, lobbied for funding to support some of the industry's biggest employers.
"One in seven Gold Coast workers are employed in the tourism industry - many of these people work at theme parks," she says.
"Today's funding will help to give workers certainty that we're standing with them through this crisis."
Dreamworld chief executive officer John Osborn welcomes the support and is pleased the government recognises the significant role our Parks play in the economy.
"We welcome the support announced by the Premier and Minister Kate Jones today as it will reduce our cash burn while we work with the QLD Government to finalise a date that we can viably re-open," he says.
In addition to the $50 million tourism recovery package aimed at protecting "tourism icons", the state government is also spending $7 million on a domestic tourism campaign, whose slogan "Queensland - You're Good to Go" was revealed yesterday.
Palaszczuk says the campaign is projected to deliver $1 billion in overnight accommodation takings for hard-hit tourism operators over the next four months.
"In coming weeks, you'll see our 'Queensland - You're Good to Go' campaign on television, in newspapers and across social media platforms showcasing the best of our state from Cape York to Coolangatta.
"Because Queenslanders have done such a great job flattening the curve, we were able to open up intrastate travel two weeks earlier."
The Premier had previously indicated the border could remain closed as late as September and the state's roadmap to recovery indicates a July reopening, but there has been speculation that this week she will be able to set an even earlier date.
The campaign will run from June until August, with flow-on effects expected into the September school holidays.
"Tourism and Events Queensland expects Queenslanders could spend over 9 million nights enjoying what the state has to offer, which would produce a $1 billion in overnight expenditure for tourism operators.
"Every year, 3.2 million Queenslanders spend nearly $10 billion holidaying interstate and overseas.
"We live in one of the most beautiful places in the world. Now's the time to get out and about and experience it."
Jones says the campaign is designed with the June-July holidays in mind.
"When interstate travel can return, this campaign will be expanded and tweaked to ensure our destinations remain front-of-mind for all Australian travellers," she says.
"The June-July school holidays are shaping as a crucial time for our operators.
"People often say to me I've always wanted to see Carnarvon Gorge, I've always wanted to get to Airlie Beach. Well, now's the time."
Australia Zoo's Terri Irwin welcomes the campaign.
"I am excited for Queenslanders to experience the many destinations that make our state so spectacular," she says .
"Australia Zoo is proud to be reopening for families to reconnect with wildlife and nature. Now it is even more important than ever to travel, make memories, and share mateship."
Tourism and Events Queensland (TEQ) chief executive Leanne Coddington says the campaign will show Queenslanders the very best of their own back yard.
"This is the chance for Queenslanders to experience our own tourism offerings and in turn help an industry which has been hard hit by the COVID-19 pandemic," she says.
Updated at 1:35pm AEST on 8 June 2020.
---
Rex expands flight offering on nine regional routes

Regional flight operator Rex (ASX: REX) is responding to Qantas' (ASX: QAN) increased flight offering with daily weekday flights on six routes, as well as more services on another three.
The announcement on Friday relates to flights where Qantas is in competition with Rex and is doubling its number of flights.
"From 6 July 2020, Rex will be providing daily weekday return services to these competitive routes and will also provide twice-daily return services on certain days in order to facilitate day-return travel," Rex said.
Rex will offer daily return flights every weekday for Sydney to Albury, Wagga Wagga and Orange; Melbourne to Mildura; and Adelaide to Whyalla and Port Lincoln.
The airline will offer return flights four days a week from Sydney to Dubbo, three days Sydney to Ballina, and two days Adelaide to Kangaroo Island.
Rex was rescued from COVID-19 uncertainty at the end of March when the Federal Government announced a $198 million Regional Air Network Support (RANS) program.
"Given that Rex and QantasLink together operate approximately 80 per cent of all eligible regional services, both carriers will, over the six-month period, be expected to receive proportionately 80 per cent of the grant amount," Rex reported in a clarification note on 4 June.
The company has also explained the Qantas and Virgin were excluded from the $100 million Regional Airlines Funding Assistance (RAFA) program, so it is a possibility that Rex will receive the majority of that amount given its network accounts for more than 60 per cent of all regional services excluding the two large players.
Rex however does not expect to see much of the $715 million Australian Airline Financial Relief Package (AAFR).
"A large portion of these funds will be directed to Airservices Australia. Of the remaining funds that will go to the airlines over 90 per cent will go to the Qantas and Virgin Australia Groups," the airline said.
"It is clear for all to see that Qantas and Virgin Australia will receive the lion's share of the $1.2 billion grants available, exceeding what Rex will receive by many fold.
"The Federal Government has justifiably placed regional aviation as a national priority and has provided appropriate assistance to ensure that regional communities will retain their vital air services after the COVID-19 crisis is over."
In May the company confirmed it had been approached by several parties interested in providing around $200 million worth of equity required to start domestic operations in Australia.
The company has also reached various funding arrangements with state governments as well to reactivate 88 return service flights since late April.
Updated at 10:25am AEST on 8 June 2020.
---
WA to spend $444m on housing stimulus package

The Western Australian Government has announced a housing stimulus package worth almost two-thirds of the national HomeBuilder program, with a strong focus on social housing and grants for homebuyers.
The state government expects its $444 million package announced yesterday to support around 4,300 jobs in the building and construction sectors, comprising the following benefits:
$117 million for $20,000 Building Bonus grants provided to homebuyers who sign up before December 31, 2020 to build new houses or purchase a new property in a single tier development (such as a townhouse) prior to construction finishing, creating 2,600 jobs;
$8.2 million to expand the 75 per cent off-the-plan transfer duty rebate, capped at $25,000, until December 31, 2020 to include purchases in multi-tiered developments already under construction;
$97 million to construct social housing dwellings and purchase off-the-plan units for supported housing programs;
$142 million to refurbish 1,500 existing social housing dwellings; and
$80 million for targeted maintenance programs for 3,800 regional social housing properties - including remote Aboriginal communities' stock and subsidised housing for regional government workers.
The plan is scheduled for immediate rollout, and will run into 2020-21, providing tradespeople and building material suppliers with additional certainty about an ongoing pipeline of work.
Premier Mark McGowan says the new major housing package will provide a much-needed boost to WA's economy.
"It will provide a pipeline of work for WA building companies and local tradies, like bricklayers, plumbers, carpenters and painters, as we recover from the COVID-19 pandemic," he said.
"The social housing component will also go a long way to helping those in need, get into a quality home.
"WA's residential building industry makes a significant contribution to our economy and community, so it's important we help protect, support and create new jobs in this space."
State Treasurer Ben Wyatt says the package takes the government's total COVID-19 stimulus and relief commitments to date up to $2.3 billion.
"The package will recharge our housing industry by bringing forward a pipeline of work, providing a boost to our economy and supporting jobs," he says.
"An estimated 66,000 workers are directly employed in the residential construction sector and many thousands more rely on the industry for their livelihoods," adds Housing Minister Peter Tinley.
"The various elements of the social housing package are designed to provide opportunities for work - especially in regional areas - and help propel WA's economic recovery."
"It will also result in more liveable, modern homes for tenants and improve the overall lifespan of our social housing stock - a publicly-owned asset with an estimated worth of about $14 billion."
In a column for The Conversation last week in anticipation of the Federal Government's $680 million HomeBuilder program, Brendan Coates of the Grattan Institute argued social housing stimulus would help address several problems at once; it not only provides a safety net and helps tackle homelessness, but it also pumps money into the construction sector quickly without the injection simply being passed on through higher property prices.
Updated at 9:20am AEST on 8 June 2020.
---
Blueprint for Trans-Tasman travel bubble submitted to Prime Ministers

The Trans-Tasman Safe Border Group has submitted a blueprint for the resumption of 'safe' Trans-Tasman travel to both the New Zealand and Australian Prime Ministers.
The proposal, developed by a group of 40 experts, government entities and industry bodies, recommends the establishment of a 'Safe Travel Zone' to be introduced in line with strong baseline health conditions in each country for the management of COVID-19.
The recommendations include several layers of protections across the traveller journey, allowing for the sustainable re-start of 'scheduled passenger services' without the need for a 14-day passenger quarantine.
Scott Tasker, co-chair of the Trans-Tasman Safe Border Group and Auckland Airport's General Manager Aeronautical Commercial, says the proposal is aligned with official guidance released yesterday from the International Civil Aviation Organisation.
"This has been a significant piece of work involving experts from all parts of the system," says Tasker.
"We've worked solidly together over the past three weeks to develop a detailed and comprehensive framework to enable the safe and sustainable re-start of scheduled passenger services between Australia and New Zealand, and we're delighted to have submitted our proposal to government.
"We believe our recommendations will effectively manage the risks but importantly they will also provide confidence to Australian and New Zealand travellers to visit each other's countries to reconnect with family and friends, re-establish vital business links, and provide a lifeline of visitors to our respective tourism industries."
The Australian and New Zealand Governments will now review the proposal.
The Trans-Tasman Safe Border Group says re-establishing this travel link is vitally important considering the two countries are two of the most integrated economies in the world.
"Each country is vital to the success of each other's small and medium-sized businesses, and contributes strongly to each other's tourism sectors, with estimated $3 billion in international visitor spend each way every year," says the Trans-Tasman Safe Border Group.
"Prior to the outbreak of COVID-19, New Zealand was the most popular outbound travel destination for Australians with 1.5 million visitors arriving from across the Tasman in 2019, accounting for 40 per cent of all foreign visitors to New Zealand.
"Likewise, Australia was the most popular outbound travel destination for Kiwis. New Zealand is Australia's second largest source market for visitors (behind China), with 1.4 million visitors in 2019, accounting for 15 per cent of total visitors to Australia."
Updated at 12:58pm AEST on 5 June 2020.
---
CSL aims to produce "100 million doses" of COVID-19 vaccine in late 2021 if trials prove successful

Australian biotech giant CSL (ASX: CSL) has entered into a "significant" agreement that formalises the work it has been doing with COVID-19 vaccine developers since January.
A new partnering agreement with the Coalition for Epidemic Preparedness Innovations (CEPI) and the University of Queensland (UQ) aims to accelerate the development, manufacture and distribution of a COVID-19 vaccine candidate.
Funding will come from CEPI and CSL to develop and manufacture a vaccine candidate pioneered by UQ researchers, harnessing the university's proprietary "molecular clamp" technology that allows for a more effective immune response by locking unstable surface proteins.
Phase 1 clinical trials are expected in July with late stage clinical trials expected to follow.
If these trials are successful, the groups indicate a vaccine could be available for distribution by 2021 and large-scale production will take place at CSL's biotech manufacturing facilities in Melbourne.
---
UQ COVID-19 vaccine shows "potent protective response" in early tests
'Leadership is learnable', says doctor on the COVID-19 frontline
---
CSL believes the production technology can be scaled up to produce 100 million doses towards the end of 2021, while it would also sub-contract other global manufacturers to improve availability and geographical distribution.
"We are pleased to be able to provide our scientific expertise and platform technologies to make a strong contribution to this critical joint effort with CEPI, the University of Queensland and others," says CSL chief scientific officer, Professor Andrew Cuthbertson (pictured).
"The devastating toll COVID-19 has inflicted on the world is being countered by an extraordinary effort from scientists who have crossed borders and boundaries to collaborate, pool together their resources and make progress at a rate not seen before.
"CSL will contribute to UQ's promising vaccine with our proprietary adjuvant, MF59, made by Seqirus, along with expertise in process science and scale-up from our Australian facilities, managing advanced clinical trials and the large-scale manufacture of the recombinant vaccine."
CEPI CEO Richard Hatchett says investing in large-scale manufacturing capacity now will reduce the time needed to deliver millions of doses of the UQ vaccine to those who need them the most, should the candidate prove safe and effective.
CEPI chair Jane Halton emphasises the importance of collaboration, with the partnership set to benefit enormously from CSL's experience and capabilities in vaccine development and large-scale manufacturing.
"If this vaccine is successful, the partnership model we have established will enable CEPI to provide a significant number of doses to the COVID-19 Vaccine Global Access Facility for those who need them most, while allowing CSL to fulfil its own long-standing biosecurity commitment."
UQ Vice Chancellor Professor Peter Høj says the university is "absolutely delighted" at the speed with which this critical juncture has been reached, off the back of positive results from UQ's early pre-clinical studies.
"This accelerated timeframe, hitting the key milestones in the development of the UQ vaccine, would not have been possible without CEPI, our partners and additional funding assistance from the Queensland State Government ($10m), the Federal Government ($ 5m) and philanthropic partners," he said.
"Having CSL, an Australian-based global biotech leader, take our vaccine forward is a fantastic result for the dedicated research team who have worked tirelessly since January on this project, which will benefit Australians and the world."
Investors appear to have expected more from CSL - perhaps a shorter timeframe for vaccine development - as its share price is down 3.58 per cent this afternoon at $283.70.
Updated at 12:59pm AEST on 5 June 2020.
---
COVID-19 restrictions to ease from today for the long weekend

Around the country COVID-19 restrictions will be eased from today, with many of these moves to be welcomed by Australians just in time for the long weekend.
Queensland Premier Annastacia Palaszczuk - whose state along with WA won't have a public holiday on Monday - has today celebrated the news that venues will be permitted to open to more than 20 seated patrons from midday today.
The restrictions will see venues be able to accommodate groups of up to 20 seated people per dining area on the condition a COVID-safe plan has been approved.
"We are expecting a bumper weekend," said Palaszczuk.
But Queensland is not the only state reopening businesses today, with the Northern Territory, Tasmania, and Western Australia all easing COVID-19 restrictions.
Northern Territory
The NT is moving into Stage 3 of restrictions being eased from midday today.
From today Territorians will be able to:
Frequent bars without consuming food;
Attend nightclubs, cinemas, theatres, concert or music halls and other approved entertainment venues;
Participate in licenced gaming activities;
Enjoy amusement venues, community centres and play centres; and
All previously restricted services at places that provide beauty therapy, cosmetic services, tattooing or body art can be accessed again from 5 June.
Sports including football, netball, basketball and soccer will also be able to resume and be officiated, with supporters and up to 500 people in any arena, stadium or community sport competition
Tasmania
Stage 2 easing of restrictions are being brought forward today from 3pm in Tasmania.
Pubs, restaurants and cafes will be able to provide table service for up to 40 patrons, with delivery and takeaway services able to continue.
Western Australia
In WA Phase 3 COVID-19 restrictions will be eased from Saturday midnight
As part of Phase 3, Western Australia will be the first State in the nation to implement a two square metre per person capacity rule for venues, replacing the previous four square metre rule, which is the current national advice.
Other restrictions will be eased, allowing:
non-work indoor and outdoor gatherings of up to 100 people at any one time, per single undivided space, up to 300 people in total per venue (100/300 rule);
food businesses and licensed premises may operate with seated service;
alcohol may be served without a meal at licensed premises (patrons must be seated);
food courts can reopen with a seated service;
beauty therapy and personal care services to reopen;
saunas, bath houses, float centres, massage and wellness centres to reopen (100/300 rule);
galleries, museums, theatres, auditoriums, cinemas and concert venues can reopen (during any performance, the patrons must be seated. (100/300 rule));
Rottnest Island to reopen to the WA general public;
Perth Zoo to open with no patron limit for the whole venue (the 100/300 rule applies to indoor spaces and cafés/restaurants);
wildlife and amusement parks can reopen (100/300 rule);
arcades (including pool/snooker, ten pin bowling, Timezone), skate rinks and indoor play centres to reopen (100/300 rule);
auction houses and real estate auctions can reopen;
TAB and other gaming venues (other than the Casino which is being considered separately) are permitted to reopen;
full contact sport and training is now permitted;
playgrounds, skate parks and outdoor gym equipment are permitted to be used;
parents/guardians will be able to enter school grounds to drop off or pick up their children;
gyms, health clubs and indoor sports centres will be able to offer the normal range of activities, including the use of all gym equipment (gyms must be staffed at all times and undertake regular cleaning).
Travel will now be permitted throughout Western Australia, including into the Kimberley region, pending the Commonwealth's approval to remove the Biosecurity Area on June 5. Access into remote Aboriginal communities will remain prohibited.
Updated at 12:26PM AEST on 5 June 2020.
---
Qantas and Jetstar will triple flight capacity to meet "pent up demand"

Qantas (ASX: QAN) and its subsidiary Jetstar will soon run 300 more return flights per week in response to the easing of travel restrictions in many parts of the country.
The uptick over the rest of June applies to domestic travel only, with capacity set to increase from five per cent of pre-coronavirus levels to 15 per cent by the end of the month.
Additional flights will likely operate during July depending on travel demand and the further relaxation of state borders. By the end of next month the group expects it could be at 40 per cent of pre-crisis capacity.
The move follows an announcement the Queensland Government would be supporting Alliance Airlines - partly owned by Qantas - to run four weekly return flights from Brisbane to the Whitsundays.
Details of the additional flights include:
More services on capital city routes particularly Melbourne-Sydney and a number of routes to-and-from Canberra;
Increased intra-state flights for Western Australia, Queensland, New South Wales and South Australia. Broome, Cairns and Rockhampton to see a significant boost in weekly flights;
Flights will resume on eight routes not currently being operated; and
Qantas to commence flights from Sydney to Byron Bay (Ballina), after the route launch was postponed due to the Coronavirus.
Click here for the full list of the increased network.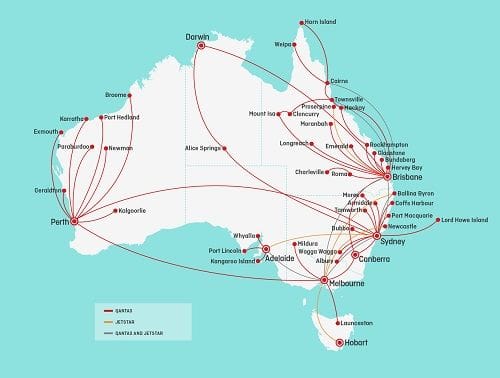 Qantas Group CEO Alan Joyce (pictured) says there has been a lot of pent-up demand for air travel, and the company is already seeing a big increase in customers booking and planning flights in the weeks and months ahead.

"We can quickly ramp up flying in time for the July school holidays if border restrictions have eased more by then," he says.

"Normally, we plan our capacity months in advance, but in the current climate we need to be flexible to respond to changing restrictions and demand levels.

"The one million people who work in tourism around Australia have been really hurting over the past few months. These additional flights are an important first step to help get more people out into communities that rely on tourism and bring a much-needed boost to local businesses."

The executive also explains parts of the company's Fly Well program, which includes optional masks and travellers will still be able to sit side-by-side as before.

"Customers will notice a number of differences when they fly, such as masks and sanitising wipes, and we'll be sending out information before their flight so they know exactly what to expect and have some extra peace of mind," he says.

"Importantly, the Australian Government's medical experts have said the risk of contracting Coronavirus on an aircraft is low."

However, close contact is considered one of the key ways the virus is spread.

Close contact is generally defined as either 15 minutes of face-to-face contact with an infected person, or sharing a closed space that is not well-ventilated with an infected person for a total of more than two hours.

When Qantas released its Fly Well program, the group's medical director Ian Hosegood gave his explanation as to why the risk of catching coronavirus on an aircraft is extremely low.

"That's due to a combination of factors, including the cabin air filtration system, the fact people don't sit face-to-face and the high backs of aircraft seats acting as a physical barrier," Dr Hosegood says.

"As far as the virus goes, an aircraft cabin is a very different environment to other forms of public transport.

"Social distancing on an aircraft isn't practical the way it is on the ground, and given the low transmission risk on board, we don't believe it's necessary in order to be safe. The extra measures we're putting place will reduce the risk even further."

Updated at 11:48am AEST on 4 June 2020.
---
PharmAust lab tests show positive signs for suppressing COVID-19

Perth-based company PharmAust (ASX: PAA) has announced positive preliminary results in experiments aimed at inhibiting the virus that causes COVID-19.
Traditionally focused on repurposing existing drugs for cancer therapy, PharmAust is exploring the potential of monepantel (MPL), a drug traditionally used against gastrointestinal deadworms in sheep.
Experiments with MPL and monepantel sulfone (MPLS) have been undertaken by Melbourne's Walter and Eliza Hall Institute of Medical Research on PharmAust's behalf, testing the active ingredients' effects on cells infected with SARS-CoV-2 in tissue culture.
Today PharmAust came out of a trading halt after announcing these tests demonstrated both infectivity and replication of SARS-CoV-2 virus particles can be suppressed by between 50-95 per cent in cell cultures.
Virologists at the Walter and Eliza Hall Institute demonstrated that in preliminary experiments both MPL and MPLS reduce the capacity of SARS-CoV-2 to replicate as well as the capacity of SARS-CoV-2 to mature into infectious virus particles.
Of note, relatively low concentrations of monepantel blocked the infectious capacity of SARS-CoV-2 in tissue culture.
Based on the above findings, PharmAust has moved to broaden and extend its intellectual property in the area of anti-viral activity through the filing of a patent application specifically covering MPL in the treatment of COVID-19.
"PharmAust is excited by this early data set and is looking forward to continuing the project with the Walter and Eliza Hall Institute," says PharmAust's chief scientific officer Dr Richard Mollard.
"Continuation will involve repetition of these experiments for validation and comparisons with other mTOR inhibitors and treatments currently in the clinic."
Walter and Eliza Hall Institute researcher Professor Marc Pellegrini says these early signs demonstrating that monepantel can block SARS-CoV-2 infectivity in vitro are encouraging.
Updated at 11:19am AEST on 4 June 2020.
---
$680 million HomeBuilder program a "lifeline" for construction industry

The Federal Government has today announced a $680 million 'HomeBuilder' program to support the residential construction sector.
Until the end of 2020 the program will provide owner-occupiers with a grant of $25,000 to build a new home or substantially renovate an existing one, but there's a catch: renovators must be spending at least $150,000 to be eligible.
Construction must be contracted to commence within three months of the contract date, and applicants will be subject to a range of eligibility criteria, including income caps of $125,000 for singles and $200,000 for couples based on their latest assessable income.
A national dwelling price cap of $750,000 will apply for new home builds, and a renovation price range of $150,000 up to $750,000 will apply to renovating an existing home with a current value of no more than $1.5 million.
The program is expected to provide around 27,000 grants.
The Morrison Government expects the program will support 140,000 jobs directly and another one million related jobs in the residential construction sector.
The program has been welcomed by industry associations like Master Builders Australia (MBA) and the Housing Industry Association (HIA) and follows some dire warnings from the sector that half a million jobs were at risk without Government intervention.
In May HIA forecasted that new home building was about to fall in half from 200,000 new homes constructed by the Association in FY19 to just 112,000 in FY21.
But with the announcement of the HomeBuilder program, HIA says the package could generate over $15 billion in national economic activity.
"Most importantly this incentive will support hundreds of thousands of jobs across Australia," says HIA managing director Graham Wolfe.
"The housing industry directly engages more than one million people builders, trade contractors, designers, professional service providers and others. It provides jobs for many thousands more in the manufacturing and retail sectors, which supply the materials, products, white goods and furnishings that go into our homes.
"This incentive will help to address the projected decline in housing activity over the next 12 months."
MBA CEO Denita Wawn has also welcomed the program, describing it as a "lifeline" for an industry teetering on the edge of disaster.
"HomeBuilder will be a lifeline for an industry facing a valley of death in the coming months. It will mean more new homes, more small businesses and jobs are protected and provide a stronger bridge to economic recovery for our country," says Wawn.
"Based on the Government's estimated 27,000 grants, we think the scheme will be used for $10 billion in building activity, supporting the viability of 368,000 small builders and tradies the businesses which employ 800,000 people in communities around Australia.
"Supporting the home building industry is essential to strengthening the economy and helping Australia recover from the impacts of the pandemic. Residential building activity gives back more than double to the communities that sustain it with every $1 invested in home building activity providing $3 to the wider economy."
The announcement comes just a day after Federal Treasurer Josh Frydenberg declared Australia's economy to be in recession.
His announcement was made in conjunction with the release of the National Accounts for the March Quarter which showed a GDP contraction of 0.3 per cent, making it virtually certain that a recession will be confirmed in June considering most of the impact to the economy was felt during April and May.
"It was in this quarter the March quarter that consumer and business confidence fell to its lowest level on record. That the ASX 200 lost a third of its value and, on the 16th of March, saw its biggest daily fall of 9.7 per cent on record," said Treasurer Frydenberg yesterday.
"When combined with the ongoing drought, which saw farm GDP fall by 2.4 per cent in the quarter, and the devastating impact of the fires that were raging across many states, one looks back on the March quarter, and there wasn't much good news.
"Seen in this context, the fact that the Australian economy only contracted by 0.3 per cent shows the Australian economy's remarkable resilience."
Updated at 9:47am AEST on 4 June 2020.
---
COVID-19 restrictions, US unrest hit Ecofibre hemp sales

Three weeks after securing a breakthrough deal with US pharmacy chain CVS, hemp nutraceuticals company Ecofibre (ASX: EOF) has withdrawn guidance due to the unpredictable impact of civil unrest on sales.
Ecofibre's Ananda Hemp range of topical creams and salves weren't going to be offered at CVS until December, but the group claims reordering from other distributors, purchasing groups and pharmacies has become inconsistent.
This is due to a challenging retail environment stemming from prolonged restrictions, and more recently the civil unrest that has erupted in the US since the death of George Floyd in police custody.
"In the US, the early stages of re-opening the economy began in the last two weeks," says Ecofibre CEO Eric Wang.
"However, this re-opening is being impacted by a series of very unfortunate and sad incidents that have led to civil unrest across most major US cities.
"As a result of these events, Ecofibre's major markets will be impacted for an unknown period of time."
Ecofibre emphasises its strong confidence in the US hemp-derived CBD (Cannabidiol) market, and looks forward to a return to a level of normality in due course.
"The Company continues to work towards achieving our expected accounting profit, but due to the high degree of uncertainty on business re-openings that impact US sales, it is appropriate to withdraw second half guidance at this time."
The group's pivot to personal protective equipment (PPE) is showing results for Ecofibre's Hemp Black line of hemp textiles, with sales of more than 67,000 washable masks whose yarn is infused with CBD and copper to provide anti-microbial and anti-odor properties.
Produced by Ecofibre's manufacturing partner TexInnovate, revenues reached $1.2 million in May with a 50 per cent gross margin.
The manufacturing schedule will produce the same amount for the month of June before increasing capacity in July. A second line of PPE, Hemp Black Fusion/Flex Gaiter (neck gaiter), is expected to be launched this month.
The group's Ananda Food segment continues to see steady via Woolworths and its Macro branded hemp seed and protein powder.
Updated at 9:45am AEST on 4 June 2020.
---
Live export ban exemption refused for livestock vessel Al Kuwait

The Australian Department of Agriculture has refused to grant an exception for Rural Export and Trading (WA) to export live sheep to the Middle East.
The livestock vessel Al Kuwait, currently docked in Fremantle, has been unable to depart Australia before 1 June as planned after 19 crew members tested positive for COVID-19.
As a result, the ship missed the deadline for exporting livestock out of Australia to the Middle East.
Under current legislation the Federal Government bans all live export out of Australia into the Middle East during the region's summer because of the harm that animals suffer under in the hot conditions.
The exporter applied for an exemption from the 1 June deadline, but the Federal Department of Agriculture has refused to grant the company one. This means the $12 million shipment will remain in Australia.
"Following consideration of all relevant matters under the legislation, including animal welfare and trade implications, the department has taken the decision not to grant an exemption to the exporter," says the Department of Agriculture.
"The livestock that was to be exported in this consignment remain at registered premises and the department is satisfied there are no welfare concerns."
Animals Australia director of strategy Lyn White says the Government's decision is a major win for the 56,000 sheep that will not be subjected to the "blistering heat of the Middle East summer".
"A decision to allow this shipment would not only have subjected animals to extreme and extended suffering, it would also have required an exemption to new laws that prohibit dangerous summer shipments," says White.
"Over the last week, we worked every angle and played every strategic card we could to present the strongest possible case to prevent these sheep from being exported. From legal avenues, close consultation and advice to the Department of Agriculture, and media coverage. But perhaps most critical of all was the analysis we instigated from an expert climatologist that warned, if the ship set sail, it would be sending animals directly into the 'danger zone' for heat stress.
"The live export industry has been sent a very strong message: they are no longer above the law. They can no longer expect to 'call the shots'."
Never miss a news update, subscribe here. Follow us on Facebook, LinkedIn, Instagram and Twitter.
Business News Australia
---
Alliance Airlines to run four weekly flights to the Whitsundays

The Whitsundays tourism industry received a boost today after the Queensland Government announced it would support Alliance Airlines to run flights from Brisbane to Proserpine.
In a deal secured in partnership with the Whitsunday Regional Council, Alliance Aviation Services (ASX: AQZ) subsidiary will fly the route four times per week with an option to ramp up to daily flights if demand permits.
Alliance Aviation is 19.8 per cent owned by Qantas (ASX: QAN).
"Tourism supports one in three jobs in the Whitsundays. We know how crucial this industry is to the livelihoods of people in this region," says QLD Premier Annastacia Palaszczuk.
"We've been able to open Queensland to Queenslanders because Queenslanders did so well at dealing with the global coronavirus pandemic."
Tourism Minister Kate Jones says flights will return to the Whitsundays on 22 June for the first time since 28 March, and are expected to generate more than $9.2 million in income for the region with 5,300 tourists expected over the next 12 months.
The Minister also expects the flights will create more than 85 local jobs.
"We know that more tourists means more cash for local businesses," says Jones.
"This will pump millions of dollars into the local economy and support local jobs."
Alliance Airlines CEO Lee Schofield says the company is delighted to be partnering with Whitsunday Coast Airport to make these new flights a reality.
"We understand there are many essential services that are currently unable to access the Whitsundays and Alliance are proud to be able to be the first airline to recommence scheduled services to Whitsunday Coast Airport," says Schofield.
"With current travel restrictions easing we look forward to working with WCA to welcome many visitors to the Whitsunday region on our flights.
"Alliance Airlines are proud to be playing this important role in reawakening tourism in this beautiful part of Queensland."
Whitsunday Regional Council Mayor Andrew Willcox says he is committed to working with the government to support tourism businesses that are doing it tough.
"To attract a new airline partner as we start our recovery from the COVID-19 pandemic is a real boost for the tourism and business sectors in the Whitsundays," he says.
"With the Premier lifting restrictions on travel within Queensland it is important that our airport resume services.
"Over the last decade the tourism stakeholders in the Whitsundays have had to be a resilient mob but with a focus on domestic tourism for the next 12-18 months there is light at the end of the tunnel."
He says the airport was approaching 500,000 passengers annually prior to the pandemic, so it is vital this key gateway to the Whitsundays is up and running as quickly as possible.
Whitsunday Coast Airport chief operating officer aviation and tourism, Craig Turner, says it is important to be proactive with so many regions fighting for flights now restrictions are easing.
"These flights present the opportunity for WCA to develop a partnership with Alliance Airlines through this challenging period and beyond," he says.
"Alliance Airlines launch fares will start at $99 one-way including taxes. All fares are inclusive of 20kg free checked baggage.
"In addition to the "now", WCA and Council are committed to a long-term relationship with Alliance to boost future passenger numbers to the Whitsundays."
On Monday the Premier called on Queenslanders to travel somewhere in the state they have never been before.
"We want to strengthen Queensland's traditional industries like tourism," she said today.
"We want to see more Queenslanders having a holiday in the Whitsundays. That's what today's announcement is all about."
Alliance also has services linking Brisbane with Bundaberg, Gladstone, Cloncurry and Port Macquarie.
Never miss a news update, subscribe here. Follow us on Facebook, LinkedIn, Instagram and Twitter.
Business News Australia
---
Cyrus and Bain make final cut for Virgin Australia shortlist

Administrators handling the sale of paralysed airline Virgin Australia (ASX: VAH) have narrowed the shortlist down to two bidders, selecting Bain Capital and Richard Branson-linked investment advisory Cyrus Capital Partners for the process.
The decision means BGH Capital and Indigo Partners have been left on the tarmac.
Cyrus was one of the original backers of Virgin America, while the Sydney Morning Herald reports Bain has drawn concerns from the Transport Workers Union - which holds key votes in the administration process - given its track record with mass firings of workers at Toys R Us in 2017.
Last month Bain Capital completed a majority in Japanese airplane manufacturer Showa Aircraft Industry for around ¥90 billion (AUD$1.23 billion). The Australian previously reported the Boston-based group may link up with Branson if it made the final cut.
Over the weekend and the past two days, Deloitte administrators John Greig, Sal Algeri, Richard Hughes and Vaughan Strawbridge assessed five non-binding indicative proposals received on Friday. The fifth party was Canadian asset management group Brookfield.
Strawbridge says the next stage in this sale process begins today.
"Over the weekend through to today, we assessed the proposals received from shortlisted bidders and discussed their proposals with them to ensure a thorough and comprehensive assessment has been undertaken," he says.
"Both Bain Capital and Cyrus Capital Partners are well-funded, have deep aviation experience, and they see real value in the business and its future.
"We would like to thank all interested parties for the strong interest they have displayed in the business and their commitment to the process over recent weeks."
He says administrators will now spend the coming weeks facilitating in-depth bidder engagement with the stakeholders of the business, working closely with both preferred bidders in the lead-up to binding final offers being received.
"The strong interest coming from all parties has generated the competitive tension we have sought that is important in a process such as this, and we are in a strong place when it comes to delivering the best possible commercial outcome for all creditors, and to see a strong and sustainable Virgin Australia emerge from this process. It is still the intention to have a binding agreement in place by 30 June, which remains unchanged," he says.
"There will also be speculation that entities associated with the parties that have not moved into this next phase, as well as others, could become involved in some capacity with the remaining parties. That will, of course, be a matter for them."
Updated at 4:41pm AEST on 2 June 2020.
---
Federal Government to inject an extra $66 million into COVID-19 research

Australian universities and medical research institutions will receive $66 million from the Federal Government for COVID-19 research.
The funds will be used by research teams that are looking into finding a vaccines and treatments for COVID-19, as well as being used to better prepare Australia for future pandemics.
The funding forms part of the Federal Government's Medical Research Future Fund (MRFF), extending the $30 million already pledged for the 'Coronavirus Research Response'.
It also comes on top of a previously announced $220 million upgrade of CSIRO's high containment biosecurity research facility in Geelong, the Australian Centre for Disease Preparedness.
"There is currently no vaccine or proven and effective treatments for COVID-19," says the Federal Government.
"Our Government is absolutely committed to protecting the community and this will help ensure Australians are protected from COVID-19 at the earliest possible time."
There are four target areas of research:
Investing in a vaccine for COVID-19
Investing in antiviral therapies for COVID-19
Clinical trials of potential treatments for COVID-19
Improving the health system's response to COVID-19 and future pandemics
1. Investing in a vaccine for COVID-19
The University of Queensland (UQ) will receive a further $2 million for their "molecular clamp" technology, which speeds up the process of vaccine development. This brings the total Australian Government investment in this to $5 million.
The Government has also announced a further $13.6 million grant to support COVID-19 vaccine development projects that appear promising.
Through an open competitive grant opportunity, an independent panel of experts will assess expressions of interest and invite formal applications from the most promising projects.
The grant opportunity will be open between 15 June 2020 and 15 March 2021, with expressions of interest assessed from 15 July 2020, 15 November 2020 and 15 March 2021.
2. Investing in antiviral therapies for COVID-19
The Government is providing $7.3 million to nine research teams to support the development of promising antiviral therapies for COVID-19.
"There are currently no known antiviral therapies for COVID-19," says the Federal Government.
"Having effective antiviral therapies will be a game changer for COVID-19, providing us with confidence that the disease can be managed."
The Walter and Eliza Hall Institute will receive $1 million for the VirDUB research project, that aims to develop medicines that stop COVID-19 from hijacking human cells and disabling their anti-viral defences.
By targeting a viral system that is found in a range of coronaviruses, VirDUB may lead to new medicines that could be instantly available to tackle potential future coronavirus disease outbreaks.
In addition, $2 million is being provided to an innovative project using stem cell-derived tissues to rapidly test drugs already approved for use in humans for activity against COVID-19.
Two laboratories, the Peter Doherty Institute for Infection and Immunity and the Queensland Institute of Medical Research Berghofer, will commence early stages of this research. Other laboratories will be able to join in coming months.
3. Clinical trials of potential treatments for COVID-19
The Government is providing $6.8 million to support seven clinical trials investigating treatments for the severe respiratory symptoms of COVID-19.
The clinical trials supported by this funding will investigate treatments for critically ill patients, health care workers and vulnerable cancer patients.
4. Improving the health system's response to COVID-19 and future pandemics
The University of New South Wales will receive $3.3 million from the Government for genomics research into the behaviour, spread and evolution of the SARS-CoV-2 virus.
"The use of genomics will be critical to our response, as these tools give very robust insights into exposure and clusters, especially in low prevalence settings," says the Federal Government.
"Genomics essentially bar codes every virus so we know who is infected with the same virus as people in a cluster will have an identical bar code.
"This is critical to supporting public health responses to outbreaks as restrictions on gatherings are lifted."
The full breakdown of the funding program is as below: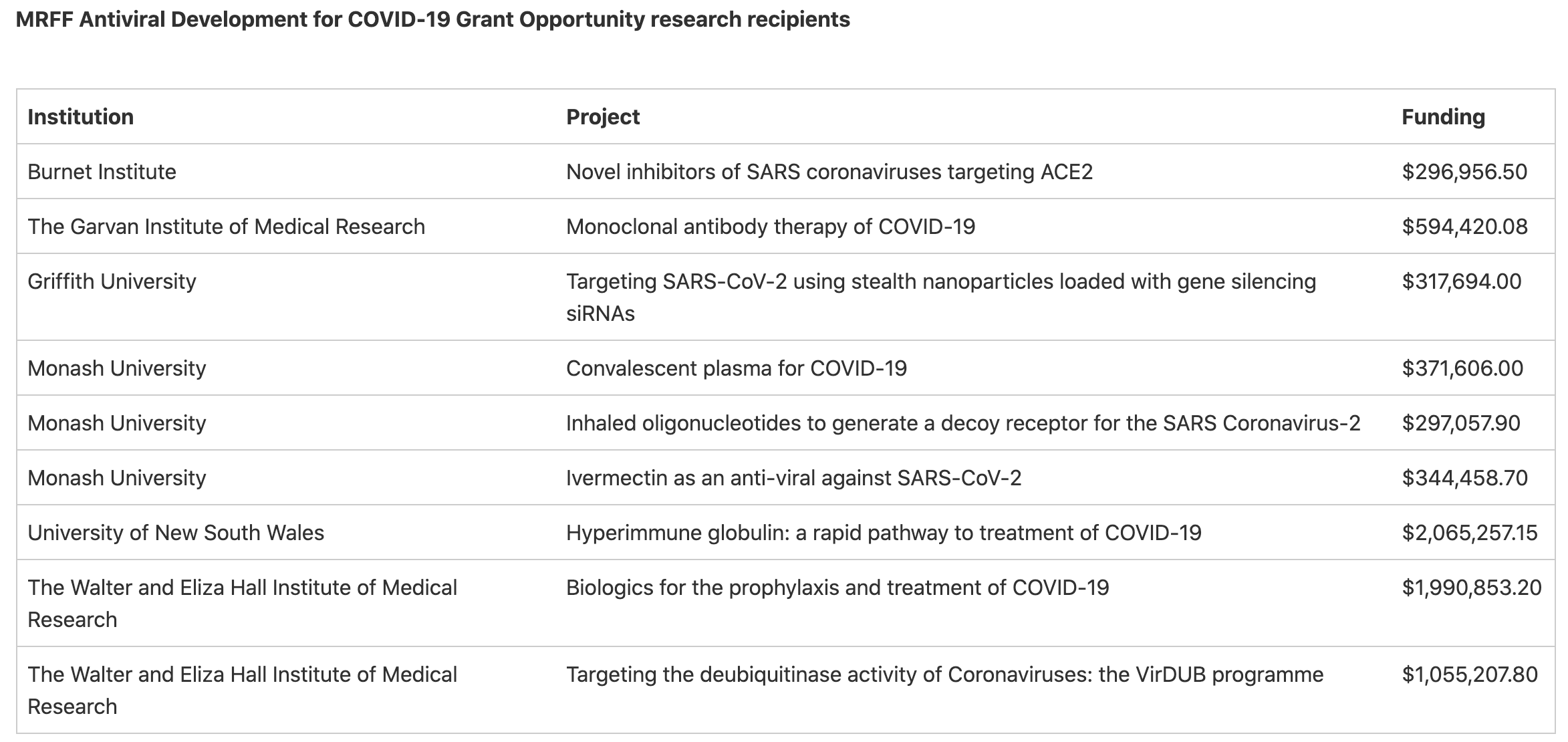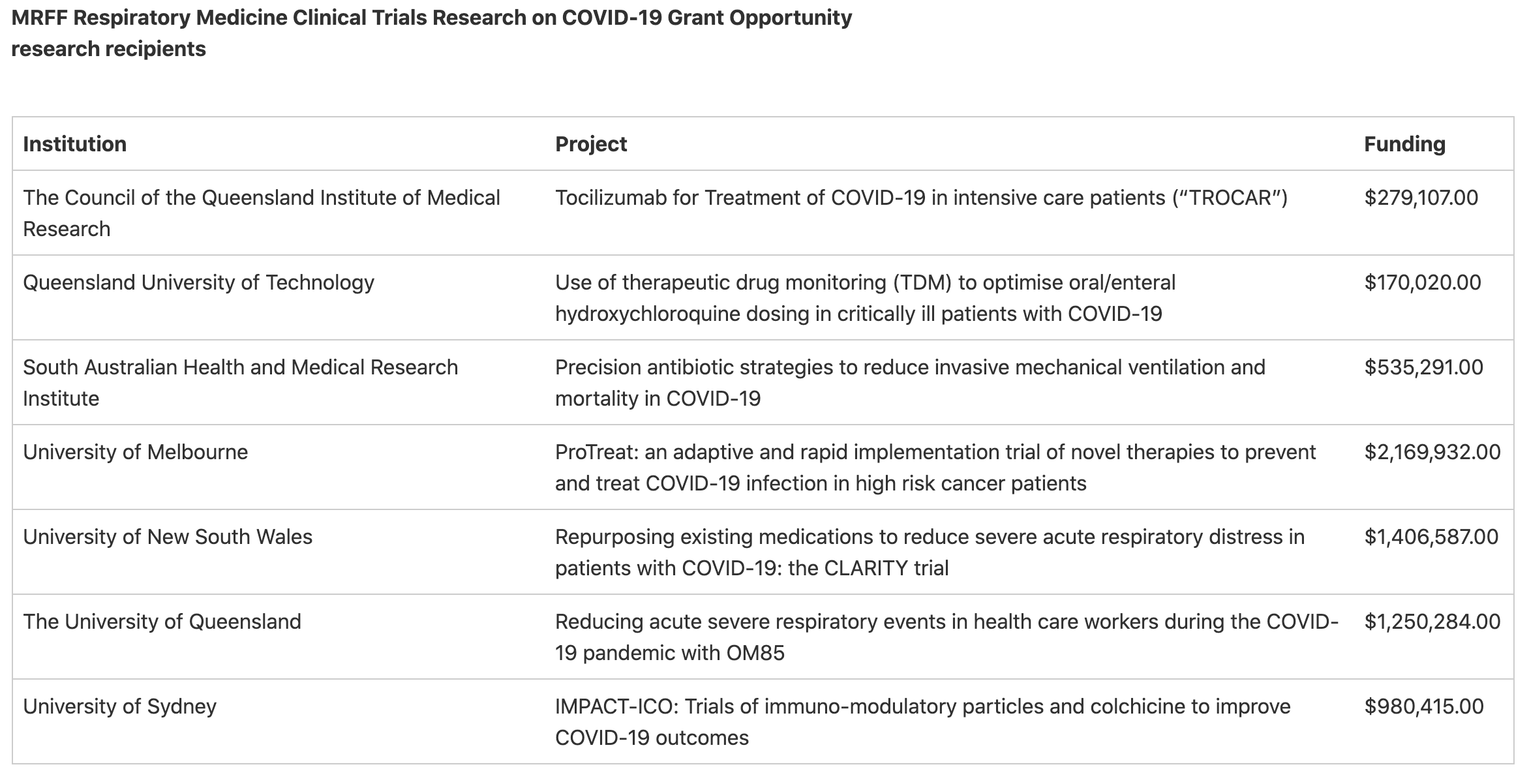 Never miss a news update, subscribe here. Follow us on Facebook, LinkedIn, Instagram and Twitter.
Business News Australia
---
Victoria's startup sector to drive post-pandemic economic growth

A new report from Deloitte Access Economics has found the Victorian startup sector has the potential to play a major role in the state's post-COVID-19 economic return.
The report, commissioned by Victoria's startup agency LaunchVic, found the State's early-stage startup sector was worth $4.6 billion in 2019, representing almost 19,000 jobs.
Deloitte Access Economics' modelling of the economic impact of increased startup density shows that the industry has the potential to create, on average, an additional 15,000 jobs each year to the broader Victorian economy over the next 20 years.
According to LaunchVic CEO Kate Cornick these findings demonstrate the value Victoria's startup sector has to the State's post-COVID-19 economy
"Our latest research shows the Victorian startup ecosystem has great potential for job creation over the coming years, and we see innovation the startup ecosystem as a key pillar of economic stimulus post-COVID-19," says Cornick.
"The report shows that startups are creating thousands of high skilled jobs year on year. As the startup sector grows, it will only become more valuable to our economy from a revenue and jobs perspective."
"Some of the world's largest tech companies such as Airbnb, Slack, Instagram & LinkedIn were all once startups tiny companies conceived around the time of the last global financial crisis. In approximately ten years, they have created hundreds of thousands of jobs and trillions of dollars of value - this is evidence that startups have a huge role to play in our economic recovery and wealth and job creation."
Deloitte Access Economics found that while startups challenge existing business models, they ultimately create more high skilled jobs through their growth and business lifecycle.
Further, the impact of startups on job creation is a net increase over time as job creation spills over to existing businesses due to innovation and increased competitiveness.
Cornick says the report shows that with the right care and attention to grow the ecosystem, startups could become a very important part of Victoria's future economy.
"The risk is that we become a purchaser of global technologies developed overseas rather than a creator and lose the high-skilled jobs that come with this," says Cornick.
Read the full report here.
Never miss a news update, subscribe here. Follow us on Facebook, LinkedIn, Instagram and Twitter.
Business News Australia
---
Mesoblast emboldened by lung disease treatment results

Melbourne-based regenerative medicine company Mesoblast (ASX: MSB) has released positive results for the treatment of chronic lung disease, reinforcing management's hopes around a separate trial with severe COVID-19 patients.
A Phase 2 trial in the US involved intravenous doses of stem cell product remestemcel-L, randomised with placebos, in 60 patients suffering from chronic obstructive pulmonary disease (COPD).
Significant health improvements were seen for patients with elevated levels of the inflammatory biomarker C-reactive protein (CRP) - a factor that tends to indicate a higher chance of hospitalisation or death.
High CRP rates are also seen in acute respiratory distress syndrome (ARDS), the most common life-threatening complication from COVID-19.
The peer reviewed results were released in a virtual presentation to the 2020 International Society for Cell & Gene Therapy (ISCT) annual meeting held May 28-29, 2020.
Key findings were:
The greater the degree of inflammation, as measured by elevated CRP levels, the greater the signal of efficacy of remestemcel-L treatment in improving moderate to severe lung disease;
Significant improvements were observed in each of the pre-specified endpoints tested, forced expiratory volume, forced vital capacity, and the distance walked in the six-minute walk test (all p <0.01), with maximal effects on all parameters seen at four months;
In patients with the highest level of CRP (>4mg/L), those who received remestemcel-L were able to walk 55 meters further than placebo-treated patients in the six-minute walk test at four months (p=0.004). The six-minute walk test is a major independent predictor of mortality in COPD; and
The dose administered was well tolerated with no infusion-related toxicity and no identified safety concerns.
Mesoblast chief medical officer Dr Fred Grossman says the correlation between the highest CRP levels and the greatest degree of response to remestemcel-L suggest the product's immunomodulatory effects may be triggered by inflammation.
"Since recurrent hospitalisation rates and mortality in COPD are associated with both high levels of CRP and progressive decline in the sixminute walk test, these results suggest that remestemcel-L could provide longer-term benefits for COPD patients with high levels of inflammation," says Grossman.
"They also provide a compelling rationale for the evaluation of remestemcel-L in the current United States Phase 3 randomized controlled trial of 300 patients with moderate to severe COVID-19 ARDS."
Updated at 11:38am AEST on 1 June 2020.
---
QLD, SA, NSW and VIC ease COVID-19 restrictions further today

Queensland has brought forward the easing of COVID-19 restrictions to today as citizens in NSW, VIC and SA also wake up to some more freedoms.
Over the weekend, the Queensland Government announced it would be bringing forward some of its easing plans by two weeks.
From midday today Queenslanders will be able to undertake unlimited travel, including overnight stays throughout the entire state.
Pubs, restaurants and cafes will also be permitted to increase the total number of patrons from 10 to 20, and from Friday this week those venues will be able to have up to 20 people per room as long as they are seated for meals or drinks.
The same gathering restrictions for venues will also apply to gyms, health clubs, parks, museums, art galleries, places of worship and public facilities like libraries.
For community sporting events where clubs have more than one field there will be a limit of 20 spectators per field.
Premier Annastacia Palaszczuk says the state's response to the pandemic has allowed travel restrictions to be lifted ahead of the next school holidays.
"The only reason we are able to move forward with our planned Stage Two ahead of the original June 12 date is because Queenslanders have listened to the advice, acted on that advice and done an outstanding job of helping to smash the Covid-19 curve," Premier Palaszczuk said.
"From the Gold Coast to Brisbane to the Sunshine Coast to Gympie to Maryborough to Bundaberg, from Longreach to Mt Isa, to Rockhampton, Mackay, Townsville and Cairns, Queenslanders will now be able to rediscover their state, travelling for as many nights as they like.
"This will go a long way toward giving our critical tourism industry a welcome boost after adhering to the necessary restrictions we were forced to impose and I encourage Queenslanders to take advantage of the easing of rules around intrastate travel."
As previously announced by the NSW, VIC and SA state governments some COVID-19 restrictions will also be eased from today in those states.
New South Wales
NSW will allow 50 people in pubs, clubs and cafes from today, while beauty salons can reopen with up to 10 clients at a time.
Up to 20 people can now allowed to attend weddings, and up to 50 can attend funerals and places of worship.
Regional travel is also now allowed, with camping grounds and caravan parks reopening today.
Victoria
Indoor and outdoor gatherings in Victoria can now include up to 20 people. This rule will apply to cafes, restaurants, beauty salons, tattoo parlours, museums, public libraries and outdoor gyms.
Up to 20 people will be able to attend a wedding and up to 50 people can attend an outdoor funeral.
Victorians can also now stay in holiday homes and stay in accommodation like caravan parks and camping grounds which are now allowed to operate.
Yesterday the Victorian State Government announced it had extended the State of Emergency for another three weeks to continue to slow the spread of COVID-19.
Under a State of Emergency, officers authorised by the Chief Health Officer can act to eliminate or reduce a serious risk to public health by detaining people, restricting movement, preventing entry to premises, or providing any other direction an officer considers reasonable to protect public health.
Police have strong powers to enforce directions and can issue on the spot fines, including up to $1,652 for individuals and up to $9,913 for businesses. People who don't comply could also be taken to court and receive a fine of up to $20,000. Companies face fines of up to $100,000.
South Australia
In SA COVID-19 restrictions will ease quite dramatically today, with up to 80 people allowed in hospitality venues like pubs, cafes and restaurants.
The 80 person rule is subject to the requirement that only 20 people per room in the venue can be seated at any one time. For example, if a pub had two indoor rooms and outdoor seating it could theoretically have up to 60 people in attendance at any one time.
In SA up to 50 people are now allowed to attend funerals, and up to 20 people in cinemas, theatres, museums, beauty salons, gyms, and indoor fitness centres.
Updated at 9:41am AEST on 1 June 2020.
---
Vicinity Centres to raise $1.4 billion as asset values downgraded

With shares up 78 per cent on nine-year lows after the COVID-19 pandemic struck, shopping centre owner-operator Vicinity Centres (ASX: VCX) plans to raise up to $1.4 billion to strengthen its balance sheet.
The move follows a 11-13 per cent reduction in Vicinity's asset values, representing a drop of around $1.8-2.1 billion.
The Melbourne-based company will undertake a fully underwritten placement to raise $1.2 billion at $1.48 per share, representing an 8.1 per cent discount to the last closing price.
This placement makes up more than a fifth of the current shares on issue, and will be followed by a share purchase plan (SPP) to raise a further $200 million.
"We are taking decisive action today to strengthen our balance sheet and provide Vicinity with flexibility to respond to the uncertainty caused by COVID-19 and the evolving retail landscape," says CEO and managing director Grant Kelley.
"This Equity Raising also provides support for the continuation of Vicinity's investment-grade credit ratings."
In the group's half-year report released in February it tabled $53 million in cash and cash equivalents, and drawn debt of $4.4 billion.
Vicinity saw around half the stores in its premises reopen by May 6, and the group claims this has now risen to 80 per cent up from a low of 42 per cent in April.
However, the stabilisation of rental income remains uncertain. For the three-month period to the end of May, 49 per cent of billings have been received while negotiations continue with a large number of tenants concerning short-term variations to leases.
The company expects rent receipts to improve as stores continue to reopen foot traffic increases and lease negotiations are completed. Foot traffic is now 74 per cent of what it was this time last year, up from a low of 50 per cent in April 2020.
As a response to the uncertainty created by COVID-19, Vicinity has undertaken a number of measures to enhance liquidity and reduce operating costs:
Establishing $300 million of new debt facilities and extending $650 million of existing facilities;
Deferring non-critical capital expenditure;
Reducing hours for 70 per cent of team members effective 21 April to 30 June 2020;
Reducing Directors' fees and Executive Committee salaries effective 1 April to 30 June 2020;
Cancelling the FY20 Short Term Incentive program; and
Reducing or deferring variable and non-critical operating expenses.
"This equity raising, combined with a range of cost and capital reductions implemented to date, significantly strengthens Vicinity's financial position. It provides capacity to invest in our assets to ensure they continue to deliver on consumer, retailer and community expectations," says Kelley.
VCX shares dropped to $0.905 in March, representing their lowest level since listing on the ASX in 2011, but they have been steadily rebounding since the end of that month.
Updated at 9:47am AEST on 1 June 2020.
---
WA will be back in business as Phase 3 kicks off in a week

Western Australia will soon become the first state in the country to reduce the 4sqm rule at venues down to 2sqm, with a wide-reaching Phase 3 relaxation of restrictions to be rolled out at 11.59pm on Friday, 5 June.
The new measures will allow for up to 100 people to gather at a time in one place, while food courts, gyms, beauty salons, wellness centres, galleries and gaming venues and more will be allowed to reopen.
The move comes a day after WA Treasurer Ben Wyatt revealed predictions the state's economy would likely contract by 3.1 per cent in FY21, sending the economy into recession.
Today's announcement also follows a National Cabinet meeting where it was agreed the Council of Australian Governments (COAG) would be scrapped in favour of a permanent National Cabinet set-up with job creation as its top priority.
Western Australia currently has 25 active cases, of which almost half stem from a cluster linked to a Al Kuwait livestock carrier under quarantine in Fremantle Port.
The decision to move to Stage 3 was based on the success in limiting community transmission during Phase 2, and on the advice of the Chief Health Officer and State Emergency Coordinator.
Western Australians must continue to practice physical distancing and good personal hygiene at all times.
Phase 3 will come into effect from Saturday, 6 June (11.59pm Friday, 5 June). It includes:
non-work indoor and outdoor gatherings of up to 100 people at any one time, per single undivided space, up to 300 people in total per venue (100/300 rule);
food businesses and licensed premises may operate with seated service;
alcohol may be served without a meal at licensed premises (patrons must be seated);
food courts can reopen with a seated service;
beauty therapy and personal care services to reopen;
saunas, bath houses, float centres, massage and wellness centres to reopen (100/300 rule);
galleries, museums, theatres, auditoriums, cinemas and concert venues can reopen (during any performance, the patrons must be seated. (100/300 rule));
Rottnest Island to reopen to the WA general public;
Perth Zoo to open with no patron limit for the whole venue (the 100/300 rule applies to indoor spaces and cafés/restaurants);
wildlife and amusement parks can reopen (100/300 rule);
arcades (including pool/snooker, ten pin bowling, Timezone), skate rinks and indoor play centres to reopen (100/300 rule);
auction houses and real estate auctions can reopen;
TAB and other gaming venues (other than the Casino which is being considered separately) are permitted to reopen;
full contact sport and training is now permitted;
playgrounds, skate parks and outdoor gym equipment are permitted to be used;
parents/guardians will be able to enter school grounds to drop off or pick up their children;
gyms, health clubs and indoor sports centres will be able to offer the normal range of activities, including the use of all gym equipment (gyms must be staffed at all times and undertake regular cleaning).
Large community sporting facilities or wildlife parks that can accommodate more than 300 patrons, while allowing for two square metres per patron, may be able to apply for an exemption to the 300 patron limit through wa.gov.au for a decision by the Chief Health Officer.
Travel will now be permitted throughout Western Australia, including into the Kimberley region, pending the Commonwealth's approval to remove the Biosecurity Area on 5 June. Access into remote Aboriginal communities will remain prohibited.
WA businesses are reminded that they must submit a COVID Safety Plan, prior to reopening, to ensure they mitigate the risk of COVID-19, in line with health advice. Premises that opened during Phase 2 should update their COVID Safety Plans accordingly.
Phase 4 will be finalised in the coming weeks, based on the advice from the Chief Health Officer and will take into account the impact of Phase 3 in the WA community.
As per the advice from the Chief Health Officer, Western Australia's hard border with the rest of Australia will remain in place.
"This is another significant step in our roadmap to recovery and sees Western Australia continue to lead the way on easing restrictions," says Premier Mark McGowan.
"We've been able to commence Phase 3 earlier than initially planned, due to consistently low numbers of COVID-19 and based on health advice, as has always been the case.
"Western Australia's performance has been world-leading. Each and every Western Australian can feel proud that their hard work and willingness to do the right thing during what has been an incredibly difficult time, has got us to this point."
The Premier says he knows how frustrating the restrictions can be and he wishes he could remove them all at once, but the government needs to follow the health advice.
"It's worked so far," he says.
"Phase 3 is a big step forward for our State. It allows more people to get out and enjoy a meal or a drink with friends and family, supporting local businesses.
"Reducing the four square metre rule down to the two square metre rule is possible thanks to WA's success in minimising the spread of COVID-19, and our hard border with the Eastern States.
"It will also allow Western Australians to enjoy more social and recreational activities and continue to get back to a more normal way of life."
South Australia was originally due to ease a wide range of its restrictions on 5 June as well, but its move to Step 2 has now been brought forward to Monday, June 1.
Pubs, restaurants, cinemas, places of worship, beauty salons and other sites will now be permitted to have 20 people per room, up to a maximum of 80, on their premises, as long as they comply with appropriate safeguards.
"We've been able to ease restrictions earlier due to low case numbers, high testing rates and the continued cooperation of the South Australian public," says SA Premier Steven Marshall.
"This will help fast-track our economic road to recovery and reactivate thousands of local jobs throughout the state.
"Businesses and organisations are required to complete COVID-Safe plans before reopening, ensuring we reboot our economy as safely as possible."
Updated at 4:25pm AEST on 29 May 2020.
---
Victorian ski slopes to open from 24 June

Just yesterday snow bunnies in NSW rejoiced at the news that slopes would reopen from 22 June, but now Victorian slope operators are joining in on the action.
Hotham and Falls Creek will be open from 24 June for skiing and snowboarding following approval from the Victorian Government.
Accommodation operator Vali Resorts says its resorts will be open with COVIDsafe principles enforced including social distancing measures and enhanced cleaning protocols.
Skiers and snowboarders will only be able to access the resorts with a pre-purchased pass or lift tickets; on-the-day lift tickets will not be available.
"We are grateful for the opportunity to open our resorts for the 2020 snow season, especially given the difficult year endured by our mountain communities, and we take seriously the responsibility we have to keep our employees, guests and communities safe in this new environment," says Pete Brulisauer, senior vice president and chief operating officer for Vail Resorts, Perisher and Australia.
"Delaying our traditional opening from the June Long Weekend to 24 June is intentional to ensure our entire team has the time to fully understand and embrace our new COVID-19 Safe Operating Plan so that we can deliver a safe experience for our guests.
"We thank our guests in advance for their patience, understanding and cooperation as we all adapt to the new social distancing measures required to allow us to enjoy skiing and snowboarding this season."
Yesterday the NSW Government announced that its alpine region will be open for business next month, with work underway to ensure COVIDsafe measures are in place at Thredbo, Charlotte Pass and Perisher.
Thredbo says it will be operational from 22 June, while Charlotte Pass Snow Resort says it will have commenced company operated accommodation from Thursday 25 June with an expected commencement of Mountain operations from 26 June.
Perisher will be operational from 24 June.
Updated at 12:24pm AEST on 29 May 2020.
---
Fashion brands Review, Yarra Trail and more in limbo as PAS Group enters administration

A listed retailer that owns such brands as Review, Yarra Trail, JETS Swimwear Australia, Marco Polo and Black Pepper has entered voluntary administration, just three weeks after announcing the progressive reopening of stores.
The directors of PAS Group (ASX: PGR), whose Designworks division also supplies private labeled products and licensed brands including Everlast, Mooks, Dunlop and Lonsdale, have appointed PwC partners Stephen Longley, David McEvoy and Martin Ford as voluntary administrators.
Leading into the pandemic The PAS Group had performed relatively. EBITDA rose 78 per cent to $10.1 million in the first half of FY20, although after tax it ran at a net loss of $1.2 million.
That result was largely to do with the closure of 42 bricks-and-mortar stores in the prior period, including the exit from 14 David Jones concessions followed by a an exclusive partnership agreement with Myer for PAS' Review brand.
But on 27 April the company announced it was pursuing restructuring options and had appointed a team of advisors to assist. On the same day it was revealed Designworks managing director Brendan Santamaria had resigned, and would be replaced by group CEO Eric Morris who has since taken on both roles.
On 8 May the company announced it had the intention of reopening its Australian stores by the end of the month, some of which would be on a reduced hours basis. Throughout the pandemic the company has still fulfilled online orders from a limited number of physical stores.
In its announcement today, the company emphasised it was in good financial shape but the view had been taken that voluntary administration would be the best course of action.
"While the Board is of the view that the company is solvent, given the issues as a result of unfavourable financial market conditions, the COVID-19 crisis and the challenges of restructuring in that environment, it felt that Administration was the best way to affect change while protecting all stakeholders," the company said.
"The Administrators will undertake a preliminary review and assessment of the Group's operations that have been impacted by difficult trading conditions, including the COVID-19 pandemic.
"PAS Group enters voluntary administration with the strong desire to restructure the Group and allow it to continue operating strongly and sustainably into the future."
The group says stores will continue to trade as normal, in line with current local restrictions across Australia and New Zealand, and all store credits and vouchers will be honoured.
Never miss a news update, subscribe here. Follow us on Facebook, LinkedIn, Instagram and Twitter.
Business News Australia
---
NSW ski fields to reopen from 22 June

Skiers and snowboarders will be permitted to hit the slopes in NSW from 22 June as the State Government eases COVID-19 restrictions further.
The NSW Government today announced that its alpine region will be open for business next month, with work underway to ensure COVIDsafe measures are in place at Thredbo, Charlotte Pass and Perisher.
"One of the highlights of the winter tourism season is a trip to our alpine regions, however, while many people are eager to return to the slopes, it is important that visitors can enjoy themselves safely and responsibly," says NSW Deputy Premier John Barilaro.
"The NSW Government, through NSW Health and NSW Police, is working closely with ski field operators, associated businesses, suppliers and industry associations to ensure COVIDsafe measures are in place when the season commences.
"These measures will mean that fewer people will be able to visit and stay at resorts this season, so it is essential that people book and confirm their travel arrangements and accommodation before they travel."
While the slopes and resorts will be open Barilaro says social distancing must be observed, and there will be limits to the number of people on ski areas and in accommodation.
"We are welcoming every visitor to regional NSW with open arms and I will be celebrating by shouting a few beers, but it is more important than ever that we continue to be responsible and maintain good physical distancing while we are enjoying ourselves," says Barilaro.
"No matter where you are visiting, make sure you book, check that places you'd like to visit will be open, confirm your arrangements before you travel and, most importantly, if you do feel unwell, postpone your trip."
The NSW Tourism Industry Council has welcomed the development after fears from businesses in the alpine region that they would lose an entire snow season to COVID-19 restrictions.
"Any small step is welcome news for all of the industry participants, and we thank the NSW Government for this proactive step," says Simon Spellicy, Chair of the NSW Tourism Industry Council.
"We understand it will be a ski season like no other, missing the traditional Queens Birthday Weekend start, as well as a number of safety measures put in place.
"Operators now have the best part of three weeks to work with Government authorities to ensure their practices are compliant and meet the necessary requirements."
Thredbo says it will be operational from 22 June, while Charlotte Pass Snow Resort says it will have commenced company operated accommodation from Thursday 25 June with an expected commencement of Mountain operations from 26 June.
"Charlotte Pass Snow Resort is committed to ensuring that the health and safety of our guests, staff and the community is a top priority," says Charlotte Pass Snow Resort.
"With this in mind and as part of our CovidSafe plans, Charlotte Pass Snow Resort will be rolling out a series of wellbeing measures to help give our guests peace-of-mind for their 2020 snow holiday. These measures will be announced in the coming days and provided to all guests before visiting."
Updated at 2:11pm AEST on 28 May 2020.
---