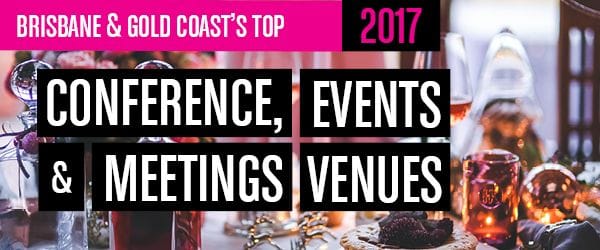 Whether a company is hosting an event for 25 staff members or a shareholders' conference for thousands, it is imperative that the right venue is selected to ensure the occasion is a success.
From size, to feel, to tech, to view - there are so many variables to consider in order that the event is an overall success.
What makes a great event? Is it the music, the food, the marketing, or a clever combination of the three and more?

Business News Australia has collated a few top tips from industry professionals who know a thing or two about generating interest and holding an event.
1. GET IT ON SOCIAL MEDIA. EARLY.
Whether you like it or not, social media has undoubtedly become the main driver of modern business marketing at a grassroots level.
The majority of your potential attendees will likely show more of an interest if they see your event pop up in their newsfeeds, as opposed to on a billboard, or in a magazine. Make it easy for your audience to see what you're offering, well ahead of the date, and directly invite them to your booking system via marketing channels such as Facebook, Instagram or Twitter.
2. NAIL YOUR OFFERING
If there's one thing that's certain, guests will only want to come to your event if you make it worth their while. You need to be clear about what you are offering and inspire your guests to make the effort to get dolled-up and out the door.
If it's a business lunch, offer a networking opportunity with a noted leader in your industry. If it's an awards night, invest in an exciting band or performer. If it's a fundraiser, invite a local celebrity. Anything you can offer which goes above and beyond the normal expectations of your attendees will go a long way to putting tickets in their hands.
3. CHOOSE THE RIGHT PLACE
Picking a good place for a shindig goes beyond simply meeting crowd size requirements. Make sure you scope out the style, location, efficiency and reviews of a venue before you choose it, because a place can look great on paper and turn out to be a dive.
Also consider extra factors, such as the amount of car parking spaces required, accommodation options and the impact that bad weather may have on your event.
4. SET THE MOOD PROPERLY
Pretend for a moment that you're having a few friends over to your house. You uncork a bottle of wine, offer some nibbles, put on good music, kick off the conversation and most importantly focus on the fact that everyone is having a good time. Your company event should borrow some inspiration from the 'dinner with friends' setting, only on a grander scale with a tone of formality.
At no point do you want your guests to feel as if they're bored, uncomfortable or being talked at incessantly. Keep the speeches snappy to give your guests some quality networking time. Remember: a successful event is held with the patron in mind, and a flop is held for the host.
5. WHEN ALL ELSE FAILS, HIRE A PRO
Almost anyone can run an event, but running it well is a different game entirely. No matter how enthusiastic a manager could be about organising the next office Christmas party or AGM, they will always be time-poor compared to the professional who plans events for a living.
If you are struggling to nail down the concept for your party, enlist the services of a professional or rely on the advice of your prospective venue managers that's what they are there for!
Business News Australia has compiled a list of Brisbane and Gold Coast's top venues for 2017. These venues' experienced teams will help you take your event to the next level, allowing you to focus on enjoying the event as much as your guests, to make sure your corporate event is a winner.
BRISBANE

The multi award winning Brisbane Marriott Hotel makes a lasting first impression. Overlooking the Brisbane River near the corporate and financial heart of the city, it reflects the best of the 5-Star Brisbane hotels.
Elegant guest rooms, suites and executive-level rooms capture views of the Brisbane skyline and Brisbane River and feature elegant decor, marble bathrooms and celebrated "revive" luxury bedding.
Click here for more information
Queensland Cricketers' Club (QC Club) has commenced work on a multi-million dollar refurbishment. The new design will make the most of the Club's space and its iconic location overlooking the Gabba oval, while ensuring the Club's future sustainability.
QC Club has been Brisbane's premier place for lovers of sport to gather for more than 50 years.
Click here for more information
Reflecting the understated luxury lifestyle of a prestigious Caribbean resort, Mon Komo Hotel is setting a new standard for event spaces in Queensland. Step into a world of tranquillity and relaxation, energy and excitement in a vibrant beachside setting.
With stunning water views across Moreton Bay, Mon Komo's functions facilities can cater for as little as 4 and up to 180 seated guests or 300 cocktail style in the seclusion and privacy of a dedicated floor of the hotel.
Click here for more information
Spectacular views of the river and Story Bridge, striking architecture and modern amenities are just the icing on the cake for upscale affairs at Customs House.
Click here for more information
GOLD COAST
Gold Coast Convention and Exhibition Centre (GCCEC), located in heart of Broadbeach caters to 10 to 6,000 people.
One of the most flexible meetings and events venues, GCCEC is equipped with a 6,000 seat arena, four exhibition halls and 22 meeting rooms.
Click here for more information
With sandstone arches, lakeside settings and landscaped grounds, Bond University's Events Centre is the ideal venue for your next event.
Located in Robina on the Gold Coast, the Bond University Events Centre is easily accessible and offers free parking for all event attendees. Bond University's function facilities are flexible and are designed to cater for events of all sizes.
Click here for more information
QT Hotels & Resorts first put its stamp on the Australian tourism sector with the launch of QT Gold Coast in 2011.
The unique and exciting property delivered the first injection of QT's signature designer spaces with bold entertainment and intriguing yet relaxing guest experience.
Click here for more information


A true gem in the crown of south-east Queensland's lifestyle offering, Links Hope Island provides the ultimate setting for both corporate and social functions and events.
Situated in the heart of the Gold Coast-Brisbane corridor and boasting stunning views of the golf course and nearby waterways, Links Hope Island provides an elegant twist to any event.
Click here for more information
Hilton Surfers Paradise offers a sophisticated destination in the heart of Surfers Paradise. With boutique indoor meeting rooms and a range of spectacular outdoor spaces, the venue is a popular option for those hosting a destination event, meeting or business incentive.
The hotel's ballroom caters for up to 220 banquet style or 350 for cocktail parties.
Click here for more information


The Arts Centre provides unique and elegant event spaces with exceptional state-of-the-art technology surrounded by picturesque landscapes and city skyline views.
Situated in the heart of the Gold Coast, we cater for a wide range of events from Gala Dinners, conferences, Business Meetings, Product Launches, Show Performances, Team Building, Weddings and other special occasions.
Click here for more information