Brisbane's award winning builders 2016
For home owners considering a new home, renovation or addition to an existing home, there is sure to be some inspiration.
For the commercial sector, these projects display commercial builders with specialist staff, contractors and consultants who provide professional services to their clients.
2016 Master Builders Housing & Construction Awards showcase the highest quality builders and projects the housing and construction industry has to offer..
From the best bathroom all the way to a $5 million commercial structure, is an incomparable source of inspiration for those looking to build or renovate.
Admire the outstanding craftsmanship delivered by each company, and connect with some of the best in the business.
If you're seeking a builder of the highest standard you will enjoy reading about the builders who are at the forefront of innovation and excellence.
---
MAJOR AWARD WINNERS

WITH more than 35 years of experience in the building industry, it was an easy decision for one family to entrust Gala Homes with reinvigorating their home.
Gala Homes worked closely with the client to create structural focal points and design, unifying class with contemporary style.
IN addition to taking out Project of the Year in 2016, Watpac Construction has set a new benchmark for office construction with 180 Brisbane.
The $300 million high rise on Ann Street towers above the CBD offering almost 60,000m2 of A-grade commercial space spanning 34 storeys.
BEFORE building the perfect family home, one must first understand the market.
This remains one of McDonald Jones Homes' (MJH) mantras as the NSW-based builder continues to make its mark in Queensland.
---

BEST HOME BUILDERS

SINCE establishing Corella Construction four years ago, Craig and Ella Brown have delivered and renovated a multitude of homes on time and within budget across Brisbane.
Corella Construction specialises in updating Queenslander homes to the highest standard while remaining faithful to the Queenslanders tradition.
SEASONED northside builder McLachlan Homes opened its first display home on the Sunshine Coast in Mountain Creek Estate in 1997.
The company now builds more than 100 new homes each year.
Nestled in Burpengary's North Harbour Estate, just minutes from Caboolture River, is one of McLachlan's latest, The Cashmere.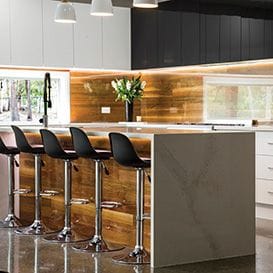 OVER the past decade, Robert Hunter (pictured) has made a name for himself by constructing high quality residential and commercial properties.
For the team's achievements on the Hollywood home, Hunter Builders was named this year's best Individual Home $451,000-$550,000.
When Bio Scapes first got to work on its latest project at Teneriffe, tackling the terrain appeared to be a tall order.
Director Noel Brown and his team were up against a steep cliff face, quite literally, during the 4-month construct of the Teneriffe home - however that did nothing to deter them from creating something truly special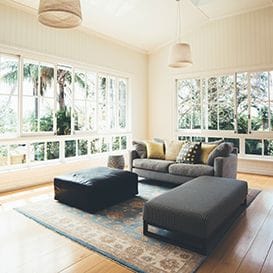 Norcon Building & Constructions: Family home gets the Norcon touch
THIS family home has received a major upgrade under the expertise of Norcon Building & Constructions.
The five-month project at Windsor involved a double-storey extension at the back of the property to maximise utility and storage space.
REA Taylahd has delivered its newest masterpiece at Thornlands - a contemporary-style haven with a touch of grandeur.
An open void entrance and open-plan entertainment space throughout gives the home a luxurious feel, while still maintaining a cosy and warm essence.
OFFERING flexibility while maximising small spaces, Perry Homes has created a winning display home in Deebing Heights.
The building company spent 12 months researching greater Brisbane and anticipated major growth in the developing suburb compared to the east and west of the CBD.

COMMAND Building Services has struck the perfect balance between modern facilities and traditional charm.
Built in 1929, the Queensmill has become an institution among locals with Prince Charles rumoured to have dined there during his formative years.
---

BEST CONSTRUCTION PROJECTS

FOUNDED by Steve and Tracy Marais (pictured) in 2002, Condev Construction has evolved as a force to be reckoned with in the building industry in Queensland.
The Gold Coast-headquartered company, which commenced as a boutique operation, now employs more than 140 staff and has around 25 projects under construction.

'EVERYBODY seems to know the Botanica building.'
These are General Manager Otis Towill's proud words as he reflects on the completion of PBS Building's latest multi-award winning project, the Botanica Residences at Edmondstone Street.
ASK and Ulex Constructions will deliver, with the team bringing inspiration discovered online to life.
The client gave the construction company free rein to create a collaborative working environment, backed by experience delivering several successful projects in the medical industry.

STRONG buyer appetite for boutique apartments has seen Mosaic Constructions double the value of its workbook for the 2016 financial year.
The boutique property developer continued to cement its presence in Brisbane with Cove on Camborne, which is located in the leafy north-west suburb of Alderley.

A STRIKING, luxury mixed-use tower in the heart of Newstead, Kurv Newstead certainly is a masterpiece to be admired.
This year however, Cavcorp is especially proud of its work for Aerocare's headquarters within the Kurv building.
BRISBANE office space workmanship has never looked this good, thanks to Lemont Properties (trading as I&H Contractors).
Suited to its name, the 180 Brisbane project is a complete 180 degrees away from traditional podium facade design, setting a new benchmark for office towers in the CBD.

WITH the odds stacked against them, Fitco (Trading as Innovare) overcame a number of construction challenges to deliver an office any business would be proud of and one most would even like to call home.
The Place Bulimba showroom sales office combines the elegance of a luxury home within a thriving real estate agency.
FROM refurbishments to large-scale commercial developments, no job is too big or too small for Astute Projects.
The building, construction and project management company has become a leader in delivering custom projects across Australia, notably including Bee Gees Way and the Old Redcliffe Fire Station.
WITH a construction portfolio spanning education, hospitality and tourism, Stokes Wheeler was the perfect choice to develop an aged care facility with a resort-style atmosphere.
Jeta Gardens Residential Care Facility in Bethania has been built to foster a sense of community among residents, catering to 72 beds across three levels.
---