Opinion (6/1)
Written on the 10 February 2009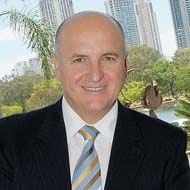 The omnipresent effects of the global credit crunch have destabilised business confidence world-wide, but according to the chairman of the BusinessGC Advisory Board John Witheriff, the Gold Coast is home to some strong performing companies operating in growth sectors to help offset the financial storm. In essence, there is plenty to be positive about
THE global financial crisis may be the top three words on everyone's lips right now, but the Gold Coast has been weathering the financial storm for some 12 months already.
In fact, the Gold Coast regional economy experienced the depths of economic downturn a lot earlier, and a lot harder, than the rest of Australia when cash dried up in the construction sector leaving worksites inactive and contractors out of work. Coupled with a high Australian dollar, high petrol prices and high interest rates, the city's domestic tourism market was placed under severe stress.
The positive side of these events is that the Gold Coast is in a much stronger position, which can be attributed to a number of factors. Lower interest rates and fuel prices have provided resurgence for our domestic tourism industry, with Gold Coast Airport reporting buoyant annual visitor numbers for 2008, despite the economic barriers.
There has also been a repositioning of the construction sector, with new cash sources secured predominantly from traditional banking sectors. The effect of these changes has brought stability to our construction sector, and in that respect we're in a much better position than this time last year.
In part, we are also in better shape as a result of the strategic measures undertaken during the last economic cycle. This has been the focus of BusinessGC, the economic development entity within Gold Coast City Council. The establishment of its own brand has enabled the department to promote strong industry partnerships, increase export opportunities for local businesses, and encourage investment to the Gold Coast.
The BusinessGC Advisory Board is the city's peak body, with representatives from the key industry bodies throughout the city, business, academia and government who meet on a quarterly basis. This collective intelligence provides economic advice to council, which is relied upon to drive strategies that will stimulate the local economy and move the city forward.
It is these and other strategies that have contributed to the city's gross regional product growing from $9.7 billion in 2001 to $14.2 billion in 2006 - an increase of 46 per cent.
While the Gold Coast (was) predominantly kept afloat by the tourism and construction sectors, a number of emerging industries are showing signs of growth.
The education sector is expanding and I expect this industry will continue to surge. Griffith and Bond Universities are both reporting strong attendee numbers for 2009, with applications up 25 per cent. A significant component of this growth is attributed to international students, each of whom contributes around $15,000 to the local economy. Strong investment in university infrastructure, including a $13 million library expansion at Bond University earmarked for this year, is a clear sign that this sector will continue to play a major role in the city's future economy.
The lower Australian dollar is also good news for our film industry with Film Gold Coast reporting an increase in interest from a number of US production houses. For every $1 million spent on Gold Coast City film production, 22 full time positions are created in the local workforce.
The IT, environmental and health sectors are all strengthening and will play a key role over the coming economic cycle, particularly with the completion of the $1.5 billion Gold Coast University Hospital and its associated teaching and research facilities. The health and education sectors are significant employers and contributors to the regional economy and they will continue to expand.
Another exciting industry I see evolving as a real opportunity for the Gold Coast economy is the sports industry sector, which is currently defying trends and experiencing significant growth. The success of the Titans and the Blaze, and the impact they've had regionally is an example. We've got the Gold Coast United coming forward and we haven't even felt the impact of that yet.
Nor have we seen the impact of the potential new AFL franchise on the Gold Coast. This franchise alone could contribute $250 million to the local economy, with hard cash inputs having an economic impact of over $35 million per year, just from operations alone. If that occurs, together with the other franchises, it could be a catalyst to drive the next phase of economic activity.
Looking forward, while I think the Gold Coast is in for a reasonably rocky 2009, we are certainly stronger than we were a year ago and there is much to be positive about. The key is to keep our unemployment rate down in order to sustain population growth and subsequent development.
And perhaps most importantly, we can't lose sight of why we are all here, so we must work together to promote the good news generated from our city and protect our unique lifestyle.