NEW BUSINESS CLASS SERVICE FOR GOLD COAST
Written on the 11 August 2011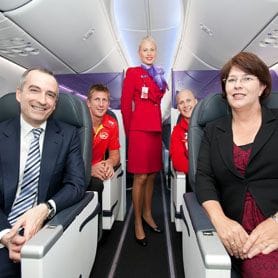 VIRGIN Australia chief executive John Borghetti (pictured with Minister Jan Jarratt) has announced the introduction of business class services and a new luxury lounge for the Gold Coast Airport.

Virgin Australia is the only airline to offer domestic business class services to the Gold Coast and the first for more than seven years.

Borghetti made the announcement alongside Queensland Minister for Tourism Manufacturing and Small Business Jan Jarratt.

"The Gold Coast is an important city in the Virgin Australia network. We carry almost one million corporate and leisure Guests each year," says Borghetti.

"With the introduction of business class services by the last quarter of 2011 and the opening of our new lounge in early 2012, Virgin Australia is proudly responding to the tourism and the business sectors of the Gold Coast and South‐east Queensland region."
Virgin Australia is progressively rolling out its business class product across the fleet of Boeing 737 aircraft. It includes luxury leather seating, contemporary interior design, high quality in‐flight products and a gourmet menu designed by Luke Mangan, the aircraft demonstrate a new in‐flight experience aboard Virgin Australia.

The new Boeing 737‐800 business and economy class interiors will be rolled out across the majority of Virgin Australia's current domestic fleet by the end of the year. Business class is already available for sale on the Airbus A330‐200 and will be available for sale on the Boeing 737‐800 in the last quarter of 2011.

Borghetti says the Gold Coast lounge formed part of the airline's program of new and updated lounges, rolled out in Queensland that included Mackay to open by the end of the year and the new Brisbane lounge last month.

The new 680 sqm Gold Coast lounge will offer seating for up to 140 guests. Australian chef Luke Mangan has designed the menu and beverage list.

Business services include complimentary WiFi, power, PC and printer.

Virgin Australia operates 138 services each week to the Gold Coast with more than 21,000 seats.