JULIAN MERO: THE GROOVE TRAIN
Written on the 12 January 2011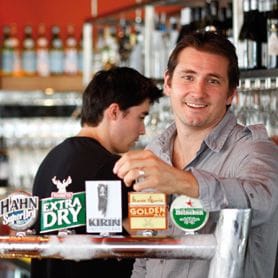 FROM the capital gained after eight different clothing and retail businesses, Julian Mero has spearheaded The Groove Train brand into Queensland with four restaurants in the space of two years.

"We came to Brisbane with one restaurant, we saw opportunity to grow, we saw businesses coming in and starting to expand and we really wanted to grab that market share," he says.

"If you had have said to me when we came up from Melbourne that we would have generated everything that we've built in two and a half years, I would have definitely have said no.

"We opened on a Wednesday and on Sunday we had 600 people through our Riverside restaurant. It felt like all of Brisbane was coming off the City Cat and into the restaurant."

Since then the company has opened restaurants at King George Square, 400 George and in the Robina Town Centre, with plans to open four more restaurants and eight cafes within the next 10 years.

"We've got about 120 employees and Groove Train would effectively do $13 million to $15 million this financial year, that's just in Queensland and I think the brand will get stronger and stronger," he says.

"What you have to do is get people who are better than you – better barmen, better baristas, and once you get a hold of those guys you have to work out how to keep them and if we didn't expand our business we wouldn't have kept them.

"I think the philosophy of people is not a throw-away line, you can't grow a business without the right people, there's no doubt about that."
The business was started by Rocky Veneziano 13 years ago and is one of many mentors Mero has learned from.

"I guess you fall back on what you know, my dad's a chef and hospitality is close to my heart so I fell back on that and as you know doors open sometimes," says Mero.

"Entrepreneurship is about analysing opportunities, taking those opportunities, running with your gut and getting knocked down, getting back up, getting knocked down, getting back up and once you get back up make it succeed.

"The line between failure and success is so blurred it's not that far off, so being a bit strong-willed, pushing it over the line and making it happen, that's what true entrepreneurship is definitely."

For a full profile list on Brisbane's 2010 Young Entrepreneurs, including interviews with all of the finalists, get a copy of the special annual edition of Brisbane Business News – out now in more than 500 greater Brisbane newsagents.