Seven West Media withdraws guidance as sports revenue dissipates

The suspension of the AFL season and the potential postponement of the 2020 Tokyo Olympic Games is expected to cut into Seven West Media's (ASX: SWM) revenue for FY20.

As such, the company has withdrawn earnings guidance for the financial year.

"Such postponements are likely to result in rights payments by SWM being pushed back to reflect the revised scheduling; any adjustments remain subject to negotiation," says SWM.

"Likewise, local productions are also facing challenges with COVID-19 issues, and our teams are working tirelessly to deliver on commitments."

SWM says it has implemented business continuity plans over the last two weeks including establishing remote working for the majority of staff.

Southern Cross Austero parent Southern Cross Media (ASX: SCA) has gone into a trading halt this morning.

The company says a suspension from trade is necessary to enable SCA to assess the impacts of Covid-19 on its business.

Updated 9.35am AEDT on 24 March 2020.
---
Michael Hill to shut down entire store network

Jewellery retailer Michael Hill (ASX: MHJ) will close all stores in Australia and New Zealand indefinitely as consumer sentiment nosedives.
In a statement to the ASX Michael Hill says the current conduct of its business is not in line with social distancing guidelines, and immediately shutting down its physical store network is in the best interests of staff and customers.
The group's Canadian store network was suspended on 20 March this will now be for an indefinite period.
Michael Hill's e-commerce business will continue as usual.
In all markets employees will be stood down with access to leave entitlements while government support schemes are assessed.
On 25 February, the company announced an interim dividend of 1.5c per share, with an exdividend date of 12 March 2020. In light of expected interruptions to trade the Board has decided to defer payment of that dividend for a period of six months.
"Whilst it is clear that the suspension of our store networks is necessary for the safety and wellbeing of our people and our customers we know also that this will be a time of great uncertainty for them too, and we are doing our best to provide them with the support that they need through this difficult time," says Michael Hill chair Emma Hill.
Updated at 8.37am AEDT on 24 March 2020.
---
Queensland to impose border restrictions

Queensland will follow the lead of South Australia, Western Australia, Tasmania and the Northern Territory by imposing border restrictions.
As announced by Premier Annastacia Palaszczuk on Twitter the Queensland Government will force anyone entering the State to quarantine themselves for 14 days after arrival.
These new measures will come into force on midnight Wednesday 25 March.
Queensland's Disaster Management Committee will meet tomorrow to finalise the details of the restrictions and what exemptions will come into play.
Updated 3:14pm AEDT on 23 March 2020.
---
Regulators ASIC and APRA make Covid-19 the top priority

Australian regulators will put aside consultations on non-essential matters as priorities are recalibrated to tackle the challenges posed by the coronavirus.

The Australian Securities and Investments Commission (ASIC) will be predominantly focused on the issue until at least 30 September, although it will also afford priority to matters where there is the risk of significant consumer harm, serious breaches of the law, risks to market integrity or time sensitive issues.

ASIC emphasises it is committed to working constructively and pragmatically with the firms it regulates, whilst mindful they may encounter difficulties in complying with their regulatory obligations due to the impact of Covid-19.

"ASIC has immediately suspended a number of near-term activities which are not time-critical," the regulator states.

"These include consultation, regulatory reports and reviews, such as the ASIC report on executive remuneration, updated internal dispute resolution guidance and a consultation paper on managed discretionary accounts.

"ASIC will also suspend its enhanced on site supervisory work such as the Close and Continuous Monitoring Program."

The regulator adds relief or waivers from regulatory requirements will also be provided where warranted, for example in relation to secondary capital raisings and audits.

"ASIC has already indicated a 'take no action' stance in relation to the timing of AGMs until 31 July and the conduct of AGMs by electronic means.

"ASIC will also work with financial institutions to further accelerate the payment of outstanding remediation to customers. ASIC will take account of the circumstances in which lenders, acting reasonably, are currently operating when administering the law."

Key business as usual functions will be maintained including registry operations and services, receipt of whistleblower, breach and misconduct reports and general contact points for industry.

Meanwhile, the Australian Prudential Regulation Authority (APRA) has suspended the majority of its planned policy and supervision initiatives in response to the impact of the virus.

The decision is intended to allow APRA-regulated entities to dedicate time and resources to maintaining their operations and supporting customers, while also enabling APRA to intensify its focus on monitoring and responding to the impact of a rapidly changing environment on entities' financial and operational capacity.

APRA is therefore suspending all substantive public consultations and actions to finalise revisions to the prudential framework that are currently underway or upcoming, including consultations on prudential and reporting standards.

The regulator's refocused supervision effort will involve frequent communication with entities, monitoring key financial settings, such as capital and liquidity, and responding accordingly. These engagements will be conducted virtually, unless absolutely necessary, and will continue as long as necessary.

APRA chair Wayne Byres says it is essential that both APRA and financial institutions are able to give their fullest attention to the impact of Covid-19.

"Australia's financial system is strong and resilient, and a key reason is that APRA's current prudential framework is fundamentally sound and incorporates international best practice," says Byres.

"APRA set out an expansive policy and supervision agenda in January, but right now it is more important that banks, insurers and superannuation trustees as well as APRA devote their energy and resources to responding to the impact of Covid-19.

"We will be working with financial institutions to balance the need for timely data and information on current conditions with institutions' ability to effectively manage their own response. Given the rapidly evolving environment in which everyone is operating, we will continue to closely monitor the extent and impact of COVID-19 on APRA-regulated entities to consider if any further modifications to our supervisory and policy activities are necessary."

Updated at 13:20pm AEDT on 23 March 2020.
---
Stockland and Link join guidance withdrawal bandwagon

More companies have joined the growing list of guidance withdrawals today, including Stockland (ASX: SGP), Link Administration (ASX: LNK), JB Hi-Fi (ASX: JBH), nib Group (ASX: NHF), Abacus Property Group (ASX: ABP), Viva Leisure (ASX: VVA), Arena REIT (ASX: ARF), Coventry Group (ASX: CYG) and MMA Offshore (ASX: MRM).
This adds to a raft of similar actions on Friday from Sonic Healthcare (ASX: SHL), Vicinity Centres (ASX: VCX), Scentre Group (ASX: SCG), Carsales.com (ASX: CAR), Charter Hall Retail REIT (ASX: CQR), Credit Corp (ASX: CCP), Raiz Invest (ASX: RZI), Vita Group (ASX: VTG), Valmec (ASX: VMX) and iCar Asia (ASX: ICQ).
Other companies that have previously withdrawn guidance in response to the pandemic include: Boral (ASX: BLD), Downer EDI (ASX: DOW), Adairs (ASX: ADH), Village Roadshow (ASX: VRL), GPT Group (ASX: GPT), Nine Entertainment (ASX: NEC), Bluescope Steel (ASX: BSL), Redcape Hotel Group (ASX: RDC), Prospa Group (ASX: PGL), Hills (ASX: HIL) Accent Group (ASX: AX1), EML Payments (ASX: EML), Ramsay Health Care (ASX: RHC), Aristocrat Leisure (ASX: ALL), Mirvac Group (ASX: MGR), REA Group (ASX: REA), Monadelphous Group (ASX: MND), Coca Cola Amatil (ASX: CCL), Cochlear (ASX: COH), oOh!media (ASX: OML), Qantas (ASX: QAN), Webjet (ASX: WEB), Helloworld (ASX: HLO), Flight Centre (ASX: FLT), Corporate Travel Management (ASX: CTD) and Apollo Tourism & Leisure (ASX: ATL).
Covid-19 uncertainty claims scalp of Freedom Oil and Gas
The Covid-19 pandemic - combined with lower oil prices driven by a reduction in demand and a price war between Saudi Arabia and Russia - appears to have claimed the scalp of Freedom Oil and Gas (ASX: FDM).
The company has seen its share price deteriorate to an eighth of its former value over the past 12 months, but it was planning to raise capital to stay afloat.
As equity markets are so volatile at the moment that is no longer on the cards, so Freedom Oil and Gas announced this morning it had appointed Mr Steven Nicols of Nicols + Brien as a voluntary administrator.
"The Company has been working closely with its primary lender Wells Fargo and preferred equity holder, Ramas Capital Management, over the past few months, however, the current oil price environment combined with COVID-19's impact on the global equity markets has impacted the Company's opportunities to recapitalise and contributed to the Directors decision to put the company into voluntary administration," the company said.
Updated at 11:13am AEDT on 23 March 2020.
---
Victoria rolls out the coronavirus enforcement squad

A squad of 500 police officers will enforce social distancing rules and conduct spot checks on those in self-quarantine in a bid to contain the spread of Covid-19.
Coordinated by the Police Operations Centre, the officers will be taking action against anyone caught breaking the rules.
It comes as part of a gradual shutdown of non-essential activity across the country, announced Sunday evening, which includes the mandatory closure of pubs, clubs, nightclubs, casinos, licensed venues in hotels and pubs, gyms, indoor sporting venues, places of worship, cinemas and entertainment venues. Restaurants will only be allowed to provide home delivery or takeaway services.
"This decision and other containment measures are meaningless if Victorians don't take them seriously or don't think they will be caught if they flout the rules," says Victorian Premier Daniel Andrews.
"Such thinking is wrong and the new coronavirus enforcement squad at Victoria Police will take action against anyone caught doing the wrong thing."
Updated at 11.02am AEDT on 23 March 2020.
---
Germany enforces drastic social distancing measures

Strict social distancing measures have come into force in Germany overnight just as Chancellor of Germany Angela Merkel goes into self-quarantine.
As reported by Deutsche Welle Germany's new social distancing measures include:
Public gatherings of more than two people will be banned. There will be exceptions for families and those living together.
General contact with others should be reduced to a minimum.
A 1.5-meter (4.9 feet) distance should be kept at all times when in public.
Gastronomy businesses must close. Businesses offering food delivery and collection will be allowed to remain open.
Service providers such as hair-dressers, cosmetic, massage and tattoo studios where a 2-meter distance between people is not possible must also close. Businesses and centres offering medical treatments may remain open.
Police and other law enforcement agencies will enforce any infractions of the new rules Merkel did not state what the punishment would be for anyone not abiding by the new measures.
Hygiene regulations must be implemented for staff in the workplace, or for visitors.
Commuting to work, helping others and exercising alone outside will still be permissible, as long as the activities are carried out in abidance with the guidelines.
The measures will remain in place, initially for the next two weeks.
Merkel announced the new measures just before being forced into self-quarantine after coming into contact with an infected doctor.
Updated at 10:49am AEDT on 23 March 2020.
---
Sydney Airport withdraws capital expenditure plan

With no non-citizens or non-residents allowed into the country, coupled with heightened restrictions on domestic travel, Australia's largest airport is scaling back.
Sydney Airport (ASX: SYD) announced today it no longer expected to implement its previous capital expenditure forecast of $350-450 million in 2020.
The airport's entire capital expenditure program is under review with the objective of only continuing with critical projects and deferring less critical until there is more clarity on the persistence of current travel impacts.
"Last year we demonstrated strong operating cost control. We are accelerating this focus in the current environment, and we are eliminating all discretionary spend in order to keep operational costs to a minimum," the company said.
"This includes working with our airline and other business partners to optimise the safe and secure facilitation of our passengers at a lower cost.
"Based on the information presently available to us we are confident in Sydney Airport's strong balance sheet and liquidity position."
Between Sydney Airport's cash reserves, undrawn bank facilities bond market debt, it has around $2 billion in available funds.
Updated at 10:43am AEDT on 23 March 2020.
---
Helloworld puts 1,575 jobs on the chopping block

As the travel industry draws to a standstill, tourism deal provider Helloworld (ASX: HLO) is slashing jobs to keep its costs down while CEO and executive director Andrew Burnes will forego his salary for the next three months.
All the cost-cutting and cash preservation measures being put in place are expected to reduce monthly outlays by 80 per cent.
The company announced today it would be actioning 275 redundancies in various countries at an estimated cost to the business of $1.4 million.
Today the group has also initiating the stand down of approximately 1,300, or 65 per cent of its workforce around the world. These will begin at 5pm tomorrow and last for an initial period of 10 weeks to 31 May 2020.
All remaining personnel will be offered reduced working hours, which will be assessed further depending on work volume in the weeks and months ahead.
As part of its cost-cutting initiatives, Helloworld is in the process of re-negotiating rents with its major landlords who have agreed to more favourable terms over the next six to nine months.
For its 2,500 network members around Australia and New Zealand, membership and marketing fees have been frozen for six months.
All discretionary expenditure has ceased along with marketing and advertising, while major project expenditure has been materially curtailed or put on hold.
HLO has also welcomed stimulus packages in Australia and New Zealand, and will draw on all available government assistance in both countries as well as elsewhere to support the business and personnel.
Elsewhere in the travel agency, Webjet (ASX: WEB) and Flight Centre (ASX: FLT) announced suspensions from official quotation today.
Updated at 10.21am AEDT on 23 March 2020.
---
Sales rise at JB Hi-Fi, The Reject Shop

"Essential services" is a term that has become the new holy grail for Australian retailers amidst the pandemic, and two companies that have benefited include JB Hi-Fi (ASX: JBH) and The Reject Shop (ASX: TRS).
JB Hi-Fi, which also owns home appliances retailer The Good Guys in addition to its eponymous electronics stores, reported year-on-year sales growth of 9.1 per cent in Australia between 1 January and 22 March.
Sales growth at The Good Guys was higher still at 10.4 per cent, but JB Hi-Fi sales were down 2 per cent in New Zealand.
"The Company continued to see strong momentum in Australia through the quarter, with an acceleration in recent weeks as both JB HI-FI and The Good Guys provided retail and commercial customers with the essential products they need to respond to and prepare for COVID-19," the company said in an update this morning.
These essential products include technology products that enable remote working, learning and communication, and essential home appliances for food storage and preparation.
Despite the positive sales scenario, uncertainty arising from the Covid-19 outbreak has led the company to withdraw its guidance for FY20.
The Reject Shop has announced a material increase in sales driven by customer concerns around coronavirus over the past four weeks.
Comparable sales for the first 12 weeks of the second half of FY20 now sit at 8.2 per cent for TRS.
But this figure belies a more sudden spike in the last week alone, as for the first 11 weeks the year-on-year growth rate was much lower at 5.7 per cent.
Comparable sales for the week between 16 March to 22 March 2020 were 36.1 per cent, driven by strong category performances in groceries, cleaning, toiletries and pet care.
"In these extraordinary times, The Reject Shop will continue to serve all Australians through providing access to essential grocery and household products at everyday low prices while doing everything we can to keep our customers and our team safe and healthy," says TRS chief executive officer Andre Reich.
Updated at 9:54am AEDT on 23 March 2020.
---
Victorian Government announces $1.7 billion stimulus package

A $1.7 billion 'survival package' will assist Victorian businesses and workers to overcome the impacts of the coronavirus pandemic according to the state government.
The stimulus package includes full payroll tax refunds for FY20 to SMES with payroll of less than $3 million.
Payments will begin flowing soon and will save eligible businesses up to $113,975 per year.
The same eligible businesses will be able to defer any payroll tax for the first three months of the 2020/21 financial year until 1 January 2021, freeing up a further $83 million in cashflow.
Commercial tenants in government buildings can apply for rent relief and 2020 land tax payments will be deferred for eligible small businesses.
The Government will pay all outstanding supplier invoices within five business days releasing up to $750 million into the economy earlier.
Liquor licensing fees for affected venues will be waived for 2020 to support businesses in the hospitality sector.
A $500 million Business Support Fund will also be established to support sectors hit hardest by Covid-19 including hospitality, tourism, accommodation, arts and entertainment, and retail.
Another $500 million Working for Victoria Fund will be established in consultation with the Victorian Council of Social Services and Victorian Trades Hall Council. The fund will help workers who have lost their jobs find new opportunities, including work cleaning public infrastructure or delivering food.
"We've listened to business and workers and now we're taking unique and unprecedented action to help businesses and their workers through this crisis," says Premier Daniel Andrews.
"Cash is better in the hands of struggling businesses than in a Government bank account right now Victorian workers need us to step up to help get them through."
Updated at 9:49am AEDT on 23 March 2020.
---
Theme parks, casinos and cinemas shut down

Theme parks on the Gold Coast will close from today in order to comply with restrictions on non-essential indoor and mass gatherings.
Dreamworld and Whitewater World, owned and operated by listed entertainment group Ardent Leisure (ASX: ALG), will retain minimal staff during this period to ensure the ongoing care of animals and maintenance of rides and attractions.
The theme parks will cease operation until 31 May 2020, but this date may change as further information becomes known.
"The decision to close our parks is a direct result of the COVID-19 outbreak," says Ardent Leisure chairman Dr Gary Weiss and theme parks CEO John Osborne.
"We are deeply aware that the decision to close our parks will create a great deal of uncertainty for our team members, their families and the broader community."
All Ardent Leisure board members will not take fees until further notice.
Village Roadshow (ASX: VRL), the operator of Gold Coast theme parks Warner Bros. Movie Word, Sea World, Wet'n'Wild, Paradise Country and Topgolf Gold Coast has also announced the closure of its parks this morning.
Sea World Resort, as an accommodation provider, will remain open at this stage and all cinemas operated by VRL will also close today.
Some staff will be retained to look after animals and conduct theme park maintenance, while others have been stood down.
Casino operators SkyCity (ASX: SKC) and Acquis Entertainment (ASX: AQS) have similarly announced closures.
SkyCity's Adelaide casino will be closed by 12.00pm (ACST) today, leaving 1,000 employees in a precarious position.
The closure requirements do not impact SkyCity's construction sites, meaning the company will continue to work on its Adelaide expansion project.
As a result SkyCity has withdrawn its FY20 earnings guidance.
Acquis Entertainment will also close its Canberra-based casino from 12pm today and will not be reopened until advised it is safe to do so by the Government.
Cinema operator EVENT Hospitality & Entertainment (ASX: EVT) has announced its cinemas in Australia and New Zealand will close with effect from today until the end of May 2020.
EVENT will stand down the majority of cinema employees during this time, and the company will allow employees to draw down on annual leave and long service leave. Negative annual leave balances up to five days will be offered.
Ginger processor Buderim Group (ASX: BUG) has announced that it will close The Ginger Factory Tourism Park from today until further notice.
Updated at 8:46am AEDT on 23 March 2020.
---
Australia will go into lockdown with restaurants and pubs to close

After Australians flouted social distancing recommendations this weekend by flocking to public beaches and clubs, the country's federal, state and territory governments have determined an escalation to "Stage 1" restrictions is necessary.
Following a national cabinet meeting, Prime Minister Scott Morrison announced the country would go into lockdown starting midday tomorrow, with closures to the following categories of indoor venues:
Registered and licensed clubs;
Licensed premises in hotels and clubs;
Restaurants except for takeaway and delivery;
Places of worship; and
Cinemas and other indoor entertainment venues (this includes casinos).
With 1,315 cases of Covid-19 now in Australia, Chief Medical Officer Brendan Murphy observed a disregard of social distancing measures by some younger Australians.
He noted many had taken the attitude they would not be high risk, and for most younger people this is true, but he urged them to take greater care in order to protect older and more vulnerable people.
The government has also decided to keep schools open, with Murphy pointing to discussions with the Australian Health Protection Principal Committee (AHPPC) that found there was very little evidence of transmission between schoolchildren both here and overseas.
It comes as a number of Australian states and territories begin to place restrictions on those coming in.
Western Australia, South Australia, Tasmania and the Northern Territory are imposing restrictions on those entering for 'non-essential travel', subjecting those coming into the states/territories to a 14-day quarantine period on arrival.
This mirrors the Federal Government's restrictions on those arriving in Australia from an overseas country who must self-quarantine for 14-days on arrival.
Updated at 9:39pm AEDT on 22 March 2020.
---
PM commits an extra $66.1 billion to businesses and households

PM commits an extra $66.1 billion to businesses and households
The Federal Government has announced a third stimulus package targeted at those receiving government benefits and Covid-19 affected business.
Included in the $66.1 billion package is support for Australia's households, and assistance for SMES struggling to pay their employees.
It brings the total injected into the economy by the Government to $189 billion, and follows the $17.6 billion first economic stimulus package, $90 billion from the RBA and $15 billion from the Government to make access to finance easier.
"We want to help businesses keep going as best they can and for as long as they can, or to pause instead of winding up their business. We want to ensure that when this crisis has passed Australian businesses can bounce back," says the Prime Minister.
"Our focus is on cushioning the blow and providing hope to every Australian that we will get through this and come out the other side together.
"The next few months are going to be a difficult journey but we all have a role to play to adapt to the changes we're facing, to cushion the impact of what is happening and to pull together so we can bounce back when we get to the other side."
Support for SMES
In addition to previously announced support for Australian businesses affected by the coronavirus the Government has committed a further $31.9 billion to try and keep employees in jobs.
Eligible SMES can apply for up to $100,000 to employ people, with a minimum payment of $20,000.
Under the enhanced scheme from the first package, employers will receive a payment equal to 100 per cent of their salary and wages withheld (up from 50 per cent), with the maximum payment being increased from $25,000 to $50,000. In addition, the minimum payment is being increased from $2,000 to $10,000. The payment will be available from 28 April 2020.
"By linking the payments to business to staff wage tax withholdings, businesses will be incentivised to hold on to more of their workers," says the Federal Government.
Small and medium business entities with aggregated annual turnover under $50 million and that employ workers are eligible.
The payments are tax free, there will be no new forms and payments will flow automatically through the ATO.
The Government says this measure will benefit around 690,000 businesses employing around 7.8 million people and around 30,000 not-for-profits.
A Coronavirus SME Guarantee Scheme will also be established under which the Government will guarantee 50 per cent of new loans issued by eligible lenders to SMES.
It comes in conjunction with last week's announcement form the Reserve Bank of Australia of a $90 billion term funding facility intended to reduce the cost of lending.
The Government will guarantee up to $20 billion to support $40 billion in SME loans.
Support for workers and households
The Government will establish a new, time-limited Coronavirus supplement to be paid at a rate of $550 per fortnight to existing and new recipients of the JobSeeker Payment, Youth Allowance jobseeker, Parenting Payment, Farm Household Allowance and Special Benefit.
This supplement will be paid every fortnight for the next six months and will be paid on top of regular payments already received by those on income support.
This measure is estimated to cost $14.1 billion over the forward estimates period.
In addition to the $750 stimulus payment announced on 12 March 2020, the Government will provide a further $750 payment to social security and veteran income support recipients and eligible concession card holders, except for those who are receiving an income support payment that is eligible to receive the Coronavirus supplement.
This second payment will be made automatically from 13 July 2020 to around 5 million social security, veteran and other income support recipients and eligible concession card holders. Around half of those that benefit are pensioners.
Those in financial stress as a result of Covid-19 will be allowed to tap into their superannuation.
Eligible individuals will be able to apply online through myGov for access of up to $10,000 of their superannuation before 1 July 2020. They will also be able to access up to a further $10,000 from 1 July 2020 for another three months. They will not need to pay tax on amounts released and the money they withdraw will not affect Centrelink or Veterans' Affairs payments.
CBA to extend $10 billion to small business support
In addition to the Australian Government's SME Guarantee Scheme Commonwealth Bank (ASX: CBA) will make available up to $10 billion of additional unsecured credit to support SMES.
The measure will mean SMES can access an unsecured business loan through the Commonwealth Bank for three years of up to $250,000 at historically low rates.
Interest rates on unsecured small business loans will be up to 500 bps lower than current rates. No interest will apply unless the loan is used, no repayments will be required for six months, and there will be no establishment or monthly account fees.
Australian businesses with less than $50 million turnover are eligible.
"We welcome today's announcement by the Government, which will help hundreds of thousands of small businesses stay afloat and millions of workers keep their jobs over the next six months," says CBA CEO Matt Comyn.
"It will help businesses reopen and help people get back to work following this unprecedented set of circumstances."
Updated at 1:41pm AEDT on 22 March 2020.
---
China releases industrial output and retail sales update

China's National Bureau of Statistics has revealed the extent of the economic impacts of Covid-19 in the first two months of the year, with big drops for manufacturing and retail consumption in particular.
The total value added for industrial enterprises with annual revenue above AUD$4.6 million fell by 13.5 per cent year-on-year, with the decline more pronounced for private companies than for state-owned enterprises.
"In terms of sectors, the value added of mining went down by 6.5 per cent, manufacturing down by 15.7 per cent and the production and supply of electricity, thermal power, gas and water down by 7.1 per cent," the bureau reports.
"An analysis by items and output showed that protective medical equipment and products concerning people's livelihood registered fast growth.
"The production of masks, fermented alcohol grew by 127.5 percent and 15.6 percent respectively, and that for frozen meat and instant noodles grew by 13.5 percent and 11.4 percent respectively."
Strong momentum was seen for high-tech products with steady growth for smart watches, smart bands, semiconductor discrete devices and integrated circuits.
The production of basic raw materials such as cast iron and crude steel was steady as well, while a survey of purchasing managers an 85.6 per cent resumption rate for large and medium-sized businesses.
"Production and business operation are being restored in an orderly manner," the bureau states.
In terms of retail, 5.2 billion yuan (AUD$1.2 billion) worth of consumer goods were sold in January and February, representing a year-on-year decline of 20.5 per cent.
Updated at 5:52pm AEDT on 16 March 2020.
---
PM recommends avoiding mass gatherings, but not until Monday

Prime Minister Scott Morrison has advised Australians to take precautionary measures by advising against attending mass gatherings from Monday.
The PM says the Government advises against organised, non-essential gatherings of 500 people or greater.
By non-essential gatherings the PM is not referring to places like university, school or airports.
Ultimately, the advice is just a recommendation, which Morrison describes as a "scalable response".
"These are things that will be scaled up in the weeks ahead," says Morrison.
"Parliament is essential, school is essential, going to work is essential."
The PM has also urged Australians to reconsider the need to travel overseas at this time, irrespective of location.
"Only essential travel should be considered if you're going overseas from this point forward," says Morrison.
Fox Sports reports NRL clubs are due to hold a call at 4pm AEDT to prepare for a potential shutdown.
NRL CEO Todd Greenberg has confirmed the Brisbane Broncos vs North Queensland Cowboys will still go ahead tonight, and the Canberra Raiders vs Gold Coast Titans will also proceed as planned.
The AFL is also due to start next weekend, but the league now says "there's a lot up in the air".
"A decision on whether games will be played in front of no fans or whether the season will be postponed has not been made yet," the AFL said in its latest update.
Despite a broad share market fall this morning, the All Ordinaries rebounded after the Prime Minister's press conference and is now up 4 per cent.
Updated 3.30pm AEDT on 13 March 2020.
---
Filming of Baz Luhrmann's Elvis biopic and Marvel movie postponed indefinitely

Staff working on Baz Luhrmann's film about Elvis have been given one week of severance pay after the Covid-19 threat led producers to postpone the project.

A source close to the production has told Business News Australia that filming was put on hold for two days after actor Tom Hanks tested positive to the virus, but they came back on the set at the start of this week.
For now Warner Bros has officially called off the Gold Coast-based production as the company believes it would be unable to protect staff safety, although it is hoped that filming will be able to recommence in August.
The film, so far untitled, will explore Elvis' rise to fame, his stardom, and his impact on the world of music.
The movie is also expected to explore Elvis' complex relationship with his manager Colonel Tom Parker, played by Tom Hanks.
The production alone is estimated to be employing around 900 Queenslanders in behind-the-scenes roles, including set construction, catering and transportation, and inject more than $105 million into the local economy.
Filming of another production, Marvel's 'Shang-Chi and the Legend of the Ten Rings', has also been cancelled.
Production was postponed after director Destin Daniel Cretton was advised to self-isolate and tested for Covid-19, which came back with a negative result.
The movie was being filmed at Fox Studios in Sydney.
Updated at 13:26pm AEDT on 20 March 2020.
---
CBA to auto-enroll loan repayment deferrals

After announcements from thee of the big four banks about how they would implement a six-month loan payment deferral for pandemic-affected businesses, the Commonwealth Bank of Australia (ASX: CBA) put forward an idea that could take a lot of rigmarole out of the process.
The bank's streamlined solution involves auto-enrolling tens of thousands of businesses in the scheme, ensuring immediate support for small businesses likely to be most impacted by the coronavirus.
"We welcome today's announcement by the Australian Banking Association (ABA), which benefits 200,000 of the bank's small business customers," says CEO Matt Comyn.
"To ensure immediate support, CBA will also auto-enrol 76,000 of its small business customers into loan deferral arrangements for up to six months from 1 April. This will ensure that $240 million of support immediately reaches small businesses who are most vulnerable in the current environment" he says.
"A digital registration process will be available from Saturday for any home loan customer wishing to defer their repayments. Unless the request for support is urgent, there is no need for customers to contact us before this time. We will also be communicating with our small business customers from next week and giving them the choice to opt out of the auto enrolment process."
Comyn says the ABA's loan deferral scheme will also include all customers with a home loan, therefore providing $10 billion in support to households and small businesses.
Updated at 6:50pm AEDT on 20 March 2020.
---
Air cargo networks in turmoil as international flights cancelled

Qantas and Virgin Australia's decision to cut international passenger flights will have a tremendous impact on Australia's air freight industry according to a coalition of independent global business associations.
While closing borders to international travellers and slashing flights en masse is expected to slow the spread of Covid-19 in Australia, the Global Business Coalition (GBC) says the global air freight sector will struggle to keep up with time-critical deliveries that rely on passenger flights.
Specifically the GBC says the deliveries of life-saving medical supplies, urgent repair components, and essential inputs into global supply chains will struggle to reach their destinations in a safe and timely manner as a result.
"Almost all of our airfreight space is under the feet of passengers. No passenger planes equals no freight space for often time-critical supplies," says chief executive of GBC member organisation Ai Group Innes Willox.
"Ai Group has joined with our international counterparts to call for Governments and companies to prioritize all available space for crucial medicines, medical equipment and supplies including vitally needed safety products such as gloves, masks and HAZMAT gear."
Willox says governments must take a pragmatic approach to not only air freight but cargo ships too.
GBC's plea follows heavy criticism against Maritime Safety Queensland (MSQ) from the peak shipping industry body Shipping Australia about the regulator's declaration that cargo ships cannot dock in Queensland for 14 days after leaving an international port outside of Australia.
Shipping Australia said the declaration will lead to shortages of goods for Queenslanders and could cut off vital trade routes.
This morning the Queensland Minister for Transport and Main Roads Mark Bailey hit back at Shipping Australia, saying MSQ's decision prioritises the safety of Australians.
"Given the health threat our nation is facing, this is a tough but necessary policy and meets the community's expectations to tighten border control to contain COVID-19 to minimise the threat to our sea based trade from this virus," says Bailey.
"It reduces the potential for international seafarers who may be sick or carrying the virus to come into contact with local maritime workers while they may be contagious.
"Losing highly skilled marine pilots to infection, particularly at regional ports could have a catastrophic effect on trade at those ports over many months. The Australian economy can't afford that."
Despite the restrictions Bailey says cargo continues to move through Queensland ports efficiently and that bulk exports have been largely unaffected.
"MSQ has promptly processed a number of exemptions to the measures where special circumstances can be demonstrated. Notably, where there is a need to maintain critical supply lines, for countries including New Zealand, Papua New Guinea and the South Pacific islands, and where risk is sufficiently managed, in line with Federal Health directives," says Bailey.
"Almost 2200 ships entered Queensland ports between 31 January, when MSQ first enacted restrictions from China then South Korea, and 18 March.
"To date, no cases of COVID-19 have been identified at our Queensland ports or affecting port workforces."
Updated at 4:21pm AEDT on 20 March 2020.
---
PM tightens indoor gathering restrictions, ups support for aged care, national budget postponed

Prime Minister Scott Morrison announced tougher restrictions to indoor gatherings during a press conference this afternoon as the Covid-19 situation worsens in Australia.
Indoor, non-essential gatherings will be restricted even further to four square meters per person in a room.
For example, in a room the size of 100 square meters only 25 people would be able to gather inside at any one time.
It comes in conjunction with a new stimulus package targeted at the aged care sector worth $444.6 million, adding to $100 million in funding already announced.
The package includes $234.9 million for retention bonuses, $78.3 million for residential care to support continuity of workforce supply, $26.9 million to supplement viability of residential aged care facilities, $92.2 million in additional support for home care providers like Meals on Wheels, and $12.3 million toward the My Aged Care service to respond to needs of older australians.
The PM has also advised all Australians to reconsider the need for unnecessary travel anywhere.
Ultimately the messasge from the PM and the Chief Medical Officer Brendan Murphy was clear and simple: stay home, practice social distancing, and do not work if you are sick.
"It is your civic duty to your fellow Australians to stay home for that entire 14 days if you've come back to Australia," says Murphy.
"No exceptions."
Further, the national budget will be postponed until the sixth of October. The states are making similar arrangements to postpone their own budgets.
"Forecasting the budget is difficult at the best of times, let alone when we're in the midst of a global pandemic," says Federal Treasurer Josh Frydenberg.
"It's important that we are able to deliver a budget at a time when there is more certainty about the economic environment, and that is planned for the first Tuesday of October."
Schools around the country have been instructed to continue to stay open, but the PM does encourage holding classes remotely where possible or practicable.
What is next on the PM's agenda?
In addition to the gathering restrictions, travel advice and the aged care support package the PM hinted at a number of changes that may be implemented in coming days.
Referring to the announcement made this morning by the Australian Banking Association that banks will defer loan repayments for all small businesses affected by Covid-19 for six months, the PM says landlords should expect to make similar sacrifices in the coming months.
"I want to particularly welcome the decision...that was made by the banks today which showed that they are pulling together with everyone else to ensure that we can get Australians through this," said the PM.
"States also agreed today, and further work will be done on this, working to identify how relief can be provided to tenants in both commercial tenancy and residential tennancies to ensure that in hardship conditions there will be relief that will be available."
"Now I know that will mean something for landlords...all Australians are going to be making sacrifices, and everyone does have that role to play, and that will include landlords at the end of the day for people who are enduring real hardship."
It also appears as if the Federal Government is working on a plan to deal with localised outbreaks of Covid-19 in specific communities.
Morrison says he is working with his medical expert panel on constructing a response plan to manage outbreaks that are localsed to specific communities of Australia.
No plans or details are set in place as of yet, but the PM says they are working on a scalable plan should a localised outbreak occur.
The PM's announcement comes as the global death toll cracks 10,000, with 10,030 people having died from Covid-19. 244.517 people are now confirmed to have been infected, and 86,025 people have recovered.
In Australia there are now 786 confirmed cases, with 382 in New South Wales.
Updated at 2.51pm AEDT on 20 March 2020.
---
More guidance withdrawals: Scentre Group, Vicinity Centres, Sonic Healthcare, Carsales.com

Yesterday's stimulus package and an emphasis on "essential services" have lifted shares in shopping centre owners and operators, despite two major players withdrawing guidance.
Vicinity Centres (ASX: VCX) suspended its guidance yesterday evening, and its shares jumped by more than 10 per cent to $1.147 this morning.
Vicinity's CEO Grant Kelley noted a deterioration in the retail trading and operating environment, with increasing uncertainty around the impacts of COVID-19.
"Given this, we have made the decision to withdraw our FY20 earnings and distribution guidance provided at that time," Kelley said.
"Our shopping centres continue to play an essential role for our communities, especially during this time of concern, providing access to food, household items, products, medical services and banking for everyday needs."
He highlighted shopping centres were defined as providing 'essential services to the community' by the Federal Government, and as such would remain open.
"Vicinity has a solid balance sheet. We are currently operating well within our covenants and have $1.3 billion of undrawn facilities," he said.
"We also have flexibility to defer capital expenditure on major projects until COVID-19 uncertainties are resolved. However, as part of our prudent approach to capital management, and given volatile market conditions, the securities buy-back program has been suspended."
Scentre Group (ASX: SCG), an owner and manager of Westfield shopping centres across Australia and New Zealand, suspended its guidance this morning citing volatility due to the pandemic. Nonetheless, SCG shares rose 23 per cent this morning to $1.85.
Shares also rose 6.3 per cent for Shopping Centres Australasia Property Group (ASX: SCP), and 2.7 per cent for Moelis Australia (ASX: MOE).
Carsales.com (ASX: CAR) has withdrawn guidance due to continued uncertainty in Australian market conditions.
"With the continuing spread of COVID-19, our overriding priority is the safety and wellbeing of our employees and customers in these difficult times," says carsales CEO Cameron McIntyre.
"We have a strong plan in place to reduce exposure to our employees and we have strong business continuity measures in place.
"As a business, we had good momentum prior to the impact of COVID-19 and we are confident in the underlying performance and resilience of our business model. We have a strong balance sheet and prudent gearing, which positions us well to deal with this challenging environment."
On a positive note, the company claims the international business remains resilient with continued good growth in revenue and earnings in South Korea, as well as a similar pattern in Brazil.
Shares drop for Covid-19 frontline player
Sonic Healthcare (ASX: SHL) was another company to withdraw guidance today, and its shares plummeted a further 8.68 per cent this morning.
"As a global laboratory company, Sonic is currently playing a crucial frontline role in combating the pandemic," says Sonic's CEO Dr Colin Goldschmidt.
"Our laboratories in Australia, the USA and Europe are testing thousands of patients every day for COVID19, and we continue to increase our testing capacity to meet the needs of the communities in which we operate.
"Our expert and experienced management teams and medical staff are working with governments and other healthcare organisations to provide as much assistance as possible."
Sonic Healthcare is also working with its major suppliers to ensure it has the necessary materials and equipment for testing.
"In addition to our focus on meeting the diagnostic testing needs of our communities, we remain focussed on the well-being of our 37,000 staff. I could not be prouder of the reaction of Sonic's people to this crisis," Goldschmidt said.
Other companies that have withdrawn guidance today include Credit Corp (ASX: CCP) and Raiz Invest (ASX: RZI), while Vita Group (ASX: VTG).
Other companies that have previously withdrawn guidance in response to the pandemic include: Boral (ASX: BLD), Downer EDI (ASX: DOW), Adairs (ASX: ADH), Village Roadshow (ASX: VRL), GPT Group (ASX: GPT), Nine Entertainment (ASX: NEC), Bluescope Steel (ASX: BSL), Redcape Hotel Group (ASX: RDC), Prospa Group (ASX: PGL), Hills (ASX: HIL) Accent Group (ASX: AX1), EML Payments (ASX: EML), Ramsay Health Care (ASX: RHC), Aristocrat Leisure (ASX: ALL), Mirvac Group (ASX: MGR), REA Group (ASX: REA), Monadelphous Group (ASX: MND), Coca Cola Amatil (ASX: CCL), Cochlear (ASX: COH), oOh!media (ASX: OML), Qantas (ASX: QAN), Webjet (ASX: WEB), Helloworld (ASX: HLO), Flight Centre (ASX: FLT), Corporate Travel Management (ASX: CTD) and Apollo Tourism & Leisure (ASX: ATL).
Updated at 11:24am AEDT on 20 March 2020.
---
Michael Hill shuts down stores in Canada

Pursuant to public health guidance in Canada jewellery retailer Michael Hill (ASX: MHJ) will shut down its store network for a period of two weeks.
The company says it will revisit the decision and either reopen or extend store closures as necessary.
Michael Hill's Canadian workforce will take leave without pay or allow staff to take up leave entitlements during the period.
The Covid-19 pandemic has resulted in a significant drop in foot traffic in each of Michael Hill's markets (Australia, New Zealand and Canada) and the company is seeing a corresponding impact on sales.
The company has so far not provided guidance on earnings for the current financial year and is now no longer in a position to make a reliable forecast.
"The Board and management team are confident that the business will be able to continue to work constructively with all of its stakeholders to navigate the uncertainties presented by the COVID-19 public health crisis," says Michael Hill CEO Daniel Bracken.
"Whilst there remain many uncertainties about the potential impact and duration of the crisis, we are focused on taking all necessary actions to reduce our costs and cash outflows so that they better match the very subdued consumer demand in all our markets."
Updated at 10:50am AEDT on 20 March 2020.
---
US to introduce malaria and HIV meds as Covid-19 treatment

US President Donald Trump says he is slashing red tape in order to get potential treatments for Covid-19 in the hands of patients.
Trump says an existing treatment for malaria called Chloroquine and its derivative Hydroxychloroquine, and an experimental HIV medicine Remdesivir, could soon be available for patients suffering from the coronavirus to try.
The President says new research shows they may hold unique promise as potentially effective treatments for Covid-19.
"Today I want to share with you exciting progress that the FDA is making with the private sector as we slash red tape like nobody has ever done it before," said Trump.
"I've directed the FDA to eliminate outdated rules and bureaucracy so this work can proceed rapidly, quicklyand, I mean, fast. And we have to remove every barrier."
However, this plan might not be as easy as Trump hopes.
According to the Food and Drug Administration (FDA) commissioner Stephen Hahn treatments will still have to go through existing protocols before they can be made available to Covid-19 patients.
Remdesivir is still being tested on patients in clinical trials in the US and China, while Hydroxychloroquine has not even begun clinical trials which typically take a number of years to complete.
Trump has also signed a new bill, called the Family First bill, which provides paid sick leave and paid medical leave for those affected by Covid-19.
Further, US Vice President Mike Pence has announced that the Government is working on making more ventilators accessible to coronavirus patients.
"We've literally identified tens of thousands of ventilators that can be converted to treat patients," says VP Pence.
"And we remain increasingly confident that we will have the ventilators that we need as the Coronavirus makes its way across America."
Updated 9:52am AEDT on 20 March 2020.
---
Visas to be extended for backpackers and seasonal ag workers

The Federal Government is on the cusp of answering the agricultural industry's call to extend backpacker and seasonal worker visas to allow fruit and vegetables to stay on shelves, and keep farmers in business.
Last night the Australian Fresh Produce Alliance (AFPA) urged the government to take action on the issue to ensure the virus outbreak does not jeopardise growers' ability to supply fresh produce for all Australians.
"If we do not secure these extensions workers will need to return to their home countries and there will not be the required workers to harvest a large number of fruit and vegetable crops, meaning Australians will not have access to healthy and nutritious fresh produce at this unprecedented time," said AFPA CEO Michael Rogers.
Speaking on ABC Country Hour, Minister for Agriculture David Littleproud said the government was "very close" to making some announcements around changes to visa arrangements.
He said visa entitlements and conditions that currently exist under schemes for Pacific Islanders, seasonal workers, holidaymakers or backpackers, would be extended.
"We've got to understand there's over 140,000 backpackers in the country at the moment, and over 7000 Pacific Island workers with their visas," he said.
"So there is a workforce that is here and it's about making sure that we continue to provide continuity to our producers."
When asked about potential working avenues in the sector for people made unemployed by the Covid-19 crisis, Littleproud replied that there was an opportunity for dislocated people who have lost their jobs.
"But you've got to appreciate that many of those will be in metropolitan Australia," he clarified.
"Now, will a worker in the hospitality industry want to go and pick oranges in Gayndah in Queensland, or go to the Northern Territory when they have family and they have commitments in metropolitan Australia for a six to eight-week period? We have to be pragmatic about the practical reality of people and how they'll act in this."
Michael Rogers of the AFPA explained last night that there are significant numbers of Australians among the 80,000 people employed in fresh produce across the country, as well as seasonal workers from the Pacific and Timor-Leste, and backpackers from around the world.
"While there will be significant employment opportunities for Australians, with AFPA member businesses already employing more than 5,500 Australians across every state of Australia, industry also urgently needs an immediate extension of the visas for seasonal workers and backpackers who are currently in Australia," he said.
Updated at 5:17pm AEDT on 19 March 2020.
---
No new cases in Wuhan
No new cases in Wuhan.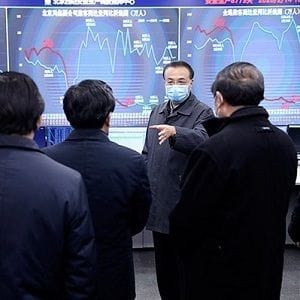 The Chinese city where the Covid-19 outbreak began has reported no new cases for the first time yesterday, according to the country's National Health Commission (NHC).
In a summary released today, the NHC notes there were no new cases yesterday in the province of Hubei or its capital Wuhan.
There were however 34 new cases reported across China yesterday, of which 21 were in the nation's capital Beijing, representing a daily record.
On 17 March the Chinese Government ordered the withdrawal of 15 medical teams from Hubei, with Vice-Premier Sun Chunlan thanking them for their tremendous efforts to curb the novel coronavirus.
More than 42,000 medical workers from across the country were dispatched to aid Hubei in fighting the epidemic since the virus outbreak.
Updated at 2:11pm AEDT on 19 March 2020.
---
---
Retailers rocky from store closures

The impact of store closures and a lethargic supply chain are weighing down some of Australia's listed retailers.
Lovisa (ASX: LOV) in particular has felt the brunt of disruption in Chinese production and the flow on effects to its global supply chain.
While production capacity at Lovisa's suppliers and distribution hub in China have begun to return normal levels, the jewellery retailer is experiencing delays in freight movements out of the country.
Additionally, the company has seen an escalation of the impact of Covid-19 worldwide, particularly how it is forcing its physical outlets to close.
All Lovisa stores in France and Spain have been closed since Sunday 14 March, with stores in Spain expected to be closed until at least the end of the month.
A government imposed shut-down of stores means its shopfronts in France will remain closed until the middle of April at least.
All Lovisa stores in Malaysia have been closed since 18 March and 25 stores across the USA are shut because of local government directives for shopping malls to close.
All other markets are still open and trading but Lovisa says it is witnessing a decline in sales.
Lovisa says it is not in a position to reliably estimate the financial impact of these events in the coming months.
A similar story is playing out for electronics and whitegoods retailer Harvey Norman (ASX: HVN) and fashion retailer City Chic Collective (ASX: CCX).
Sales in Northern Ireland, Malaysia, and Singapore are down for Harvey Norman.
The company's Slovenian, Malaysian and Croatian stores are all closed, while stores in Ireland, New Zealand, Northern Ireland, Singapore and Australia are all open for business as usual.
City Chic Collective says the effect of Covid-19 on its sales and earnings remains uncertain at this stage, but it has been impacted by the ongoing disruption to production from its Chinese supply partners.
With a sturdy online presence, buoyed by fashion brand Avenue, the company is in a position at this point in time to ride out the Covid-19 pandemic.
Approximately two thirds of CCX's global sales come through its online channel.
"This means we can deal with a protracted reduction in economic activity and disruption to our operations," says CCX CEO and managing director Phil Ryan.
"During this time, our focus will remain, as always, on delivering the right product at the right price through the right channel to our customers around the world."
The largest impact to CCX will be the downturn of consumer spending, but the company says its reactive and flexible supply chain position will ensure the company can manage its working capital through this period.
Updated at 11:53am AEDT on 19 March 2020.
---
Tasmania to close borders to non-essential travellers

From midnight on Friday 20 March travellers entering Tasmania for non-essential purposes will be required to go into a 14-day quarantine period.
Premier Peter Gutwein says only "essential" travellers will be allowed to enter the state without going into quarantine.
"Essential travellers will be those that are important to our health effort, or to an emergency situation, or those that keep our trade links running," says Premier Gutwein.
It comes as the Australian Prime Minister Scott Morrison made it clear that the effects of coronavirus on the country's economy could last for longer than expected.
"The reason I'm making that point very clear is there seems to be a view, and the Chief Medical Officer was pointing this out as well, that somehow you can just turn the tap off for two weeks and all of a sudden we've got through the coronavirus. That's just not true," said PM Morrison last night, speaking to Paul Murray on Sky News.
"So, six months is indicative. I certainly don't, at this point, think it would be any less than that.
"But we need to understand that the things we do, social distancing measures, all these things, we need to be able to keep doing, not just for a week or two, but for the next six months."
Morrison says the second economic support package, to be announced soon, will focus on building a safety net for small businesses and those who have lost work because of Covid-19.
"The next package of measures that the Treasurer and I are working on with the Cabinet is to really cushion the blow for those small businesses more broadly, how they're going to be impacted in terms of their cash flow again but also, sadly, those who might find themselves with not as much work as they had before," says Morrison.
"Sole businesses who won't be able to make their sole business operate to the same level or at all and to ensure that we cushion the blow for them by making the safety net a lot stronger and a lot wider to catch more, because we're going to have to do that to support people through the many months ahead."
"And what I'm saying to them is it has a finite life, this virus, it will run for a period. I'm saying at the moment we are estimating no less than about six months. It could be longer. It could take us into the end of the year. But we'll have to just wait and see."
At the time of writing there are 568 confirmed cases of Covid-19 in Australia and six deaths. Globally there are 214,894 confirmed cases and 8,732 deaths. 83,313 people have so far recovered from the coronavirus.
Updated at 9:34am AEDT on 19 March 2020.
---
Qantas to stand down majority of employees, suspends all international flights

Two-thirds of Qantas Group's (ASX: QAN) entire workforce will be temporarily stood down as the airline suspends all international flights from the end of March.
All international Qantas and Jetstar flights will be suspended until at least the end of May 2020.
Because of the suspension, the majority of Qantas Group's 30,000 employees, approximately 20,000 staff, will be stood down until services begin to resume as usual.
Senior executives and the board have increased their salary reductions from 30 per cent to 100 per cent until the end of the financial year, joining the chairman and group CEO in taking no pay.
The airline may maintain "key links" that the Federal Government believes should continue.
Essential domestic, regional and freight connections will be maintained as much as possible, with the airline sticking to the 60 per cent domestic capacity reduction announced earlier this week.
As a result, more than 150 aircraft will be temporarily grounded including all of Qantas' A380s, 747s and B787-9s and Jetstar's B787-8s.
Jetstar Asia (Singapore), Japan, and Pacific (Vietnam) will also suspend international flights and significantly cut domestic flying.
Affected staff members will be able to draw down on annual leave and long service leave and additional support mechanisms to be introduced, including leave at half pay and early access to long service leave.
However, periods of leave without pay for some employees will be inevitable according to Qantas.
"The efforts to contain the spread of Coronavirus have led to a huge drop in travel demand, the likes of which we have never seen before," says Qantas Group CEO Alan Joyce.
"This is having a devastating impact on all airlines."
"We're in a strong financial position right now, but our wages bill is more than $4 billion a year. With the huge drop in revenue we're facing, we have to make difficult decisions to guarantee the future of the national carrier."
Qantas believes it is prudent at this time to defer the interim dividend previously scheduled for payment on 9 April 2020 to 1 September 2020.
Updated at 9:10am AEDT on 19 March 2020.
---
Woolworths cancels some online deliveries, priority given to elderly and disabled

Product shortages and unprecedented demand have forced Woolworths to cancel a number of online deliveries and reassess its priorities.
The supermarket says it will be giving first access to its Woolworths Online service to seniors, people with a disability and those in mandatory isolation.
Once those customers have been served the supermarket will provide online deliveries to other customers where possible.
"Significant item shortages in store along with unprecedented demand for home delivery and Pick up services have unfortunately resulted in some customer orders being cancelled," said Woolworths managing director Amanda Bardwell in a letter to customers.
"We took this decision at the earliest possible point given the high level of items out of stock. We know we have disappointed many of you, for that I am truly sorry."
Those eligible for priority access can apply to Woolworths' Priority Assistance program here.
Additionally, Woolworths has suspended its usual delivery operations out of selected Australian supermarkets until further notice.
"We're ramping up delivery capacity out of our dedicated online customer fulfilment centres in order to service as many vulnerable customers as possible," says Bardwell.
"We'll look to resume our usual delivery operations out of our supermarkets as soon as possible."
Home deliveries will also now be contactless, and instead of requiring a signature for proof of delivery drivers will instead be taking a photo of the groceries.
The change to its online delivery service follows the supermarket's decision to dedicate an hour of shopping time at 7am every day to the elderly and disadvantaged.
Updated at 8:50am AEDT on 19 March 2020.
---
City of Sydney escalates control measures, closes gyms and aquatic centres

After a spate of new Covid-19 cases in Sydney over recent days, the city's council will be cancelling or postponing all non-essential events and in-person meetings, as well as closing gyms and aquatic centres.
In an announcement this afternoon, the City of Sydney added it would also be placing restricted hours on libraries and community centres.
"The safety of our communities, customers and staff is our top priority," Lord Mayor Clover Moore said.
"Over the past two months, the City has been working closely with NSW Health to ensure we respond urgently and effectively to the spread of COVID-19.
"It's crucial that we all follow the current health advice practising social distancing and when recommended, self-isolation. We have not come to the decision to cancel events or close facilities lightly, but we believe it's best for the community that we do so."
Moore highlighted the situation was changing daily and the council was constantly reviewing its operations and services.
The City of Sydney takes advice on all public health matters from the state and federal health departments.
As announced by the Prime Minister Scott Morrison, all public, non-essential outdoor gatherings of more than 500 people, and non-essential indoor gatherings of more than 100 people have been banned.
The City has cancelled or postponed all events of that size run by the City until further notice and will work with individual hirers of City venues in relation to their events as circumstances evolve.
The City has also introduced a number of precautionary measures to protect members of the community, volunteers and staff, including:
Cancellation or postponement of all non-essential City of Sydney events, in person meetings, conferences and training exercises until further notice
Temporary closure from Friday 20 March until Friday 3 April of all City of Sydney aquatic and fitness centres
Temporary closure for Glebe, Kings Cross and Green Square customer service centres from 19 March, for a period of one month
Restricted opening hours of 11am 1pm, Monday to Friday from 1931 March at Darling Square, Green Square and Custom House Libraries as well as Redfern, Harry Jensen, Reginald Murphy, Ron Williams, Cliff Noble and Juanita Nielsen Community Centres to provide online access to vulnerable community members
Temporary closure from 1931 March of libraries at Customs House, Darling Square, Glebe, Green Square, Kings Cross, Newtown, Pyrmont, Surry Hills, Ultimo and Waterloo
Temporary closure from 1931 March of Pine Street Creative Arts Centre, Harry Jensen, Juanita Nielsen, Redfern, Pyrmont, Ultimo, Ron Williams, Reginald Murphy, Cliff Noble and St Helen's Community Centres as well as King George V Recreation Centre
Committee and Council meetings will still be held in person at this stage, as this is required under the Local Government Act, but social distancing measures will be in place.
Members of the public are encouraged to watch these meetings via the City of Sydney's livestream rather than attending in person if at all possible.
Updated at 6:50pm AEDT on 18 March 2020.
---