R.M.Williams shuts down Adelaide workshop

Iconic Australian apparel brand R.M.Williams has been "stopped in its tracks" by the Covid-19 crisis and forced to shut down all production at its South Australian workshop.
Effective today its workshop in Salisbury, Adelaide, will be closed until further notice, resulting in the standing down of 709 employees.
The company says it is working closely with the South Australian Government to navigate through the financial crisis to ensure it comes out the other end.
R.M.Williams, famous for its leather boots and majority owned by Singapore-based private equity firm L Catterton backed by luxury retail conglomerate LVMG, closed all of its stores and Boot Rooms in Australia, the US, UK and New Zealand on 28 March.
To support its staff the company will be offering all 709 permanent and part-time Australian team members two weeks salary, as well as encashment of accrued annual leave.
Founded in Adelaide in 1932 R.M.Williams has survived its fair share of crises; it has been through the worst of World War II and has continued to operate ever since.
"Now, 88 years later, the Covid-19 crisis has stopped us in our tracks," says R.M.Williams.
"At this moment in these unprecedented times, it is hard to see past the headlines and understand what lies ahead. Australia, and central to that fabric, R.M.Williams, has shown through the decades and through recent times with the drought and bushfires that we are a people who adapt through tenacity, perseverance and a pioneering spirit."
"We will always represent the Australian bush and the spirit of Australia."
The company's customer service team will remain available to field enquiries regarding boot repairs, online services and Made to Order and R.M.Williams' online store continues to be open for business.
While R.M.Williams has made the decision to close down its workshop, fellow iconic Australian brand Akubra says it will continue to work during the crisis.
"We are proudly still manufacturing the Australian Army Slouch hat in these tough times the world is facing," says an Akubra spokesperson.
Updated 11:31AM AEDT on 1 April 2020.
---
News Corp to suspend 60 community print publications

A rapid decline in advertising revenue has forced News Corp to suspend 60 community titles in NSW, Victoria, Queensland and South Australia as of 9 April.
In an announcement yesterday the company said community mastheads would continue to publish digitally, with reporters and photographers expanding News Corp's hyper-local news coverage for consumers across Australia.
News Corp Australasia executive chairman Michael Miller said the decision to suspend printing of its community newspapers was not taken lightly.
"The suspension of our community print editions has been forced on us by the rapid decline in advertising revenues following the restrictions placed on real estate auctions and home inspections, the forced closure of event venues and dine-in restaurants in the wake of the Coronavirus emergency,' he said.
Miller noted as consumers increasingly turned to digital for local news, News would be increasing and developing its community coverage.
He said the impact on community print titles came on top of the toll on media from the refusal of digital platforms to pay publishers to use their content.
For now, the group's top priority is to preserve jobs and best position itself to counter the crisis.
"During this unprecedented time it is imperative that we reduce costs while continuing to keep the community informed and doing all we can to retain jobs," he said.
"The print suspension will allow us to assess the shape of the market itself and future conditions, taking into account how the Coronavirus situation unfolds in the coming period."
The announcement follows Elliott Newspaper Group's decision last week to suspend its traditional newspaper publishing in Mildura, Swan Hill and Kerang in response to the pandemic, as reported by the Sunraysia Daily - one of the mastheads affected along with Sunraysia Life, The Guardian - Swan Hill, Gannawarra Times and Loddon Times.
Elsewhere, News Corp's parent company in the States has reached a deal to sell its News America Marketing business to Charlesbank Capital Partners for US$235 million.
Updated at 11:14am AEDT on 1 April 2020.
---
Rex returns to Queensland skies after State Government performs a barrel roll

Regional airline Rex (ASX: REX) will resume services in Queensland after the State Government caved in to the carrier's force majeure declaration.
A last minute intervention from the Queensland Department of Transport and Main Roads (TMR) will allow Rex to resume full services in Queensland from today, with a reduced schedule to come into place from tomorrow.
While a final agreement between the TMR and Rex has not yet been reached, the airline says it will continue to run the reduced schedule in good faith until 8 April.
If a final agreement cannot be reached Rex will once again suspend all of its services in Queensland.
The change of heart from the Queensland Government came after Federal Minister for Agriculture, Drought and Emergency Management David Littleproud called upon the Queensland Premier to "show leadership and sit down with Rex".
"The people in remote towns like Birdsville and Bedourie need access to medicine and medical services," said Littleproud.

"The communities of Charleville and Cunnamulla should have the right to the same essential services as those in Brisbane.

"This is not an inconvenience, this is dangerous. The State Government has got to find some way of keeping Rex in the air and keeping regional and rural Queenslanders safe."
The airline first announced it would be pulling all services from Queensland yesterday morning, blaming a lack of State Government support for the shutdown of all services in the State.
The proposed shutdown was going to take place despite a sizeable $198 million support package for Australia's regional air networks which are struggling to stay airborne because of the Covid-19 crisis.
Because the funding from the Federal Government would only to cover one return weekly flight per route for regional airlines Rex said it would be unable to continue operating in Queensland without State Government support.
Rex will continue to service its remaining network in Australia outside of Queensland on a scaled back basis.
Updated at 10:23AM AEDT on 1 April 2020.
---
NSW Government calls on manufacturers to re-tool for Covid-19

With global supply chains more or less kneecapped and exports of essential medical supplies in high-demand, the NSW Government is calling on local manufacturers to re-tool.
The State hopes local manufacturers will redeploy spare capacity to manufacture medical equipment and hygiene products that are urgently needed to help fight Covid-19.
NSW Premier Gladys Berejiklian says the world is running short on hand sanitiser, handwash, soap, gloves, cleaning products, protective clothing, masks, eyewear and paper products.
"This is a call to arms for NSW manufacturers to look at ways to convert production lines into making the items we so desperately need," says Berejiklian.
"We have the ability within NSW to meet our local demand and the Government is moving to help manufacturers re-tool quickly to achieve this.
"Importantly, providing this opportunity to manufacturers will also allow some businesses to keep people in jobs when they may not have been able to do so."
Of particular importance is the urgent need for personal protective equipment and disinfectant, the supply of which will be greatly constrained globally for at least 12 months.
The "call to arms" comes as manufacturers around Australia have re-tooled to manufacture things like masks, gloves and hand sanitiser.
Just yesterday Adelaide food packaging company Detmold announced it will be producing hundreds of millions of respirator and surgical mask for South Australia and the Federal stockpile.
Distilleries nationally have been converting their boozy production lines into high-capacity hand sanitiser factories to meet national demand from hospitals and individuals alike.
Minister for Jobs, Investment, Tourism and Western Sydney Stuart Ayres says the NSW Government has set up an online portal to connect the supply chain so more finished products can be provided where needed.
"This is an opportunity for businesses to not only diversify their supply but produce incredibly important products for our State in a time of need," says Ayres.
"We will work to find solutions to provide our hospitals and our people with the protection they need, while keeping as many workers as possible in a job."
Businesses can register their interest to manufacture urgently needed goods via the NSW Covid-19 Emergency Supplies registration portal here.
The announcement comes as NSW hits 2,032 confirmed cases of Covid-19, with 114 new cases recorded in the state yesterday.
Nationally there are now 4,561 confirmed cases of the coronavirus, with 917 in VIC, 743 in QLD, 364 in WA, 337 in SA, 80 in the ACT, 69 in TAS, and 19 in the NT. 19 people have died of Covid-19 in Australia to date.
Updated at 9:17AM AEDT on 1 April 2020.
---
Retailers and landlords unite with leasing code of conduct

While Australia's banks will be given a $90 billion funding facility from the RBA and the country's Federal and State governments are offering unprecedented stimulus packages, there is still no clear-cut solution as to who foots the bill when retailers struggle to pay rent.
Thousands of retail outlets nationwide have closed in recent weeks including just about any clothing brand you can think of, as well as a raft of discretionary retailers like Michael Hill Jewellers, Adairs and Nick Scali.
In addition, social distancing restrictions have extended restaurant and café bans (except takeaway) to shopping centre food courts.
And while a welcome $130 billion has been pledged to subsidise wages for businesses that are suffering due to the pandemic, this is no panacea to pay the high fixed cost of retail space or the debts of the landlords who own it.
It is an inherently frictional relationship, and one that lends itself to blame game politics.
But the nation's retailers and shopping centre owners have shown goodwill today in an attempt to push through the crisis, following meetings over the past two days to establish a draft Code of Conduct for retail leasing.
The National Retail Association (NRA), Australian Retailers Association (ARA), the Pharmacy Guild of Australia (PGA) and the Shopping Centre Council of Australia (SCCA) have announced their shared commitment to ensuring business continuity.
The groups agreed no two retailers are the same and circumstances needed to be addressed on a case-by-case basis, but in general they agreed to the following leasing principles:
A short term, temporary moratorium on eviction for non-payment of rent to be applied across commercial tenancies impacted by severe rental distress due to coronavirus;
Tenants and landlords are encouraged to agree on rent relief or temporary amendments to leases;
The reduction or waiver of rental payment for a defined period for impacted tenants;
The ability for tenants to terminate leases and/or seek mediation or conciliation on the grounds of financial distress;
Commercial property owners should ensure any benefits received in respect of their properties should also benefit their tenants in proportion to the economic impact caused by Covid-19;
Landlords and tenants not significantly affected by coronavirus are expected to honour their lease and rental agreements; and
Cost-sharing or deferral of losses between landlords and tenants, with Commonwealth, state and territory governments, local government and financial institutions to consider mechanisms to provide assistance.
A full copy of the joint statement by all major Australian retail groups is attached and was sent to all states and territories today, calling for an implementation of the code.
"We sat down immediately after the Prime Minister's announcement to come together in good faith and continue our ongoing discussions to ensure landlords and tenants are working together," says NRA CEO Dominique Lamb.
"Our industry has a track record of working together, including on challenging issues, and this is about working together and assisting policy makers in the next phase given our group's longstanding engagement on retail leasing issues," adds ARA CEO Russel Zimmerman.
PGA national president George Tambassis notes pharmacies are under "immense pressure" as frontline health resources during the Covid-19 crisis, and they need the certainty and consistency that can be provided by this code.
SCCA executive director Angus Nardi highlights the work retailers and shopping centre owners can do to keep business going.
"Shopping centre owners and retailers have a mutual interest in business continuity and it's positive to have a unanimous and timely approach to tackle the pressing challenges we all confront in the current environment in a way that is fair and balanced to everyone," says Nardi.
Updated at 5:07pm AEDT on 31 March 2020.
---
Adelaide's Detmold Group to produce millions of respirator and surgical masks

A South Australian food packaging company famous for its Detpak brand will pivot to manufacturing surgical and respirator masks to assist in the fight against Covid-19.
Up to 160 extra staff will be hired at Detmold's Adelaide factory to produce 100 million masks for the Federal Government's National Medical Stockpile and 45 million for SA Health.
Specialised machinery will soon be installed at Detmold's Brompton-based facility, with production expected to commence in May.
Detmold CEO Alf Ianniello (pictured left) says he is proud that he and Detmold can step up to the plate and help fellow Australians in the fight against the coronavirus.
"Detmold is a South Australian company with a long history of employing locals, so to be able to assist with both flattening the curve in this time of crisis and helping keep South Australians in work is immensely rewarding," says Ianniello.
"We expect to have the capacity to manufacture over 20 million masks per month by June, and the facility will produce both surgical masks and respirator masks."
Detmold's pivot to manufacturing medical equipment is the latest example of private industry working with the public sector to achieve outcomes in the best interests for all Australians.
Minister for Industry, Science and Technology Karen Andrews says the initiative, spearheaded by SA Health, demonstrates the strength of Australian manufacturers.
"This is a fantastic example of how our strong manufacturing base in Australia puts us in a position to be able to make more of the medical supplies we need during the outbreak of this virus," says Andrews.
While Detmold's focus is on supplying SA Health and the Federal Government's National Medical Stockpile the company says it will be looking for ways to support other businesses and the broader community. Those interested in securing future supply should contact Detmold here.
Updated 3:44PM AEDT on 31 March 2020.
---
Virgin Australia proposes $1.4 billion bailout from Federal Government

Virgin Australia (ASX: VAH) has proposed a $1.4 billion bailout from the Federal Government so it can position itself to survive the Covid-19 crisis.
The 90 per cent foreign-owned airline confirmed a report in today's edition of The Australian where it was revealed Virgin Australia was considering asking for the sum.
The $1.4 billion would come on top of the $715 million support package for the broader aviation industry already announced by the Federal Government.
The request is a "preliminary proposal" according to VAH and remains subject to approval by the company's board.
VAH also confirmed in its ASX statement that the support "may or may not include conversion to equity in certain circumstances".
This would give the Federal Government a sizeable slice of the company which is currently owned by Singapore Airlines, Etihad Airways, Chinese investment group HNA, Chinese airline Nanshan, and Richard Branson's Virgin Group (through British Virgin Islands-based Corvina Holdings).
"Companies like the Virgin Australia Group are taking a range of measures to respond and manage the financial impact," says VAH.
"However, support will be necessary for the industry if this crisis continues indefinitely, to protect jobs and ensure Australia retains a strong, competitive aviation and tourism sector once this crisis is over."
Updated at 1:01PM AEDT on 31 March 2020.
---
Economic domino effect takes its toll on advertising giant WWP

With the Australian economy slowing down, especially with regard to retail and other businesses deemed 'non-essential', work is drying up for those dependant on promoting goods and services.
One of Australia's largest creative advertising agencies WWP AUNZ (ASX: WWP) has felt the impact of the coronavirus financial crisis as dominos tumble nationwide.
While the company says it is still too early to have a conclusive view as to the consequences of Covid-19, WWP has put in place measures to stem the flow of cash.
WWP has already cancelled its 2019 final and special dividends in light of Covid-19 as many of the company's clients have reduced marketing and communications expenditure for the financial year.
"The extent of their reduced expenditure is still unfolding but we draw some confidence from the increased communications work we are undertaking for a select number of our high-quality clients across sectors such as government, financial services, insurance, and FMCG, in response to the immediate demands of consumers and change in consumer behaviours," says WWP.
The company has put certain plans into gear to realise immediate cost reductions including:
A voluntary reduction in base salaries for paid board directors, the CEO and WWP's leadership team;
A voluntary program of nine-day fortnights and four-day weeks and utilisation of employee leave balances across the business;
Management of employee costs through a reduction in the use of freelance resources, limited new hires, a significant restriction in salary increases and a commitment to enhanced intra-group resource sharing;
A cessation of all international and domestic business travel;
Minimisation of capital expenditure; and
Reduction in property footprint through consolidation of lease space.
"These actions may change as we gain further clarity over the depth and timing of the COVID-19 financial impact," says WWP.
The company is also hoping to ensure that it has sufficient liquidity and covenant headroom to manage a variety of possible financial scenarios.
At 31 December 2019 WWP had over $300 million of liquidity in the form of undrawn facilities of $228 million plus $74.8 million in cash.
WWP's term debt facility of $270 million does not mature until June 2021 and the company has a rolling $150 million 364 day working capital facility which was only drawn to $10 million at 31 December 2019.
"Whilst we do not at this stage have clarity on the Company's earnings outlook for FY2020, it is our view that our 2019 year-end conservative leverage position, the pre-emptive and prudent decision to cancel the dividend on 24 March 2020, and the cost control actionsput the company in a sound position to weather the current, known impacts of the COVID-19 crisis," says WWP.
Updated at 12:16PM AEDT on 31 March 2020.
---
Johnson & Johnson sets ambitious Covid-19 vaccine target

US pharmaceutical giant Johnson & Johnson (J&J) has teamed up with a government office to commit more than US$1 billion (AUD$1.62 billion) for research, development and clinical testing of a Covid-19 vaccine candidate.
The company announced yesterday its subsidiary Janssen Pharmaceutical Companies was expanding a partnership with the Biomedical Advanced Research and Development Authority (BARDA), with a goal to start the first human clinical studies for the vaccine by September at the latest.
The lead vaccine candidate has been chosen from constructs J&J has been working on since January.
The company expects the first batches of a Covid-19 vaccine could be available for emergency use authorisation in early 2021, and is scaling up manufacturing capacity in a bid to supply more than one billion doses of a vaccine.
---
---
BARDA is part of the Office of the Assistant Secretary for Preparedness and Response (ASPR) at the US Department of Health and Human Services.
"The world is facing an urgent public health crisis and we are committed to doing our part to make a Covid-19 vaccine available and affordable globally as quickly as possible," says J&J chairman and chief executive officer Alex Gorsky.
"As the world's largest healthcare company, we feel a deep responsibility to improve the health of people around the world every day. Johnson & Johnson is well positioned through our combination of scientific expertise, operational scale and financial strength to bring our resources in collaboration with others to accelerate the fight against this pandemic."
J&J's chief scientific officer Paul Stoffels says the company greatly values the US government's confidence and support for our R&D efforts.
"Johnson & Johnson's global team of experts has ramped up our research and development processes to unprecedented levels, and our teams are working tirelessly alongside BARDA, scientific partners, and global health authorities," says Stoffels.
"We are very pleased to have identified a lead vaccine candidate from the constructs we have been working on since January.
"We are moving on an accelerated timeline toward Phase 1 human clinical trials at the latest by September 2020 and, supported by the global production capability that we are scaling up in parallel to this testing, we expect a vaccine could be ready for emergency use in early 2021."
The partners are also accelerating their push to find potential anti-viral treatments against the novel coronavirus, through ongoing work in screening compound libraries, including compounds from other pharmaceutical companies.
These antiviral screening efforts are being conducted in partnership with the Rega Institute for Medical Research (KU Leuven/University of Leuven), in Belgium.
Updated at 4:11pm AEDT on 31 March 2020.
---
15-minute coronavirus test turns fortunes for Cellmid

When the share market closed on Friday a little-known Australian life sciences company called Cellmid (ASX: CDY) was in a trading halt after selling at lows not seen since 2009.
The loss-making group has been in the thick of a turnaround strategy that saw its bottom line improve somewhat in the first half of FY20, but investor confidence eroded over the past three months as the Covid-19 crisis took hold.
That was at least until Friday evening, when a division that normally accounts for just 0.5 per cent of Cellmid's revenue took centre stage.
Diagnostic tests brought in only $18,051 for the company in the last half, dwarfed by the $3.7 million generated by its hair loss brands Jo-Ju and Lexilis along with the évolis-branded range of novel therapies and pharmaceuticals.
But Sydney-based Cellmid had an ace up its sleeve, courtesy of a breakthrough deal with the Australian partner of a Chinese company that developed a rapid diagnostic test for Covid-19.
Just after 7pm on Friday the company announced it had entered a supply agreement for the 15-minute testing kit with Australia Applications, the authorised distributor of Guangzhou Wondfo Biotech.
Australia already has one of the highest testing rates in the world for Covid-19, and if all goes to Cellmid's plan that distinction will be even easier to maintain.
Requiring only the most basic lab equipment, the test was approved by the Australian Therapeutic Goods Administration (TGA) as a point of care test (POCT) on 25 March.
The Wondfo Covid-19 rapid diagnostic tests are stable at room temperature (2-30°C) for up to one year, which Cellmid claims makes them an attractive option for regional testing or for mobile/rapid screening centers, combined with their ease of use.
Cellmid announced it had placed its first order for the test which could be used either as a bedside POCT, in doctors' surgeries, pathology labs or in remote sites administered by healthcare professionals.
Cellmid buys the tests at a fixed price, and notes it has not entered into any agreement to sell them to customers yet.
But the announcement was enough to send investors into a frenzy, with the share price rising from 10 cents to 31 cents yesterday, and at the time of writing today it had reached 38 cents - a level not seen since October 2018.
"Learning from countries that managed the coronavirus infections well it is clear that widespread Covid-19 testing, isolation of those testing positive and early treatment are the best methods to control the spread of infection, while saving lives and medical resources," says Cellmid CEO Maria Halasz.
"We are excited to be able to contribute to Australia's comprehensive effort to manage this pandemic."
The test consists of a small device that requires only 10 microlitres of patient serum or plasma, or 20 microlitres of whole blood, to be loaded into a receptacle, alongside an included buffer which then mixes with viral S protein fragments and migrates along the device to an area of immobilised capture antibodies.
If virus specific IgG or IgM is present, conjugates are formed, which show up as a distinctive red band on the device.
Updated at 12:22pm AEDT on 31 March 2020.
---
LiveHire called up to assist with QLD Government staff redeployments

As containment efforts against Covid-19 intensify, Melbourne-based talent acquisition platform LiveHire (ASX: LVH) has been called upon to redeploy Government staff into critical roles.
LiveHire has won a crucial Queensland State Government contract under which its platform will be used to profile, match and engage current employees in order to transition them into new crisis-management roles.
All of the 48 Queensland Government agencies will use LiveHire's platform, while the Queensland Public Service Commission will use LiveHire to support its "BeHere4Qld" project to redeploy over 15,000 public sector employees in a broad Government response to the crisis.
LiveHire CEO Christy Forest says the platform's flexibility made it the ideal choice for the Queensland Government.
"At this important time, we have leveraged the proven functionality of our platform to identify in-demand roles to assign well-fitted, available employees into a newly created Talent Community for the Queensland government," says Forest.
"Perhaps most importantly, our proven speed to implement, our ability to quickly engage and place the staff is crucial to our success with the state. We commend Queensland for its responsiveness to the crisis and its use of the latest technology to engage and communicate with its staff in a way that will deliver meaningful outcomes in service to Australians at this critical time of need."
Updated at 4:15PM AEDT on 31 March 2020.
---
Rex calls force majeure and cancels Queensland flights

In a strange turn of events regional airline Regional Express (ASX: REX) has announced it will shut down its Queensland services, just days after thanking the Federal Government for much-needed financial support.
Rex has essentially performed an aerial backflip; over the weekend the company's deputy chairman John Sharp welcomed a $198 million support package for regional air networks.
Now the company is blaming a lack of Queensland State Government support for the shutdown of all air services in the State.
"While the Federal Government has announced several assistance packages for airlines, no concrete details have been forthcoming and more importantly, not a single cent has been disbursed," says Rex.
"Further, the Federal Government is only funding a minimum essential service of one return weekly flight per route, and this reduced schedule approach was rejected by the Queensland State Government."
"With cash fast running out and no immediate prospect of a workable solution from the Queensland State Government, Rex has no choice but to declare a force majeure for the contract and suspend all services on Queensland regulated routes indefinitely until it has the ability to service the contract in a commercially viable manner."
The shutdown of services will take effect from tomorrow and will include the five regulated routes operated under Contract with the Queensland Government. Just last week however Queensland was the only State that Rex intended to operate in specfically because of Queensland State Government support.
Since Rex first contacted the Queensland Government for further assistance the airline says its financial position and cash flow has seen a sharp degradation due to a drop of patronage arising from travel being limited to essential travel only, as well as the border control measures being put in place across the nation.
Affected passengers will have their tickets placed on credit for when services resume.
Rex will continue to service its remaining network in Australia outside of Queensland on a scaled back basis.
Air New Zealand to become a "much smaller airline"
In other aviation news Air New Zealand (ASX: AIZ) has announced it will be reducing its workforce by 3,500 people in the coming months as it grapples with the problems raised by Covid-19.
The impact of losing many international tourists to the country will see the group's annual revenue dive from $5.8 billion to an expected $500 million.
"This has the potential to be catastrophic for our business unless we take some decisive action," says Air New Zealand CEO Greg Foran.
The company is planning on becoming a "much smaller airline" and is transitioning into a domestic airline with limited international services to keep supply lines open for the foreseeable future.
"Our monthly labour cost alone is $110 million," says Foran.
"We have $960 million in cash reserves today, but with very little revenue coming in, our cash balance will fall by tens of millions of dollars each week."
"And I am acutely conscious that a smaller Air New Zealand also comes with a significant impact on many of our suppliers, some of whom will probably have to reduce the size of their workforces because we won't be doing as much business with them."
Updated at 10:30AM AEDT on 31 March 2020.
---
Nick Scali closes all stores, stands down majority of staff

Furniture retailer Nick Scali (ASX: NCK) has announced it will temporarily shut all stores from the close of business today, standing down the majority of its 500-strong workforce in the process.
The group said it took the decision due to social isolation and distancing measures implemented by governments in Australia and New Zealand, as well as the "increased level of risk for our staff and customers should stores continue to operate".
Stores will be closed until at least 1 May, but distribution centres will continue to operate at normal capacity during April and May to support the delivery of customer orders.
The company has also rolled out the following cost reduction measures:
reducing marketing expenses in line with trading;
delaying store roll-out and discretionary capex in FY20;
engaging with landlords in respect of rent relief; and
reducing non-essential general operating expenditure
"The decision we have made today to close stores and stand down loyal team members was not made lightly, but I believe it is the right decision for our people and our Company in the long-term," says Nick Scali's managing director Anthony Scali.
"We thank our customers, suppliers, landlords and most importantly our team members for their understanding and support during this difficult time."
In the company's annual report last year Nick Scali reported a staff count of 515, and in its most recent half year results it noted a store count of 58.
The decision follows similar announcements from other furniture retailers including Matt Blatt and Adairs.
King Living recently announced its showrooms remain open, but with social distancing guidelines implemented along with minimal physical contact between visitors in showrooms.
"King Living product experts will be operating video chat consultations, via Whatsapp, Facetime and Google Duo and all Australian showrooms currently remain open. Please contact your nearest showroom for further enquiries on these services," the company said.
Updated at 6:48pm AEDT on 30 March 2020.
---
Genetic Signatures sends first shipments of Covid-19 testing kits

Specialist molecular diagnostics company Genetic Signatures (ASX: GSS) is sending its first shipments of a new Covid-19 testing kit to labs in Europe and Australia, with its manufacturing facilities in Sydney gearing up for "anticipated initial high-volume orders".
The company announced today it had submitted formal applications to European and Australian regulators to register the kits, and its shares jumped 23.64 per cent to $1.36 each.
Since the beginning of the year when it became apparent the Covid-19 outbreak was a serious global problem, Genetic Signatures has directed resources to develop a test for the coronavirus strain that causes it - SARS-CoV-2.
By supplementing existing assays and utilising its unique 3base technology, Genetic Signatures reports it has been able to specifically identify SARS-CoV-2.
Genetic Signatures' current EasyScreen Respiratory Pathogen Detection Kit and the new SARS-CoV-2 Detection Kit can be used on high throughput instruments that allow for rapid detection of up to 188 patient samples in approximately 4.5 hours with minimal hands-on time for laboratory technicians.
Confirmation from European regulators would allow for the continued marketing and supply throughout Europe and UK, as regulatory exemptions are for a defined period.
The data submitted for European approval will also support a planned FDA EUA (Emergency Use Authorisation) regulatory application in the USA in the near term.
At home, the company has sought inclusion on the Australian Register of Therapeutic Goods (ARTG). Licensed Australian laboratories are permitted to self-validate the tests to use the kits commercially.
Genetic Signatures CEO Dr John Melki says the company recently increased its capabilities in Europe and is ready to serve hospitals and test labs across the UK and European Union.
"Customers will be able to use the test to screen for the SARS-CoV-2 on its own or as part of our existing EasyScreen Respiratory Pathogen Detection Kit which identifies more than 14 common respiratory pathogens," says Melki.
"Our hope is it will help clinicians move faster and better manage their urgent work, to detection infection and save lives."
As a global supplier of Covid-19 test kits Genetic Signatures expects it will be classified as an essential service and, as such will not see its operations unduly impacted by increasingly strict lockdowns.
However, the group does note worldwide supply chain constraints could impact its ability to supply product to more remote locations.
Updated at 6:20pm AEDT on 30 March 2020.
---
PM announces $130 billion job keeper plan to keep businesses alive

Prime Minister Scott Morrison has announced a $130 billion stimulus package to partially pay the salaries of workers around the nation for the next six months.
The JobKeeper Coronavirus Supplement will see the Government pay Australian employers $1,500 per fortnight - around 70 per cent of the median wage - per employee.
"We will pay employers to pay employees, and we will make sure they do," he said, explaining the package would likely apply to around six million people.
"This is an incentive for businesses to adapt to these circumstances, to keep people on the books."
Payments - which will be at a flat rate - will start reaching Australian wallets in the first week of May and be backdated to today's date (30 March) for wages on the books since 1 March.
Workers who have been stood down since 1 March are still eligible for the supplement.
"Stood down employees should ring their employer and ask whether they are taking part in the JobKeeper scheme," he said.
To be eligible, business revenue needs to have fallen by 30 per cent or more, or 50 per cent in the case of companies with turnovers above $1 billion.
The Supplement is being delivered via the Australian Tax Office (ATO), which has the mechanisms available to follow up on employers.
Morrison says the package is an "economic lifeline" that businesses will need in the months ahead and survive the Covid-19 financial crisis, but notes payments will not include superannuation levies.
"Some will say it's too little, other will say that it's too much. I say we must work together to make this work and to make it go as far as possible," says Morrison.
"We want to keep the engine of the economy running through this crisis.
"In the worst circumstances we may see countries fall into chaos - that will not be Australia."
The $130 billion represents 6.9 per cent of Australia's gross domestic product (GDP) in 2019, adding to existing fiscal stimulus packages and quantitative easing worth around 10 per cent of GDP.
Treasurer Josh Frydenberg says the wage subsidy scheme is unlike those announced by other nations.
"It's more generous than New Zealand's scheme, it's broader than the United Kingdom's scheme, as it applies to all employees - not just those that have been stood down - and it's available to all eligible firms, not just small businesses, as is the case with the Canadian scheme."
Retail mogul Solomon Lew, who chairs Premier Investments, applauded the Prime Minister and the Treasurer for their announcement this afternoon.
"This will give employers like Premier a greater ability to retain team members during the COVID-19 crisis," said Lew, whose company is known for brands such as Jay Jays, Just Jeans, Portmans, Jacqui E, Peter Alexander, Dotti, and Smiggle.
"Premier's 9,000 staff have been stood down due to necessary store closures associated with social distancing and health measures mandated by the Prime Minister, the State Premiers and Chief Medical Officers.
"Premier's employees will now be able to access the Job Keeper subsidy in addition to the special arrangements we have put in place for them to access accrued annual and long service leave entitlements to reduce the financial impact over this time."
Lew added the National Cabinet, led by the Prime Minister, is doing and should continue to do all it can to help Australia survive this crisis.
"We all have a role to play and it's time for everyone to step up and play their part," he said.
"The ability to retain team members during this challenging time will give businesses the best possible opportunity to bounce back and thrive.
"Premier remains focused on the health and safety of its employees, its customers and the broader community and the company is committed to doing everything it can to stop the spread of Covid-19."
Updated at 4:19PM AEDT on 30 March 2020.
---
Matt Blatt closes all stores

Matt Blatt is the latest in a long line of retailers to close indefinitely because of Covid-19 and gathering restrictions.
In a letter to customers the furniture retailer said the temporary closures, effective today, are necessary to protect the health of staff, customers and colleagues.
New online orders have also been temporarily suspended but all existing orders will be delivered as normal.
READ MORE: Matt Blatt co-founder Deborah Drexler on the best risks her company ever took
Read the company's full statement below: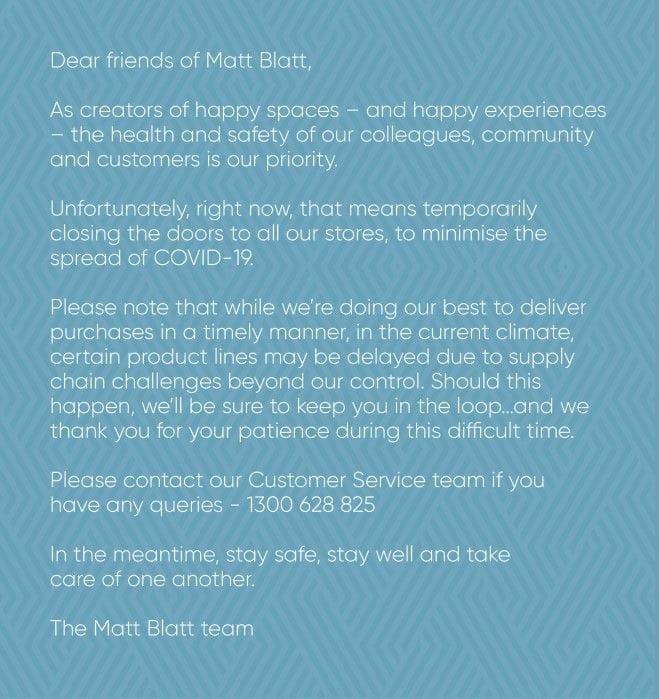 Updated at 3:09PM AEDT on 30 March 2020.
---
Guidance withdrawal update: QBE Insurance, BOQ, Tyro Payments

A string of new ASX-companies have today joined the long list of businesses opting to withdraw or suspend earnings guidance due to the uncertain economic outlook with Covid-19.
Click here for a full list of Australia's leading companies that have withdrawn guidance since the saga began.
QBE Insurance (ASX: QBE) and Bank of Queensland (ASX: BOQ) were the two largest groups to pull out today, while others included Tyro Payments (ASX: TYR), Evans Dixon (ASX ED1), ARB Corporation (ASX: ARB), AngloGold Ashanti (ASX: AGG), APN Property Group (ASX: APD) and Atomos (ASX: AMS).
Both QBE and BOQ both highlighted strong capital positions to see them through this time.
"These are extraordinarily difficult times for all of our stakeholders: our customers, our broker partners, our staff, our shareholders and the community at large," says QBE Group CEO Pat Regan.
"Despite the obvious and extreme disruption to normal business practices, our priority is to maintain the health and wellbeing of our staff and continue to support our customers in this time of need."
Similarly to the big four and as part of relief measures announced by the Australian Banking Association, BOQ highlighted the following initiatives to support its customers:
Deferred repayment periods of up to six months on business loans up to $10m;
The option to choose between deferred mortgage repayments or Interest Only repayments
for an initial period of three months; and
Fast track hardship assistance for impacted customers.
"We have a strong balance sheet with solid capital and funding, and robust risk management," says BOQ managing director & CEO George Frazis.
"We will support our customers in any way we can, especially at a time when some are feeling at their most vulnerable. We are here for our customers and will work with them through the challenges ahead."
Evans Dixon, which has been struggling with an underperforming US fund, noted it had seen a significant increase in trading activity by clients over the past two months, generating strong brokerage revenues.
"However, revenue in Wealth Advice will likely be impacted in coming months on the back of a significant reduction in the market value of funds under advice," the company said.
"In Funds Management, revenue from managing equities portfolios will likely be impacted as a result of market weakness."
Tyro Payments' decision came despite recording transaction growth through the first few months of this year.
"We are in the midst of a rapidly evolving situation and a prime focus is continuing to provide such assistance we possibly can to support those of our merchants experiencing hardship and keeping our team together in what are extraordinary times," says Tyro managing director and CEO Robbie Cooke.
"I am pleased to be able to say we continue to operate on a business as usual basis, providing the level of service, availability and support our merchants have come to expect from our team and we have in fact have increased our customer support teams in place 24 hours a day to assist our merchants.
"We had been on track to deliver our Prospectus forecast, however the unfortunate reality of the measures being implemented to contain COVID-19 have compressed our transaction growth rates and, with the current uncertainty both as to the duration of the pandemic and the extent to which it will continue to impact our merchants, we can no longer be assured of achieving our forecast."
Updated at 3:45pm AEDT on 30 March 2020.
---
Ansell maintains guidance as glove demand stays strong

Glove and protective equipment manufacturer Ansell (ASX: ANN) saw its shares surge 17 per cent this morning after reaffirming earnings guidance and noting "very strong demand" for its AlphaTec range.
The company explains that despite the unprecedented uncertainties and implications from the unknown extent of the Covid-19 pandemic, it still expects to deliver earnings per share (EPS) of US112¢-US122¢.
In addition, demand has been high for Ansell's Microflex and TouchNTuff single-use examination gloves, as well as its Gammex and Encore surgical gloves.
This however will likely be offset by declining demand for some industrial products, temporary lockdowns, export restrictions within the EU and elsewhere, and other restrictions relating to the outbreak.
The group explains its teams are working closely with government authorities around the world so they can continue to manufacture protective products and distribute them to areas where they are needed most.
Selective investments in new capacity are also being made, and the company expects to be able to continue to ship large quantities of product to key markets by leveraging locations that are not affected.
"As a safety company, the safety of our Ansell team members and the millions of customers we protect around the world remains our top priority," says Ansell's managing director and chief executive officer Magnus Nicolin.
"We are working to keep our Ansell people safe through home working where possible, social distancing and by providing PPE equipment and monitoring the health of all.
"This in turn, allows us to do even more to protect millions of customers worldwide."
Ansell used to be known for its condom brand which was sold in 2018. Reuters reports a condom shortage may be looming due to a factory shutdown for the world's biggest manufacturer, Malaysia's Karex Bhd.
Karex reportedly has not produced a single condom in a week, meaning shortfall of 100 million condoms that are normally distributed under the Durex brand.
Updated at 12:57pm AEDT on 30 March 2020.
---
WOTSO to benefit from BlackWall rent deferrals

BlackWall Property Trust (ASX: BWR) has announced it will be offering rent abatements or deferrals to tenants suffering due to the Covid-19 crisis, with co-working provider WOTSO WorkSpace set to be one of the key beneficiaries.
The trust has put forward a strategy to give its tenants the best chance of survival while limiting the impact on its property owners.
"Our approach is to provide rent abatements for all small businesses where economic survival is at risk and to offer rent deferrals to those tenants needing cash flow support," the group said.
"Accordingly, we have advised the 10 coffee shops and restaurants in our portfolio that no rent will be payable for April.
"We will review this on a monthly basis until the crisis passes. Some other small or vulnerable tenants have also been provided with rent abatements while others have been offered a mix of rent abatements and rent deferrals."
The company noted it will look to its larger and more secure tenants to meet their commitments during this time so that it can support those that are more vulnerable.
WOTSO is a significant tenant in BlackWall's portfolio and is expected to have its cashflow "severely impacted".
"WOTSO has offered all members the opportunity to suspend their memberships at this time with offices and or desks preserved for when members return.
"WOTSO rents space to some essential services so, as long as the law permits, WOTSO will remain open regardless of the number of members on site.
"Rent for all WOTSO facilities in our portfolio will be deferred subject to review on a monthly basis."
BlackWall joint managing director and COO Jess Glew tells Business News Australia that of the 17 WOTSO sites Australia-wide, 10 are within BlackWall properties including eight within its property trust and two within the broader group.
She says WOTSO normally accounts for around 30 per cent of the trust's rental revenue.
BWR explains it has adequate cash reserves, but to be prepared in uncertain times the trust has arranged an additional debt facility for the group which is being drawn today.
"BWR will then have $22 million cash on hand and will continue to retain significant capacity to expand with gearing at 24 per cent (up from 20 per cent at 31 December 2019)."
Updated at 12:29pm AEDT on 30 March 2020.
---
Australian banks extend loan deferrals to 30,000 more businesses

More than 30,000 Australian businesses can now access the six-month loan repayment deferral program after the Australian Banking Association (ABA) decided to extend the relief.
Businesses with total loan facilities of up to $10 million (up from the $3 million small business threshold initially announced on 20 March 2020) will now be able to defer repayments for loans attached to their businesses for six months.
The ABA's support now extends to 98 per cent of all businesses with a loan from an Australian bank, and will apply to an additional $100 billion of business loans. This will bring the combined total of loan repayments deferred by Australian banks to $250 billion.
During this period banks have also agreed to not enforce business loans for non-financial breaches of the loan contract (such as changes in valuations).
The new measures will apply in all sectors of the economy, and on an opt-in basis, under the conditions that:
For commercial property landlords, they provide an undertaking to the bank that for the period of the interest capitalisation, they will not terminate leases or evict current tenants for rent arrears as a result of COVID19;
the customer has advised that its business is affected by COVID-19;
the customer was current in terms of existing facilities 90 days prior to applying; and
interest is capitalised (meaning either the term of the loan is extended or payments are increased after the deferral period).
"As this crisis has deepened and more businesses are affected we are building on the Small Business Relief package to ensure more businesses are given a lifeline to help them survive through the coronavirus pandemic," says ABA CEO Anna Bligh.
"Banks are expanding their support to an extra 30,000 thousand businesses by raising the threshold of those who qualify for the six month deferral of loan repayments from $3 million to up to $10 million in total loan facilities.
"This will help protect many more thousands of small businesses from being evicted if they are struggling to pay the rent as it covers approximately 90% of commercial property owners who have loans with an Australian bank."
Updated at 11:30AM AEDT on 30 March 2020.
---
PM announces moratorium on evictions, gatherings restricted to two persons only

Australian commercial and residential tenants impacted by Covid-19 have been given a six month reprieve as the country's total number of confirmed coronavirus cases creeps closer to 4,000.
The National Cabinet has agreed to a moratorium on evictions over the next six months for both commercial and residential tenancies in financial distress who are unable to meet their commitments due to the impact of coronavirus.
The Government has encouraged landlords and financial institutions to collaborate with tenants on coming to an agreement to ensure businesses can make it to the other side of the coronavirus crisis.
A common set of principles, endorsed by the Federal and State Treasurers to guide these discussions includes:
A short term, temporary moratorium on eviction for non-payment of rent to be applied across commercial tenancies impacted by severe rental distress due to coronavirus;
tenants and landlords are encouraged to agree on rent relief or temporary amendments to the lease;
the reduction or waiver of rental payment for a defined period for impacted tenants;
the ability for tenants to terminate leases and/or seek mediation or conciliation on the grounds of financial distress;
commercial property owners should ensure that any benefits received in respect of their properties should also benefit their tenants in proportion to the economic impact caused by coronavirus;
landlords and tenants not significantly affected by coronavirus are expected to honour their lease and rental agreements; and
cost-sharing or deferral of losses between landlords and tenants, with Commonwealth, state and territory governments, local government and financial institutions to consider mechanisms to provide assistance.
The moratorium decision comes ahead of yet another stimulus package, expected to be announced by the Federal Government today.
As reported by the ABC, the scheme will include a new wage subsidy for businesses and workers impacted by the coronavirus. Businesses are expected to be paid up to $1,500 per fortnight, per employee, for the next six months.
Federal Treasurer Josh Frydenberg says the package will be an Australian-style system and will not mirror the approach taken by the United Kingdom whereby the Government is paying 80 per cent of businesses' wage bills.
In addition the National Cabinet has restricted indoor and outdoor public gatherings yet again to two persons only.
Exceptions to this limit include:
People of the same household going out together (who together are able to meet with one person maximum);
Funerals (a maximum of 10 people);
Wedding (a maximum of 5 people);
Family units.
Playgrounds, skate parks and outside gyms in public places will be closed while bootcamps will be reduced to two persons, including the trainer.
In Australia there are now 3,966 confirmed cases of Covid-19, with 1,791 in NSW, 769 in VIC, 656 in QLD, 311 in WA, 287 in SA, 77 in ACT, 61 in TAS, and 14 in NT.
$1.1 billion to supporting mental health and domestic violence services
The Federal Government has also announced $1.1 billion will be given to mental health, Medicare and domestic violence services.
"As we battle coronavirus on both the health and economic fronts with significant support packages in place and more to come, I am very aware many Australians are understandably anxious, stressed and fearful about the impacts of coronavirus and what it brings," said Prime Minister Scott Morrison.

"We are focused on saving lives and saving livelihoods and this new support package will provide much needed care and help to so many Australians facing hardship at no fault of their own.
"We will get through this crisis by staying together, by supporting each other and ensuring that no Australian, even though we have to be isolated, should have to go through this alone."
Medicare-subsidised telehealth services for all Australians will be expanded by a $669 million cash injection to further encourage the population to stay home as much as possible.
The Federal Government hopes the funding will take the pressure off hospitals and emergency departments, and allow people to access essential health services at home.
Domestic violence services like 1800RESPECT and Mensline Australia will receive $150 million.
According to the Federal Government Google is seeing the highest magnitude of searches for domestic violence help that they have seen in the past five years with an increase of 75 per cent and some services are already reporting an increase in demand.
Updated at 9.58AM AEDT on 30 March 2020.
---
Myer stores closed, 10,000 staff stood down

Department store Myer (ASX: MYR) is the latest retailer to shut down in the face of strict gathering restrictions and government advice regarding Covid-19.
To protect the wellbeing of customers, team members and the broader community, Myer will close all stores from the close of business on Sunday 29 March for an initial period of four weeks until 27 April 2020.
Myer's online business will remain operational during the period and the company has reduced the threshold for free delivery to $49 per order.
Because of the closures 10,000 Myer team members across the group's store network and support staff will be stood down.
Staff will not be paid during the four-week closure period, but full time and part time members will be given access to their annual leave and long service leave entitlements in addition to government financial support measures.
A small team working in business-critical roles will be kept on to undertake essential work and to support the online store. These staff will be operating on 80 per cent of their normal salaries and contracted hours.
"The decision to temporarily close all Myer stores and stand down so many loyal and dedicated team members is one of the toughest decisions this Company has faced in its 120 years of operation," says Myer CEO John King.
"Our focus must remain on operating our business in a manner that protects the health and wellbeing of customers and team members, whilst supporting the government, and the communities in which we operate, in limiting the spread of COVID-19."
"We will focus on ensuring we offer the best possible online experience for our customers, whilst being ready to restart the business in four weeks."
Fellow department store David Jones will remain open for the time being.
The company says it is monitoring the situation closely, but believes the large size of its stores will enable it to comply better with social distancing measures than other small-scale retailers.
"We have two smaller stores, Barangaroo, Sydney and James Street, Brisbane, where it is not practical to comply with the social distancing protocols as mandated by the government, so we have taken the decision to close these stores for a period of at least four weeks," says David Jones.
"All our other Australian stores remain open at this time, but please ensure you're up to date with our latest trading hours before your next visit."
The parent company of Country Road, Mimco, Politix, Trenery and Witchery announced the closure of its retail outlets on Saturday as coronavirus social distancing measures keeps Aussies inside.
Woolworths Holdings announced its stable of retailers will close until further notice on Saturday.
Updated at 8:30pm AEDT on 27 March 2020.
---
Rex rescued by $198 million government assistance package

Australia's regional airlines will be kept in the sky after the Federal Government announced a $198 million Regional Air Network Assistance Package.
The new funding brings the total amount of money committed to the Australian aviation industry to $1 billion and will ensure regional airlines can continue to deliver critical services during the Covid-19 crisis.
The move follows a decision from the Australian Competition and Consumer Commission (ACCC) allowing Regional Express (ASX: REX) to coordinate flight schedules on 10 critical regional routes with Virgin Australia (ASX: VAH) and Qantas Airways (ASX:QAN).
Prior to the competition watchdog's interim ruling, which will enable the three carriers to share revenue from providing services on the routes, Rex had announced it would be cutting all passenger air services (except for those within Queensland).
The company says just before the Federal Government's announcement it had been preparing a media release to announce the total shutdown of its network and the standing down of 90 per cent of its staff. The company will now be able to continue operations in almost its entire network of 59 destinations and in the next two days will be presenting a new national network schedule.
Because of the package around 30 to 40 per cent of Rex's staff will be able to keep working during the downturn.
"This package guarantees core routes for domestic air freight will remain open and essential workers remain employed, while providing vital financial support for airlines servicing regional and remote locations," said Deputy Prime Minister and Minister for Infrastructure, Transport and Regional Development Michael McCormack.
"More than 100 regional and remote airports received a scheduled passenger service last month and this funding will be welcome news for the aviation workforce and the broader communities these services support.
"The funding will ensure regional communities benefit from an ongoing airline service by underwriting airlines' operating costs on selected routes."
An additional $100 million is available to provide direct financial support to smaller regional airlines during this unprecedented downturn in aviation activity should it be needed.
Rex has welcomed the support package which it says will ensure critical and essential aviation services continue during the "worst operating conditions the industustry has ever seen".
"This meaningful assistance package not only seeks to keep essential air services going, but also tries to prevent the existing regional aviation providers from collapsing," says Rex deputy chairman John Sharp.
"With this assistance package, regional Australia can be sure that all previously sustainable regional operators will be able to spring back into business if the crisis dies down within the next six to nine months. With the network of regional aviation operators intact, not only will thousands of jobs be saved but regional communities can retain a minimum of vital air links which can be quickly expanded to assist the regional communities in their rebuilding efforts after the crisis."
Updated at 9.38am AEDT on 30 March 2020.
---
US stimulus package includes US$350 billion for job restoration and retention

US President Donald Trump passed an historic US$2.2 trillion (AUD$3.56 trillion) stimulus package on Friday night after it was passed by the House, including hundreds of billions of dollars for keeping Americans in jobs and supporting the unemployed.
Under the CARES Act $350 billion (AUD$566 billion) has been slated for job restoration and retention, while loan forgiveness will be available for those businesses that continue paying their workers.
The president highlighted US$300 billion (AUD485 billion) in direct cash payments would be made to citizens earning less than US$99,000 (AUD$160,206) per year.
This translates to US$3,400 (AUD$5,502) for a typical family of four.
The act also entails approximately US$250 billion (AUD$404 billion) in expanded unemployment benefits, which will mean the average worker who has lost their job will receive four full monthly salaries.
NBC News reports Trump thanked Republicans and Democrats for "coming together and putting America first".
"We got hit by the invisible enemy and we got hit hard. I think we are going to have a tremendous rebound," he was quoted as saying.
Under the financial relief bill signed on Friday, "the average worker who has lost his or her job will receive 100 percent of their salary for up to four full months." pic.twitter.com/9xevBDJj1T

The White House (@WhiteHouse) March 29, 2020
There are now 140,886 confirmed cases of Covid-19 and 2,436 deaths from the virus in the United States, of which more than 1,000 have been in New York State.
Dr Anthony Fauci, who is one of the heads of the White House Coronavirus Task Force, has warned the virus could end up killing up to 200,000 Americans.
The president has also extended social distancing-related restrictions will be extended across the country until at least 30 April.
Updated at 11:27am AEDT on 30 March 2020.
---
Carlton & United Breweries donates hand sanitiser to health workers

Australia's largest brewer has announced it will donate 20,000 litres of hand sanitiser to frontline medical staff as they fight COVID-19 in emergency wards around the country.
Belgian-owned, Melbourne-based Carlton & United Breweries (CUB) is producing at least 40,000 500ml bottles of hand sanitiser in partnership with leading hygiene company Ecolab.
"CUB always supports the community. And as the nation's biggest brewer, we have a part to play in battling this unprecedented crisis. Helping the people who are directly fighting the effects of this virus is a good start," says CUB CEO Peter Filipovic.
"We have the relationships and the know-how to get a project like this up and running quickly.
"For more than 150 years we've helped Australians come together over a beer. Now it's time to lend a helping hand as they stay apart to fight the virus. We'll have more announcements soon about how we're helping pubs and other customers get through this."
The company clarifies all the hand sanitiser it produces will be donated, while it will also be offered to vulnerable people in the community via support agencies, bottle shops, pubs, clubs and through its suppliers.
This will account for another 10,000 litres, bringing total production to 30,000 litres.
Ecolab will make the sanitiser using additional ethanol secured with support from CUB, ensuring thousands of litres of sanitiser gets to where it's needed most.
"We are very happy to be partnering with CUB and ensuring hand sanitiser gets to those who need it most," says Jan Pacas, Ecolab's managing director for Australia, NZ and the Pacific.
"This partnership has provided a big boost to our hand sanitiser production in a time when it's been crucially needed especially for our healthcare providers who are on the frontline."
The first bottles are expected to start leaving Ecolab's facilities this week.
Related story: Australian manufacturers heed the call for hand sanitiser supply
Updated at 12:04pm AEDT on 30 March 2020.
---
Stamford to temporarily close five hotels in Australia and New Zealand

A number of Stamford Hotels and Resorts hotels around the country will close in response to the Covid-19 crisis.
To ensure the health and wellbeing of guests, staff, and the wider community the following hotels will close temporarily from 31 March 2020:
Stamford Plaza Melbourne
Stamford Plaza Brisbane
Stamford Plaza Adelaide
Stamford Grand Adelaide
Stamford Plaza Auckland
Sir Stamford at Circular Quay and Stamford Plaza Sydney Airport remain open for the present time, but with severe restrictions on their services.
Stamford Hotels and Resorts CEO Ow Yew Heng says government-imposed restrictions have led to a downturn in business and a stoppage of the vast majority of work employees conduct on a daily basis.
"We are determined to ensure that the business overcomes the significant challenges that we currently face," says Heng.
"We look forward to welcoming you back to our hotels soon, and trust you and your family remain safe and healthy."
Updated at 12:18PM AEDT on 30 March 2020.
---
PM wants businesses to "hibernate" until recovery, forced quarantine for new arrivals

Prime Minister Scott Morrison will introduce a third stimulus package to put businesses into 'hibernation', alongside heightened border control measures in an effort to isolate those returning to Australia from overseas.
At a press conference today, the PM announced that from midnight (after 11:59PM) on Saturday 28 March those entering Australia will be forced to self-isolate in hotels and other accommodation facilities for two weeks to complete their quarantine period.
The harsh measures will be imposed given two thirds of Australia's more than 3,000 confirmed cases of Covid-19 are from people returning from overseas.
The 14-day quarantine period for international arrivals will be enforced by State and Territory police along with extra support from the Australian Defence Force.
The new rule follows a recommendation from the Health Protection Principal Committee who said the single most important thing that can be done right now is to stop returning travellers from spreading the virus to Australians.
These new quarantine measures, which the PM hopes will slow the rate of infection within Australia, come in conjunction with a brief announcement that the Government is working on a third stimulus package that will effectively place Australian businesses into a state of "hibernation".
This package is still being worked on and details of the package will be released in the coming days.
It is part of what the PM calls a "battle on two fronts" being fought by the Federal Government: the public health crisis and the economic crisis.
"We want these businesses to effectively go into hibernation, which means on the other side, the employees come back, the opportunities come back, the economy comes back," says the PM.
"No decision that we're taking on the health front is being taken lightly."
"Every day someone is in a job is worth fighting for."
As reported earlier today by the ABC, the package will ideally see business owners able to emerge after the Covid-19 crisis without having to walk away from their companies.
It is expected that the package will include measures that will waive all overheads including rents and mortgage repayments, meaning banks, lenders and landlords will likely have to make sacrifices.
He hopes that those in commercial arrangements like landlords & tenants and employers & employees will communicate with one another to come to agreements.
"What's sensible is to understand the economic environment we're in and to see that on the other side it's in everybody's interest that everybody gets through," says the PM.
With regards to residential tenancies, the PM says there is "work being done" with state premiers to ensure a consistent approach for renters nationally.
According to the PM, Australia currently has the highest rate of testing in the world with 180,000 tests completed so far in per capita terms. South Korea is hot on our heels.
The PM commended the efforts of Australians to self-isolate thus far, citing how the movement of people around metropolitan areas has fallen by approximately 80 per cent.
"Thank you, keep doing it, you're saving lives and you're saving livelihoods," says the PM.
"This has been a significant shift and we need to see it keep taking place all around the country. We've called on you as Australians to come together in this effort and the response has been simply magnificent.
"Businesses are adapting as well. Distilleries are making hand sanitizer, large companies like Woolworths are completely changing how they do things and are employing more Australians, cafés are changing how they do things - businesses are being agile and they're adapting even under significant strain and stress."
Updated at 2:44PM AEDT on 27 March 2020.
---
Brisbane City Council offers rates relief to businesses facing hardship

The Brisbane City Council (BCC) has responded to community concerns by offering rates relief to businesses and residents experiencing hardship due to the impacts of Covid-19.
The assistance will apply to all ratepayers, including owner occupiers, non-owner occupiers and businesses.
Payment plans or deferred payment arrangements will be offered for up to 9 months and interest will not be applied to any outstanding amounts. Rates rating recovery processing will cease until further notice.
This is in addition to the $7.9 million business relief package released last week that is designed to relieve some of the pressure on businesses and other organisations while they take stock of the impacts on their operations as the coronavirus crisis unfolds.
Council will waive all charges, rents, levies and permit fees effective immediately for all businesses, as they face economic hardship caused by coronavirus impacts.
There will be a moratorium on fees and charges for:
footpath and outdoor dining
food safety permits
commercial river moorings
advertising
temporary food stalls
commercial lease rents
commercial stalls, booths, and stands.
Lease fees for community organisations will not be collected. Businesses that have paid these fees since 1 March 2020 will have them refunded.
Updated at 3:32pm AEDT on 27 March 2020.
---
Premier Investments slams Westfield owners over coronavirus management

An owner of iconic retail brands ranging from Peter Alexander to Smiggle has hit out at the nation's shopping centres, questioning their handling of the public safety threat posed by Covid-19.
Premier Investments (ASX: PMV) executive director and Premier Retail CEO Mark McInnes issued a statement today criticising shopping mall owners in general, but it also took aim at Westfield centres owner Scentre Group (ASX: SCG).
"This issue is very real for Premier Retail - we have had two incidents in Scentre Group's Carindale mall where our team members were exposed to COVID-19-positive customers, and in both instances, when Scentre was notified, they took no action," McInnes alleges.
"We were made aware of these incidents by the affected customers themselves and the Queensland Health Department.
"We then notified Scentre, who to our knowledge took no steps to notify the other tenants, customers or the community of Carindale that positive COVID-19 cases had been shopping in the mall."
McInnes emphasises the deadly nature of the virus and claims "it is unacceptable for landlords to play roulette with the lives of retail employees and customers by not doing everything they can to protect them".
"We made the toughest decision to close our stores and stand down our team yesterday because we could not allow our team members, our customers and their families to continue to take the risk posed by our continued trading," he says.
"We agree with the statements made by the Prime Minister and the State Premiers and our Chief Medical Officers that everyone must limit their movements to the maximum extent possible in order to protect each other and our fellow citizens.
"At the same time, we know that the economic impacts of the closures forced by COVID-19 are real, especially for our team members who we have had to stand down."
He says these team members are feeling the economic pain, as are all hard-working Australians who have found themselves inexplicably standing in a Centrelink queue this week.
"Many senior business leaders are setting the right example by suspending their pay and entitlements during the shutdown," he says.
"The Premier Board and senior management team have done this so that we share the pain and show our team that we are all in this together.
"Australian shareholders are feeling the pain through the decline in values of their investments, as are millions of Australian superannuees. Many companies have also suspended their dividend payments to preserve capital, and Premier has extended its own dividend payment as a prudent measure."
McInnes also issued the following questions for Australia's retail landlords:
Why are your shopping centres open when the Prime Minister has asked all Australians to stay at home and the Premier of Victoria rightly says no shopping trip is worth risking a life?
What OHS systems and medical systems did you put in place to ensure nobody entering your shopping centre had coronavirus for the safety of retail employees who are asked to serve them?
What actions have you taken with the relevant health authorities to screen customers entering your shopping centres?
Where you have been made aware of infected customers and workers entering your shopping centres, have you taken all steps to advise all your tenants, all your customers and the entire local community of the risk?
Knowing the catastrophic impact of COVID-19 health restrictions on trade, what financial assistance have you offered your retail tenants to keep people employed in the short and long term?
Have all landlords across Australia reported to their customers and communities all instances where COVID-19-positive reported cases have visited a shopping centre?
Updated at 3:09pm AEDT on 27 March 2020.
---
NSW announces $1 billion fund to support businesses and jobs

The NSW Government has announced a second stimulus package that will direct $1 billion to businesses and the state's most vulnerable residents.
The fund is targeted at keeping people back in jobs primarily, but struggling businesses are set to benefit from tax cuts and the deferral of specific fees and charges.
For businesses with payrolls over $10 million, payroll tax will be deferred for six months.
Businesses with payrolls under $10 million will receive an additional three-month deferment of payroll tax on top of the three-month waiver already announced in the State's first stimulus package.
NSW will also defer gaming and lotteries tax for clubs, pubs and hotels on the condition that these funds will be used to retain staff.
For businesses with less than 20 employees that lease space from the State Government, rents will be deferred for six months.
The parking space levy has also been deferred for six months.
"These are unprecedented times and if we are to emerge in the best shape possible we need to ensure businesses keep their heads above water and keep employees on the books," says NSW Deputy Premier John Barilaro (pictured).
"We need to do whatever it takes to help businesses stay afloat so that they can hold onto as many jobs as possible as we get through this crisis. We will also be there to support those most vulnerable to ensure no one is left behind."
The $1 billion fund will also be used to create new jobs and retrain new employees. The NSW Government says it is already being used to employ 1,000 new staff at Service NSW.
Additionally, NSW will be allocating $34 million to boost funding to prevent homelessness, $30 million to boost the Energy Accounts Payments Assistance scheme, $10 million to support charities, and $6 million funding for Lifeline's operations in NSW.
The extra $1 billion in funding follows a $2.3 billion package announced last week which included a $700 million boost to health services and $1.6 billion for tax cuts and job creation.
"The NSW Government is leading from the front with a package which complements the stimulus measures delivered by the Commonwealth and RBA," says NSW Treasurer Dominic Perrottet.
"Our expectation is that any relief provided by the NSW Government will be used to contribute to help businesses stay in business and people stay in jobs. It's vital we keep people employed and ensure we have the ability to rebound when things improve."
Updated at 12:15PM AEDT on 27 March 2020.
---