WORLD'S FIRST NEXT FOR BRISBANE
Written on the 17 October 2014 by Julie Remen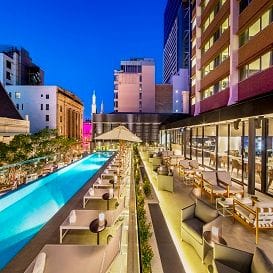 TECH lovers and fashionistas unite – the world's first NEXT Hotel has opened in Brisbane's Queen Street Mall adjacent to Australia's first Forever 21 retailer.

Singaporean hotel investment and operating company SilverNeedle settled on Brisbane as its first global destination for the newly created NEXT Hotel chain.

The hotel is accompanied by leading US retailer Forever 21, which takes up two floors and stretches almost 2000 square metres.

According to lord mayor Graham Quirk, NEXT Hotel has already boosted the Brisbane economy.

"It has injected $100 million into the local economy, created 100 ongoing jobs and added 150 new hotel rooms to the Brisbane market," says Quirk.

"SilverNeedle is making an outstanding contribution to diversify Brisbane's hotel offering and helping to promote Brisbane as a visitor destination."

Brisbane was an easy choice for SilverNeedle, with the company's managing director and CEO Iqbal Jumabhoy commending the city's openness to doing international business.

"SilverNeedle was attracted to Brisbane by the ease with which you can interact with government authorities through Brisbane Marketing and we believe that Brisbane is making all the right moves," says Jumabhoy.

NEXT Hotel targets the technologically-included traveller by allowing guests to remotely control the room temperature, unlock their doors and check in and out via the NEXT App.

All of the 304 rooms will come with a Samsung s4 phone free of use and complimentary minibar items.
Latest News
APOLLO REVS UP ITS RESULTS
APOLLO Tourism & Leisure (ASX: ATL) has hit its profit forecast in its maiden result as a publicly traded company...
PROFIT DROP AT SERVCORP
SERVICED office company Servcorp has seen its profit fall, citing New York City, Singapore and Saudi Arabia as the pr...