UNIT BROTHERS NAMED YOUNG ENTREPRENEURS OF THE YEAR
Written on the 24 November 2010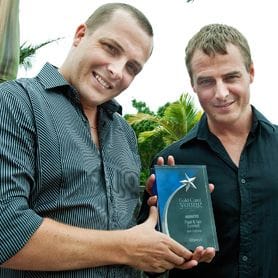 TWO brothers who started a sports action clothing brand in a Benowa garage with $600 have taken out the coveted 2010 Gold Coast Young Entrepreneur of the Year Award.

Unit Clothing founders Ian and Paul Everest (pictured, L-R) were awarded the title during a gala luncheon at RACV Royal Pines Resort.




The Unit brand is now found in more than 3000 retail outlets worldwide and this year the company will turn over more than $20 million.

The siblings dedicated their success to their late grandfather, who died aged 45 while working on a PNG coffee plantation.

Ian Everest told Gold Coast Business News that he and his brother never expected to be a role model for younger business start-ups.

"It's a bit ironic given the often controversial nature of our designs and messages," he says.

"But we're really just happy to be a part of a celebration of young Gold Coast business people. To win the top award was more of a bonus and a nice recognition of how far we've come."

Head designer Paul Everest was always confident in the duo's ability to build something special.

"Too often we see business people interviewed and they say they 'can't believe their success', but that's just so they pay a higher psychic price," he says.

"We had the belief that we could be this big. We had it when we had $600 in the bank. I'm a big believer in visions coming to reality."

Moo Moo Hospitality Group founder Steven Adams won the Highly Commended award. In the last financial year Adams' extended his restaurant chain into Brisbane and Fiji. Around 240,000 customers will dine across his four premises in 2010.

Guvera founder Claus Loberg won the inaugural Trailblazer Award – initiated to commend a young businessperson on an innovative concept set to achieve big results. Loberg's digital music downloading platform is set to revolutionise the music industry with branded advertising channels.

This year marked the third anniversary of the Gold Coast Business News event.

Event founder and editor of Gold Coast Business News Jason Oxenbridge, says collectively, the 20 finalists employ around 500 people and generate annual revenues of $92 million.

"It's a truly independent awards initiative that thrives on the kudos of those business people aged under 40 who continue to contribute substantially to the Gold Coast economy," he says.

"This year our winners and all finalists have proven once again that the Gold Coast is a hotbed of innovative activity and we congratulate them on their achievements."
Full profiles of the 2010 Gold Coast Young Entrepreneur of the Year finalists can be found in the annual Gold Coast Business News edition – out now in more than 450 Gold Coast newsagents.
Latest News
WHY NEXTDC'S STOCK IS SOARING
AFTER posting its interim result, NEXTDC (ASX: NXT) gained more than 12 per cent on the stock market before noon.
...