STRAIGHT TALK: COAST ON 'CUSP OF GREATNESS'
Written on the 19 August 2015 by Jenna Rathbone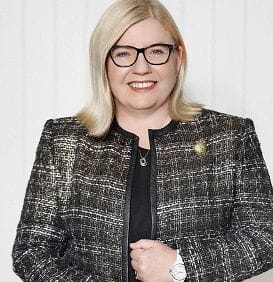 THE Gold Coast has an unparalleled opportunity to transform into a culturally diverse and economically sustainable city, but only if business leaders work together, says Janelle Manders.
The HLB Mann Judd Gold Coast managing partner says the city is on the cusp of greatness, but shouldn't rely on the three levels of government to make big changes happen.
"A thriving business community is a hallmark of a great city and commerce is a powerful force in bringing about change," says Manders, the inaugural chair of Friends of Griffith Business School and director of the Gold Coast Football Club.
Manders talks to Gold Coast Business News about the city's need for a strategic business group to focus on the long-term vision for the Gold Coast, along with the challenges and opportunities the city is facing.
What are three key leadership strengths you bring to your role at HLB Mann Judd Gold Coast and how do they assist in the successful running of the business?
We have to give people the confidence to 'have a go' and provide the collaborative leadership that allows them to explore their ideas, profit from their passion and achieve successful, sustainable growth.
Our leadership is reflective of the level of disruption and opportunity private business is currently experiencing.
It's more important than ever to listen to and understand our clients to establish strong ties that allow us to identify the most valuable support and then develop the strategic framework to help them achieve what they want.
Strategic, big-picture thinking then allows us to adapt our services, tools and information to suit our clients' changing playing field and changing needs.
Finally, exuberance is required to keep spirits high and to inspire people through change. Things don't always happen as quickly as you'd like or expect.
What have been some of the biggest challenges over the past five years for HLB Mann Judd Gold Coast and how did you overcome these?
A big challenge was the impact the economic downturn had on our clients' confidence to devote resources to areas other than essential services. It's meant we weren't able to deliver the 'big-picture' work that brings about significant change and better business outcomes.
Another challenge has been the significant evolution and increased sophistication of accounting packages. Our industry has evolved from requiring skills to ensure data is accurate to needing expertise to interpret that data and provide far more proactive counsel. For us this has meant providing robust training so we are adding value to clients at every touch point within our organisation. Accounting firms that aren't active partners in their clients' business growth aren't adding value.
What have been some of the biggest highlights and achievements of your career?
Becoming a chartered accountant was a highlight and I'm proud to say all of our employees are either chartered or studying to be chartered. It's an industry accreditation you undertake while you're working requiring theoretical and practical knowledge, so it's not an exaggeration to say it's incredibly hard and a great achievement.
Becoming a partner in the Gold Coast office - and the first female partner to do so across HLB Mann Judd nationally - was also a huge milestone for me. I was lured here 21 years ago by the beach and the can-do attitude and general energy of people who live here. Supporting enterprising people to turn their passions into sustainable business is where I get my inspiration and drive from. Helping them create a business from nothing, watching a development project become a thriving community, and seeing them win excellence awards are constant highlights for me.
I'm also proud of achievements such as becoming a director of the Gold Coast Suns and chair on various other community groups because I want to see the Gold Coast achieve its potential and being part of that driving force is exciting.
As a chartered accountant, how do your services differentiate from competitors and what is the best advice you can give to businesses to be financially successful?
Our research shows us that it's not simply our services that differentiate us. Instead it's how we deliver them and the framework they're delivered in. It's the collaboration, big-picture thinking and focus on achieving our clients' vision.
Our advice is that private business must show two attributes a desire to profit from their passion and an idea of the type of business they aspire to be. Our services and support are designed to bridge the gaps in the journey of turning the idea into an exceptional business.
You are on a number of boards including the inaugural chairman of the Friends of Griffith Business School and director of the Gold Coast Football Club - why do you believe it is so important to give back to the community?
Fundamentally we are all part of our community and what determines our strength and diversity is the level of contribution from our people.
Inspiring and engaging all citizens in education and training, business and economic development and arts and culture is what will embrace innovation, enrich our culture and create jobs.
I'm proud to call the Gold Coast home and I share a deep desire to drive positive change for our community. Through my personal contributions it gives me an understating and strong connection to grassroots issues and the ability to drive that change.
What makes the Gold Coast a great place to do business?
Gold Coast people are unique and dynamic we can live anywhere but we've chosen to live here and 'have a go' at carving out a sustainable livelihood. We are a community full of energy and our linear city with a collection of villages creates a diverse range of business opportunities.
We're on the cusp of greatness through population growth and the emergence of new industries and we have the mindset, skills and talent to develop the next wave of innovative products and services.
We just have to ensure we create an environment where we mentor, innovate and support each other in channeling our enterprising spirit into a strategic focus and develop the key drivers of a strong community.
What are some of the challenges the city is facing and what can the Gold Coast do better to ensure a thriving business community?
We have an unparalleled opportunity to turn the Gold Coast into a city that is culturally diverse and economically sustainable, but government, business and community all need to contribute and collaborate.
We shouldn't always rely on the three levels of government to make big changes happen. If you look at hot topics like transport infrastructure or the ILS, business should be coming up with ideas and ways of making it happen as well.
A thriving business community is a hallmark of a great city and commerce is a powerful force in bringing about change.
We need a strategic business group to focus on the long-term vision for the Gold Coast, with forums to discuss, debate and deliberate on issues affecting the whole community.
A collective approach like this would inspire a new legion of private business engaged in driving the entire community.
Author:
Jenna Rathbone
About: Jenna Rathbone is a Queensland-based journalist who writes on a range of issues including business and property affairs and social issues.
Connect via:
Twitter
Latest News
WOOLWORTHS' SALES BOUNCE BACK
WOOLWORTHS showed its first sales growth in almost a year as its core supermarket sales rose by 0.7 per cent in th...