RBA HOLDS INTEREST RATE
Written on the 4 February 2014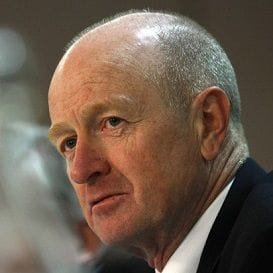 THE Reserve Bank of Australia (RBA) has kept the cash rate unchanged at 2.5 per cent.
The widely anticipated decision has been applauded by most industries, bar retailers hoping for a further cut in rates (see below).
While inflation was higher than expected for the three months to December, consumer demand improved, and the residential construction industry showed positive signs, RBA governor Glenn Stevens (pictured) says near term prospects for business investment remain subdued.
"The bank expects growth to remain below trend for a time yet and unemployment to rise further before it peaks. Beyond the short term, growth is expected to strengthen, helped by continued low interest rates and the lower exchange rate," says Stevens.
Inflation is expected to be higher than forecast, but still consistent with the 2-3 per cent target over the next two years. The rise is partly explained by the lower exchange rate, though domestic prices rose as well.
Stevens says the most prudent course is likely to be a period of stability in interest rates as the global economy shows a reasonable prospect of picking up.
"The United States economy continues its expansion and the Euro area has begun a recovery from recession, albeit a fragile one.
"Japan has recorded a significant pick-up in growth, while China's growth remains in line with policymakers' objectives."
The US is slowing its monetary stimulus but monetary conditions remain accommodative.
Locally, there are signs of an increase in consumer demand and a solid expansion of housing construction, but Unemployment is edging higher and growth in wages has declined.
Housing Industry Association senior economist Shane Garrett:
"Today's decision by the RBA to hold rates was widely anticipated by the market and represents a sound policy prescription for the Australian economy at this time.
"We expect the RBA to stick with a low interest rates policy for the foreseeable future. There is no serious inflationary threat at the moment, and low interest rates will continue to guide the Australian dollar lower on foreign exchange markets.
"A lower dollar means stronger demand and this is something we need with mining investment coming off peak.
"Low interest rates can help to bolster domestic demand in particular. The recovery in new dwelling investment over the past year is evidence of this. However, the weak state of the home renovations market underlines the need for interest rates to remain low in order to revive activity across all sectors of the economy.
"In today's statement, the RBA has emphasised the importance of stable interest rates at this time. Accordingly, we may be set for record low interest rates for a prolonged period."
Australian Retailers Association CEO Russell Zimmerman:
"It is crucial that the RBA and government work together to find a way of supporting small business finance availability. Without access to much-needed finance, the retail sector will not be able to move forward and develop.
"The ARA is also worried that a rate stay at this time of year may reverse the positive results that the industry has worked hard to achieve over the last few months, particularly during the booming Christmas period.
"We were hoping for a reduction in the current cash rate in order stimulate employment, particularly youth employment which has recently hit an 11-year low. The ARA is strongly concerned for the future of Australian retail workers and a reduction today would have certainly supported the retail industry and encouraged employment opportunities for the leaders of tomorrow.
Tim Lawless – RP Data National Research Director
"The decision by the Reserve Bank to keep the cash rate on hold came as no surprise, with a raft of positive data flows over recent weeks. From a housing market perspective, the release of the RP Data – Rismark Home Value Indices yesterday showed home values were still rising across Australia, up a strong 1.2 per cent over the month of January.
"The latest housing market results take annual capital gains across the combined capital cities to 9.8%, with every capital city apart from Hobart recording a rise in dwelling values over the year.
"The improved housing market conditions have provided a substantial flow on effect to the housing construction sector as developer confidence improves with housing market conditions.
"Dwelling approvals are up close to 22 per cent over the 2013 calendar year and there have been consistent rises in the number of new home sales. We expect housing market conditions to remain buoyant while mortgage rates remain so low, however further rate cuts are looking like an outside bet at best."
Latest News
WHY NEXTDC'S STOCK IS SOARING
AFTER posting its interim result, NEXTDC (ASX: NXT) gained more than 12 per cent on the stock market before noon.
...