PIZZA-PRENEURS BRING IN THE DOUGH
Written on the 27 April 2015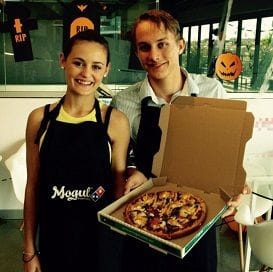 A YOUNG entrepreneurial couple has pocketed more than $50,000 from the Domino's (ASX:DMP) Pizza Mogul campaign, with their international inspired pizzas.
Emma Edwards and Cameron Blackburn charged to the top of the Pizza Mogul leader board with their range, #FlavoursOfTheWorld.
The website and app allows Australian users to create their own pizzas with numerous Domino's ingredients and share them on social media.
Pizza Moguls can earn between 25 cents and $4.25 for each pizza sold, with the 18 and 19 year old Toowoomba team operating for seven months.
Edwards says she has learnt vital marketing skills and business strategies while participating in the program.
"Cameron and I have put together a business plan for #FlavoursOfTheWorld and we have been inspired by international flavours with our pizzas which have proven to be very popular," Edwards says.
"We've realised that handing out pizza samples to our friends and families has been the best approach, with social media also being a great way to get the word out.
"It has been a huge learning curve and it's now my plan to go to the University of Queensland to study business management next year."
She says the money will be put towards her studies, as well as a trip to Europe.
Edwards and Blackburn also donate a portion of their Pizza Mogul earnings to non-profit BeyondBlue and give pizzas to Teen Challenge in their hometown.
Latest News
WHY NEXTDC'S STOCK IS SOARING
AFTER posting its interim result, NEXTDC (ASX: NXT) gained more than 12 per cent on the stock market before noon.
...