KOREANS CONFIDENT
Written on the 12 April 2011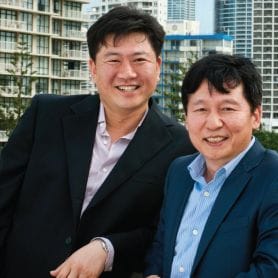 KOREAN developer City Plan Partners (CPP) remains confident that a proposed $700 million twin tower in Surfers Paradise will be viable.
The towers will be undertaken in a joint-venture with Hyundai Amco on a prime development parcel in Surfers Paradise north of QT Gold Coast.

Headed by directors James John (right), Anthony Kim (left) and Carl Lee, CPP secured Gold Coast City Council approval for the 715-apartment twin tower high-rise in December 2009.

"We are delighted to be partnering with Hyundai Amco which is a strong company affiliated to one of Korea's largest group of companies in the Hyundai Motor Group," says John.

"This new partnership gives us an opportunity to deliver this project to the market earlier than we anticipated and we are looking forward to working through our design plans with the view of launching in the coming months."

City Plan Partners are the developers behind the $220 million Victoria Towers at Southport.
Latest News
APOLLO REVS UP ITS RESULTS
APOLLO Tourism & Leisure (ASX: ATL) has hit its profit forecast in its maiden result as a publicly traded company...
PROFIT DROP AT SERVCORP
SERVICED office company Servcorp has seen its profit fall, citing New York City, Singapore and Saudi Arabia as the pr...