IS THE GOLD COAST GEARING UP FOR A SECOND PDA?
Written on the 6 March 2015 by Jenna Rathbone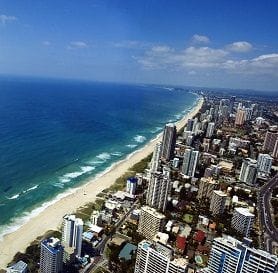 THE success of the Southport priority development area (PDA), which so far has attracted more than $2.3 billion in development proposals, has prompted calls for an extension of the initiative to drive future growth for the city.

David Ransom (pictured below), president of the Gold Coast-Logan branch of the UDIA says the city council should seriously consider creating another PDA to promote development along the remainder of the light rail corridor.
"As $1.4 billion has been spent on the light rail, steps need to be taken to ensure the private sector can invest along the light rail route to ensure the resultant population growth takes advantage of this infrastructure," he says.
"I'm not exactly sure of the boundaries of such an area but it would be east to the beachfront and west to within a logical walking distance of the light rail stations, say within 800 to 1000 metres.
"If a PDA isn't able to be supported, then the new city plan would need to achieve a similar result by streamlining the development assessment process and providing increased development potential within walking distance of the light rail stations, including some existing lower density areas west of the light rail route."
Ransom says it wouldn't take anything away from the current PDA, which aims to significantly boost plans to revitalise Southport as the Gold Coast CBD.
"The thing that sets a CBD apart from any other part of the city is that it is meant to be a location where jobs and employment opportunities are concentrated. The Southport PDA facilitates that outcome," says Ransom.
"A PDA for the remainder of the light rail corridor could have a focus on residential development rather than non-residential development, thus ensuring that high population densities are located along the light rail corridor to funnel public transport patrons into the major coastal centres including Southport, where the jobs are located."
Since October 2013 when Southport was declared a PDA, the total potential development investment value of major projects has surged to $2.375 billion. Total potential construction-only value sits at $1.815 billion.
Overall, 38 developments have been approved adding 6071 new residential apartments, 88 motel suites, 5821sqm of new retail space and 52,094sqm of new commercial office space.
Member for Southport Rob Molhoek says it was always the intention to create a second PDA to support growth along the light rail corridor.
"The reason council didn't go with it straight away was because they felt the best chance they could give Southport for developing quickly was to secure those rights for the Southport CBD and give it some time to establish," he says.
"If we are serious about having an established CBD then we probably need to give it at least four or five years to settle down and have that exclusivity.
"Otherwise you spread the development everywhere and you don't get the efficiencies of scale and you don't achieve the concentrations of development you want to truly make Southport the CBD."
Councillor Dawn Crichlow agrees and says it would be unfair to those who have already submitted applications through the Southport PDA and "you can't just fool people around all the time".
"If we start doing them everywhere then you are just flooding the market, that would be silly," says Crichlow.
"We have got to give these people that have already put their money where their mouth is the right to now build the building that they have approval for without any risk of being duplicated down the corridor.
"Give Southport a go and then move down to areas like Broadbeach because that is where the next wave will be, and then take it along the light rail corridor."
GoldLinQ CEO Phil Mumford says it is up to local and state government to determine how best to develop the areas surrounding the light rail corridor on the Gold Coast.
"If it's determined that a PDA is the tool to unlock the best potential for development along the light rail corridor, then we will work within that framework," says Mumford.
He adds that infrastructure such as the light rail is for the long-term growth and development of cities, not just immediate positive results.
"It has been shown globally that fixed transport corridors support mixed use developments around their key nodes, facilitating increased property values, an increase in commercial activities and diversification in economic activity.
"This all helps provide confidence for private sector investment, if there is the appropriate planning strategies in place.
"I'm confident that planners at all levels of government possess the appropriate long-term strategies to make the most of the opportunities along the light rail corridor."
Author:
Jenna Rathbone
About: Jenna Rathbone is a Queensland-based journalist who writes on a range of issues including business and property affairs and social issues.
Connect via:
Twitter
Latest News
SANTA DELIVERS KOGAN A GIFT
KOGAN.COM (ASX: KGN) has exceeded its expectations and reported another strong quarter of trade.

The online retail...