INTERNATIONAL BLEND
Written on the 5 October 2010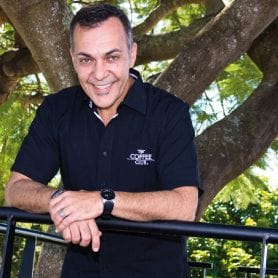 FOLLOWING The Coffee Club's expansion into Thailand last year, the Brisbane franchise expects to grind its way into the Middle East in just over a year.

Co-founder John Lazarou (pictured) says The Coffee Club has recorded 18 per cent growth in the last 12 months, with further expansion planned in regional Australia, the Middle East, India and China.

"Obviously we're very focused on growing the brand nationally and internationally, and we're getting a lot of enquiry from all around the world, from some really obscure places too," he says.

"That's a good thing when they choose us for their market, but for the brand we have to make sure the master franchises in different countries can do all the things that we do here.

"The Middle East is probably going to be the next big area for a master franchise – my partner has also been speaking with interesting people in India and China that we believe can deliver what we're after."

Lazarou says operations in New Zealand and Thailand have been successful, but it will still take time before the Middle East plans come to fruition.

"Thailand took the best part of 12 to 16 months by the time they'd done all the training and got the stores ready and I think in the Middle East it will be exactly the same," he says.

"There's a certain risk with doing it too quickly and I have to live with that – it's not something that happens overnight. New Zealand is going fantastically, we've got 30 stores there and in Thailand we're going great with six stores and another three before the end of the year."

A target to open 27 stores by the end of the calendar year has been set, selling The Coffee Club's new menu and a shift towards 'sustainable coffee'.

"It's exciting to be going to a lot of regional areas too – the last one was in Kalgoorlie and that was fantastic, and we're seeing a lot of these towns are excited about it too," says Lazarou.

"We've re-designed our menu, there's more colour on it and it is truly world class. It's not only the appearance but actually in terms of our food offering which is second to none.

"We made a conscious decision that we would sell sustainable Utz coffee, which means that we know everybody from the person planting the seeds, to shipping, to roasting, to us the end user, is not mistreated and is making money – it's not a blood diamond situation."
The Coffee Club featured in Brisbane's Top 50 Private Companies this month. Read the full feature in Brisbane Business News September - out now in a newsagent near you.
Latest News
WOOLWORTHS' SALES BOUNCE BACK
WOOLWORTHS showed its first sales growth in almost a year as its core supermarket sales rose by 0.7 per cent in th...