FOX URGES ENGAGEMENT WITH ASIA
Written on the 2 May 2013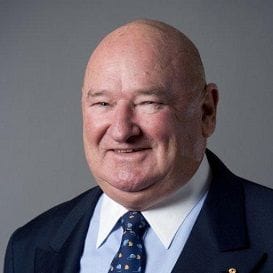 LINDSAY Fox has urged Gold Coast business to engage with Asia at an Institute of Company Directors luncheon today.

"There are 3.4 billion people in our back doorstep in South East Asia and India," says the founder of logistics company Linfox.

"Three per cent of those 3.4 billion people have disposable income for the first time in their lives – that is 100 million people.

"We need to captivate those 100 million people, because we have everything they want.

"It will continue to grow at that rate for at least the next 10 years and we are going to be tremendously well off, but we must believe in ourselves and place ourselves in a greater relationship with our neighbours."

Linfox has about 500 trucks in China and a further 1500 in Thailand. Fox believes good business can overcome hurdles like the high Australian dollar.

"Money will go up and down at all times, but at end of the day you have got to do what you do best, if (the dollar) goes up good, if it goes down, good, but you have to make it good."

The high-school dropout built up his multi-billion dollar logistics company from humble beginnings in Melbourne and now operates nearly 5,000 vehicles across 10 countries.

Today's talk was humourous and motivational, giving an insight into the psyche of one of Australia's most successful entrepreneurs. The straight-talking 76 year old subscribes to old-fashioned values, likes to keep things simple and believes "if better is possible, good is not enough".

At 16 years of age, he was "going nowhere" and left school. He bought his first truck with promissory notes and says he came up with the famous "You are passing another Fox" bumper sticker out of pride for buying his second.

"If I had have been an economist or an accountant, I would never have been able to justify my second truck, let alone my first," he says.

Fox has three fundamentals to a successful business: happy customers; a contented workforce; and profit.

"Two out of those three, you lose," he says.

Three key personal criteria drive Fox: trust; integrity and loyalty and he says job satisfaction is one of the most important aspects to life.

"Always job satisfaction is the key criteria. You have got to enjoy what you do and the rewards will take care of themselves," he says.

His views on leadership can be summed up with a short story about sled dogs.

"The sled dog, particularly the lead one, has his nose way out in front, takes in the clear air and blue skies, all of those that follow the view isn't too good and the smell is horrendous and that is the same thing in business – lead, don't follow."
Know your who's who in the coast's public and private companies by getting your hands on this special annual edition and discover which company is number one in both sectors. Gold Coast Business News Top Companies edition is available now through selected newsagents or you can contact our office on 07 5575 7400 to purchase.

Latest News
SANTA DELIVERS KOGAN A GIFT
KOGAN.COM (ASX: KGN) has exceeded its expectations and reported another strong quarter of trade.

The online retail...