ECHO GETS GOING AT JUPITERS, TALKS UP BRISBANE PLANS
Written on the 31 October 2014 by Nick Nichols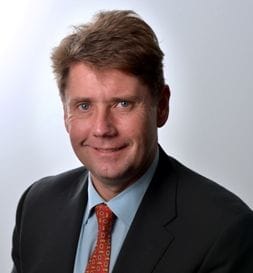 ECHO Entertainment Group (ASX: EGP) is set to break ground on a proposed new six-star hotel and plush high-rollers facilities at Jupiters Casino immediately after the Christmas holiday period.
CEO Matt Bekier (pictured) made the announcement today at Echo's annual general meeting held at the Broadbeach property to highlight the company's renewed focus on the tourism strip following the success of its $1 billion refurbishment of the Star in Sydney.
Bekier says the $345 million Jupiters redevelopment will be one of the major growth initiatives rolled out by the gaming group over the next year, along with its proposal for a new casino complex in the Queen's Wharf precinct in Brisbane.
Work already under way at Jupiters includes room refurbishments for the existing hotel tower, with 592 rooms to be given an upgrade over the next 12 months.
The redevelopment of the pool area is set for completion next month ahead of the Christmas trade, while two new restaurants, including a Japanese noshery run by Chase Kojima of Sokyo fame, will also be opened ahead of holiday trading.
"The second part of the development covers the construction of a six-star hotel and high-end gaming facilities," says Bekier. "We are on track to commence work after the Christmas period and be concluded by 2017."
The refurbishment is aimed at Echo capturing a bigger share of the high roller market, which is dominated domestically by James Packer's Crown Resorts (ASX: CWN).
"These are very exciting developments," says Bekier of the company's plans for the Gold Coast. "I certainly can't wait for the work to complete so we can accelerate the growth of the property."
Echo has reported earnings momentum from the second half of last financial year continues into the first half of FY15.
"For the year to date period to October 27, we experienced goo demand in all properties, especially in domestic gaming," Bekier says.
Normalised gross revenue is up 27 per cent on the same period last year, while the VIP business is up 13 per cent.
Sydney's Star is driving the growth, leading the way with a 36 per cent lift in revenue, compared to 8 per cent in Echo's Queensland properties in Brisbane and the Gold Coast.
Meanwhile, Echo this week lodged with the State Government its proposal for a new casino complex at Queen's Wharf in Brisbane. Crown has also lodged its proposal, but neither group has revealed any details.
Bekier says he cannot disclose the finer points of the proposal at this stage, or even the scale of the project.
"But let me assure you that we have put forward a responsible offer that delivers a truly iconic precinct," he says.
"We have done so in partnership with two large and diverse Asian-based companies who bring not only balance-sheet strength, but also a truly compelling set of complementary capabilities to our bid."
The Brisbane bid brings on board Chow Tai Fook Enterprises and Far East Consortium International, which has extensive interests in hotel and property development, including the $1.2 billion Hong Kong Convention and Exhibition centre and the $3.3 billion Trump Place in New York.
Far East is currently undertaking a $1 billion Melbourne development, Upper West Side, which is one of the largest inner-city developments in Australia.
Bekier says the partners have experience in Asian tourism, hospitality and global property development.
He says Echo's alignment with Chinese interests will add to the company's "Asian hospitality capability" and the company's firm Queensland roots will add to the entertainment experience for both tourists and locals alike.
"Our long-term leases on the Treasury and Lands Administration buildings mean that we have ongoing control over a very significant piece of the greater Queen's Wharf footprint," he says.
"This means we can move the current casino into a new, fit-for-purpose location and repurpose those important heritage buildings so that they can play a much more effective role in opening up and connecting Queen's Wharf into the rest of South Bank and Brisbane.
"The control of this site and the proximity to Jupiters Gold Coast also means we have a credible long-term presence in Brisbane should the competing bid be selected."
Latest News
APOLLO REVS UP ITS RESULTS
APOLLO Tourism & Leisure (ASX: ATL) has hit its profit forecast in its maiden result as a publicly traded company...
PROFIT DROP AT SERVCORP
SERVICED office company Servcorp has seen its profit fall, citing New York City, Singapore and Saudi Arabia as the pr...