DOMINO'S AIMS FOR DOMINATION
Written on the 16 August 2016 by James Perkins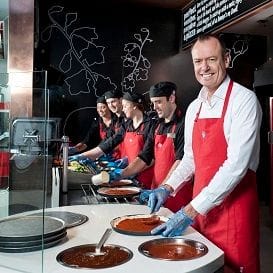 DOMINO'S Pizza (ASX: DMP) has reported record sales and record profit for FY16.
Network sales were $1.96 billion, up 32.7 per cent, while underlying net profit after tax (NPAT) was $92.0 million, up 43.6 per cent.
Statutory NPAT was up 28.7 per cent to $82.4 million, which was below expectations, largely due to extra costs related to the company's European expansion.
This could explain the 5.09 per cent drop in the DMP share price this morning, to $73.06 per share.
The company says the growth was organic, through increased same store sales (up 10.9 per cent), its digital platforms and the addition of 484 stores to the group.
Technology was a driving force for the company, as it slashed waiting times for both delivered and pick-up product in both Australia and Europe, allowing the company to compete with other quick service restaurants that have drive-throughs.
"We are focused on improving technology, pushing safer, more efficient delivery, while investing in world class ordering platforms," says Group CEO and Managing Director Don Meij (pictured).
The company has targeted delivery times of 10-12 minutes and pick up times of between 5-6 minutes.
The company acquired more than 300 Joey's Pizza and Pizza Sprint stores in Germany and is converting them to DMP stores. The company says delivery times in the converted stores have improved by three times.
This year, the company expects to open between 175-195 stores across the entire group.
And it will continue to aggressively target market share in Australia and New Zealand, and plans to increase the number of ANZ stores from 900 to 1,200.
"Due to the extraordinary growth being experienced in ANZ, the returns from investment in our program of digital initiatives and the capacity restraints in some areas of the region, we are confident that ANZ has the capacity for 1,200 stores, up from our previous guidance of 900 stores," says Meij.
The company expects a 30 per cent plus increase in NPAT in FY17 and EBITDA growth of more than 25 per cent.
Australia and New Zealand highlights
EBITDA growth of 28 per cent
New ordering systems such as Project 3/10, 15/20 Minute Service Guarantees, SMS ordering and On Time Cooking, an opt-in geo-location technology
World's first use of an autonomous delivery vehicle for pizza
Online sales growth of 33 per cent year on year
49 new stores
Europe
EBIDTA growth of 122.8 per cent
Same store sales up 8.2 per cent
366 new stores, including 64 organic stores, 12 Domino's Germany stores and 290 Joey's and Pizza Sprint stores
One third of deliveries in Belgium and the Netherlands are on electronic motorbikes
Japan
EBITDA up 25.5 per cent
69 new stores
SSS down 2.1 per cent, in a "challenging economic environment"
34 stores relocated to carry-out friendly locations
Latest News
WOOLWORTHS' SALES BOUNCE BACK
WOOLWORTHS showed its first sales growth in almost a year as its core supermarket sales rose by 0.7 per cent in th...