CITIBANK LEASES NEW FLAGSHIP BRANCH
Written on the 8 July 2013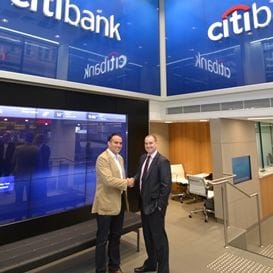 CITIBANK has leased 141 Queen Street as its new Queensland flagship branch.
The 359sqm lease is over two levels with 115sqm on ground, and 244sqm on level 1 and was negotiated by Jones Lang LaSalle's property agent Cameron Taudevin (pictured right with Wade Cruickshanks, head of Citi Realty Services Asia Pacific),

The 10-year deal is worth about $1 million per annum, or $232 per square metre per month.
The QIC-owned 141 Queen Street was identified as the most viable after an 18 month long search for a tier one property in the Brisbane CBD.
The branch, located on the corner of Queen and Albert Streets, opened in May after a refit of the former Guess tenancy.
Latest News
APOLLO REVS UP ITS RESULTS
APOLLO Tourism & Leisure (ASX: ATL) has hit its profit forecast in its maiden result as a publicly traded company...
PROFIT DROP AT SERVCORP
SERVICED office company Servcorp has seen its profit fall, citing New York City, Singapore and Saudi Arabia as the pr...