BIG PROJECTS DRIVE COOLANGATTA APARTMENT SHORTAGE, SAYS URBIS
Written on the 11 September 2014 by Nick Nichols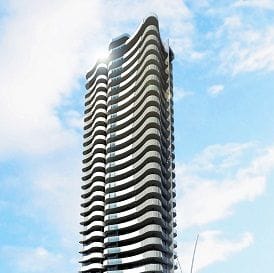 MAJOR projects worth $1.7 billion planned for the southern end of the Gold Coast are creating an undersupply of apartments in Coolangatta, according to Urbis Research.
The property researcher lists the proposed expansion of the Gold Coast Airport and plans to fast-track the heavy-rail extension to Coolangatta among these projects.
It also has identified strong demand at the top end of the market driven by international investors and baby boomers looking for lifestyle at the southern end of the city.
"It's no secret that the Gold Coast is emerging as a hotspot for international investment - ties with Chinese developers have never been stronger, and immediate access to the airport is a real drawcard for both local and overseas purchasers," says Urbis senior researcher Lynda Campbell.
"This growing trend toward international business has created a new set of well-healed purchasers looking for high quality apartments in the area.
"In fact, the Gold Coast attracted almost half, or $221.4 million, of foreign property investment in Queensland during 2013, with Chinese buyers leading the way.
"The million-plus market in Coolangatta involved 114 sales between 2009 and 2013.
"The market was somewhat subdued last year with just 22 sales above the $1 million mark, but that is a symptom of the lack of supply, rather than tapering demand."
Urbis has found that there are just 47 new apartments available for sale in the southern region from Mermaid Beach through to northern NSW, representing just 11 months' supply based on current sales rates.
Campbell says only three new apartment projects, bringing a total of 127 units, are adding to apartment stock levels.
"The recent sales launch of Sanbano - with full-floor apartments priced from $2.72 million – will relieve some of that pressure, but with just 10 of the 22 apartments released to the Australian market, it won't really address the shortfall in the long term," she says.
Sanbano is a Chinese-backed development that has found a solid market among baby-boomers who are flocking to the southern Gold Coast and Tweed.
"Our research shows that baby boomers dominate the Coolangatta market - representing about 28 per cent of the population - and this demographic is only going to continue to grow," Campbell says.
"While Coolangatta is certainly a robust region from a commercial perspective - with $1.7 billion in infrastructure across 14 projects under way or in the pipeline - you can't overlook its appeal as a lifestyle destination, which is the other reason why it is really coming into its own."
Graham Goldman, the managing director of Eastview Australia which is project manager for Sanbano Coolangatta, says the project symbolises rising international confidence in the Gold Coast market.
"Sanbano is an interesting case study, because the developer, Mr Yang, was able to build the $85 million project without any finance, and that's virtually unheard of these days," he says.
"Mr Yang could have chosen to develop a project like this anywhere in the world, but he chose Coolangatta, because he can see the potential for the region to become a major economic gateway for foreign investors and also the appeal it has with the local market."
Latest News
GUVERA ESCAPES WIND-UP ORDER
GUVERA has avoided being wound up after a claim for a $1.78 million debt by Kwong Properties was dismissed at the ...