ARDENT SELLING MARINAS TO RIDE LEISURE BOOM
Written on the 22 March 2016 by Nick Nichols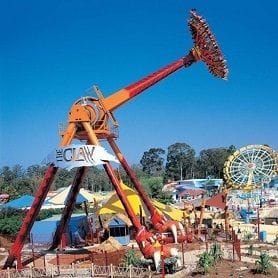 ARDENT Leisure (ASX:AAD), owner of Dreamworld on the Gold Coast, is selling its d'Albora Marinas division and plans to plough the proceeds back into its profitable theme park and bowling alley businesses.
The move marks a major restructure for the group as it capitalises on growing leisure markets in both Australia and the US, and positions it to raise its corporate profile in US capital markets.
Under the proposal, Ardent is seizing on the development potential of its marina assets, three of which are in Sydney Harbour and two adjacent to Melbourne's CBD, to secure a buyer for d'Albora which has been at the core of the company's business for almost two decades.
The group, formerly known as Macquarie Leisure Trust, acquired d'Albora in 1999 for $36.3 million on an initial yield of 14.5 per cent.
The division was the worst performer of the group's businesses in the latest half year, with d'Albora posting a 2.3 per cent fall in revenue for the FY16 December half year to $11 million and an 8.6 per cent fall in EBITDA to $4.6 million.
As a percentage of group EBITDA, the marinas business represented just 6.5 per cent of the total in the latest half year.
The d'Albora portfolio comprises seven marinas, including one each in Nelson Bay and Akuna Bay north of Sydney, and comprises a total of 1300 berths.
Ardent Leisure chairman Neil Balnaves says the decision to sell d'Albora has come after a review of the group's operations over the past six months to capitalise on its growing leisure market.
"The marinas are unique assets with outstanding facilities in excellent locations and we are confident they can be even further developed in the hands of a new owner," Balnaves says.
"Following extensive negotiations, we have also been able to extend the land and water leases in respect of our premium site at Rushcutters Bay in Sydney for 25 years with scope to increase the tenure a further 15 years."
Ardent says the sale will help it accelerate the growth of its US bowling alley business, Main Event, and expand its attractions at Dreamworld on the Gold Coast in the lead-up to the 2018 Commonwealth Games.
Both divisions were strong performers in the latest half year, with Main Event the standout.
Revenue from the US business surged 48 per cent to $105 million, leading to a 36.2 per cent increase in EBITDA to $20.9 million. The Australian AMF operations also enjoyed a 20.5 per cent increase in EBITDA to $11 million.
Ardent plans to open a minimum of eight new Main Event bowling sights in the US in FY17.
Meanwhile, Dreamworld's EBITDA lifted 4 per cent to $21.2 million, keeping it just ahead of Main Event's contribution for now.
Dreamworld has capitalised on strong growth in the Gold Coast tourism market, prompting Ardent to look at maintaining the momentum through new attractions over the next few years.
"The theme parks division is forging even stronger relationships with its customer base and tourism partners," says Balnaves.
"The group is well on its way to developing distinct attractions that further differentiate us from our competitors.
"The Only at Dreamworld brand is an important focus for us to create unique experiences that drive ticket revenue and in-park spend."
Balnaves says the d'Albora sale will also enable Ardent to expand the 24/7 conversion of its Goodlife fitness gyms, as well as improve the equipment offering to service and retain members.
Earnings from Goodlife slipped 8.1 per cent in the latest half-year to $13.3 million.
Balnaves expects that the group's offshore expansion will eventually lead to US earnings outweighing its Australian operations. Revenue from the US in the latest half-year already accounted for 31.4 per cent of the group total.
"In these circumstances, the board considers it appropriate that the group also takes active steps to see a gradual rebalancing of the registers through active marketing of the group to US and other overseas investors," says Balnaves.
News of the planned d'Albora sale drove Ardent Leisure's stapled securities more than 10 per cent higher to $2.17 in morning trading.
Latest News
WHY NEXTDC'S STOCK IS SOARING
AFTER posting its interim result, NEXTDC (ASX: NXT) gained more than 12 per cent on the stock market before noon.
...