'TO THE TOP' IN 35 YEARS
Written on the 16 October 2014 by Laura Daquino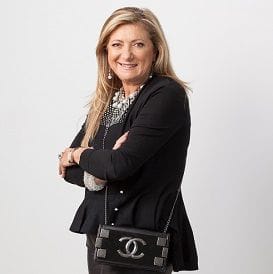 THE Queen of Recruitment has just celebrated 35 years in business, a journey stretching Brisbane to Harvard and marked with key learnings.

Sarina Russo Group has assisted the education, employment and training of more than 600,000 jobseekers and employers worldwide in those 35 years, 92,000 from that number seeking the Sarina Russo expertise in the past year alone.
Sarina Russo (pictured) says her business has had a "wonderful experience across the board" this year, accruing $106 million in revenue, with its educational division a particular standout.

The business bridges a gap in today's fast-paced although slow growth economy, boosting productivity by sourcing the most suitable employees and tools for business owners.

But Russo didn't launch the business with exactly this view in mind.

The story of Sarina Russo Group began in 1979, when Russo founded a job training company in Brisbane named The Office Business Academy.

She has always insisted to be in the "industry of life-fulfilment" as opposed to simply job training or placement.

However, launching the business before a recruiter surge that emerged out of growing time poverty – and also pre-internet – meant Russo had no idea of its capacity for growth and competition.

"Over the next two to five years, two billion new consumers will have access to the online world through smartphones," says Russo, who currently runs operations in Australia and the United Kingdom.

"We have to embrace technology and now learn how to serve billions of people."

Russo has always been a go-getter – she was helping her dad manage apartments and deal with tenants from the age of 10.

Perhaps most reflective of her ambitious streak though was purchasing 12-storeys in an upmarket Brisbane office building in 1993.

Russo moved in with three-quarters of the space empty, making it clear it was either going to be a recipe for disaster or the start of something beautiful.

Of course she was banking on the latter and had the slogan to match – 'See You at the Top' – which was also fitting considering the towering structure she was operating out of.

Since then, Russo just done just that – taken herself and her company to the top.

Russo is a graduate of Harvard Business School and serves on its Women's Leadership Board, and is also a member of the Clinton Global Initiative alongside business leaders such as Richard Branson and Tony Blair.

From these experiences and travels among many others, she has some sharp ideas about what makes a good leader.

"Leadership is all about reviewing your own KPIs and making sure they match the vision you have for your company," says Russo.

"Leadership is about being able to excite your team and empower them to create greatness.

"Lastly, leadership is about being able to take all of your staff with you – whether that's two or two thousand people."

Currently, Russo is taking her employees to and teaching them lessons at the School of Disruption, based on her business motto that you must "disrupt yourself before someone else disrupts you".

"If you don't disrupt the status quo and innovate to transform your business into the online space, you will no longer have a business," says Russo.

"We have to learn to accept disruption, enjoy disruption and make it part of our business journey."


Latest News
WHY NEXTDC'S STOCK IS SOARING
AFTER posting its interim result, NEXTDC (ASX: NXT) gained more than 12 per cent on the stock market before noon.
...